The Style Traveller London Fashion Week Bar & Restaurant Guide

The Style Traveller London Fashion Week Bar & Restaurant Guide
It's the start of London Fashion Week, where the world's fashion editors, celebs, models and beautiful people, descend upon the big smoke to purvey, pout, selfie and strut their stuff in all manner of creative creations and sartorial styles.
So where do the hip crowd hang out in between the shows?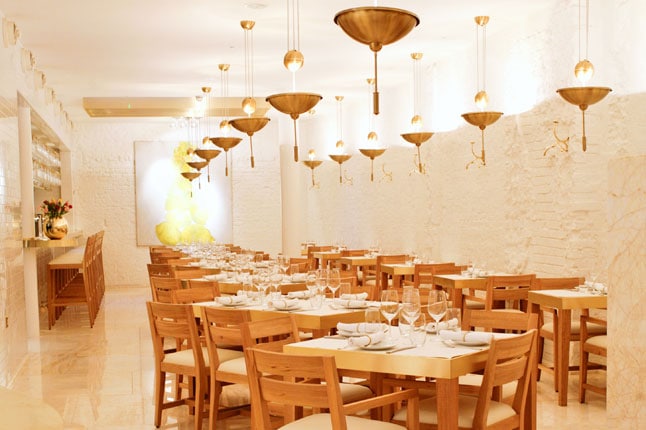 Above: Nopi Restaurant and Below: Riding House Cafe. Opening Shot: Radio Rooftop.
London is a city full to bursting with incredible eateries, superb restaurants, trendy bars and clubs, but there's so much on offer, it's difficult to know where's 'hot right now' and where fashion crowd go. So I've decided to give you a little round up of  The Style Traveller's favourite fashionista bars and restaurants in central London, just in time for fashion week.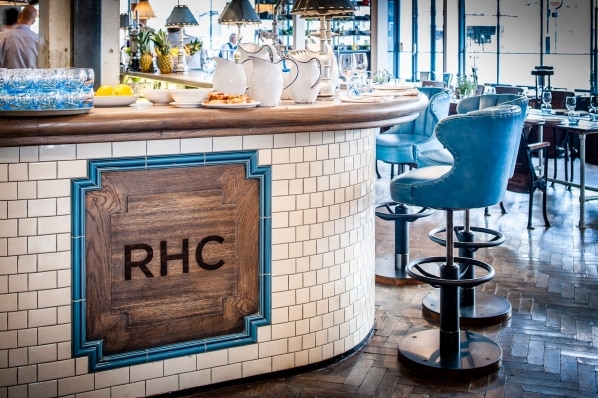 Best breakfasts? A power breakfast or brunch is the best way to set you up for a day at the shows. Opt for the old school elegance of The Woolsley, a favourite of Anna Wintour when she's in town. Hang with the hipsters and get a retro booth at The Riding House Cafe. Enjoy your avocado & chilli on sourdough, accompanied by milk (dairy and non-dairy, of course) in the mini-milk bottles. For a healthy alternative, Otto Lenghi's Nopi Restaurant is my favourite choice, I love the black rice pudding and mango, delicious!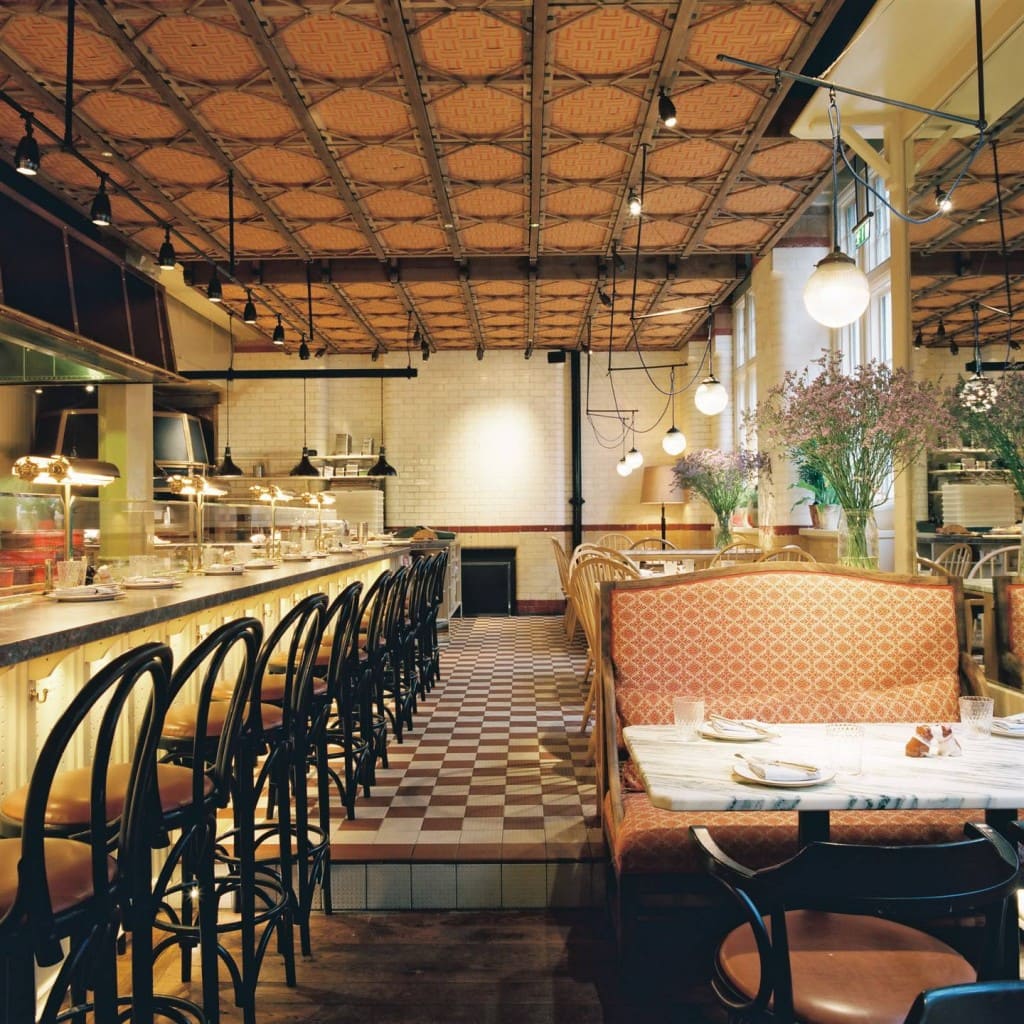 Best For Lunch? Chiltern Street Firehouse. (Pictured above) It's been top of the charts for a few seasons now, but getting a table at Nuno Mendes' Michelin Starred restaurant is still the fashionistas golden ticket in town. Featuring a seasonal and healthy inspired menu and staff uniforms designed by Roksanda Illincic, ditch the fashion shows and opt for a languid lunch instead. I highly recommend the crab doughnuts and the corn bread fingers are inspirational!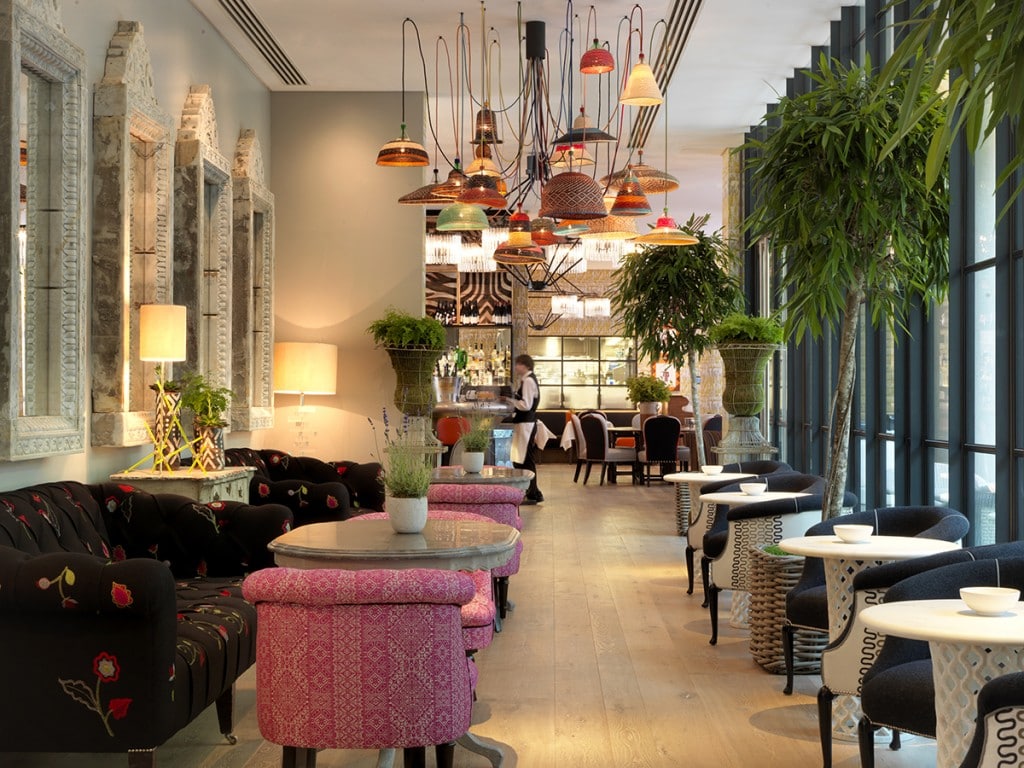 Best Afternoon Tea? Dean Street Town House and The Langham's (fashion high tea) are perennial firm favourites, but there's a new kid on the block delivering afternoon tea in style. Step forward the The Hamyard Hotel. (Pictured above) With it's colourful, global inspired interiors, this quirky, chic venue is the fashion mavens choice when it comes to afternoon chai.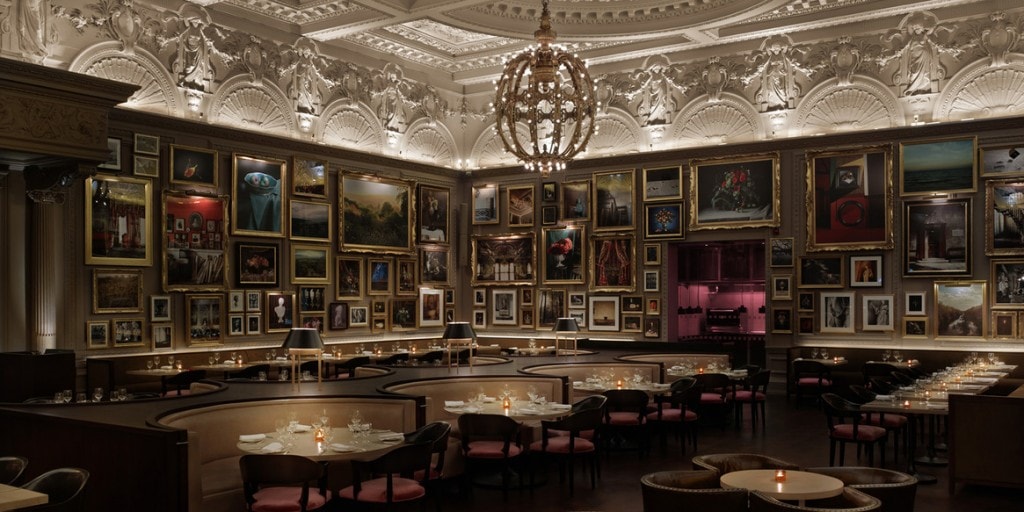 Favourite fashionista restaurant? Berners Tavern, Edition Hotel. (Pictured above and below) Surrounded by floor to ceiling art works from old school renaissance to modern, abstract pieces, the majestic surrounding at Jason Atherton's, Berner's Tavern are filled nightly with fashionistas and celebs. It's the place to see and be seen. After dinner adjourn to the Punch Room bar next door or stumble into the riotous club in the basement, which is sure to be hosting a fashion party or two.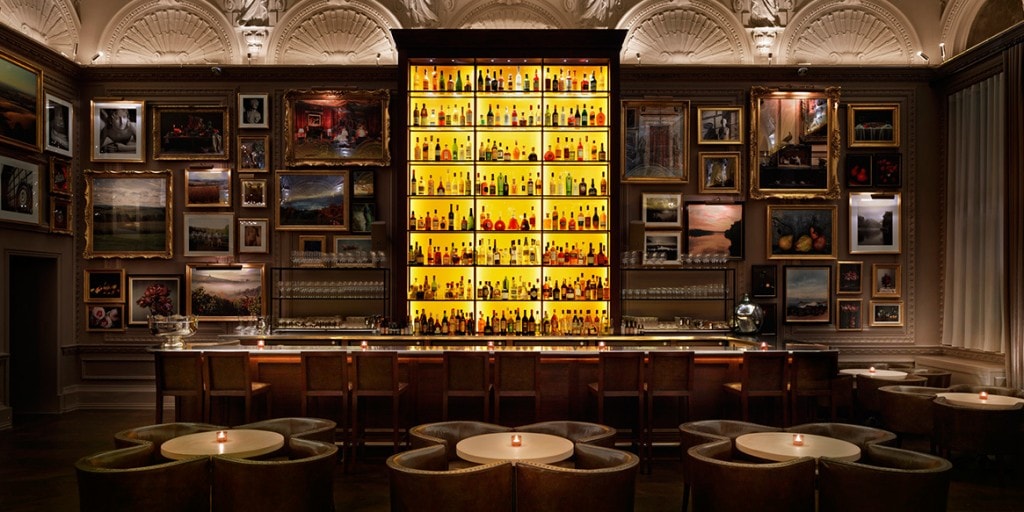 Best roof top bar? Radio Rooftop. (Pictured below) Overlooking the resplendent architecture of the British Fashion Council HQ at Somerset House, languish in the modern, glass bar atop the Me Hotel. With breathtaking views over the river, it's the perfect spot from which to enjoy expresso martinis as the sun goes down. Another great spot for London skyline views, although not strictly central, is the Rumpus Room at The Mondrian Hotel.
Happy Fashion Week!