Anguilla – Style Guide, Activities and Eating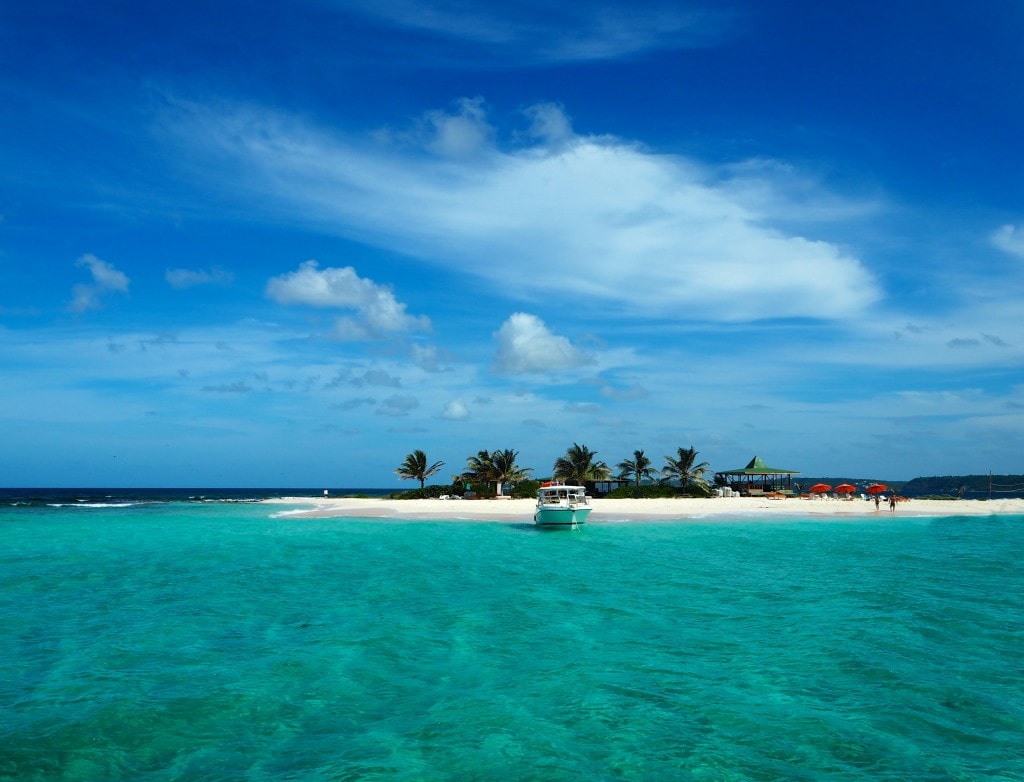 Anguilla – Style Guide, Activities and Eating
As part of my Anguillian adventure I found the time (between sunbathing and relaxing of course) to indulge in some of the island's best activities and culinary offerings. The great thing about Anguilla is that nature, beautiful beaches and wildlife play such a huge part of every day life, that many of the best restaurants are outdoors, on the beach or you need to get a boat to your destination (like Sandy Cay pictured above). Most of the main activities and sights involve the sea, be it paddle boarding, snorkelling or sunset cruising. Here's The Style Traveller round up of the best restaurants and activities in Anguilla.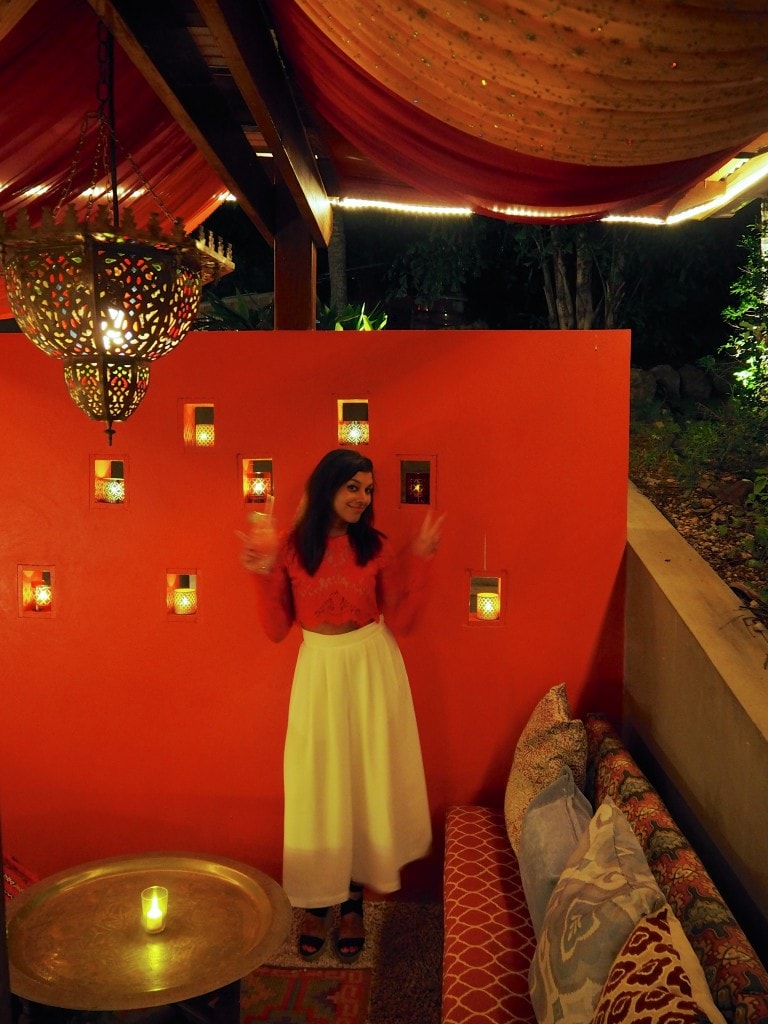 Above: Me at Veya Restaurant, wearing red top by Jetset Diaries, Cullottes by French Connection at Atterley and wedge heels by Uggs.
Take to the seas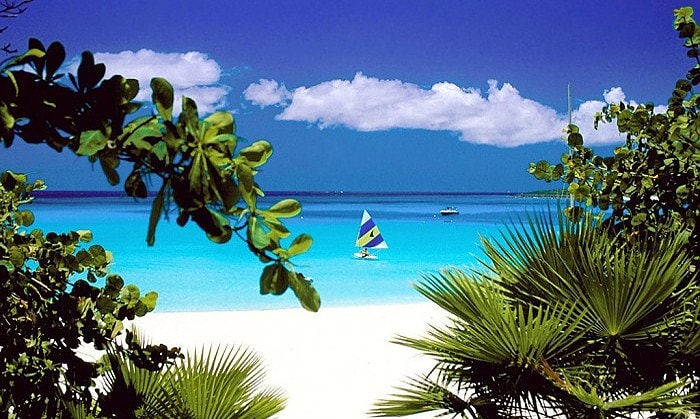 When you're on an island and surrounded by nothing but crystal clear waters, it's inevitable that most of your day will be spent sunning yourself and basking in the warm sunshine. For those who crave a little more excitement take to the seas with Anguilla Water Sports, try your hand at Kite Surfing, if you're an adrenaline junkie, or opt for a chilled afternoon of paddle boarding if you fancy a slower pace. It's relaxing, but a great abs workout too!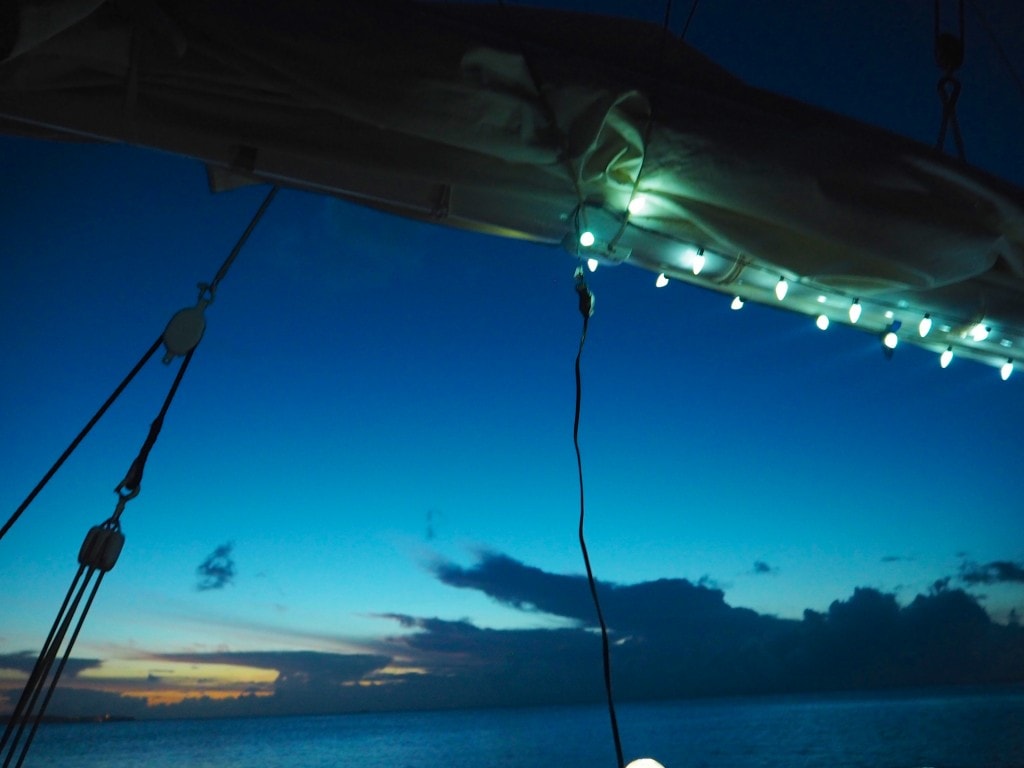 One of my favourite adventures on the trip was the sunset night cruise with Tradition Sailing. Take a sleek, traditional long boat out for a jaunt around the calm Caribbean waters. Watch the sun set over the horizon, chilled champagne cocktail in hand, listening to blissed out tunes. After dark the fairy lights come on, enjoy a delicious, meal of fresh fish and salads prepared on board by the crew. It's a magical and romantic evening.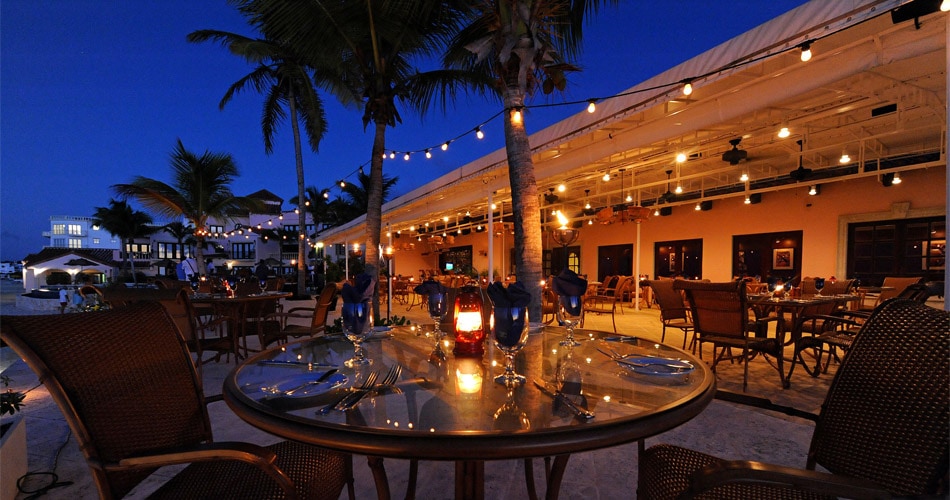 Where to eat? Restaurants By the Beach
The Straw Hat restaurant on Meads Bay (picture above and below) has a romantic, candle lit beach front setting. Established for over 12 years, it's something of an Anguillian treasure. With its all day menu and family friendly atmosphere, it's great any time of day, but my favourite time to visit is in the evening accompanied by fire burners, candles and live music. Expect Bob Marley and reggae classics on the acoustic guitar.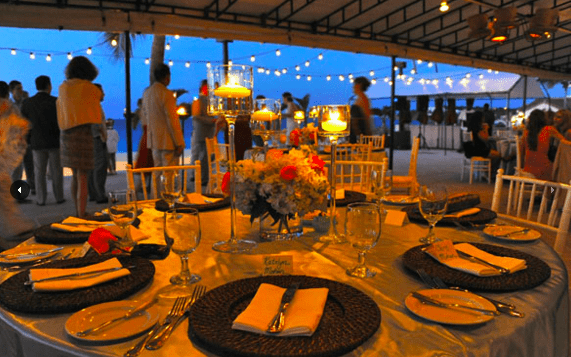 Smokey's at the Cove (below)
Really get into the Anguillian chilled vibe with a day spent on the beach at Smokey's at the Cove. Indulge in fresh lobster, cray fish and delicious pasta and salads to fuel you for a busy day at the beach (ahem!). The vibe is laid back, rustic, beach shack which is reflected in the decor and service.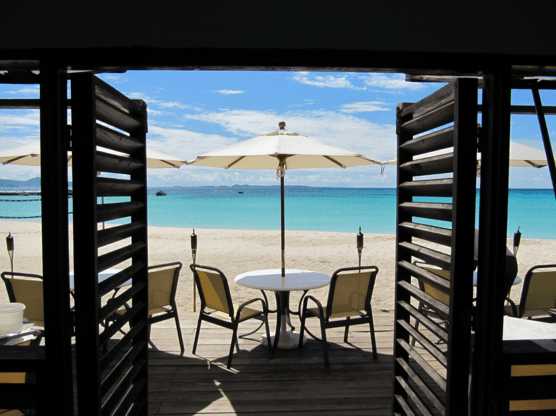 The clear blue sea as seen from the veranda at Smokey's
There are plenty of remote deserted paradise islands off the coast of Anguilla called Cays. Charter a boat for the day or take a short trip across the water to have lunch at one of the stunning island restaurants. Scilly Cay is a quiet and peaceful island restaurant serving traditional grilled surf dishes. Complete with picture post card back drops and palm lined shores.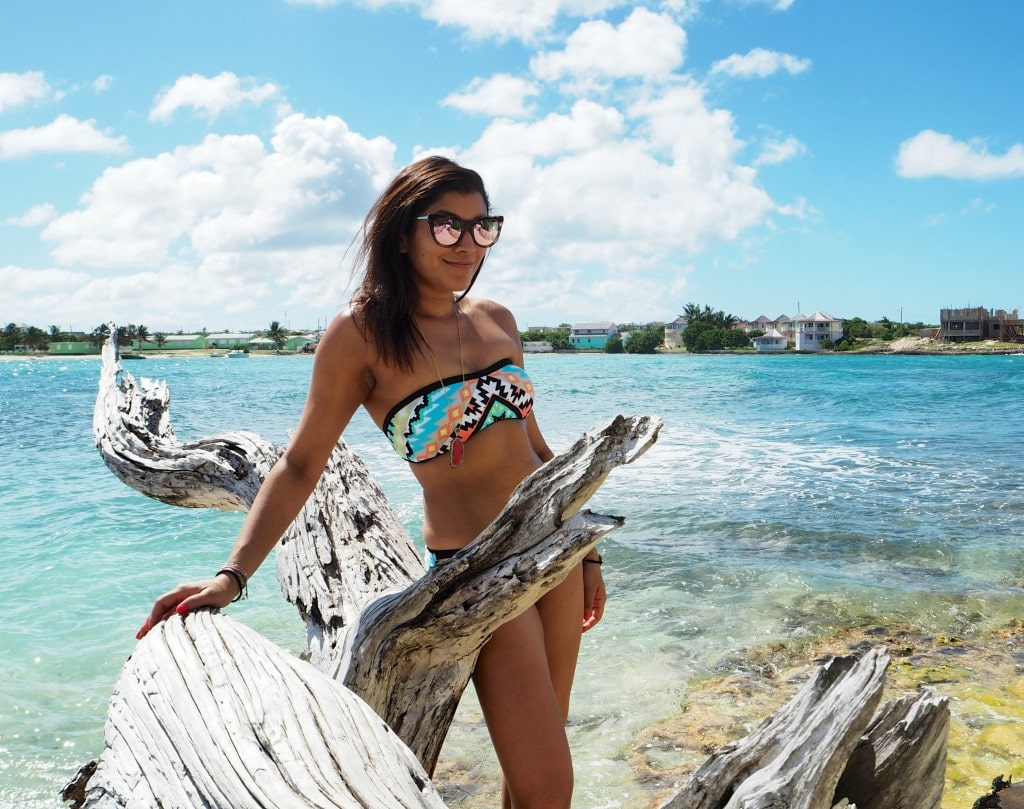 Above: Me at Scilly Cay wearing bikini top and bottoms by Seafolly at Coco Bay, sunglasses by Le Specs.
Picture yourself on the set of a bounty chocolate advert and you'll know just how it feels to be on Sandy Island. (opening shot of the post above). If you only have time to do one activity whilst on Anguilla make sure you take a trip to Sandy Island for lunch. It's the ultimate idyllic tropical island setting. With the clearest crystal waters and a huge stretch of immaculate, powdery white sand beach.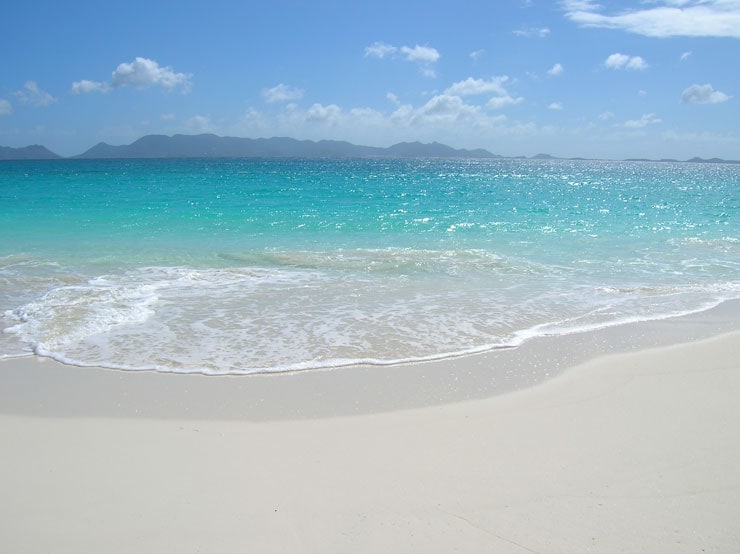 Al Fresco Fine Dining
Malliouhana Restaurant

There are some great restaurants to be found the on the main land also. One of which happened to be the nautical restaurant at Maliouhana Hotel (pictured below), where I was staying. Click here to see the full hotel review.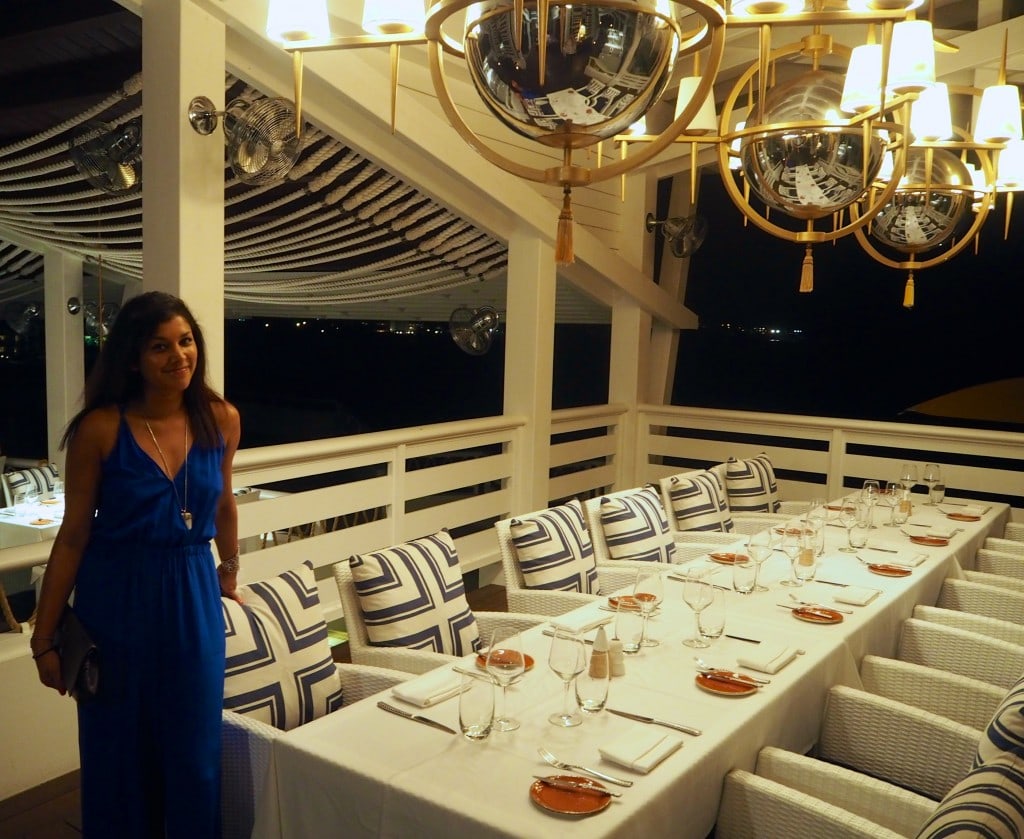 One of the most revered restaurants in Anguilla is the chic, inventive fusion restaurant Veya.  With a stunning thai style decor, vermillion walls, colonial bamboo verandas and Morrocan lanterns, the decor mirrors the eclectic flavours on the sophisticatedly blended global menu. I tried the delicately fragrant Morrocan spiced shrimp cigars, followed by the melt in your mouth Jerk spiced tuna. Dessert is a must also. Have dinner sat high in the tree house style main restaurant, then adjourn to the sandy floored bar downstairs to dance and chill to old school classics from the live music band.  If you fancy a night of dressing up, indulging in delicious food and an excellent atmosphere, The Style Traveller highly recommends a visit to Veya.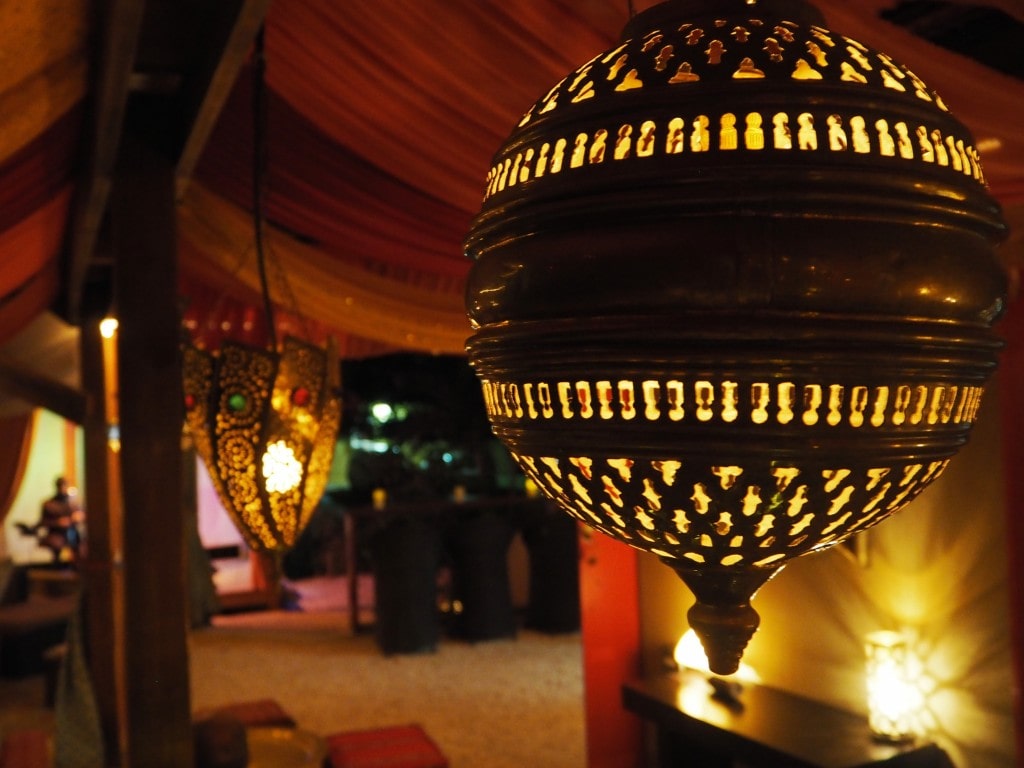 If you want to see more from the paradise island of Anguilla click here.
Special thanks to Anguilla Tourist Board for such a wonderful trip.
Bye bye from Anguilla, nest stop Le Guanahani, St Barth's.