Barcelona – 24 hour style guide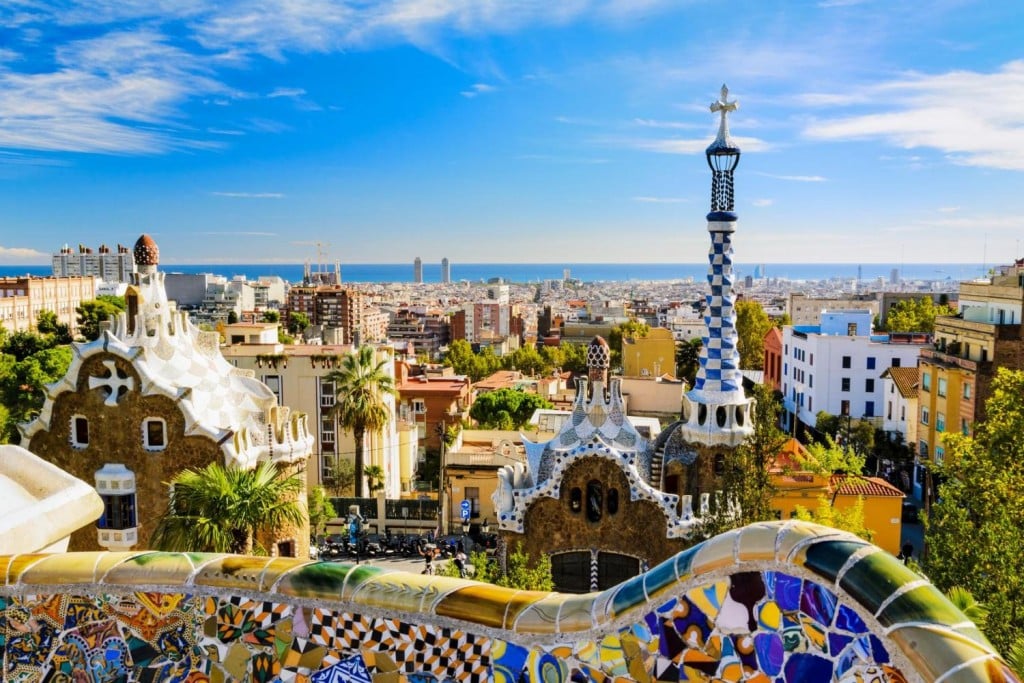 View from Park Guell
Barcelona – 24 hour style guide
5 stylish thing to do in Barcelona
What to do in the day?
Barcelona is one of the most cosmopolitan and diverse cities in Europe. It has an impressive cultural heritage. With iconic artists and literary figures from Dali, Miro, Picasso and Hemingway all having lived there, through to the spectacular, modernist buildings designed by Spanish architect, Gaudi, in the early 20th century. Standing proud on the city scape, they are symbolic of Barcelona's innovative spirit.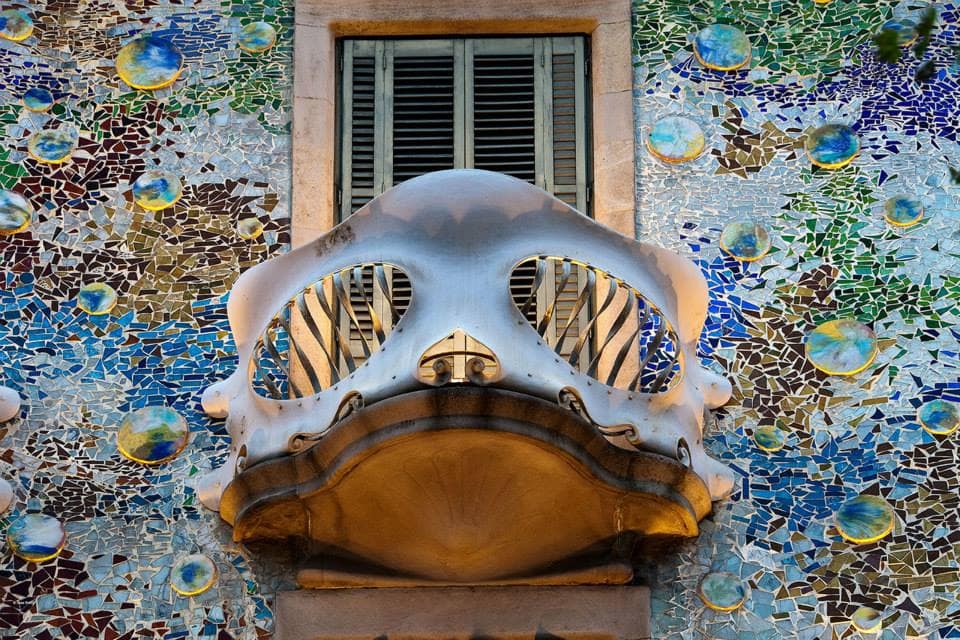 Casa Batllo
This experimental character has filtered through to the present day, there's a truly bohemian feel to Barcelona. Music and food also plays a huge role in the day to day life of this cultural hub, from world renowned, gastronomic restaurants popping up all over the city, to hip music festivals in Montjuic and Palo Alto.
Eat fresh seafood at La Boqueria food market
Take the Gaudi trail – I know it's tourist central, but the kaleidoscopic, Casa Batllo and Park Guell, in particular are truly worth visiting. For a slightly different perspective on things, take a personalised walking tour with Itinera Plus. My guide was the beautiful Nuria, an art history major at Barcelona University. Itinera Plus structure tours specifically to your interests, mine of course was all about shopping, design, architecture and eating. I loved it!
After the tour we stopped off for a fresh fish lunch at Europe's largest, outdoor, food market, La Boqueria, just off Las Ramblas (pictured above). We then spent the afternoon getting lost in the historic passageways of Barri Gotik, stopping off for mini tapas and pinchos on route.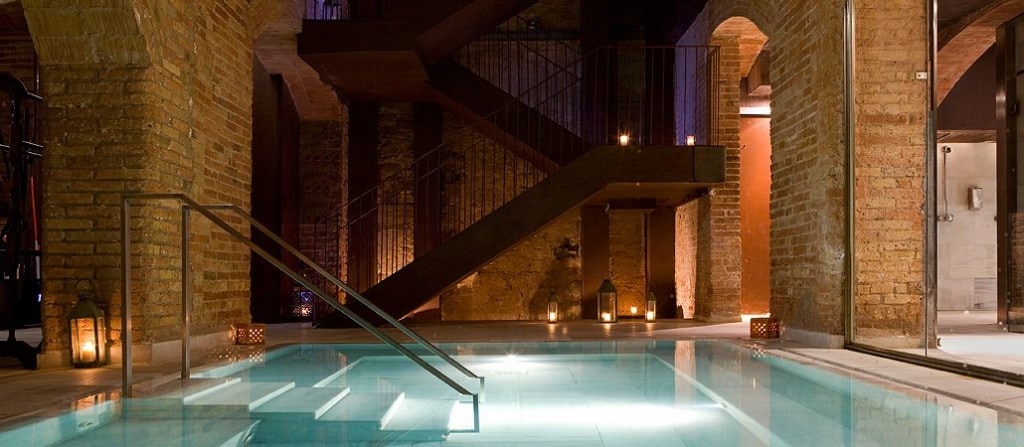 Aire Spa Barcelona
Chilled Barcelona
Need a breather from the hustle and bustle of the city, take a trip to the tranquil, techni-coloured, Park Guell, another Gaudi treasure. Make sure you book tickets for the viewing area, for spectacular vistas of the city (pictured at the top of the page).
If you need to decompress after your flight or simply need a touch of pampering, book in for a massage at beautiful Morrocan, hammam spa, Aire de Barcelona (pictured above). Relax in the soothing, hot tubs and spend the afternoon drinking mint tea and nibbling on fresh fruit. You'll come out feeling totally revitalised.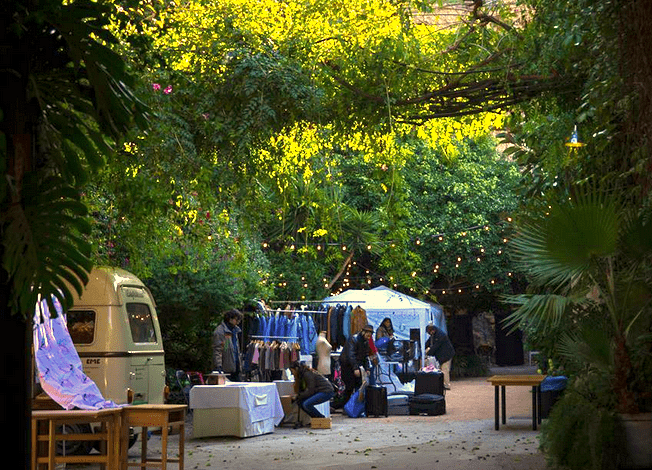 Lost and Found in Palo Alto
Shopping Barcelona
In love with designer labels? Then head to the wide shopping concourse of Passeig de Gracia, filled with international boutiques like Chanel and Loewe. (And of course Zara!)
For those of you who are seeking something a little more authentic or alternative, visit the floral scented, hilltop area of Palo Alto for the weekend vintage market. Or Lost and Found, is also fantastic for retro finds (check listing for the quarterly event).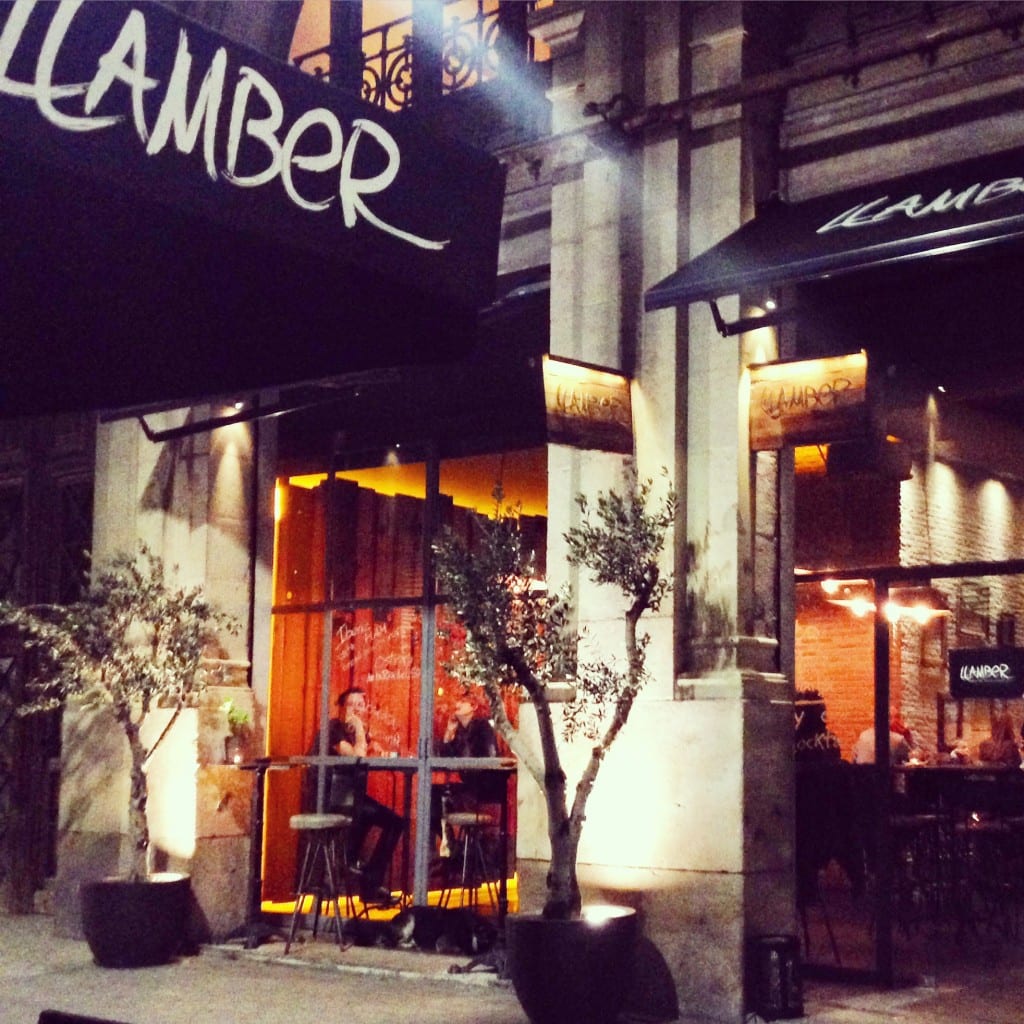 After Dark and Eating – Barcelona
Barcelona's streets are filled with a plethora of incredible restaurants, serving up all types of cuisine. But for the quintessential Catalan experience you must try, Tapas. Served in small plates, which you can choose straight from the counter, it's the ideal way to dine for quick snacks, sharing and it's a very social way of eating. Here are two of my favourite places in the city for Tapas.
Cerveseria Catalana – You can always tell how good a place is by the number of locals dining there. You can't book tables, so the queue of wannabe patrons, enjoying drinks at the bar, is a tell tale sign that this chic, minimal establishment is going to be good. It's all about the food and the buzzing atmosphere. And even better, is the price tag! For me and 3 friends, drinking excellent wine and having shared several courses, the bill came to a mere 80 Euros in total. My favourites? The croquetas de jamon and the seafood selection, is mouthwateringly fresh and delicious. It's well worth waiting for a table.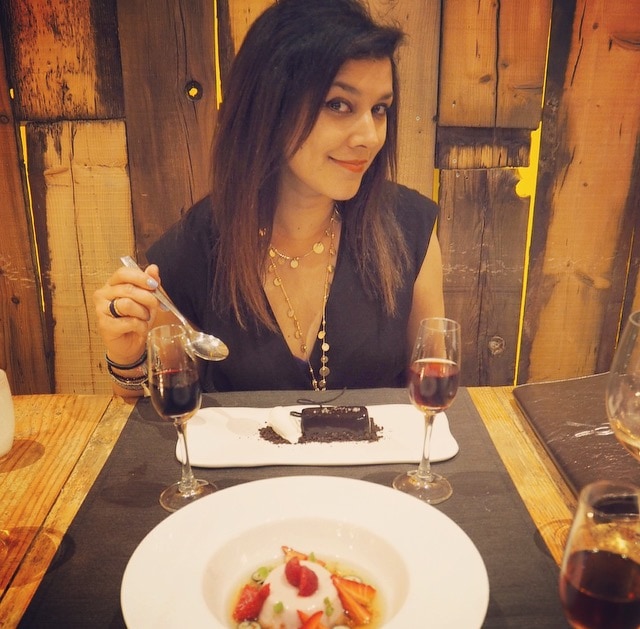 Me at Llamber
Llamber –  Located in the vibrant heart of the trendy Born area, Llamber is the second restaurant from ex-El Bulli chef, Francisco Heras. Together with his interior designer partner, Eva Arbones Tomas, it is every inch the stylish, gastronomic affair you would expect from such a dynamic duo. The brick with reclaimed-wooden walls and atmospheric lighting, sets the scene for one of Barcelona's most in-demand eating experiences.
Even though it's THE place to be seen and getting a table is tricky, there is still a laid back, chilled vibe. Try the tasting menu, with wine pairings to get a real feel for the experimental flavours. Everything comes beautifully presented, like miniature art works, sprinkled with flowers and fairy dust. I loved the sardine cakes and of course the double dessert!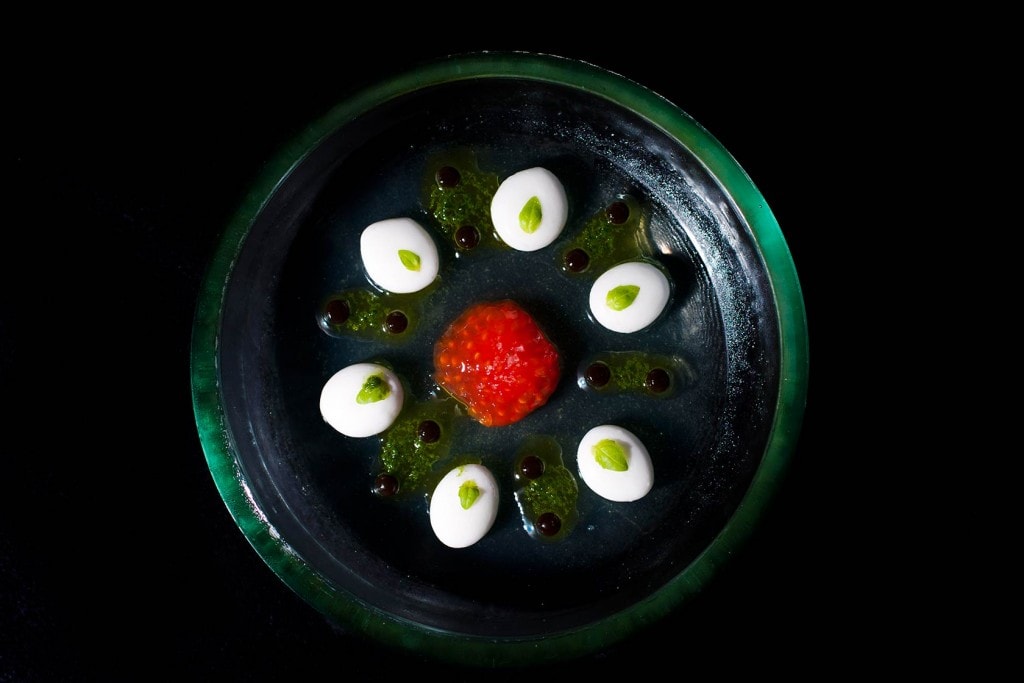 Bars and Drinks – Barcelona
After dinner at Llamber, head out to the buzzing streets of Born. The small passageways are filled with underground, cool bars, it's hard not to find a trendy, drinking den in these parts. Vermouth and gin are having a bit of resurgence in Barca at the moment, so head to Bormuth Bar, followed by late night drinks at Super Super.
For the 'hand bags and heels' crowd head to chic, Bobby Gin in Gracia or the beautiful, Boca Chica Terrace, for a seriously glam night out. Don't leave without a trip to the ladies toilets, there's a DJ and a whole club night going on in there! And of course, on Barceloneta there's always the iconic Eclipse Bar on the 26th floor of The W Hotel, perfect for partying with models and footballers.

To hang out with the creative, cool kids, head to edgy, Raval, start the night at Casa Almirall, try an Absynthe and see where the night takes you!!
Throughout the summer, head to Piknic Electronik on Montjuic Mountain, with an impressive line up of international DJs and casual, daytime, clubbing atmosphere.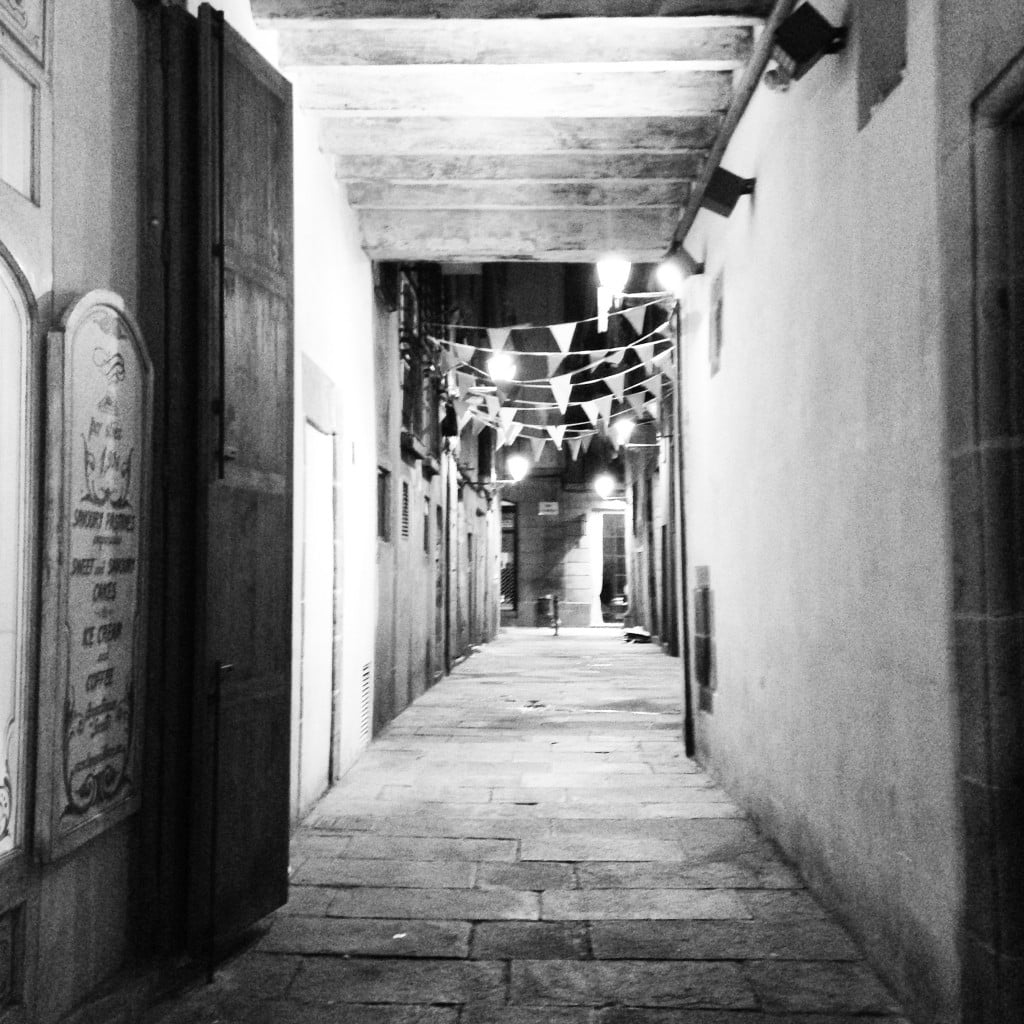 The picturesque side streets and alleyways of Born by night
Special thanks to? High End Barcelona concierge service for organising a fantastic itinerary for my trip. From the architecture and design tour of the city with Itinera Plus, to chilling out at the Aire Spa, followed by a fantastic meal (not to mention a table reservation) at one of Barcelona's coolest restaurants, Llamber. Visit www.highendbarcelona.com for your own personalised itineraries.
For more on Barcelona check out my posts: Barcelona What to Wear or Barcelona Hotels.