Las Vegas What to Wear When You're There and Street Style
Las Vegas
What to Wear When You're There and Street Style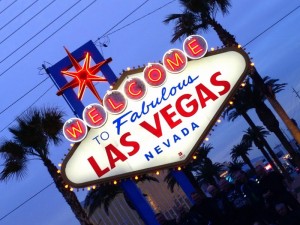 Exactly? State of Nevada, USA
Reason for trip? 4 night trip for my best friend Lian's hen weekend/bachelorette party.
The hens? Lian (the bride to be), Zoe, Sharon and yours truly.
Climate? Hot Hot Hot! We went at the tale end of winter and temperatures soared to 30 degrees celsius. Our plan to wear PVC superhero costumes was quickly ditched!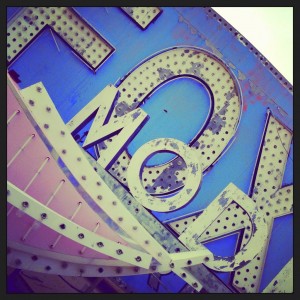 Neon Boneyard in Las Vegas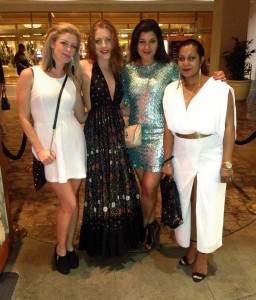 Zoe, Lian, Me and Sharon on best behaviour!
What to wear when your there?
We went at the end of March (that's still winter in Vegas) and temperatures rose above 30 degrees celcius in the day! The style rule in Vegas is pretty much anything goes. This really is a city that never sleeps (more so than NY I think!), so you're just as likely to see party girls in heels and sexy body con dresses, hanging out by the pool at midday or stag groups in sponge bob square pants outfits, as you are every day families with kids. The fact that you're highly unlikely to know what time of day it is (daytime clubbing and daylight in casinos), means you can get away with whatever you like! For men you do need a collar and/or long trousers in some of the casinos and restaurants. And for the ladies I recommend wearing a bikini under a dress, you never know when you might end up at a pool party. The one thing I will say is dress to impress. Excess, designer labels, bling and OTT styles rule supreme.
Street Style – Las Vegas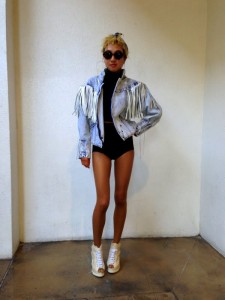 Fringed denim, Lady Gaga style at midday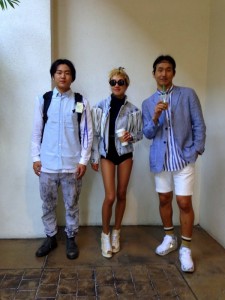 Love these guys!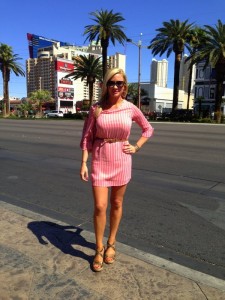 Barbie Girl at 10am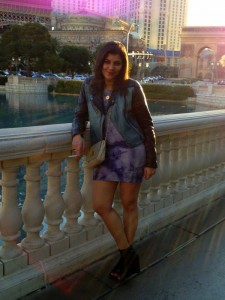 Me at 6am at the Bellagio Fountains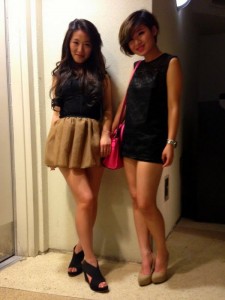 Miu Miu girls at the Marquee Nightclub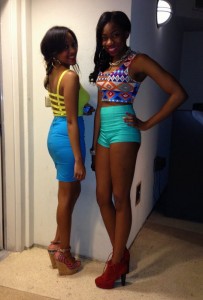 Neon and body-con at The Marquee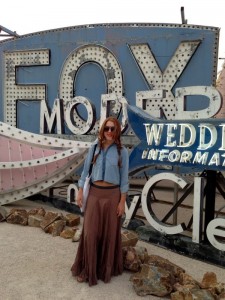 Lian does cowgirl at the Neon Boneyard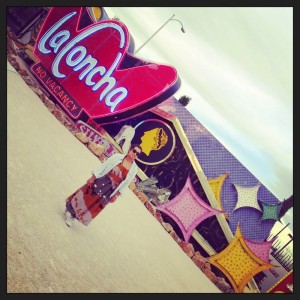 Sharon wears desert camo in the right place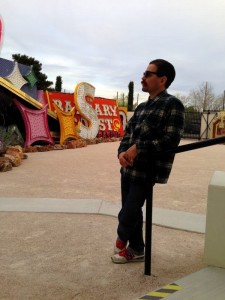 Please look at the camera…ok don't then
There are two main designer shopping outlet parks in Las vegas. North outlet is outdoors and houses labels such as DKNY, Micheal Kors, Burberry, Ralph Lauren and Tommy Hilfiger. South Outlet has similar stores but is all indoors. You can find designer shopping at full price all along the strip, Fashion Show and Crystals are particularly chic malls but you'll see plenty of shops in Vegas to spend your winnings.