A Weekend Mini Break to Paris with Olympus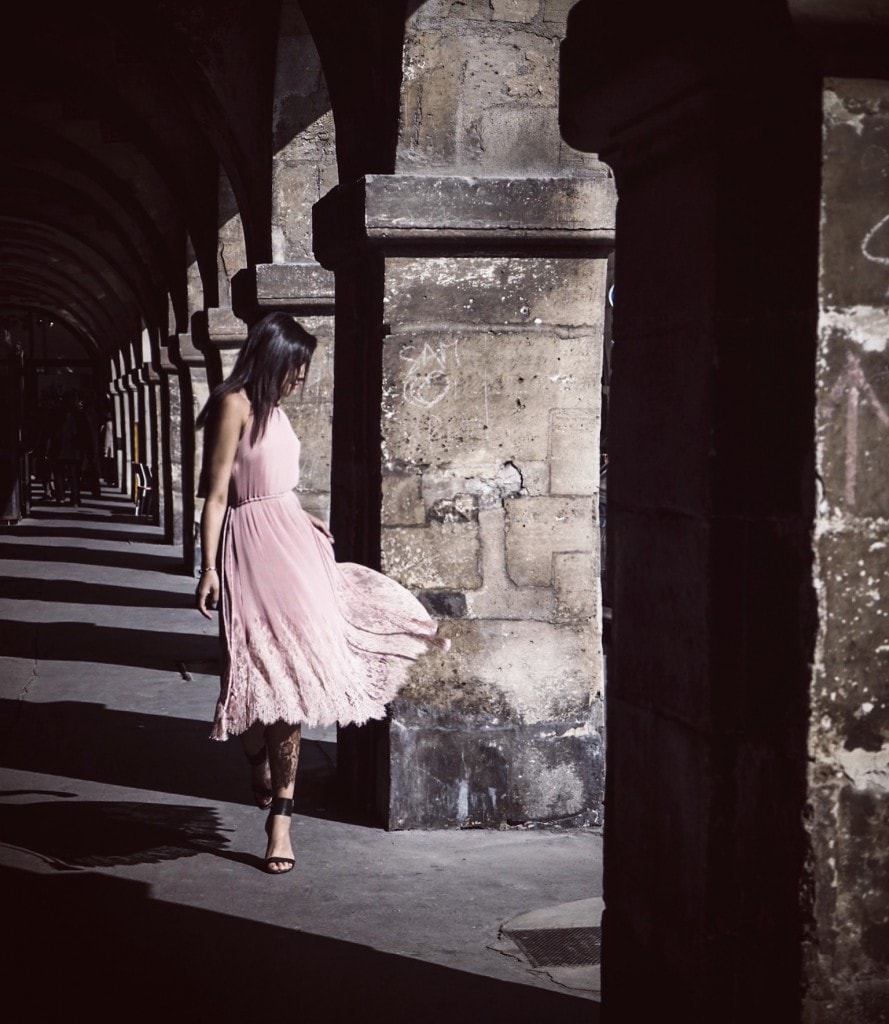 A Weekend Mini Break to Paris with Olympus
Where? Le Marais, Paris, France.
Exactly? We stayed at Le Pavillon de la Reine a stunning Parisian boutique hotel in the heart of Le Marais. It's part of The Small Luxury Hotels Group.
When? April 17, travelling on Eurostar Business Premier, more on that later.
Why? I love Paris in the spring, it's a photographer's dream destination, especially on crisp, sunny mornings which we had plenty of on this trip. I regularly get asked what camera I use to take the photos on my blog and the answer to this is an Olympus Pen camera. I'm a huge fan of them already, so when Olympus asked me and my best blogger friend, Lorna Luxe to come to Paris to try out the new 30mm Macro lens, I was thrilled. Add to that my buddy and photographer Jay McClaughlin would be photographing us and teaching us how to use the new lens during our trip. It could only be a win win situation!
Here's my photo diary of our weekend mini break to Paris with Olympus…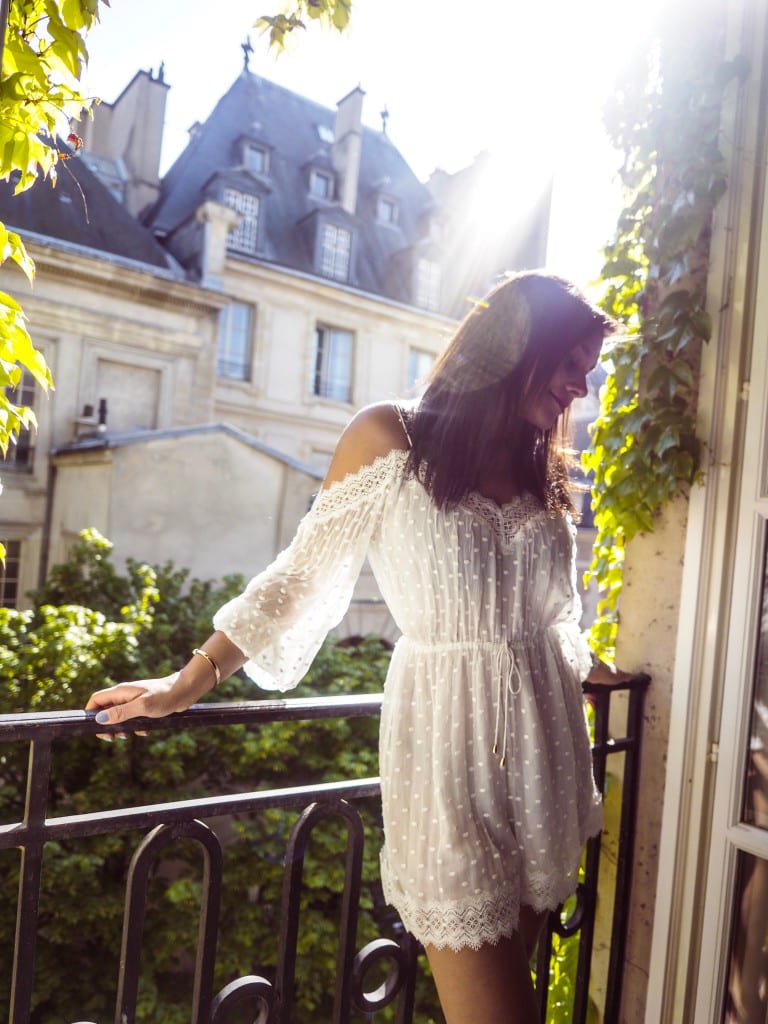 Feeling romantic on my Juliet balcony at the Pavillon de la Reine hotel & Spa, wearing a Zimmerman playsuit.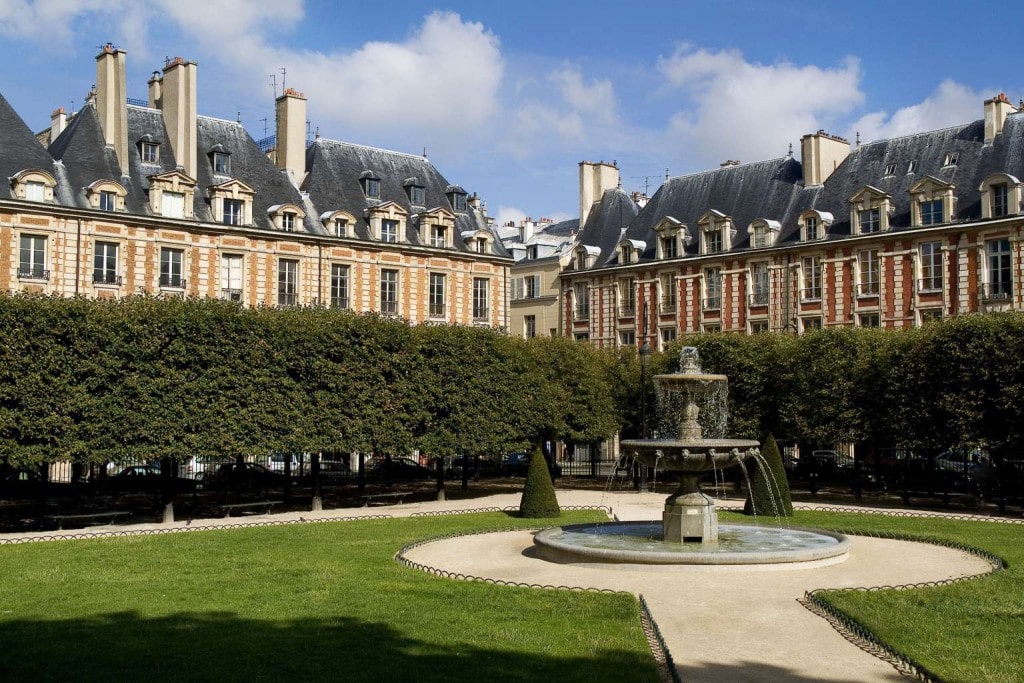 Where we stayed?
Set in one of the oldest and most beautiful squares in Paris, Le Pavillon de la Reine Hotel and Spa is a quintessentially Parisian boutique hotel. Accessed through a discreet pretty archway off the Place des Vosages, entering the spectacular foliage filled courtyard is a like discovering a hidden oasis of calm, set just off the main square filled with stylish galleries, boutiques and cafes.
Built in in 17th century by King Henry IV of France today the hotel is privately owned and family run. It exudes palatial decadence whilst retaining an intimate, romantic charm. The 54 rooms and suites are sophisticatedly decorated in a contemporary style fusing antique elements from its rich and vivid history with modern design classics. It's a design lovers dream and my ideal hotel for a sexy little weekend mini break in Paris.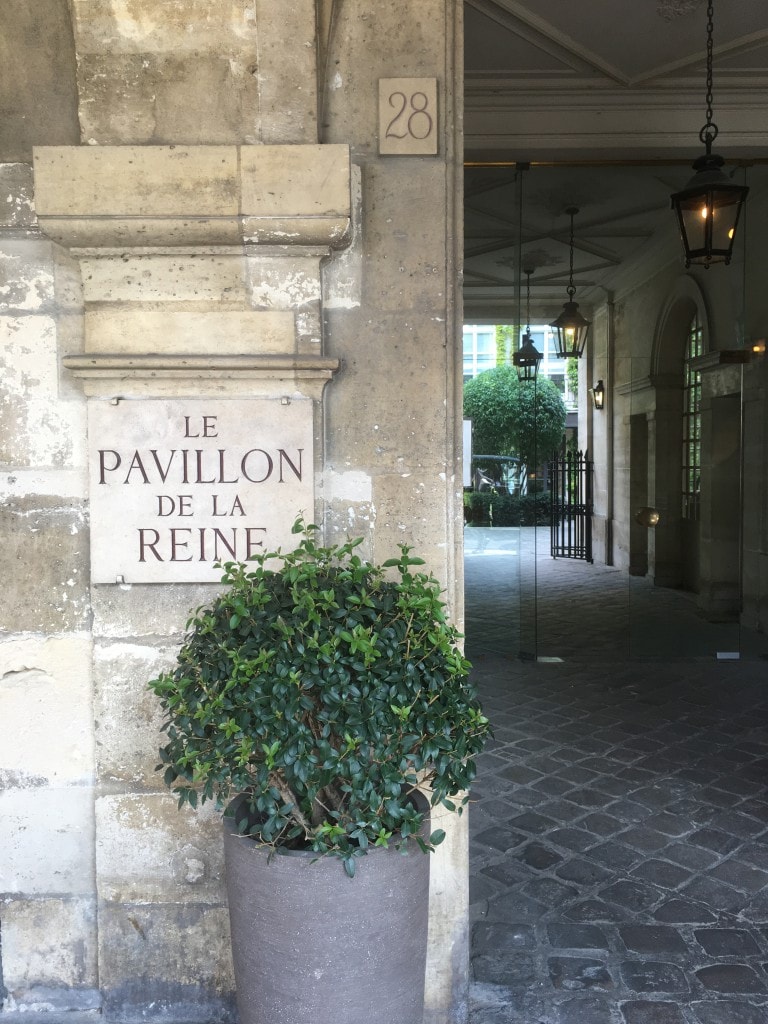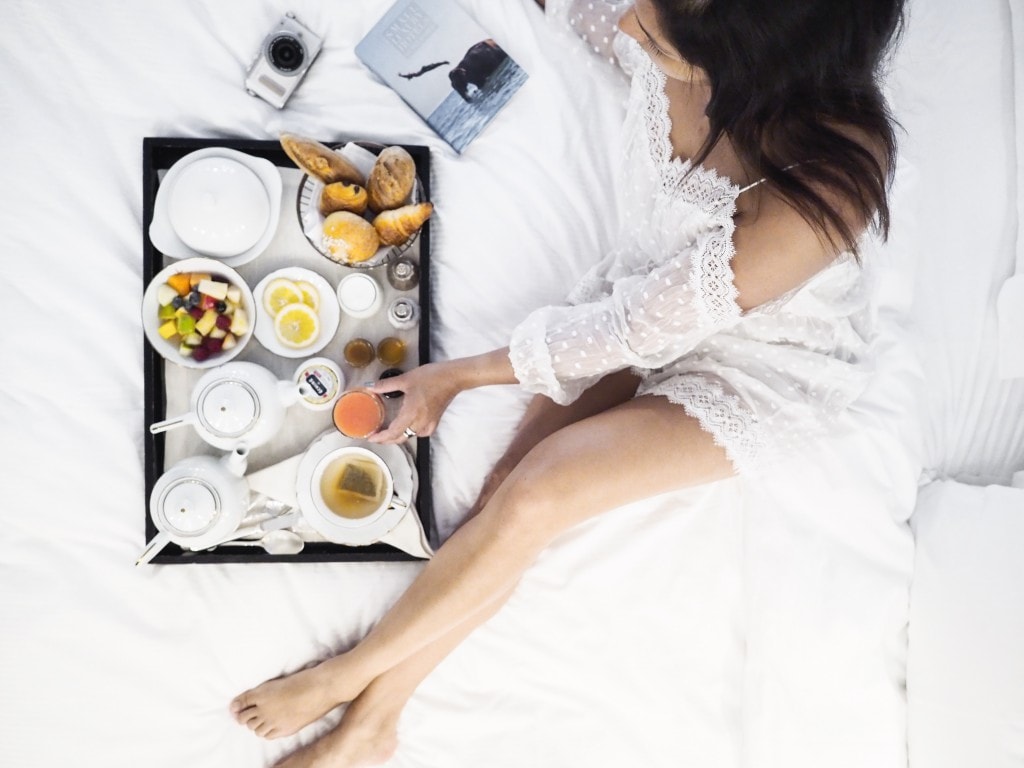 Having an instagram goals moment with my breakfast in bed.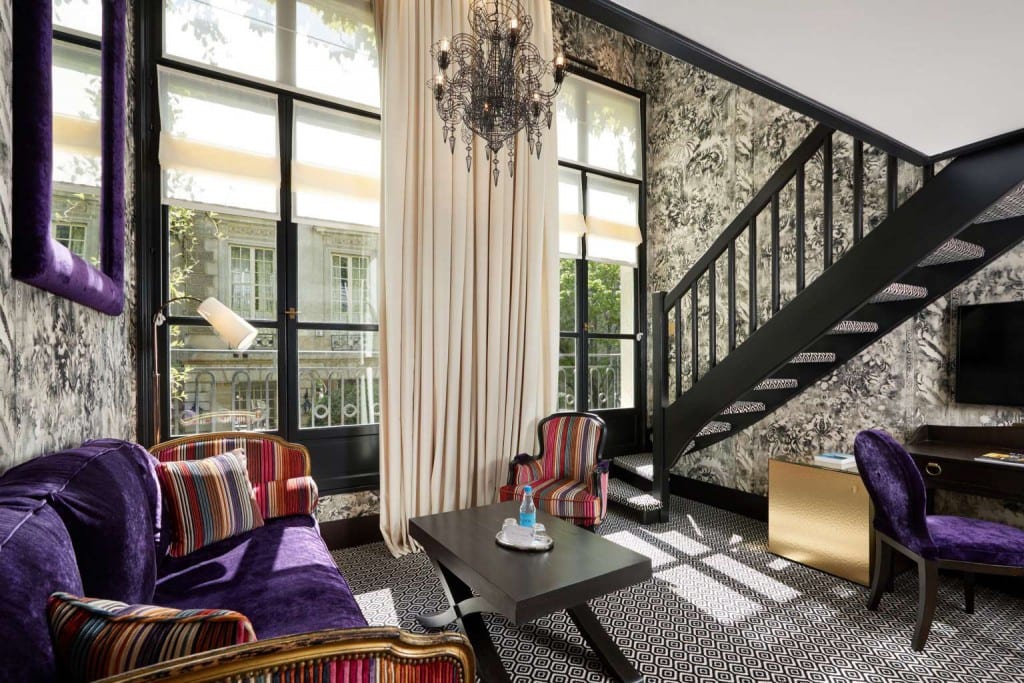 My suite was an apartment-style room with double height, floor-to-ceiling windows, a Juliet balcony and a mezzanine level where the bed was located. It's so wonderful waking up with a view of the sunlight filled courtyard. Followed by breakfast in bed, it was a dream!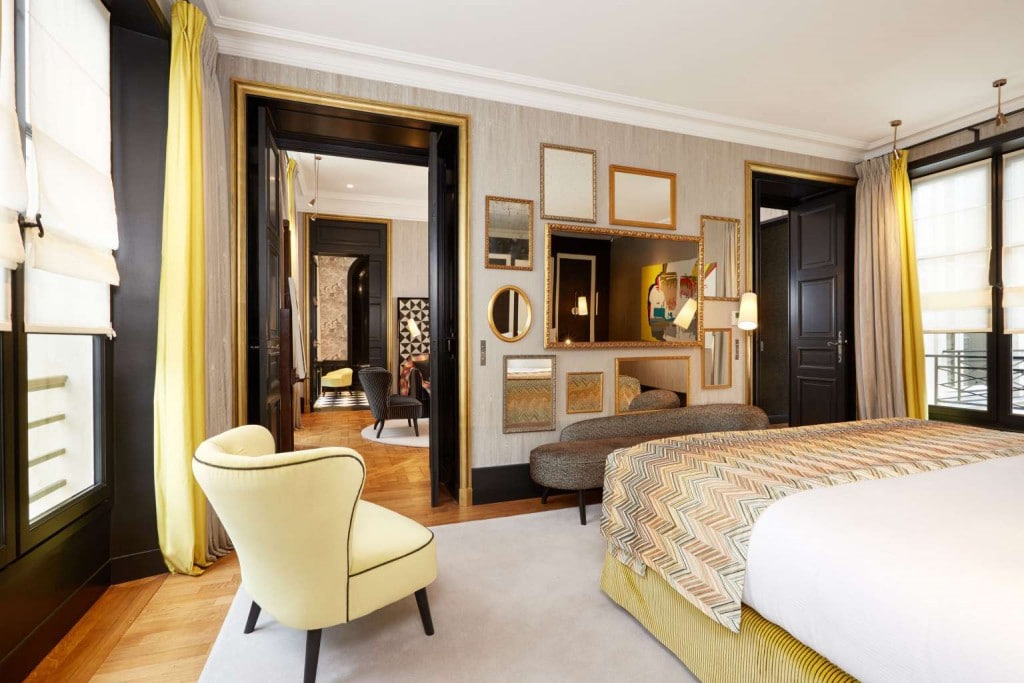 Super stylish interiors, each of the rooms have individual colour schemes and art works.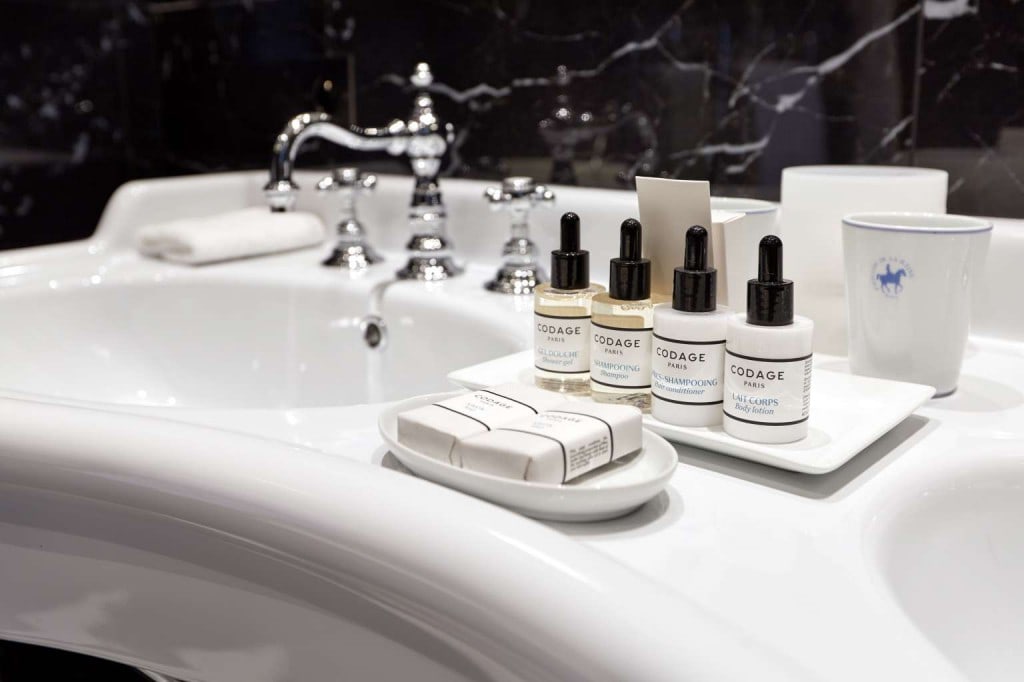 Picture perfect toiletries in the black marble bathroom. It's all about the details.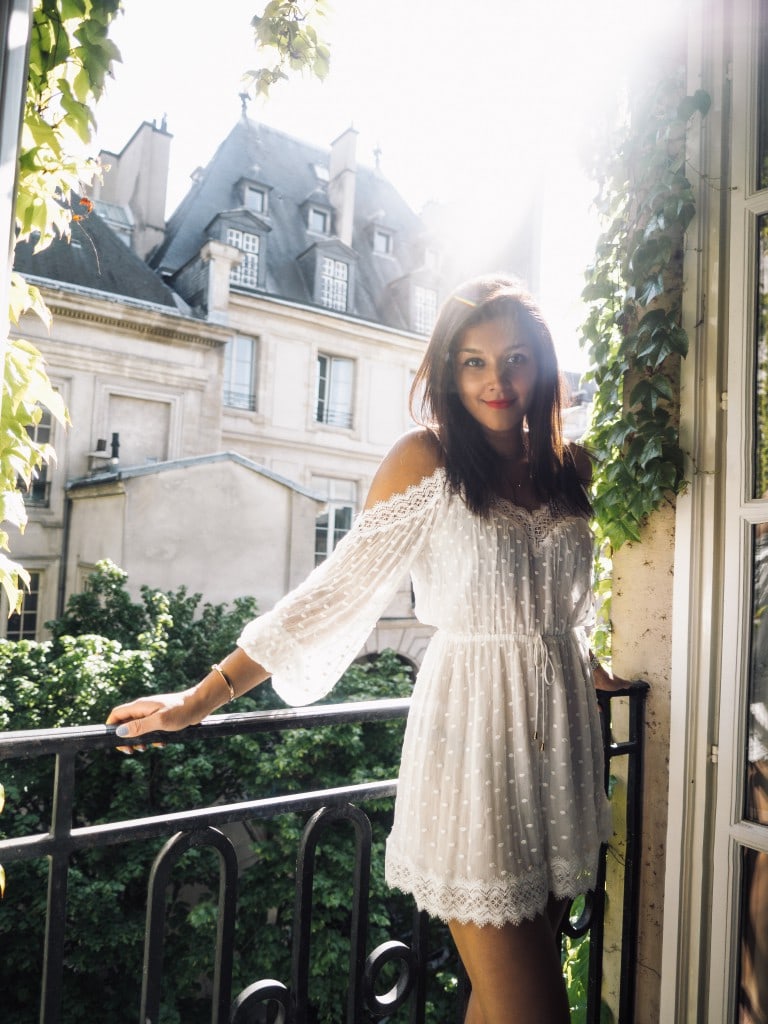 The balcony in my room provided the perfect back drop to my outfit shoots.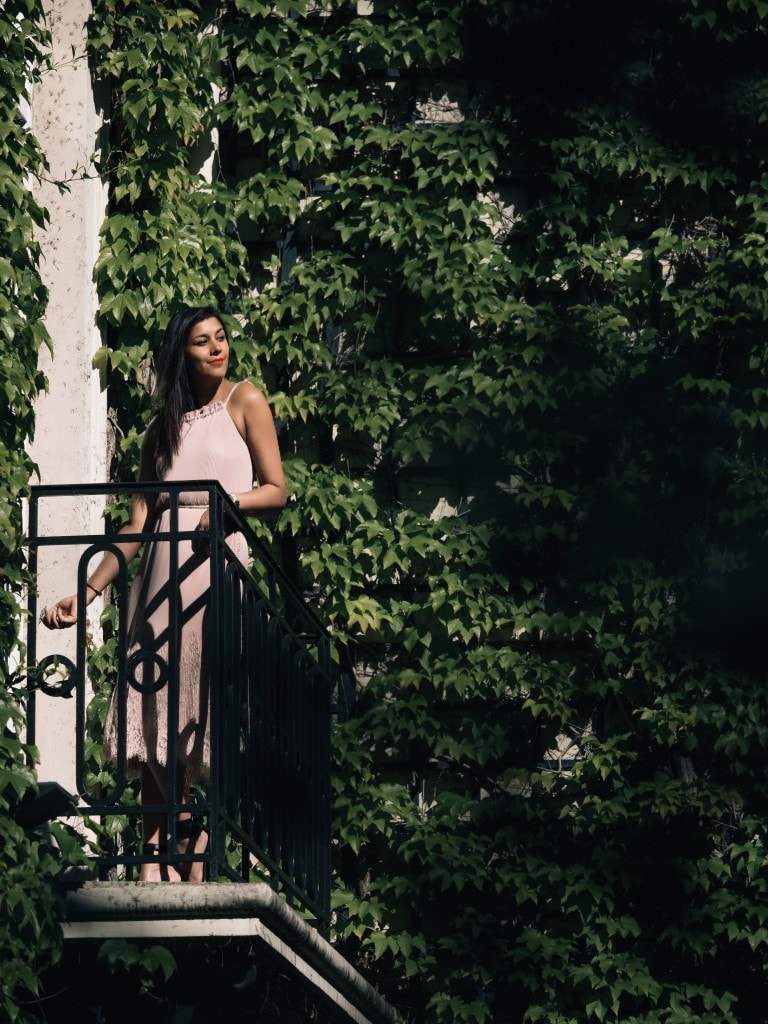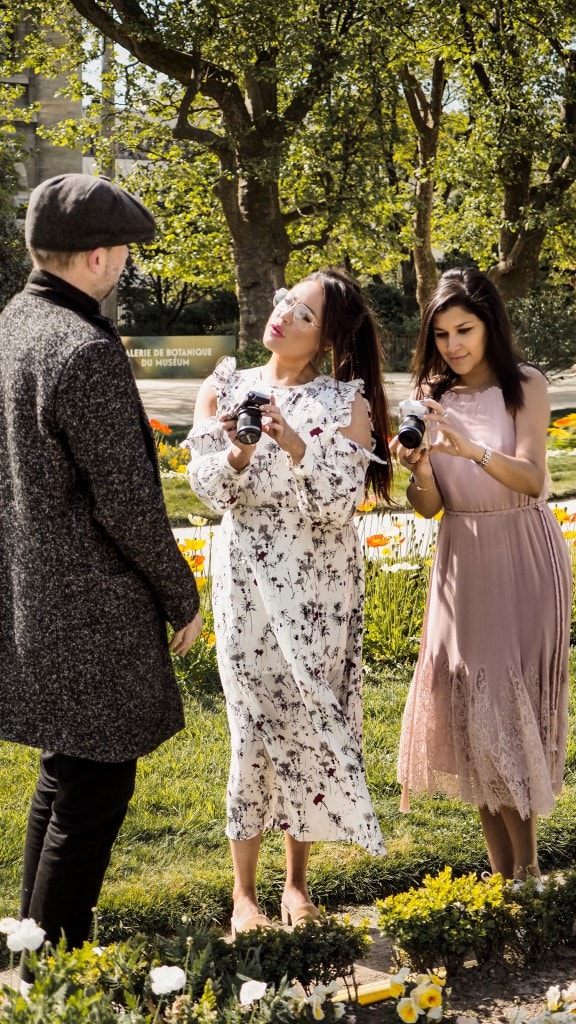 Paris in Detail
After a sumptuous nights sleep in the dreamily soft bed, I met up with the gang ready for a day of photography and shooting in and around some beautiful Parisian settings. First stop, a photography lesson with our friend and Olympus ambassador, photographer Jay McClaughlin.
We were testing out Olympus' latest bit of kit, the new 30mm Macro lens, perfect for getting up close and personal with nature and detail, so we got a little practice in at the Jardin du Plants perfectly manicured gardens.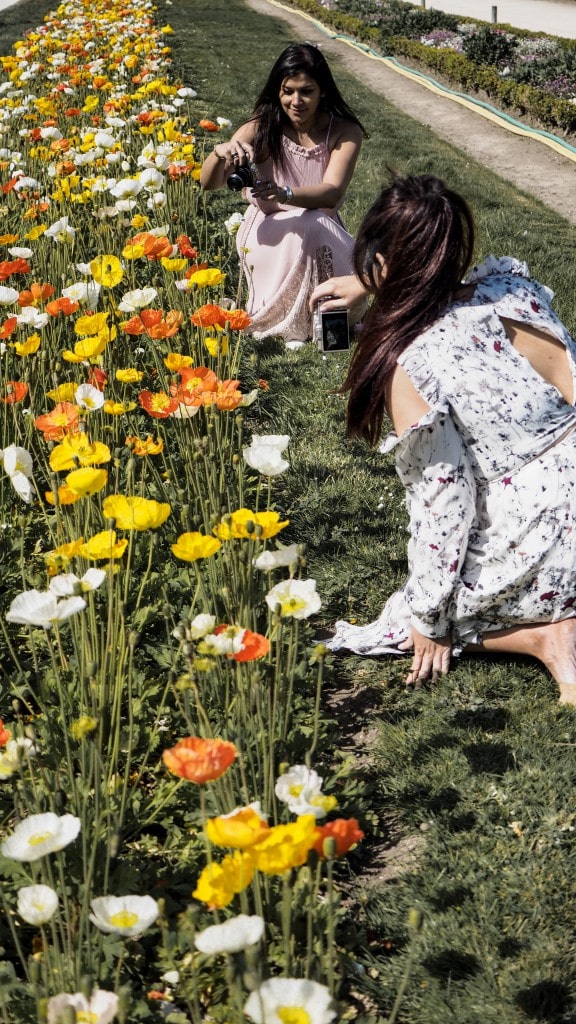 The result – below the depth of filled with the flora and fauna in the foreground in focus.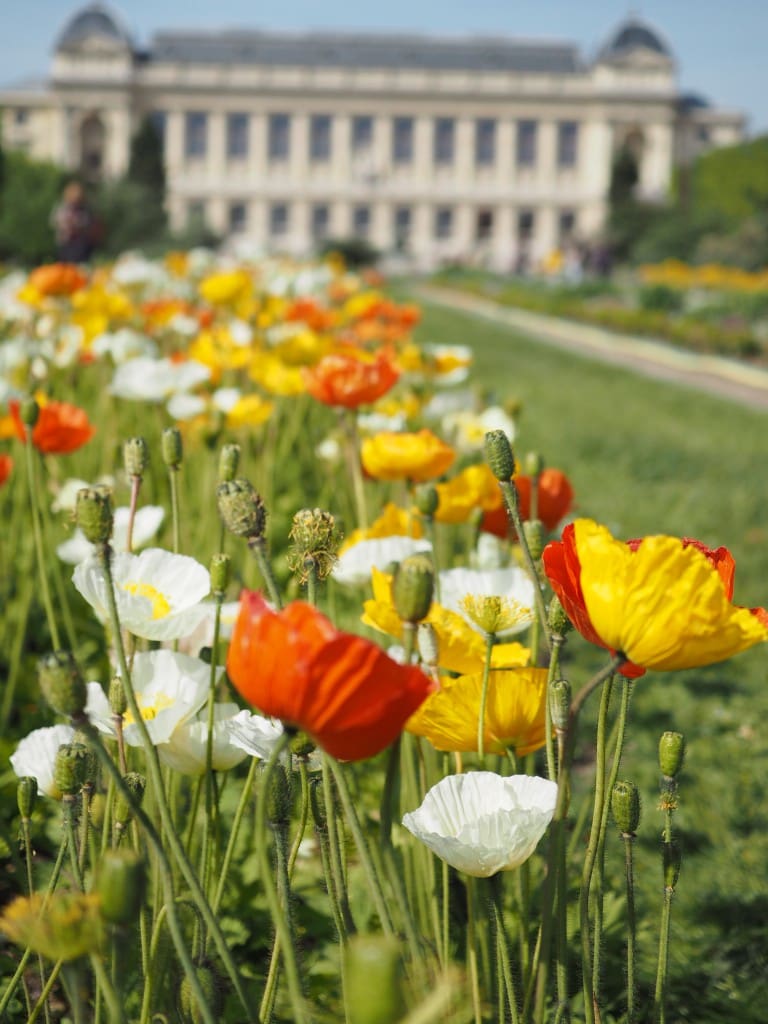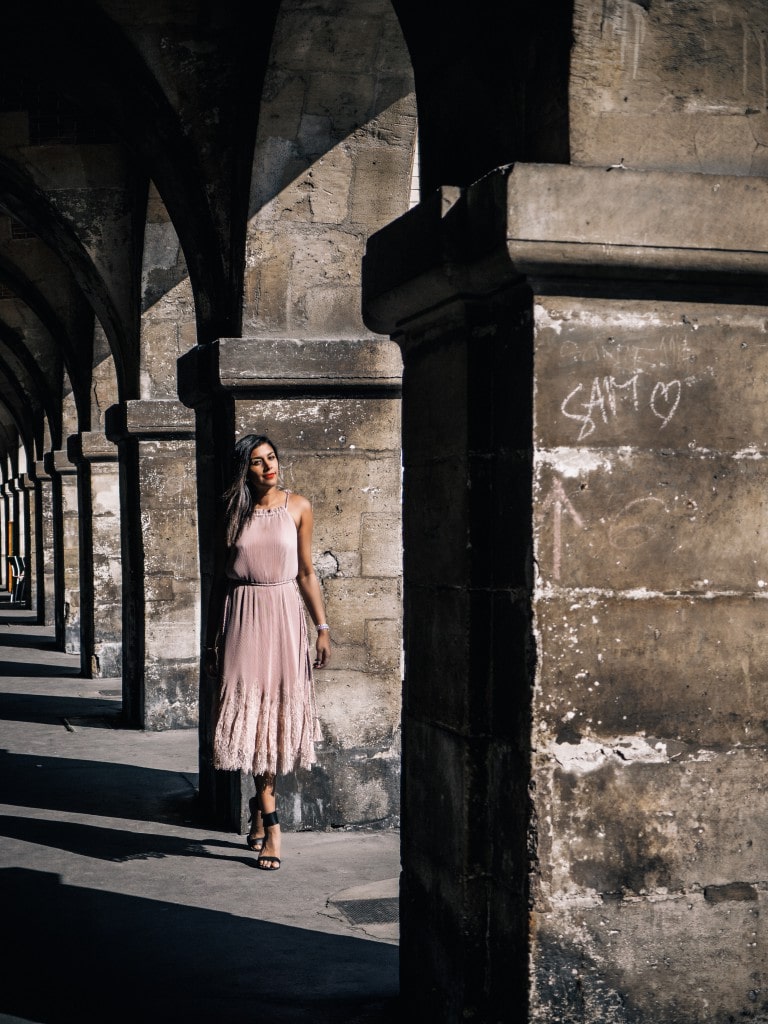 Then time for a few outfit posts shot by Jay – above Bonnie wears pink floaty dress by Whistles and below the details.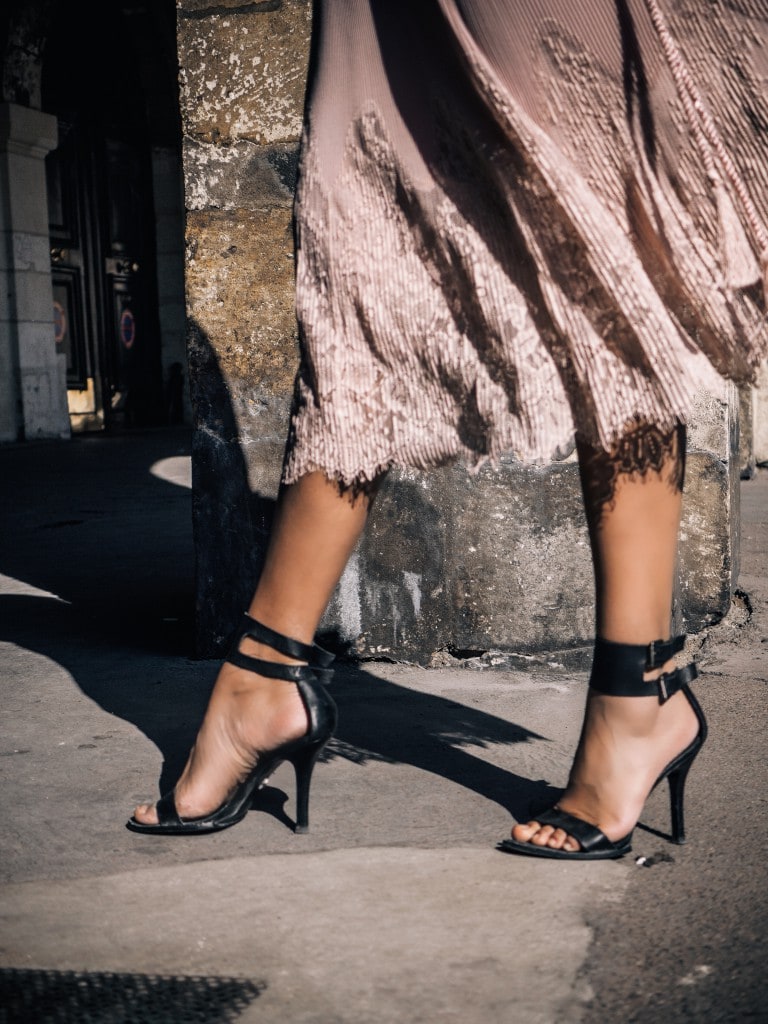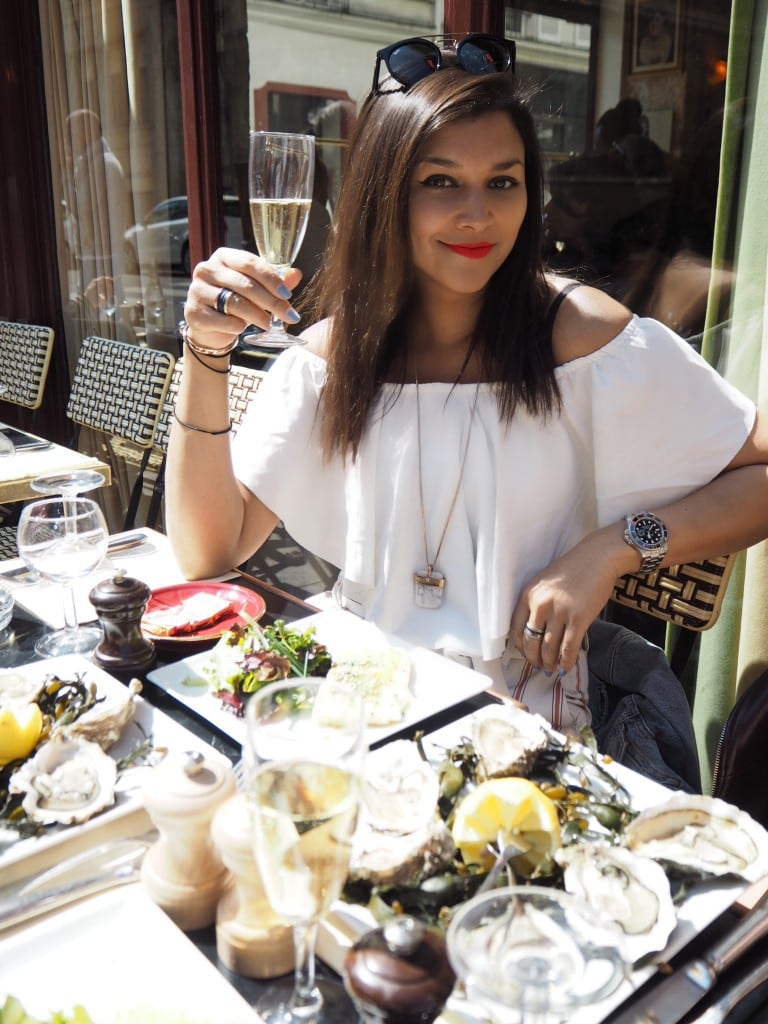 After a busy morning of shooting it was time for a spot of lunch, I'll have the oysters s'il vous plait!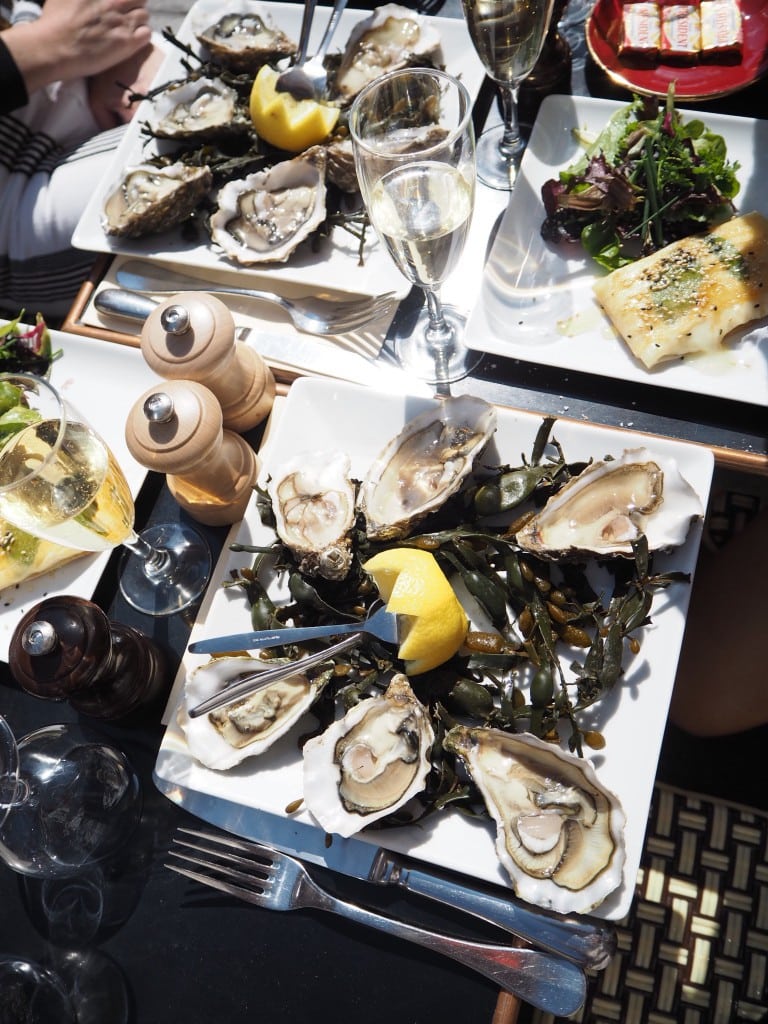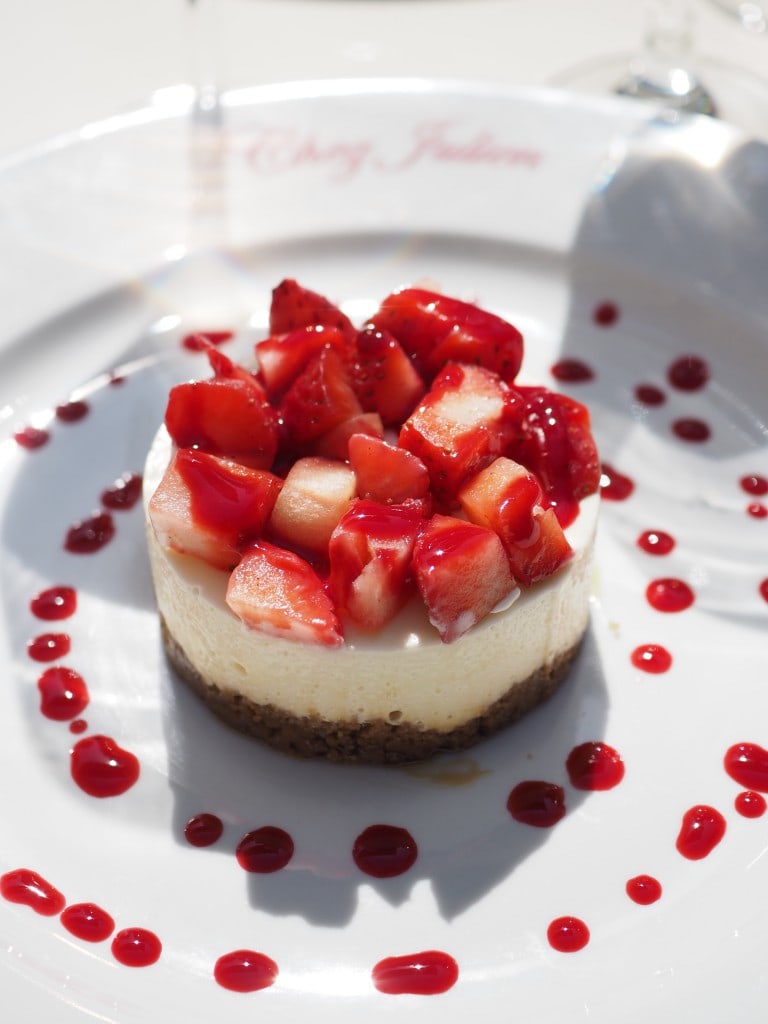 Above my strawberry cheesecake at Chez Julien up close.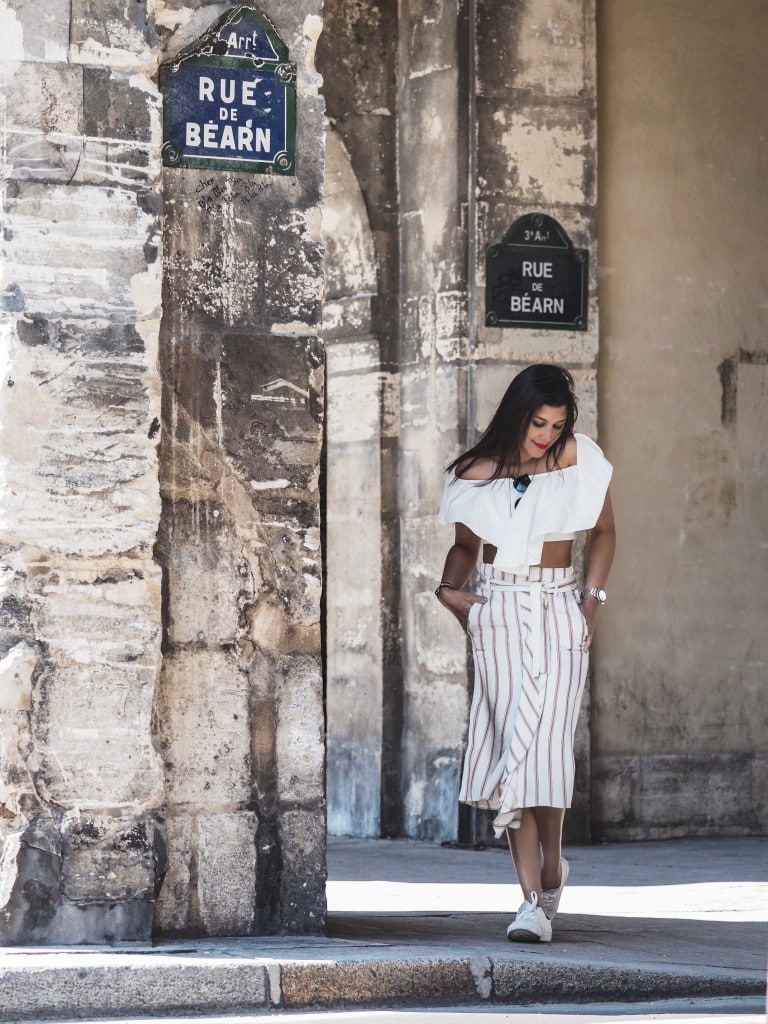 What to wear in Paris – stripes of course! Afternoon outfit shoot wearing stripe skirt by Dorothee Schumacher and sunglasses by Rayban at Very Exclusive.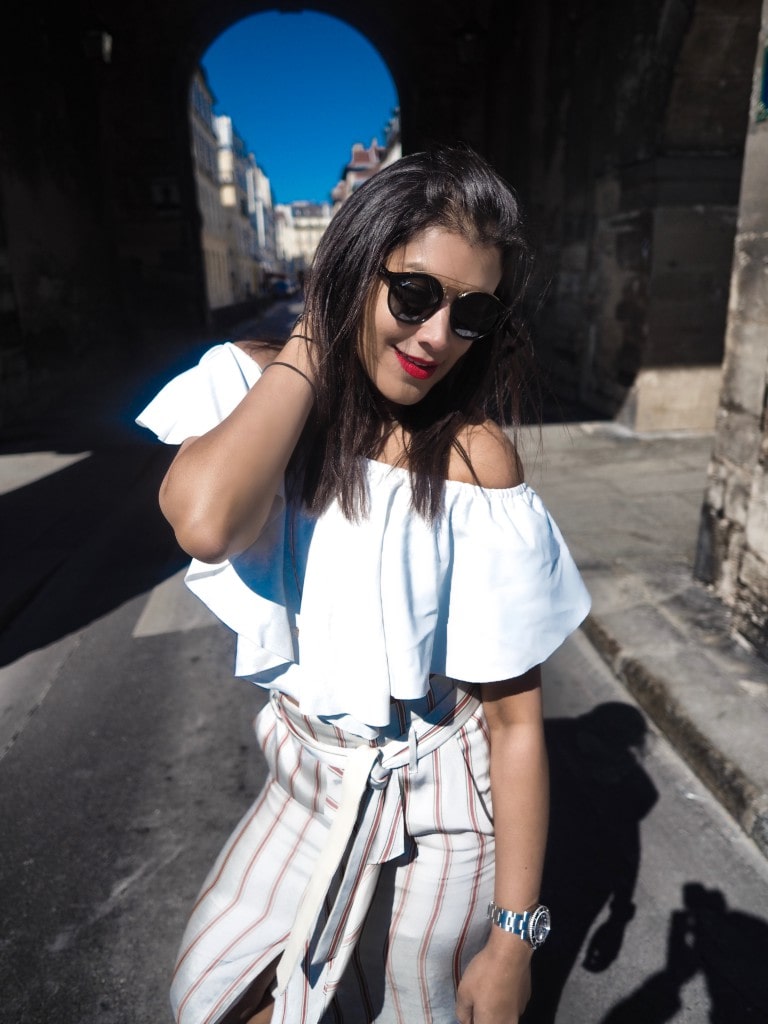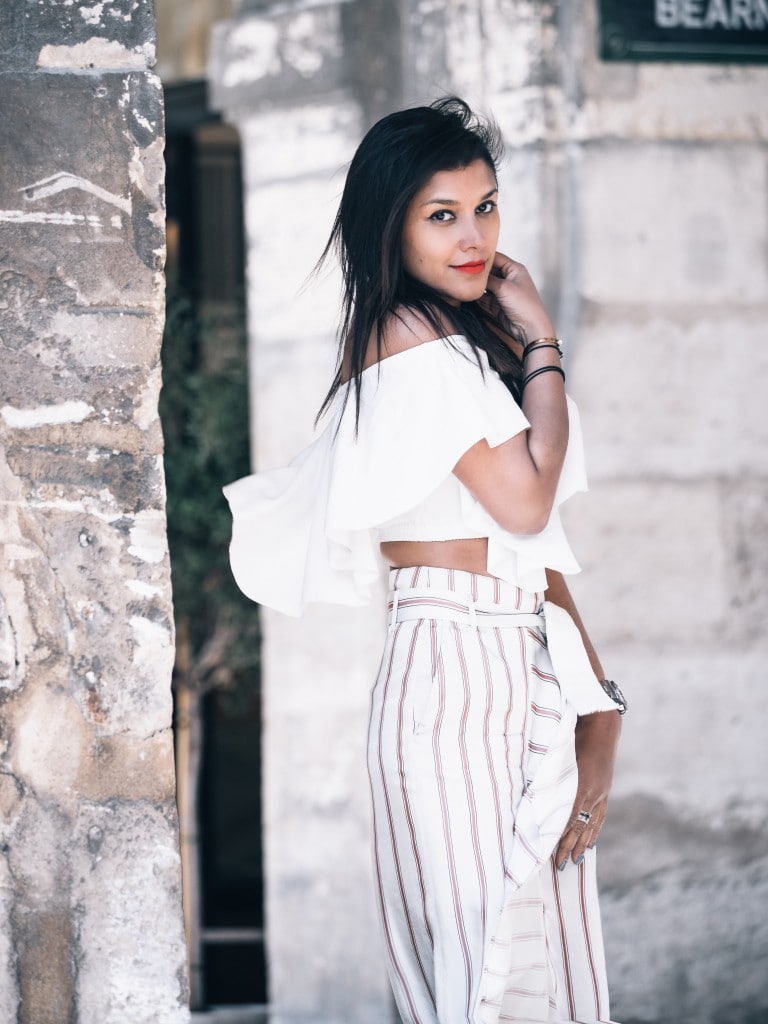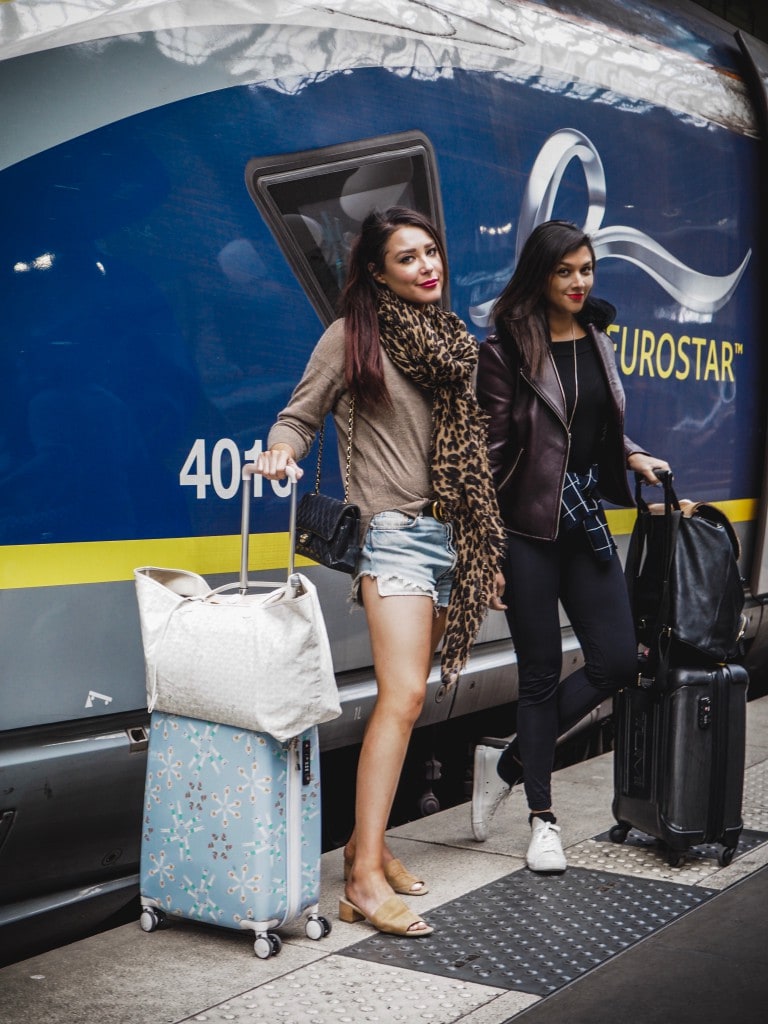 And after a flying 24 hour visit, it was time to head home. But not before getting to spend a little time in the brand new Eurostar Premier Classe Lounge (pictured below), which I might add is definitely worth paying the upgrade for!
We travelled Business Premier both ways and the gorgeous new lounge at Gard du Nord is super chic. The decor is comfortable yet stylish with trendy modernist furnishings with a touch of Art Deco thrown in. The complimentary food and snacks on offer were yummy, I love freshly baked madeleines. We also got to enjoy a special Raymond Blanc breakfast on the way there and 3 course dinner on board the return train, this comes as part of the Business Premier package :) Love a bit of luxury on route, I could get used to this!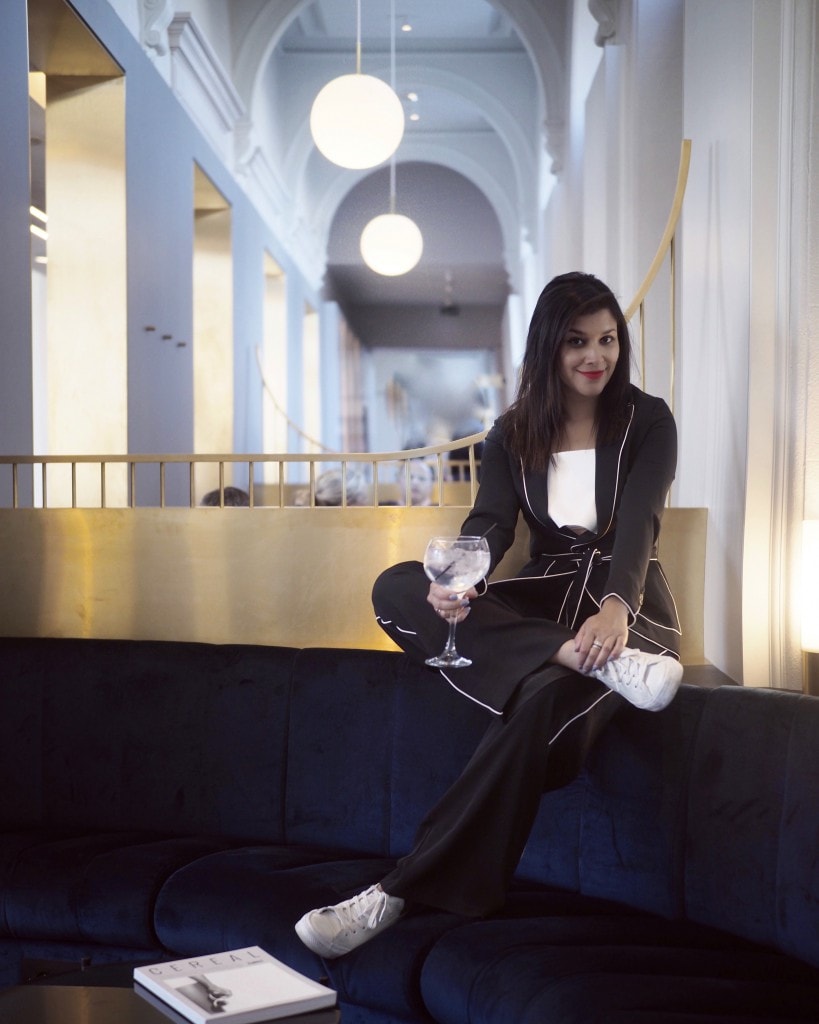 So back to London and prepping for my next journey.
Join me next time to see my trip to Tuscany with Ferrari.
Bon Voyage xx