Tulum, Mexico – Best Bars, Restaurants and Beach Clubs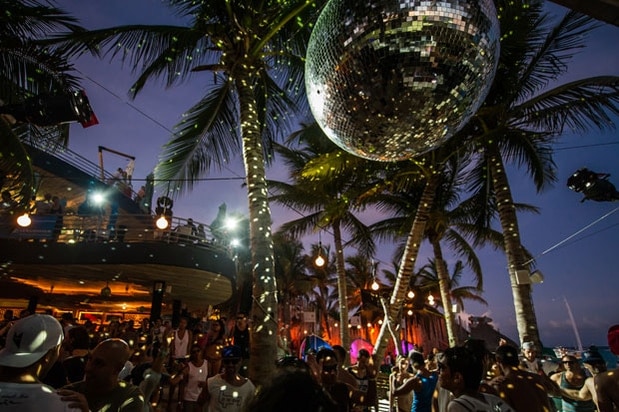 Tulum, Mexico – Best Bars, Restaurants and Beach Clubs.
I first visited Tulum 5 years ago, and then again this year and wow has that sleepy beach town I once knew undergone a huge transformation.
Last time I visited there were three or four decent restaurants, cute quirky bars in the old town and a few beach outposts (shacks) in which to swill a dodgy tasting mescal cocktail.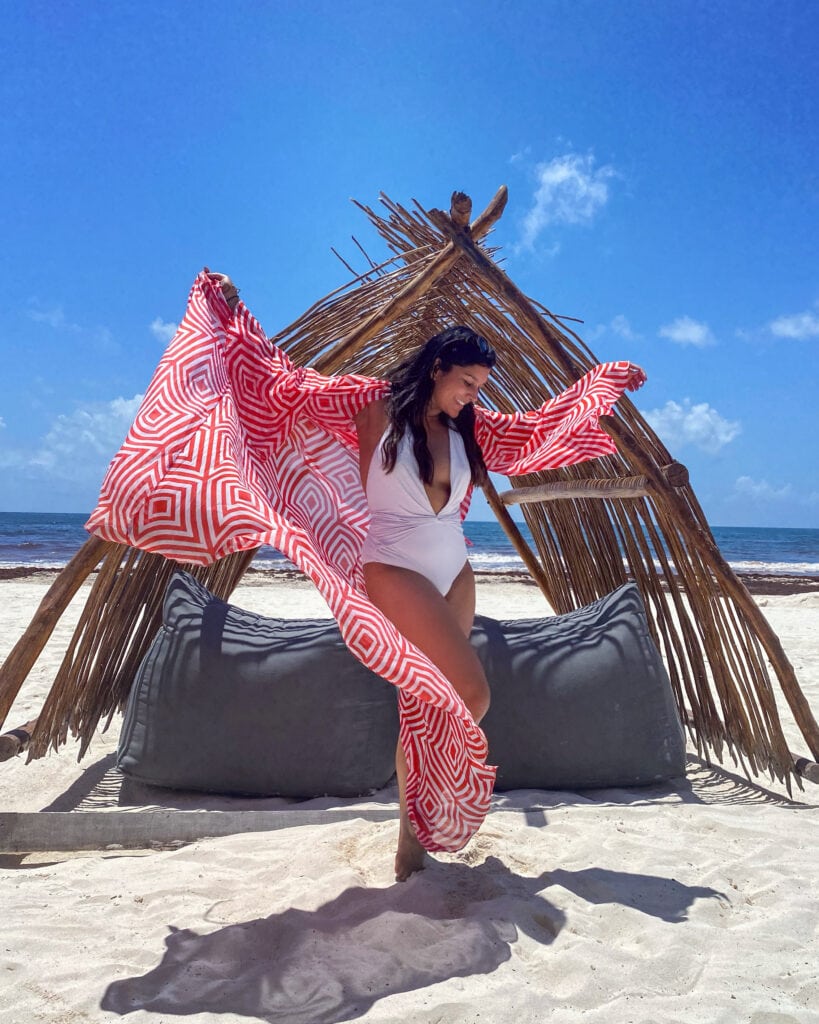 Fast forward to 2022 and a post pandemic era, visiting Tulum feels like the pandemic never happened and a party capital has evolved. There is still a boho, spiritual side, which I love, but the restaurant, bar and beach club scene has expanded exponentially.
So if you're a discerning style traveller and looking the coolest spots to eat, drink and party with the chic set, the bohemians, the musicians and party people in Tulum, keep scrolling to read my Tulum, Mexico – best bars, restaurants and beach clubs edit.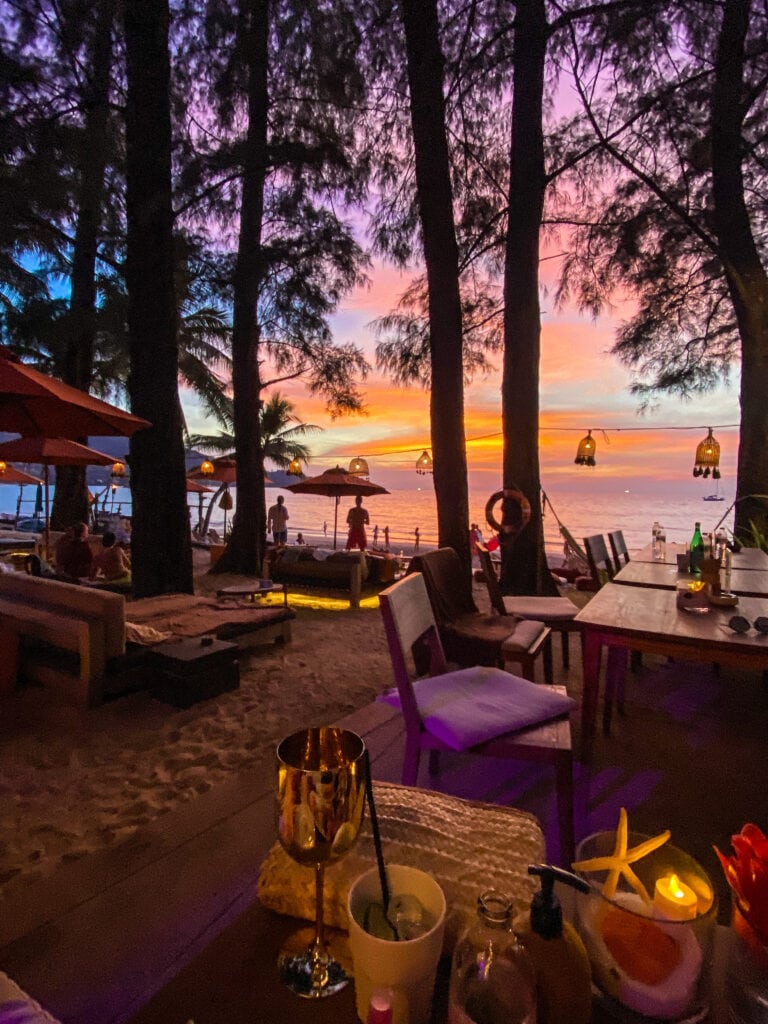 I've split my guide into different sections so you can hone in on your vibe and tribe. I've started with listing my favourite Chic Restaurants, all of which have great food and atmosphere, followed by the Best Night Clubs, Beach Clubs and finally a shout out to some of the cheesier mega bars and Old Town, which also have their place on the night out line up.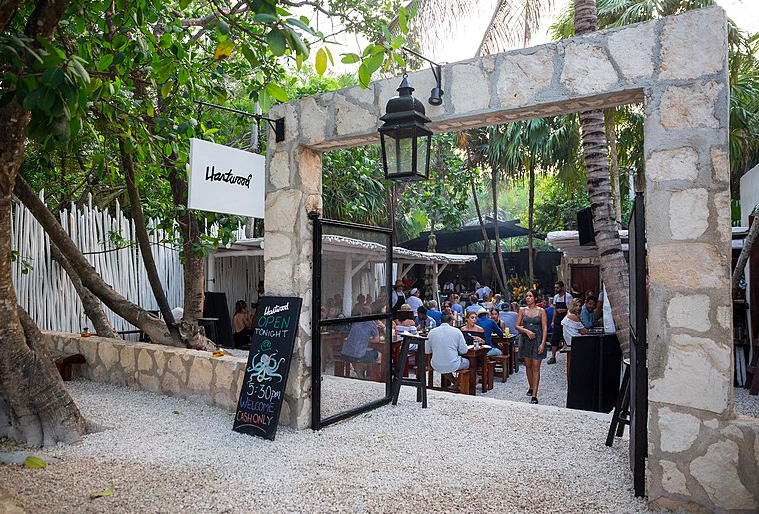 Chic Dining – Hartwood
Tulum's most famous restaurant is the eco conscious, Hartwood whose waiting list is months long and the door bitch policy (yes, even on a restaurant) is brutal.
If you know you plan to visit a few months in advance then book it now. Otherwise you can queue before opening time at 6pm, there are a select few walk-in tables, but that isn't guaranteed.
I loved it the first time I went. I loved that the menu changes daily based on what fish were caught that day. Their planet friendly, locally sourced ingredients messaging also ticked the boxes. But sometimes places get a bit too 'scene-y'. And that is unfortunately what's happened here. The food is great but it would be nice if the staff were a bit nicer.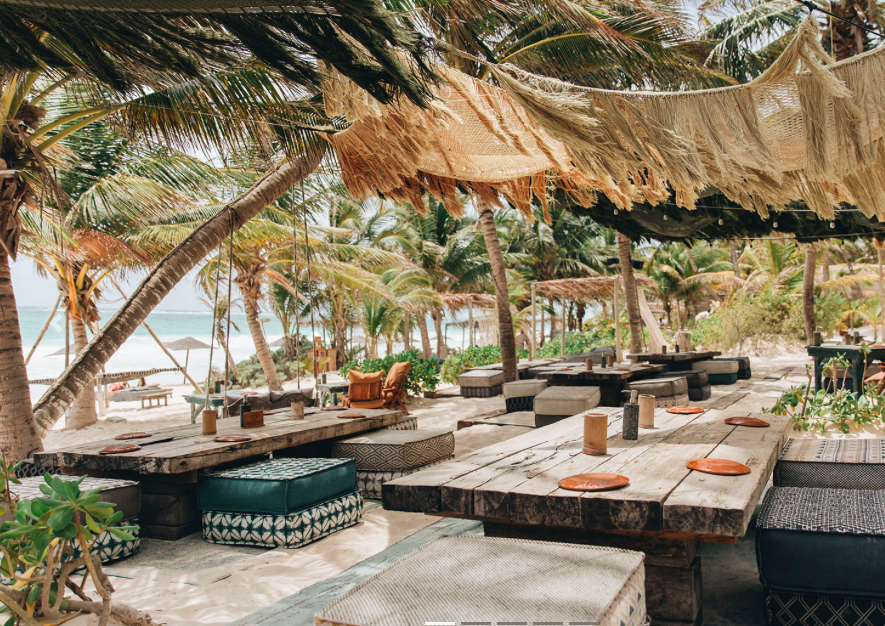 Nomade Tulum
Further away from the centre of the party zone is the ultra stylish, French hotel Nomade. The beach restaurant, La Popular is the epitome of boho chic. With outdoor distressed rugs on the sand, floaty tasselled umbrellas, music brought to you by some uber hip live percussionist and acapella tribal singing, if the hipster vibe is what you want, Nomade has it in spades. Head here for sunset and enjoy excellent chilled margaritas and fresh fish.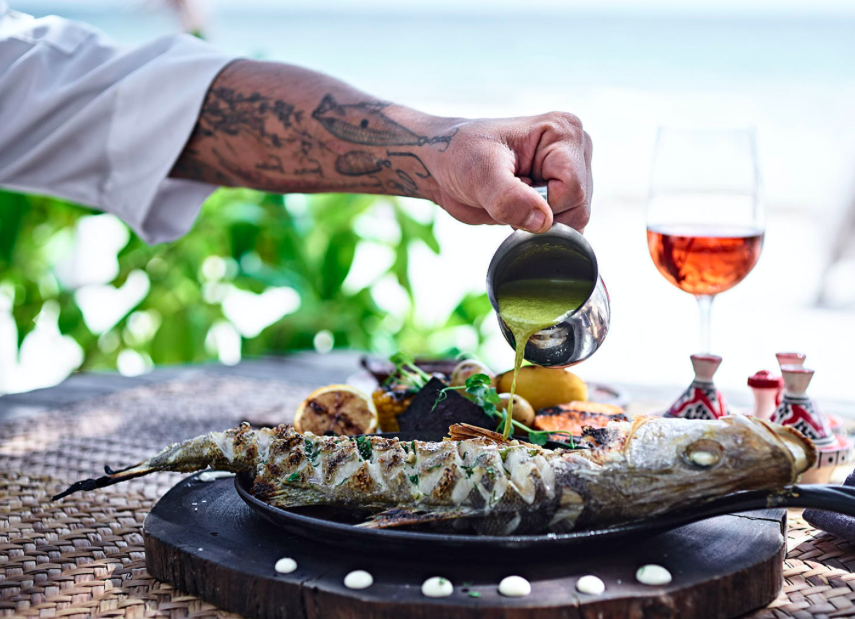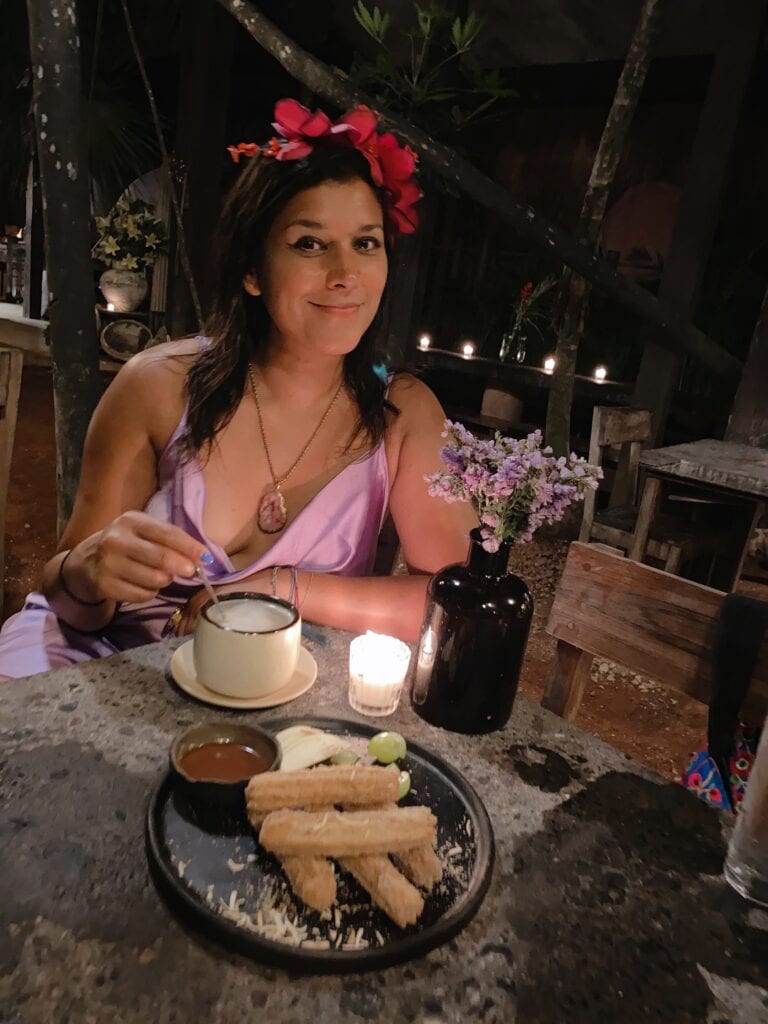 Casa Jaguar
One of the original cool venues in Tulum. Casa Jaguar is now perhaps the hippest (and my favourite) restaurant in the town. Walk into a colonial, 1920's Shanghai style, outdoor courtyard, complete with brushed concrete surfaces, wooden shutters, vintage rusting mirrors and eat exceptional Mexican fayre under a lush green canopy of palm trees.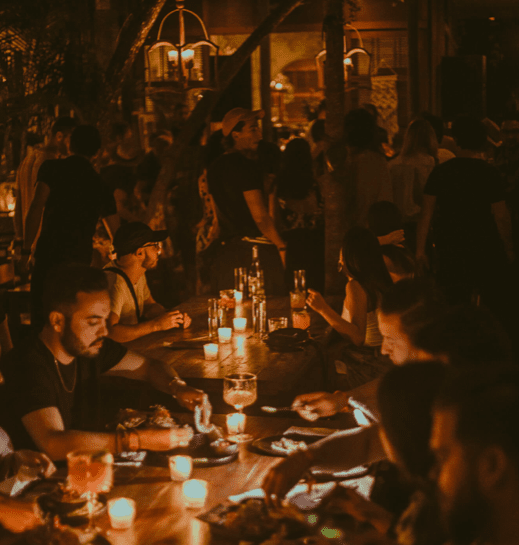 The music is sexy, eclectic trip hop, the atmosphere is seductive with candle lighting, add to that, banging cocktails and you have the makings for the perfect romantic night out or a party night with your cool friends. Check local listings for DJ events in the garden.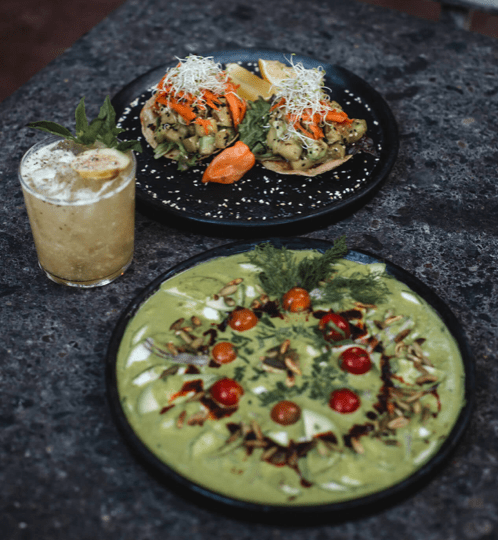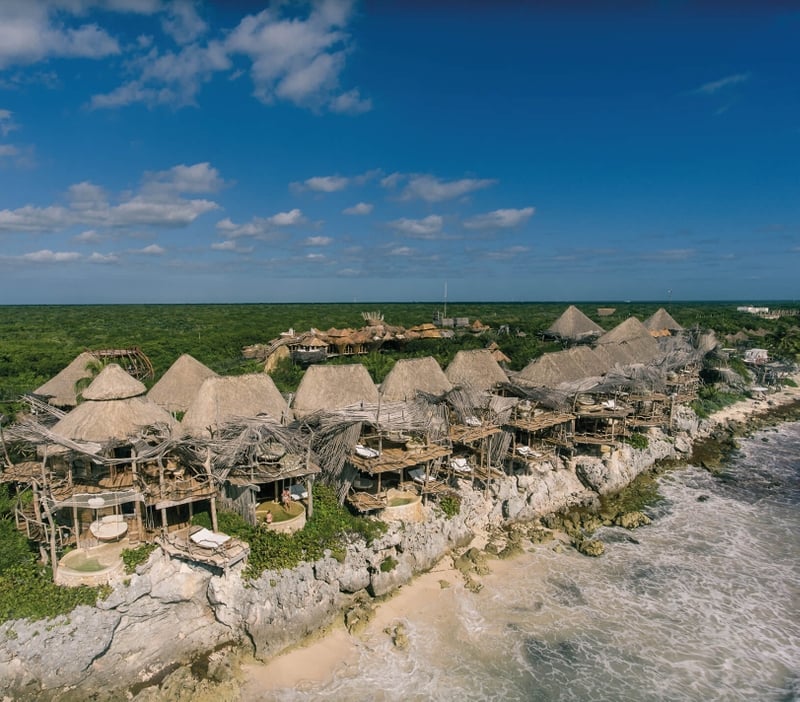 Azulik
The famous sculptural, sustainable and spiritual living project, Azulik is one of the reasons many style travellers visit Tulum in the first place. If you aren't staying in one of the jungle or amazing sky villas (images to follow), then definietly reserve a lunch or dinner at one of the hotel restaurants. It's a must to book pre-drinks in one the sky nests which look out over the entire incredible complex and out to sea. It's an awesome site, especially at sunset.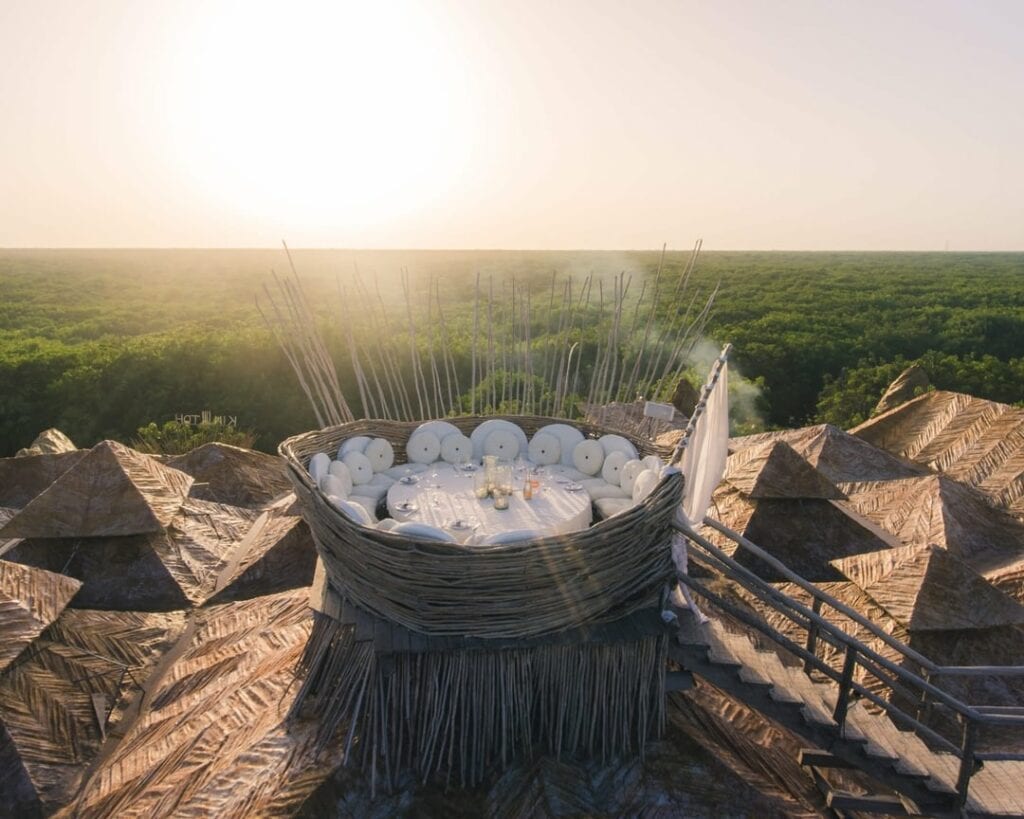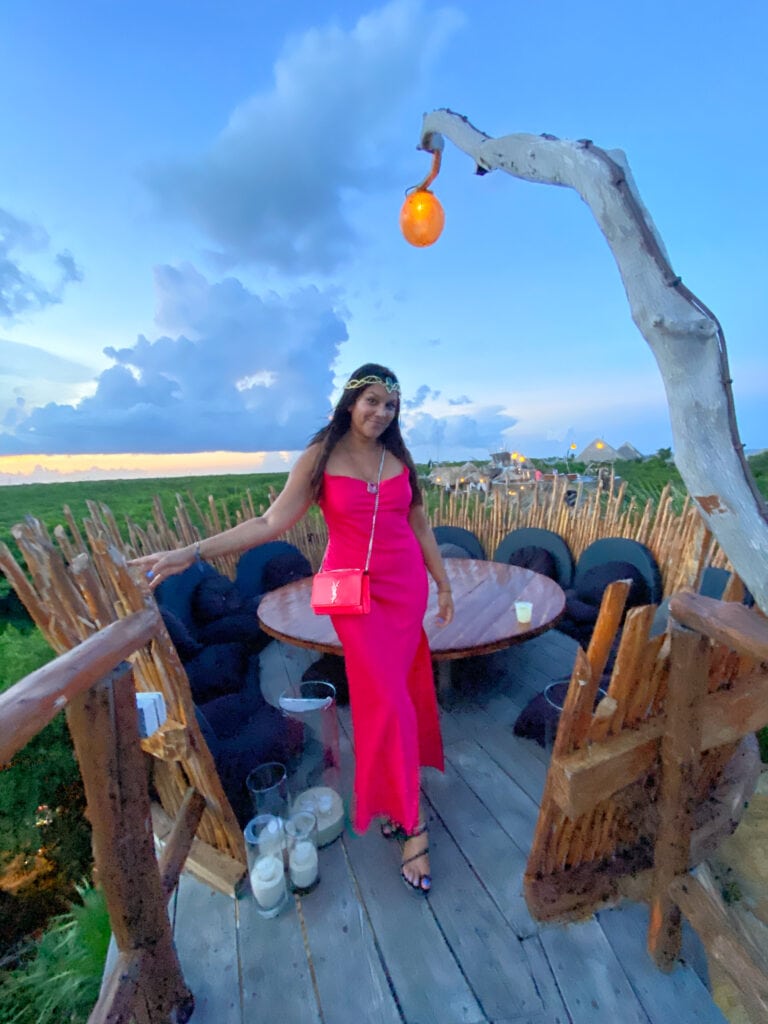 I highly recommend a visit to Azulik. The inspirational architect, Roth, designed it as a eco-futuristic vision of what our world could be like one day. It's totally mind blowing and breathtaking to see. There's also the Sfer Ik museum in the grounds which is definitely worth a look too.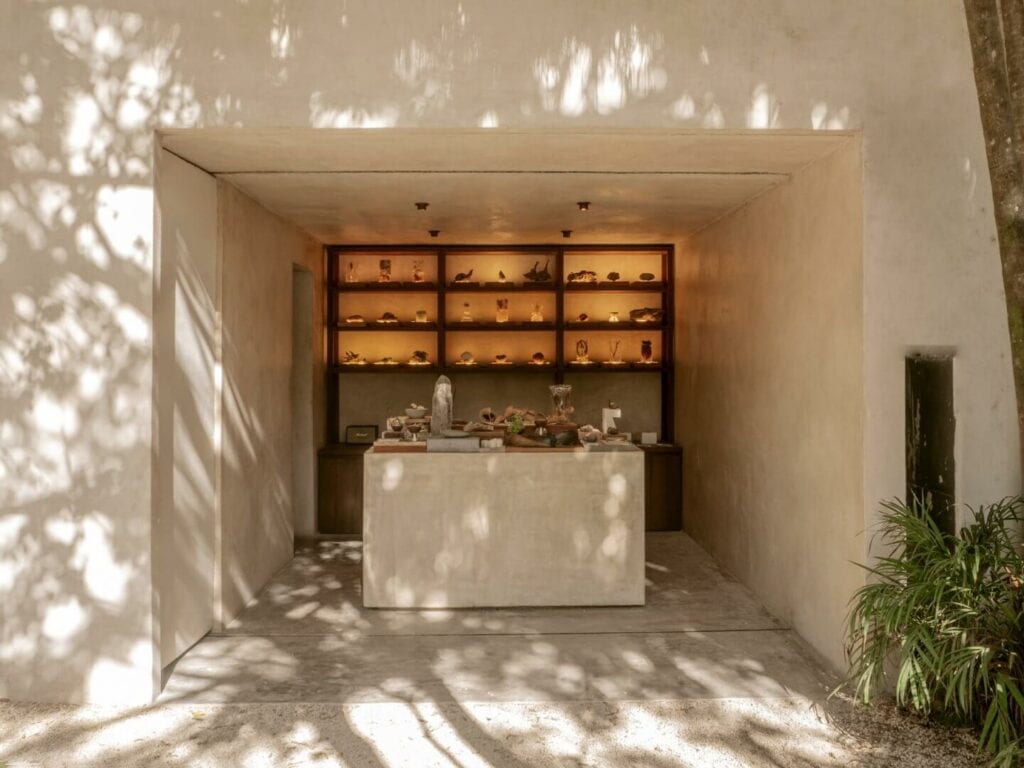 Tulum Treehouse by Slow
For those in search of totally under the radar, avant guard night out, I recommend The Treehouse, by uber trendy French/Global creative collective Slow.
It's so under the radar I actually feel bad even writing about it. Entry is by invite only, or if you happen upon the beautiful perfume shop facade and the attendant thinks that you look like the open minded, free spirit that would enjoy it inside, you'll get guided in through the back door to a magical, fairy lit, beautiful boho hotel, restaurant and fresh water swimming pool. Inviting in avant guard musicians from all over the world to entertain you and expand your mind, this place is achingly hip (and also fun).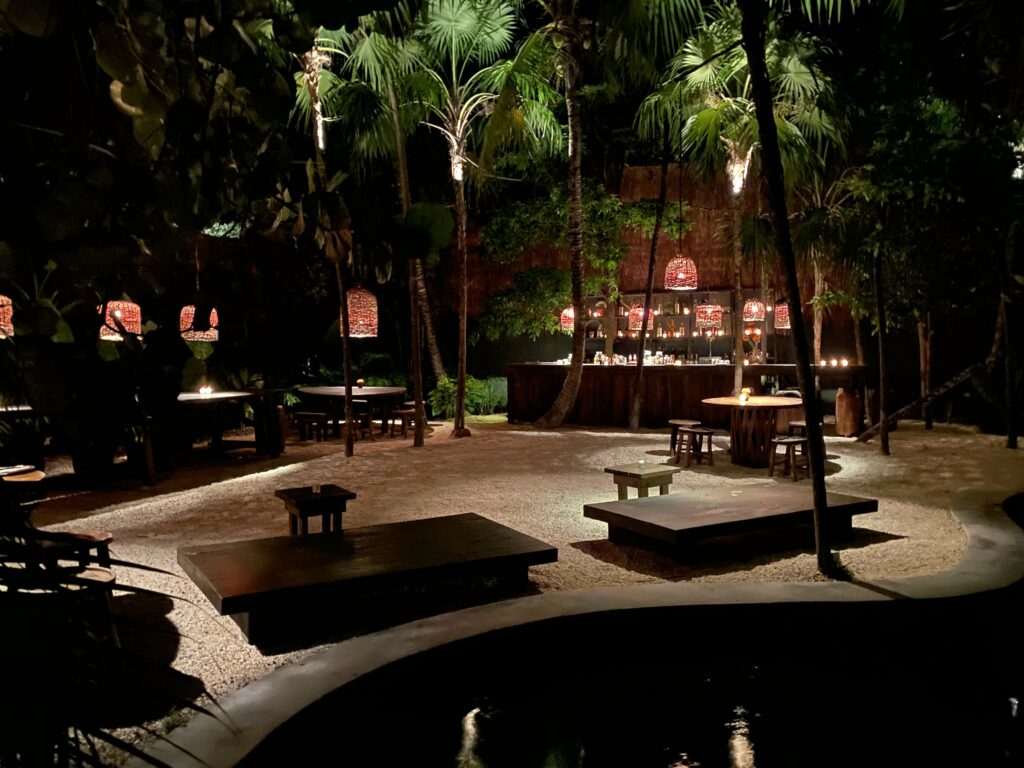 Clubbing
Papaya Playa Project Full Moon parties
For the discerning clubber (and by that I mean me haha) there's no better night out in Tulum than the full moon parties at Papaya Playa Project. The outdoor, mini circular, amphitheatre style space, where the beach and the sea are the stage and the dancers the actors, invites in world renowned DJ's like Solomun to spin the decks.
PapayaPlayaProject is an interesting mix of wellness and partying. Visit during the day for yoga and healing sessions and come nightfall expect eclectic live music nights and club events.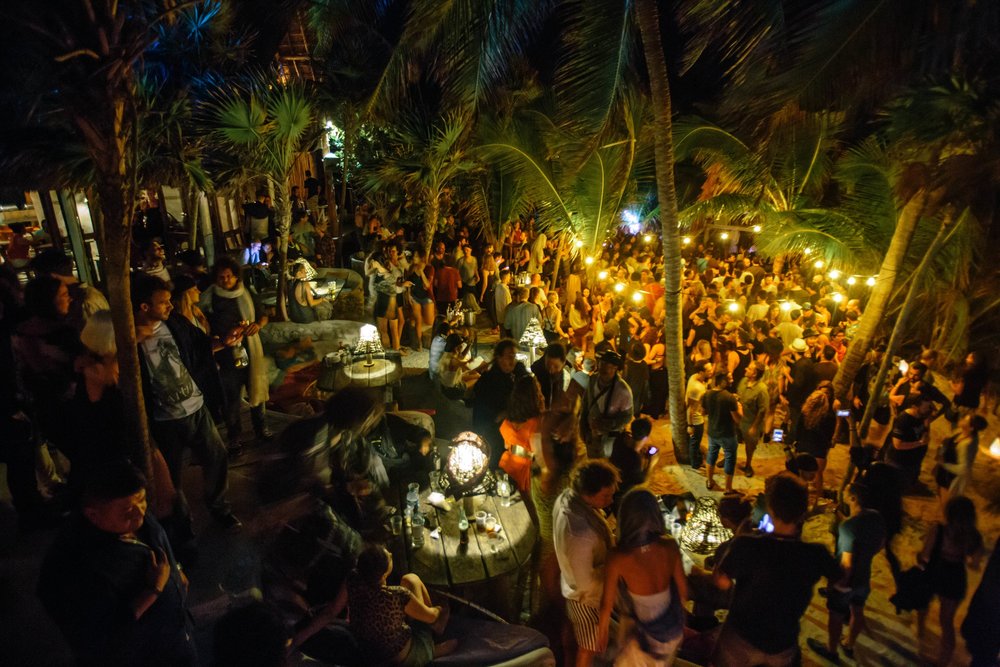 Illegal beach rave
These sometimes take place after the full moon parties at PPP. If you can find the right people in the know, a little off shoot of the crowd goes off to the Tulum ruins to have a mini outdoor rave under the stars. But don't tell them I said so!! wink.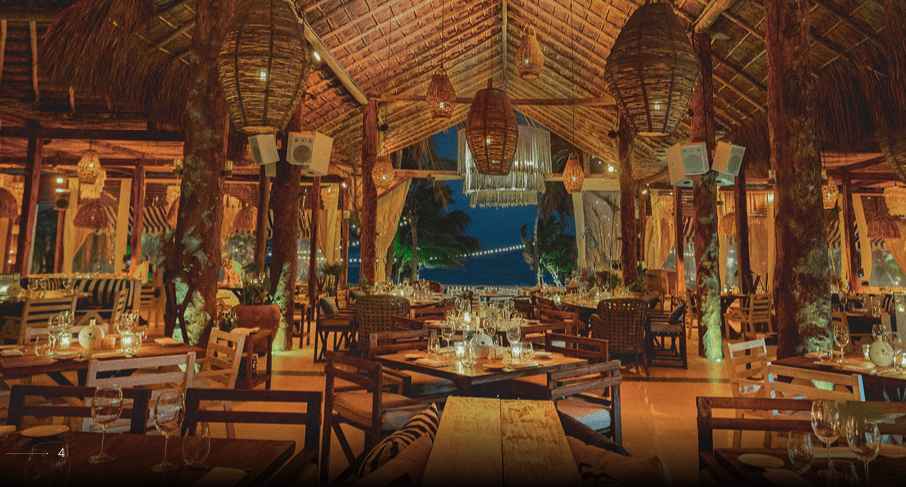 Boujis Beach Clubs
If spraying champagne at the guys in the next VIP cabana, wearing your best designer swimwear and shades and posing/ dancing/ gramming is your vibe then step forward boujis party palaces (beach clubs) Bagatelle and Taboo.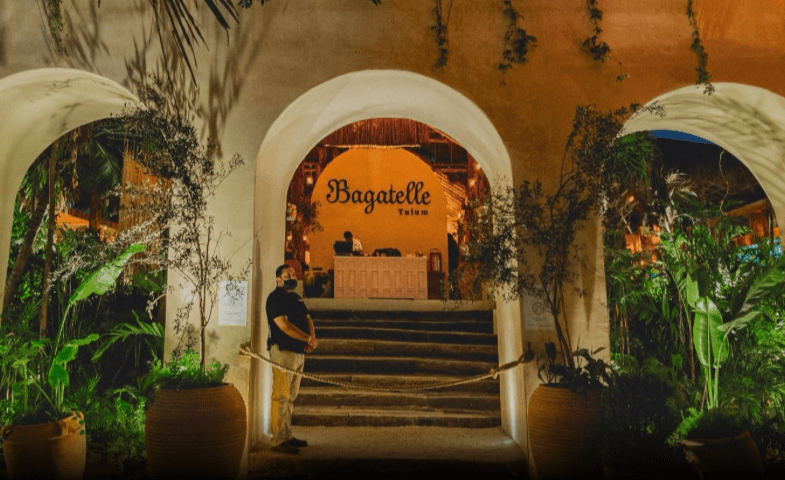 Bagatelle
The infamously chic (and expensive) Parisian beach club Bagatelle has crossed the Atlantic to grace the boho beaches of Tulum. Expect snobby waiting staff, a hierarchied day bed system, costing anything from 100 dollars per head to $1000s for a cabana and 'beautiful' party people dancing to house music. Also expect the occasional solo from a saxophone player. (What is that about?? secretly I love it though!)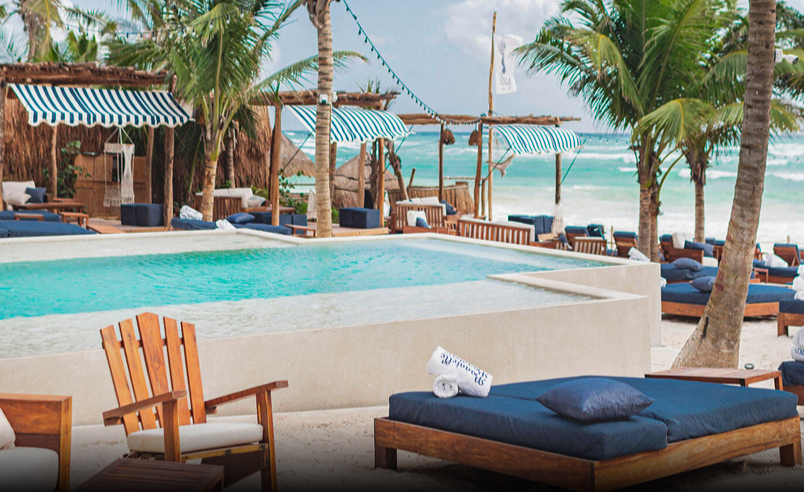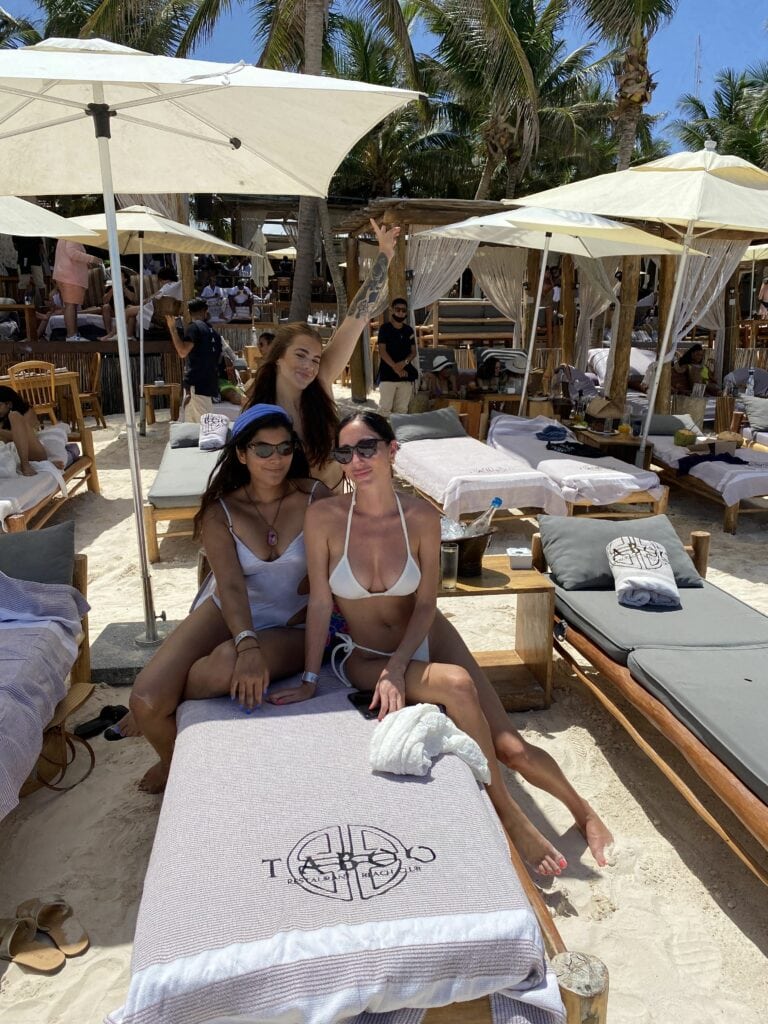 Taboo
For a much more American (rich spring breakers) vibe head to Taboo. Mid week the vibe can be chilled beach party but come the weekend the queues of New Yorkers desperate to hire a VIP day bed for a 1000 dollars goes around the block.
You'll be dancing to Cardi B, Drake and Azuni on the sound system, while eating outrageously overpriced average sushi and having the sexy staff twirking in your face. As long as you're ready to part with your cash and be sprayed with cheap tasting but very expensive champagne, you'll have a great time. I actually did!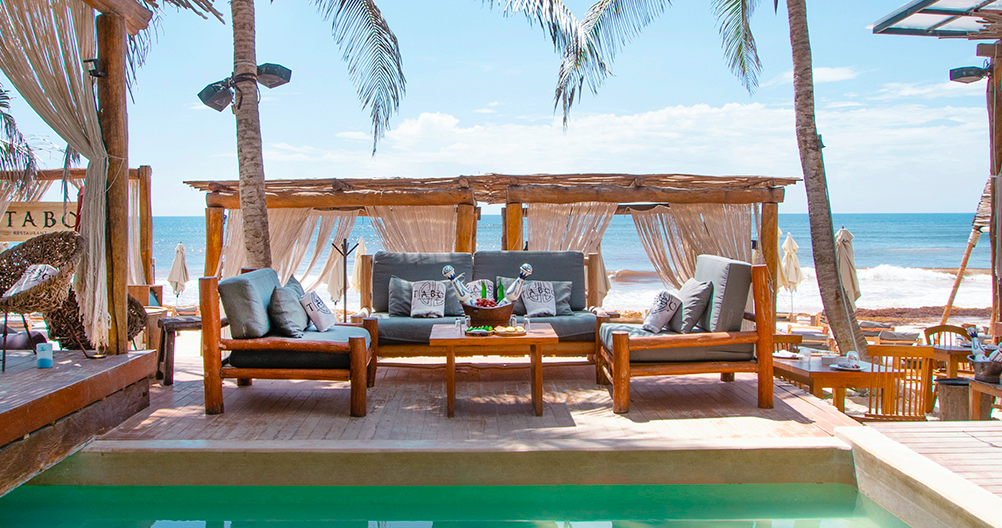 Cheesy Stag and Hen Vibes at Rosa Negra and Nicolette
If you're in a group and fancy a full on party night complete with dancing on tables, a sparkler entourage for every bottle of champagne ordered and Desposito and other cheesy (but fun) tunes blaring at an insanely loud decibel, the purpose built event bars Nicolette and Rosa Negra are for you. Slap bang in the centre of Tulum Party Zone, you'll hear them before you see them. Super tacky and trashy, get dressed up in your sparkliest outfit, but if you know what you're signing up for essentially it's pretty fun!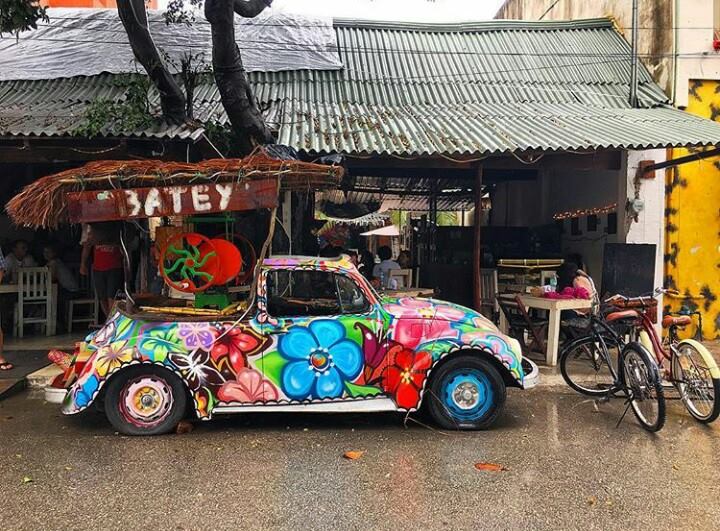 Rough and ready: Tulum Old Town
If you fancy a night out that is less boujis and more gritty like Tulum was back in the day, head to the Old Town. Head to Batey Bar in the centre of the strip. Drink home made mojitos from the cocktail truck, listening to the local band comprised of the bar tender and the owners son. It's a world away from the commercialised mega beach clubs like Bagatelle and Taboo. And in my opinion worth a visit just to see how real and homely Tulum once was. It's the place that the original hippies loved back in the day.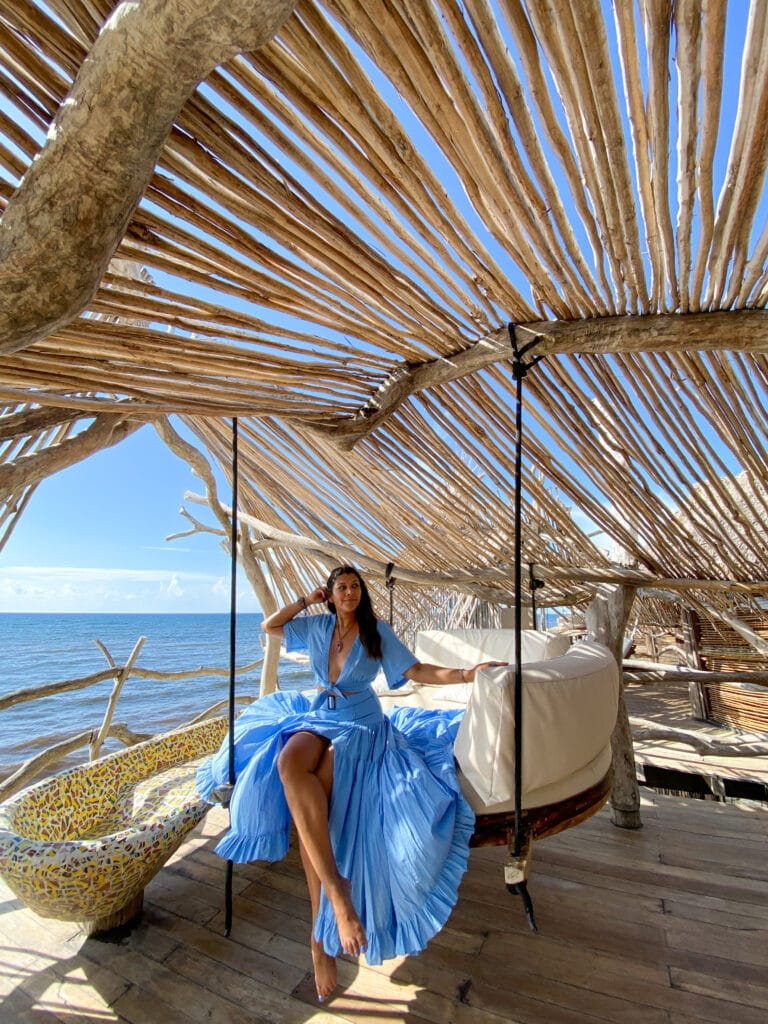 I hope you enjoyed my Tulum, Mexico – best bars, restaurants and beach clubs edit. If you did please leave a comment below and let me know if you tried any of the places or to recommend any to me.
For more of my Mexico travels click here.
Bon voyage xx