Croatia Rovinj Eating and Drinking
Croatia
Rovinj Eating and Drinking
Most of Rovinj's culinary activity centres around the old town. Food served here is traditional. Local specialties includes grilled fish, bean stews and wild asparagus, which was in season for our trip. Truffles also feature on menu's when in season. Don't leave Croatia without trying one of its many agro-tourism restaurants. Here is TheStyleTraveller's pick of the best bars and restaurants in town: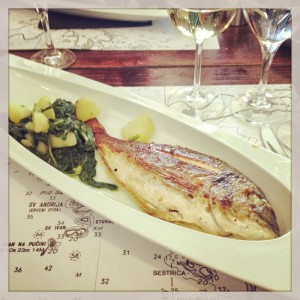 Based right on the harbour front in the centre of old town Rovinj, the newly refurbished Kantinon makes the best traditional Croatian dishes in town. Simple and tasty is they way make it, I had locally caught grilled seabass with potatoes and spinach.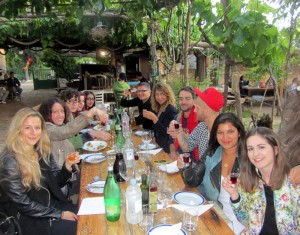 Communal countryside living at Mofardin
For a more rustic experience, try one of the many agro-tourism restaurants which are springing up in the area. All food served is home made and with home grown ingredients. We ate roasted pork with vegetables and potato, slow cooked for hours in a clay bell oven, sat in the farmhouse garden surrounded by lush green countryside. We were also accompanied by a local guitarist singing folk songs with his family at the next table in the garden. This is communal, traditional eating at it's best. And much cheaper than any restaurant in town.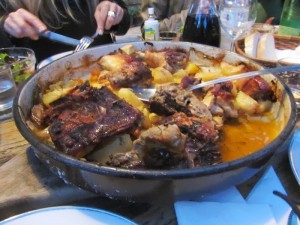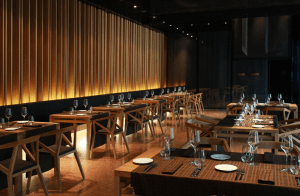 The sleek lighting and minimal decor at 'L'
For 5 star fine dining head to 'L' at the Lone Hotel. The restaurants experimental menu is designed by Swiss chef Priska Thuring. We had the spinach soup which was delicious, tempura bento boxes and paper wrapped roasted seabass, obviously with all of the wine pairings! Would have been rude not to!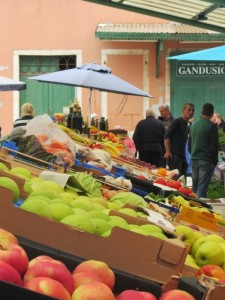 Stop off for a pre lunch aperitif at Grota Bar, in the centre of the old town market square. Drink the local speciality, white wine and soda… apparently its more refreshing that way and definitely not because the wine isn't that great! Sit on high stools at beer barrel tables, putting the world to rights with the local fishermen, shoppers and passers by.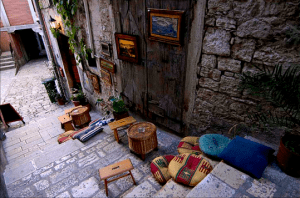 Limbo Bar
Drinks 
There isn't a huge bar scene in Rovinj but the two best places to head to are Valentino Bar and Limbo (above). Sit on cushions and low stools in the narrow street outside the bar. It's tiny and intimate with a real traditional feel.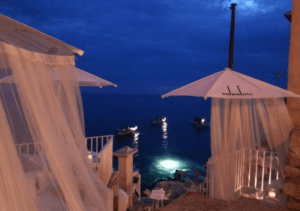 (Images provided by Valentino and Limbo bar)
For those in search of a cocktails and glamour head to Valentino Bar. Set right on the sea front, lounge on bamboo seats amidst swathes of white tulle. Or really get into the beach vibe, the bar staff will bring cushions, candles and champagne right to the rocks for you. It's the best place in the Rovinj for sunset cocktails…
Bye Bye Croatia, hope to see you soon…