Ibiza Hotels- Sol Beach House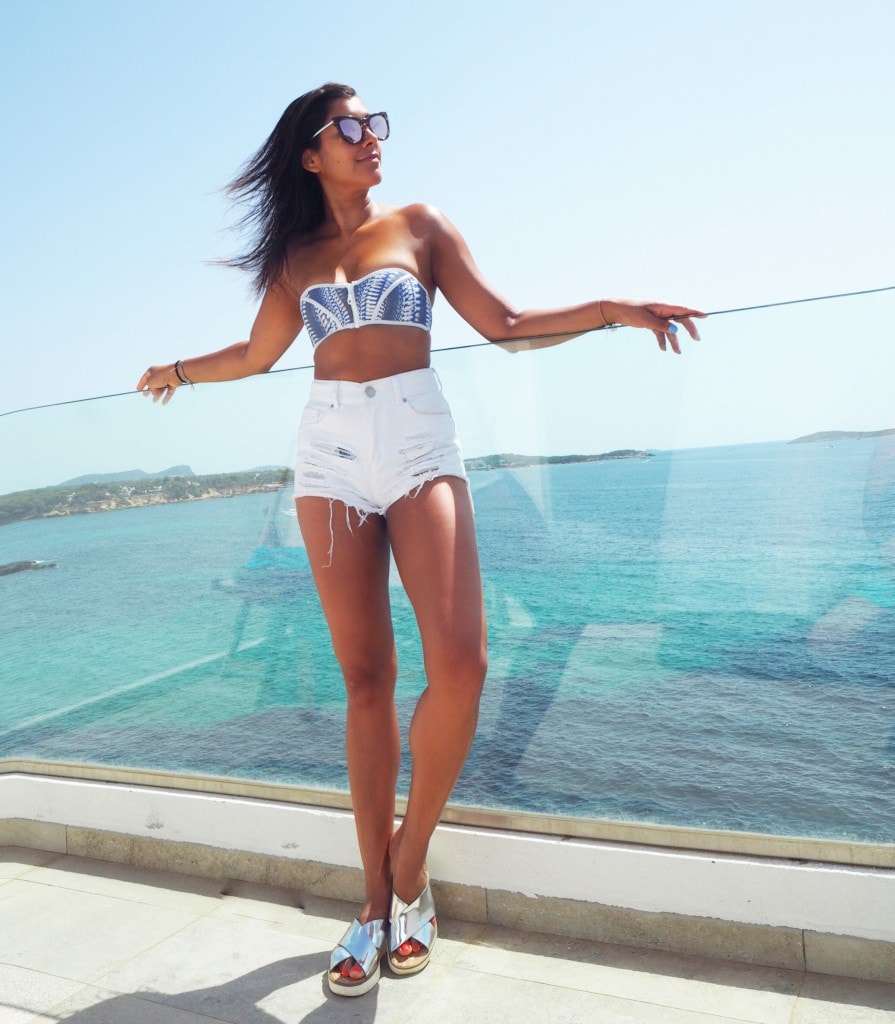 Ibiza Hotels – Sol Beach House
Where? Ibiza
Exactly? Sol Beach House, Santa Eulalia
When? summer 2016
Why? As part of my field research when visiting Ibiza :) I make it my duty to try out all new hotels, purely to report back to you, dear reader!
Sol Beach House Ibiza opened its minimal, chic doors last year, in the picturesque coastal town of Santa Eulalia. Away from the hustle and bustle of the main hubs of Playa d'en Bossa and Ibiza Town, it's a lovely location for those wanting to get away from it all and visit the calmer, more relaxed side of Ibiza.
The main town comprises of picturesque multi coloured Spanish colonial buildings and a pretty yacht filled marina by the sea, it is commercial, but on a much smaller scale than 'super yacht and super club' filled Ibiza Town.
The hotel itself is a 30-40 minute drive north of Ibiza town. It would be great to have a car if you plan to explore the island.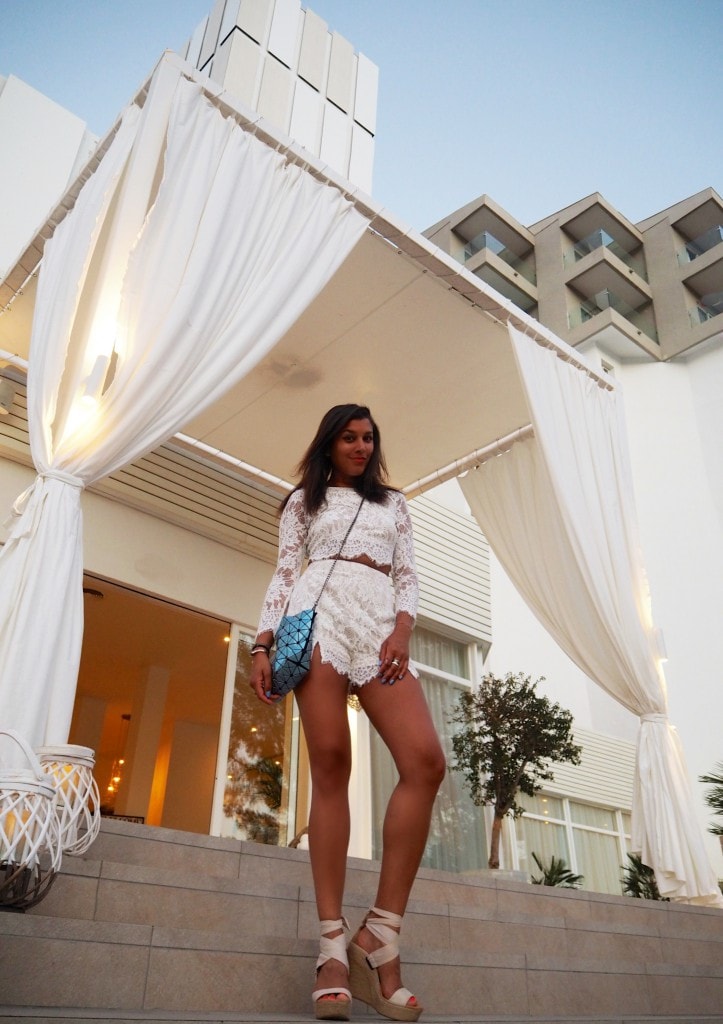 The hotel has been freshly refurbished by the Melia Hotel Group, it's equipped with all the luxuries you come to expect from the popular Spanish chain, but with the personal service and surroundings you'd expect of a boutique hotel. The focus is on design and style, in a minimal understated, yet friendly way. Quirky, colourful, boho furnishings dot the large white open spaces. Colourful rugs, throws and cushions add a pop of colour and act as places to chill and relax.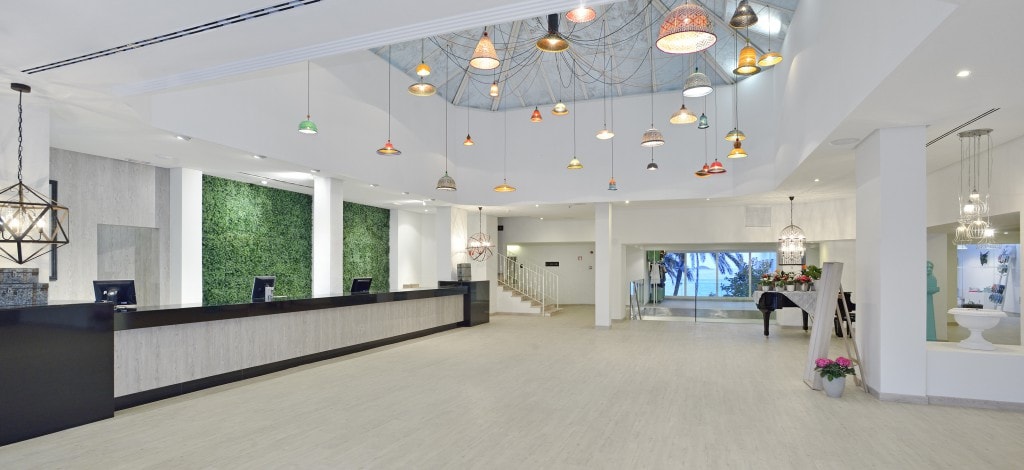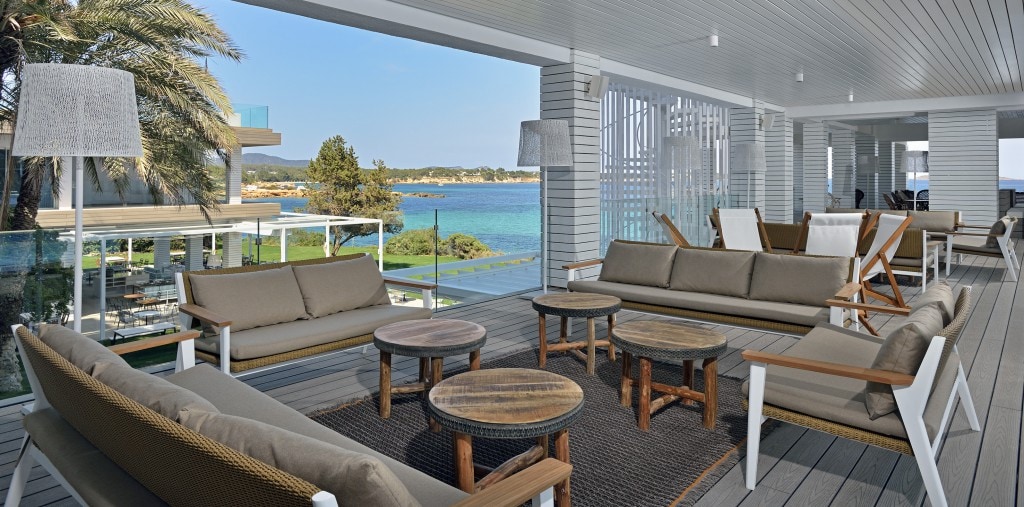 The 239 bedrooms reflect this minimal, clean ethos, again with bright pops of colour brought in from the soft furnishings and quirky gowns, designed by Spanish fashion brand Desigual.
The balconies are truly the piece de resistance of the hotel rooms. Fully glass fronted with breathtaking vistas of the ocean, they offer the perfect sun bathing and photo shooting back drop. See opening shot above.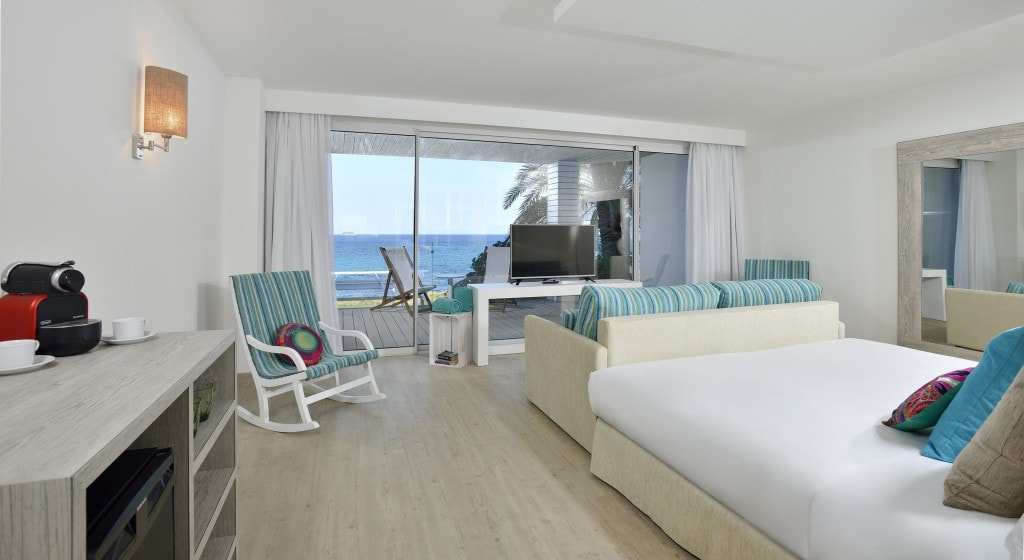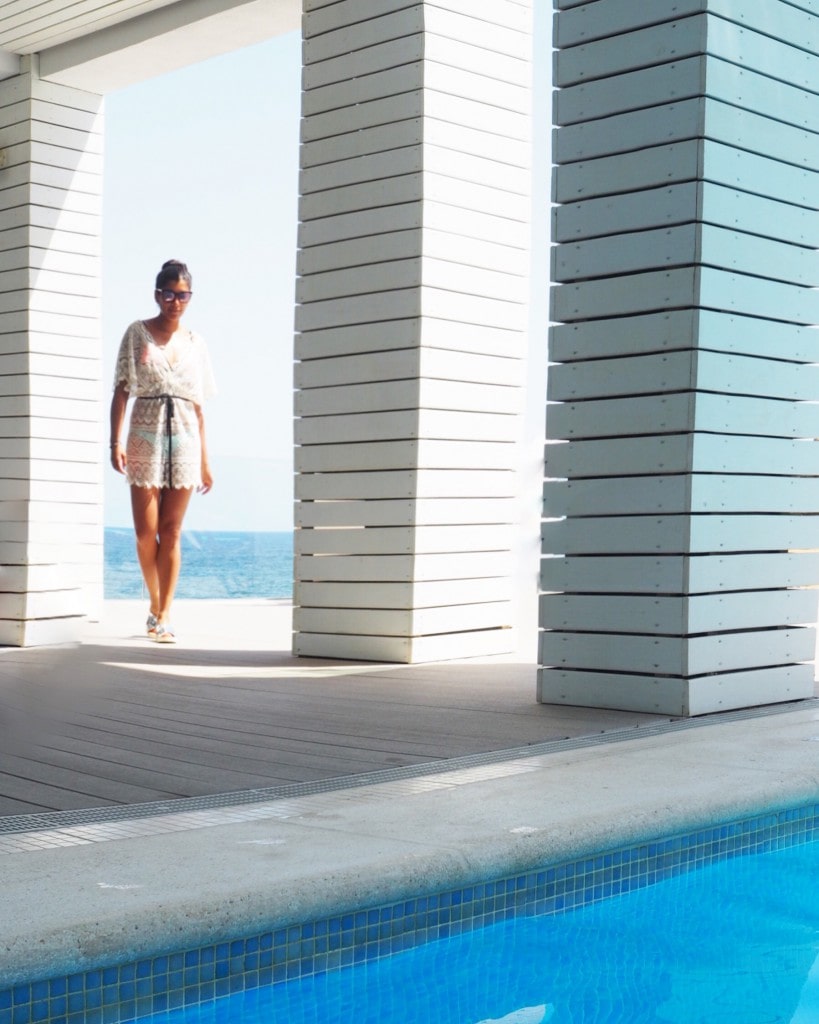 The pool area is quite a sleek, trendy affair with linear, white columns flanking the two large pools, perfectly sized for some energetic lengths… or just to dip into now and again if you prefer. To chill out there are plenty of sun beds and cute circular day beds available.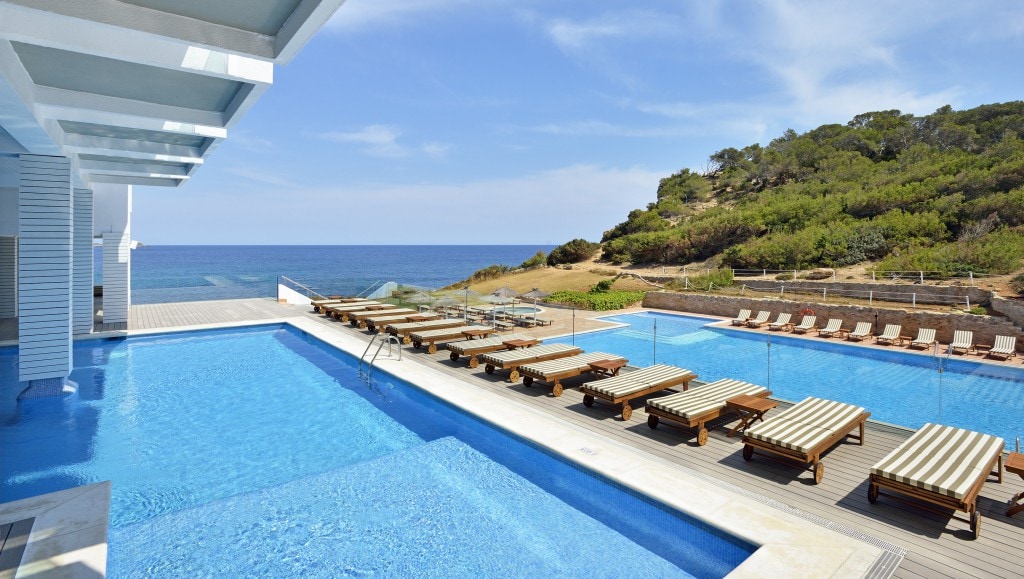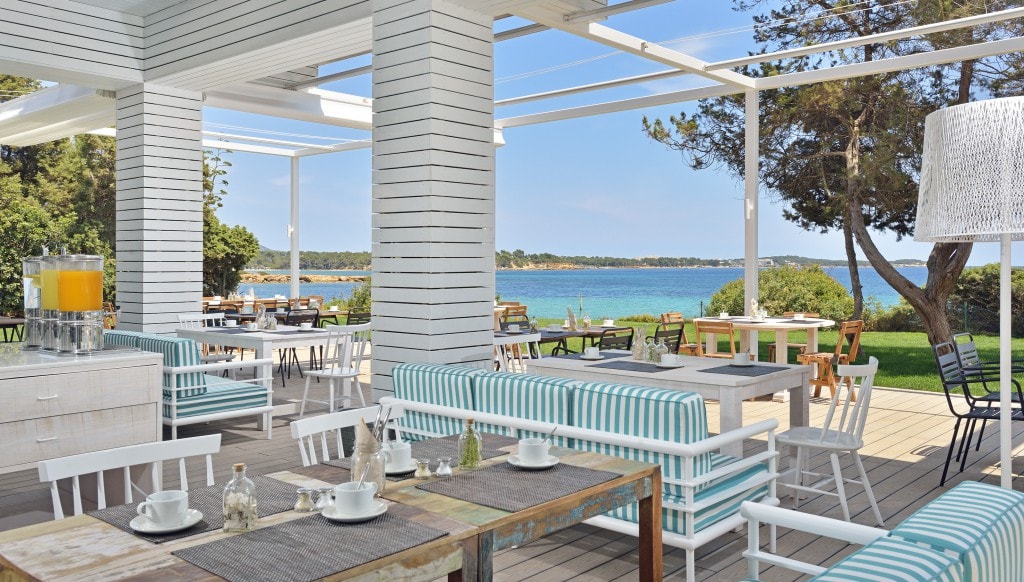 The seafront restaurant offers an impressive varied buffet for both breakfast and dinner. Sit in the chic indoors restaurant with air con or enjoy an al fresco meal on the lovely, sun dappled, outdoors terrace.
It's the perfect way to start the day Ibiza style. The upstairs bar also offers a great selection of fresh detox juices through out the day too, in case you're nursing an Ibiza hangover!
Below – me posing in Santa Eulalia marina.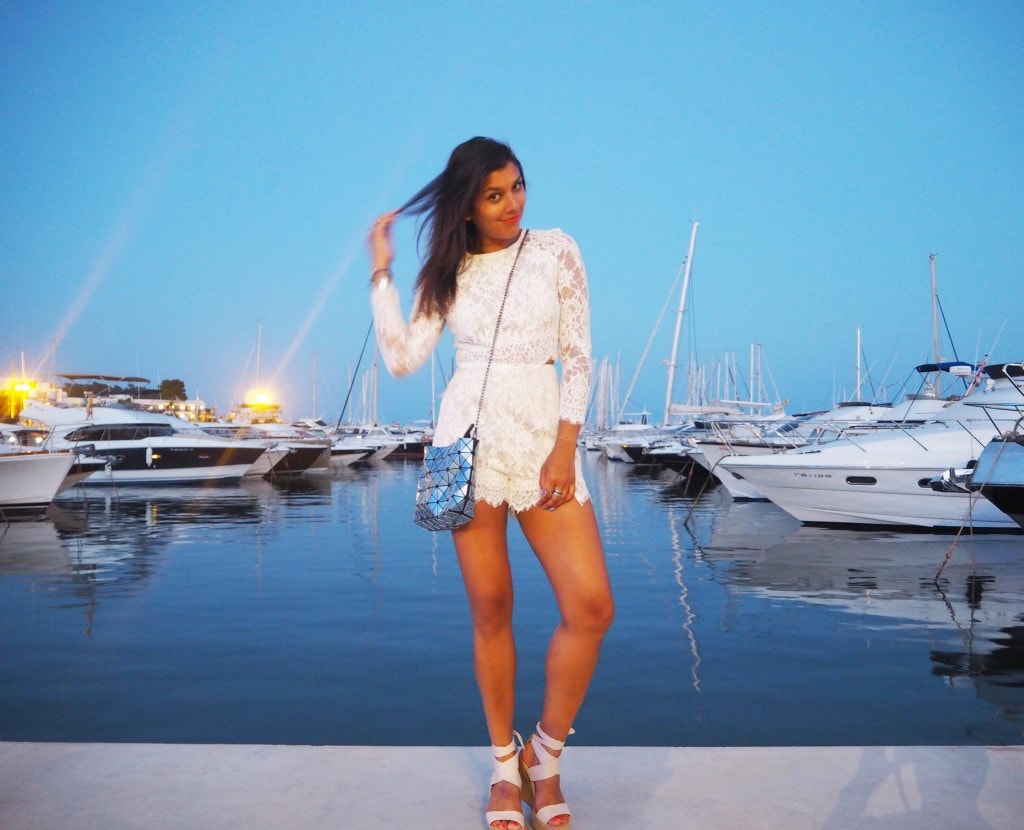 So it's bye bye from Santa Eulalia, next stop Ibiza central!!