Ibiza – Reset your coordinates at 38 Degrees North Luxury Fitness Retreat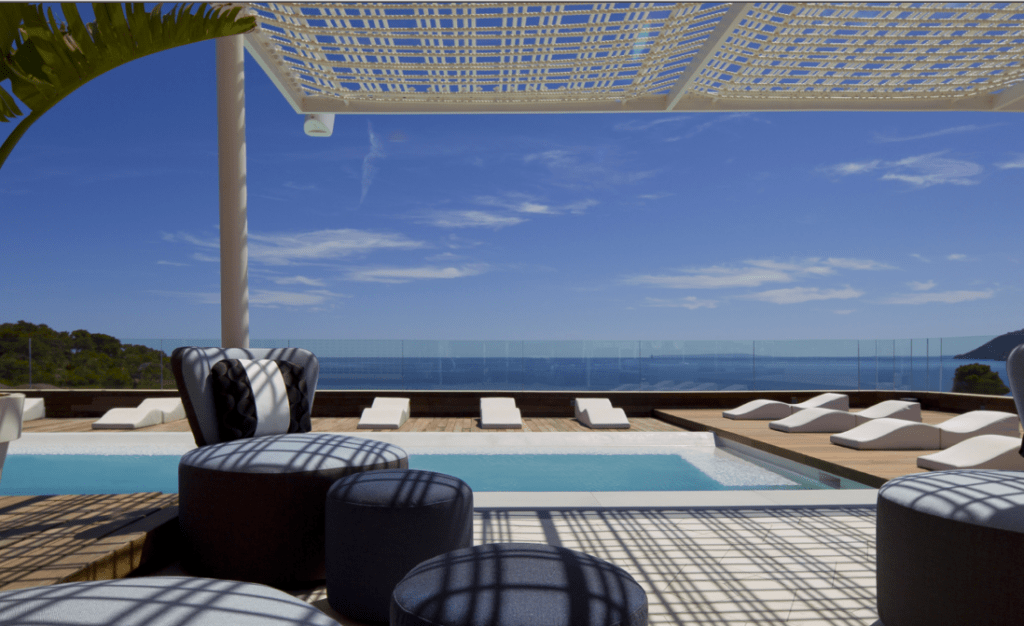 Ibiza – Reset your coordinates at 38 Degrees North Luxury Fitness Retreat
Where? 38 Degrees Optimal Fitness Retreat, Santa Eulalia, Ibiza
Exactly? Located at the luxury spa hotel Aguas de Ibiza
When? October 2015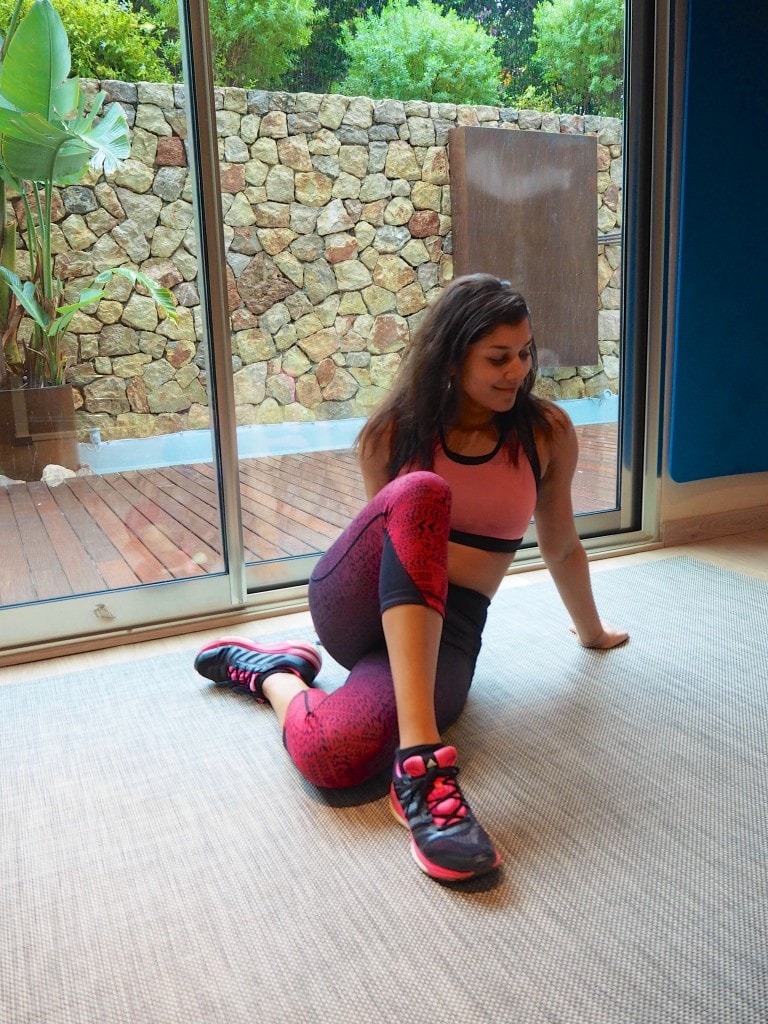 Above and below: Me in the gym wearing Padmasana 3/4 capri leggings, Orange bra top and Pink and black trainers all by Sweaty Betty.
Well dear reader, as you may know I've been on a bit of a health kick of late, so when an invitation from the 38 Degrees North Fitness Retreat came into my inbox, I was thrilled. Not only was it billed as great way to kick start a new health and fitness routine, it also happened to be located in one of my all time favourite places on the planet, the beautiful island of Ibiza. My immediate response was of course, yes! I can't wait.
I must say the usual fears of being surrounded by health and fitness freaks, being starved or being the worst in class did cross my mind. But my main fear was falling off the wagon and ending up taking a renegade crew off to one of the nightclubs, (which did happen on a recent Ibiza yoga retreat. Sorry!) I was definitely put on the naughty mat the next day. But fear not, I flew out in late October which meant that all the extravagant Ibizan closing parties had happened already! Phew, at least that was one temptation removed!
The Plan
Set up by ex-Londoner and fitness loving owner James, the retreat is geared up to cater for busy, exhausted city folks like us. The demographic of his clientele is mainly professional, urban dwelling, social and active clients, who either need a kick start to a fitness regime, are looking to lose weight before a special occasion or simply love an active holiday. There are various types of holiday to pick from, including yoga, bespoke, or mindfulness retreats, weight loss holidays and the 'Optimal Fitness' retreat, which I tried out for 3 days.
The schedule consists of 5-6 classes a day, alternating between HIT (high intensity training) days and more relaxed days, which allows your body that all necessary recover period. I know 6 classes a day may sound excessive, but in reality it's actually super fun. You're doing something amazing for your body, your team members help keep you motivated and all those endorphins charging around your body mean your energy level rockets. I was surprised at how energised, raring to go and happy I felt. Plus the stunning Ibizan coastline and scenery sets the perfect back drop for the variety of classes, it feels great to be exercising outdoors and in nature.
This is the ideal retreat for those who want to be physically challenged, but not give up their creature comforts. The hotel is luxurious and it's wonderful coming home to a steaming, hot rain shower and deliciously, cosy, fluffy bed come the evening, believe me your body is very thankful for these two simple essentials.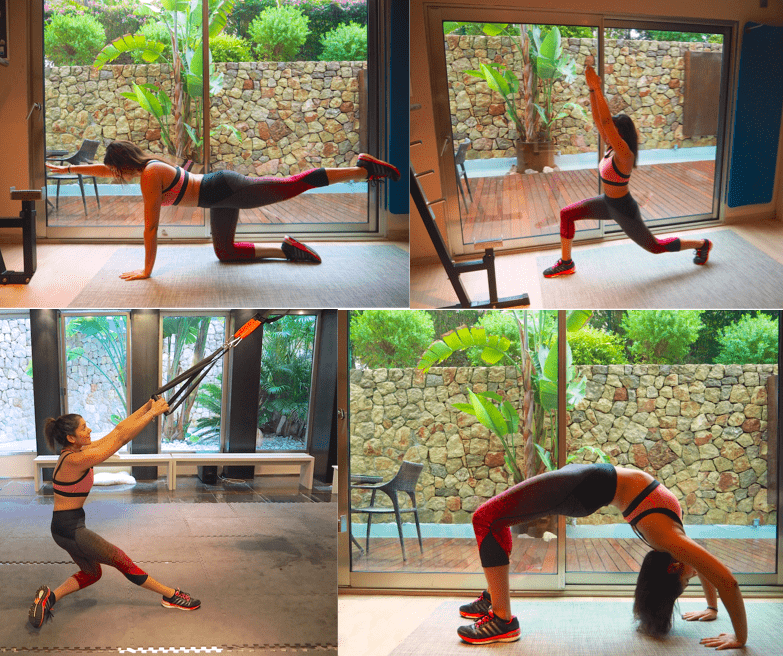 Above: me working out in the gym. Clothes credits Padmasana 3/4 capri leggings, Orange bra top and Pink and black trainers all by Sweaty Betty.
The average day on the retreat is filled with activities which alternately work different parts of your body and muscle groups. I tested out all the classes from boot camp, boxing, kick boxing, circuits, TRX and HIIT on the high intensity days to more chilled activities on in between days. The rest day schedules would read something more like this: 8am Breakfast, 9 am yoga, 11am beach hike, 1pm lunch, 3pm paddle boarding, 6pm Pilates. You're in the outdoors so much, there's no fear about coming home without a tan.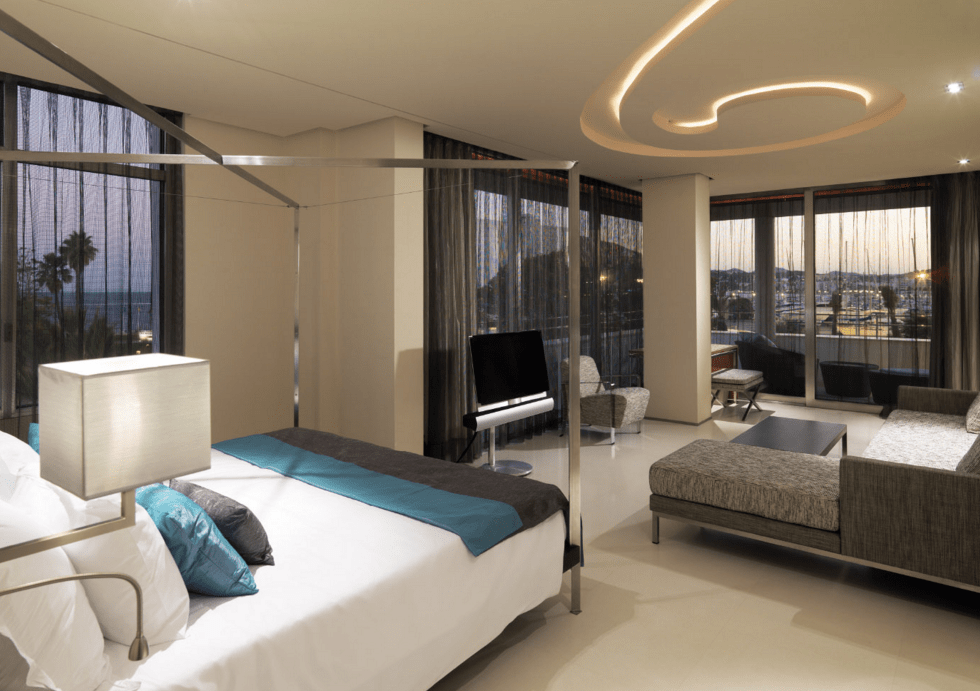 The Hotel
Aguas de Ibiza is certainly a step up from the usual fitness and yoga retreat accommodation I've experienced in the past. This hotel is all about well being, pampering and luxury, which is exactly what you need after a long day of working out. Located in picturesque Santa Eulalia, (not far from Ibiza Town) Aguas de Ibiza, is a chic 5 star, boutique hotel set on the towns quiet promenade. A short walk from the grounds brings you to the marina, filled with pretty restaurants with a chilled vibe. There's also a host of beautiful beaches to pick from on this side of the island.
The rooms all have great views of one of the 3 swimming pools, manicured grounds and the marina beyond. Furnished in an elegant, contemporary style, rooms are spacious, with a colour scheme inspired by the local natural environment, sand walls, earthy soft furnishings and sea blue fabric accents. All modern luxuries are included such as wide screen TV, in room speakers (this is Ibiza after all), walk in rain showers and intelligent lighting systems.

Above left to right: The 'champions breakfast' at Passion Cafe, green detox juices and the pumpkin soup at Babylon.
Eating and drinking
Breakfast: The food on the retreat is fantastic. Start the day with the decadent breakfast buffet at the hotel. It's a smorgasbord of delicious healthy options, including an array of fresh fruit and veg, hot food and egg stations, cereals,  various gluten free options and non diary milk alternatives.
Lunch: To break up the day the we had lunch in the health food orientated Passion Cafe (a firm favourite with the Ibizan wellness crowd) and pretty, beachside restaurant Babylon. Both have nutritious, healthy menus filled with locally sourced fresh ingredients to cater for the retreat goers.
The evening meal on the retreat is left up to you. Being in Ibiza means there's no end of dining options, although to be honest, you're so exhausted by this stage of the day, chances are you order room service and have a much needed early night.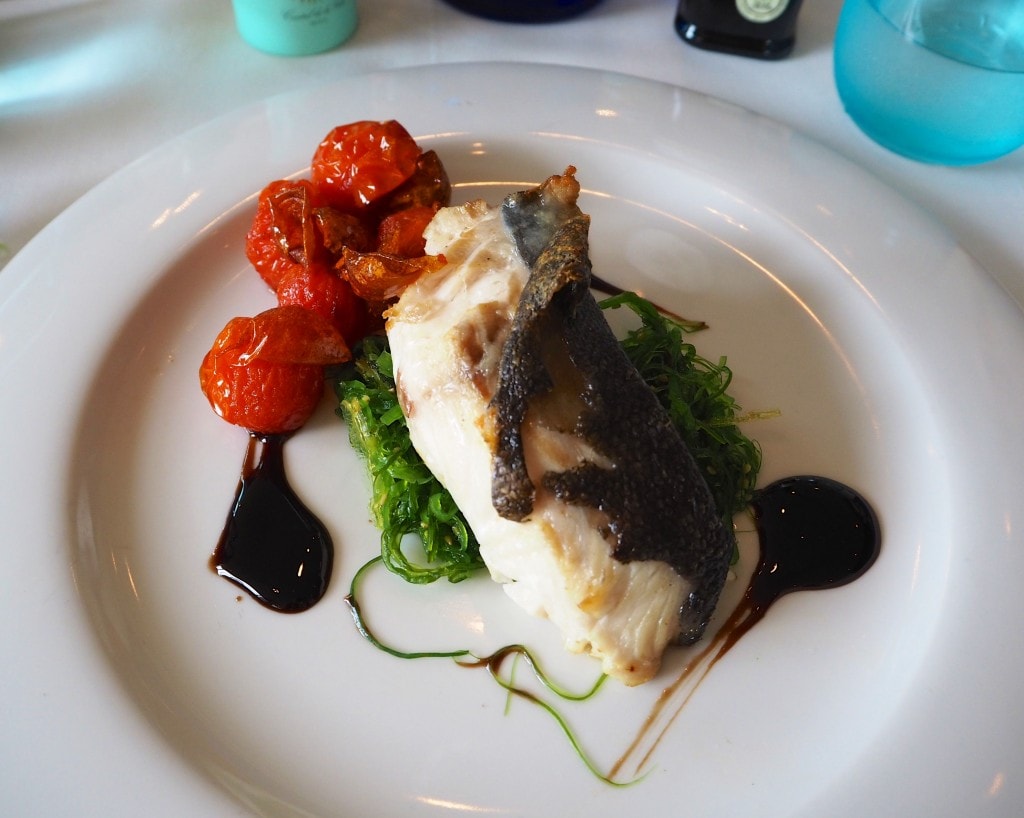 Above: Carefully balanced nutritious meals are served at the Alabastro Restaurant at Aguas de Ibiza. Some of the retreat plans include daily lunch at the hotels gastronomic Mediterranean restaurant.
From outdoor activities like hiking, yoga and paddle boarding to indoor workouts in the gym and pool, the Aguas de Ibiza Hotel provided the perfect base for the Optimal Fitness Retreat. The teachers and trainers are all so experienced and knowledgable in their chosen fields. I particularly liked how they would correct our postures and alignment and give each of us individual attention, despite being in a group.
Below: me and the crew pose for a selfie. And in case you were wondering, all of my initial fears of not being good enough, being starved, (and the rest) were completely unfounded. As it turns out my group were so lovely, we all bonded over our early starts and gruelling, physical challenges, motivating each other along the way. It really felt like we were a team.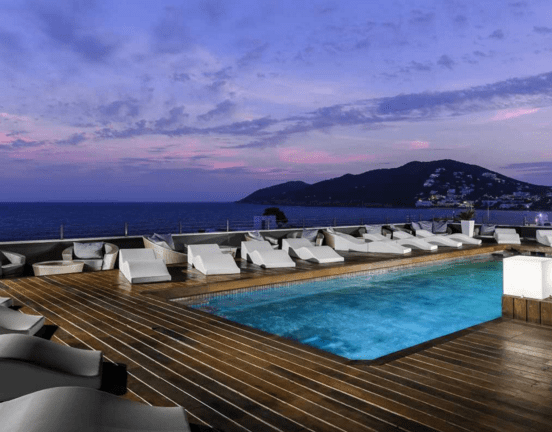 The Revival Spa
One of my favourite parts of the day was relaxing and unwinding in the spectacular Aguas de Ibiza, Revival Spa.  Soothing those aching bones after a full on day of exercise is important, so the heated pool, saunas, jet showers and plunge pool circuit is a much needed luxury. The Revival Wellness Spa at the hotel offers a full range of treatments, including Clarins facials and heavenly massages. It's the perfect way to end the day.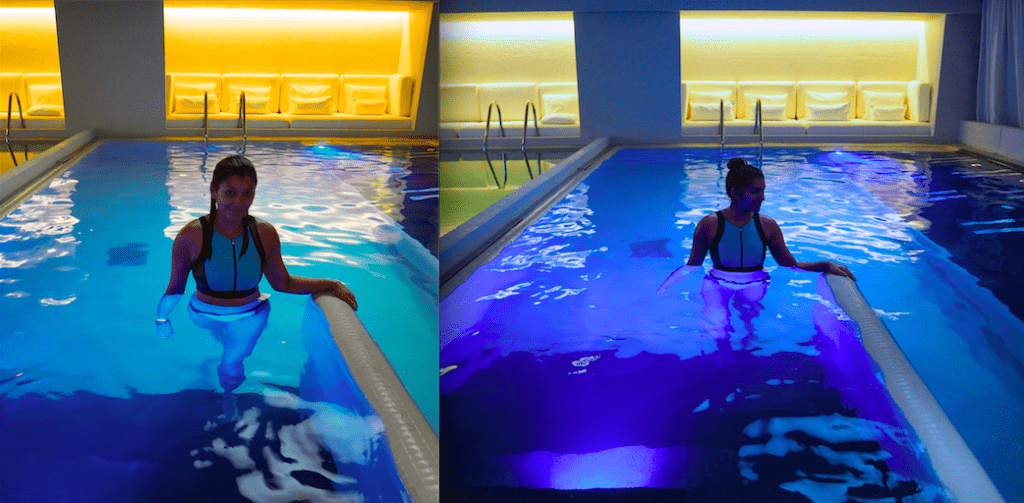 Above and below: Me chilling out in the luxurious spa pool wearing Freestyle bikini top and bikini bottoms by Sweaty Betty.
After a physically gruelling day there was nothing better than slinking into the various spa plunge pools, massaging jet sprays, saunas and steam rooms of the Aguas de Ibiza luxury spa circuit.  Sheer Bliss!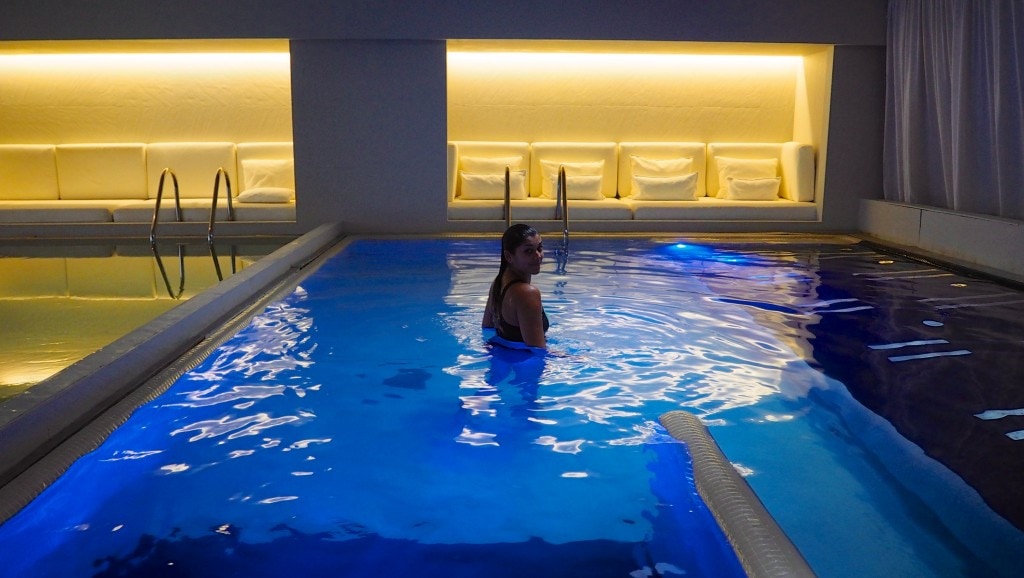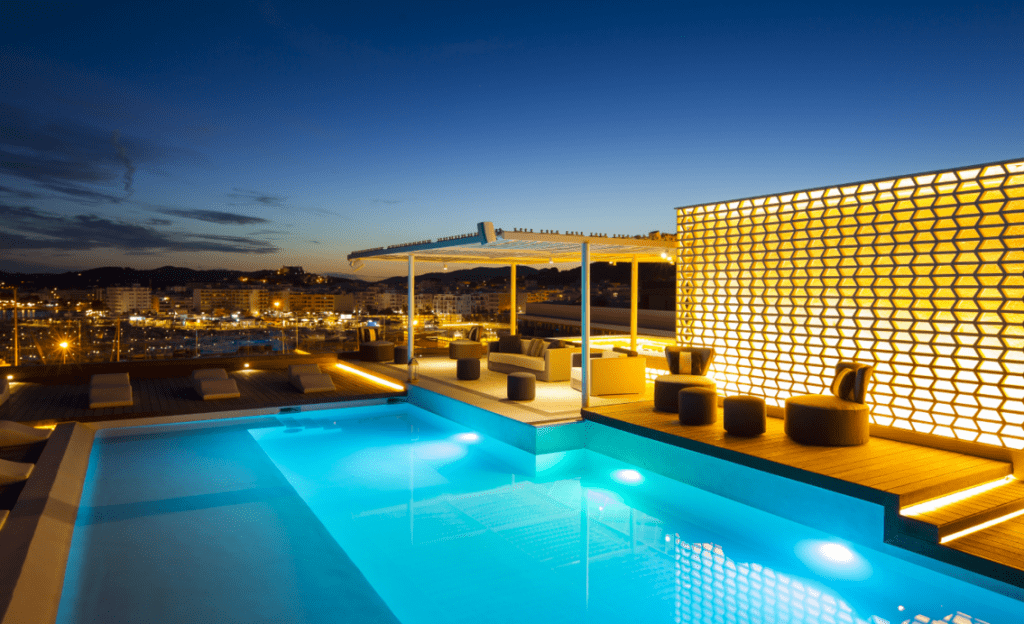 The Result
I left the retreat feeling amazing. My mind was more focused and my body felt incredible. I had definitely lost weight and felt toned. I would have loved to have stayed a few more days and achieved even more of a result. The group and the trainers were so lovely, I left with a whole new circle of very healthy friends. And the best bit is I was bursting to get on my new health regime back at home.
I would thoroughly recommend this retreat to my readers, I will definitely be visiting again, especially if I have a major event coming up which I feel like I need to get in shape for. Once I got back to London it did feel a little lame only doing one class a day. I missed my five a day exercise hit!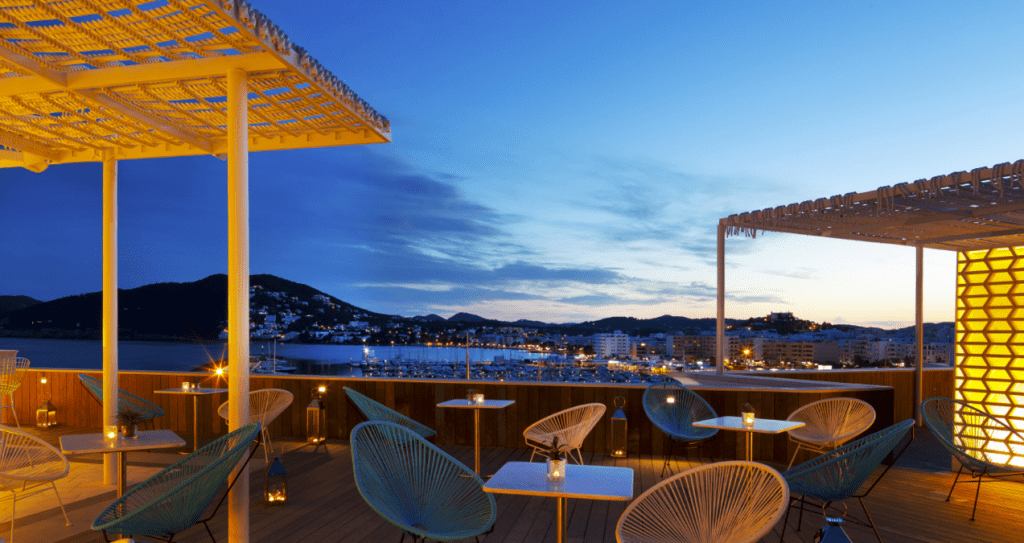 Above: Beautiful views over Santa Eulalia port at The Aguas de Ibiza Hotel.
One of the best parts of the retreat was that the minute my head hit the pillow, I fell asleep almost immediately. I even managed a few power naps in between classes. And so to bed.
Bye Bye from Ibiza, Next stop the Caribbean.
Bon Voyage.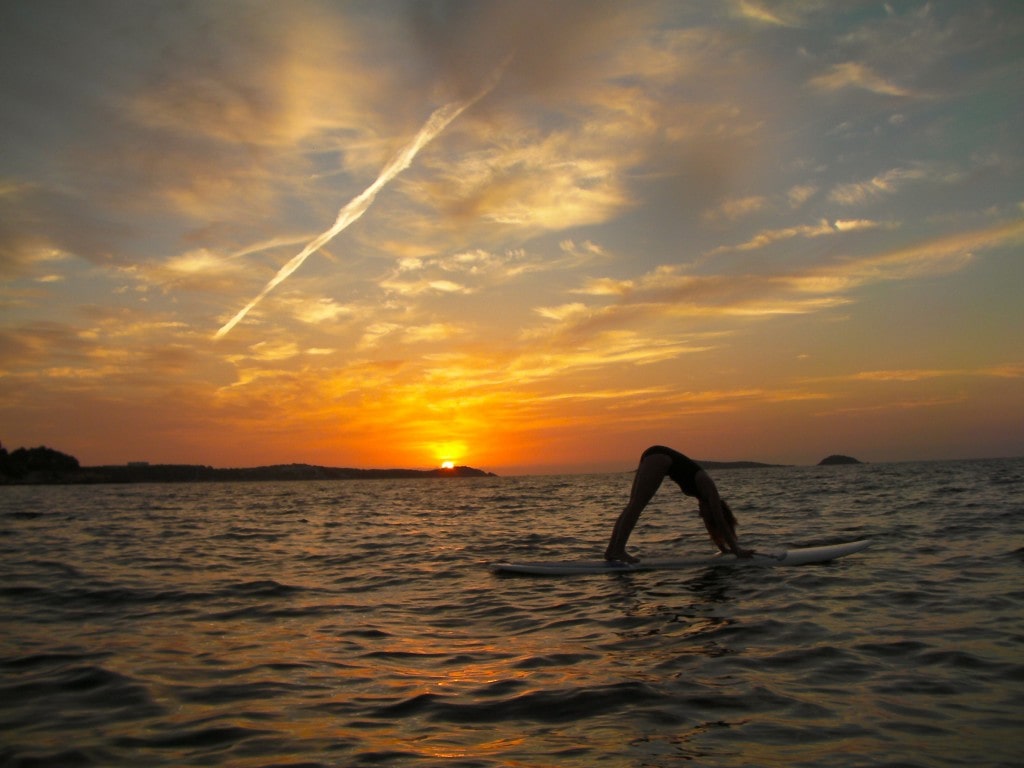 Paddle board sunset yoga