Michelin Star Cookery School – A Foodie's Dream Weekend Break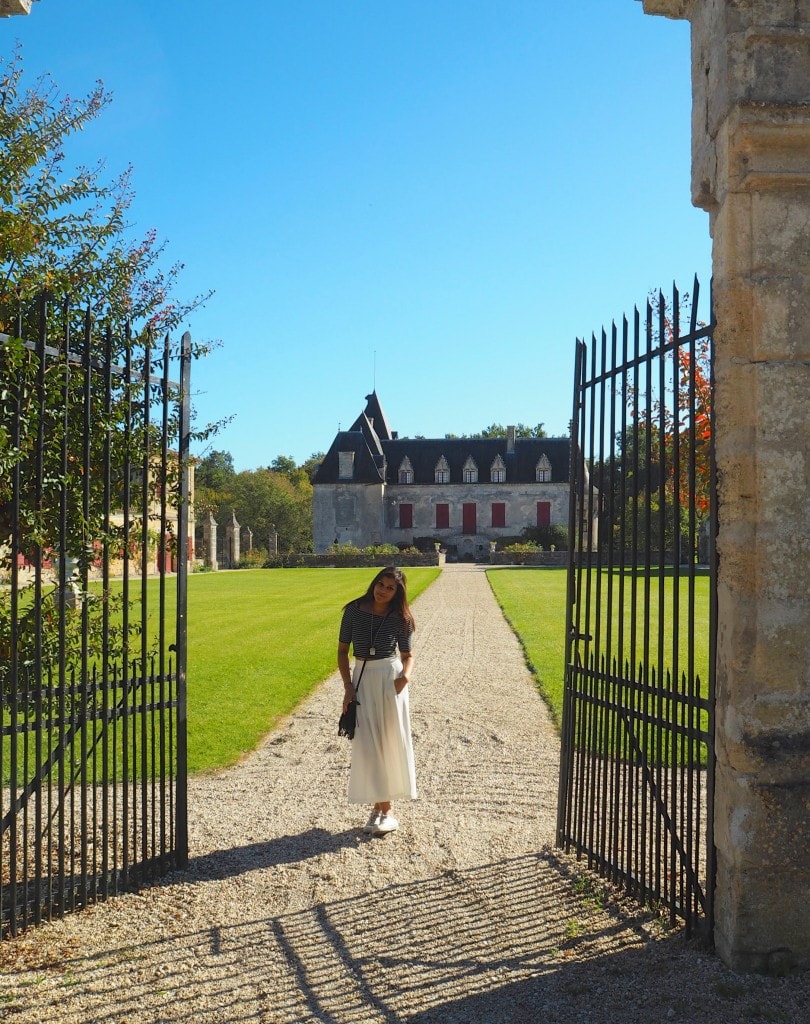 Michelin Star Cookery School – A Foodie's Dream Weekend Break
Where? Le Saint James Bouliac, Bordeaux, France
Why? I love fine dining and I'm very lucky to have eaten in some of the best restaurants in the world, but cooking for myself is not my forte. So when the lovely guys at the Michelin Starred cookery school at Le St James, asked me to join them for a gastronomic weekend of cooking, eating and wine tasting, I jumped at the opportunity. It also happened to fall on my birthday weekend, giving me an extra excuse to indulge!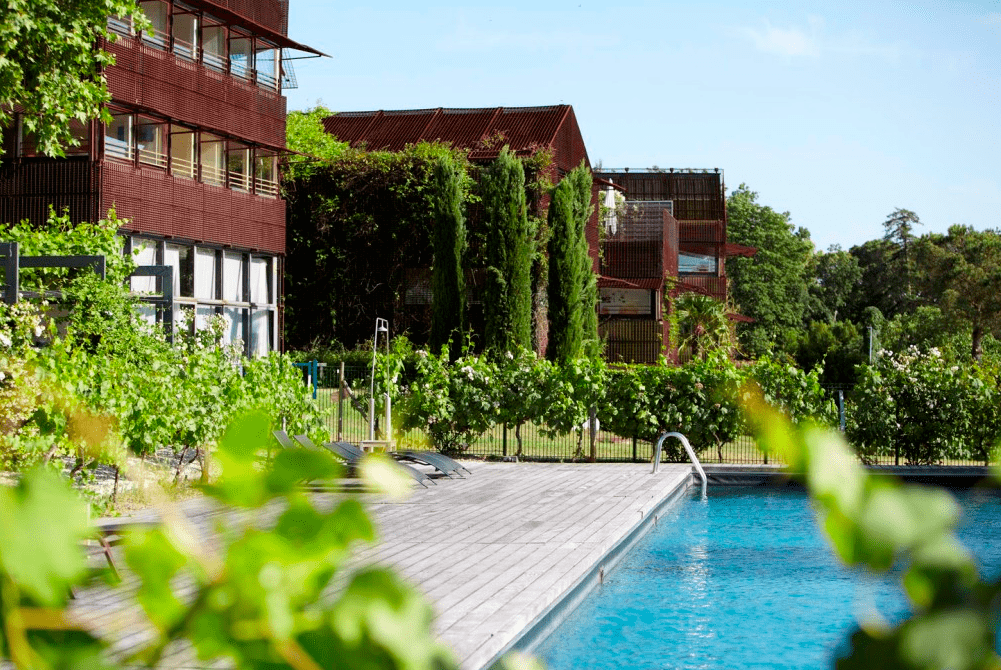 Designed and built in 1989 by famous architect Jean Nouvel, the modernist style of the Saint James' buildings are inspired by old tobacco drying houses. The hotel is set within a vineyard, with the sweet scents of antique roses and lemon trees wafting in the breeze, all accompanied with a breathtaking vista of the city of Bordeaux and lush, green forests in the distance. Style Traveller Tip? Book into one of the second floor suites for the best views. Sleep with the curtains open at night so you can wake up to the spectacular sunrise.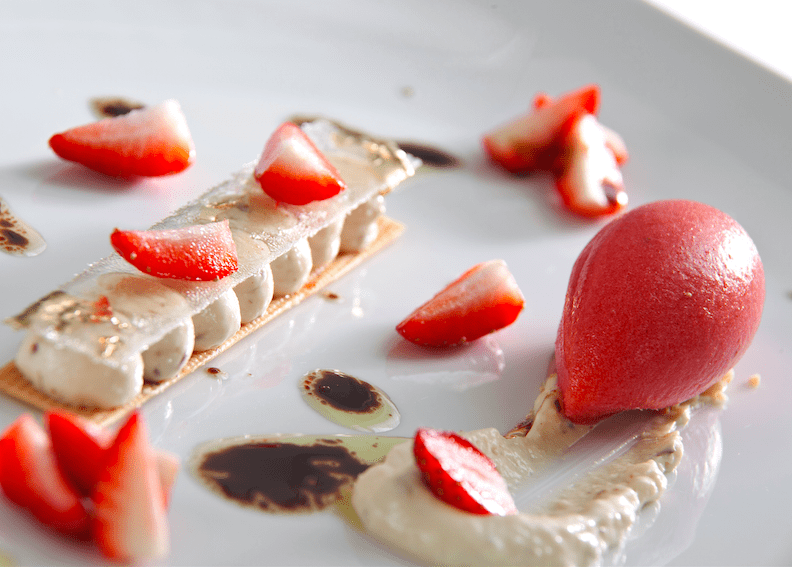 The main reason people come to Le Saint James is of course the exceptional food. Our itinerary consisted of a two night break, including one morning at the cookery school, where we prepared our own gourmet lunch, with the help of a Michelin starred chef, dinner and lunch at the hotels traditional French bistro, Cafe de l'Esperance and a wonderful evening at Le Saint James, Michelin starred restaurant. We also managed to fit in a little wine tasting session at nearby Chateaux Olivier.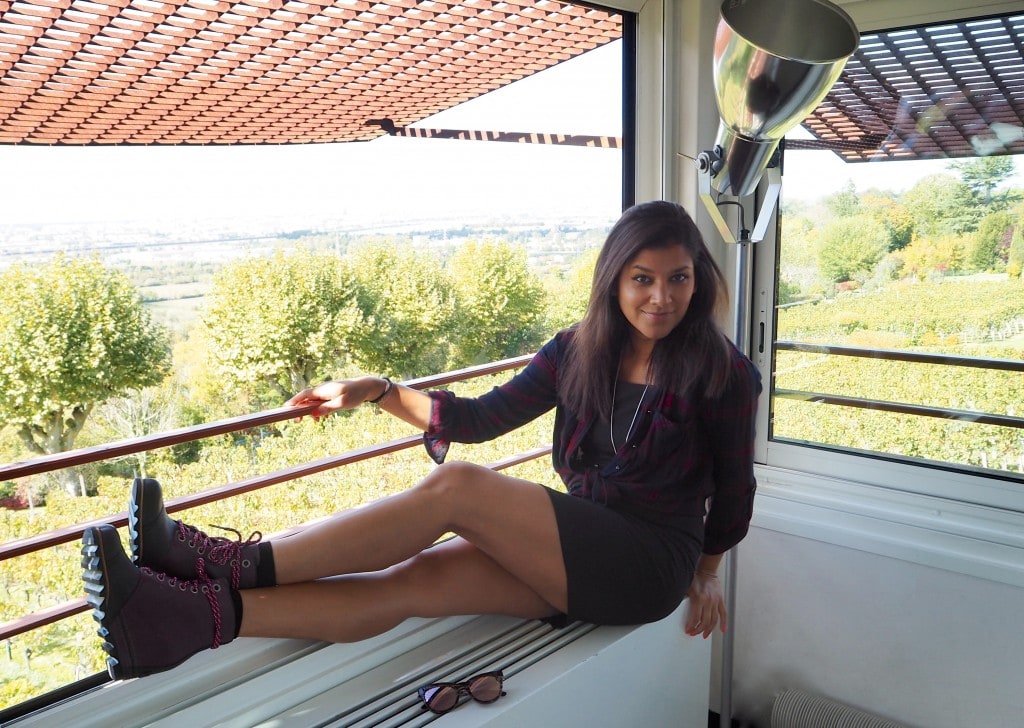 Above: Me chilling in the suite, with stunning views of the vineyards and the city beyond.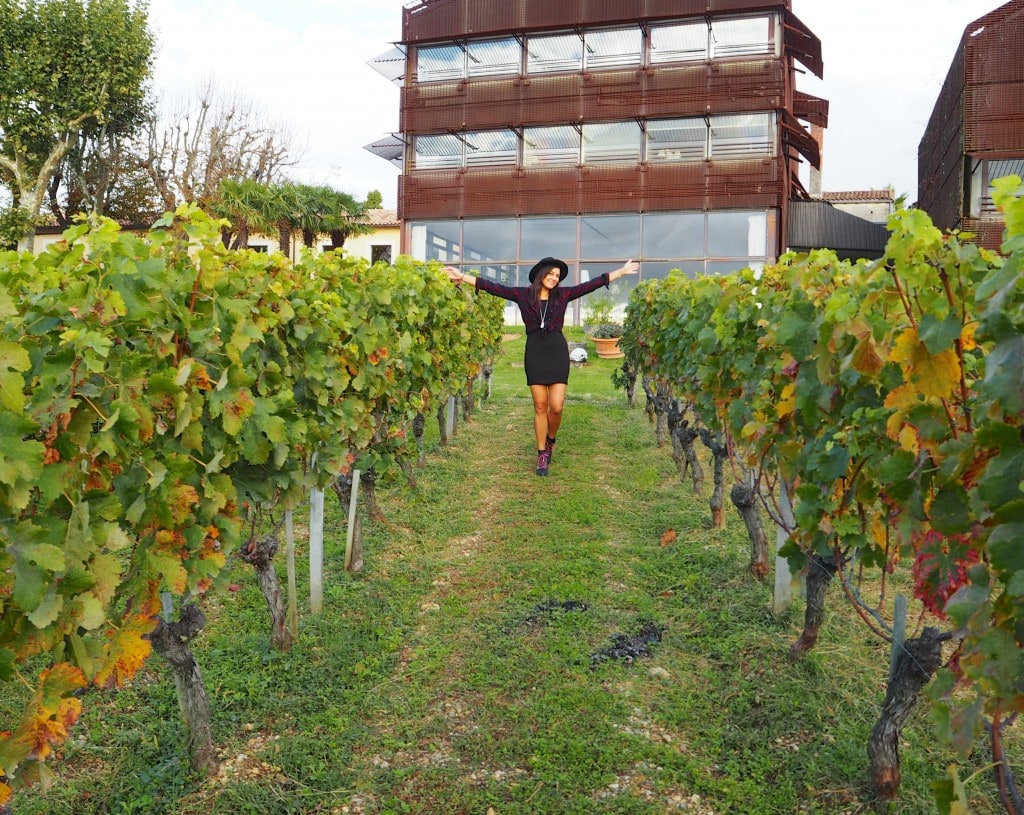 What to Wear When You're There?
Me enjoying the vineyards at Le Saint James wearing Burgundy Boots by Sorel, Black dress by Helmet Lang, Check shirt and Hat by River Island, Necklace by Mint Velvet and Sunglasses by Le Specs.
During the day the dress code is quite casual, it's a countryside hotel in a tiny picturesque village, so warm functional clothes for the winter season are ideal. Make sure you take a swimsuit in the summer, as the outdoor heated pool is great for laps to combat your inevitable indulgences over the weekend. I chose to wear my new Sorel wedge boots which look countryside appropriate and are waterproof. Perfect for walks, with the added bonus of a concealed heel to give you a bit of extra height. They have great styles to suit the city and the country, check out my London Fashion Week post to see how I wore them in the city.
In the evening, as you'd expect with a Michelin Starred restaurant, the dress code is smart.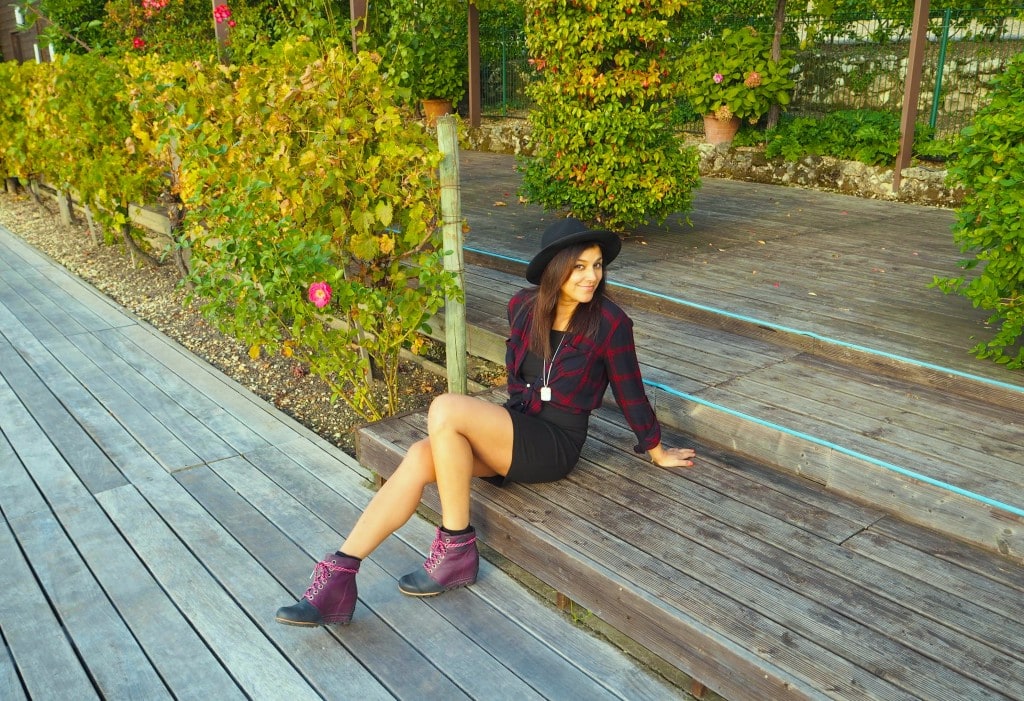 The Cookery School – Cote Cours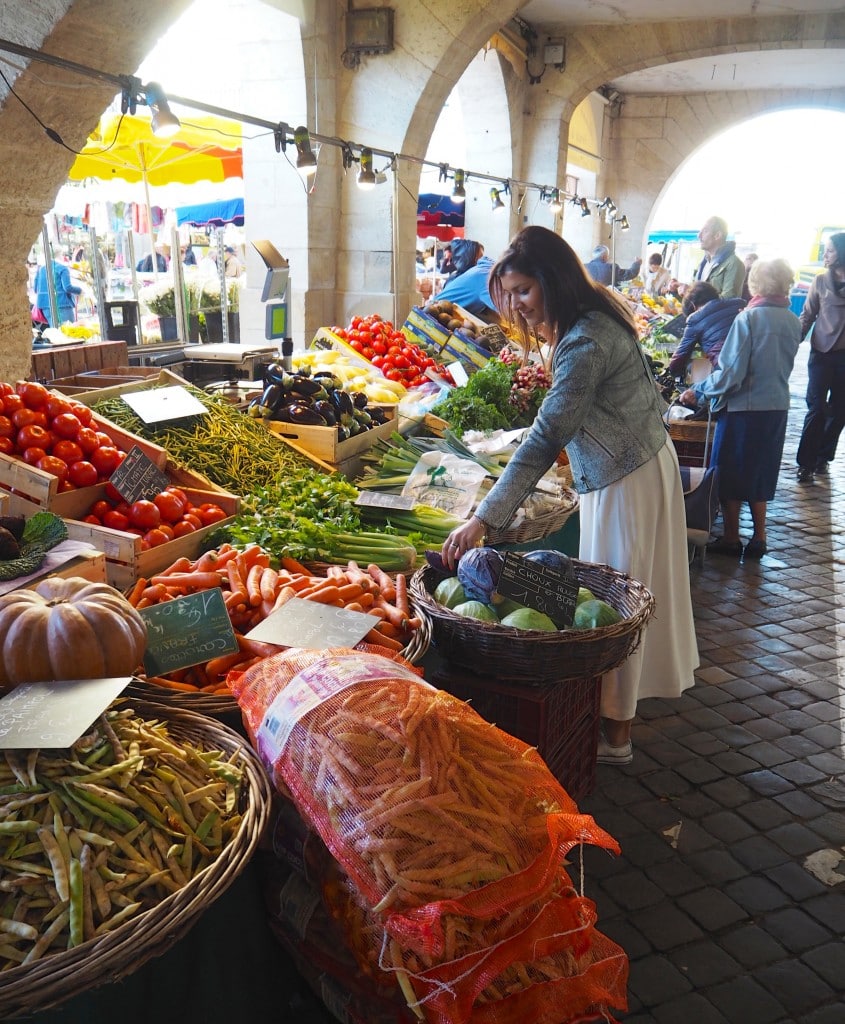 We started the morning with an expresso and chat with our lovely teacher, to see what sort of meal we wanted to prepare. Once decided we went on a field trip to the local markets to purchase fresh ingredients. The range of incredible produce on offer was astounding. From freshly caught scallops and seafood, to mountains of fromage, champignons and saucisson.


Once equipped with our specialist ingredients it was time to get back to the kitchen and get cooking.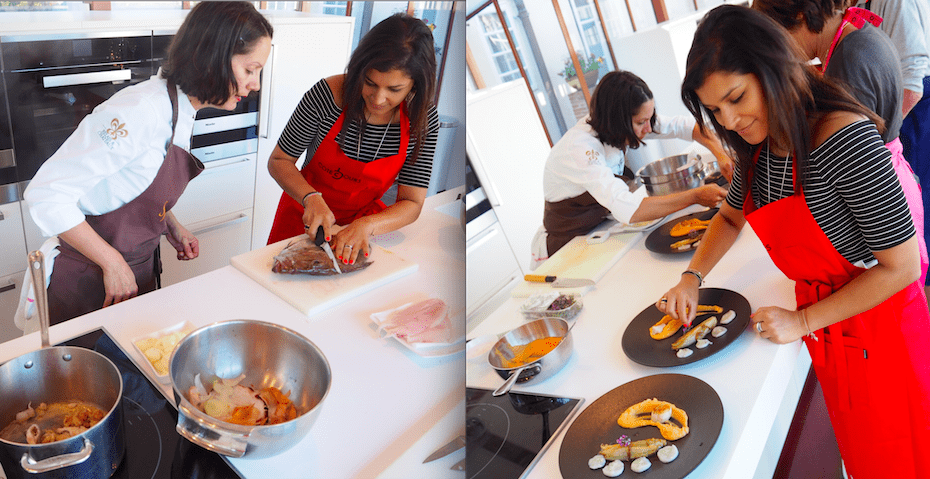 The cookery school experience was fantastic and one I would definitely recommend to foodie's of all levels. I'm quite a novice when it comes to most things in the kitchen, but I came away from the school armed with a wealth of knowledge and new skills. From simpler tasks like how to fillet a fish, make a delicious stock to more complex ones, such as how to make a foam emulsion, I feel much more confident in the kitchen after just one morning.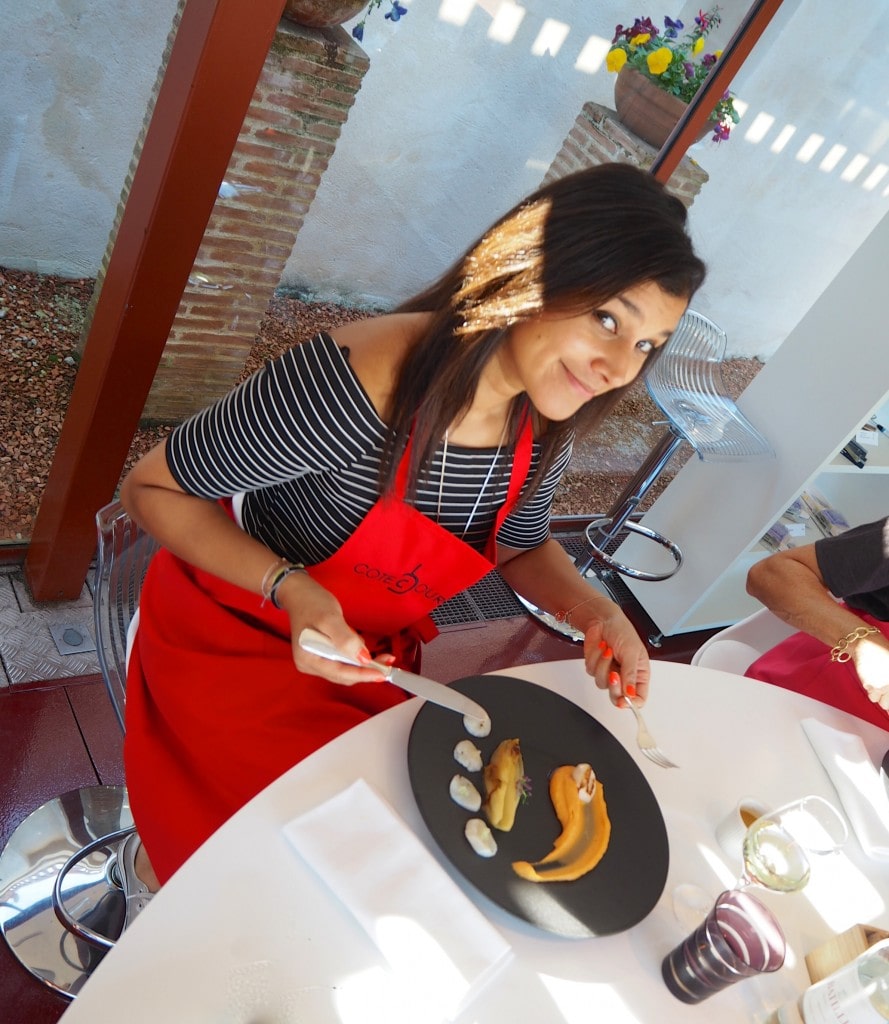 Et Voila! The final result, a four course meal consisting of pan fried oysters with a caper jus, cocqui saint jacques (scallops) with a sweet potato puree. Followed by poached John Dory fish with a foam emulsion and the splendid chocolate dessert below.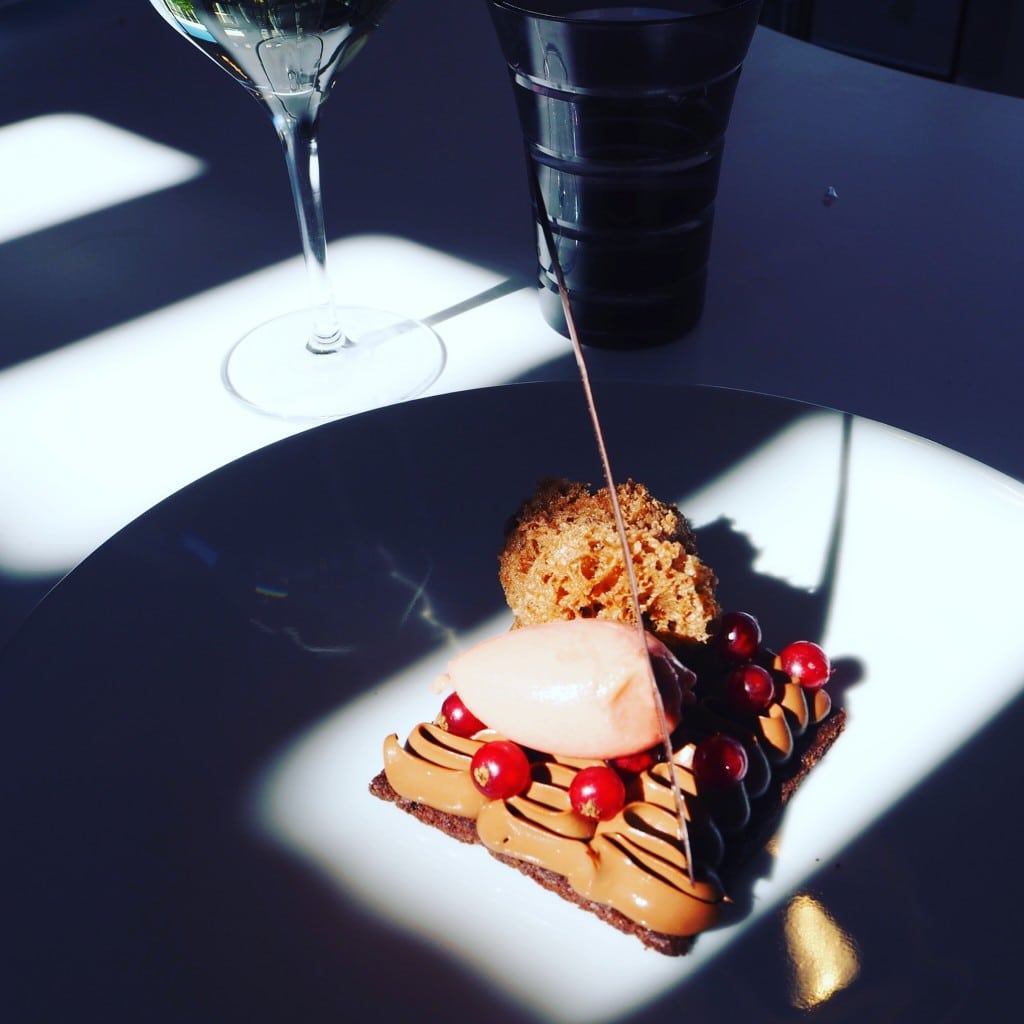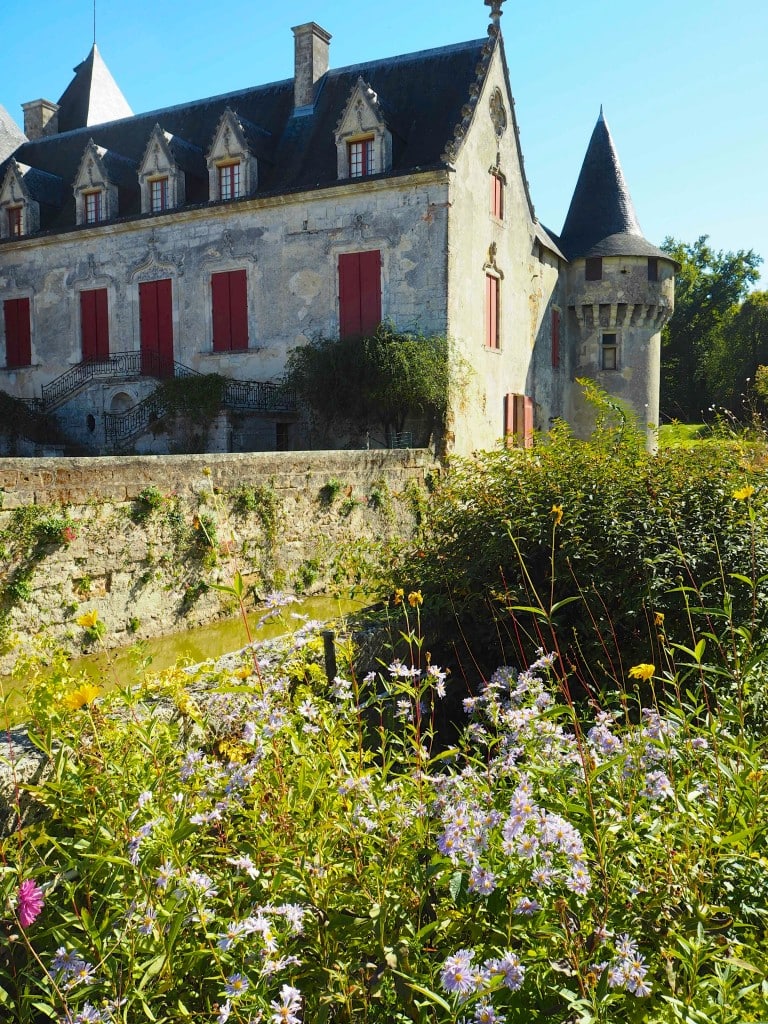 No gastronomic trip is complete without a trip to the local chateaux for a spot of wine tasting. Above and opening shot: Sun is shining on the beautiful Chateaux Olivier.

Below: Me in the village square, Bouliac, where Le Saint james is situated wearing White culottes by French Connection at Atterley, Navy stripe top by Miss Selfridge, Tassel bag and necklace by Mint Velvet, Silver plimsoles by Converse.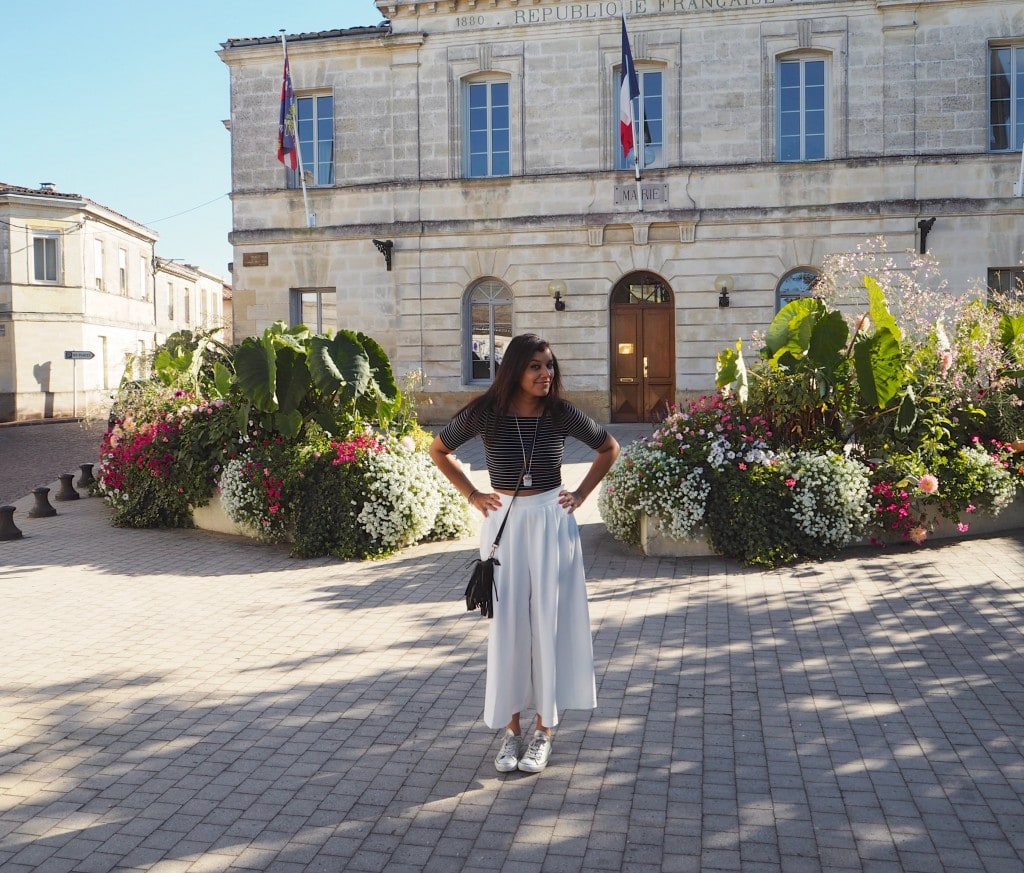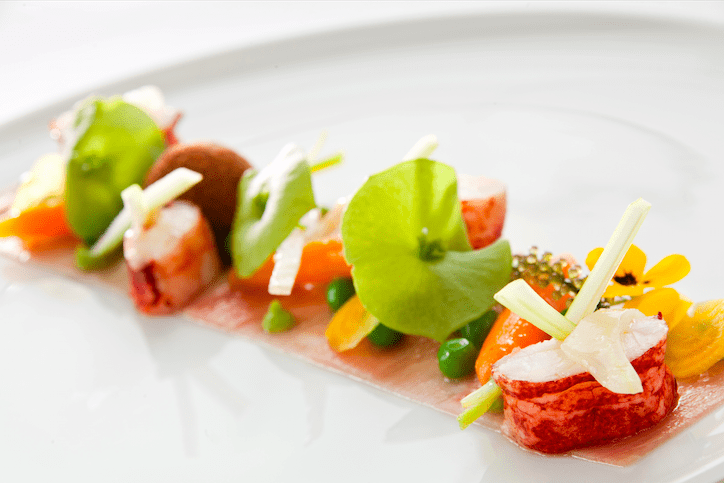 Dinner at Le Saint James
On our final night at Le Saint James we were very excited to be invited to dinner in the formal Michelin Starred restaurant. We indulged in the decadent tasting menu with wine pairings, see menu below. Bon Appetit!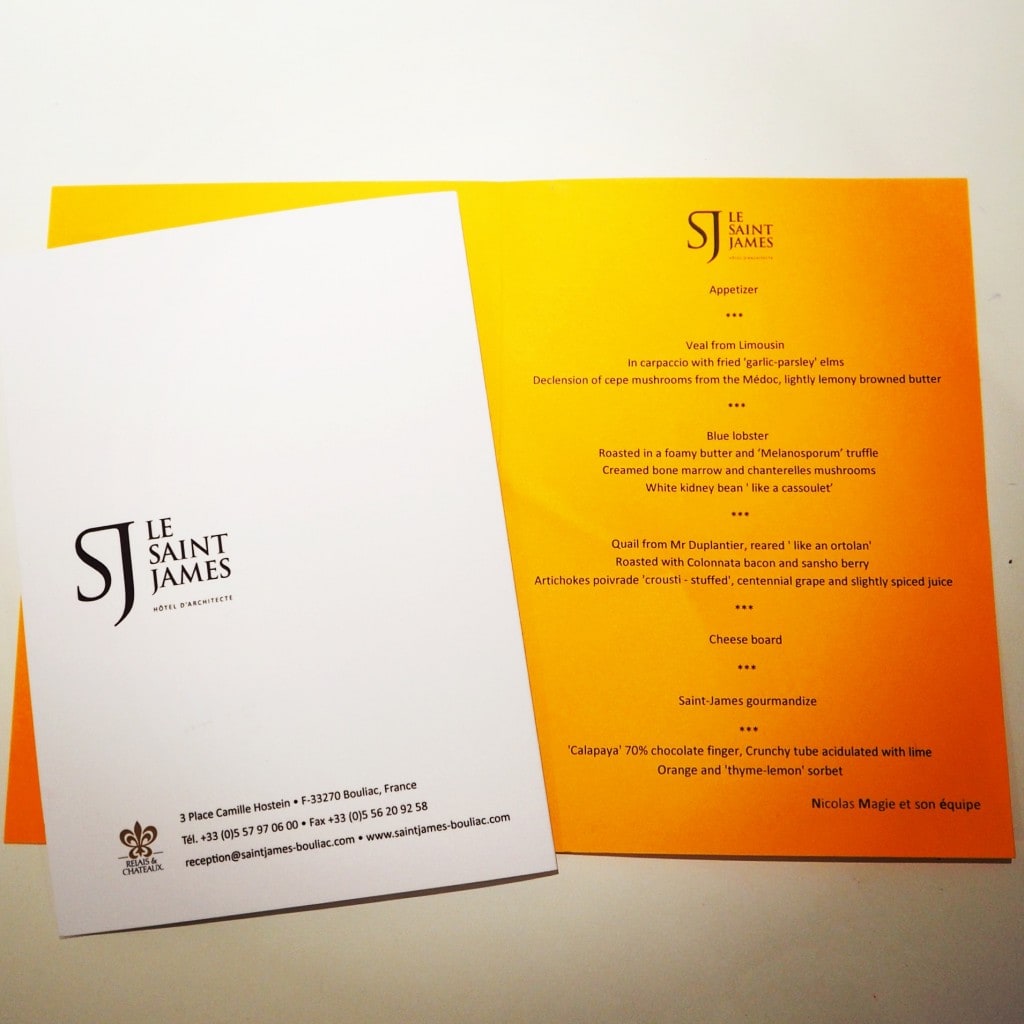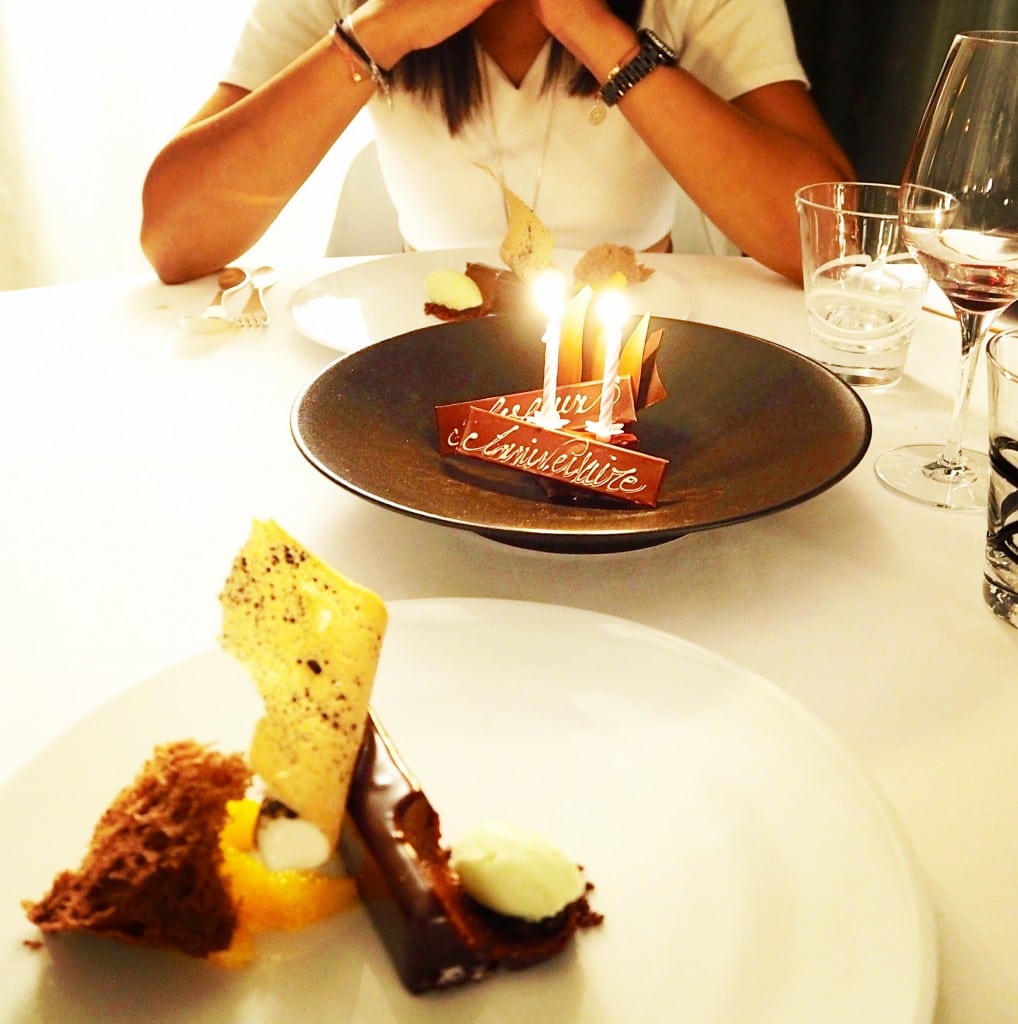 Double dessert – Me digging into the tasting menu chocolate dessert, as well as the lovely birthday cake from the chef too! Yum!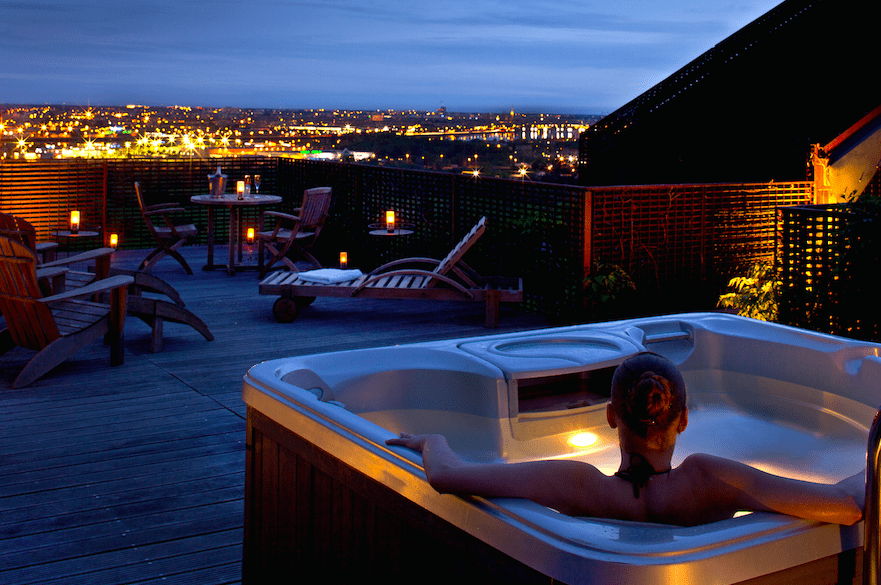 Time for a little post dinner hot tub dip and a night cap.
Good night from Bordeaux… Next stop Ibiza Bootcamp to work off some of this dessert!