Ibiza Streetstyle
 Ibiza Streetstyle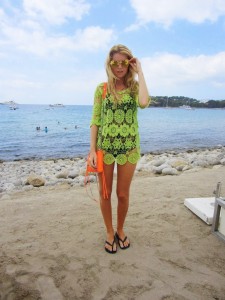 Head to Salinas beach to buy a neon crochet dress from the beautiful shop at Sa Trinxa
Ibiza – What to Wear When You're There
Ibiza is completely spontaneous, there's always something fun going on if you know where to look. A day by the beach chatting to new people is just as likely to lead to an impromptu invite to a yacht party, as it is an underground cave rave in the North of the Island. You get swept away in the moment and there's no time to get changed. So my first rule of dressing is 'make sure you're covered for all eventualities'.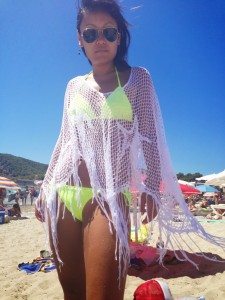 Akiko rocks white and neon, two big trends for the season
A good tip is to wear a bikini under all of your outfits, beach and club, especially a neon one if you want to stand out from the crowd. For daytime think boho, boho, boho, no I'm not crying, it's the style which encapsulates the whole ethos of the island. Chanel global traveller meets cool rock chick in the day. And for night time clubbing ramp up the glam factor and seek out the sequins and shine.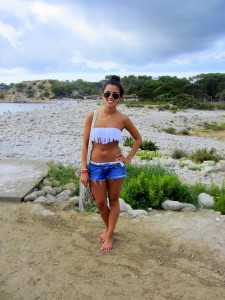 Tassel bikinis and denim cut offs were a big hit in Ibiza this season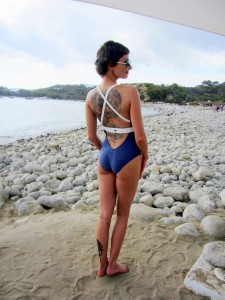 Looking graceful in a cut out swimsuit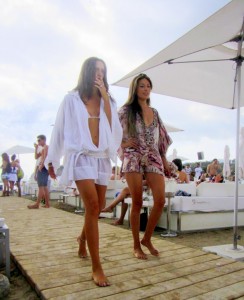 The fashion show at Blue Marlin where you buy dresses straight off the models back!
Wedges or jewelled flat sandals work well for both night and day. Ibiza has such a mash up of styles and trends that girls in bikinis and flip flops dance alongside perfectly groomed party princesses. Make up wise sun kissed natural beauties always looks so much better in the heat, like wise sea salt tousled locks. To look like an islander wear white, it's a cool colour for the day and glows bright under the UV lights at night, perfect for the White Isle.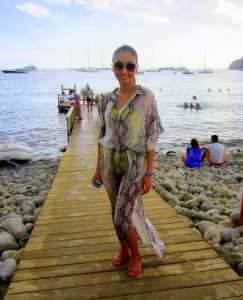 Snakeskin chic on the jetty at Blue Marlin