Ibiza – What To Do In The Day

Ibiza – What To Do In The Day
The island of Ibiza is synonymous with clubs, bars and partying, but there is so much more to it than just raving. Many visitors to the White Isle will only ever see the inside of a club and the inside of their bedroom, but what else is there to do if you fancy a more tranquil or luxurious trip?
Well, apart from visiting the many spectacular beaches, I highly recommend hiring a car and exploring the beaches and the hippy market. If you want to be more active try yoga at one of the many zen, detox retreats or sweat it out, cycling or hiking in the pine filled forests in the north . But if that sounds like too much effort then here's my style Traveller guide to the top 4 luxury daytime activities to indulge in your next trip to ibiza.
From my favourite beach bars, spas, where to go sailing, to visiting the Old Town, keep scrolling to see The Style Traveller guide to Ibiza – what to do in the day.
Opening image Bonnie in a Triangl bikini at Hacianda Na Xamena.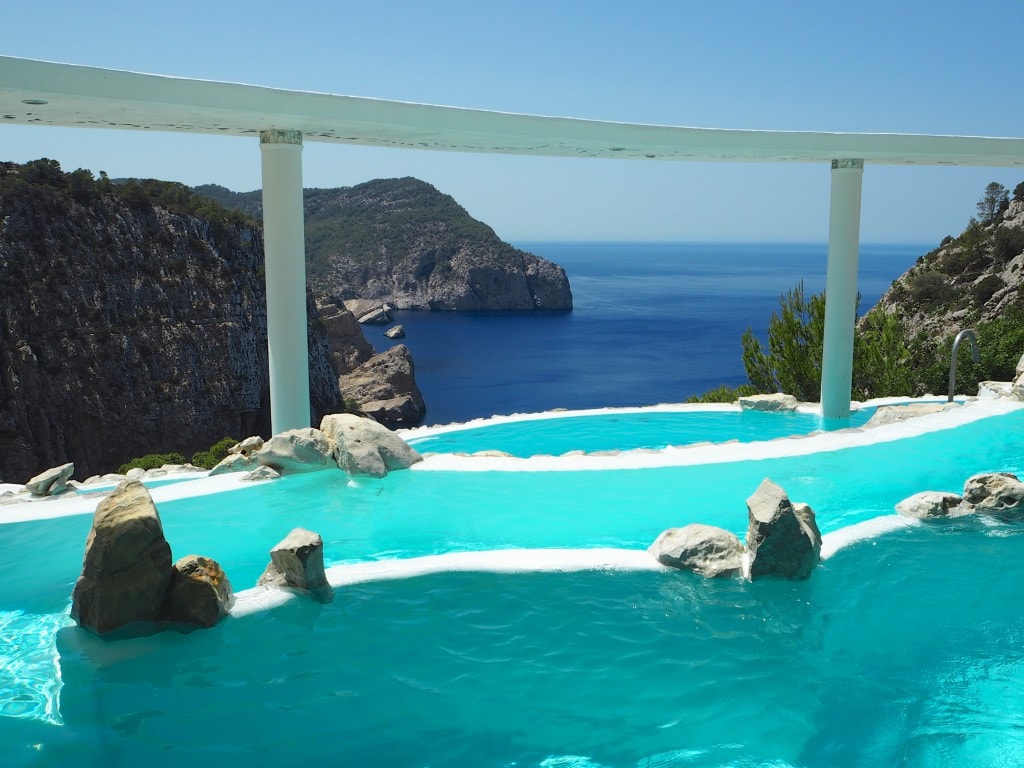 Sheer Indulgence
No holiday is complete without a spot of pampering and it doesn't get more indulgent than the exclusive, hidden spa hotel Hacienda Na Xamena. Tucked away in a picturesque spot in the North of the island, surrounded by pine scented hills, the Hacienda Na Xamena boasts one of the most breathtaking sea views on the island.
You can stay at the uber luxe hotel or spend the day there, trying out one of it's luxury spa packages. As part of the elite Preferred Hotel Group expect nothing less than the ultimate in rejuvenating treatments, resplendent surroundings and immaculate service.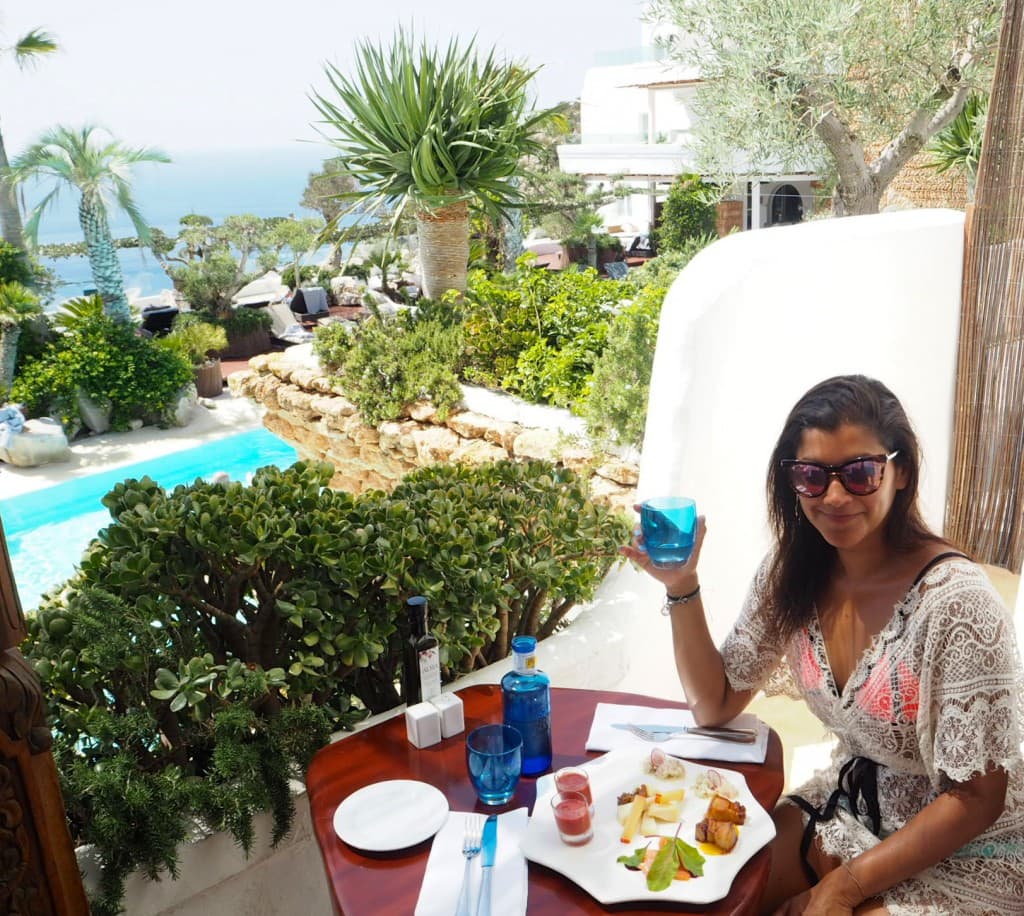 We tried out the lunch and spa package which includes an afternoon using the plunge pools and specialist water jet circuit, which massages every part of your body (it's incredible!), followed by a delicious 3 course healthy lunch. It's the perfect way to spend a blissful day. I can't recommend it enough! Oh and did I mention the dessert?….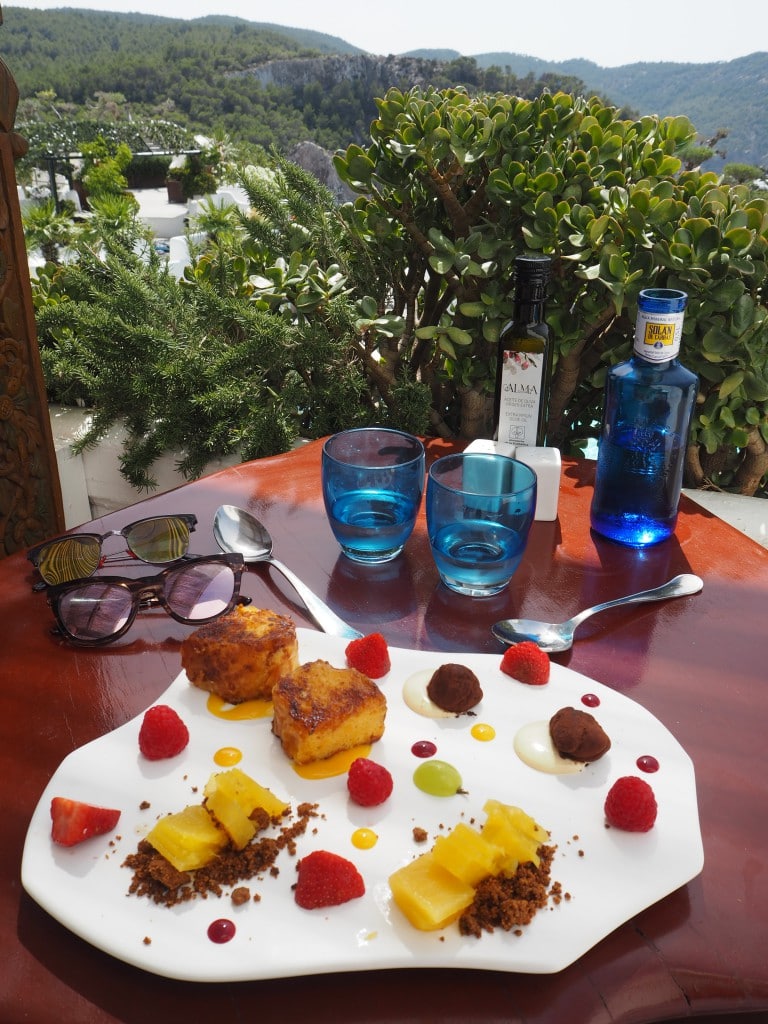 Experimental Beach
Ibiza offers the perfect blend of relaxing, eating, drinking and of course partying. It's renowned for it's amazing daytime beach clubs. The beach restaurant pictured here is the Experimental Beach Ibiza, located over the salt flats in Salinas. Owned by the Experimental Cocktail Club group, it's one of the chicest day to night, beach venues on the island.
In my opinion the best sunset on the island can be found at Experimental Beach Ibiza. The food is spectacular, cocktails are delicious, it's very easy to while away the whole day at this chic beach club.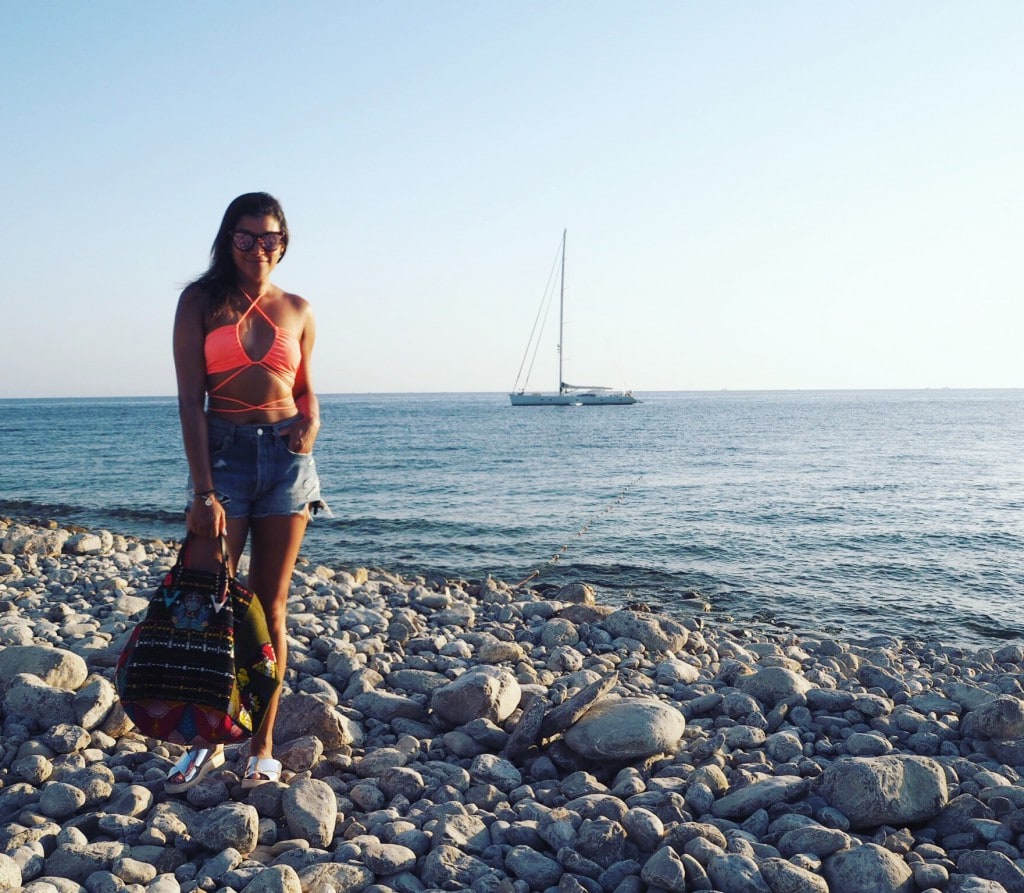 Me waiting for the sunset at Experimental Beach wearing my Christian Louboutin beach bag and Pretty Little Things bikini. For more tips on what to wear when you're there check out the Ibiza street style section on TheStyleTraveller.com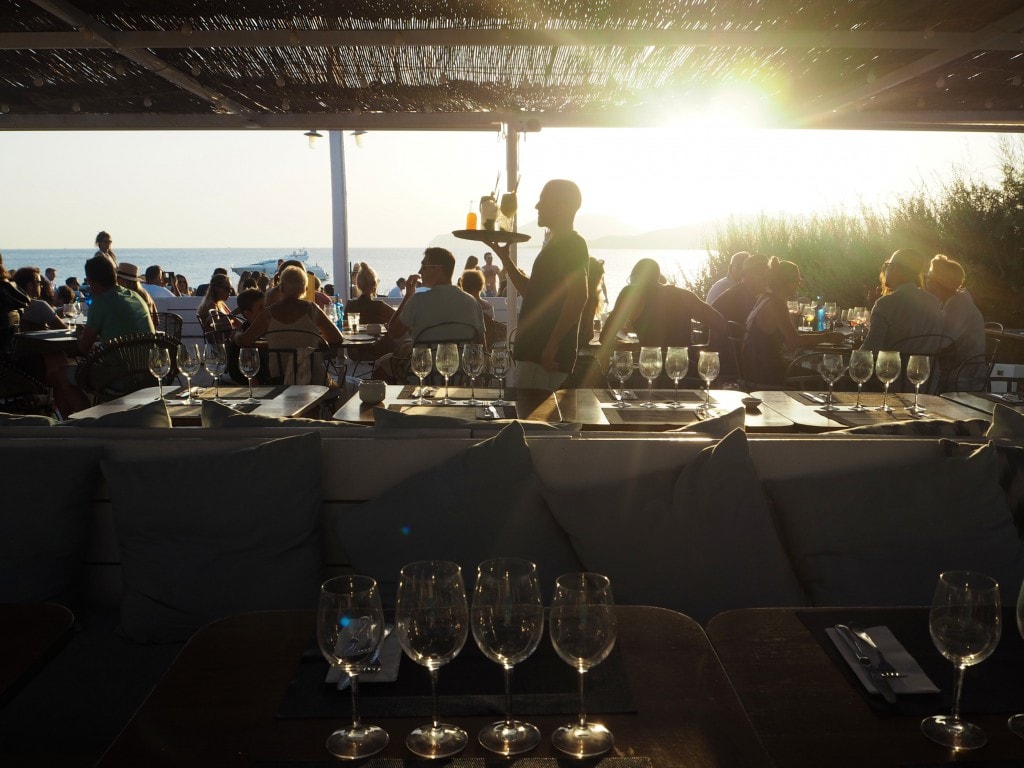 At sunset the tunes get louder and the party crew starts to arrive.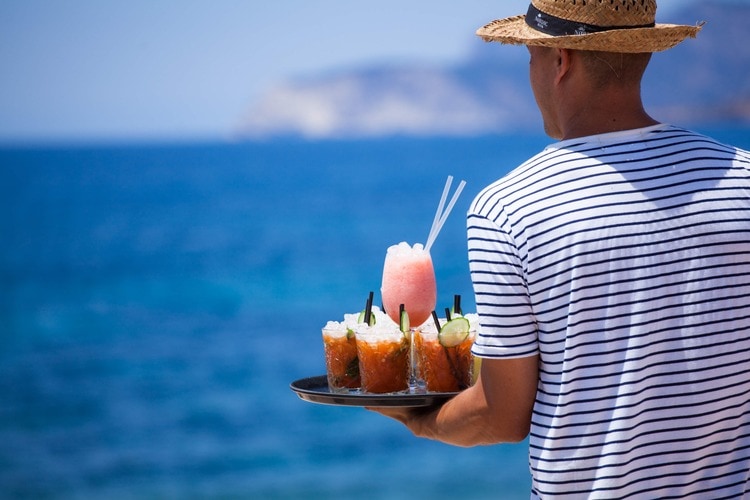 There are so many fantastic beach bars and clubs on the island it would be unfair to only mention one. Other favourites of mine include Blue Marlin and Beach House for more of a clubbing, party vibe. Cotton Club Ibiza for whitewashed, chic daytime chilling and champagne sunday brunch. I also love the Jockey Club (expensive) and Sa Trinxa (more chilled, hippy vibes) both on Salinas beach for lunch.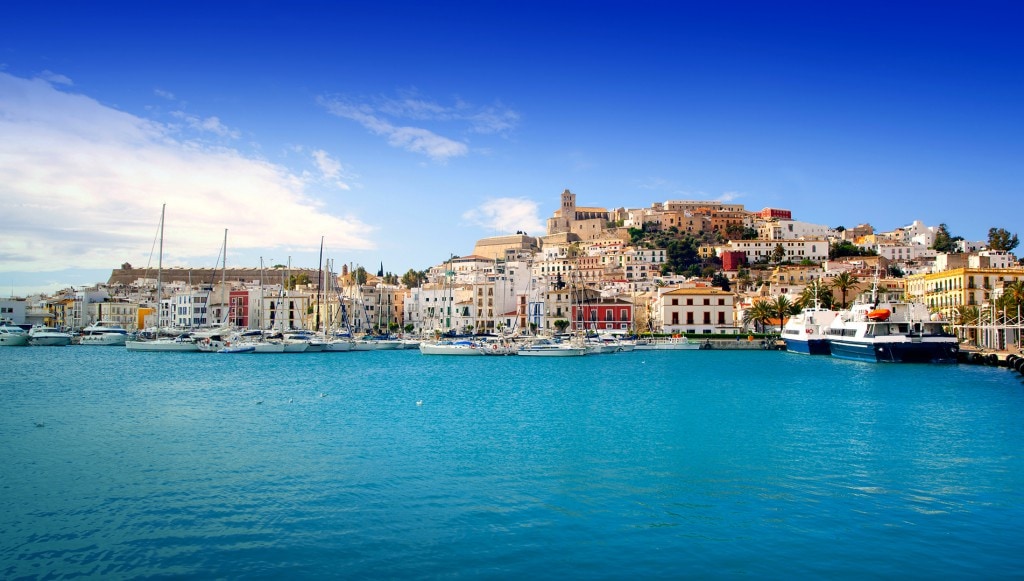 A Spot of Culture.
Ibiza Old Town or Dalt Villa is a stunning, picturesque place to visit either in the day or at night. In the day head to the top of the fortified old town and walk along the historical ramparts for gorgeous views of the island. Stop off at La Bodega restaurant at the bottom of the hill for the yummiest (and affordable) tapas lunch in town.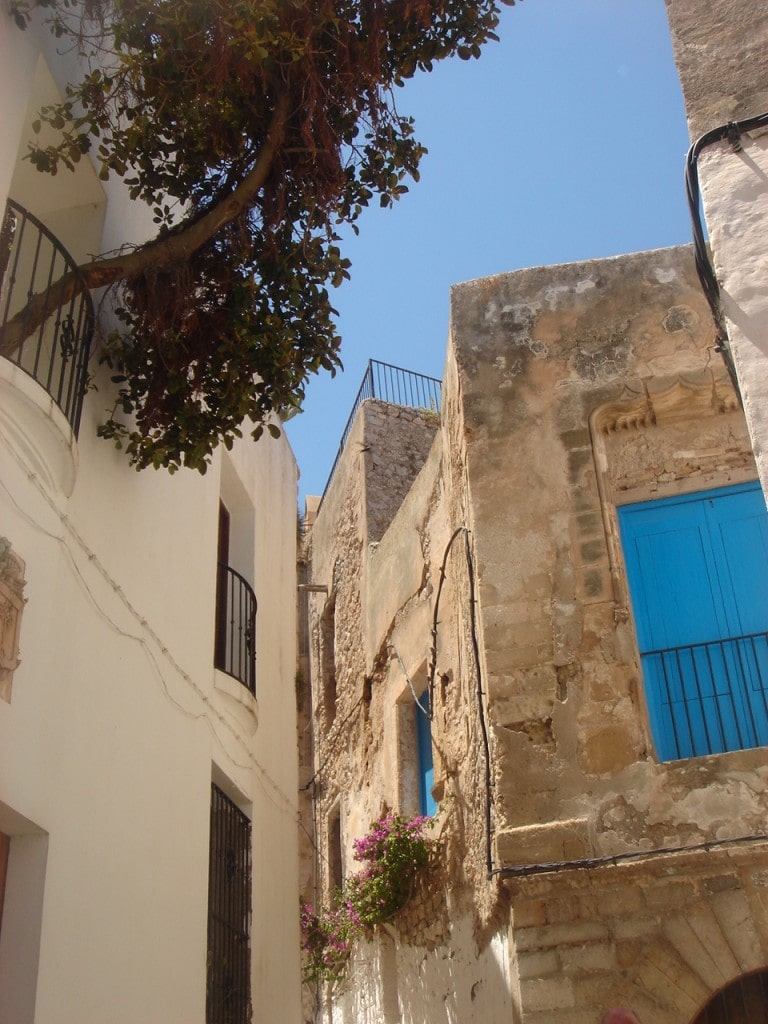 Ibiza Town is filled with lovely boutique shops and cafes. It's a great place to take pictures, wander along the quaint streets and stop off for cocktails mid afternoon.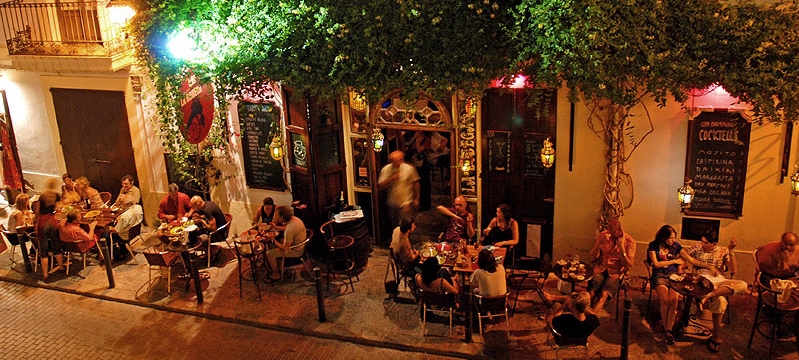 La Bodega restaurant in Ibiza Old Town.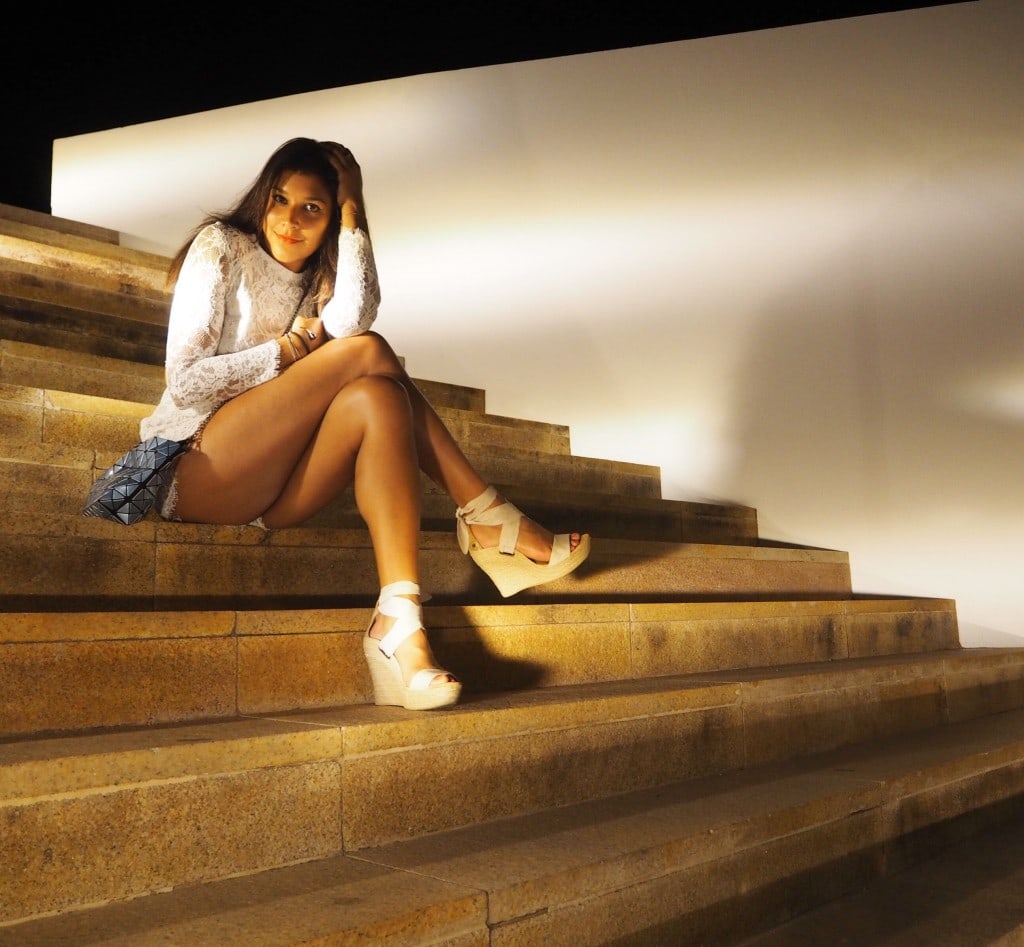 Me posing on the steps of the museum in Dalt Villa after dinner, wearing Pretty Little Things lace co-ord set.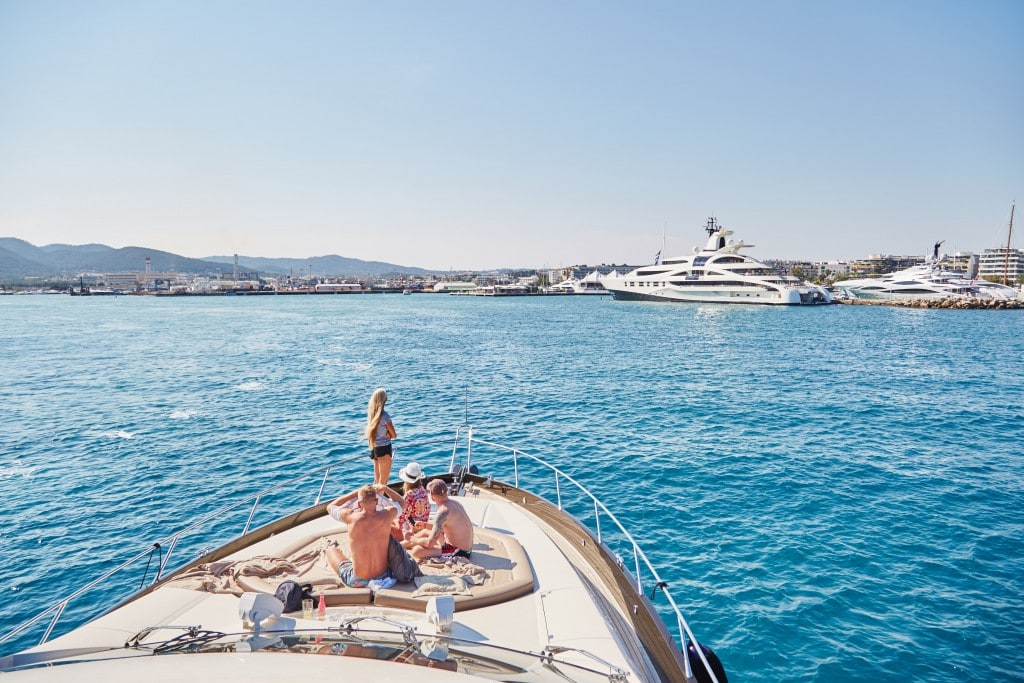 Take to the Seas
One of my all time favourite activities to splash out on is hiring a boat and taking a day trip out to Formentera.
Smart Charter Ibiza has a great selection of luxury boats for 2 to 20 people. Spend the morning sailing on the turquoise waters then moor up at one of Formentera's chic restaurants for a spot of lunch. My favourite restaurant is Beso Beach.
It's a great way to start your trip, get a head start on the tan and do something wonderful before the hang overs start to kick in.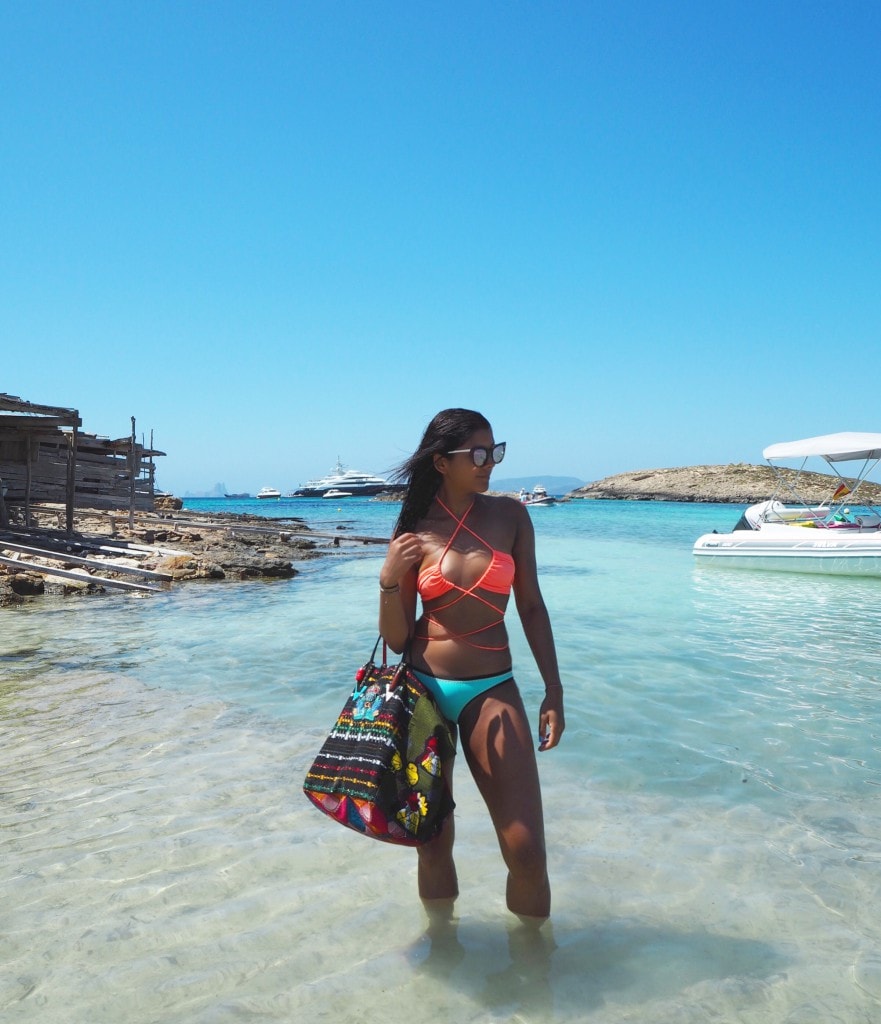 Me posing in Formentera in my Pretty Little Things bikini top, Triangl bikini bottoms and Christian Louboutin oversized beach bag.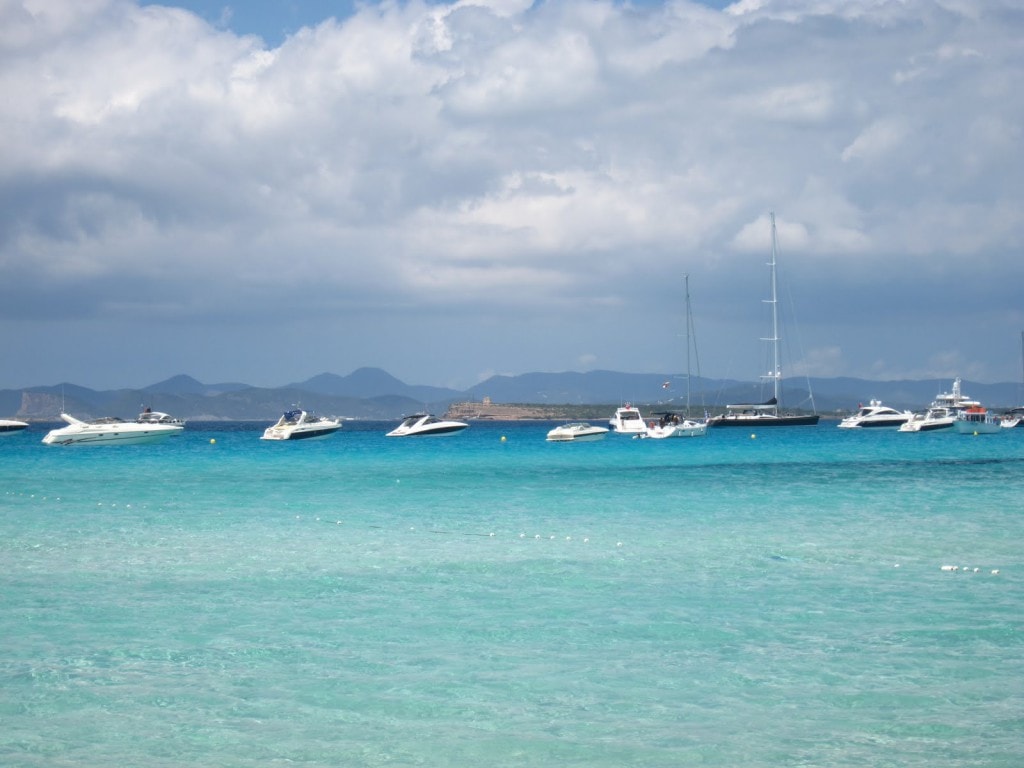 The crystal clear waters of Illestas Beach, Formentera.
If chartering a yacht is out of budget then there are regular ferry trips from Ibiza Town which cost around 20 euros return. It's worth hiring a bike for the day to get around the island.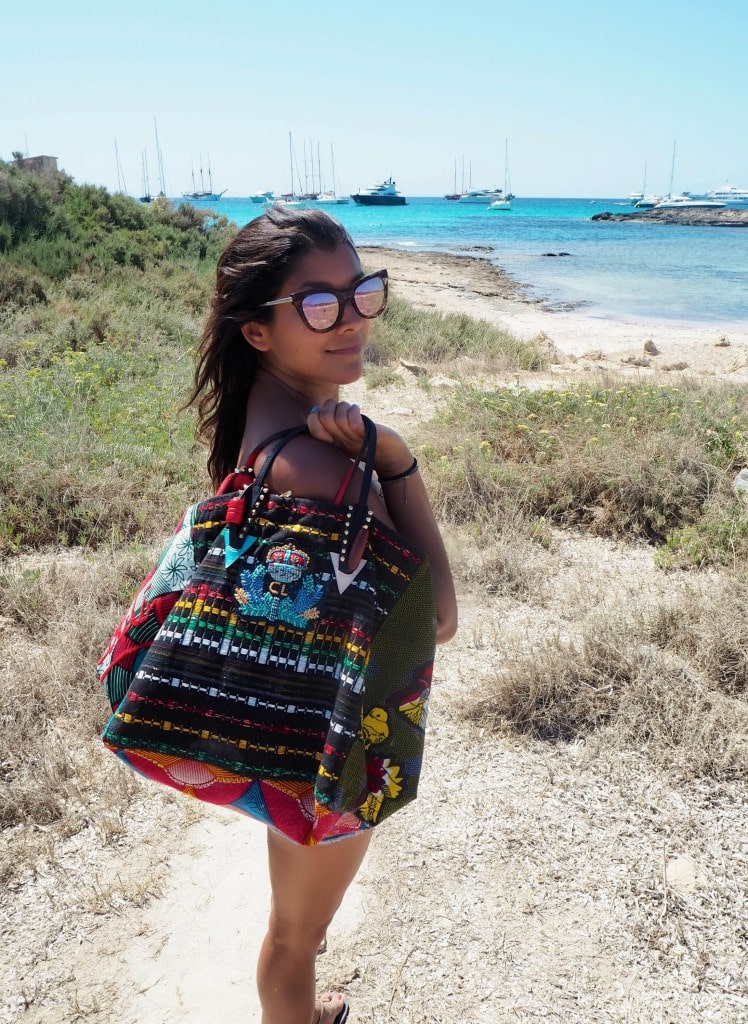 Me in Formentera with my oversized Christian Louboutin beach bag #LOVE!
So it's good bye from Ibiza. Next stop Amsterdam!
For more Ibiza antics click here…