India – Luxury Hotels – The Oberoi Grand, Kolkata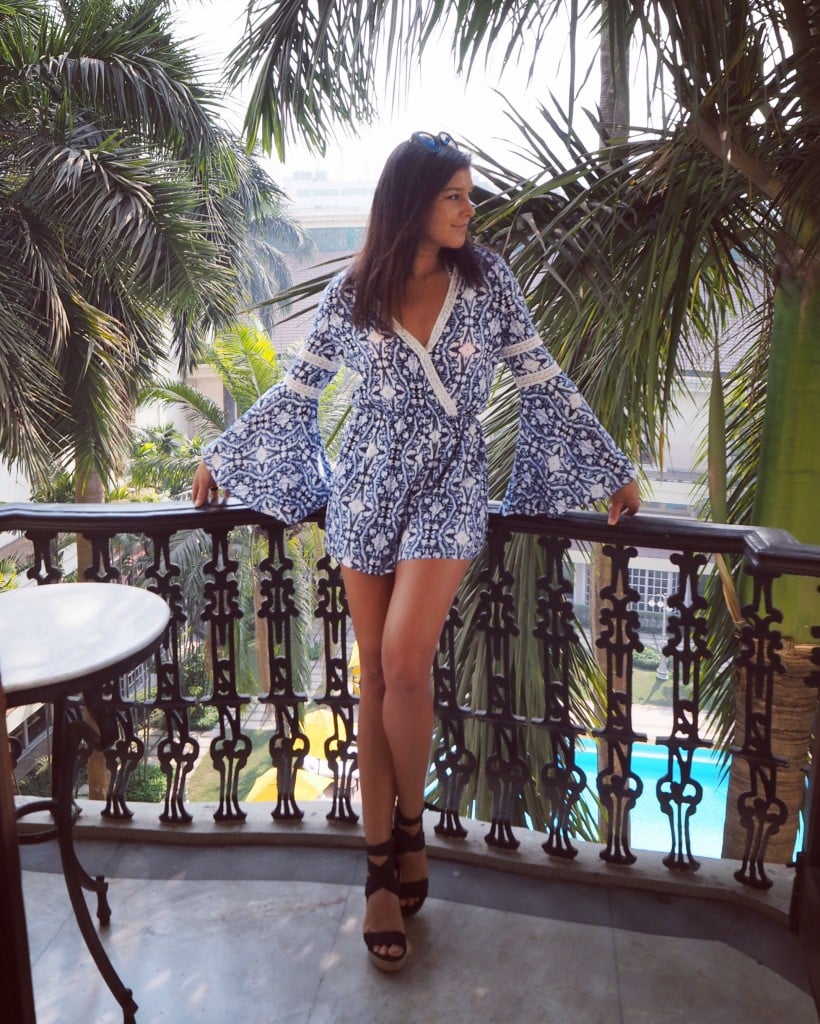 India – Luxury Hotels – The Oberoi Grand, Kolkata
Where? The Oberoi Grand, Kolkata
Exactly? West Bengal, India
When? January 2017
Why? Mama and Papa Style Traveller love travelling just as much as I do. Now that they've retired they like to spend their winters in warmer climes. This year they travelled back home to Kolkata, India, where they first met! How romantic. So I decided to fly over and join them for a new year catch up and a little winter sunshine.
Pictured above – Bonnie wears L Space romper suit from Beach Cafe.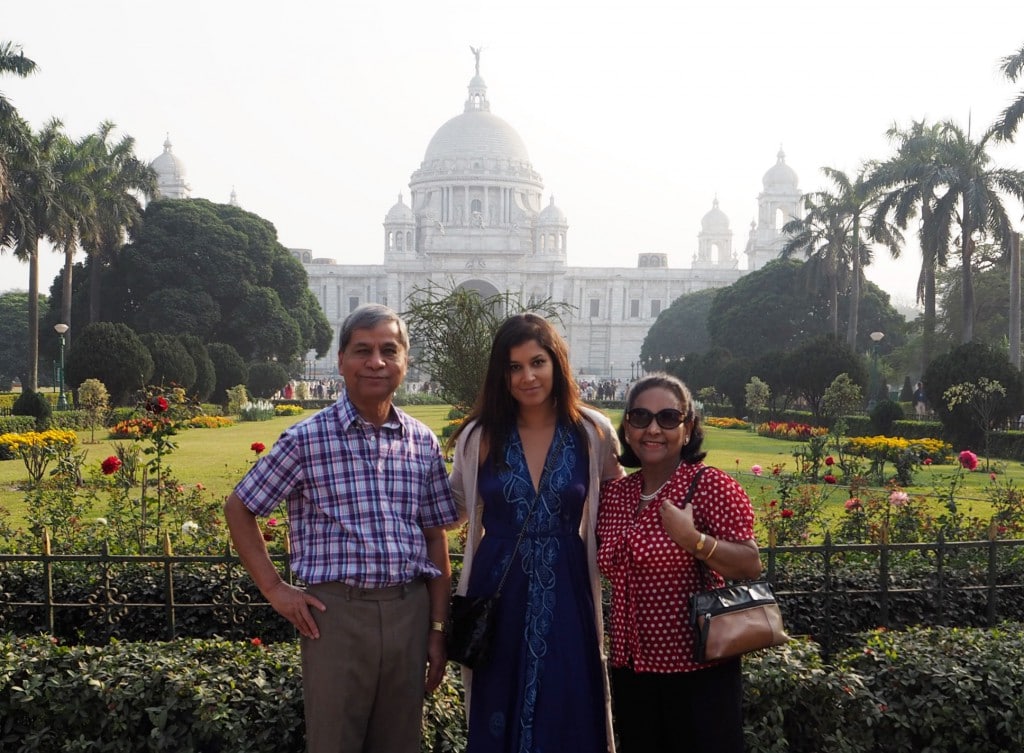 Papa, me and mama Rakhit outside the Victoria Memorial Gardens where they first met! Love is in the air ;)
Kolkata
During the British Raj, Calcutta (now known as Kolkata) was the jewel in India's crown and the capital of the country until 1911. Many of the city's most celebrated tourist sites date back to this very interesting and turbulent time in the country's history. With 14.1 million inhabitants it's the 3rd most populous area in India.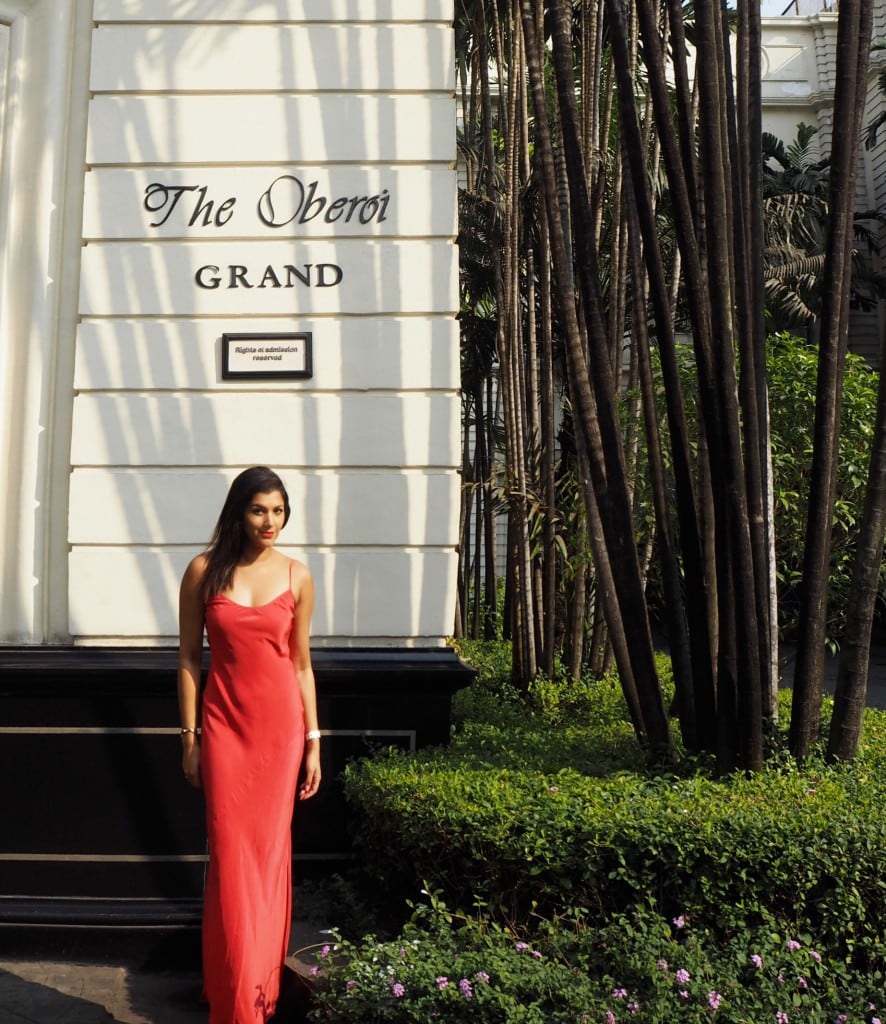 Where We Stayed
The Grand Hotel is one of the oldest hotels in the world. It was once the social epicentre of this thriving and vibrant city, hosting spectacular socialite events and glamourous parties, which brought in celebrities and nobility from across the globe.
Today the hotel stands proud in the bustling streets of modern day Kolkata, as a symbol of heritage and one of the most famous and recognisable landmarks in the city. I used to stay here as a child and I can vouch that it has remained true to its legacy, whilst keeping up to date with contemporary advances. The wifi is excellent, there is good Sky TV and an excellent pillow menu :)
This award winning hotel started life as a boarding house and a theatre, but after a fire in 1911 the buildings were merged and converted to create the majestic hotel which we see today.  In 1939 it was bought by Mohan Singh Oberoi and became part of the luxurious Oberoi Group of hotels. The rest as they say is history.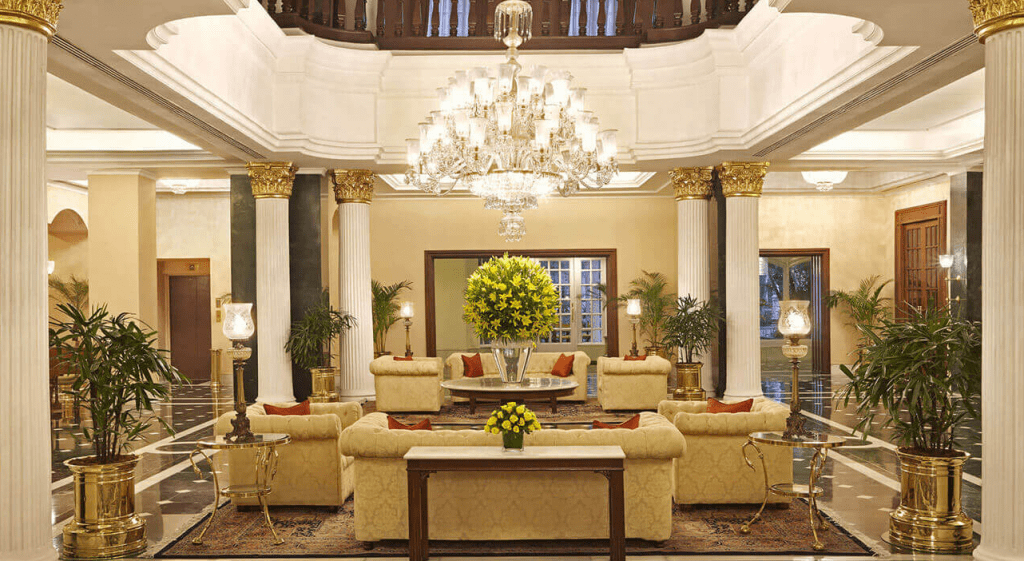 The epitome of old school grandeur – the lobby at the hotel is always filled with fresh flowers and the decadent crystal chandelier centre piece. To me it really feels like stepping back in time and the incredibly attentive staff make you feel like a movie star from a bygone era.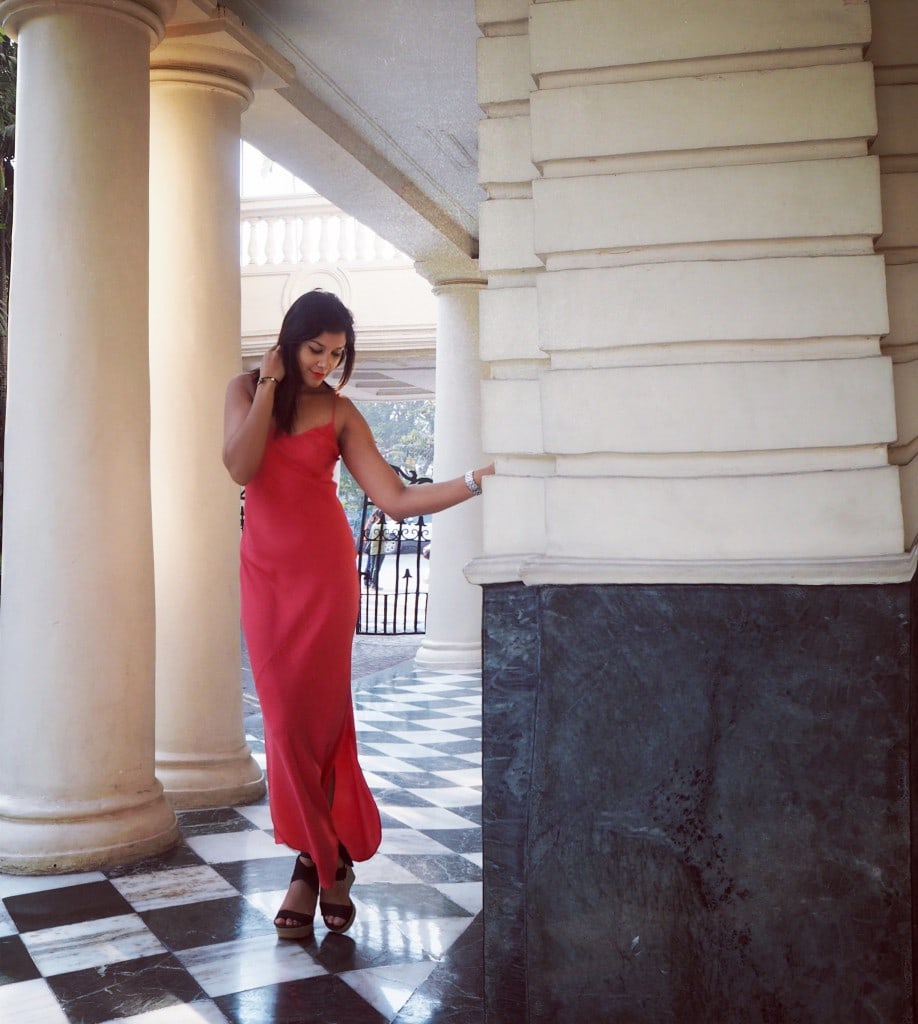 Built in an extravagant neo-classical style, the 209 room/suite hotel is built with colonnaded verandas and balconies, stucco ornamentation, marble floors and crystal chandeliers throughout. It is a picture of Victorian grandeur.
Careful attention has been paid in order to make sure the hotels history and heritage are never forgotten.  Where other hotels have modernised (much to their detriment and loss of character, in my opinion) The Oberoi Grand captures the decadent essence of a truly splendid age.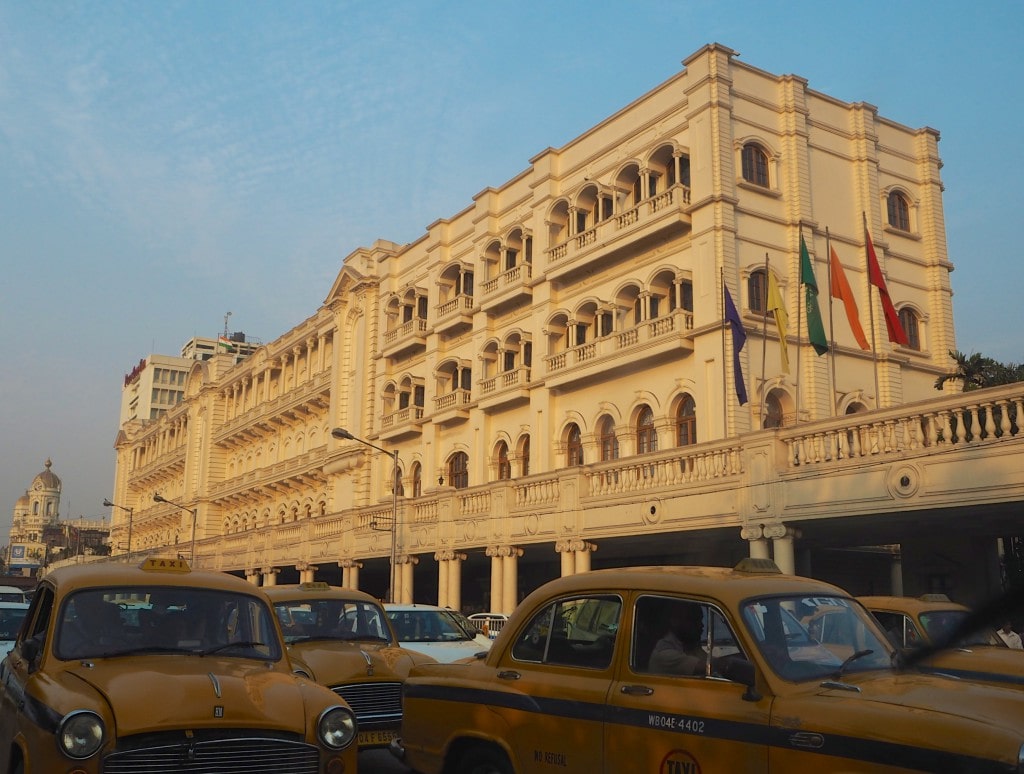 Yellow Ambassador cars fill the bustling streets of Kolkata. It's complete and utter carnage. A real sensory overload. Yet, once inside the central courtyard of the hotel, the architecture and carefully planned structure of the building means that all the noise and visible pollution of grimy Kolkata are left outside.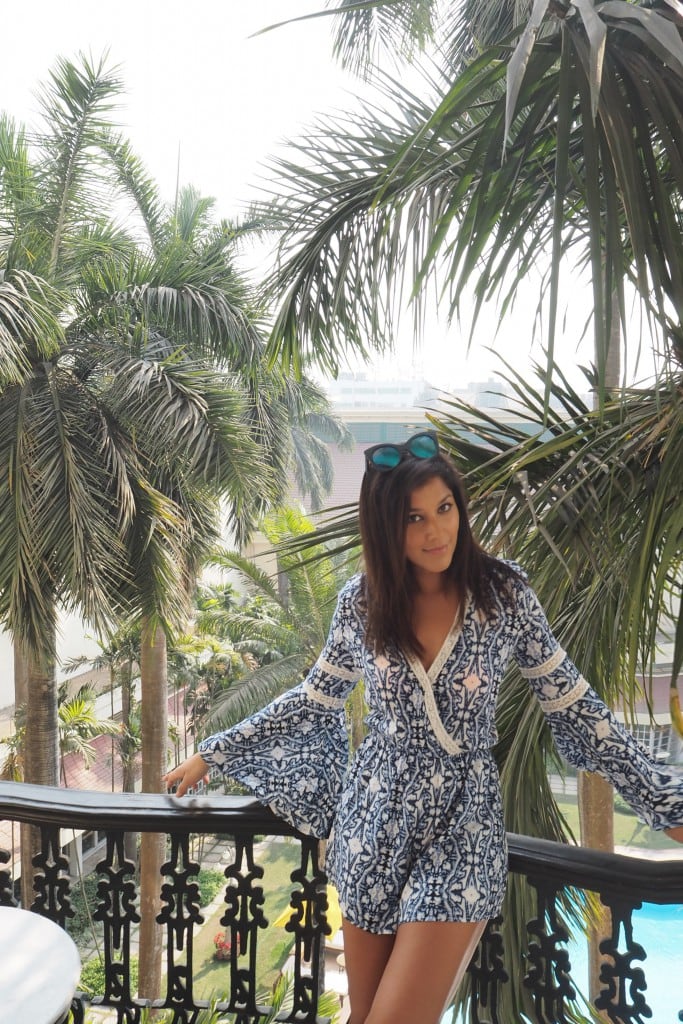 A room with a view – I was lucky enough to be given a balcony suite overlooking the tranquil, turquoise swimming pool in the inner courtyard. Surrounded by bird song, swaying royal palm trees and whitewashed colonial architecture, it's easy to forget you're in a chaotic city altogether.
Bonnie wears – L Space romper suit from Beach Cafe.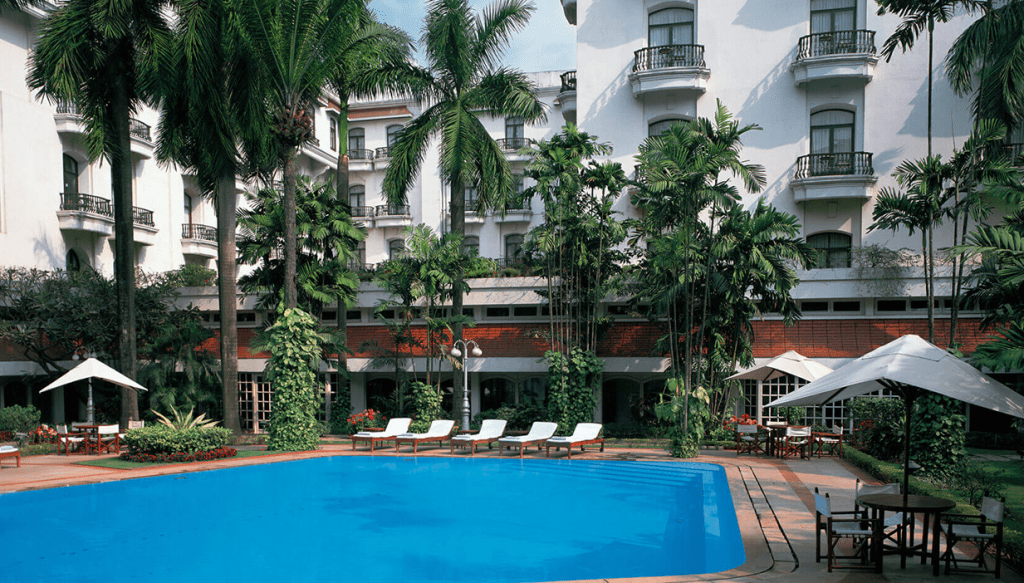 And relax…
Day 1 – the mission for the first day is always to decompress and relax post the long haul flight. Where better than here!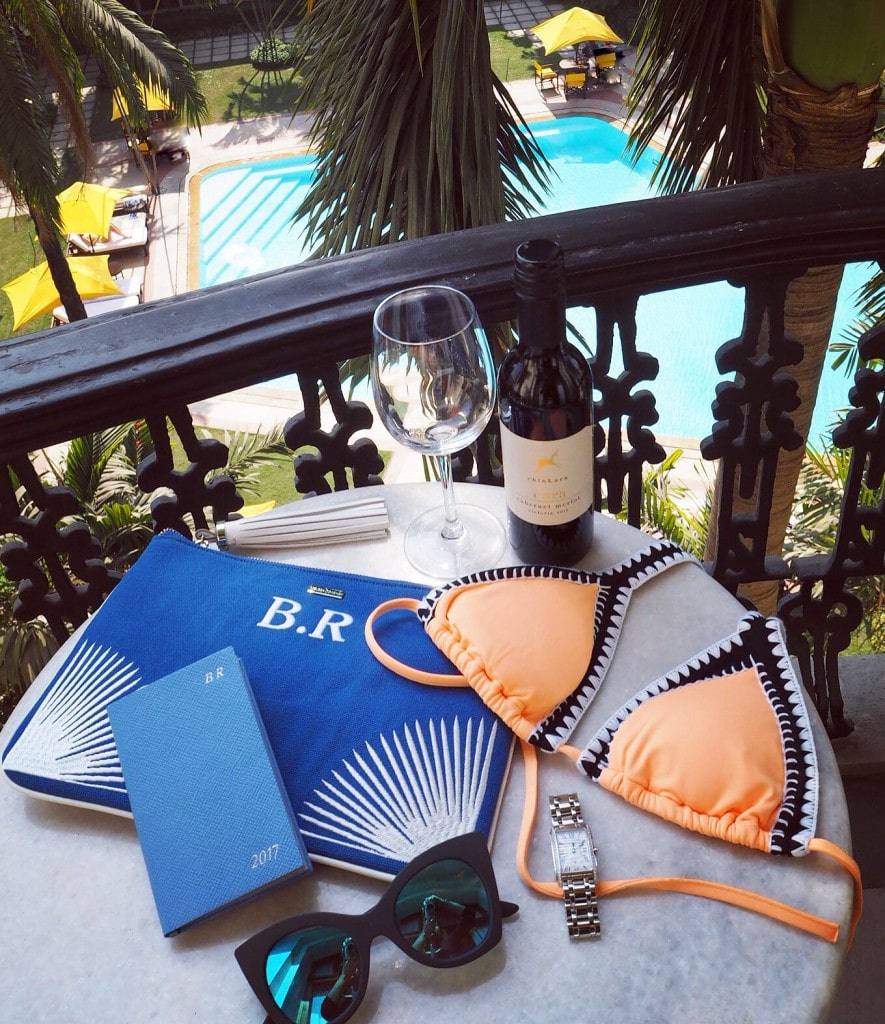 Flat lay from left to right – Beach clutch by Melissa Odabash. Orange bikini by Seafolly at Beach Cafe. Diamond watch by Longines. Sunglasses by Le Specs. Diary by Smythson. Oh and the bottle of red was provided by the hotel. Thank you it was delicious.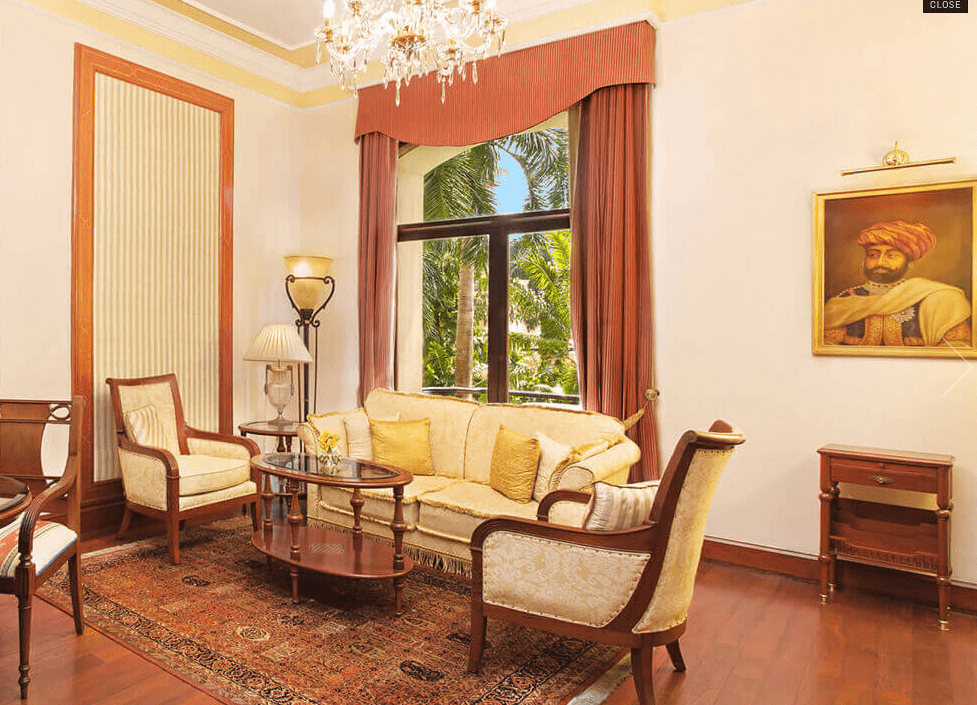 The rooms are decorated in a colonial style incorporating both Indian and British elements. Despite it's formality it still feels warm, comfortable and homely.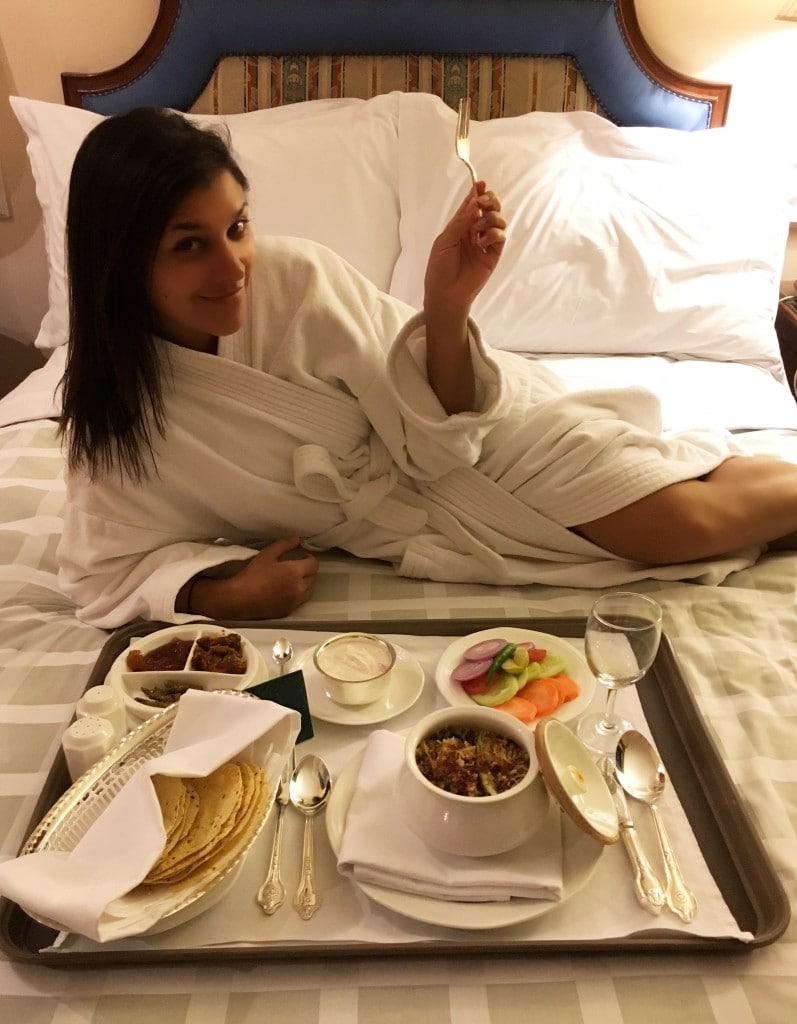 In room dining –  One of my favourite things to do on the first night of a long trip is to chill out in my own room and order room service. The world outside will still be there tomorrow, but tonight I want my supper in bed :) #jetlagged!
I highly recommend the biriani at The Grand, it's my favourite and comes with all the trimming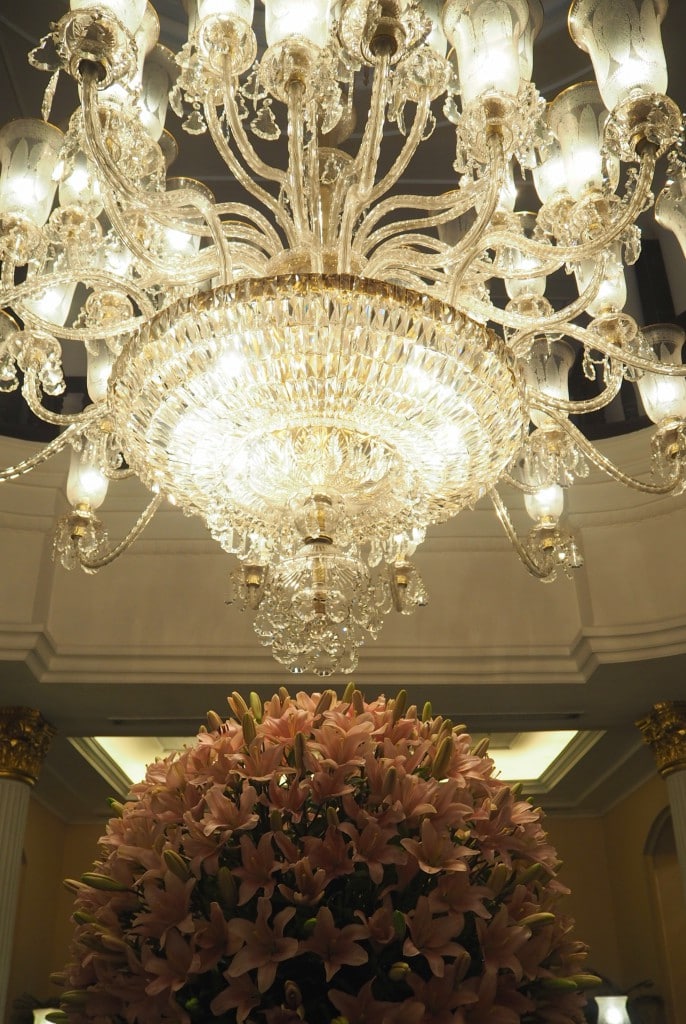 The spectacular chandelier centre piece and extravagant floral displays through the hotel.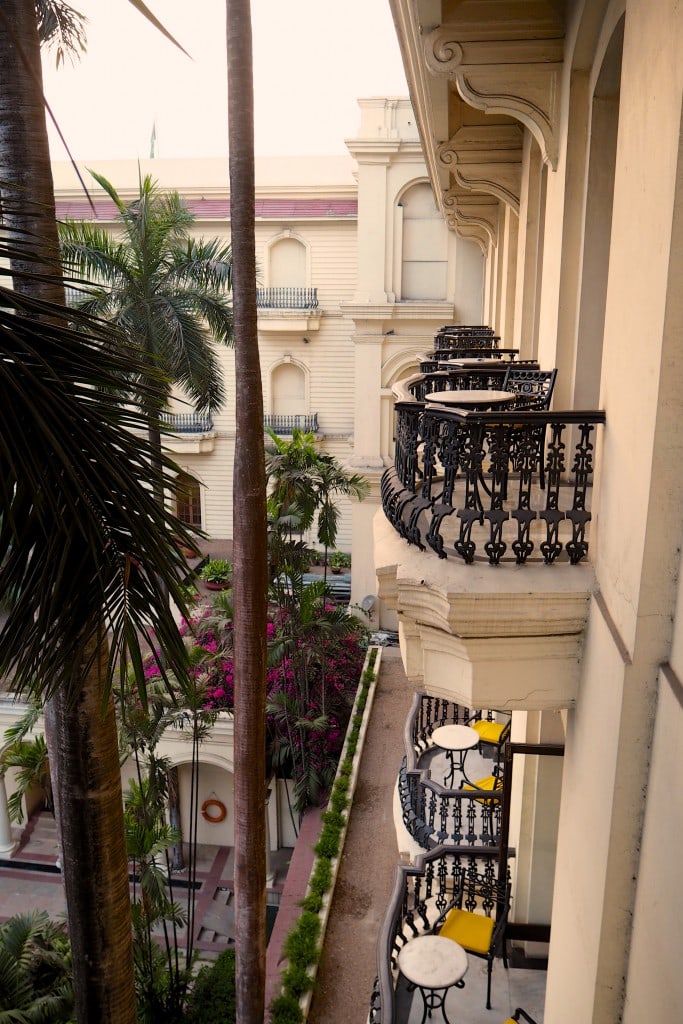 Many of the views of the hotel remind me of being on the French Riviera – such as the beautiful cast-iron balconies.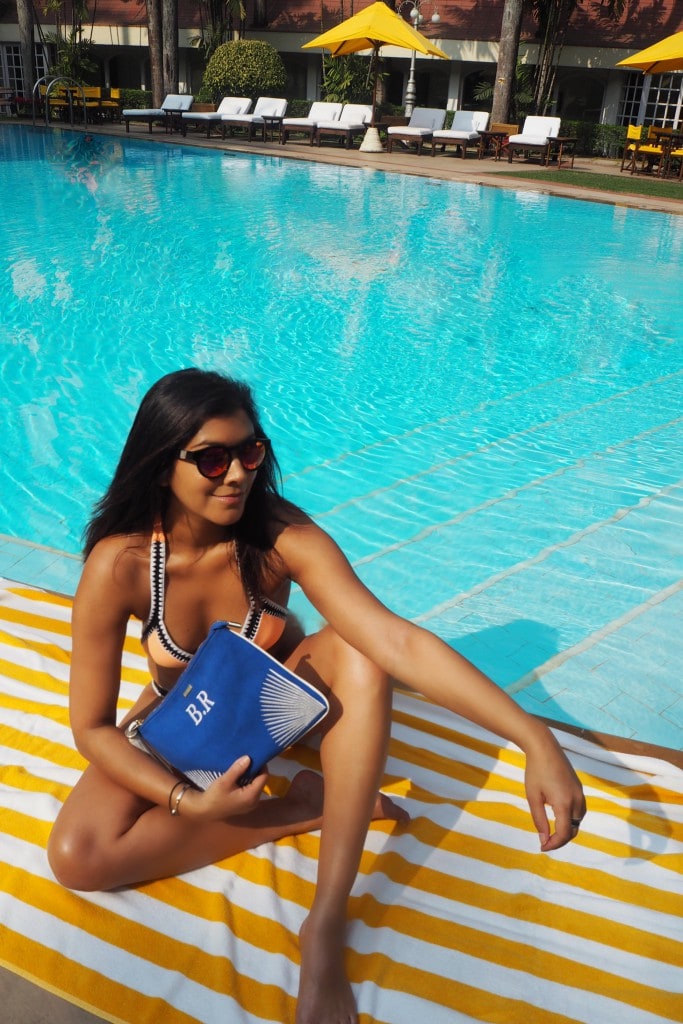 Time for a dip!
Nothing helps the jet lag like a dip in the pool and spot of sunbathing. And as with most luxury hotels the pool attendants are happy to provide sunscreen, lotion, iced drinking water and rose scented face mist! All you need to bring is your swimwear and sunglasses.
Above: Beach clutch by Melissa Odabash. Orange bikini by Seafolly at Beach Cafe. Sunglasses by Westward Leaning.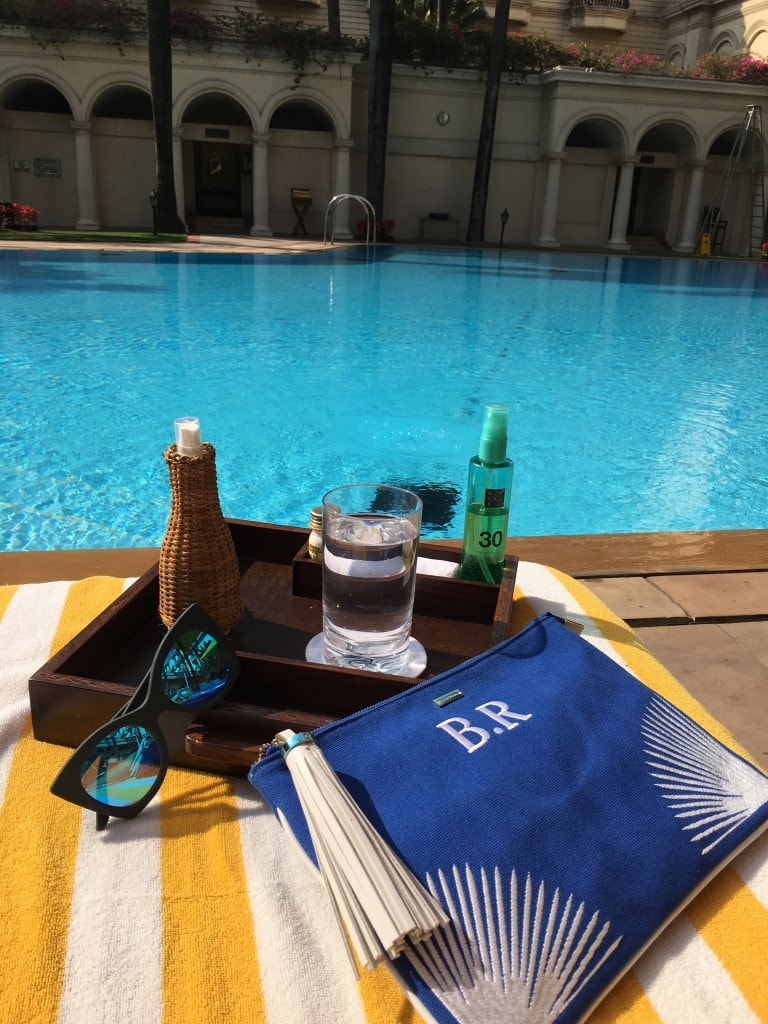 Left to right – Positano beach clutch by Melissa Odabash, sunglasses by Le Specs, sunscreen by Rituals.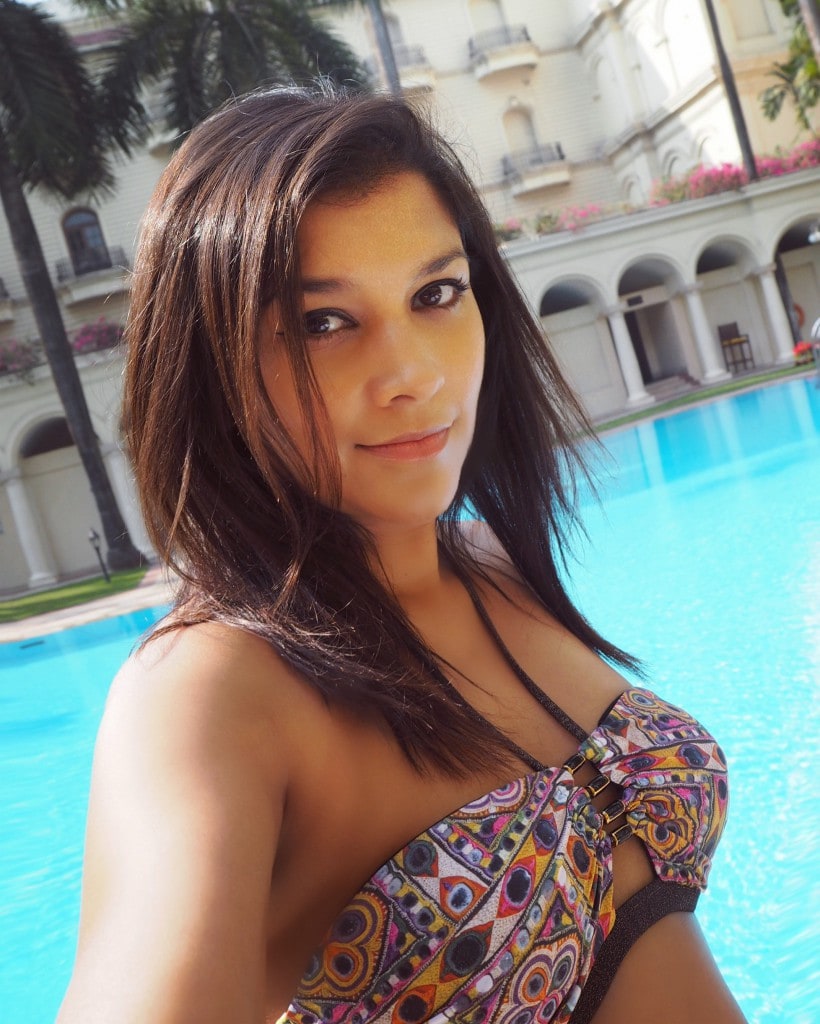 When your bikini matches your destination – Indian embroidery print bikini by Biondi.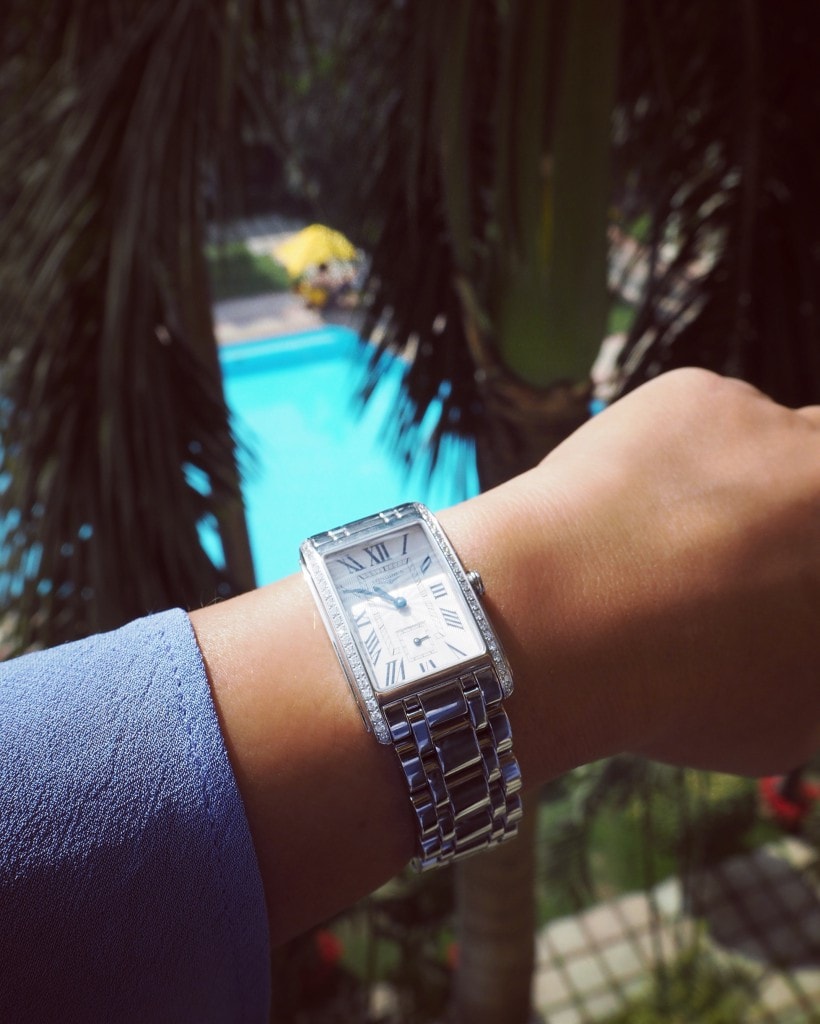 Time to relax – Diamond watch above by Longines.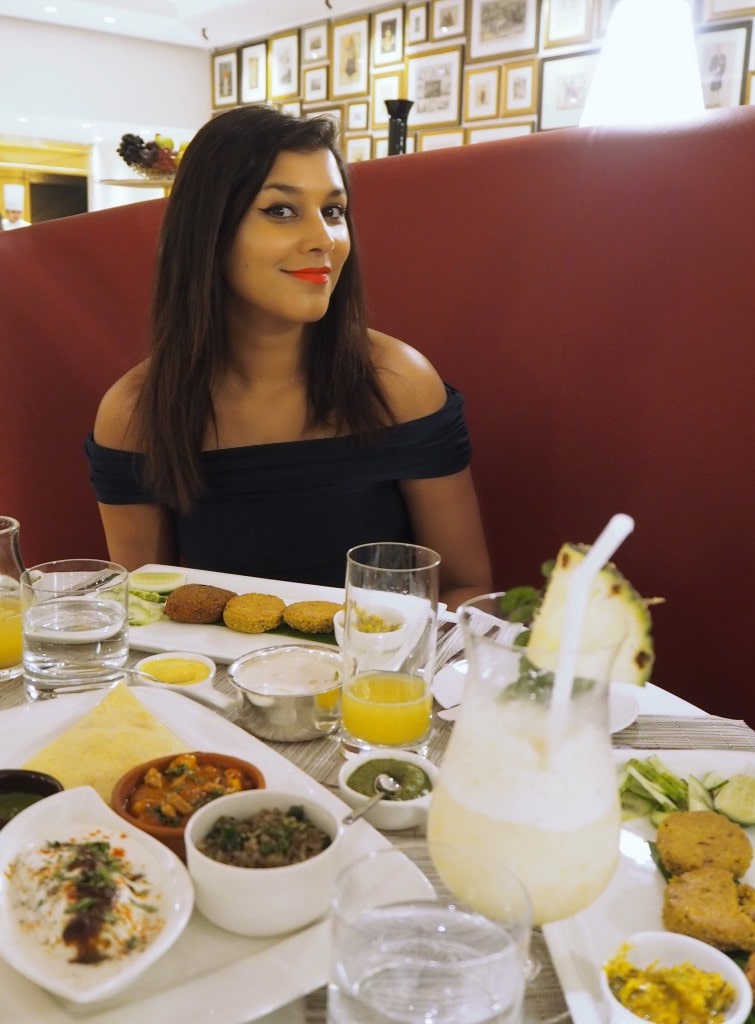 Where to eat?
Meal times at The Oberoi Grand are my favourite time of the day. Whether you're going healthy with the breakfast buffet (below) or going big with the Royal Grand Thali for dinner, the immaculate service and extensive menu options at Three Sixty Three Restaurant at The Grand can accommodate for everything. They even let you order off menu, which is good for fussy eaters like me.
See the full restaurant review in next weeks post. As well as Three Sixty Three restaurant you can always opt for the Thai Restaurant, The Pool Bar and Grill or order in room of course.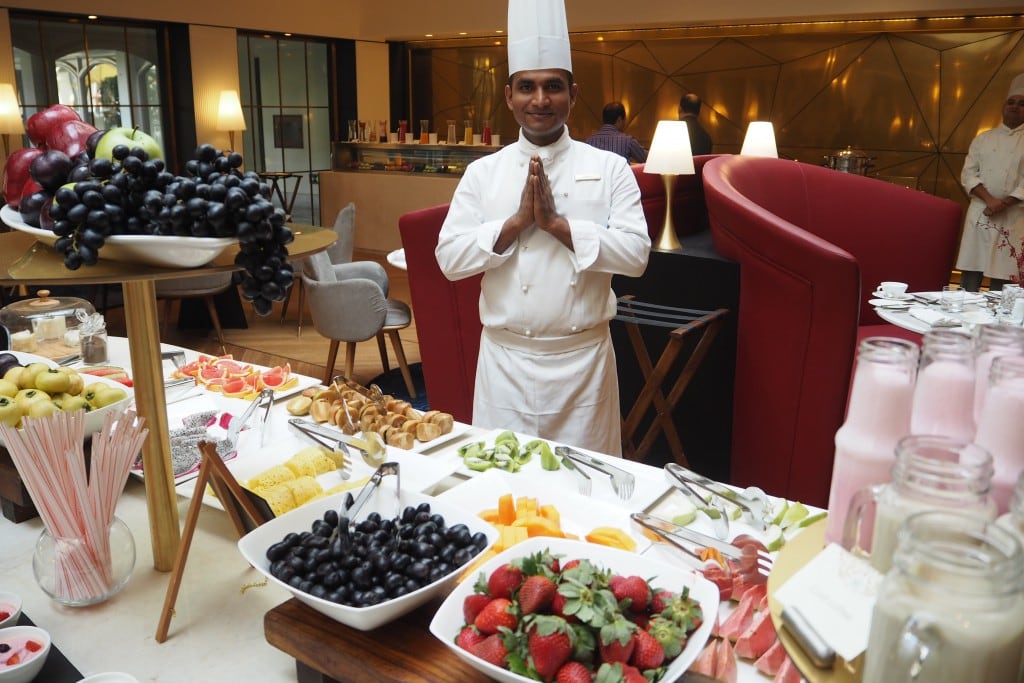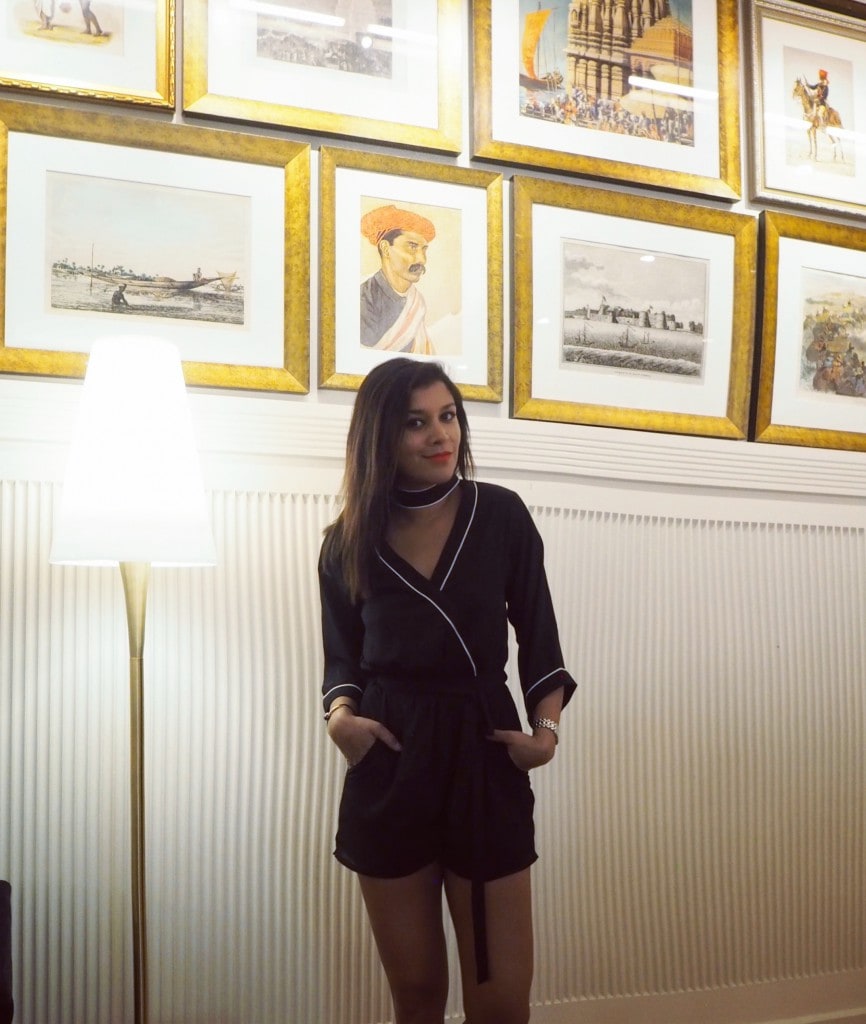 Cocktail Hour
After dinner adjourn to the Three Sixty Three bar, next door to the restaurant and sip on a signature gin & tonic or Bombay Sapphire cocktails in the company of the the finest kings and warriors in the land. The walls are filled with portraits and paintings of past Rajas and Indian noble men. Chin Chin!
Bonnie wears playsuit by Fashion Union at Brand Attic.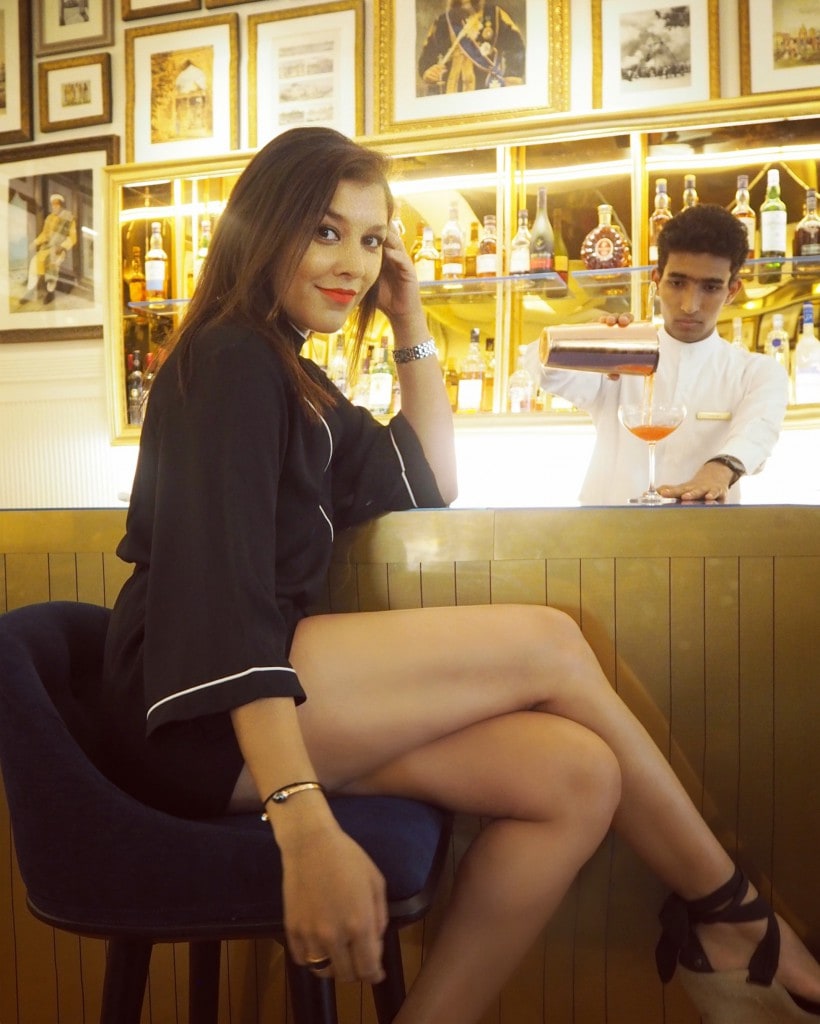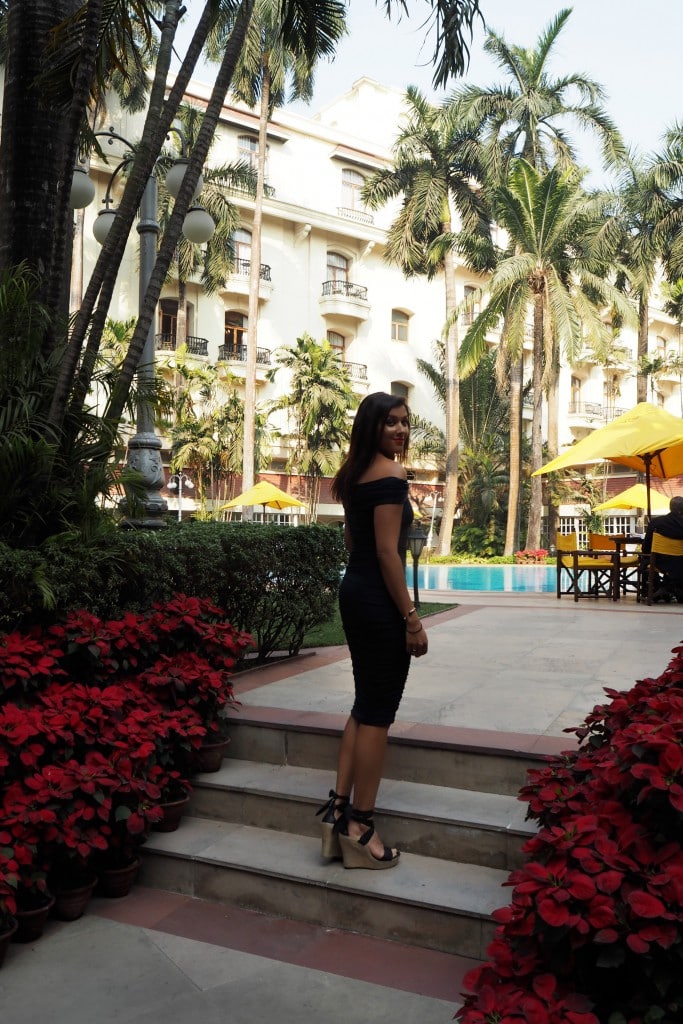 That's all from The Oberoi Grand for now…
Next post – restaurant review on Three Sixty Three, the latest place to see and be seen in Kolkata.
Bonnie wears emerald off the shoulder dress by AX Paris at Brand Attic.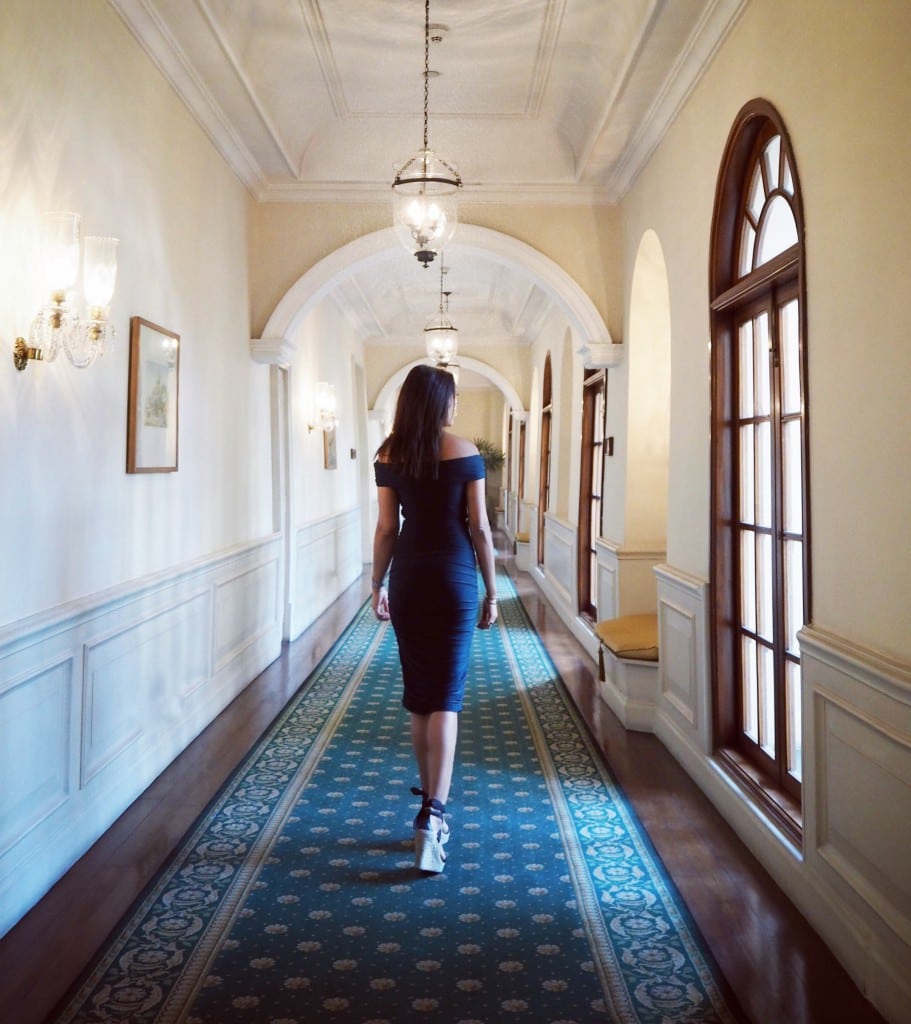 Tata for now!