Istanbul – After Dark, Eating, Drinking & Partying

360 East bar and restaurant
Istanbul is famed for its night life, If anyone recommends a bar or restaurant to you the chances are its a rooftop venue with amazing views over the city or a sunset spot b

y the Bosphoros River. The other chic evening alterative is Bebek. This is Istanbul's trendy party area, filled with bars and restaurants. Here is The Style Travellers choice of the best restaurants, bars and clubs in Istanbul.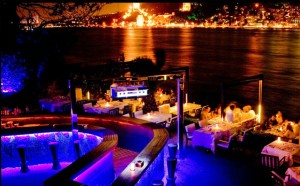 Lacivert bar and restaurant
Much of Istanbul's night life centres around restaurants located on the Bosphoros River. One side of the Bosphorus is in Europe and the other side is in Asia, so you can party in two different continents in one night. The best place to watch the stunning sunsets is on the Asia side. I recommend 
Lacivert restaurant above, great for sundown drinks and dinner, then take the house boat across the water and carry on partying in trendy Bebek. 
A

 boat trip down the Bosphorus is also a must, I know its on every tourist agenda, but a blissful glide down the river

with a crisp chilled glass of wine is a great way to see the city at night, all 

lit up with twinkling lights. Dont miss it.
Bebek is Istanbul's party area. Who goes there? Turkish celebrities, the art set and the cities cool kids. A few places of note here are

Lucca

, with its minimal white interior and chic black and white photographic print filled walls. The vibe is relaxed, eat, drink or chill by the bar. When it gets busy the crowd spills out onto the terrace outside. Luxurious 

Chilai

 across the road is also a popular restaurant/bar 
choice.
Istanbul – Clubbing
In the summer if you're looking for DJs and full on Ibiza style clubbing the best places are 

Reina 

(above) and Angelique (see below). Both open till the early hours, check listings for DJ's.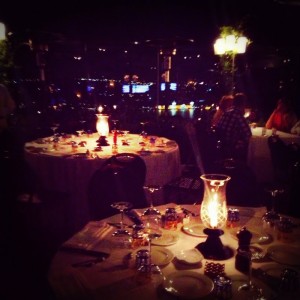 Formal dining with a view at Ulus 29
Istanbul – Rooftop Restaurants
Ulus 29 (above) serves up a delicious traditional Turkish menu whilst looking out over the rooftops of the city.

360 East bar and restaurant
On the 
8th Floor
 of the Hilton Double Tree Hotel, this sleek bar, restaurant and night club is Istanbul's number one spot to see (the view) and be seen. Its sister bars and restaurants are also worth checking out when you're in the city.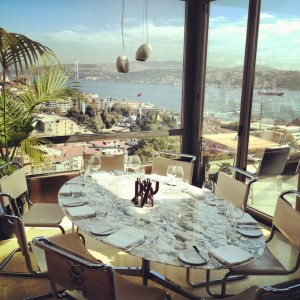 Maybe more of a lunch spot but I highly recommend a veranda table at Vogue restaurant. Its located around the corner from The W Hotel.
W Hotel
If you fancy throwing some shapes on the dance floor head to the 
W hotel. Tuesday night is the Richie Rich party which guarantees great tunes, cocktails and a cool crowd. (check listings before you go).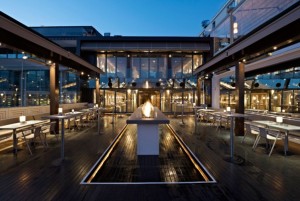 The waterfront terrace at Angelique Night Club and Restaurant