Istanbul Shopping and Sightseeing
Istanbul
Shopping and Sightseeing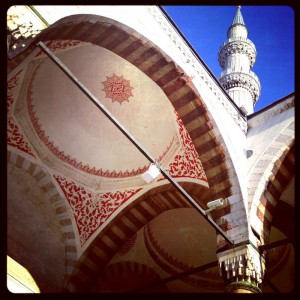 The courtyard at The Blue Mosque
With over 60 streets housing 5000 shops, Istanbul's Grand Bazaar is one of the largest covered markets in the world. Famed for traditional Turkish carpets, glass ware and crafts, it's also well known for its 
counterfeit hand bags and luxury goods. T
he choice and range is impressive, but obviously I'm not condoning that sort of illegal activity!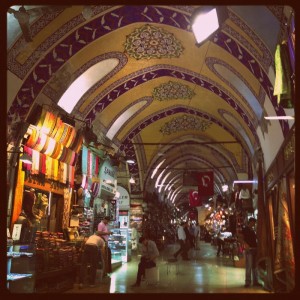 A maze of streets inside The Grand Bazaar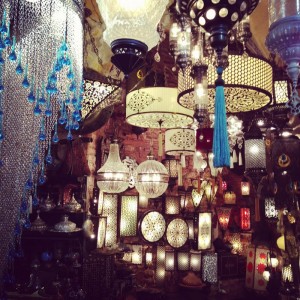 For a little taste of underground Istanbul I would definitely recommend shopping in Galata. 
If you're looking for an alternative shopping experience, this chic 
bohemian area is filled with independent stores, boutiques and galleries. Young artists and designers have based themselves in this regenerated area due to the low rents. Flanked by the Galata tower and the bridge, (see map) the main streets for young designer labels and concept boutiques are Serdar-I Ekrem Street and Camekan St.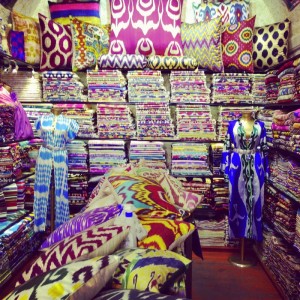 Craft boutiques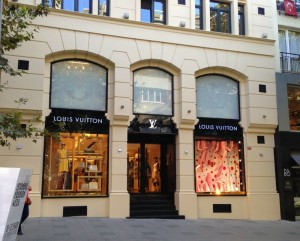 Designer stores in Nisantasi
Shopping -Nisantasi 
Nisantasi is Istanbul's designer shopping area. This is where you'll find Louis Vuitton, Gucci and all the international luxury brands. If you're staying at the Nisantasi House Hotel you'll be sleeping directly over the Prada store! Lucky you! Head to Attiye Street for lunch, its lined with chic whitewashed cafes and restaurants.


There's so much to see and do in Istanbul, here are the high lights of the top tourist spots to visit. Most of the main historic sites are close to each other, so its easy to fit them all in on a half day tour. The main museums and galleries will take longer.
Hagia Sofia (above)
Originally an orthodox church built in 360AD, Hagia Sofia became a mosque in 1453 then a museum in 1935. The hand painted decoration and reliefs on the walls highlight opposing religious iconography working together in unison.
The Blue Mosque (above)
Considered the last great mosque of the classical period, the blue mosque incorporates Ottoman and Byzantine architectural styles. Women need to have arms and legs covered before entering and you might want to take a pair of socks, you have to take your shoes off before you go in.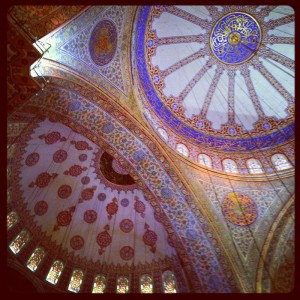 Spectacular dome frescoes at The Blue Mosque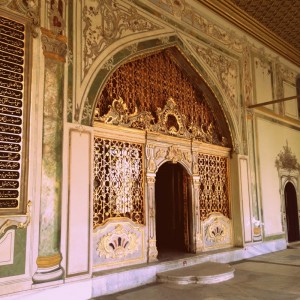 Elaborate metal work at the Topkapi Palace
Topkapi Palace 
One of the most stunning examples of Ottoman architecture, the ornate Topkapi Palace is now a Unesco world heritage site. 
The jewellery rooms are unmissable for fashion lovers and you must wander through the ghostly harem rooms. Its easy to imagine past princesses and concubines haunting the maze like corridors.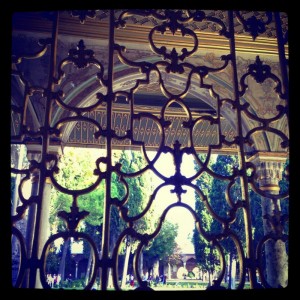 View of the Garden from behind the harem windows of the Topkapi Palace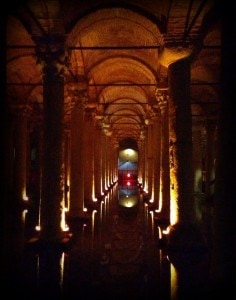 The Cistern
The Cistern
Being inside a 17th century water storage unit built by the Ottoman empire may not be top of your sight seeing list, but once you enter the atmospherically lit caverns, its a hauntingly magical experience.
Turkish M
assage
Be careful which baths you pick. It's definietely worth asking your hotel for the best nearby
 recommendation. Some of the old baths get really over crowded and you have to queue for everything. (not very blissful at all!) But if there's one thing i'd say it's, don't leave Istanbul without experiencing a true Turkish massage!