Italian Road Trip to Tuscany with Ferrari
Italian Road Trip to Tuscany with Ferrari

Where? Tuscany, Italy.
When? Summer 2017
Why? As you'll have probably have gathered by now I'm a bit of petrol head, not in your 'memorising top speeds and engine power of car models kind-of-way' but in a 'I love posing in a convertible, going for drives in super fast cars and hearing the engine rev' kind-of-way. The sexy girly way!
So when the team Ferrari in Italy asked me if I wanted to come to Tuscany to test drive the new Ferrari GTC4 Lusso model, you can imagine how excited I was.
Trip to Italy + Supercar + TheStyleTraveller = A MOST AWESOME ADVENTURE!!!
I've also just launched my new You Tube Channel, so scroll to the bottom to find the link to my first ever video!!! The FERRARI TRIP VLOG. Make sure you watch it till the end though, there's a bit of a shocking car crash moment in there arghhhhh!!!!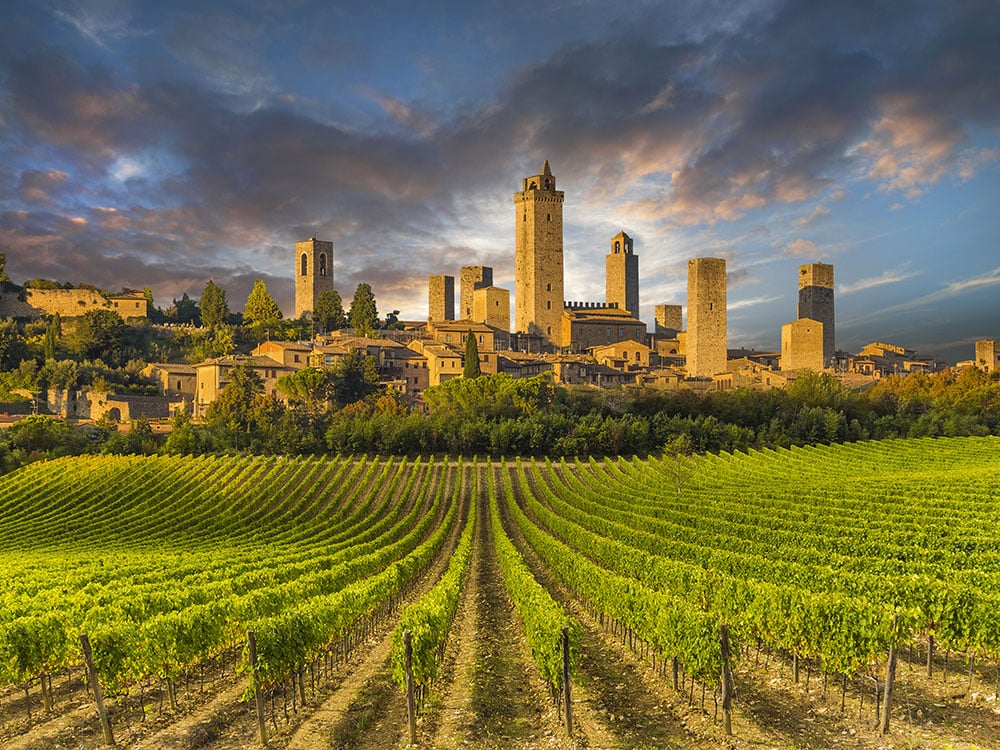 So I'm not going to pretend I know what all of the next paragraph means, but I believe it is of interest if you're considering buying one of these puppies!!
The Vital Stats
The Ferrari Lusso GTC4 is four seater, urban sports car. It perfectly combines all the elegance of a sports car with the functionality of a GT model (Gran Turismo which in Italian means 'great touring' for longer journeys). With it's powerful V8 engine it can accelerate from 0-100km/h in 3.5 seconds and has a maximum speed of 320km/h not that there's much call for that top speed on the streets of London, but at least you know!
It's powerful yet sophisticated, sporty yet luxurious. It's aimed at young city dwellers who want a super sleek car to nip around town in and then head to the countryside on weekends. It's perfect for young urbanites, as well as an option for young families as it's a four seater. So it is aimed at me it seems! If only the bank balance would extend to this. Can I have a discount please Mr Ferrari??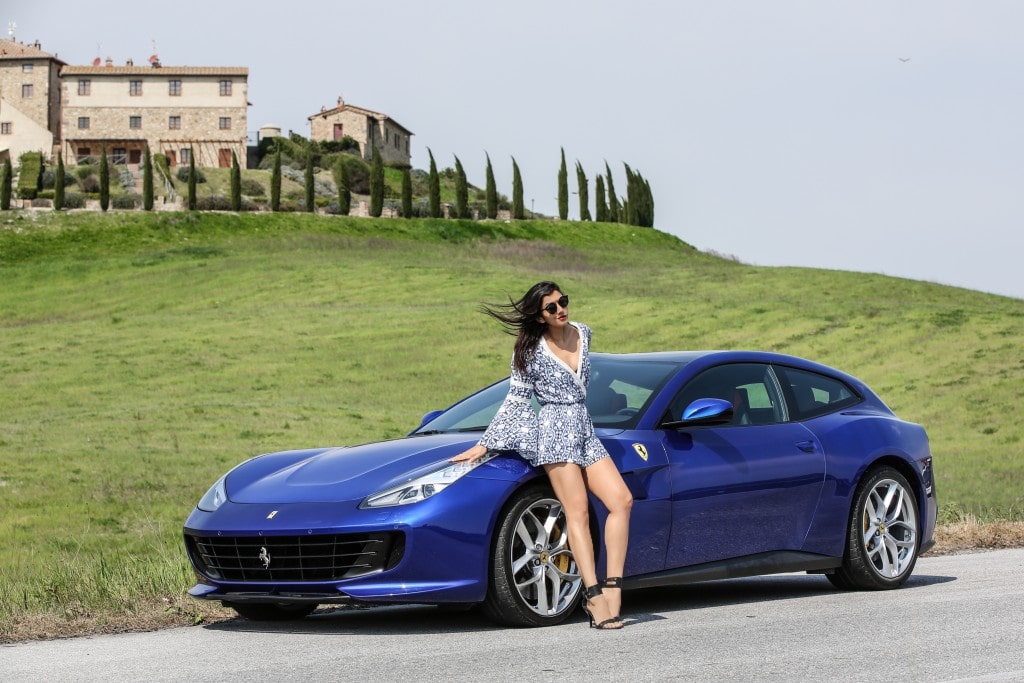 Shots from the photoshoot in the Tuscan hills. Bonnie wears jumpsuit by La Space at Beach Cafe.
So I took the Lusso out for a spin under the Tuscan sun through the winding hills and countryside of Siena. We stopped off on route for some scenic fashion shots, followed by a visit to the medieval town San Gimignano for lunch.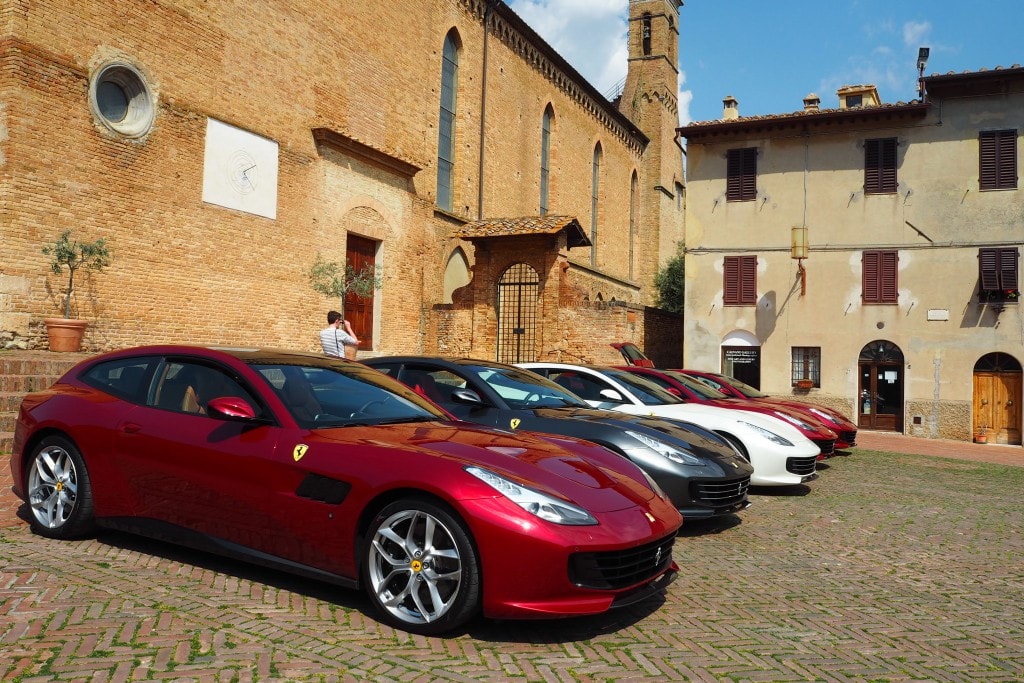 I was part of a group of motoring journos and vloggers (and yes I was the only girl on the trip). We drove as a cavalcade for the first half, then as we all started to get into the drive, we quickly separated and sped off in different directions.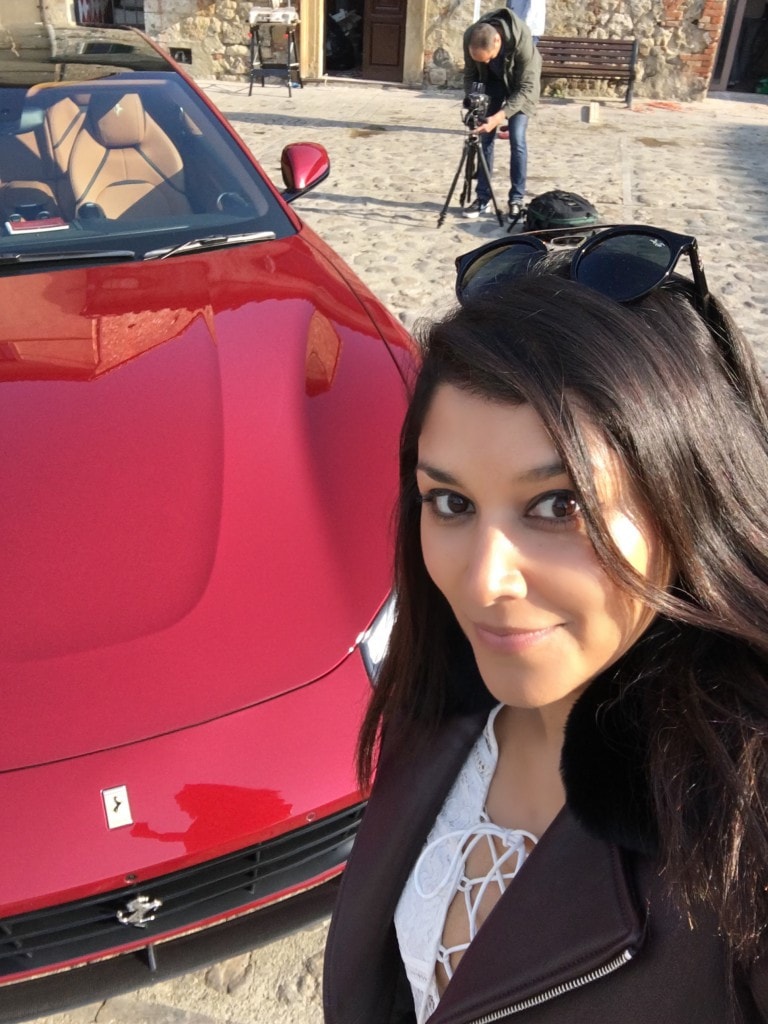 Plotting! Trying to concoct a way of stealing it without anyone noticing!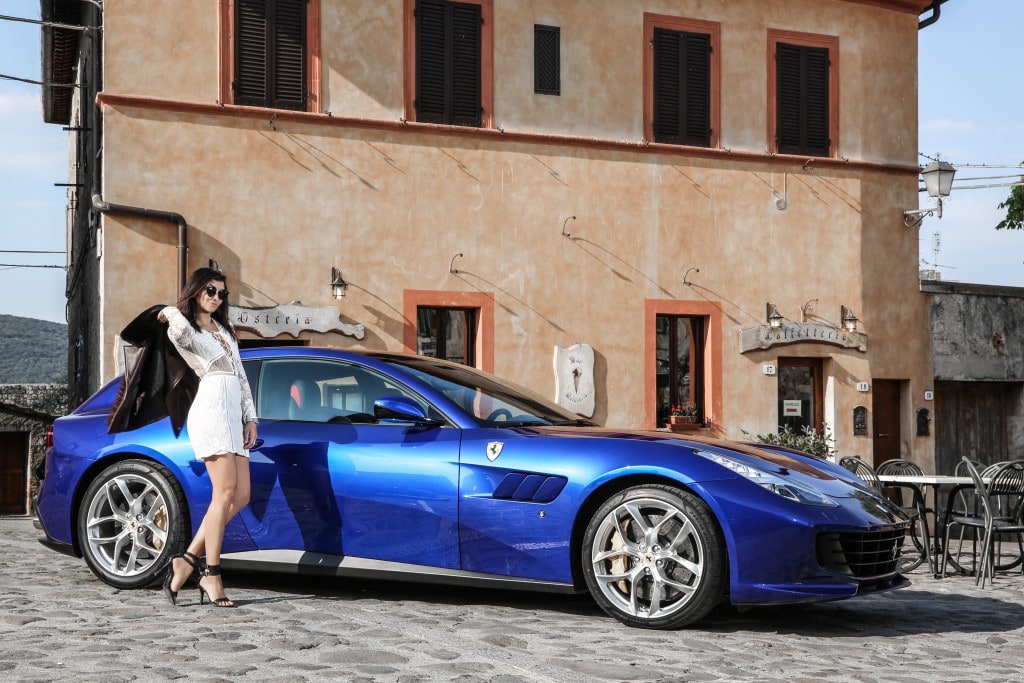 On route I stopped off in a quaint little town to get some fashion shots. The electric blue of Electra (that's what I called her) was set off perfectly against the burnt Siena and terracotta walls of the rustic Italian architecture.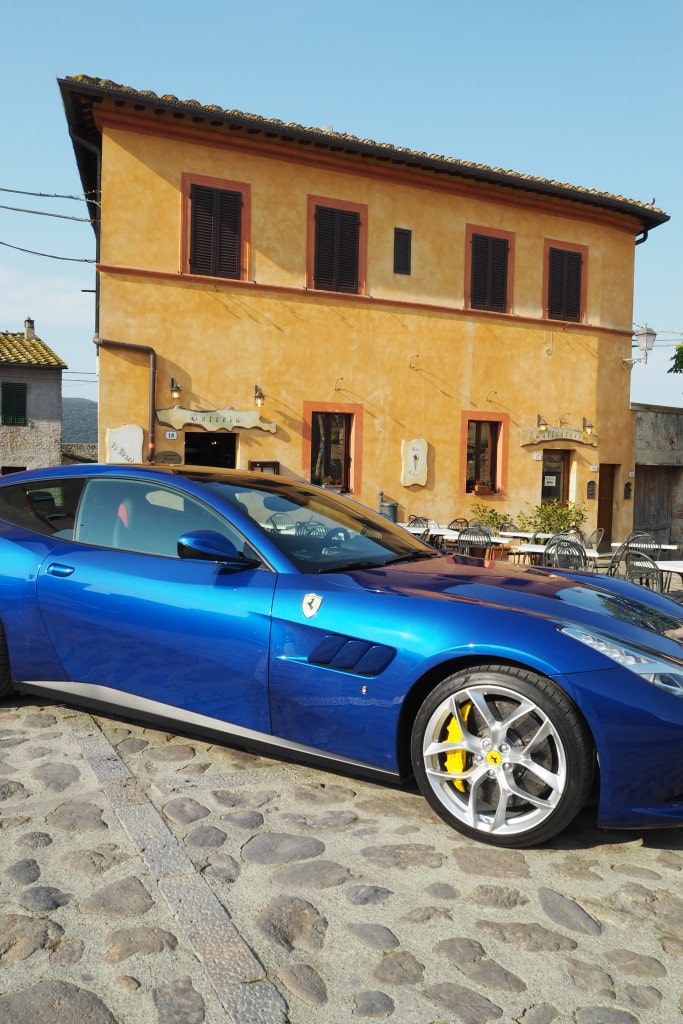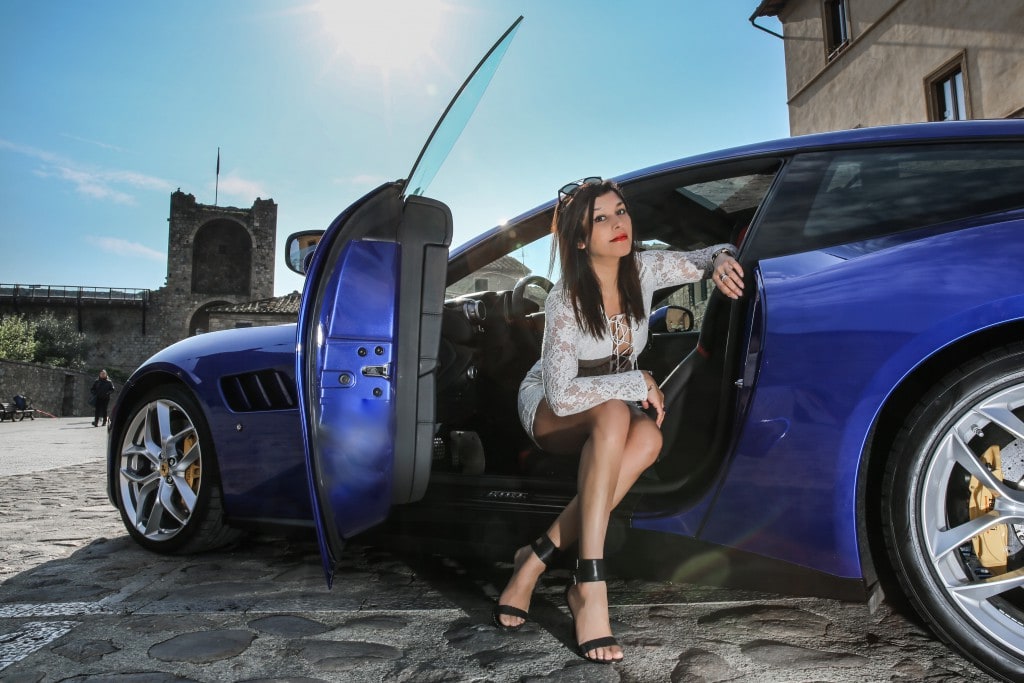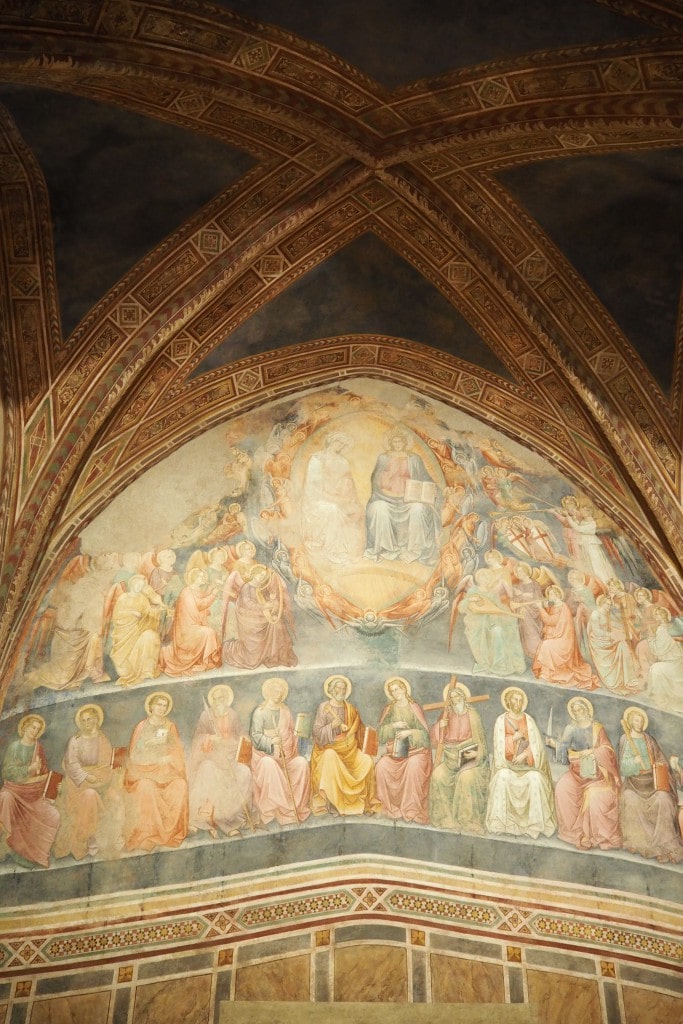 We visited the walled medieval hill town of San Gimignano mid route for a spot of lunch and some sight seeing. The 'town of fine towers' as it is known, is a UNESCO world heritage site and its pristinely preserved buildings are beautiful examples of Romanesque and Gothic architecture.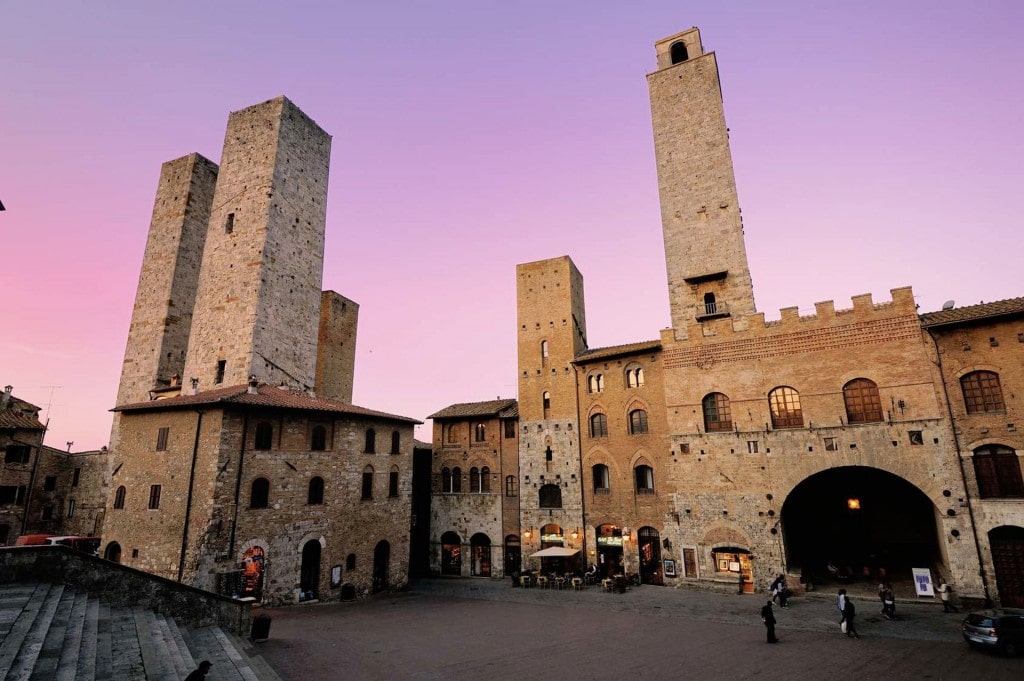 The Pallazo Comunial and Church of Sant Agostini in the town house an outstanding collection of frescos, some of which date back to the 14th and 15th century. The city was a commercial hub in the medieval era, famed for its fine wine and saffron and to this day sits proudly atop the Tuscan countryside like a majestic masterpiece.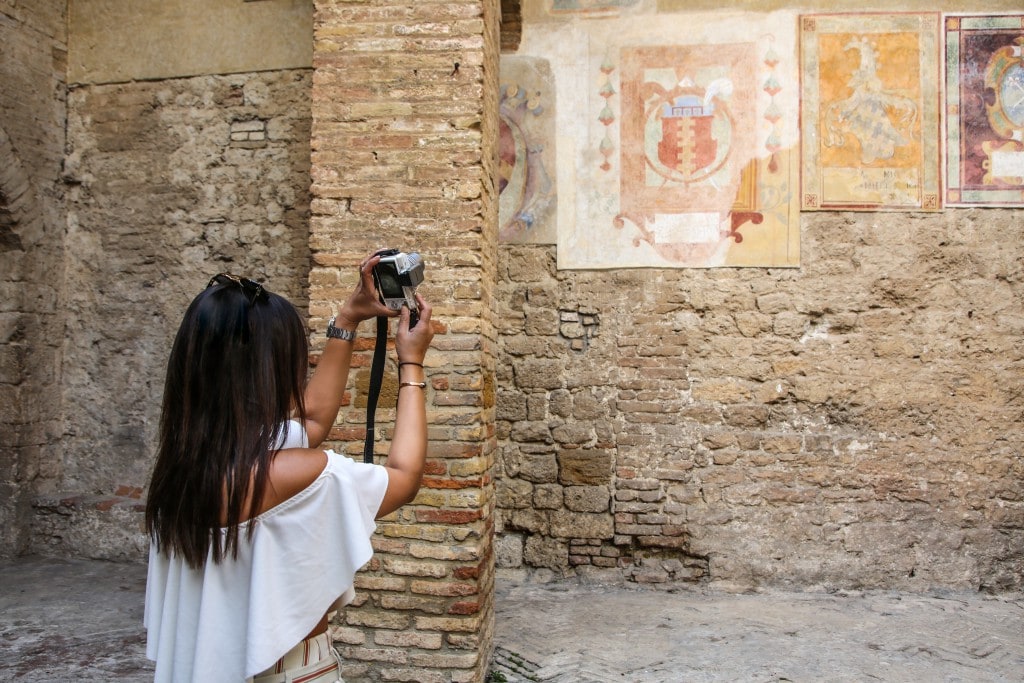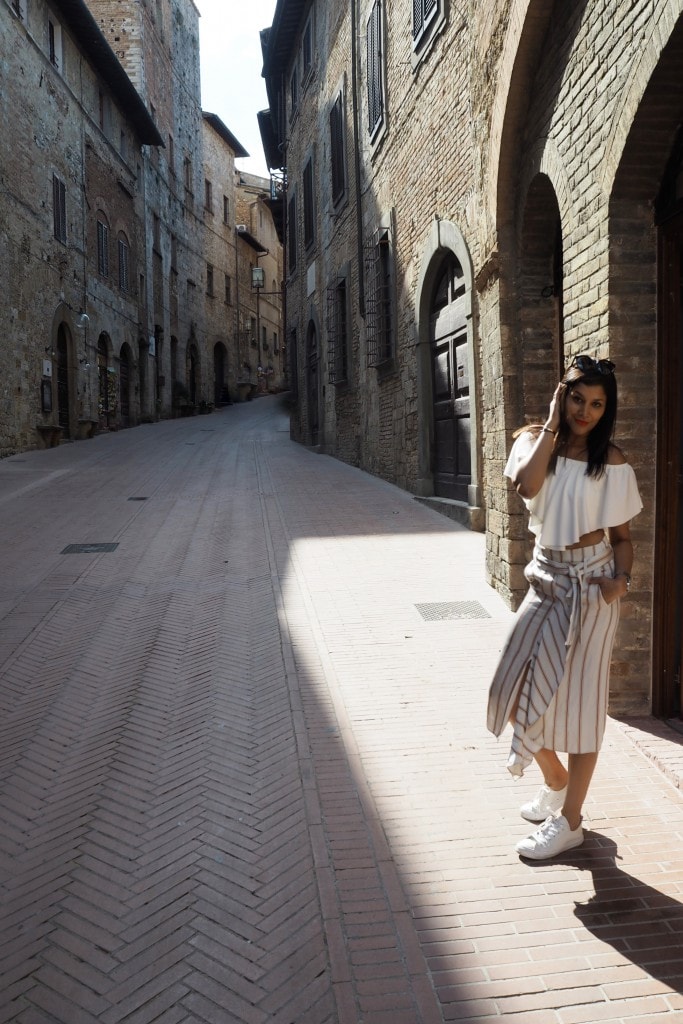 Bonnie wears skirt by Dorothee Schumacher, top by PLT and trainers by Converse.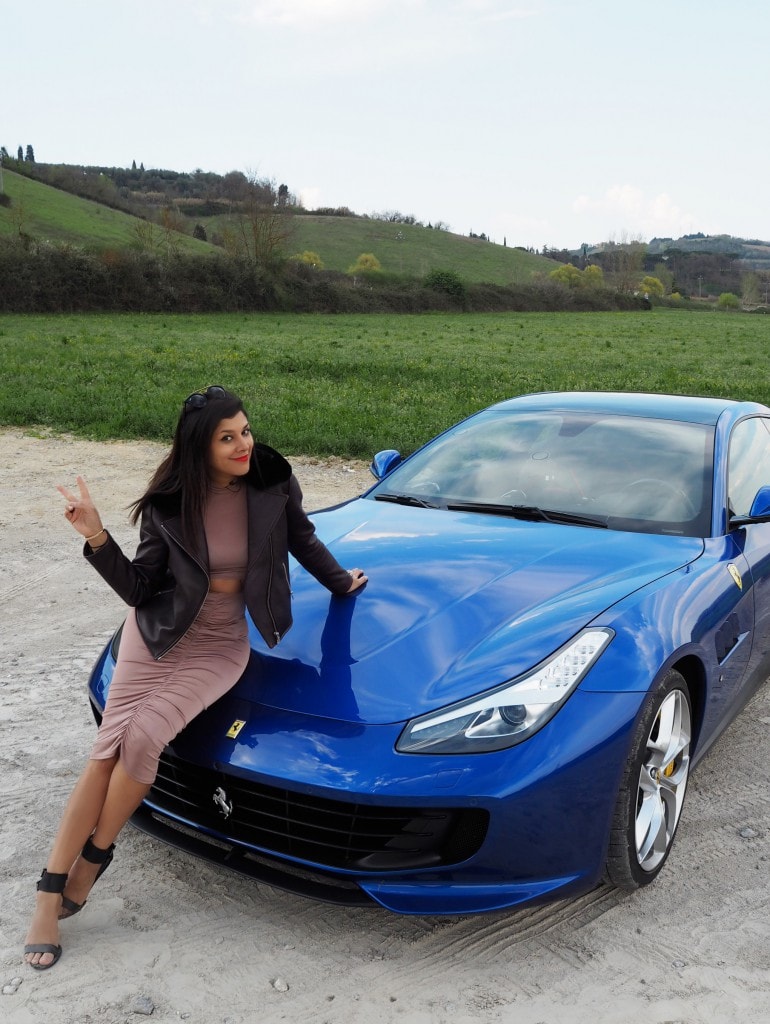 The Verdict
I've driven the Ferrari California T model a couple of times now (see past blogs) but this was something else. So much more speed and the noise of the engine revving literally fills you with excitement!! It was easy to handle in the city and even better taking sharp corners and the winding routes of the Tuscan countryside. I would definietly get one if I could!
The Lusso GTC4 model retails at £200,165 on the road, going up to an insane amount if you go for the all singing all dancing souped up model. So I need to save up a bit longer then! Click here for more details.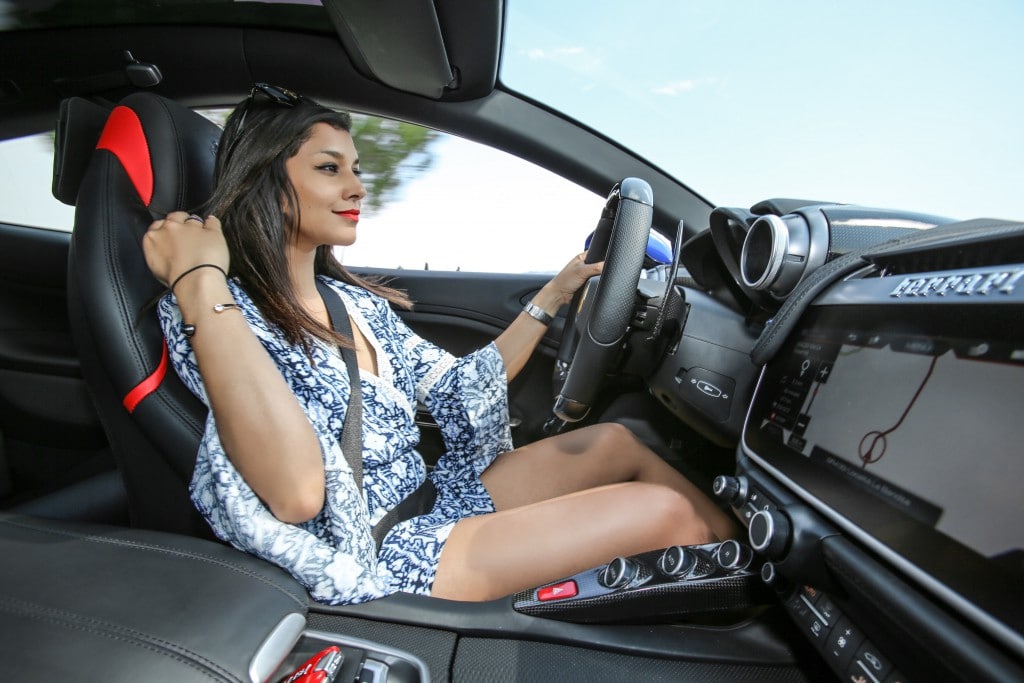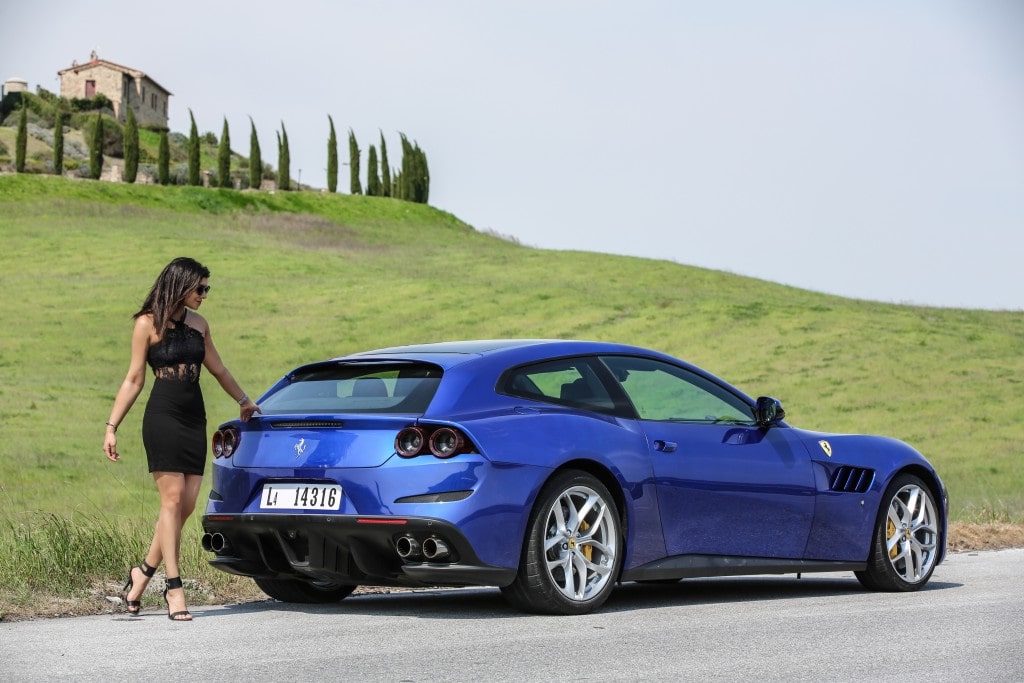 Please head over to my NEW YOU TUBE CHANNEL to see the vlog of The Style Traveller trip to Italy and why I got into trouble with Ferrari right at the end of my trip!!!…. Sorry not sorry!! Click here to check it out
Would love for you to comment, like and subscribe!! xx