Mykonos – 5 Best Stylish Nights Out and Beach Clubs
Mykonos – 5 Best Stylish Nights Out and Beach Clubs
As the party island of Mykonos gears up for one of the hottest summers ever, both in terms of temperature and partying! I thought it only fair of me to share some of my favourite trendy hang outs on the island with you.
I've been to the beautiful Greek island for a few years running now and although there are a few stalwarts in the foodie style stakes there's also a couple of newby destinations worth a mention.
Clothing worn throughout by River Island.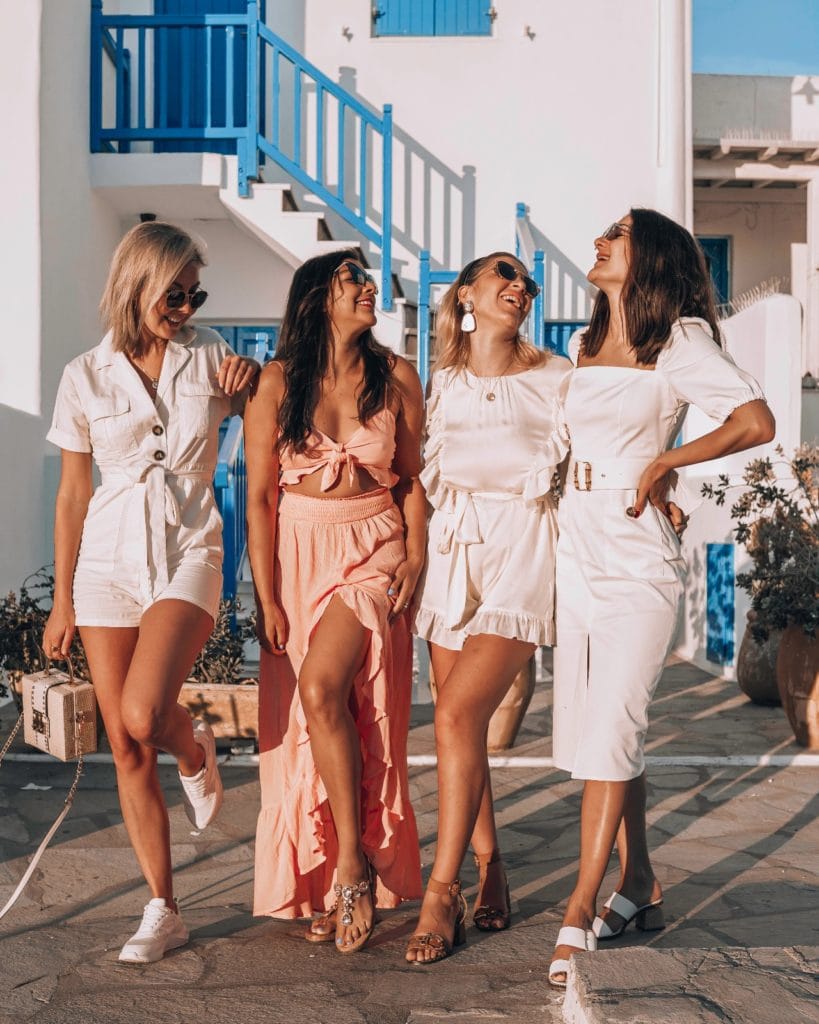 Where to stay
Hotels I would recommend in Mykonos for a style traveller would be the famous, luxury bolt hole Cavo Tagoo. Beautiful villas I've stayed in include the Zinas Villas and the Dolce Vita Villas. And this season sees the opening of the much anticipated Wild Hotel, which I haven't yet stayed in as it only opened a couple of weeks ago, but let me know your thoughts if you've been?  Also just opened is the brand new San Georgio Rooms owned by Scorpios.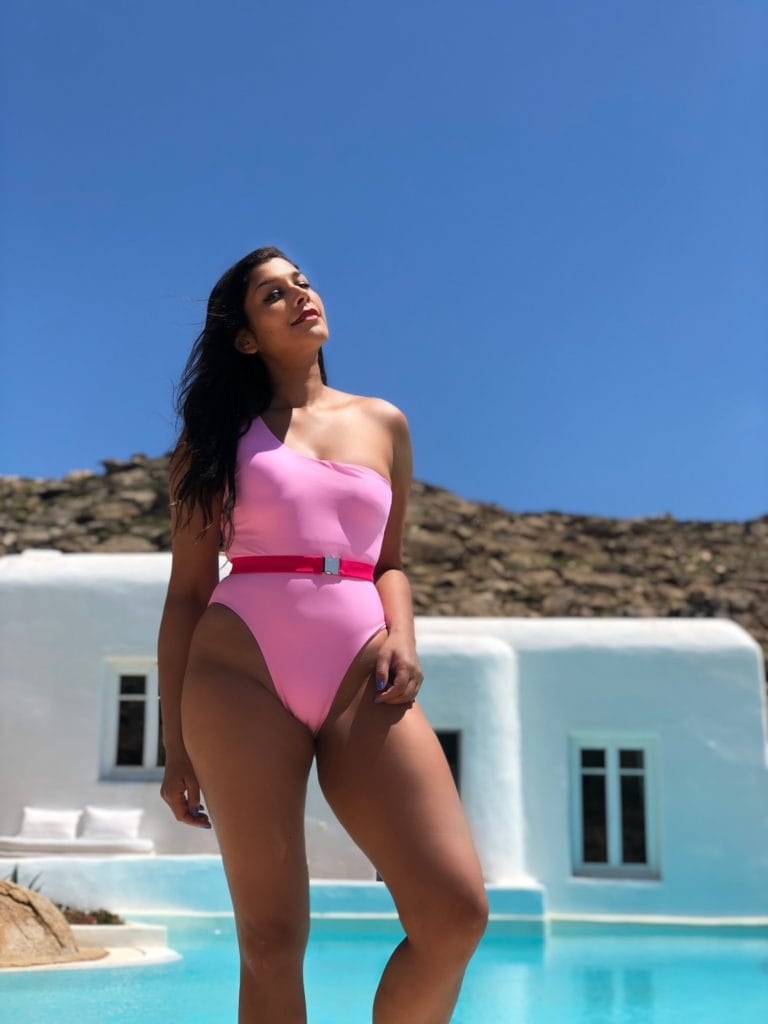 Me at Dolce Vita Villas above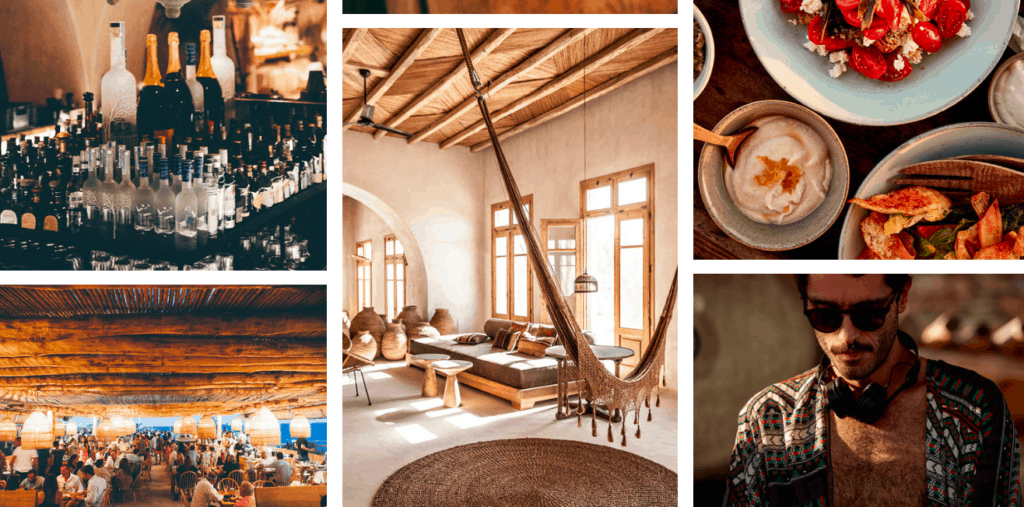 Best nights and days out in Mykonos – Beach clubs
Scorpios
Scorpios is without doubt the coolest party place on the island. It's the place to see and be seen. It started years ago as one of the islands trendiest gay beach clubs, but as with all boho places it has now morphed into a party paradise for Mykonos' rich and famous crowd.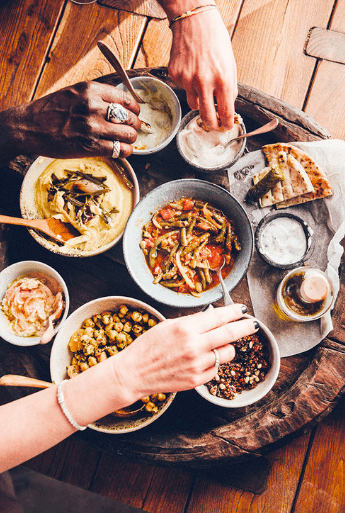 The food is healthy, on trend, stunningly presented and delicious. Expect burnt cauliflower, vegan salads and perfectly cooked fish and meats. Cocktails are expertly mixed by the in-house mixologists all of whom have graduated from model school.
The music vibe is super trendy house and techno as sexy, tanned people dancing on sustainably built, driftwood tables, wafting around in designer kaftans and cutout swimsuits. For the boys, wear your smallest budgie smugglers, thongs are also a thing! haha! If it's cool and off beat, you'll find it at Scorpios.
This season the famous British brand Soho House Group bought Scorpios so it's set to be the hottest season ever.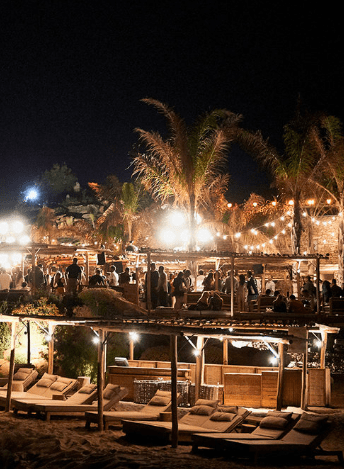 Alemagou
A slightly less high octane version of Scorpios, with trendy boho and rattan furnishings a plenty. The vibe at Alemagou is a little more chilled than Scorpios but it still offers the banging house tunes once the afternoon gets going. Head over for lunch, bag yourself a day bed and spend the afternoon chilling (or dancing) by the sea with a glass of Prosecco or a frozen margarita.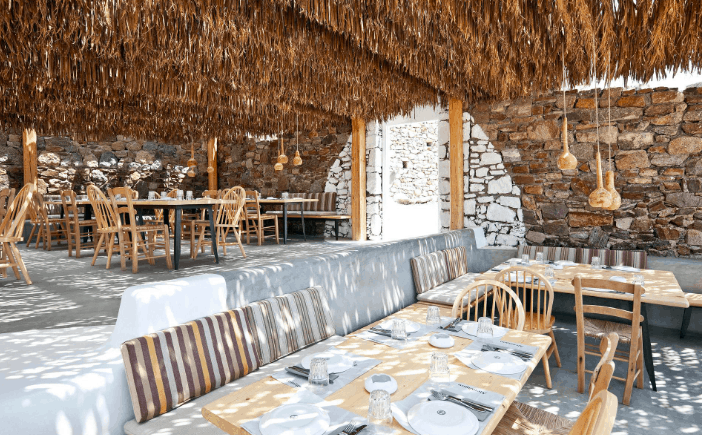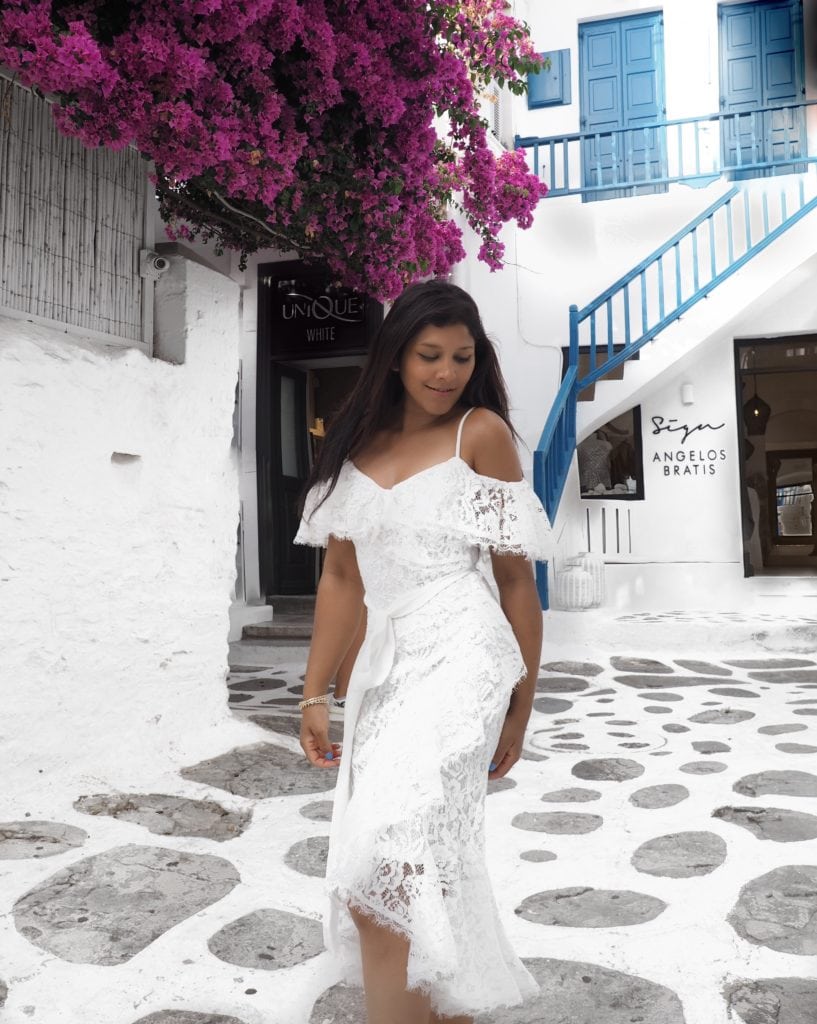 Dinner and Nightclubs in the Old Town
Interni
Quite possibly my favourite restaurant on the island! This super chic, luxury, white-washed venue gives off jet set vibes as you make your grand entrance at the top of the staircase and wave at the well heeled diners below. The looks work both ways as they check out your Gucci hand bag and Louboutin heels too.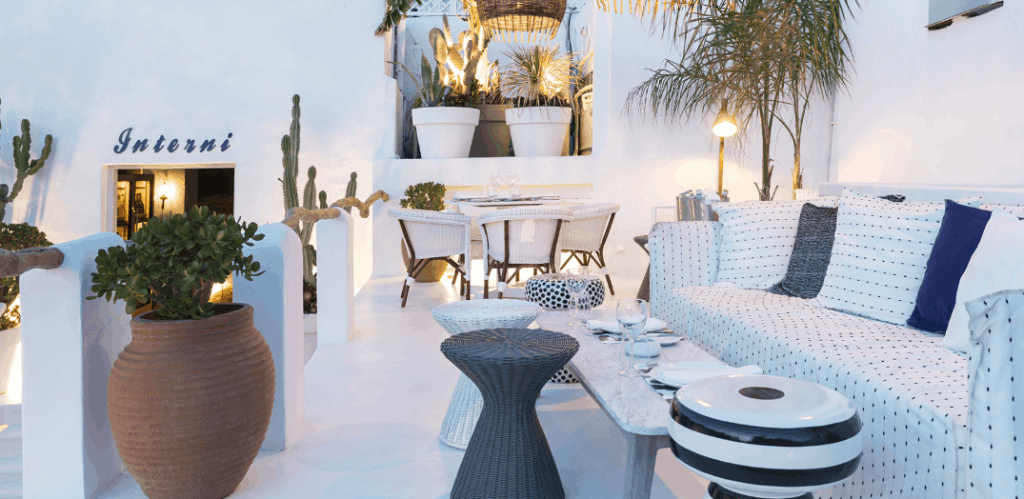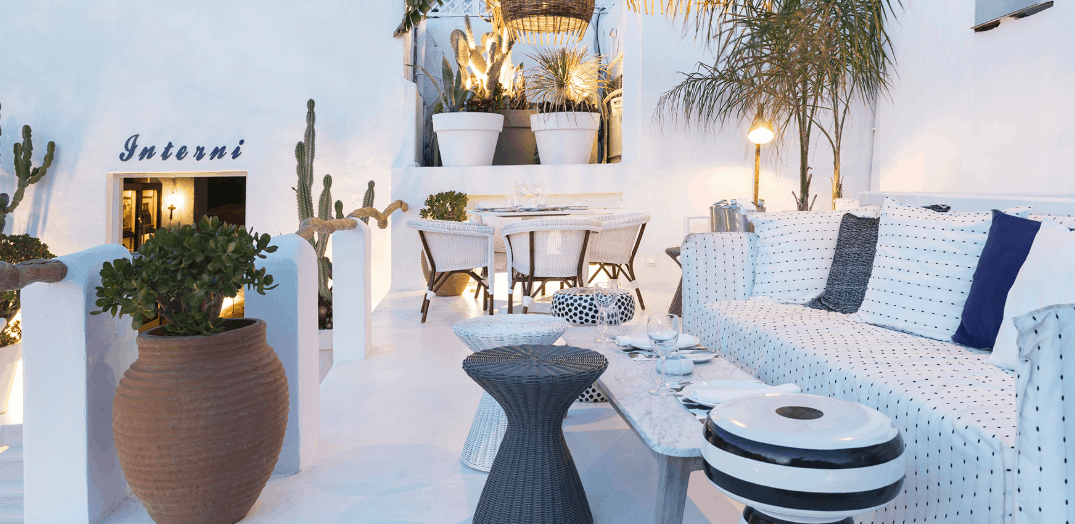 This place is home to the beautiful crowd, who order the most delicious salads, fresh seafood and pastas, but then forget to eat any of it because they got too intoxicated in the atmosphere of sparklers and fireworks. It has an amazing sound system and the biggest champagne bottles I've ever seen. You are all invited to have a dance off with the next table half way through your meal.
Most definitely the most fun you'll have at dinner this year!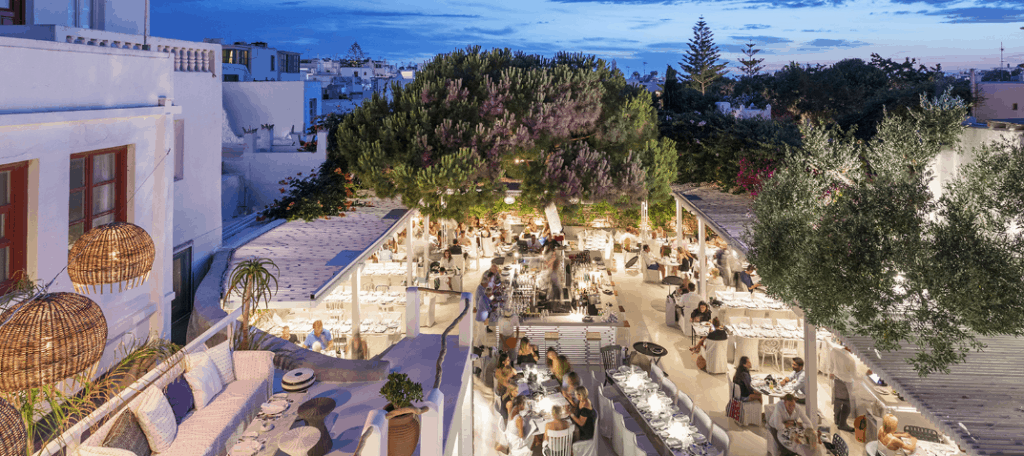 Dinner in Mykonos Old Town
Avra
The most beautiful traditional Greek taverna style restaurant in old town. With checked table cloths, whitewashed walls and Bougainvillea trailing over the tables in the open air restaurant. It's the prettiest old school restaurant in town and serves the best Greek food.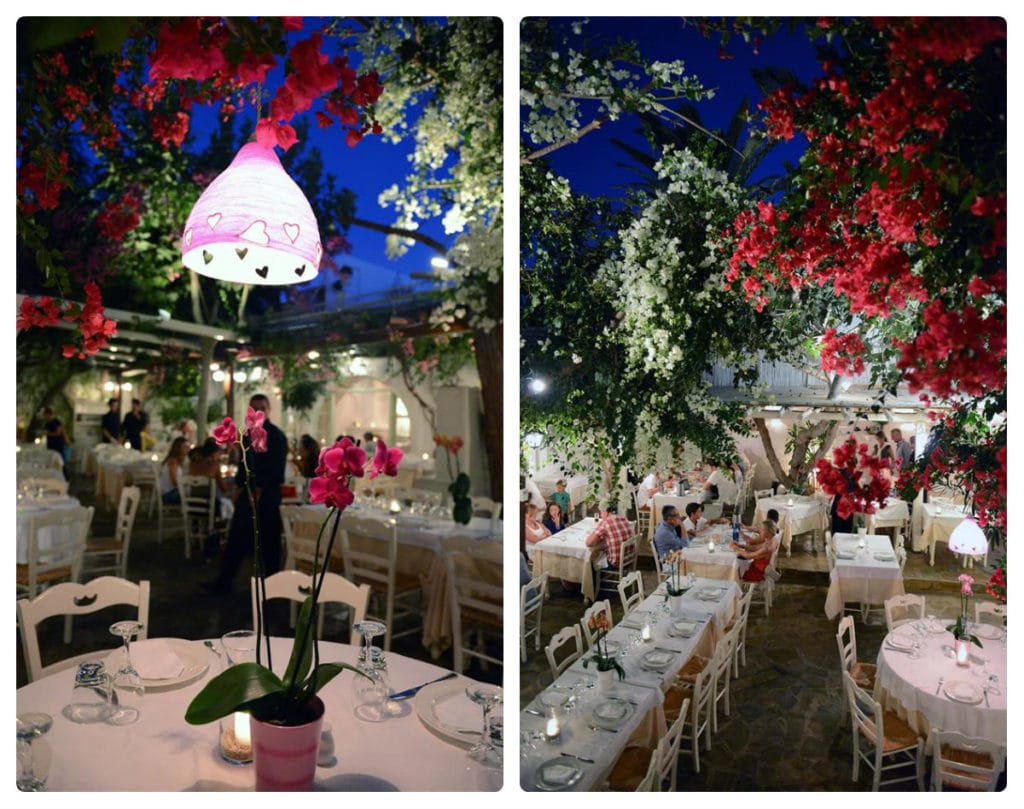 Mamalouka
You may have seen this famed bougainvillea fronted restaurant doing the rounds on Instagram. Well not just known for it beautiful frontage, the food is pretty great too. I like to nip in here for lunch, mid shooting in the quaint streets. Many of the famous Mykonos whitewashed insta streets are in this area of town too so it's a good pit stop.
Start or end the evening in Mykonos old town with cocktails by the sunset windmills. My personal favourite of all of the seafront bars is Caprese. Once the sun sets over the warm Mykonos waters the party continues till the early hours. And Caprese in my opinion has the cosiest atmosphere and the best eclectic sounds.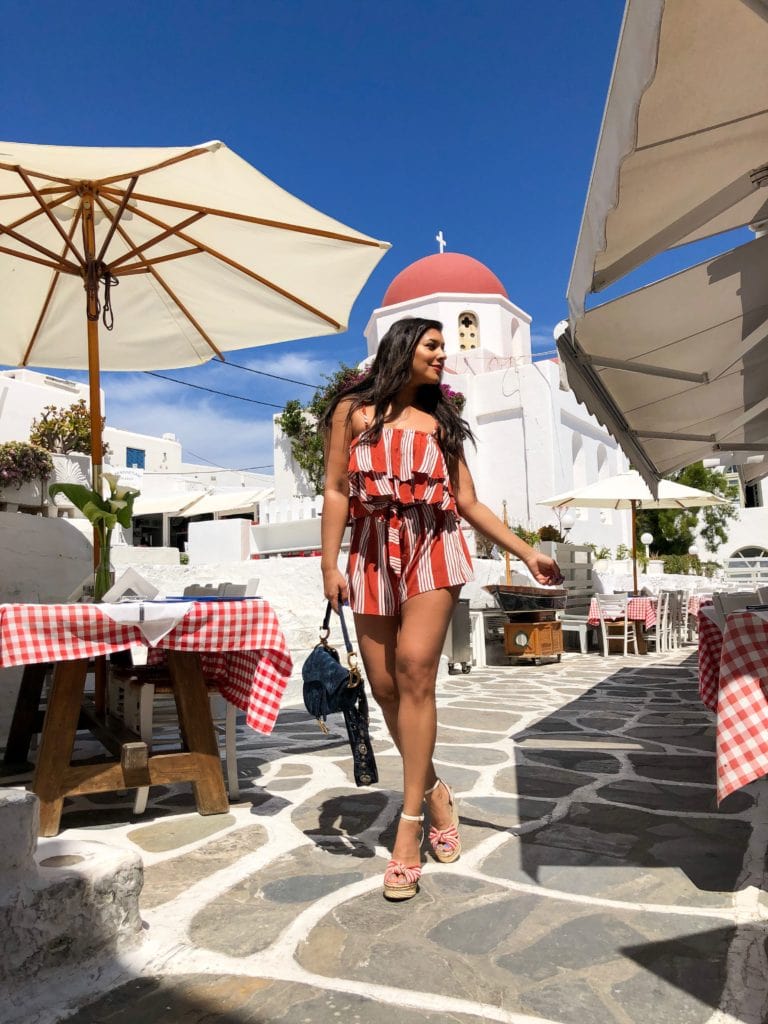 And a couple of other beach clubs of note include Ftelia Beach club, set to open this season, it's owned by the lovely guys who own Interni, so it's gonna be good. Also don't forget the beautiful day beds and pools at Sant Anna beach bar pictured below.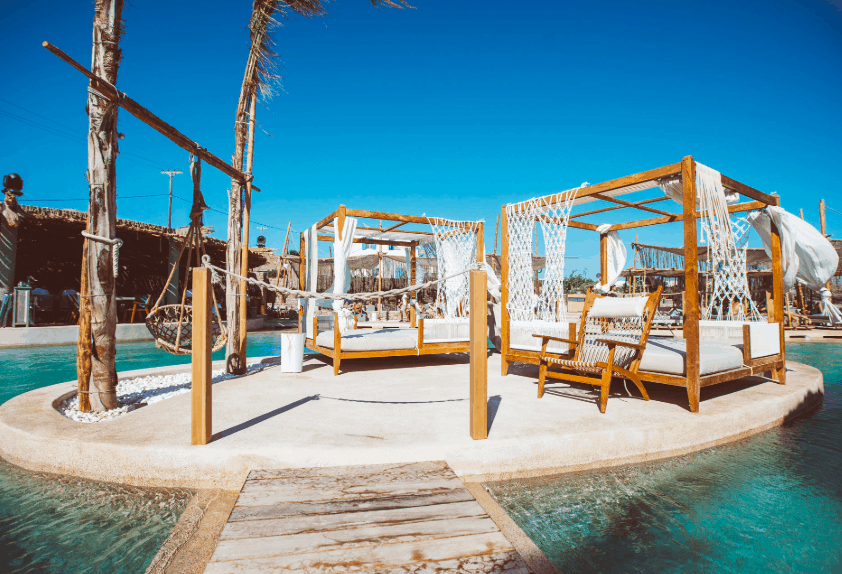 That's all from Mykonos for now!
If you liked my blog and found it useful please leave a comment below. Or if you have recommendations you think I missed here then let me know too and I'll check them out next time!
Bon voyage xx