Best Swimwear Trends Summer 2019 – Mykonos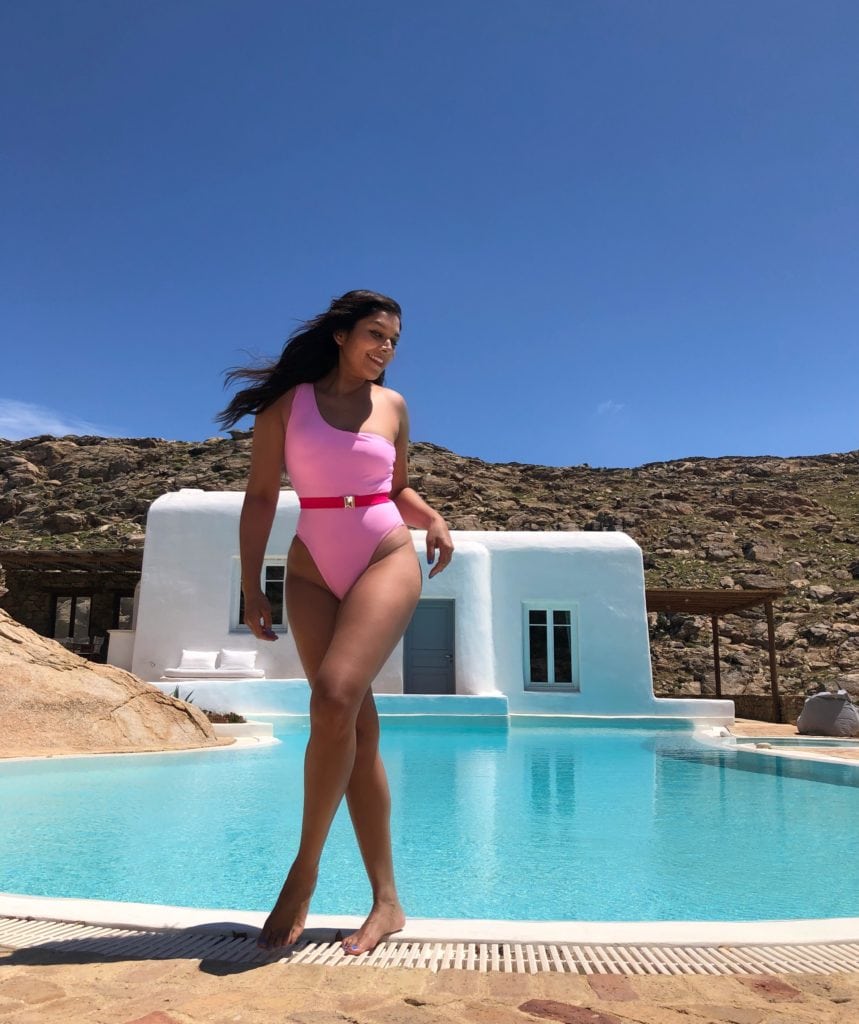 Best Swimwear Trends Summer 2019 – Mykonos
Where? Shot on location at Dolce Vita Villas
When? May 2019
Why? I was very lucky to be invited out to Mykonos by the Dolce Vita Villas with a group of lovely female influencers. While there I thought it was the perfect opportunity to do a Spring Summer swimwear trends shoot sponsored by Luxsea Swimwear with the gorgeous backdrops provided by the villa.
Here's my Best Swimwear Trends 2019 shoot, hope you like it.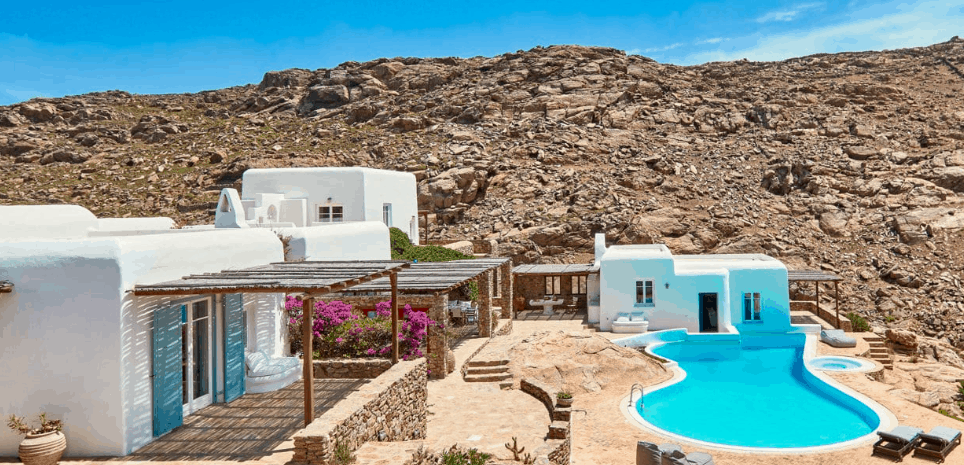 Location – Dolce Vita Villas Mykonos
Nestled high in the hills with beautiful views over Agrari Beach lies the spectacular Dolce Vita Villas, my home for a wonderful week in Mykonos. The villa sleeps 12 adults across 4 separate villas, all centred around a turquoise blue pool.
The views are sublime, it's the perfect place to totally chill out and Mykonos town is just a 15-20 minute drive away. I adored waking up every morning to the sea view and a fresh Greek breakfast and salads made by Ediola our lovely house keeper.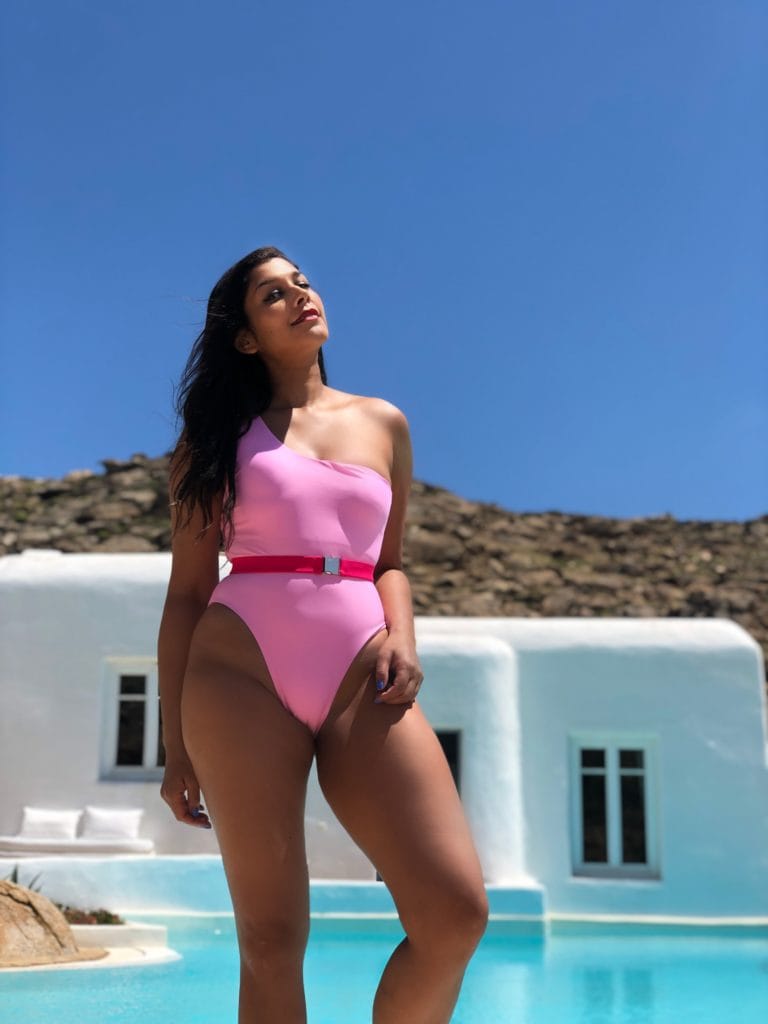 The Swimwear Trends 2019
Every season when it's time to hit the beach there's a mad dash and panic to find the perfect bikini and swimsuits. This season in order to take a bit of the pain out of the process I've decided to share my top swimwear trends with you here on the blog.
So whether you're a one piece girl or love a Brazilian bikini bottom here's my edit of the gorgeous new range at luxseaswimwear.com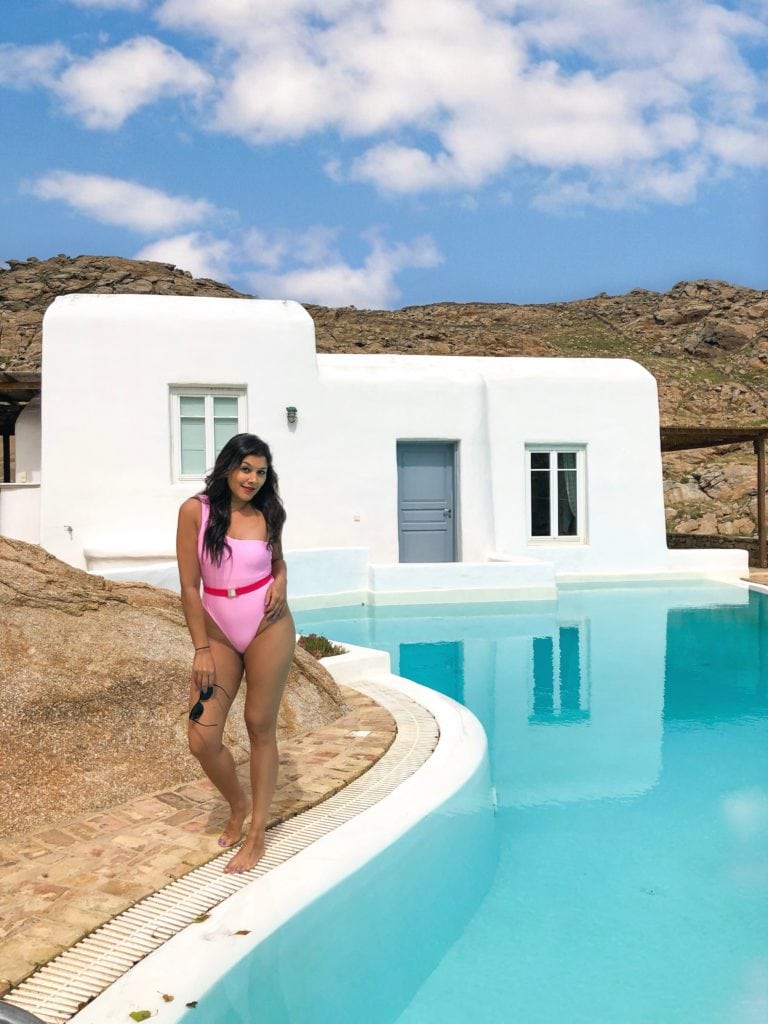 Nip It In (pictured above)
A trend which has been on the scene for the past few seasons and looks like they're here to stay are one-piece swimsuits and more specifically belted swimsuits. The reason why it's so well loved is because it's supremely flattering and this pink belted number is my ultimate favourite for figure flattery.
Not only does the asymmetric neckline draw attention towards to décolletage (and away from other areas), the extreme high cut leg accentuates the hips and thighs and the belt adds a nipped in waist feel. In my opinion it's the perfect swimsuit.
Pink one piece belted swimsuit £39 by Luxsea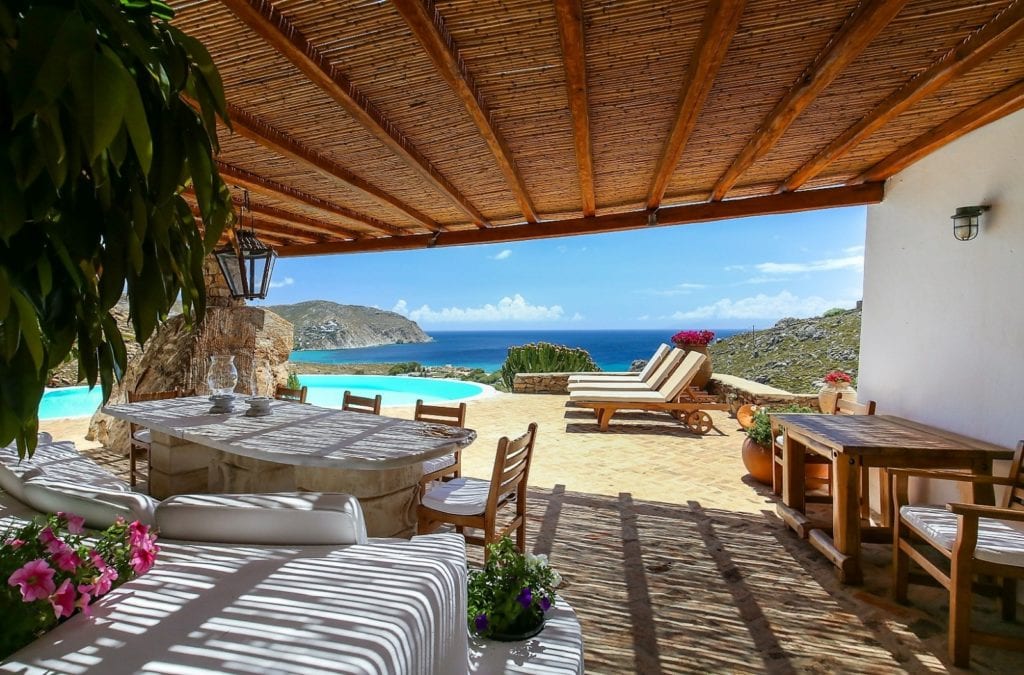 The beautiful poolside area at the villa with breathtaking views out to sea.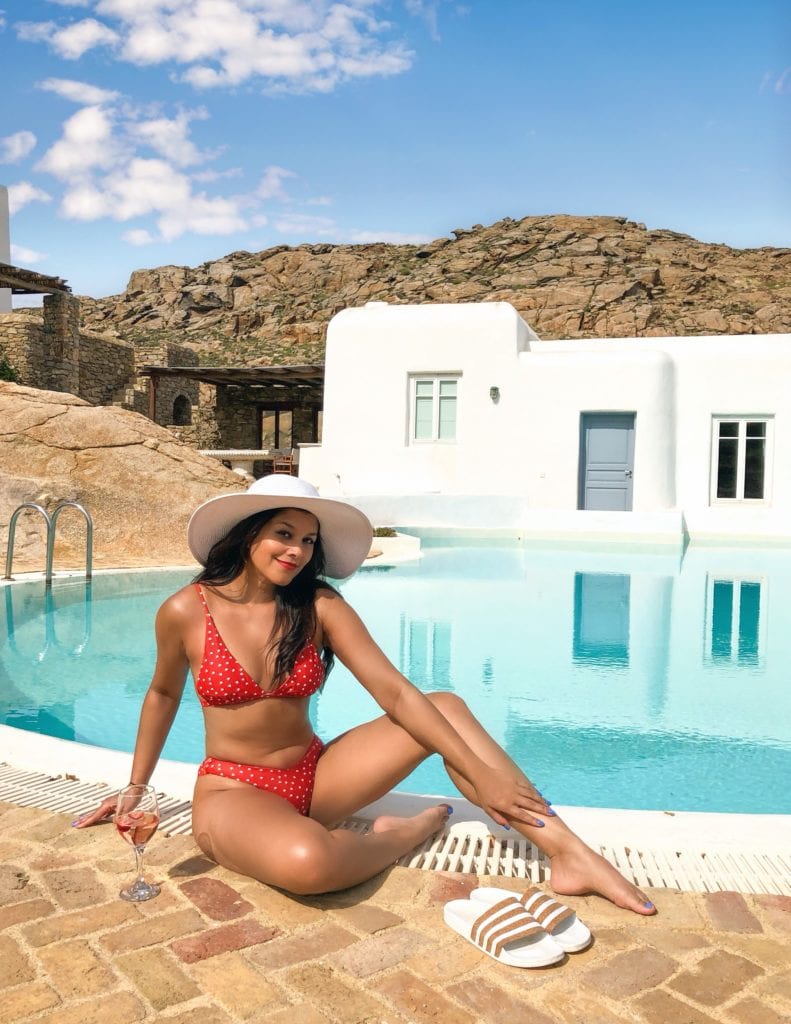 You may have noticed that all the girls on insta are wearing really tiny bikini bottoms, with high cut thighs and barely-there bums. Enter the Brazilian bikini. It may not sound like it, but it's actually one of the most flattering and sexy styles out there.
A perennial favourite on the beach circuit is a polka dot bikini. This season opt for a burnt sienna or retro 70's shade like this dark orange tone. This bikini adds a twist in that the polka dots are actually heart shaped and the bottoms are a flattering Brazilian cut.
Red heart print Brazilian bikini £39 Luxsea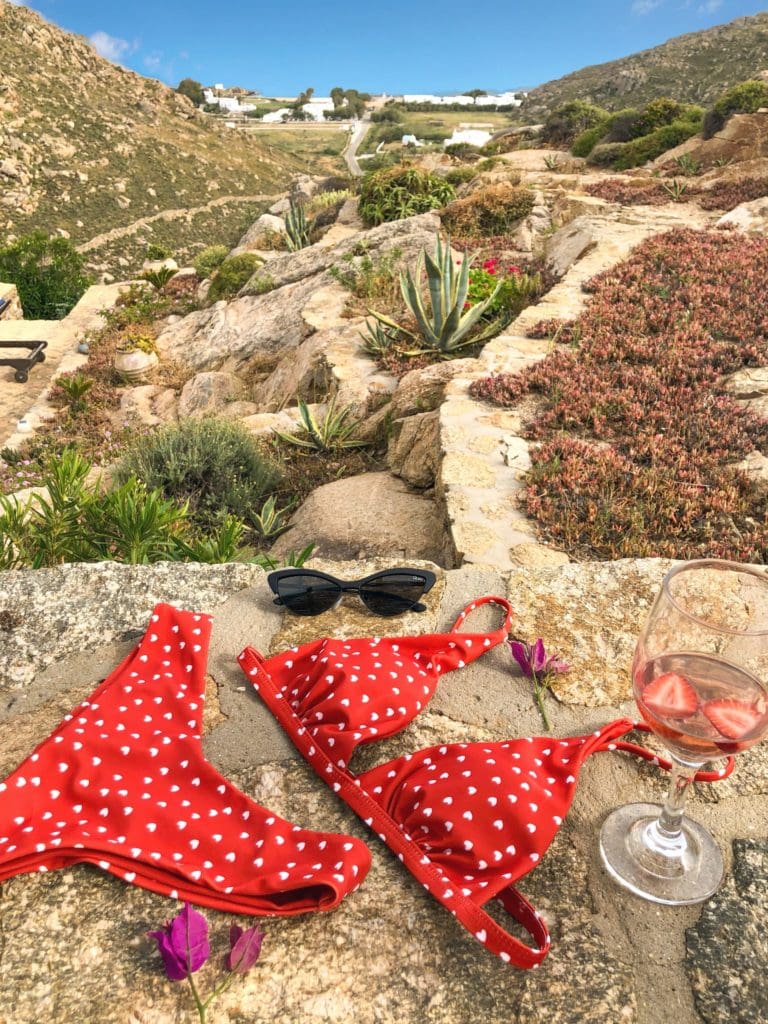 Red heart print Brazilian bikini £39 by Luxsea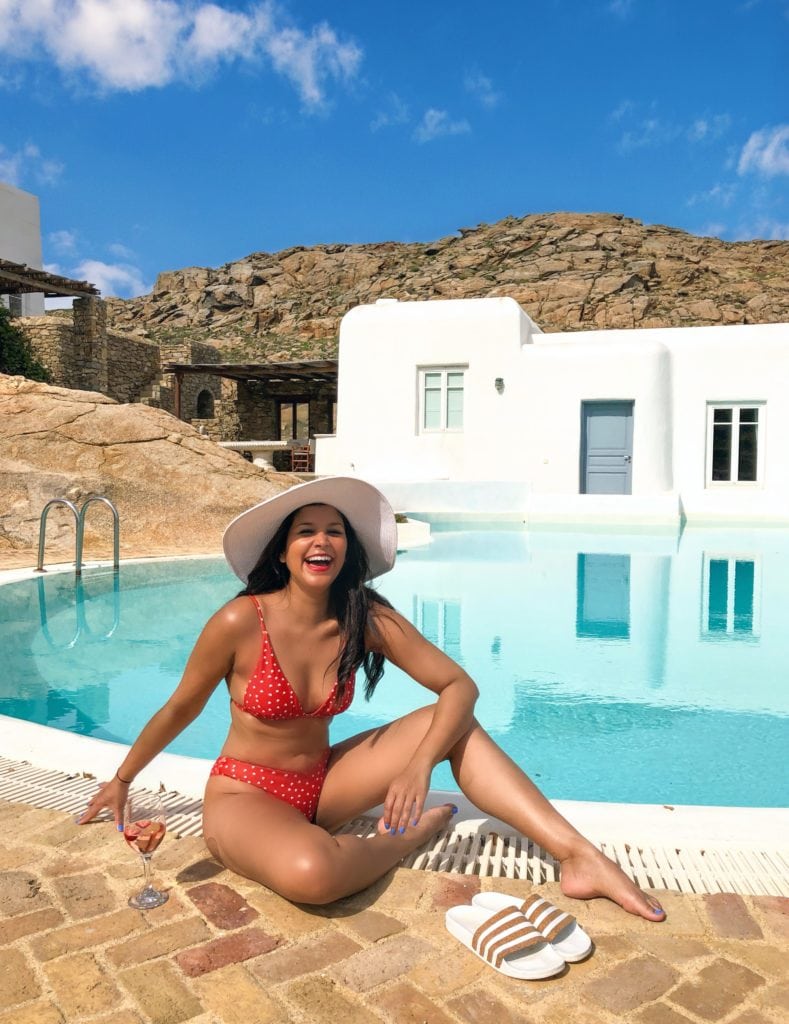 Velvet Goldmine
Texture is a major player in the swimwear world at the moment and velvet bikinis are the fabric choice of the summer. This gorgeous teal and soft pink number looks as gorgeous on as it does on an insta flat lay. And they have Brazilian cut bottoms too. In love!
Teal velvet bandage bikini £39 by Luxsea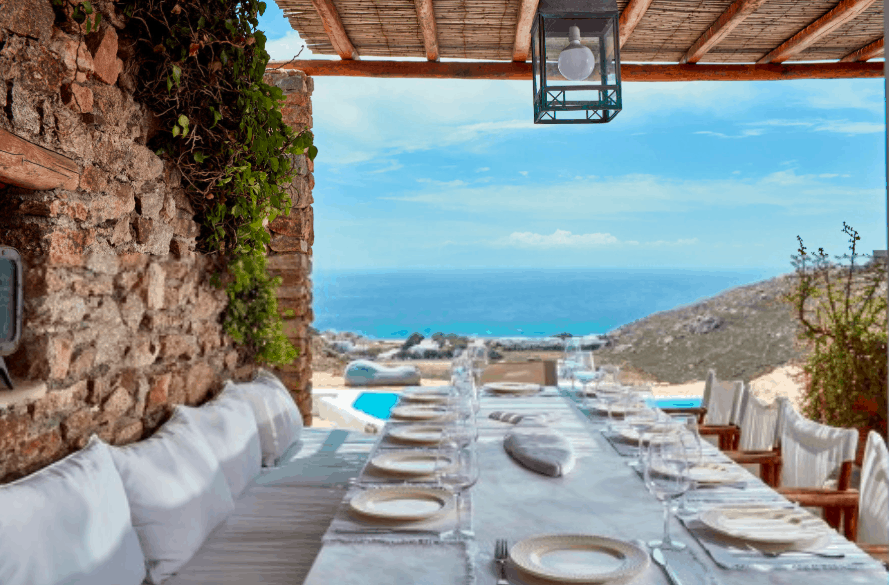 The most idyllic spot for a bit of al fresco dining. We enjoyed breakfast out on the terrace most days then slowly drifted over to the swimming pool for sunbathing time.
A leopard never changes its spots…
Or goes out of fashion it seems. Animal print bikinis are a huge trend year on year. This lightly padded balconette version gives the perfect support. It's a cheeky little number that's simply purrr-fect :)
Leopard print bikini £39 by Luxsea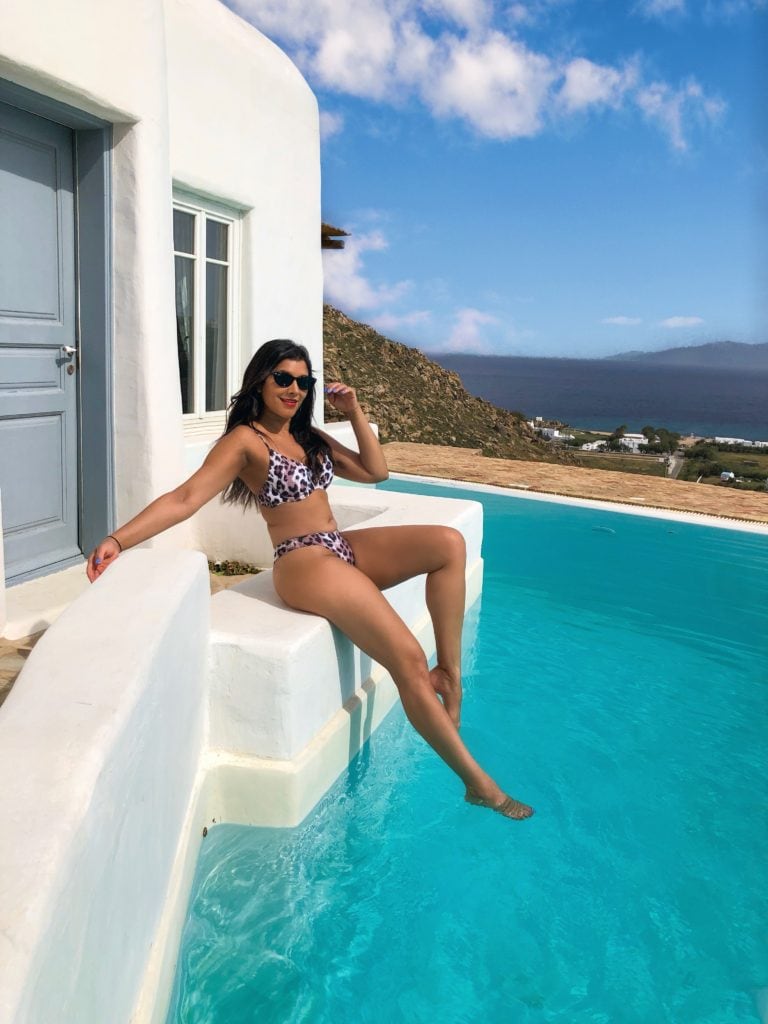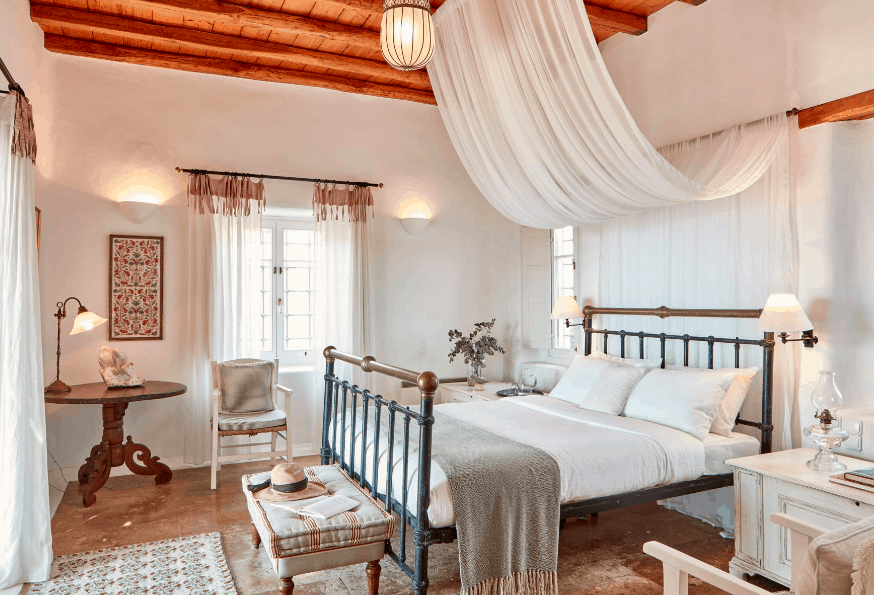 The bedrooms at the villa are beautifully decorated in traditional Greek style with rustic furnishings and fine drapes.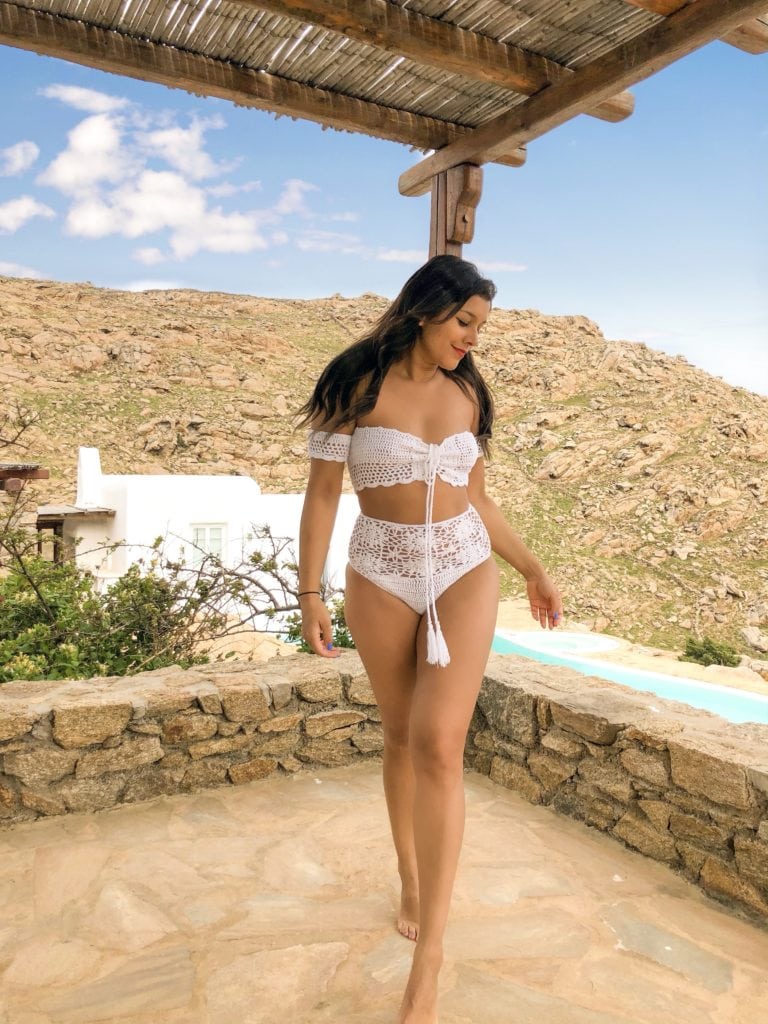 No longer the domain of your grandmas dressing table, crochet is having a moment in the fashion world and when worn on the beach gives off boho 70's vibes a plenty. This beautiful white crochet high waisted bikini is flattering on the waist and the top can be worn on and off the beach.
White high waisted crochet bikini £45 by Luxsea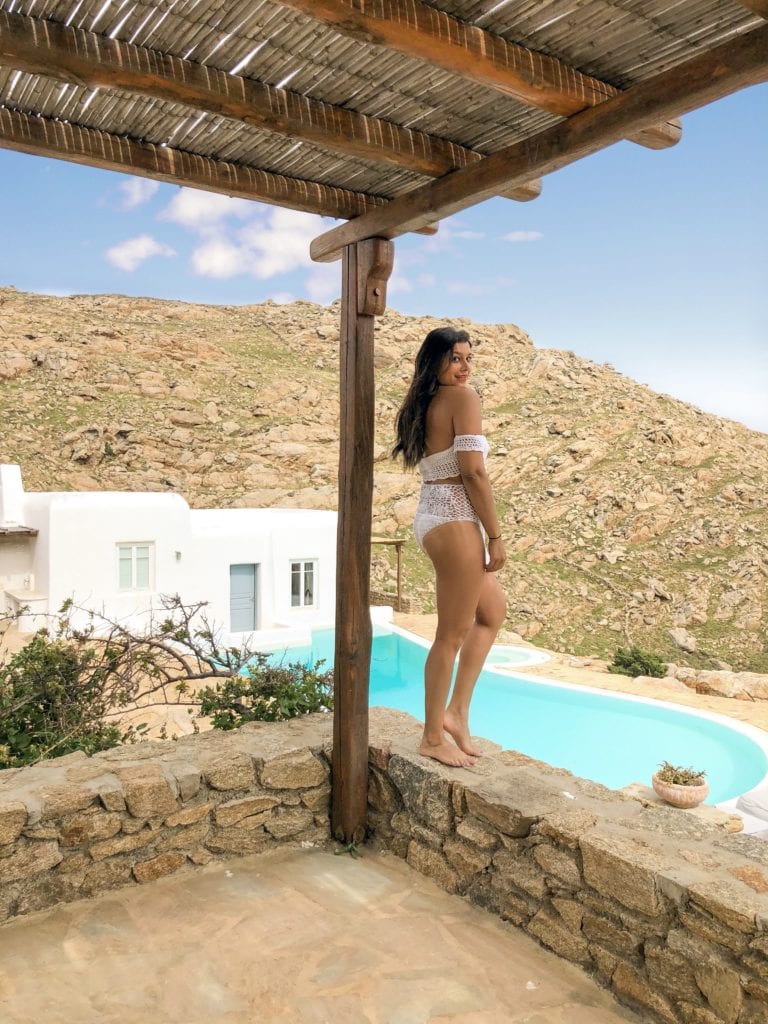 White high waisted crochet bikini £45 by Luxsea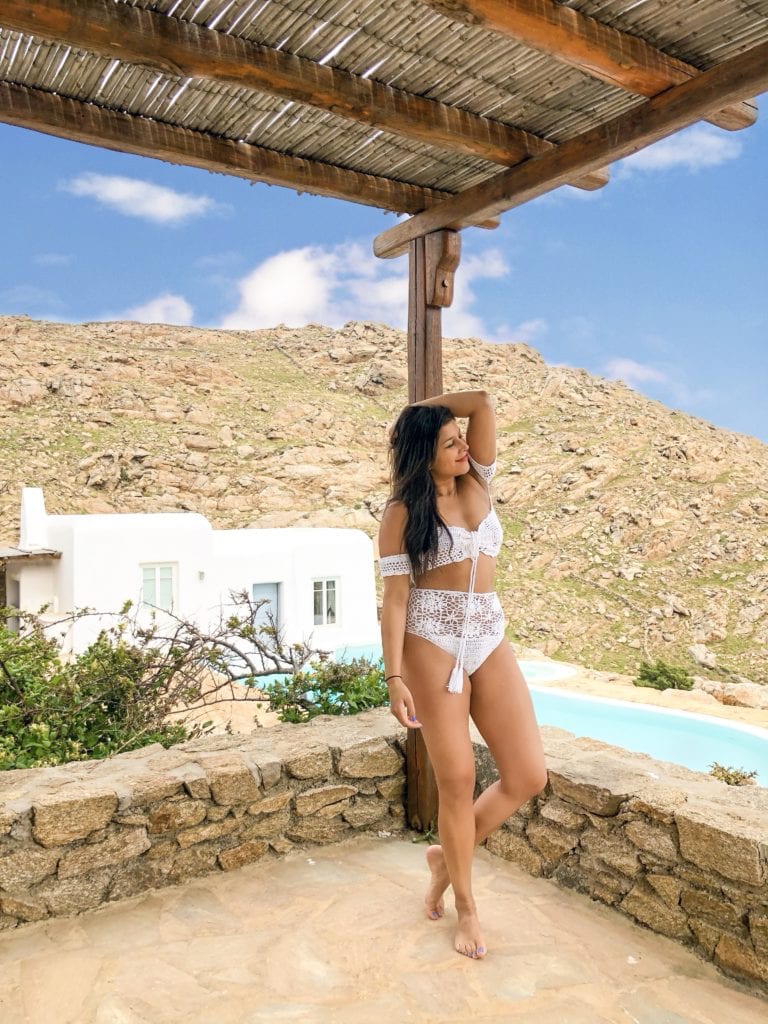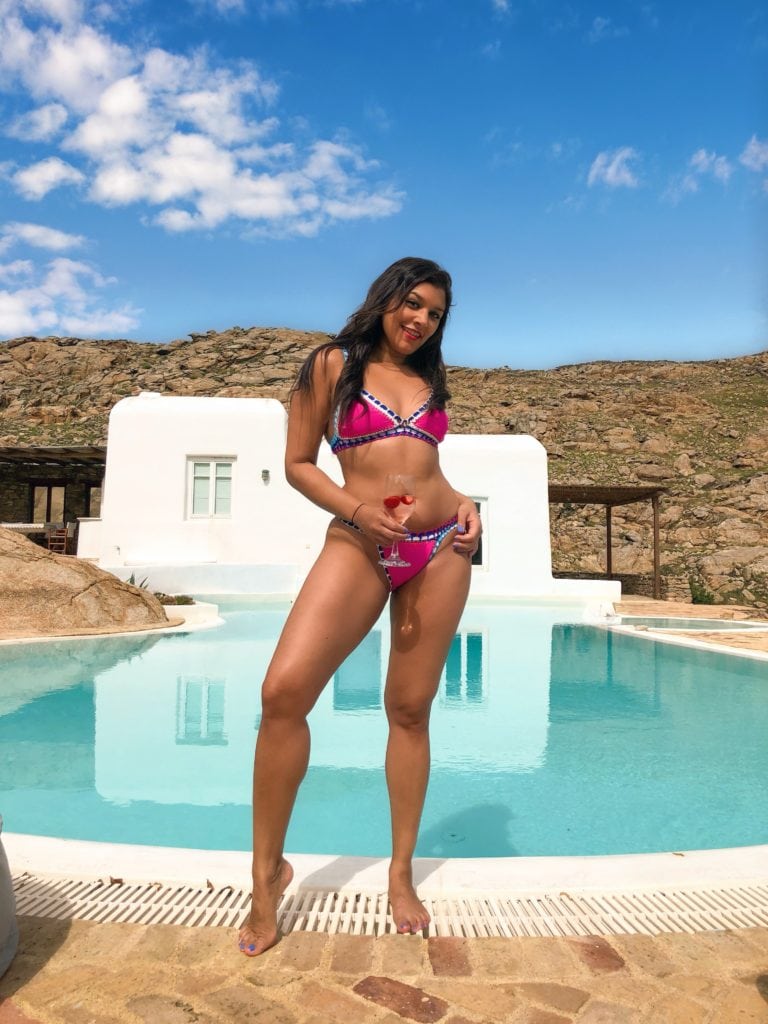 Old meets new
What do you get if you cross new techno scuba fabric with old school crochet techniques? Answer: A super stylish, colourful and practical bit of swimwear.
I love this popping pink bikini, it's also available in an array of other gorgeous bright hues on the website.
Pink lycra crochet bikini £39 by Luxsea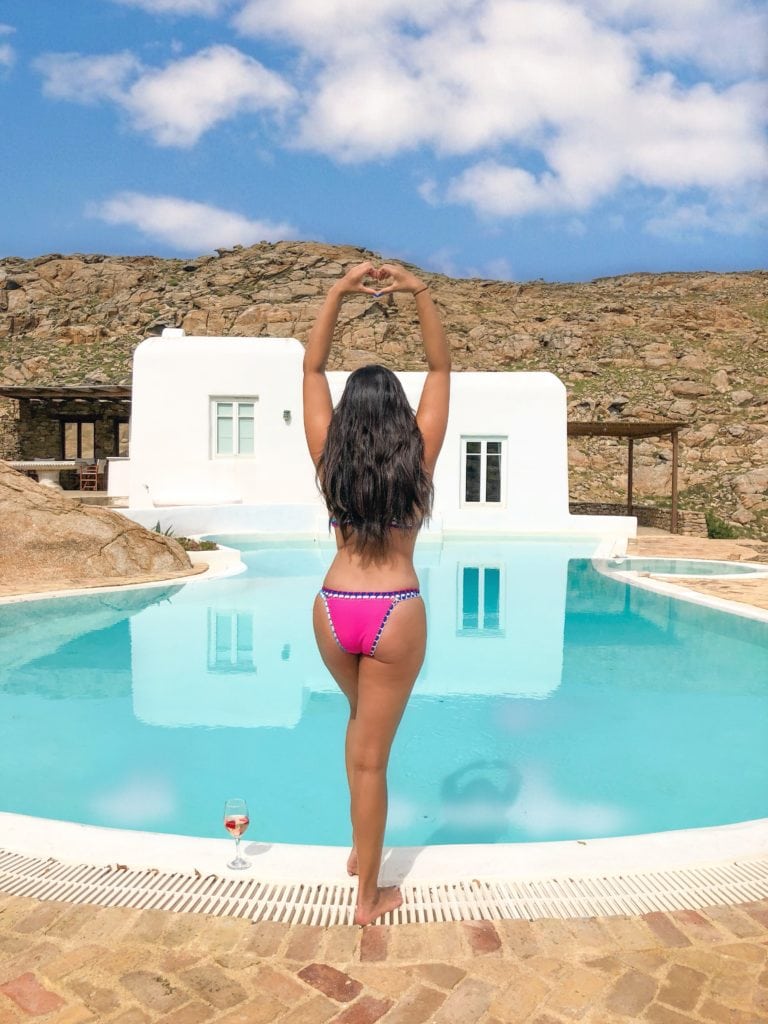 That's all from Mykonos for now. Huge thank you to Dolce Vita Villas for letting us stay and also to Luxsea Swimwear for supplying the perfect swim wardrobe for my Mykonos beach holiday!
I hope you found the blog useful, let me know in the comments below if you did.
For more info on the villa click here and to see the full Luxsea swimwear range here's the website.
Bon Voyage xx