Perfect Holiday Capsule Wardrobe with Summersalt and Celebrity Cruises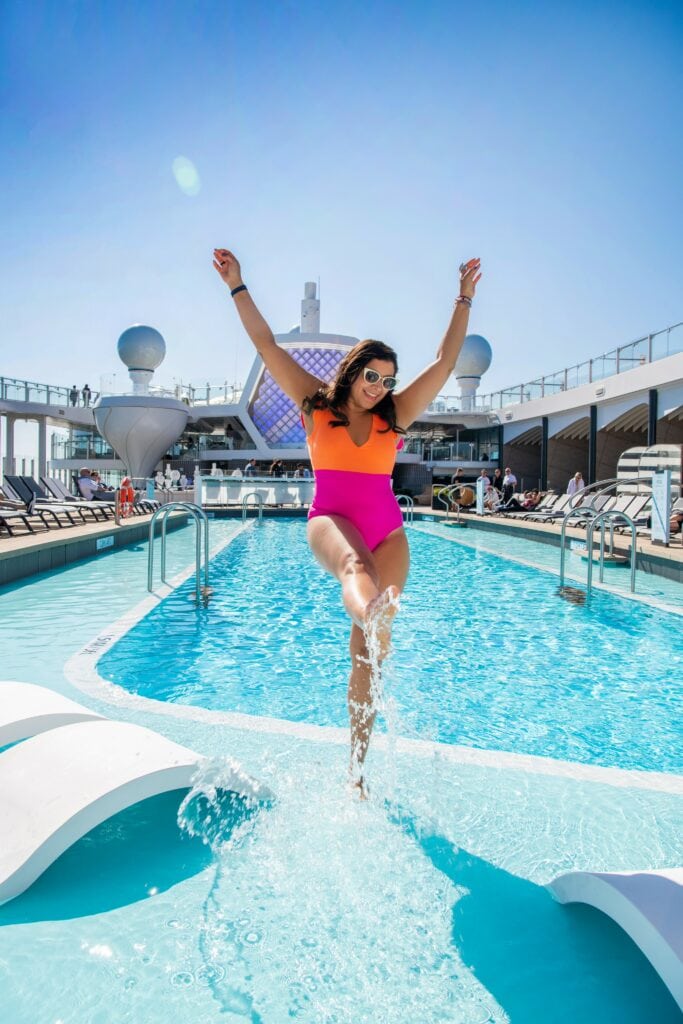 Where? Celebrity Cruises brand new luxury cruise ship, The Celebrity Beyond.
When? May 2022
Why? The gorgeous guys at Summersalt invited me on board Celebrity Cruises' brand new ship Celebrity Beyond. They asked me to curate my favourite pieces from the spring-summer collection to make the perfect holiday capsule wardrobe.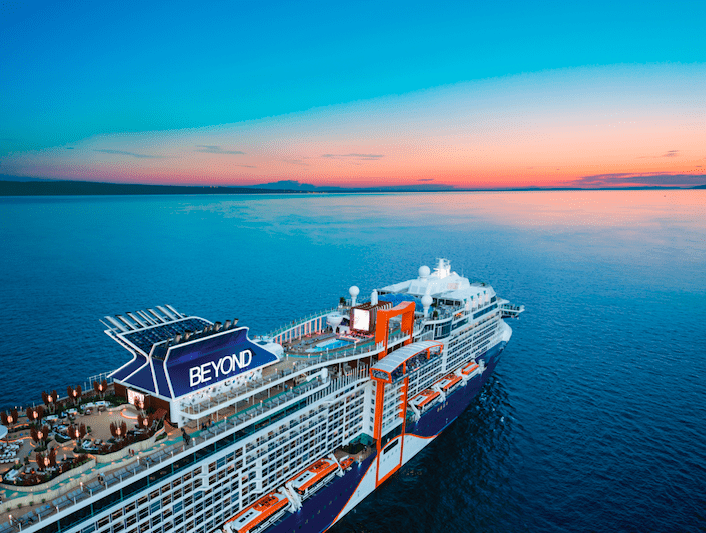 So here's my edit of the perfect holiday capsule wardrobe with Summersalt and Celebrity Cruises, ideal for you next holiday, plus a sneak peak inside one of the most luxurious cruise ships in the world. Keep scrolling to get $10 off your Summersalt purchase.
All outfits on this post are by Summersalt, this is a sponsored blog.
Photos by Kirsten Sinclair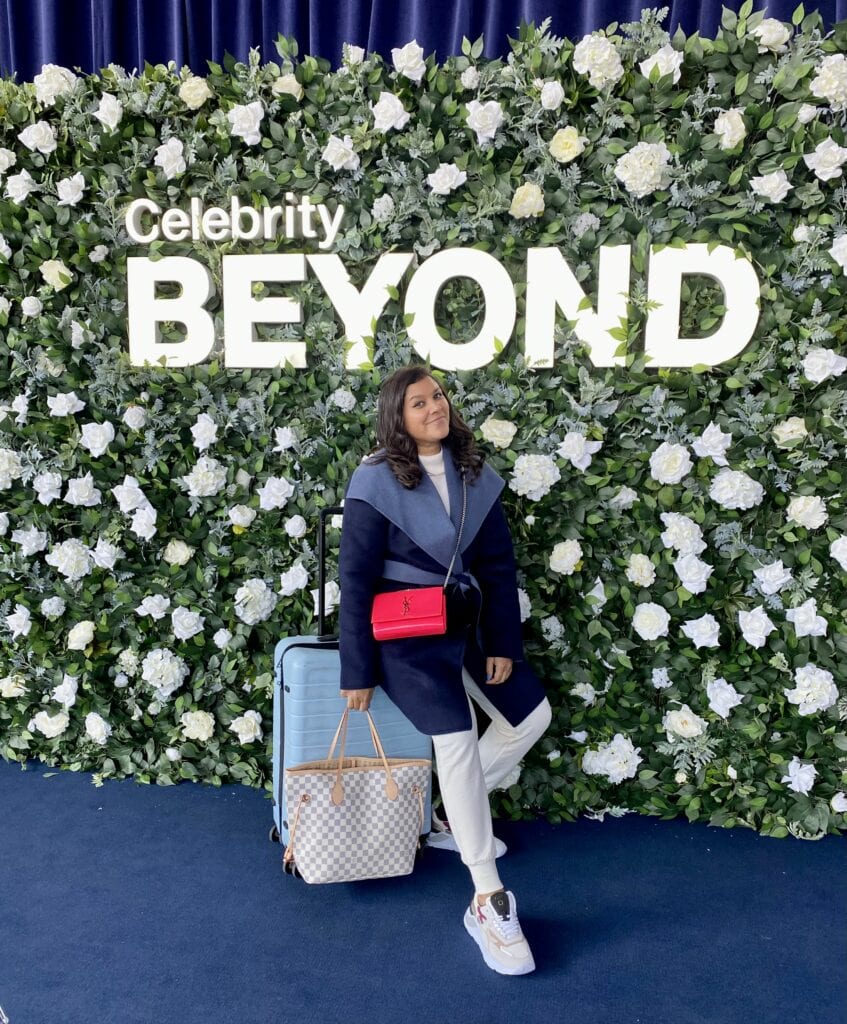 The Arrival Outfit
One of the hardest outfits to get tight when you're travelling is 'the travel outfit'. It needs to be really comfortable and at the same time smart enough to blag an upgrade! Haha!
So I paired a classic cream tracksuit look from Summersalt with a pair of chic trainers and this gorgeous, cosy wrap coat.
A good way to look smart while wearing sportswear is to offset the sporty pieces with a smart or structured piece, in this case the elegant coat adds a touch of luxury to the outfit.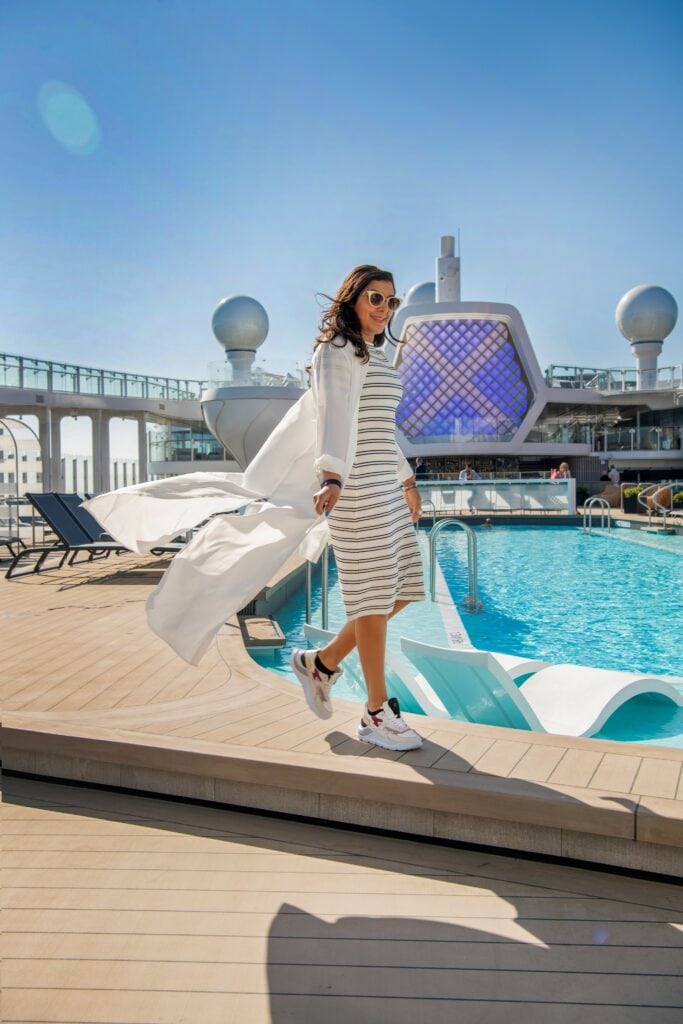 The Celebrity Beyond ship has been designed with wellness and a healthy lifestyle in mind. The ship has famous brand ambassadors such as Gwyneth Paltrow (Goop) as a wellness consultant, celebrity interior designer Kelly Hoppen designing lush, mindful spaces like the The Retreat through to multi sensory, zen hanging garden room, Eden.
So with this in mind I decided to create some loungewear day time outfits which were super comfortable but smart enough to look ship shape!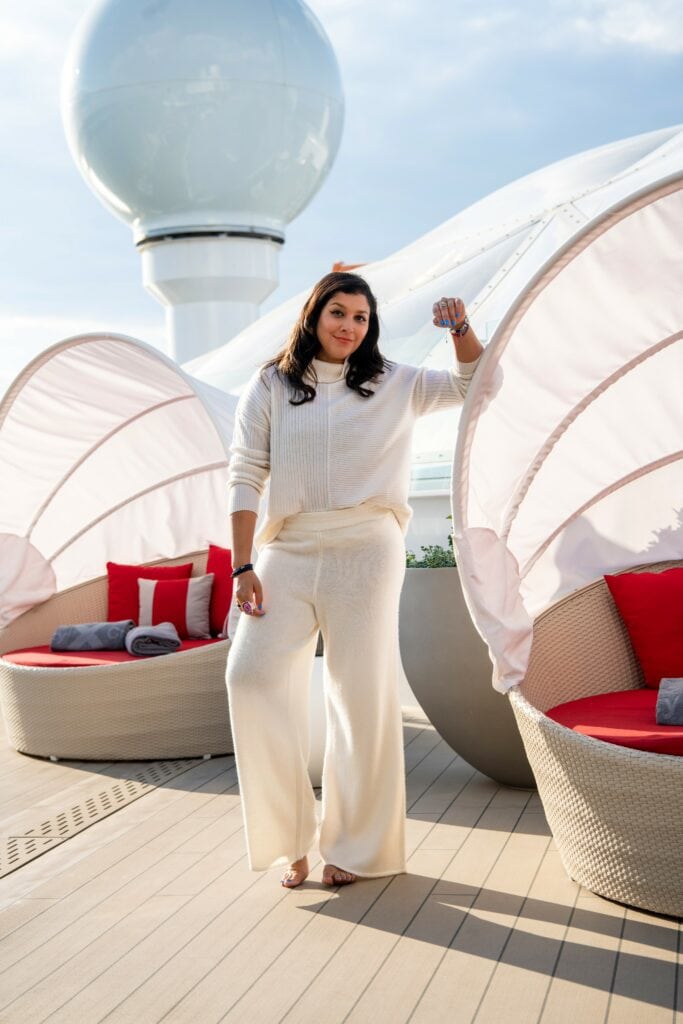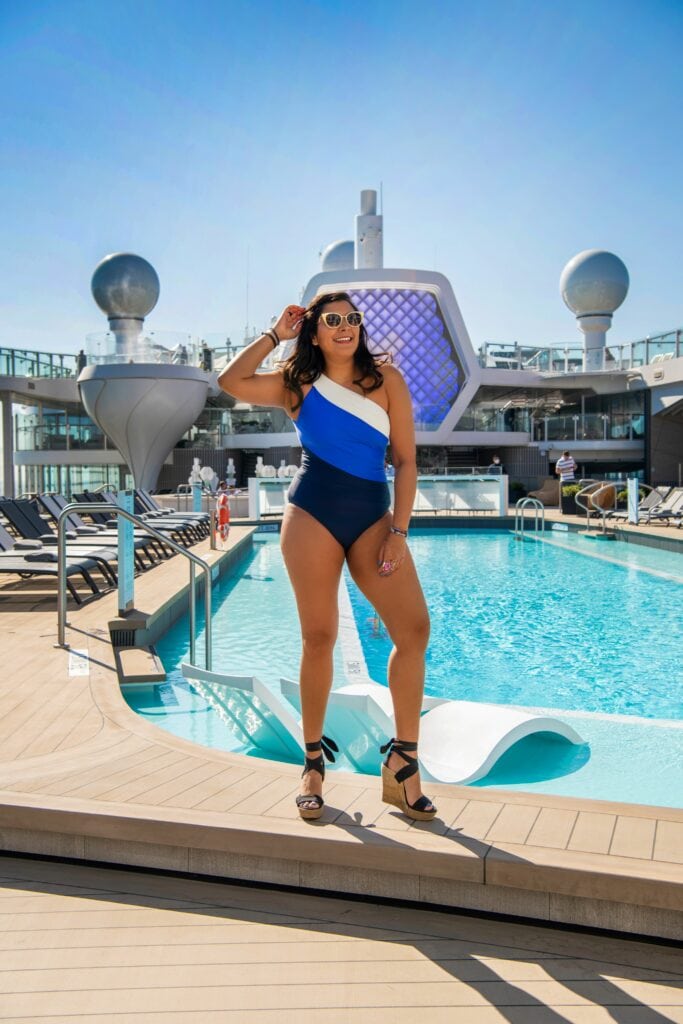 In there like swimwear
One of key parts to any holiday wardrobe is swimwear. I love bold, bright colourful swimsuits and bikinis just like the ones I've picked from Summersalt.
The ship has numerous pools on board, from the incredible main pool at the centre of the ship (pictured above) to the spa area, indoor solarium pool (pictured below) to the beautiful hot tubs, keep scrolling to the end to see that one.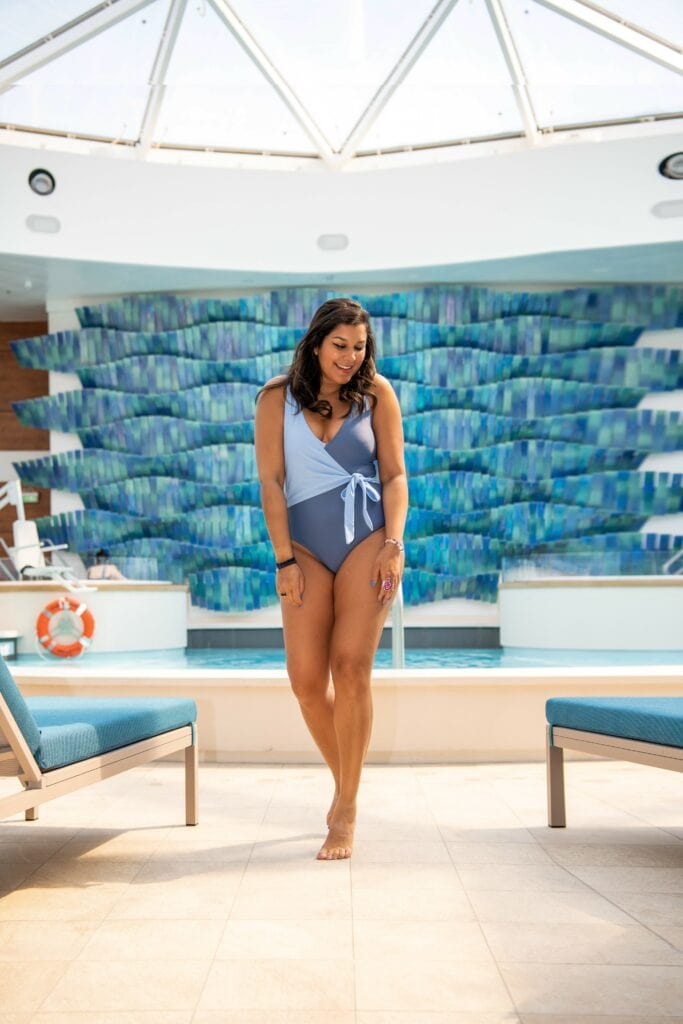 I'm loving a one piece swimsuit this season, they are so elegant and also very flattering on the figure. And bearing in mind the amount of amazing food you'll be eating on board the cruise, a little tummy support is definitely needed, in my case anyway hehe!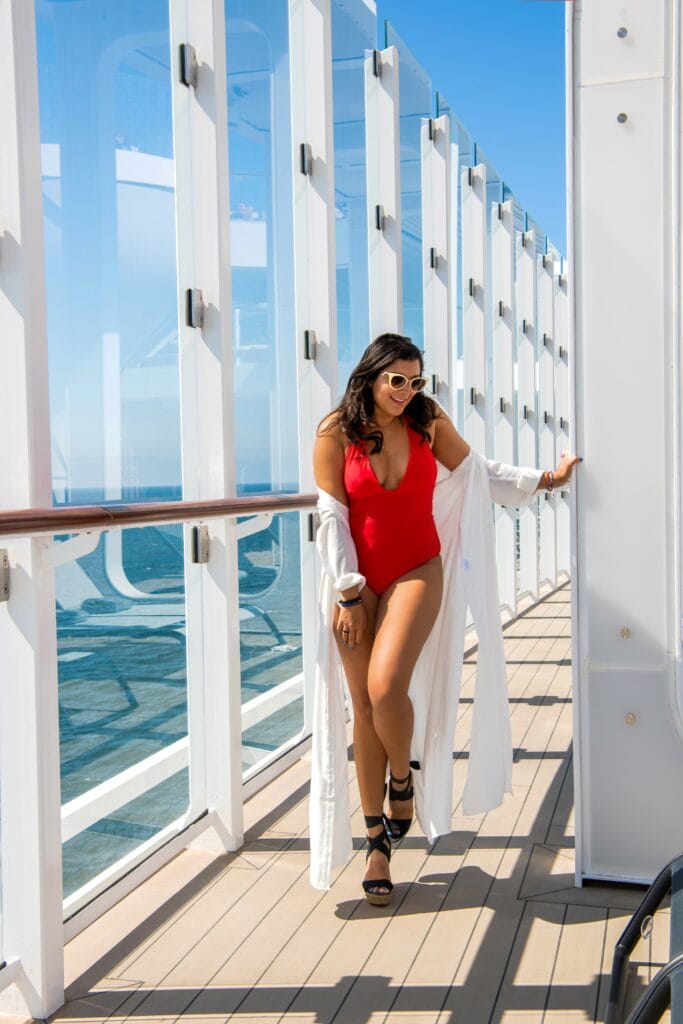 The stunning Lava halter plunge swimsuit (above) and the Sidestroke bikini (below) by Summersalt add a perfect pop of colour to your swimwear capsule wardrobe. The high waist and high leg on the bikini bottoms is a super flattering cut.
I love the fact that Summersalts fabrics and cuts move with your body. The reason for this is because Summersalt took 2 million measurements from over 10,000 real women before creating the sizing and fit of the pieces.
Add to that the fact that many of the styles are sustainable and use recycled ocean waste (like disused fishing nets) in the fabric, means you can do your bit in saving the planet.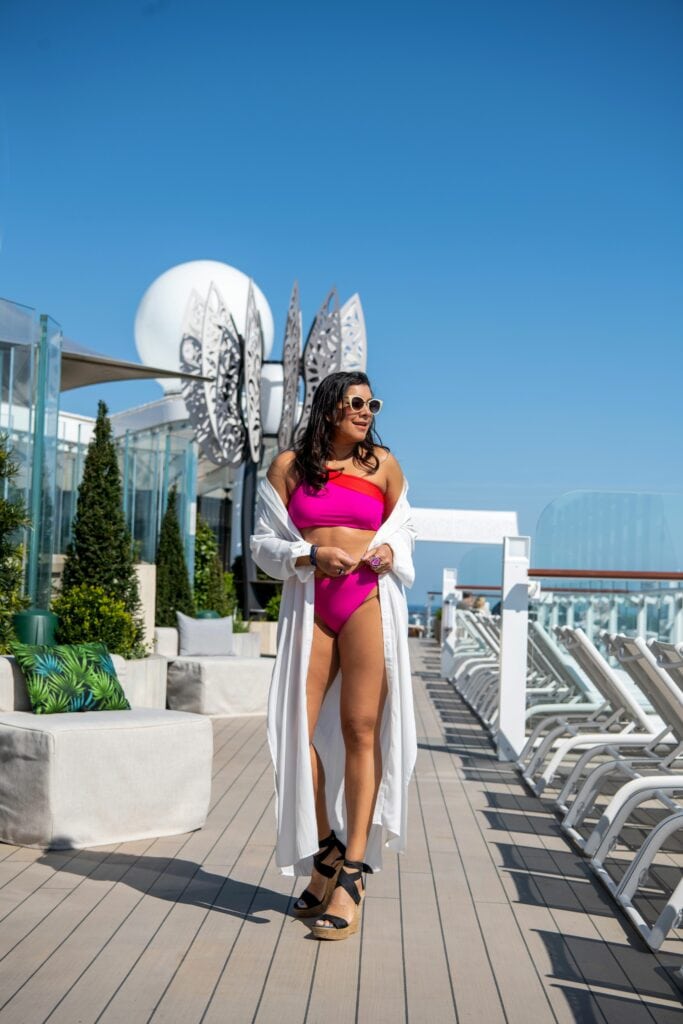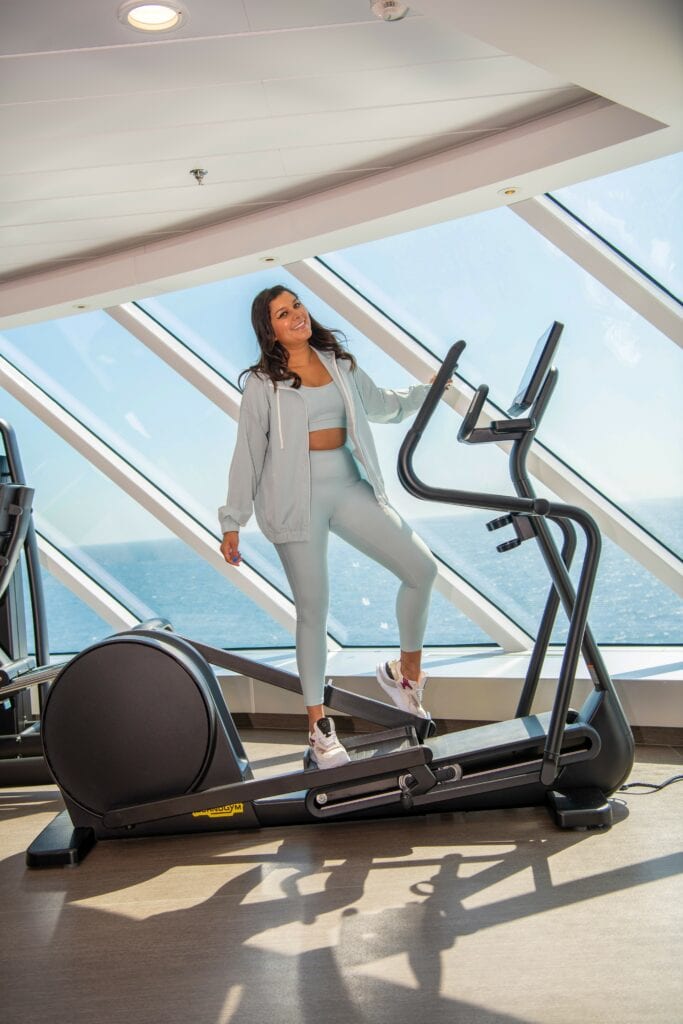 Work it out
If you want to keep fit on board, you can try one of the many exercise classes such as F45 HIT sessions, Peloton spin classes, go to the state of the art gym or perhaps try a guided, mindful meditation. Or I highly recommend a brisk run on the deck track surrounded by the blue sea and fresh air. Why not try them all!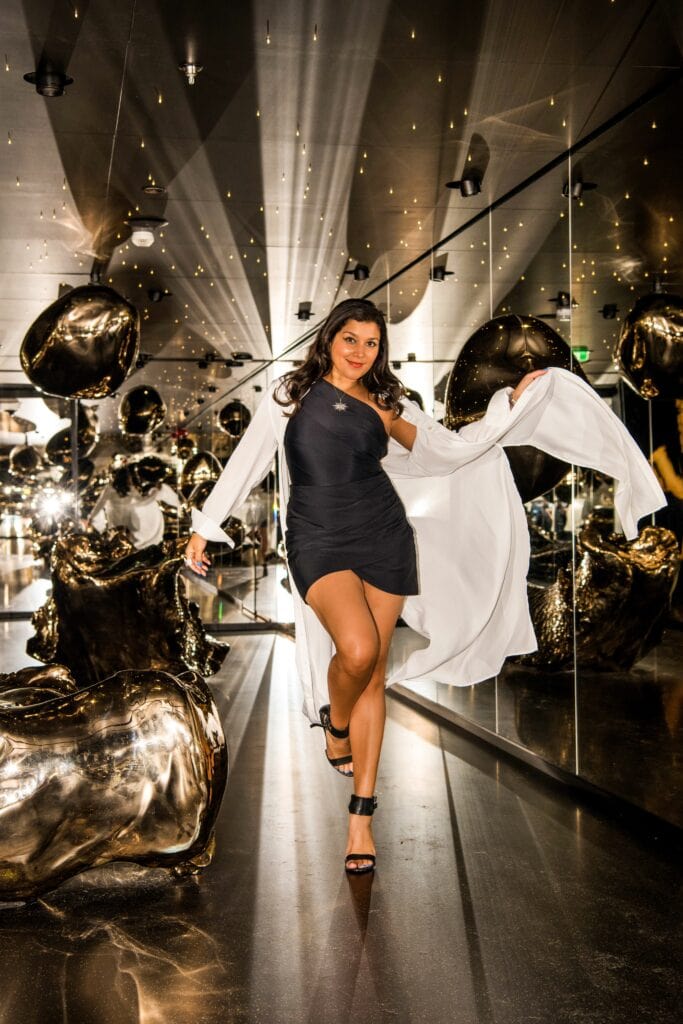 Let's Party
After dark the onboard activities start to hot up. Expect spectacular cocktail making shows in the Martini Bar (think Tom Cruise in the movie cocktail), DJs spinning sets in various decadent rooms, movie nights, mesmerising theatre shows, through to an epic night club with the best sound system around.
For culture vultures, incredible art works and installations are exhibited throughout the ship, like the magical, gold, immersive Odyssey room created by artist Fredrickson Stallard (pictured above).
For my evening outfits I creating an LBD look (above) using the sidestroke swimsuit worn with a black mini wrap skirt and below a midriff showing trouser outfit worn with the white silk shirt dress as a kimono jacket, all from the Summersalt collection.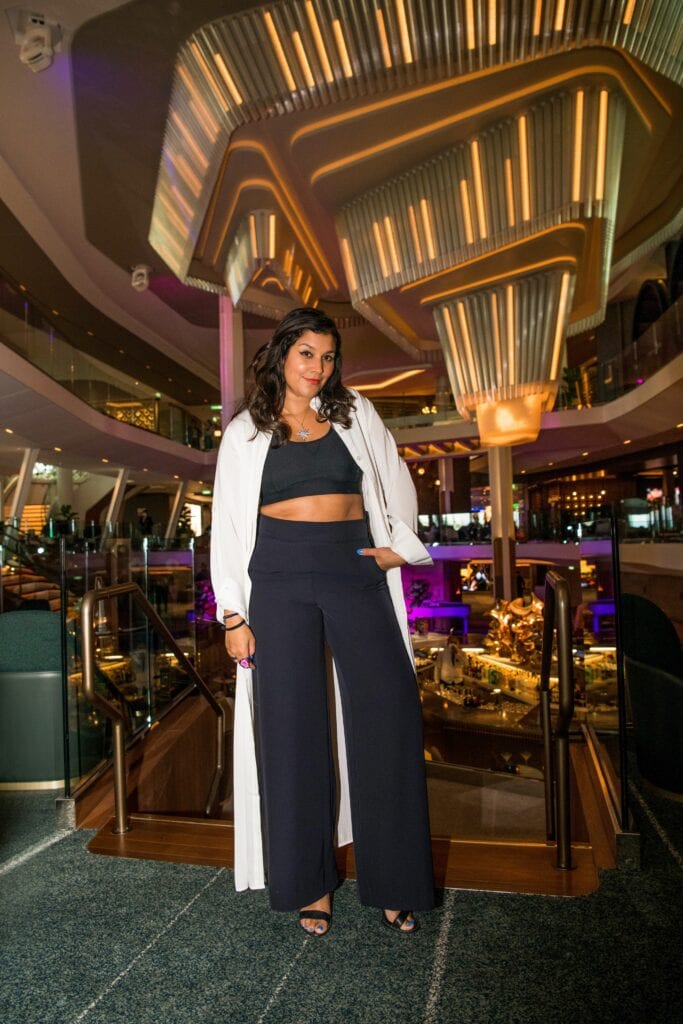 Eat, drink & shop – till you drop
Onboard there are 32 incredible restaurants, with a global menu ranging from the epic buffet, traditional Greek and Tuscan restaurants, USA flame grill steak house to healthy spa side salad and juice bars.
The food onboard exceptional and also unlimited! I would say it's the best food offering in terms of range and quality on any cruise I've been on before.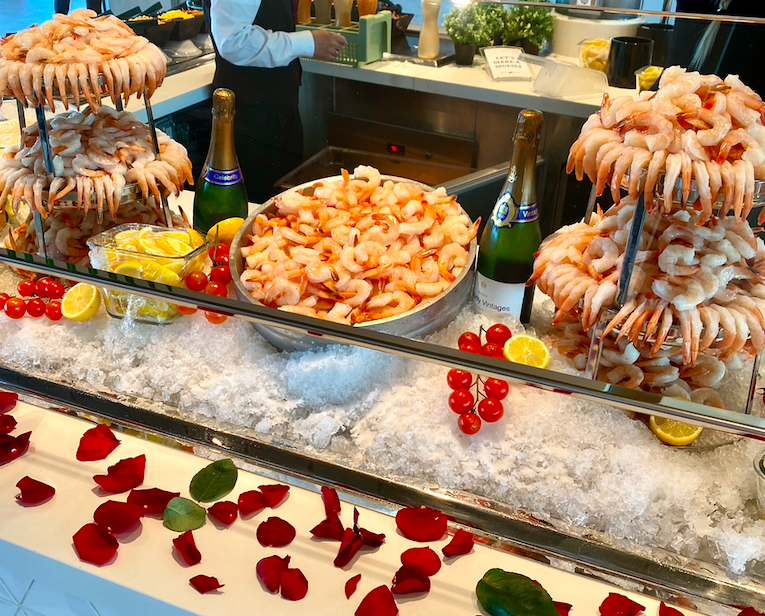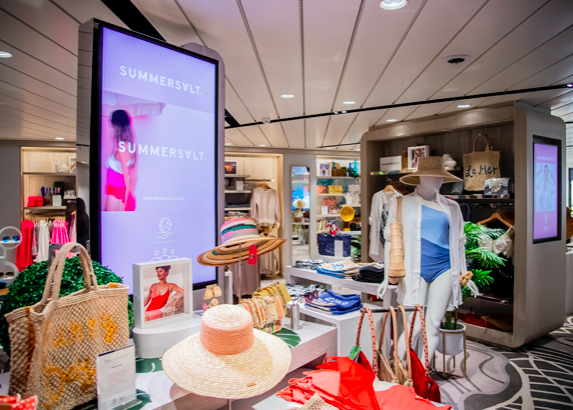 If you're in the mood for indulging why not hit the shops. Summersalt has historically been an online brand and I was lucky enough to be at the opening of their first physical store.
They chose to open their first, beautiful boutique in the Celebrity Cruises shopping area which is curated by leading cruise retailer Starboard Cruise Services and LVMH Moët Hennessy company.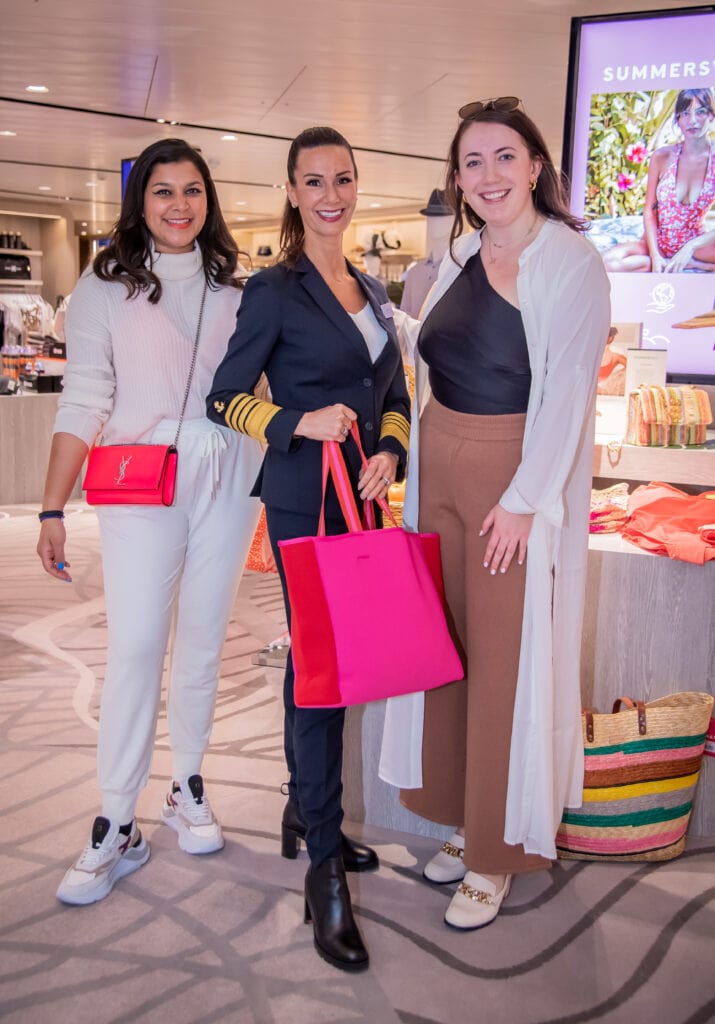 I was super excited to meet the famous Captain Kate at the grand opening of the Summersalt store. Captain Kate McCue is the first female US captain to take the helm of a mega cruise ship.
I love the fact that despite only 2% of Mariners worldwide being female, celebrity cruises have over 72% women at their helm. Girl power!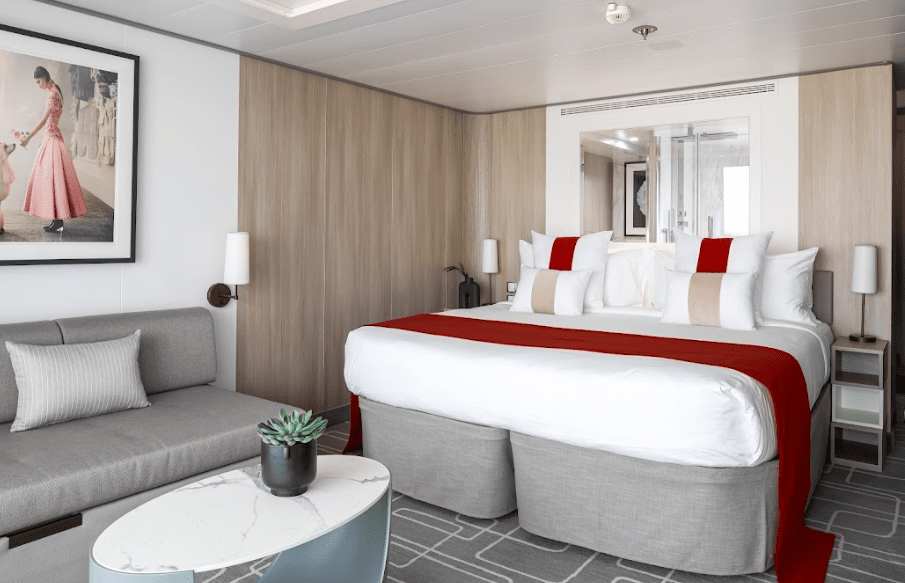 Night Night
And so to bed. I was staying in a luxury state room with a balcony overlooking the sea. The rooms are spacious compared to most cruise ships and come with all mod cons like a wide screen TV, sumptuous bed with lovely linens, regular turn down services and a great marble bathroom complete with large walk in rain shower. It's the perfect luxury room on board ship.
The PJ and nightwear selection from Summersalt is super cosy, so much so it makes me want to stay in bed longer. I love this jewel coloured, ruby PJ set (pictured below). The night range also comes in monochrome and silky printed options.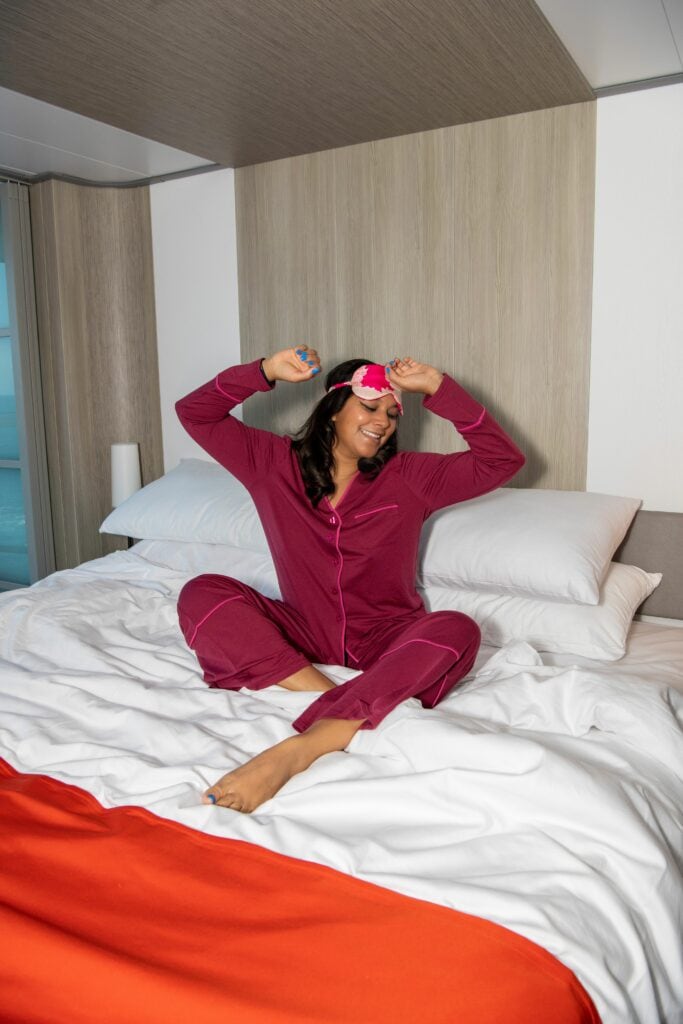 I hope you enjoyed reading about the perfect holiday capsule wardrobe with Summersalt and Celebrity Cruises.
For $10 off your first purchase use unique code BONNIE10 at check out at Summersalt.
For more info on Bonnie's cruise trips click here and more UK travels click here.
Bon voyage,
Bonnie xx