Belgravia in Bloom – Best Instagram Flower Locations in London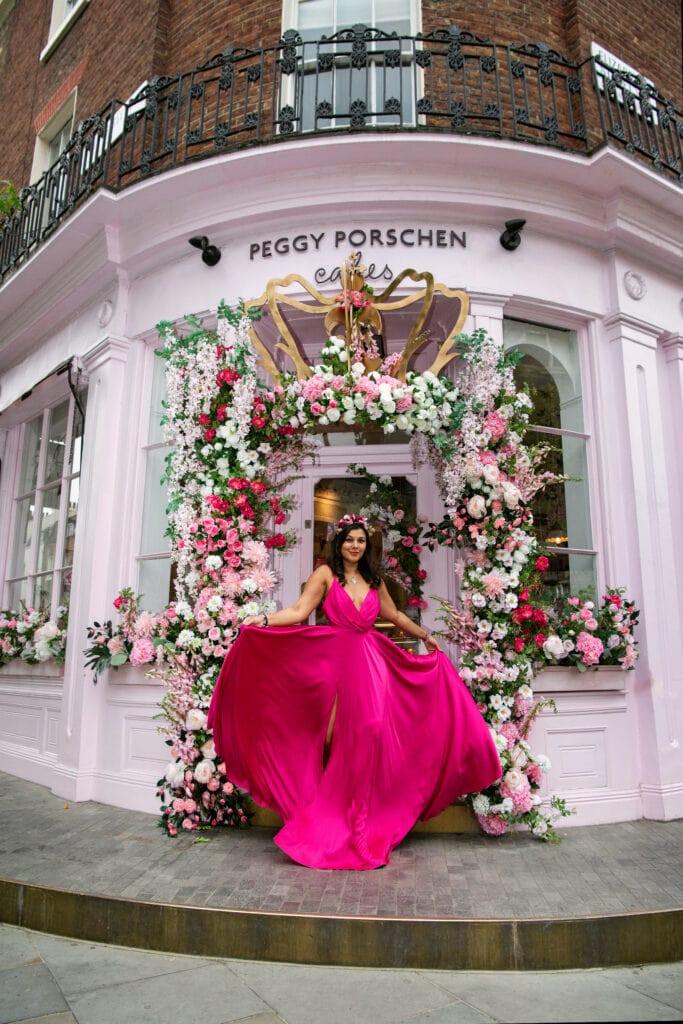 Where? Belgravia in Bloom
Belgravia in Bloom is my favourite floral festival in London taking place from 23-29 May 2022 for the seventh year running.
It blooms on the streets between Hyde Park Corner, Elizabeth Street, Eccleston Yards and Pimlico Road, otherwise known as Belgravia.
The quintessentially British area will be adorned with a series of spectacular floral installations which coincides with RHS Chelsea Flower Show.
Here's my guide to Belgravia in Bloom – Best Instagram Flower Locations in London.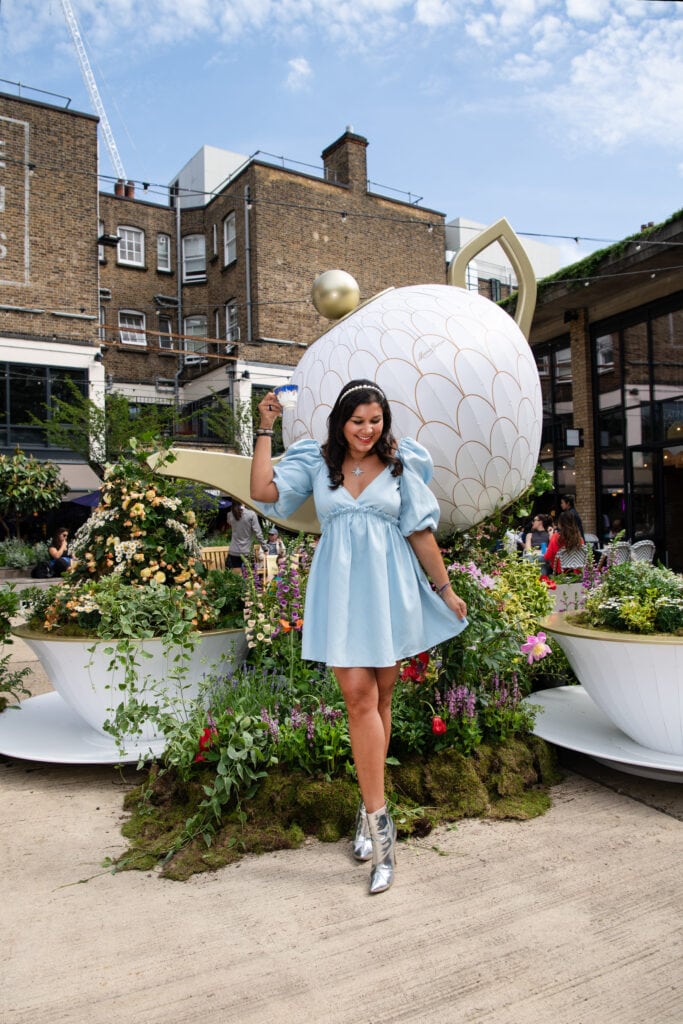 This year's theme is 'Beautifully British' inspired by the Queen's forthcoming Platinum Jubilee celebrations.
Belgravia's best florists have come out in force to decorate this beautiful part of the city with colourful, majestic and playful floral installations to fit the theme.
Over 40 participating streets, shops, hotels and restaurants unveil stunning floral displays. I've added in the names of the florists and the locations in which to find them, underneath each photo.
Hero Installations & My favourite displays
Eccleston Yards
Inspired by the quintessentially British icon, the tea pot and cup, florist @moysesstevens had created this spectacular Tea Garden sculpture. It features British flowers tumbling out of a magically suspended pouring teapot. (Picture above)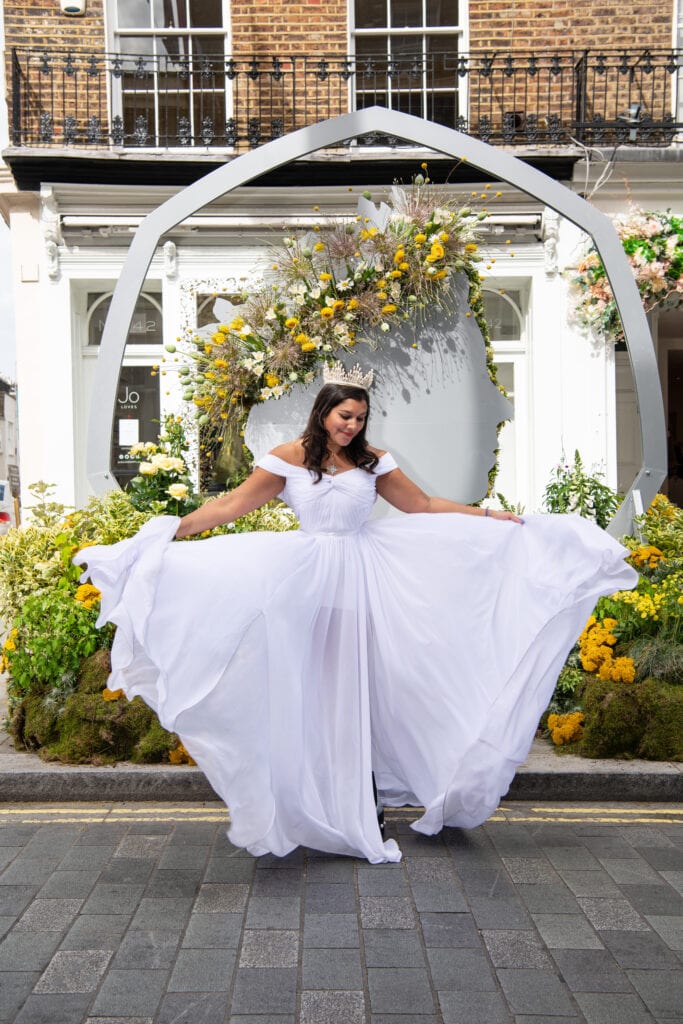 Elizabeth Street
The Queen's Head, a floral representation of a 50 pence piece by @moysesstevens. The sculpture depicts the Queen's head in profile featuring a 3D crown of flowers including fresh achillea, carnations, gypsophila and myrtle, a favourite of the royal family.
Motcomb Street
The iconic Motcomb Street phone box has been transformed by @neillstrain into an overflowing display of flowers featuring the classic red British phone box.
I love this cute floral Beefeater bear and a well positioned bench for Instagrammers to get that perfect shot.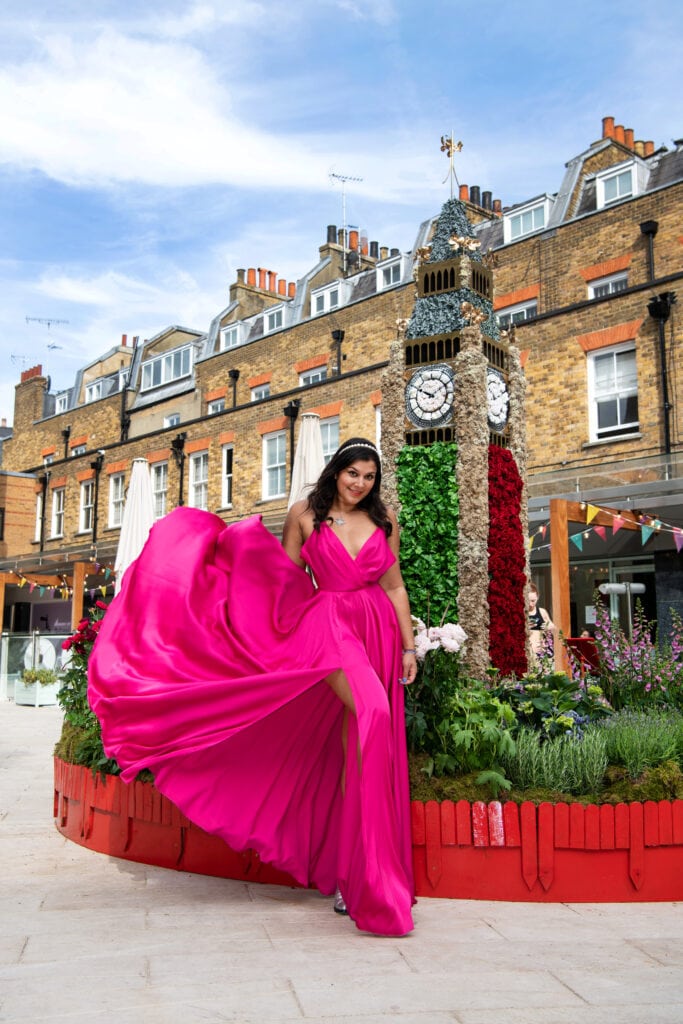 Halkin Arcade
Big Ben, one of Britain's most recognisable landmarks is depicted in flowers by one the UK's favourite florists @neillstrain.
Titled 'Little Ben' it will be a beautiful floral tribute to one of London's most well loved icons.
Standing over three metres tall and surrounded by four colourful gardens of flowers, daffodils for wales, shamrock for Ireland, thistle for Scotland and roses for England, representing the four symbolic flowers of the UK.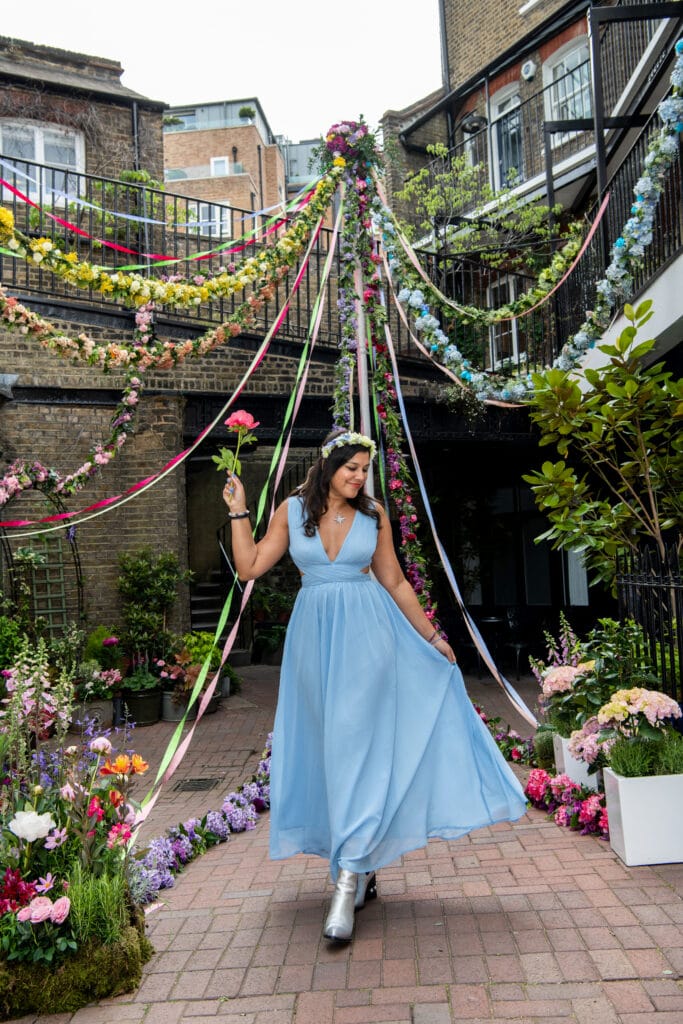 Kinnerton Mews
@judithblacklockflowerschool have created an enormous flower maypole, garlanded with British summer blooms.
The site completely takes over the beautiful mews filling it with floral garlands cascading down from the top of the pole. I couldn't resist a little jig around the maypole :)
It is perfectly reminiscent of the classic British May poles used for dancing and celebration throughout history.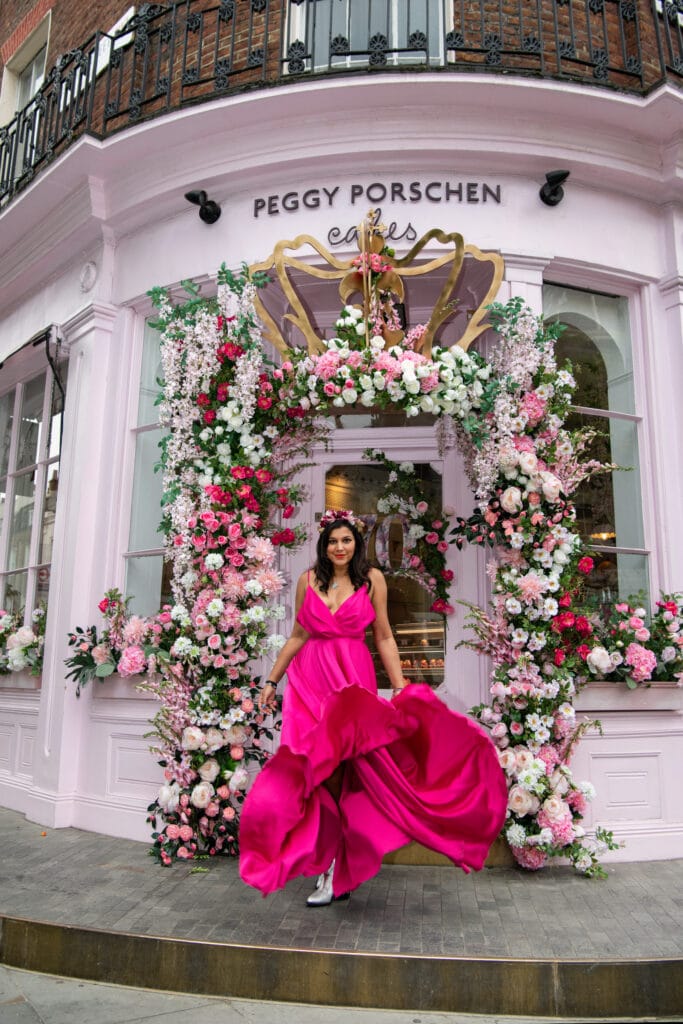 Peggy Porchen
The instagrammers favourite cafe in London, the famous Peggy Porchen has of course created a most magnificent tribute to the jubilee by adding a crown to their stunning floral facade.
This place is an instagrammers dream, having provided beautiful, seasonal backdrops from the wonderful British florists Dickinson & Doris for years.
Other beautiful installations to look out for include: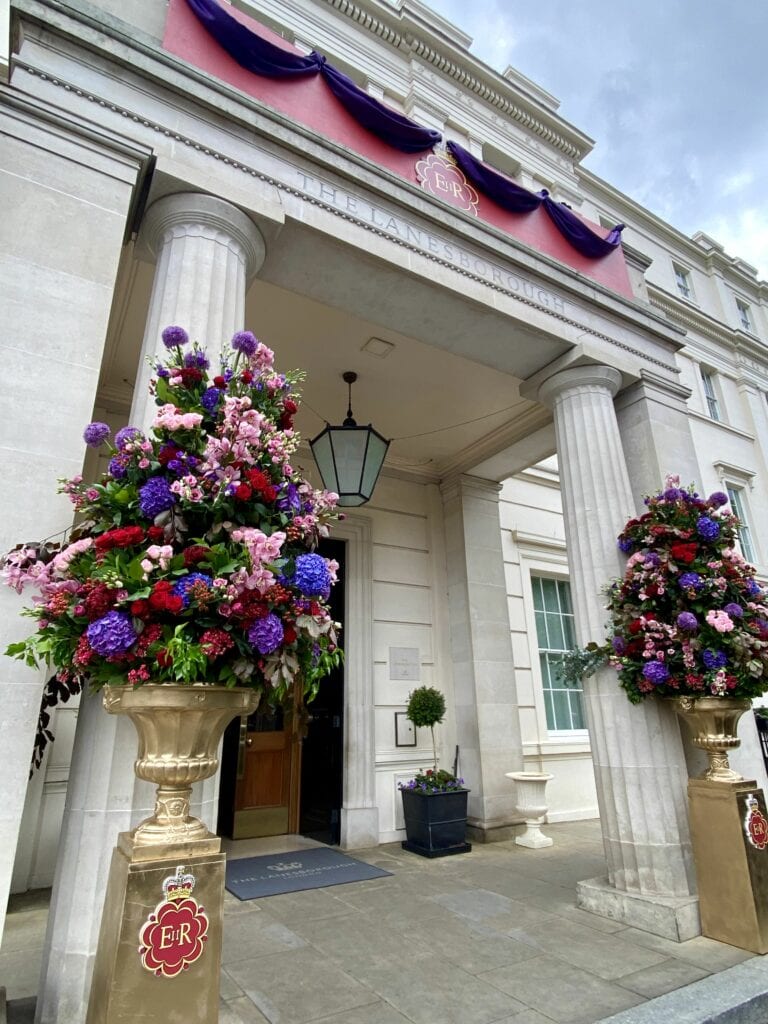 Hyde Park Corner
@the_lanesborough hotels will take us back to when the hotel became a major viewing gallery for The Queen's Coronation.
Reflecting this time, the display flanks the grand Regency pillars of the main doorway, created by Dickinson & Doris.
Pimlico Road
A life-sized floral beefeater will be marching on a carpet of red, white and blue flowers by @sinclair_till
Plus many more displays to discover across the neighbourhood as you walk from street to street.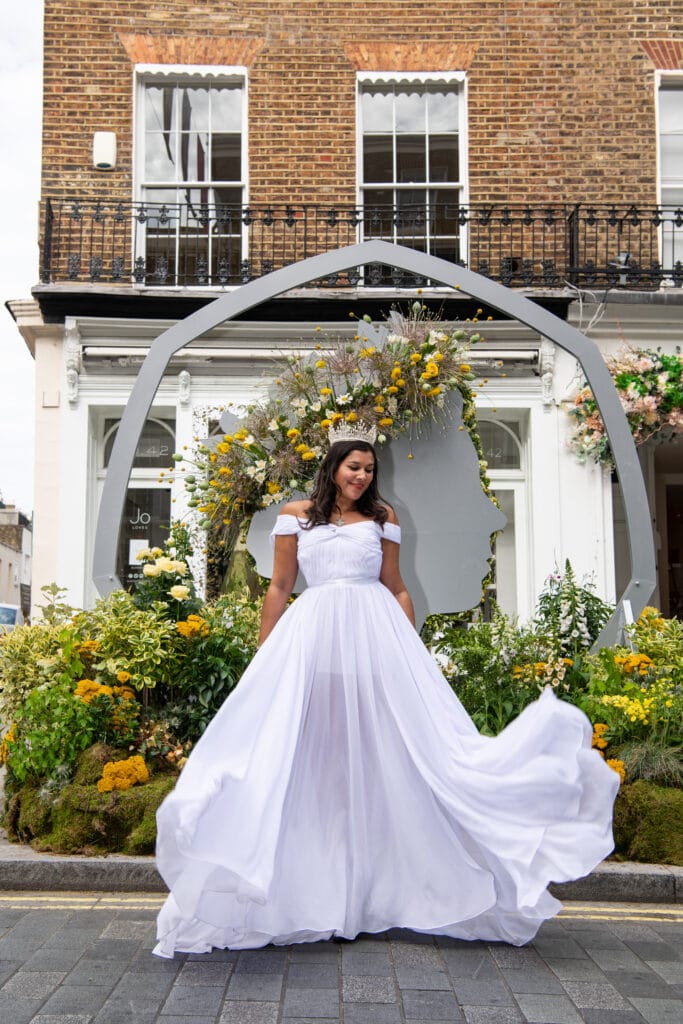 I hope you enjoyed my little floral treasure hunt of Belgravia in Bloom – Best Instagram Flower Locations in London. Please let me know if you manage to go out and see the displays for yourself.
You can visit Belgravia in Bloom for free until 29 May, check out https://www.belgravialdn.com for more details.
To follow more of Bonnie's UK travels click here. Or on Instagram @bonnierakhit
Bon voyage xx
Ad – I was invited by Belgravia In Bloom to view the displays and have paid promotions on my other platforms.