European Mini Cruise Itinerary – Onboard The Enchanted Princess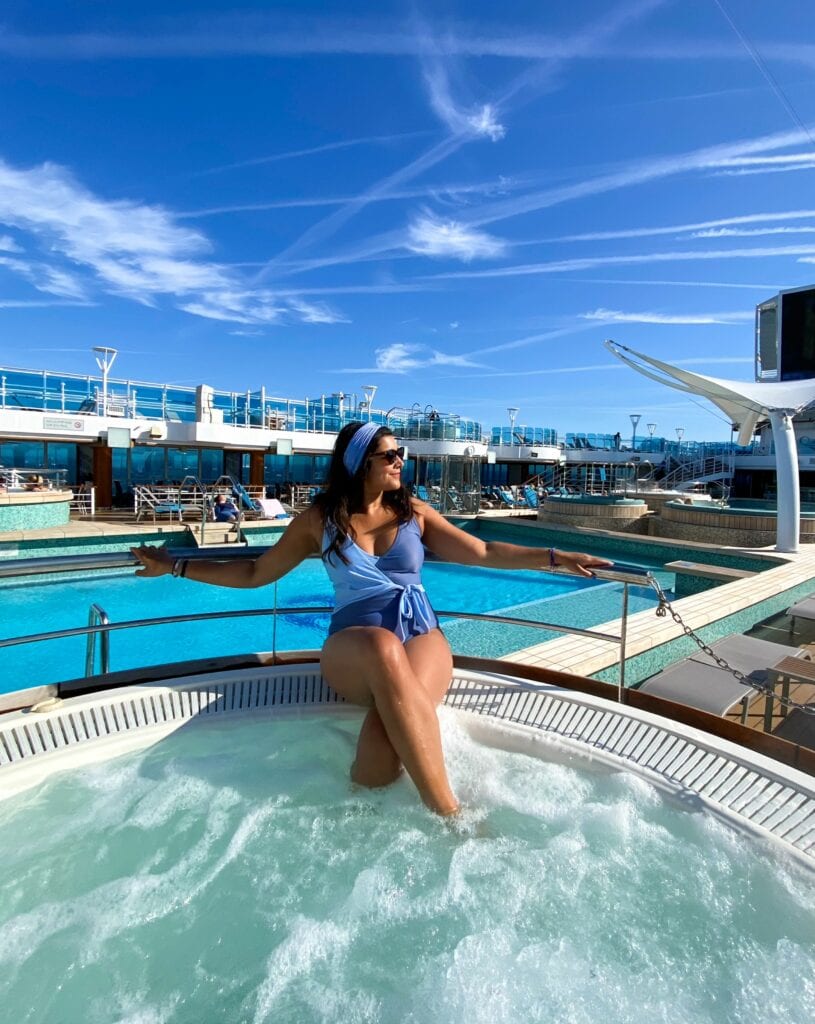 Where? The Enchanted Princess – one of Princess Cruises most luxurious ships.
Exactly? I was very lucky to be invited on board Princess Cruises, The Enchanted Princess to try out the 5 day Netherlands and Channel Islands sampler cruise. It goes from Southampton, to Bruges, to Rotterdam and finally Guernsey, before heading back to Southampton.
When? May 2022. The Enchanted Princess will be sailing from Southampton to various European destinations for the duration of summer 2022.
Here's my diary of my European Mini Cruise Itinerary – Onboard The Enchanted Princess…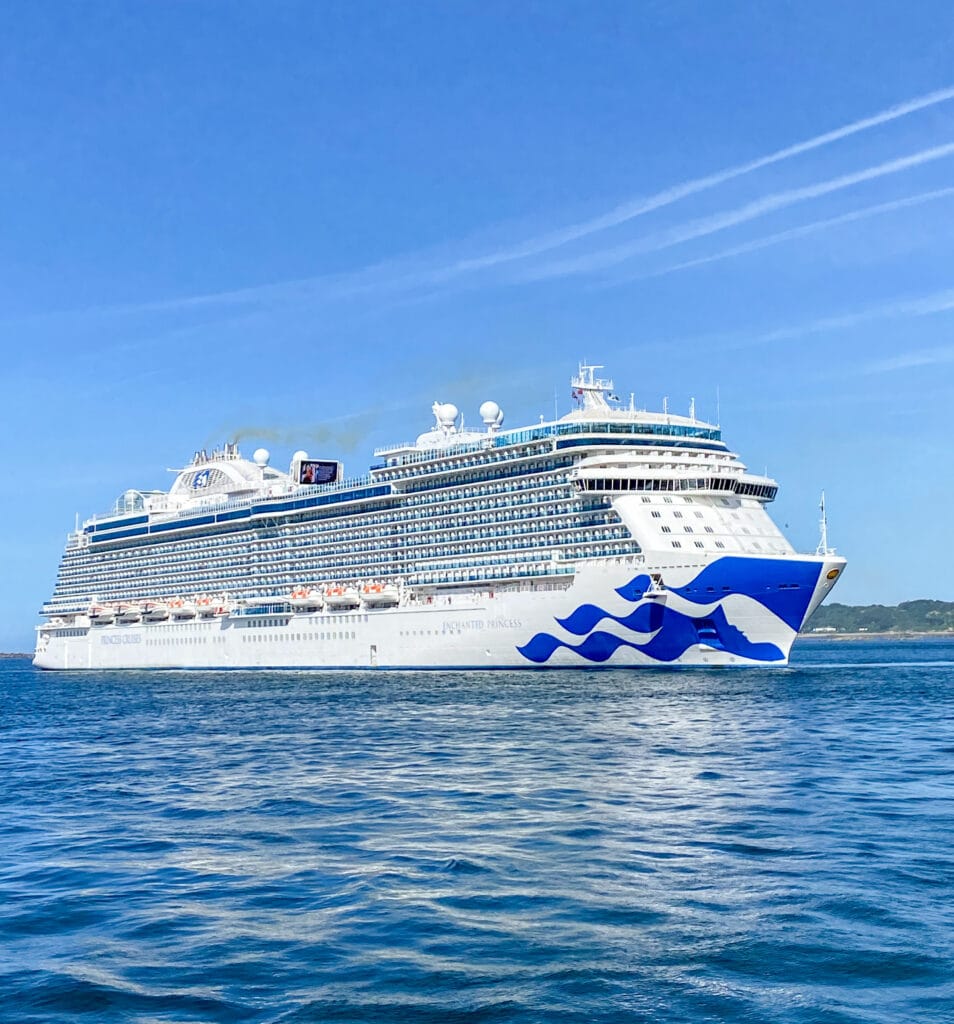 The Crew
I was invited on a press trip with a lovely group of bloggers and instgrammers. Pictured below clockwise from left: Charly Pauly, jess The Travelista, Josh Nueva, Lauren Cliff, me and Kirsty Leanne travels.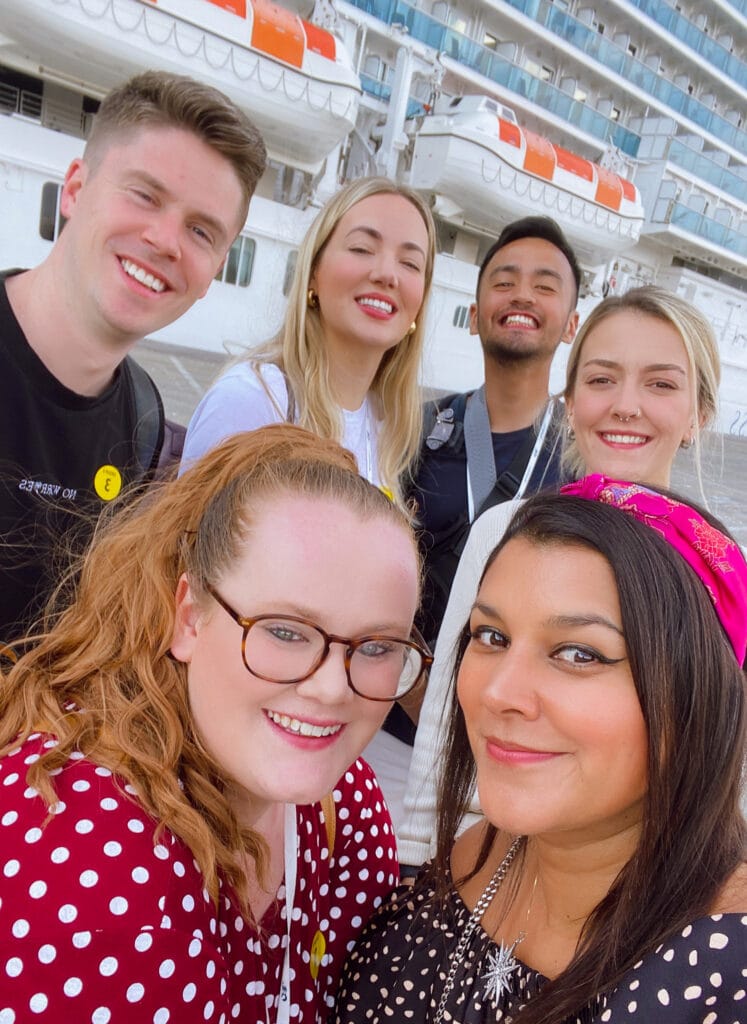 Sleeping
I was very excited to check in to my mini suite. The stateroom is a beautiful plush bedroom, with a huge extremely comfortable bed. There's also a spacious lounge area with sofa and dressing table.
The room continues on to a lovely balcony, which I loved to wake up to every morning and see the view of the blue seas or the new port which we'd sailed to overnight.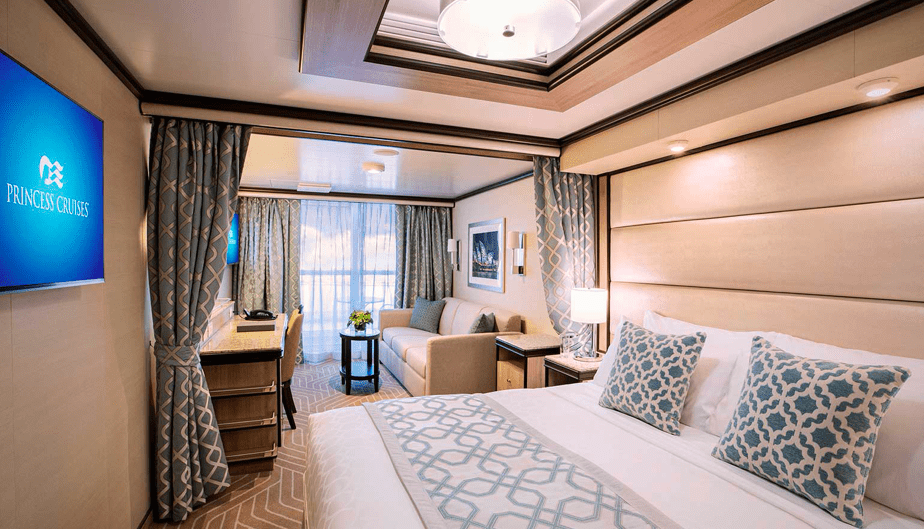 The bathrooms in the suites are large and spacious and come with all mod cons from lovely shower products to a bathtub! Which is something you'd not normally fit into a cruise bathroom.
Also the lovely, friendly stewards on the housekeeping team were always on hand with regular turn down service, fresh bottled water and daily mini gifts and chocolate when we came back to the room.
Food and drink
There are 16 restaurants, cafes and bars on board The Enchanted Princess. From fine dining at the Chef's Table Lumiere, steak at the Crown Grill, to pizzas at Gigi's (which won the 'best pizza at sea' award).
And of course there's always the World Fresh Market restaurant which is an ever changing buffet for whenever you're hungry, any time of the day.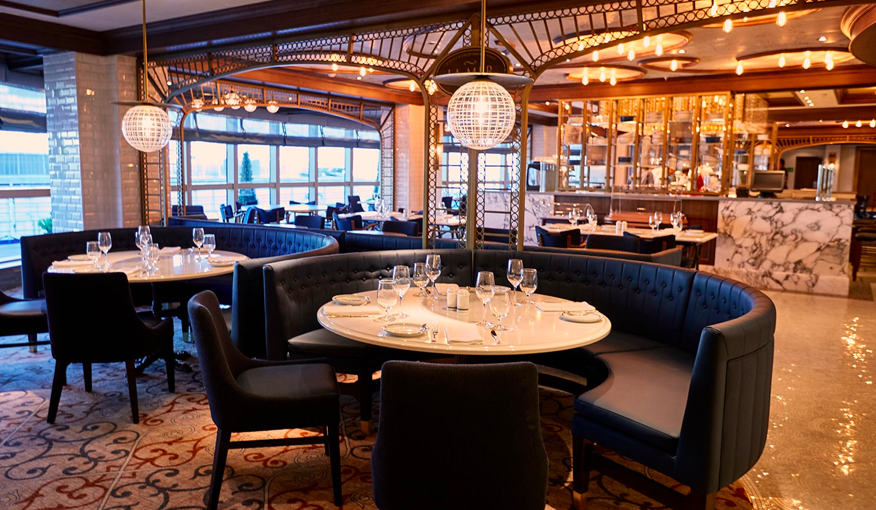 On the Enchanted Princess they loved to cater for a special occasion and perhaps my favourite eating experience on board was the champagne breakfast on my balcony.
It costs $45 per couple. The gorgeous guys from room service bring a mini bottle of champagne, pastries, salmon smoked, coffee, juice and lots of other treats for a really special breakfast on your personal private balcony. It's such a good deal and a lovely way to celebrate a special occasion.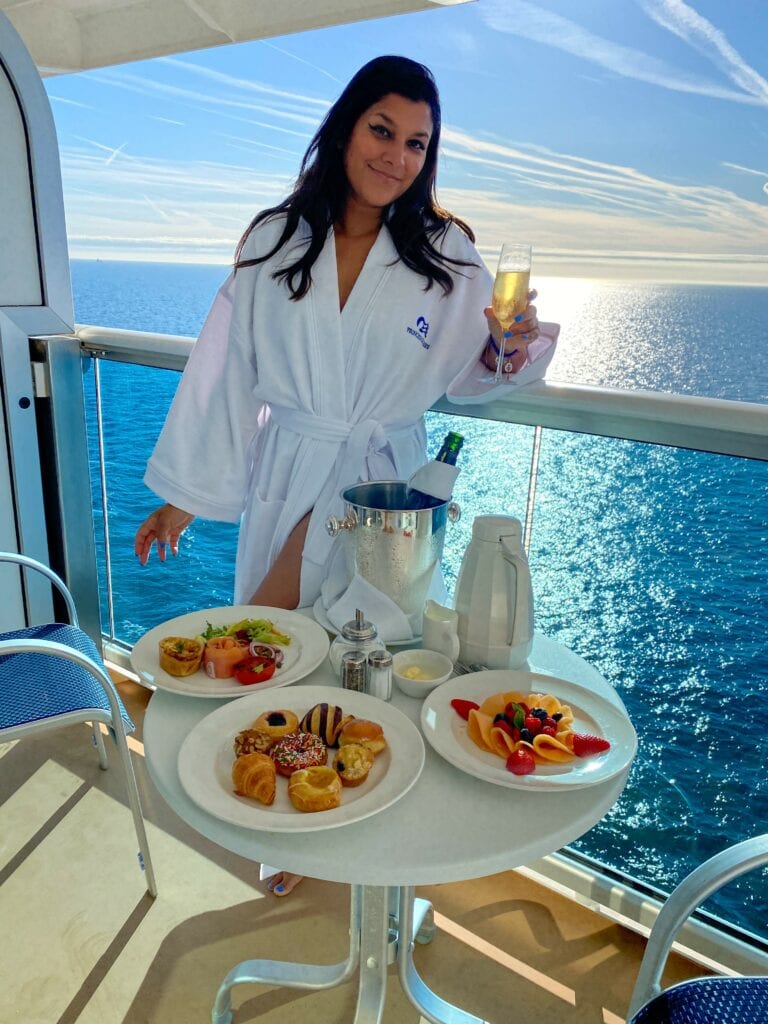 On Board Activities
There is so much to do on board the Enchanted Princess there's never a dull moment.
For those who need a bit of physical activity you can go for a swim in one of the many swimming pools and hot tubs on board. Hit the gym or go for a run on the top deck running track. Up there you'll find the basket ball court and also a mini golf course, it's all happening.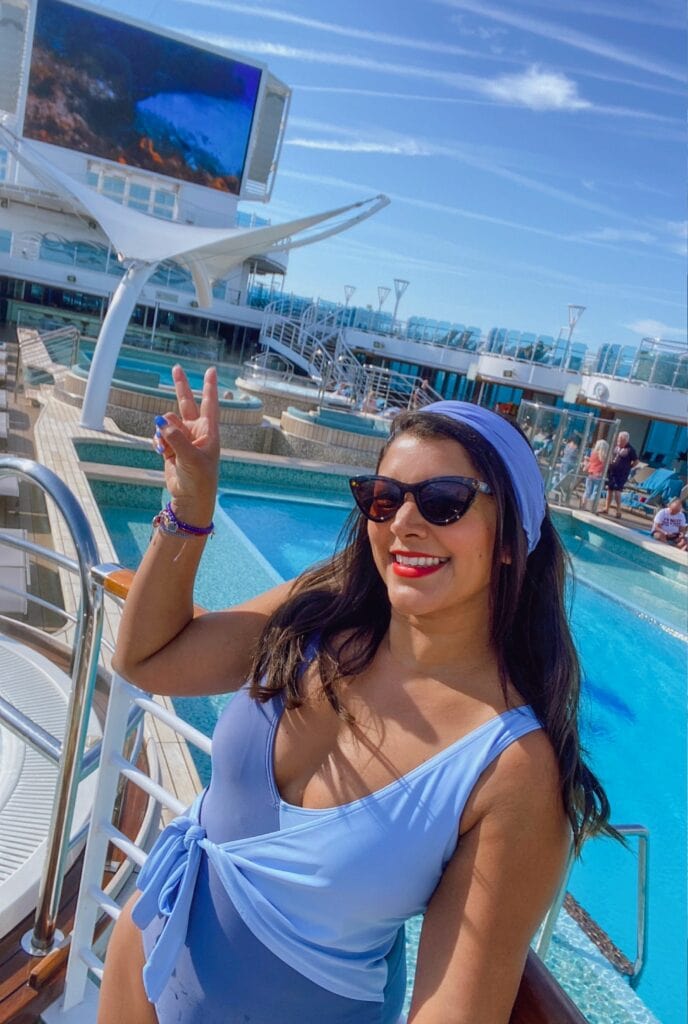 For movie buffs there's daily Outdoor film screenings (pictured above). How about a cookery class or wellness lecture teaching you about better posture or relieving stress.
Perhaps my favourite past time is to indulge in the spa. More on that below.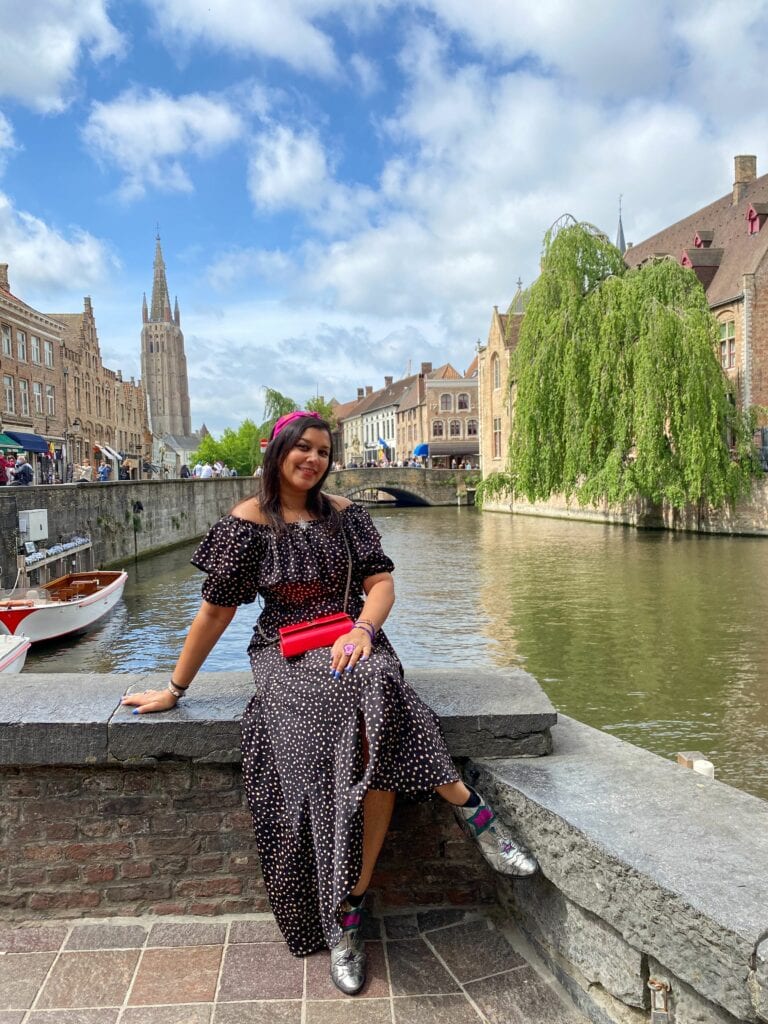 European Mini Cruise Itinerary – Onboard The Enchanted Princess
The 5 day Mini Cruise Itinerary – The Destinations
Day 1 – Bruges
On day 1 we stopped off at the beautiful, historical city of Bruges in Belgium. We took a walking tour from Princess Cruises which was a 1/2 day tour of the city and a visit to the famous chocolate factory.
Our guide took us on a walk encompassing all of the major sites in the city, the historical landmarks, canals, chocolate tasting at the factory, ending with an hour of free time to wander around and take in the beautiful city.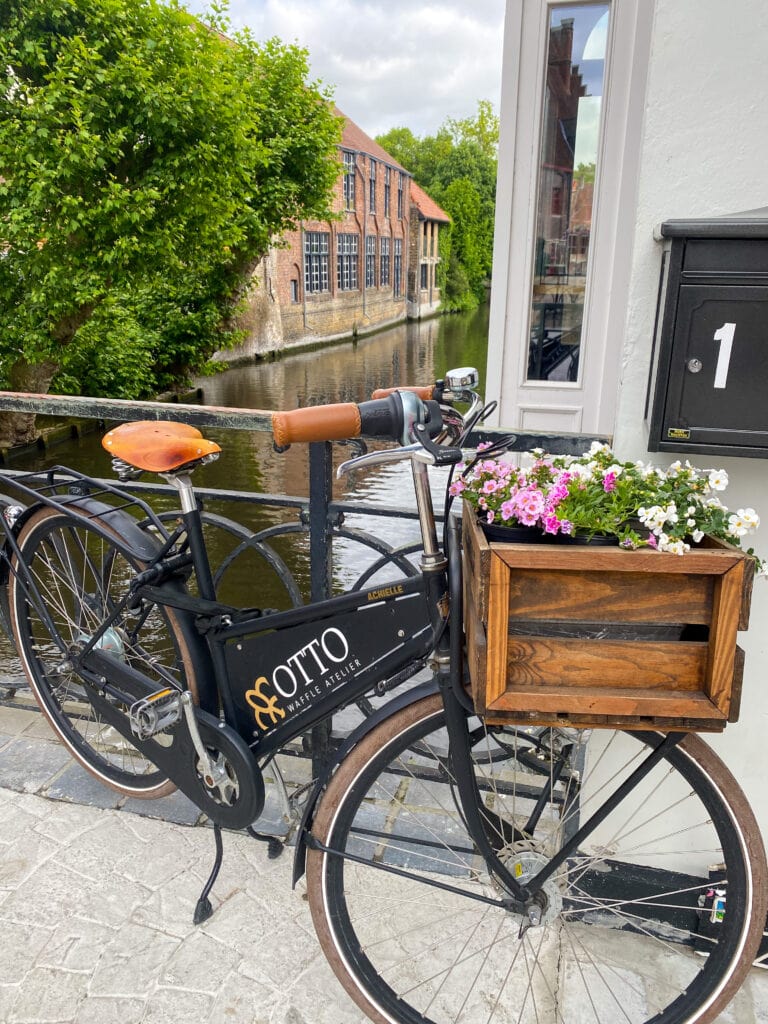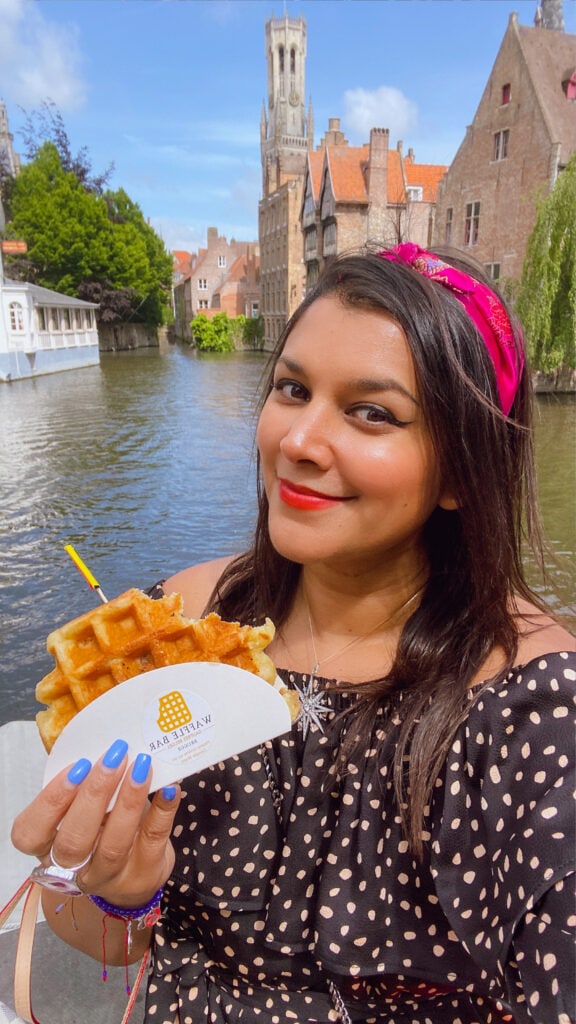 Day 2 – Rotterdam
On day 2 we woke up in the Netherlands on the port of Rotterdam. I've been to The Netherlands, Amsterdam and Rotterdam a few times before so I decided to take a cultural trip to Hollands oldest city (and one time capital) The Delft.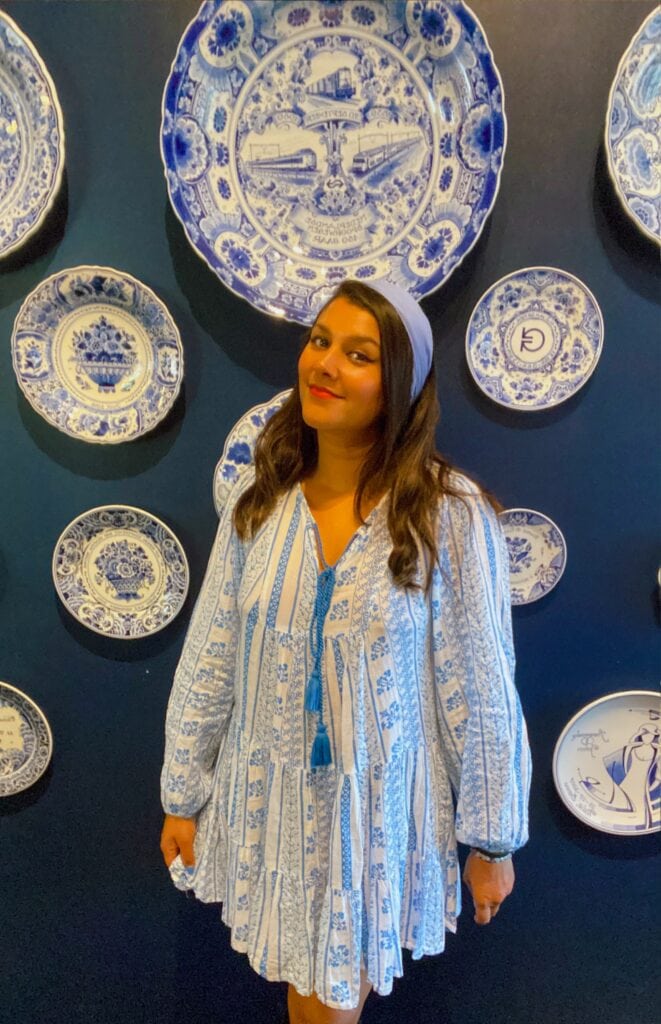 As you know I'm really into history, art and crafts so I couldn't resist a visit to the Delft Pottery Factory, to see how the famous blue and white ceramics are made.
The half day tour drove us around Rotterdam, The Hague (the political home of the Netherlands), we visited the pottery factory and then had a very interested and illuminating tour of Delft old town.
We visited the home of the famous Dutch master, artist, Vermeer. So I couldn't resist having a little 'Girl With the Pearl Earring' moment below!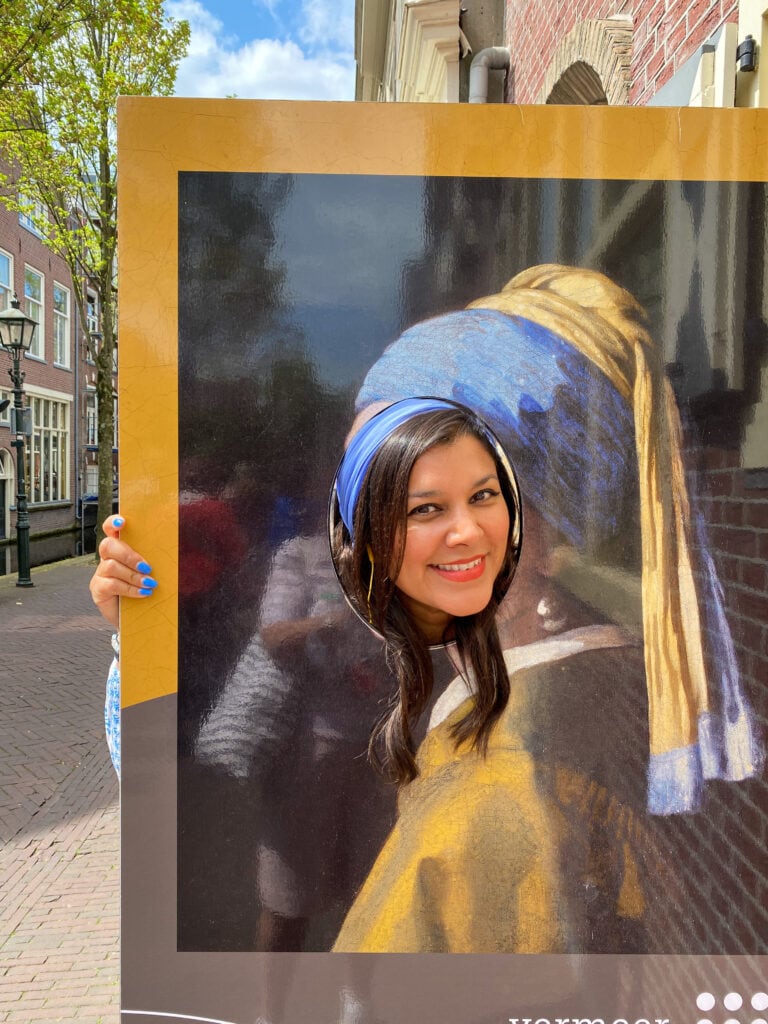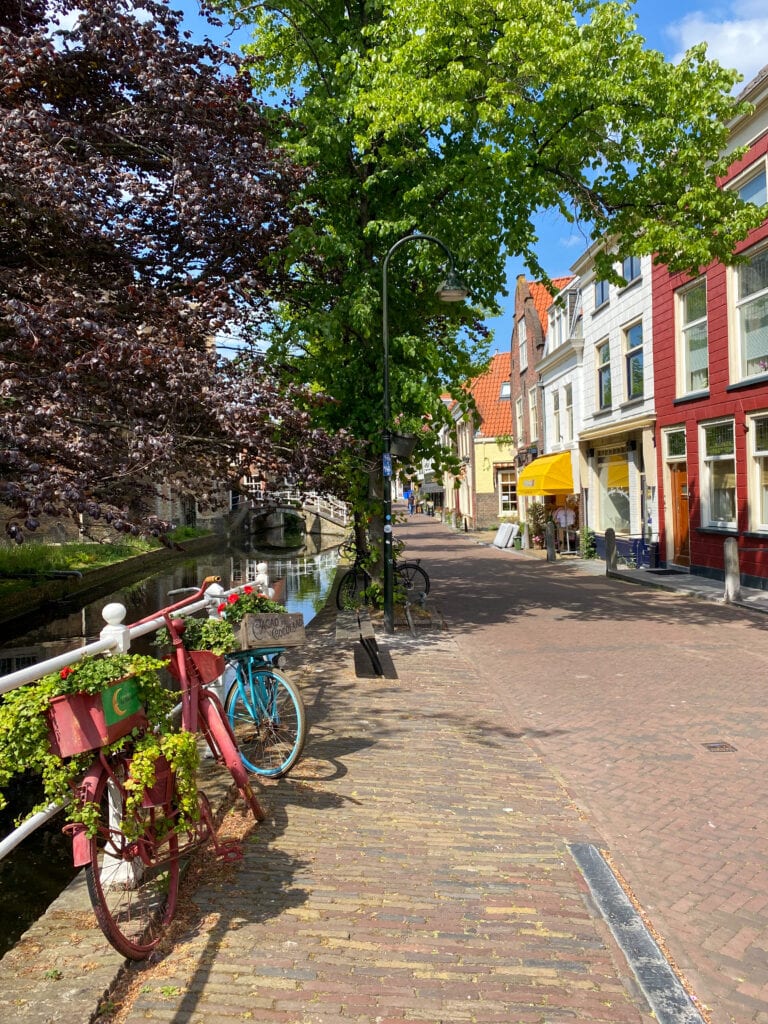 Day 3 – Sea Day
Day 3 is a day at sea, so we had the whole day to relax and try out all of the on board activities. I of course opted for a pamper day with a massage at the spa followed by a movie on the big screen.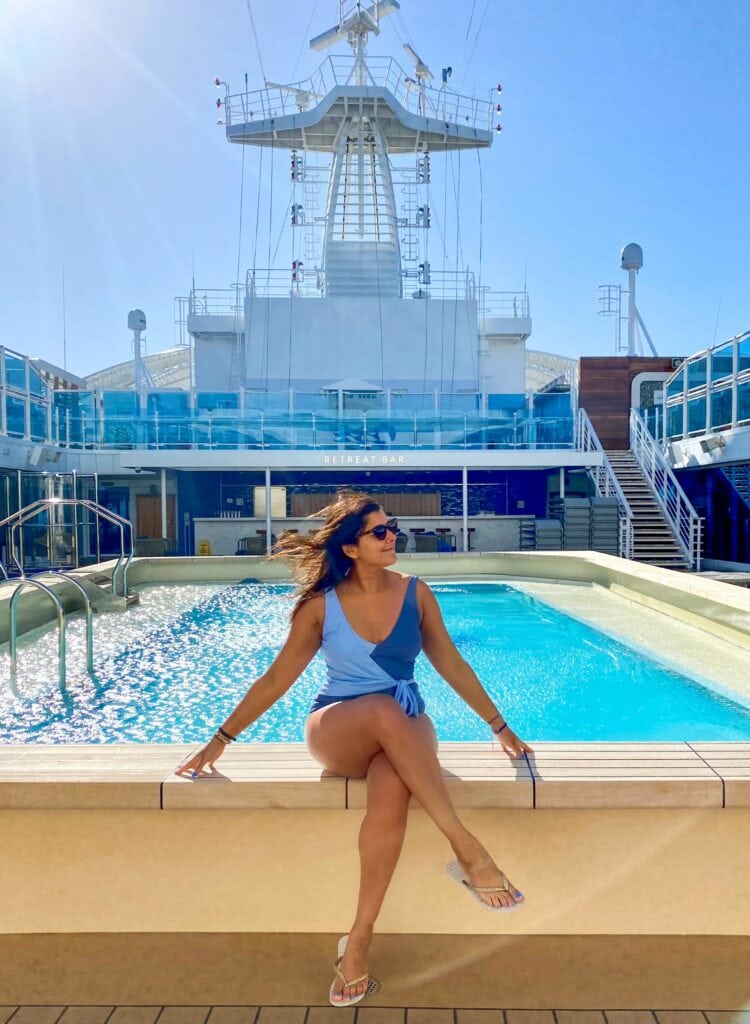 I went to the beautiful Enclave area with rain showers, hot tubs sauna and steam room. There's a plethora of amazing treatments you can pick, ranging from facials, massages, wraps, manis and pedis to the Himalayan salt stone massage, which I can personally highly recommend.
It felt so magical I literally felt like I was floating afterwards.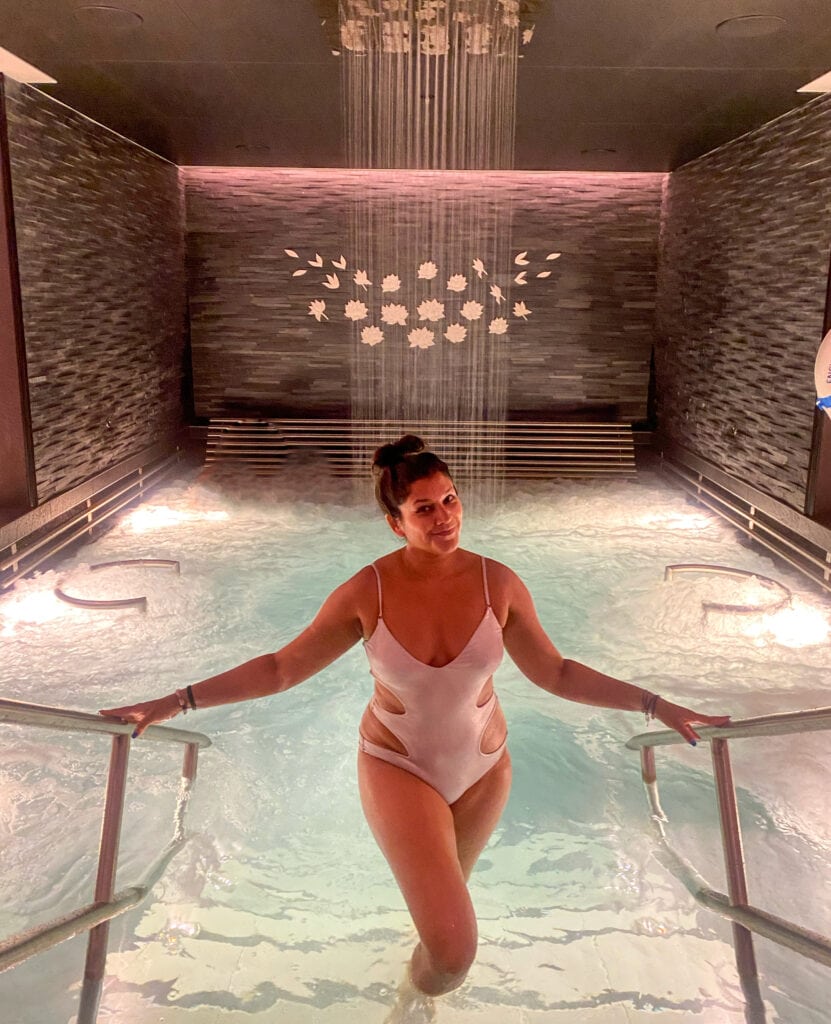 Day 4 – Guernsey, Channel Islands
On the final day we visited the quaint Channel Island of Guernsey. I have to say I have never been to Guernsey before and didn't really know what to expect and I was so pleasantly surprised!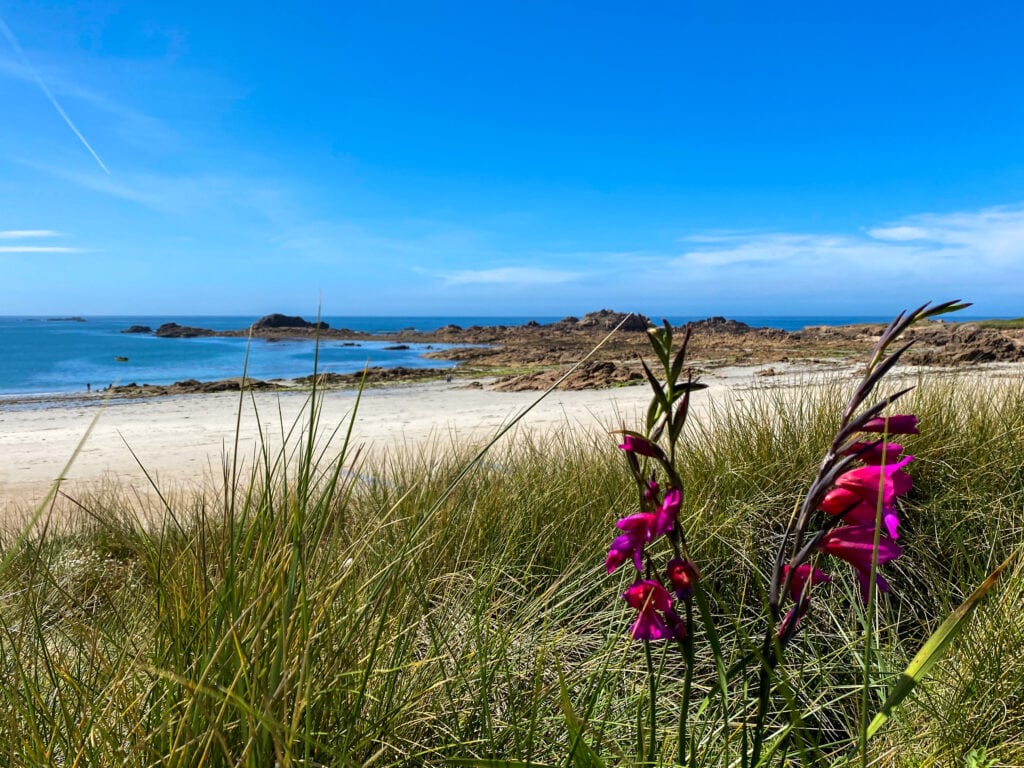 We'd been told about a spectacular beach called Cobo Beach at the other side of the island to the port. So we paid around £9 in a taxi and went straight there.
It was a beautiful day walking along the coast line and we even went for a cold water sea swim. Finished off with a lunch in a cute local pub and back to the ship for the evening.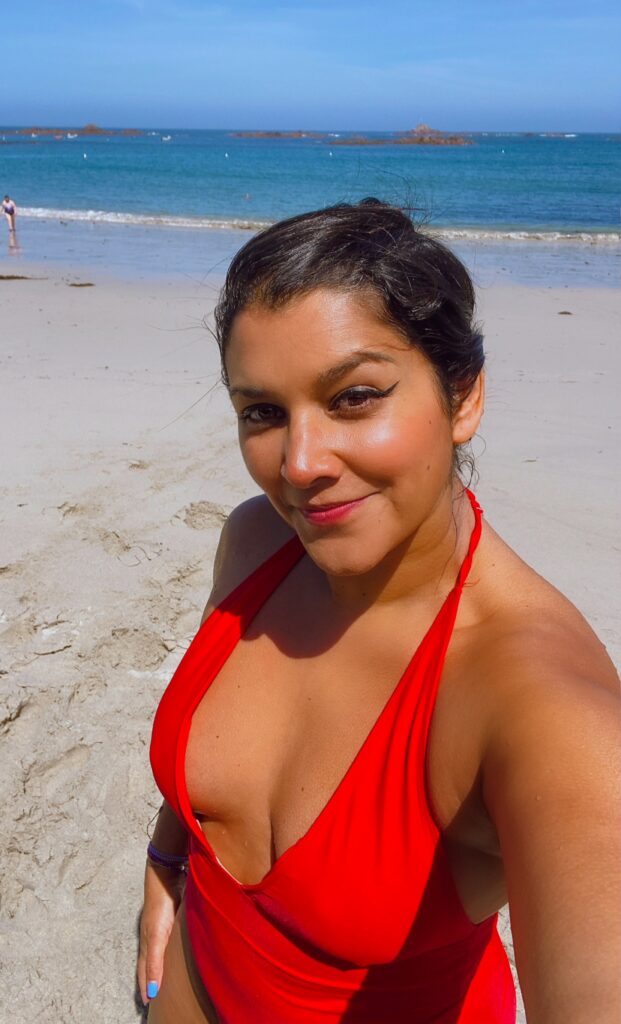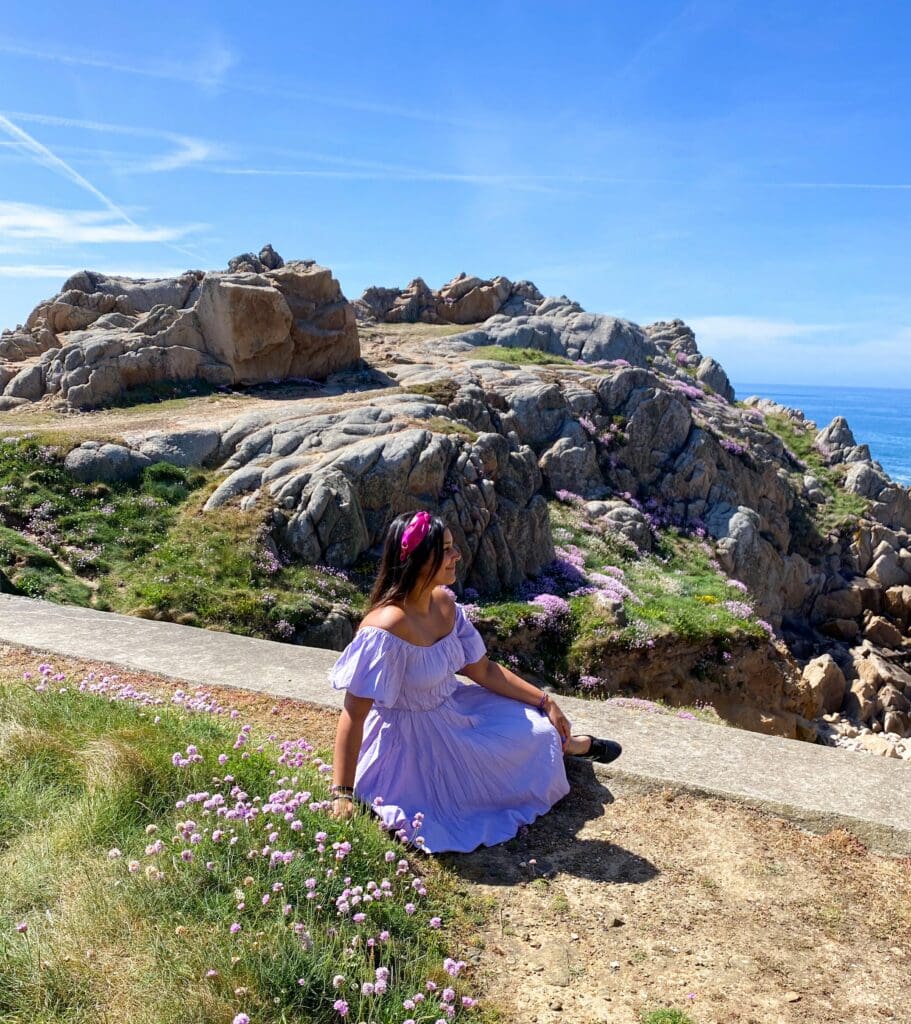 After dark
After dark and after dinner there are so many different activities going on all over the ship. Guests are given an itinerary the night before so you can pick what you want to do the next day.
Two of the nights on board we went to the theatre, which I absolutely loved! The shows are a resplendent mix of fabulous costumes, amazing audio visuals, singing, dancing and creativity. The performers were incredible and the 45 minute to an hour shows every night where mesmerising.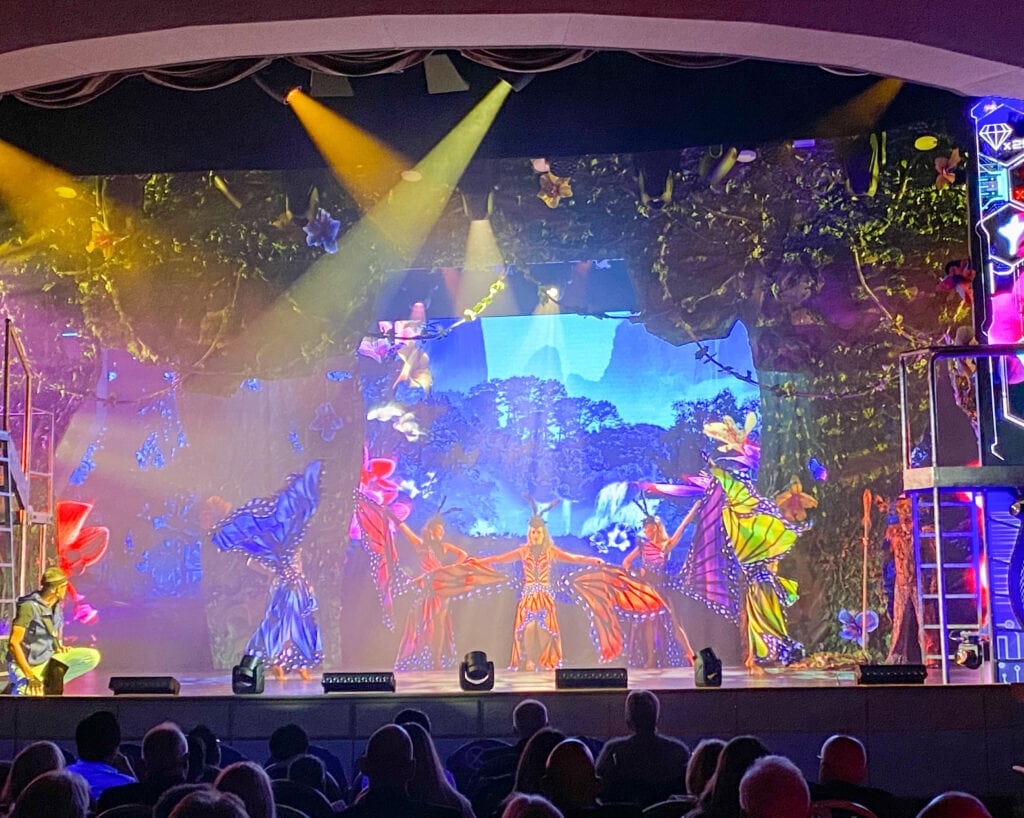 Thank you so much to Princess Cruises and The Enchanting Princess for such a fun and magical experience. For more information on Princess cruises and also the routes and prices for The Enchanted Princess please click here.
The Enchanted Princess will be sailing various routes throughout Europe and from Southampton for summer 2022. Including sailing the Mediterranean from Barcelona, Athens and Rome next year.
I hope that you enjoyed my European Mini Cruise Itinerary – Onboard The Enchanted Princess. Prices start from £509 for a balcony room and vary between length of stay, room type and itinerary. Click here for more info and prices for the Enchanted Princess.
For more of Bonnie's travels click here.
Follow Bonnie on Instagram at @BonnieRakhit.
Bon voyage xx