Santorini Travel Guide & Best Instagram Locations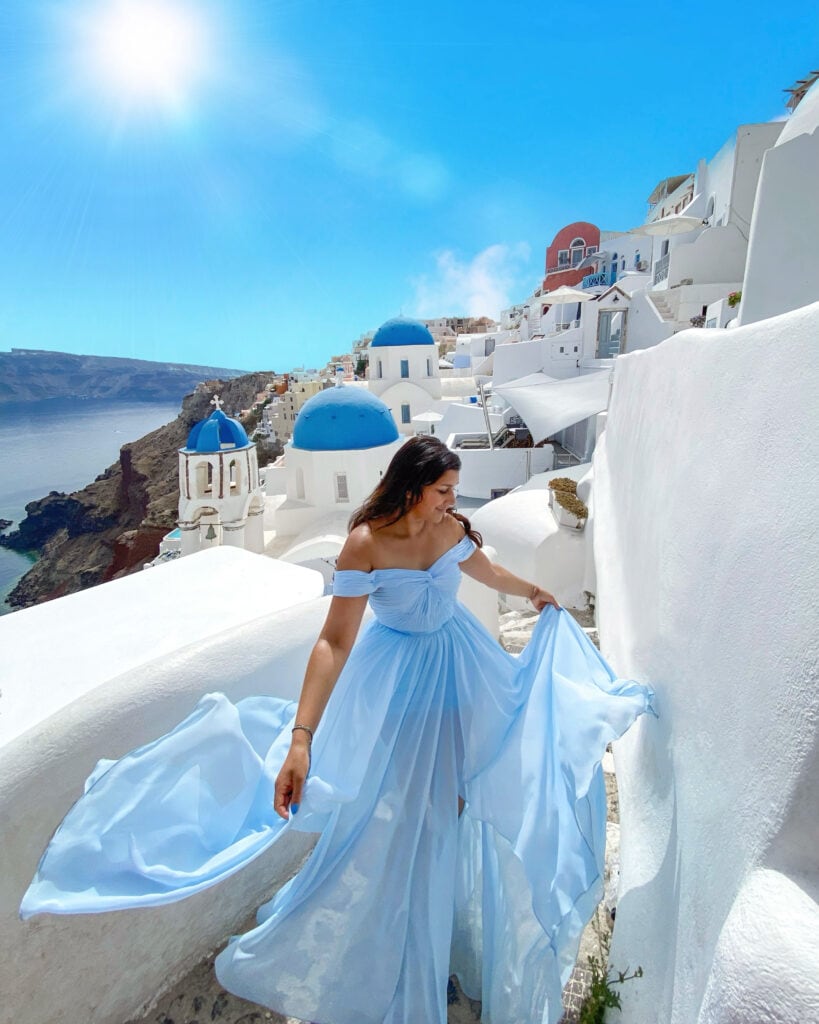 Where? Santorini, a spectacular Greek island famous for its blue and white architecture and church domes. You can fly direct from most countries or transfer in Athens.
Where to stay? The best way to really get a feel for what makes Santorini so special is to stay in one of the iconic, whitewashed cliff side hotels. Santorini is famous for its stunning cave hotels which cascade down the side of the hills facing out to sea. The architecture of this area is unique to Santorini and is a classic Cycladic style.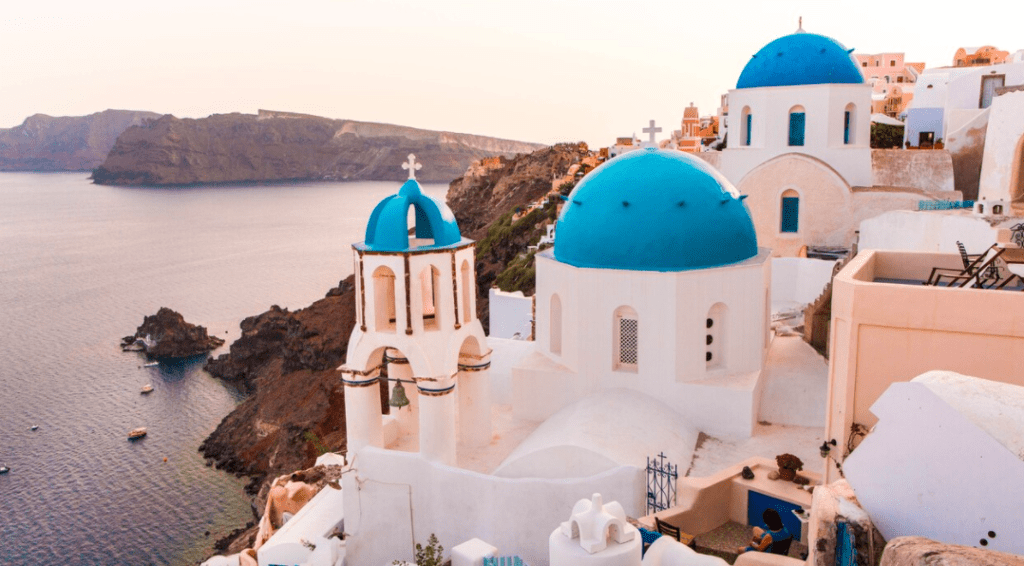 The hotels and building stretch down the hill from the top, where the roads are, right down to sea level. So what better way to immerse yourself in this magical island than to stay right there amongst the beautiful meandering streets.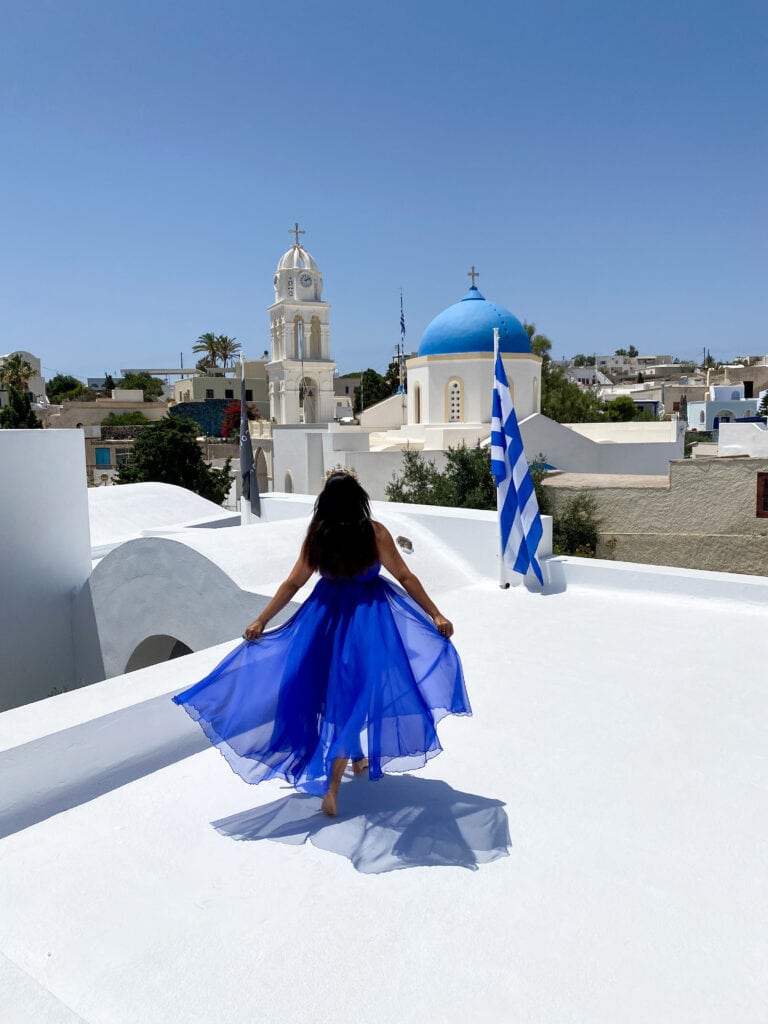 One word of warning though, staying cliffside involves climbing up and down hundreds of (often quite steep) steps every time you leave your hotel, so I would not recommend this for people with walking disabilities. Staying up at the top or inland would be preferable.
Also ladies, leave your heels at home, there's not really anywhere on the island to wear them, or if you must, then take a spare pair of flats in your bag! You'll thank me for this tip I promise.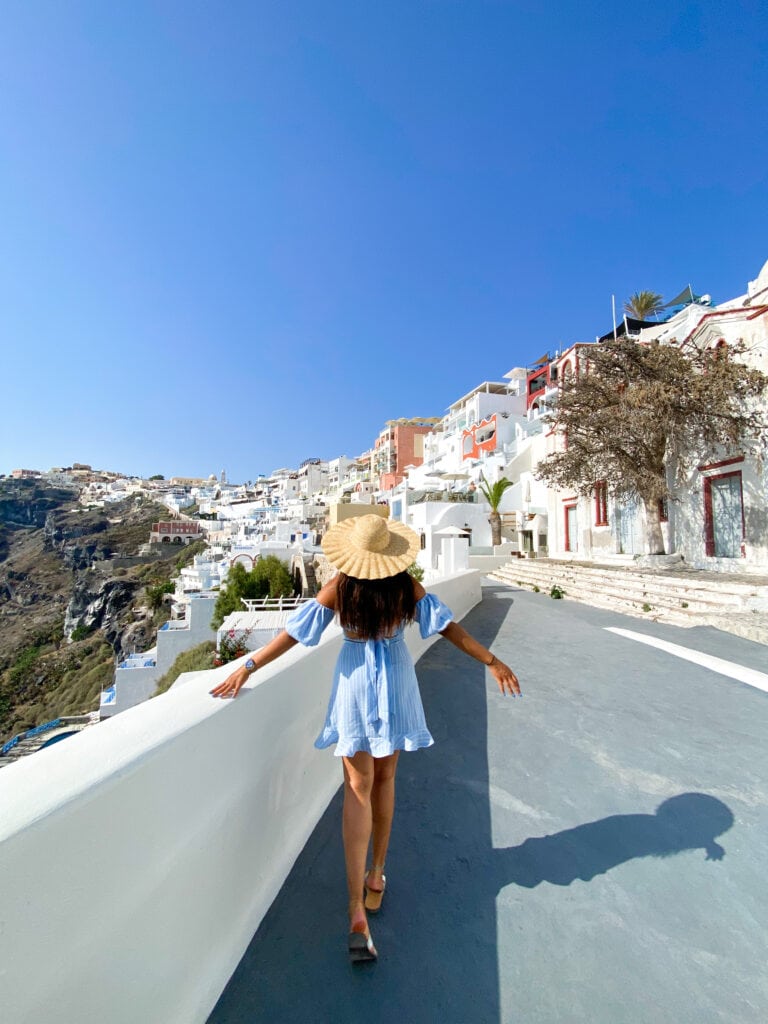 There are 3 areas in santorini which are famous for this type of hillside architecture and they are Oia, Imerovigli and Fira. If you are an instagrammer and looking to get those iconic Insta shots, or you just love aesthetically beautiful places, I would suggest staying in Oia. This way all of the chic bars, shops, cafes and insta hotspots are literally on your doorstep.
If you're here to party, want night clubs and a more touristy area filled with bars and souvenir shops, at a slightly more affordable price, Fira is a good place to stay.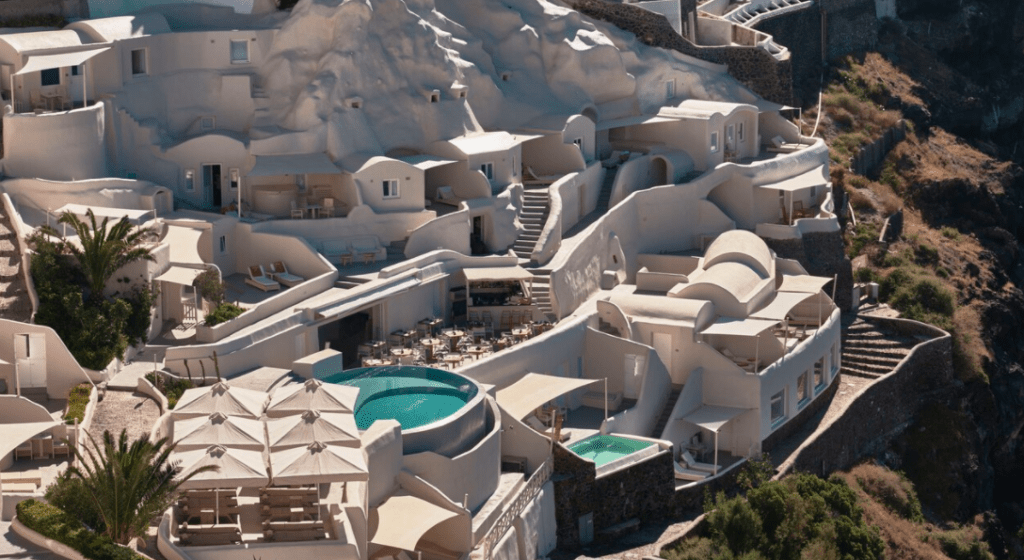 And if you're on a romantic getaway, want peace, quiet and exclusivity, Imerovigli is the ideal spot. It's also quite expensive and exclusive here like in Oia.
All of these resorts are easy taxi journeys away from each other. Nothing takes more than half an hour by car. The taxi from Fira to Oia is around 30€ each way and Imerovigli is in between the two destinations. Public transport is available but rather unpredictable.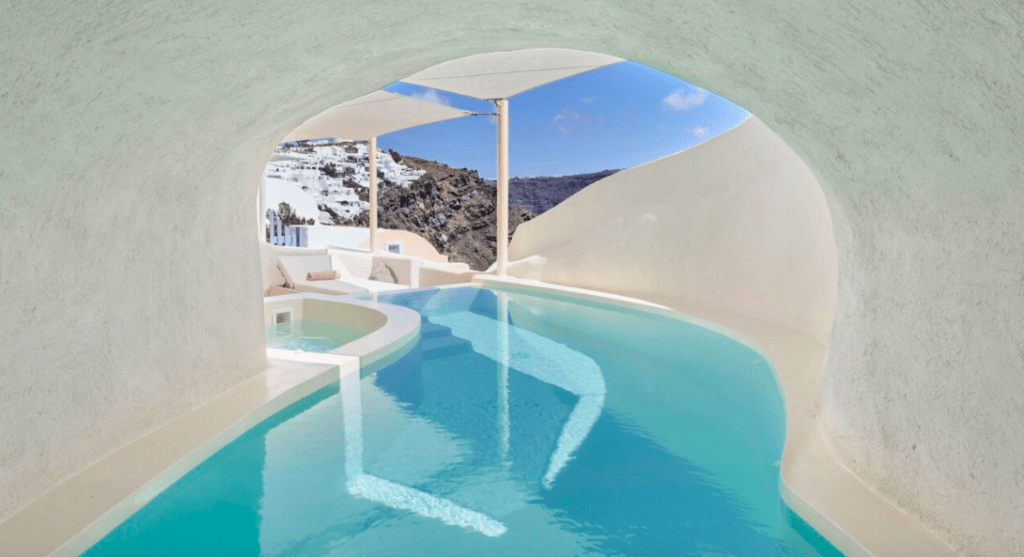 If you want to stay in a classic cliffside hotel, my favourite hotels in each of these areas are:
Imerovigli: The Grace, Katikies, San Antonio Suites, Cavo Tagoo for boujis party vibes.
Oia: Mystique, Canaves, Perivolas, Andronis Arcadia
These are some of the best of the luxury hotels on the island.
There are hundreds of other cliffside hotels in all the resorts so you'll easily be able to find one that fits your budget. There are lots on hotels.com and also some beautiful air b'n'b houses too.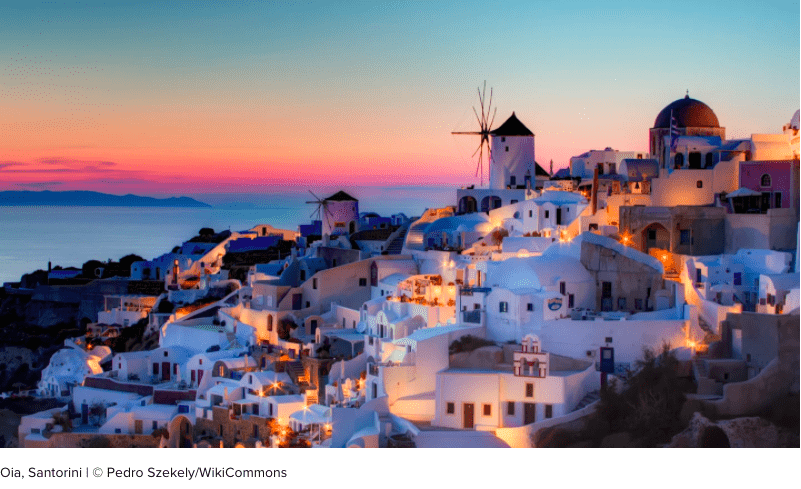 Best Instagram Locations in Santorini
Location 1 – Oia
If you have limited time in Santorini and want to get a real feel for the island then head straight to Oia (pronounced Ear!)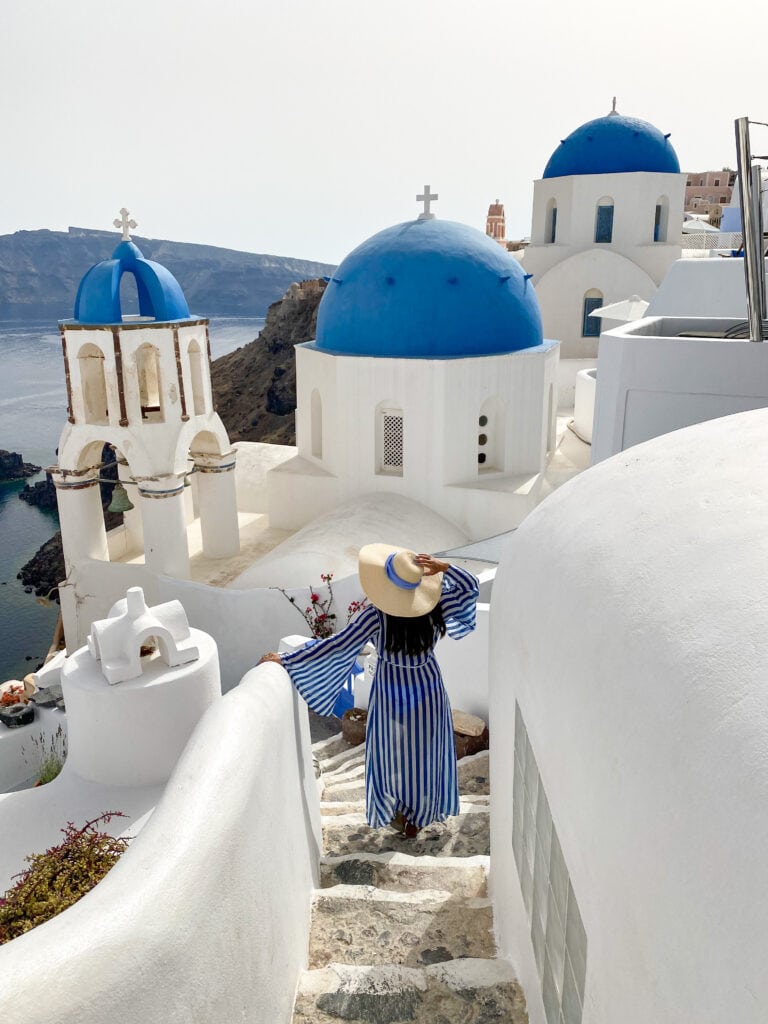 Blue Domes of Oia
The most iconic spot on the island where you can see the three famous blue church domes in one place is in Oia. Head to the central church on the main road in Oia known as Church of the Akathist Hymm of the Virgin Mary.
Look over the side of the cliff out to sea and you'll spot the famous 3 blue domes. Approach it from the left and you get the view above. Approach from the Amoudi Bay side of town and you get the extra pink bell tower for your shot. It's a truly stunning and iconic site in Santorini.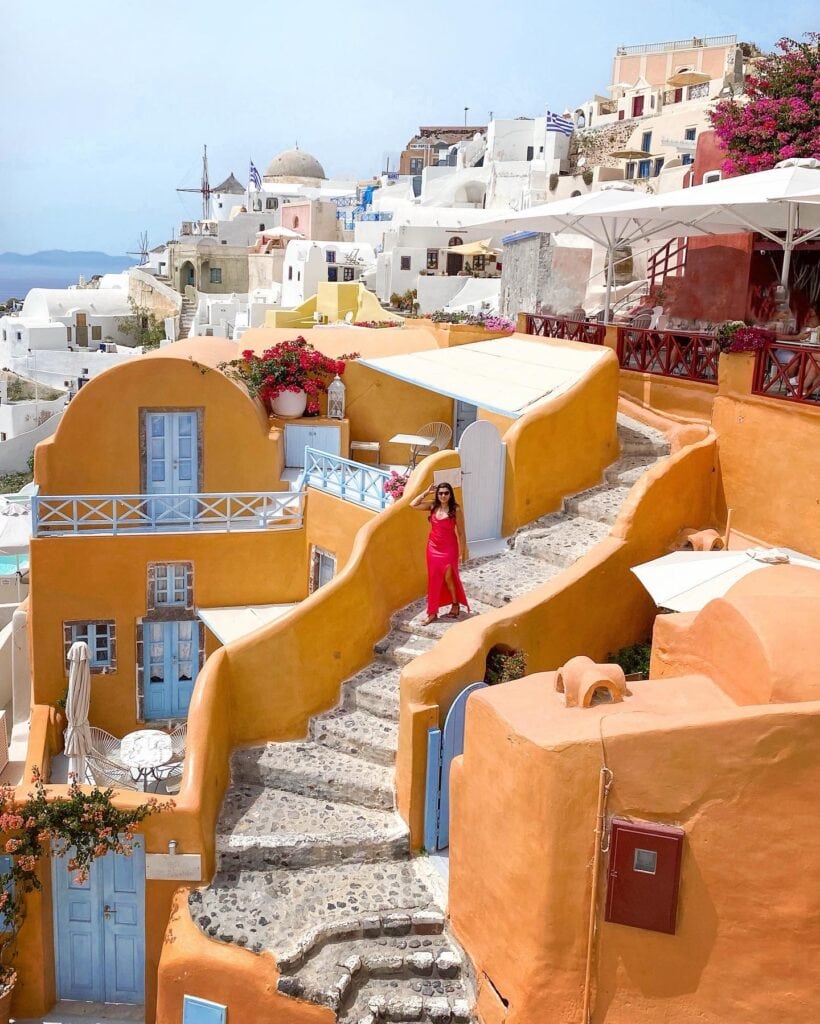 Orange House in Amoudi Bay
This is an absolute Instagram favourite. head to Kasteli of Oia on google maps. It's on route to Amoudi Bay if approaching from the blue domes (around 10 min walk).
If you reach the steps going down to Amoudi you've gone too far. You can get lost on the beautiful meandering side streets filled with chic boutiques and cafes, then stumble across it all of a sudden.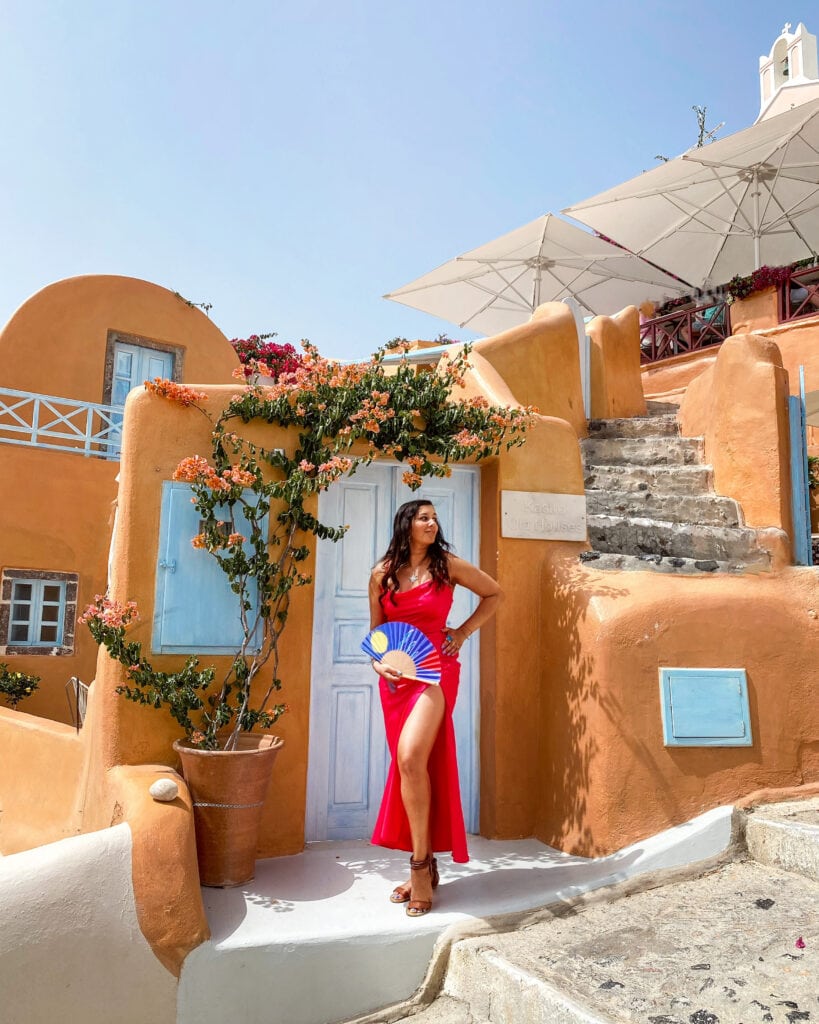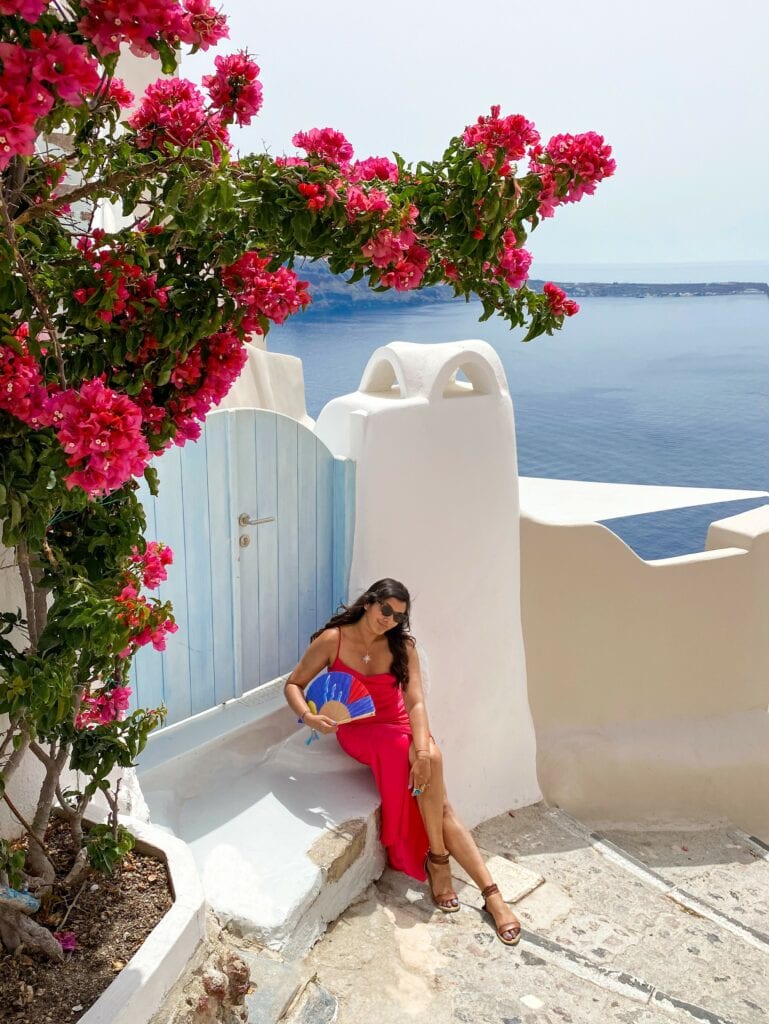 Amoudi Bay
Amoudi Bay is a quintessentially Greek, tiny fishing bay with crystal clear water and cute yellow and orange buildings. It's very quaint and rustic.
Head here just before sunset and pick one of the gorgeous tavernas to have dinner at, my favourite is The Sunset Taverna. Enjoy the best, fresh seafood the island has to offer, whilst dipping your toes in the sea! It's the perfect place to end a wonderful day in Oia.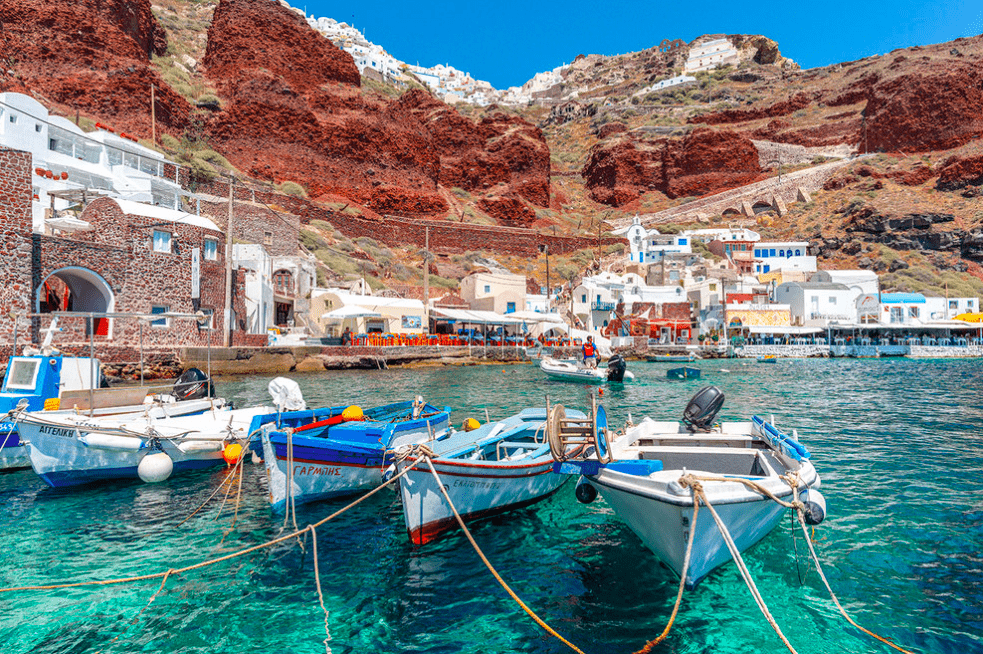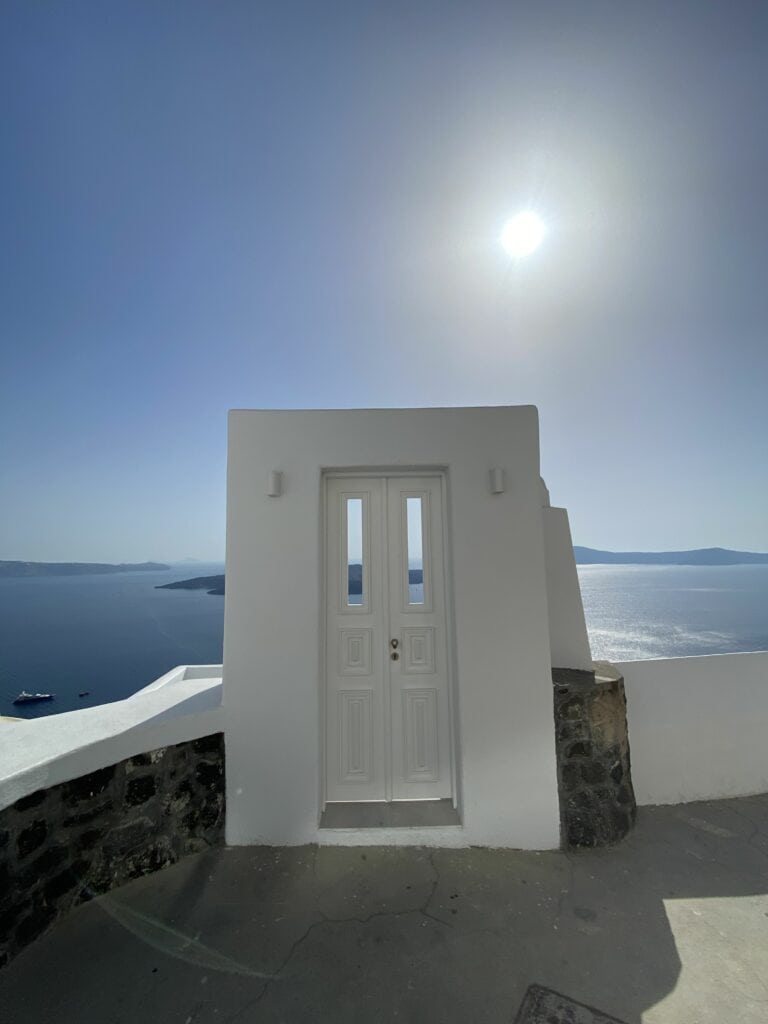 Fira / Thira – The Capital
The capital of Santorini also known as Thira. It's much busier and more touristy here than in Oia, but it's also very pretty and filled with picturesque instagrammable locations and more affordable restaurants and cafes.
Wander around the beautiful white washed streets and meandering passage ways. There are stunning white dome churches, minimal sleek white line architecture, beautiful doorways which seem to lead straight out to the ocean and the view of the city is totally unique.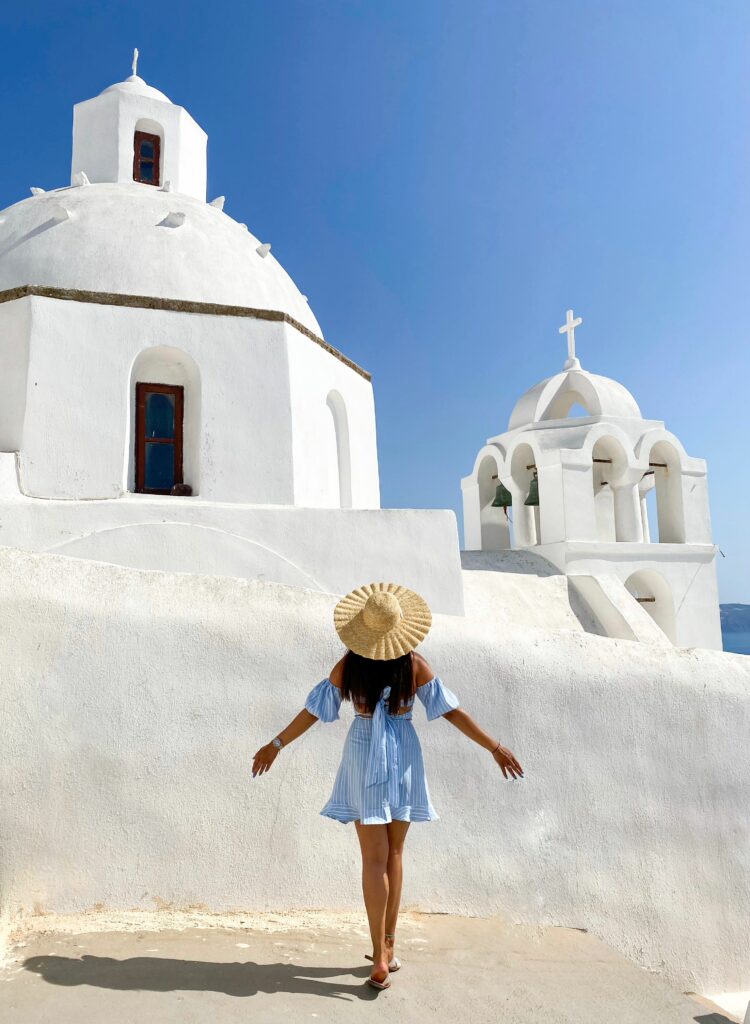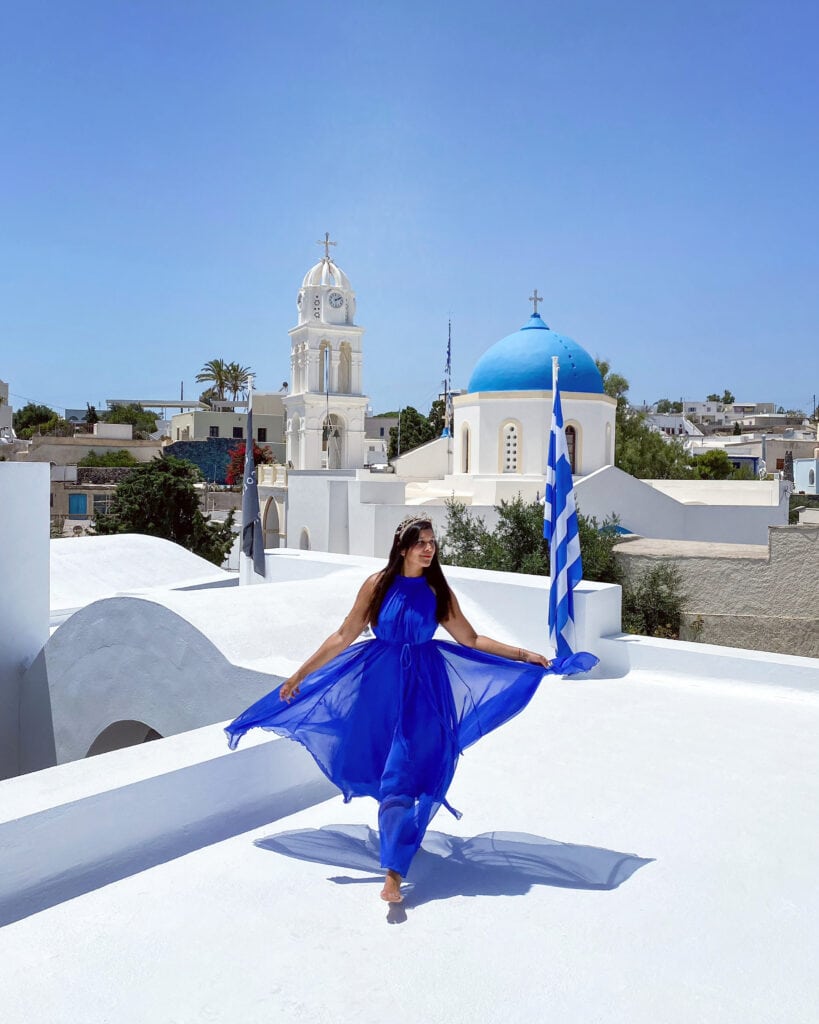 Off the beaten track
Megalachori village – we stayed at the Vedema Hotel which is one of the most photogenic hotels in Santorini. The terrace at the hotel looks directly over classic blue domes pictured above.
If you don't want to stay out in the countryside I would suggest visiting Megalachori for at least the afternoon. It's in the countryside and wine territory on the island and is a picturesque Greek village. The quaint streets and classic Cycladic architecture are perfect for wandering around and taking in the sites.
There's a beautiful bell tower surrounded by bougainvillea and the vineyards are stunning. Perhaps stop off for a mid afternoon wine tasting.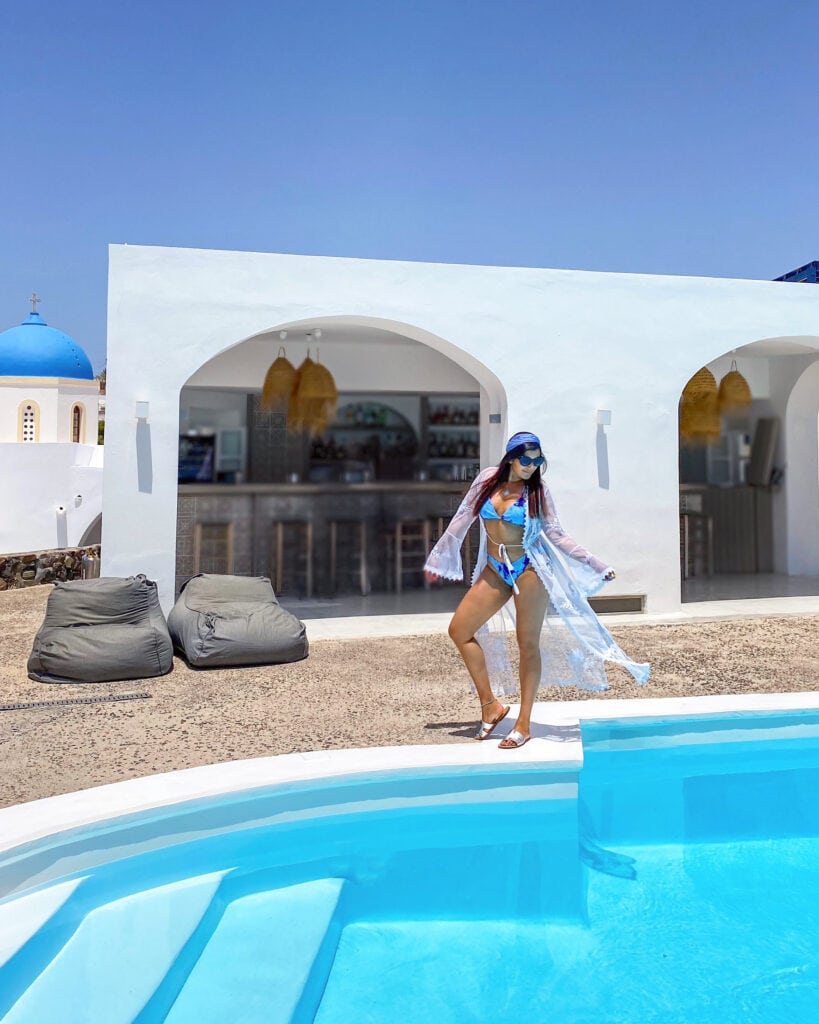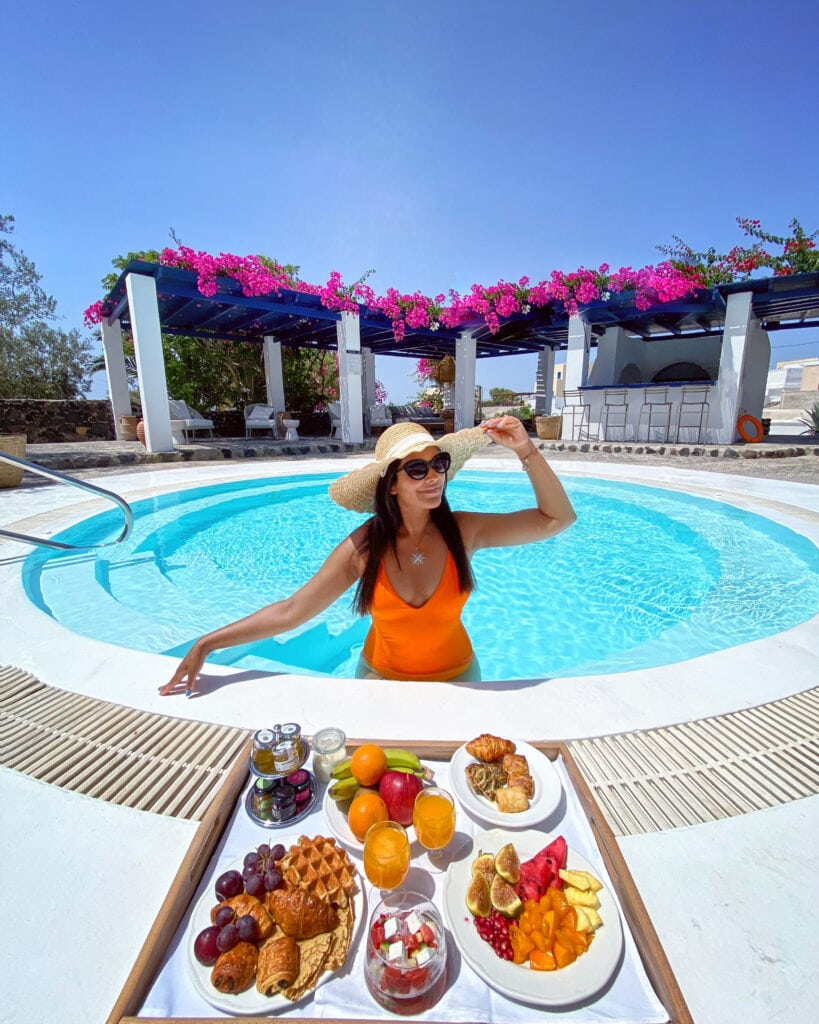 Perivolas and Perissa
If you have more time to explore the island there are beautiful black beaches volcanic sand beaches in south in Perivolas and Perisa. Watch the sea wash up on the black sands and enjoy a glass of Santorini wine. (below)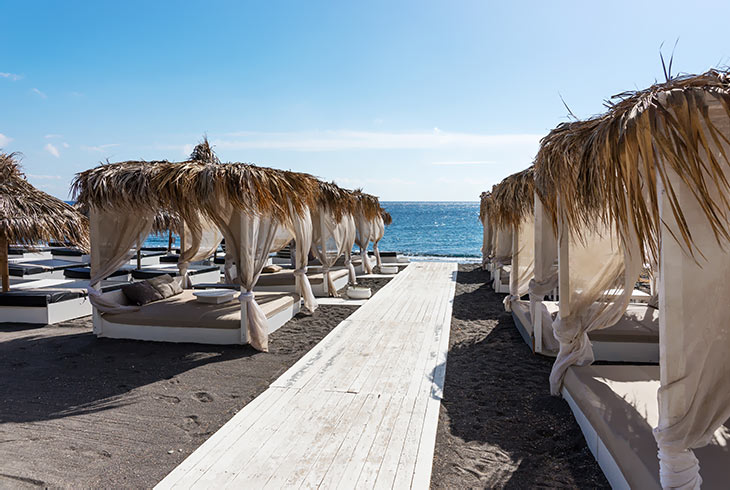 I hope you enjoyed the blog. If you found it useful please leave a comment below. Or click to see more of my travels from Greece.
To follow more of my travels follow me on Instagram @bonnierakhit and check out my You Tube vlog all about my Santorini trip!
Bon Voyage xx