Sri Lanka Sight Seeing
Sri Lanka
Sight Seeing
Sightseeing – what to see and do in Sri Lanka
The route? There are several options of tours you can take. To get a real taste of this incredible country the minimum I would recommend you stay is about 10 days, to make sure you've ticked off all the key places of interest. The easiest way to get around if you're not on an organised trip is to hire a personal car and driver. Sounds extravagant I know, but it actually works out cheaper and less stressful. To hire your own car with a driver come tour guide for a week cost about £350 or $500, which when shared between passengers isn't so bad when you see how much ground there is to cover.
There are established routes around the country, which save travelling time and money. We took one of these and started our trip by flying into Columbo. There isn't that much to do in Columbo so after a nights rest, we head north east to Pinnewela baby elephant orphanage.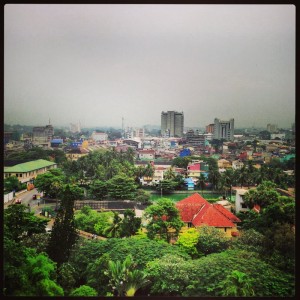 Start your journey in capital city Colombo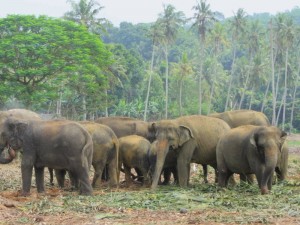 Orphan elephants find sanctuary at Pinnawela
Pinnawela Elephant Orphanage
A good time to arrive is at feeding time at 1pm (there is a short feeding at 9am too), afterwards stop off for some lunch and you can catch bathing time for the elephants at around 3pm. Many of the local restaurants face the river so you'll get a great view of the naughty elephants playing in the water.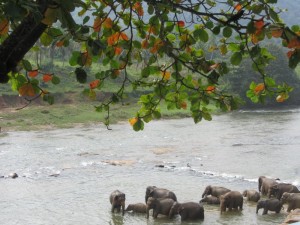 Bath time in the river
Dambulla
The next stop on the Sri Lanka trail is Dambulla (about 2 hours from Pinnawela), which is a great base for visiting several of the surrounding tourist spots, I would recommend at least 2 nights here. The most interesting places to visit here include: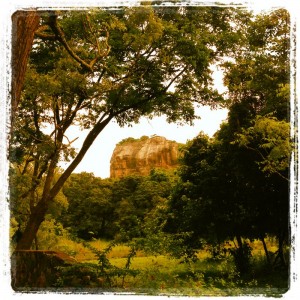 Sigiriya Rock
A visit to this 5th century fortress and palace atop a 1200 foot high rock hill, involves quite a trek, via almost vertical steps. The awe inspiring views from the top are absolutely incredible and make the journey well worth it. It takes about 2 hours to climb and same to come back down. Also worth seeing are the ancient cave drawings in the mirror hall, perfectly preserved over centuries.
A world heritage site in Dambulla, featuring atmospheric temples and beautifully preserved, centuries old buddha statues within ancient caves.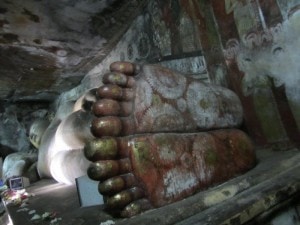 Huge reclining buddah in the Golden Cave Temple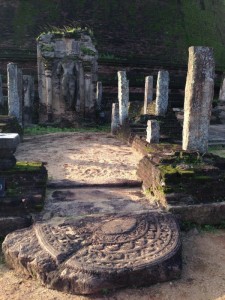 Wandering amidst the ancient ruins of the once illustrious capital of Sri Lanka, Polonnaruwa boasts the remains of palaces, temples and homes of every day people from the 12th century. If its a choice between here and
Anuradhapura
 kingdom because of time constraints, I would recommend Polonnaruwa, purely because there is more to see here and it has been preserved very well.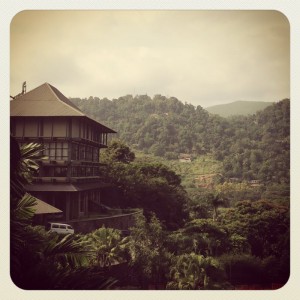 View from my room at the Earl's Regency in Kandy
The hill capital of Sri Lanka, its another Unesco world heritage site. There's lots to do here so a couple of nights stay is advisable, plus you can relax and sun bath in the lush green, warm surroundings. Places of interest here include the
Tooth Temple
, Spice Gardens & Medicine Lands; to heal your every need; the ornate Hindu Temple,
The Royal Botanical Gardens
and several tea factories.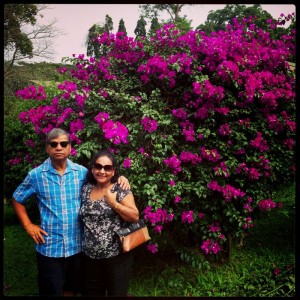 Ma and Pa Rakhit (aka mum and dad styletraveller :) under the bougainvillea at the Royal Botanical Gardens
Nuwara Eliya
Next stop on the route is the tea plantations and hill stations of Nuwara Eliya.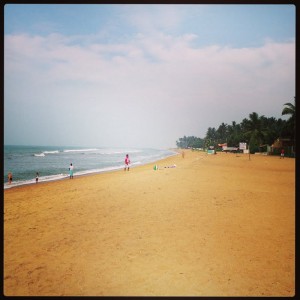 The Beach in Kalutara
Sri Lanka's best beach resorts are on the South west of the island, they vary between tourist havens like Bentota and quiet beaches like Kalutara. Galle, which was a former Portuguese seaport and fort used for trade, is today a bustling beach hub with a large ex-pat community. A beach stay is the perfect way to end a trip round the beautiful and still quite untouched country of Sri Lanka. I'd recommend you take this trip now before it becomes over commercialised.