Ten Fun Reasons To Go To Bermuda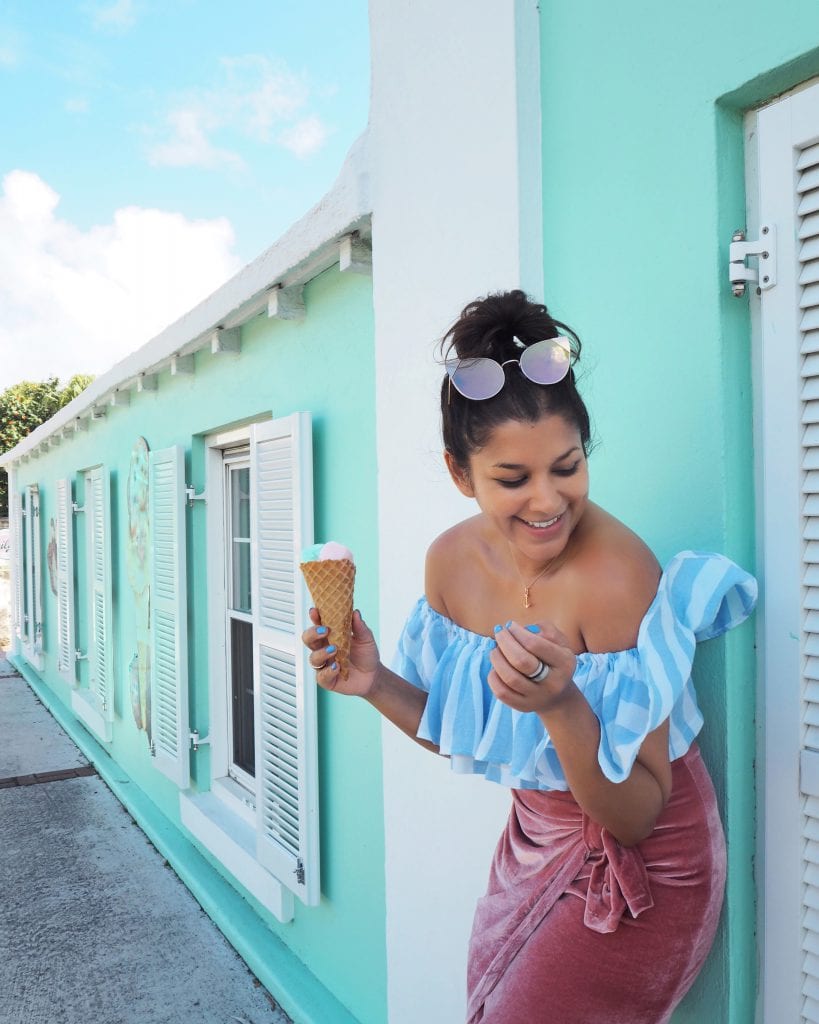 Ten Fun Reasons To Go To Bermuda
Where? Bermuda.
Exactly? 1000 miles north of the Caribbean, off the coast of North America just east of North Carolina, the tiny British colony of Bermuda lies in the middle of the Atlantic Ocean.
When to go? All year round. Bermuda has a lush sub tropical climate. Temperatures rarely drop below 12 degrees Centigrade in the winter months, making it an ideal all year round destination.
Why? I was incredibly  lucky to be invited on a press trip to Bermuda with the Bermuda Tourism Authority. It was five nights staying on the island and sampling some of the fun activities and adventures to be had.
Here's the style traveller style guide and ten fun reasons to visit Bermuda…
1) The Colourful Architecture
Whether you're visiting the capital Hamilton or St George, the old capital, Bermuda is one of the most colourful places I've visited. Every single building is painted in candy colours making the whole island a real feast for the eyes and an instagrammers dream!
Below: Bonnie wears orange and black floral dress by Silk Fred in the colourful centre of St George.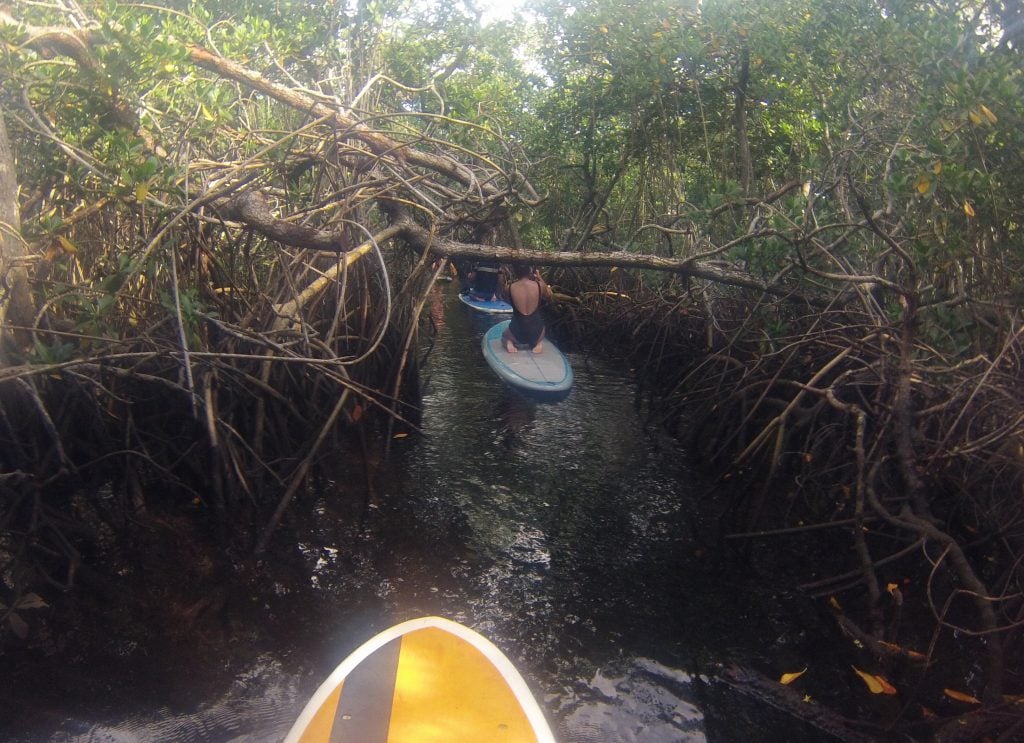 2) Mangrove paddle board adventures with Bermuda Adventures
I'm a huge fan of paddle boarding and have done it many times in various destinations, but never through the mangroves as we did on this trip. It felt like a real jungle adventure or assault course, paddling through the branches of the tree filled waters. I felt like Dora the Explorer!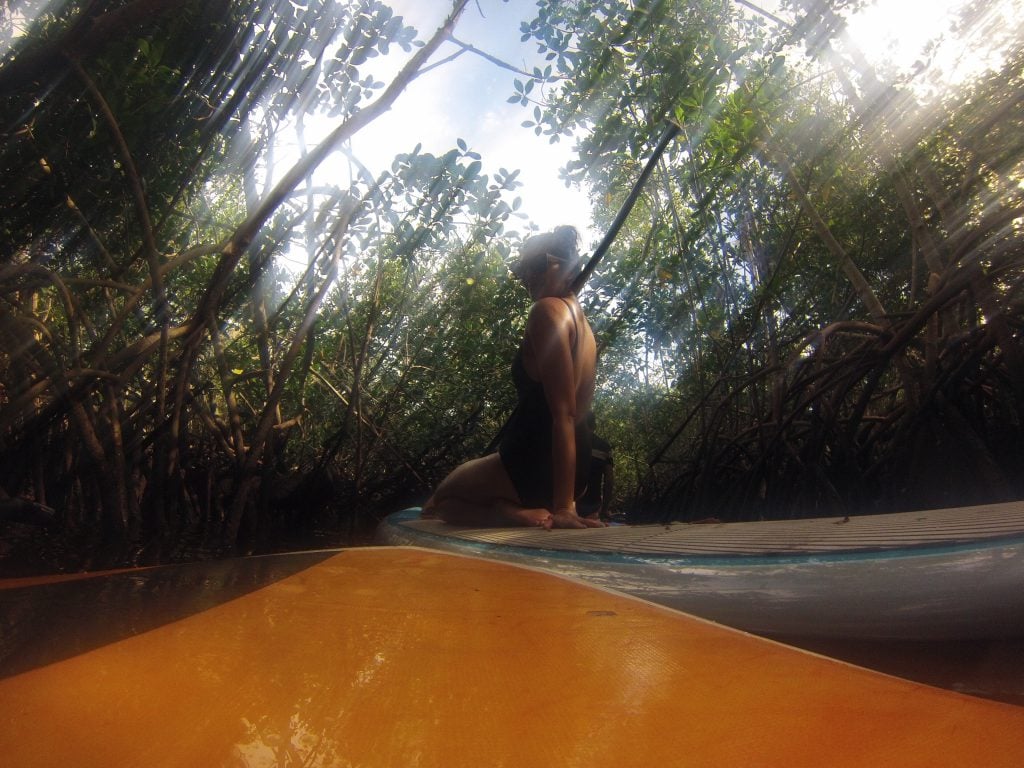 3) Cave Massage at Prospero's Cave: Natura Spa at Grotto Bay Hotel
I'm always obsessed with treatments and massages, but the spa at Grotto Bay has something way more special to offer. Hidden deep within the stunning Bermudian Crystal Caves, the Grotto Bay Hotel has built its spa and treatment pagodas inside the warm and magical cavernous environment.
Enjoy a relaxing signature massage surrounded by stalactites and stalagmites and the crystal clear warm waters of Prospero's Cave. You can even go for a dip afterwards, which I highly recommend.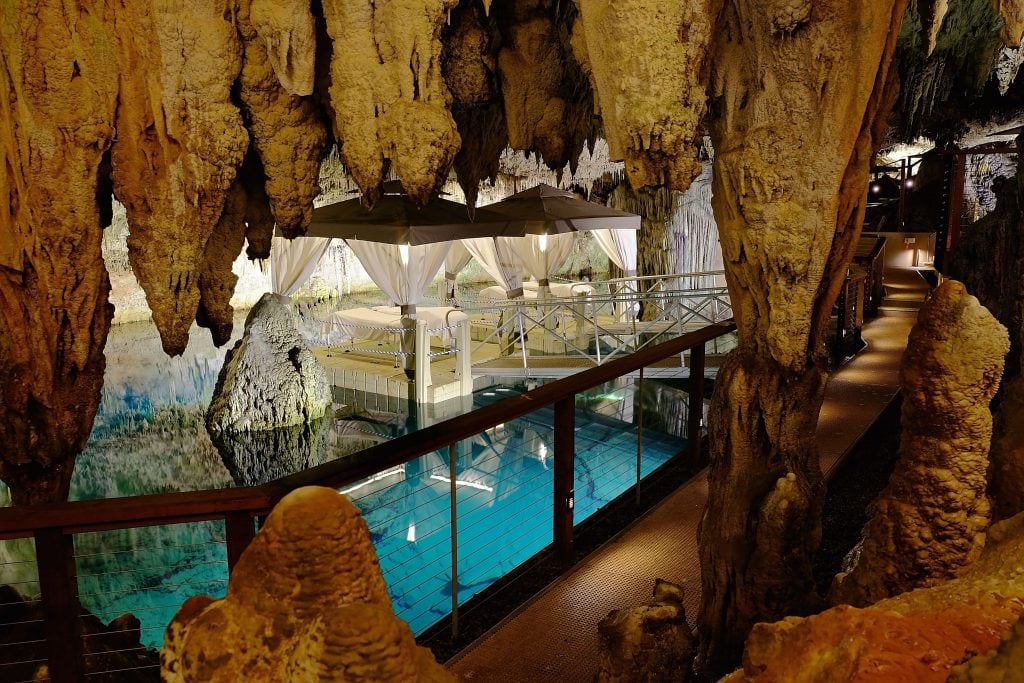 Walkways lead down to the massage pagodas overlooking the turquoise warm waters.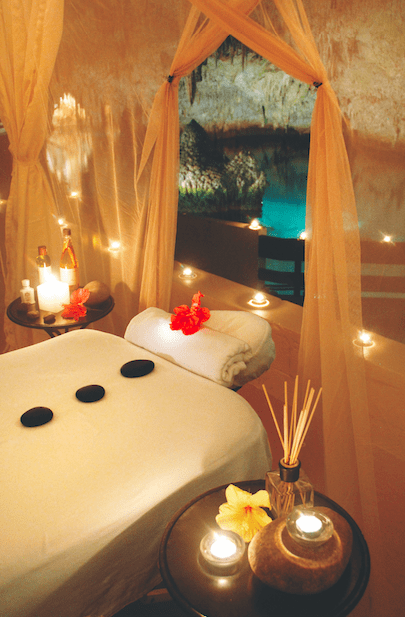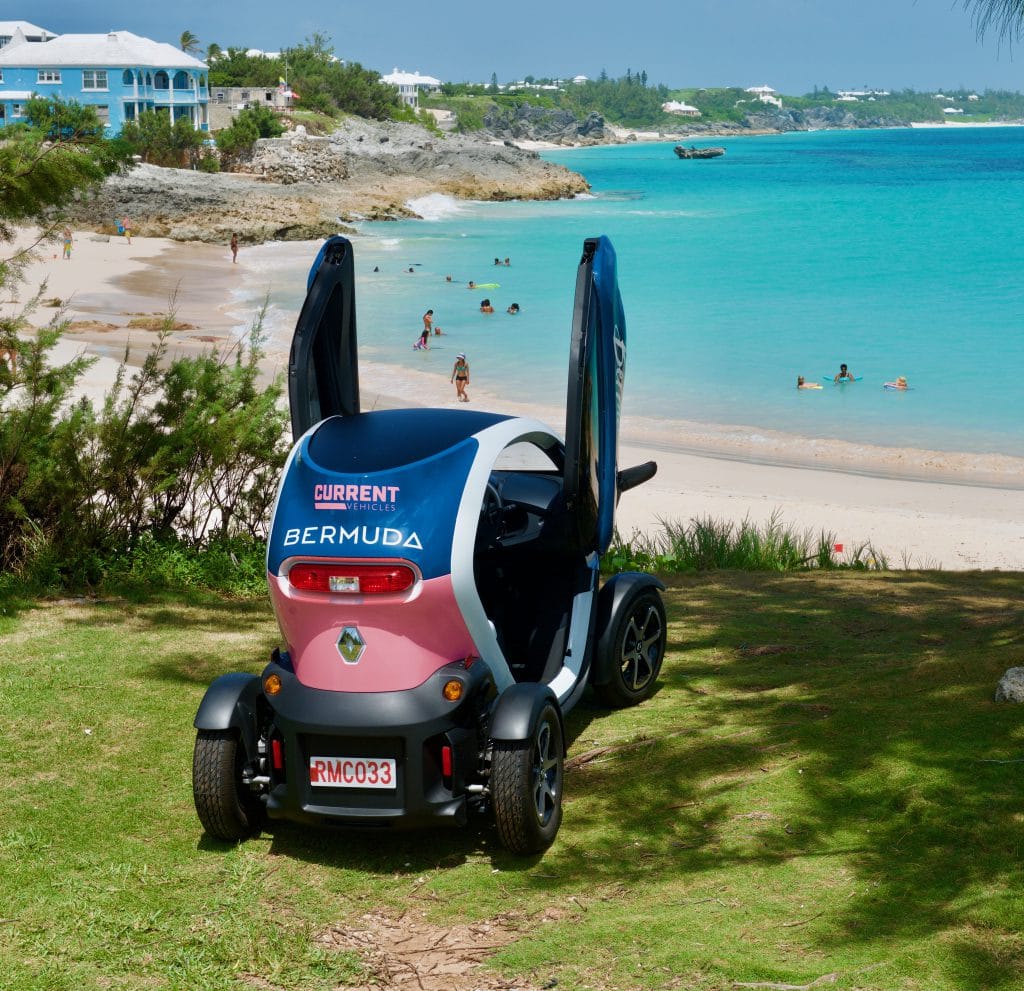 4) Twizzy Invasion 
Measuring only 53km squared Bermuda isn't huge, but there are areas of interest dotted all over the island. With the introduction of the new Renault Twizzy, the two seater mini electric car you can hire, you can zip all over the island whenever you choose and it's the most fun way to get around too.
I loved our little Twizzy, we nicknamed him Toby Twizzy!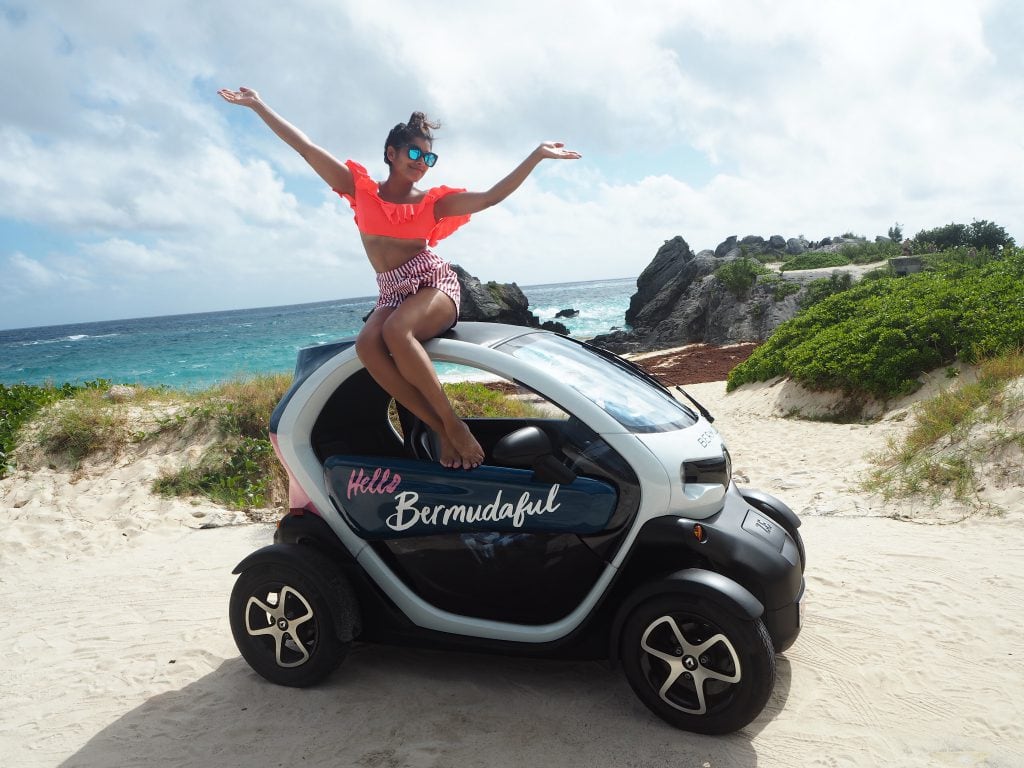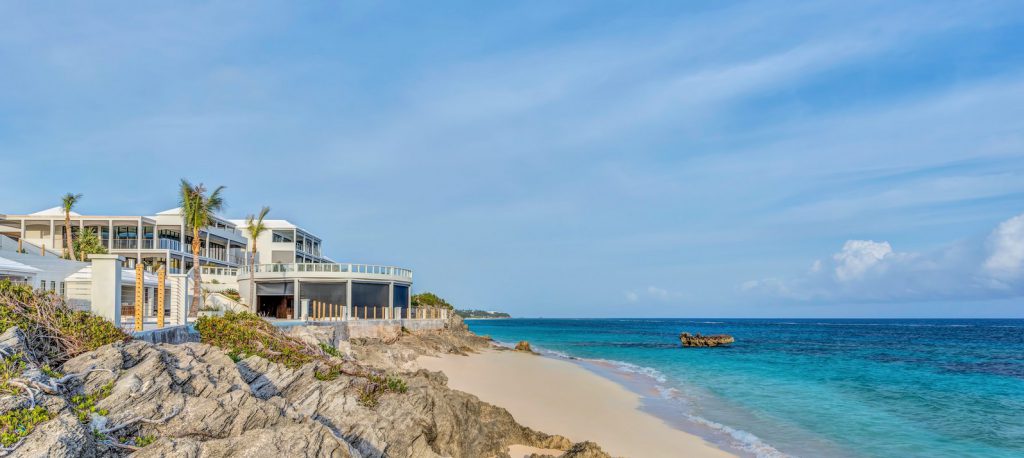 5) Stay Chic…
The Bermudian hotel scene just upped its game! For a long time Bermuda has been stuck in a bit of a time warp with a much older clientele visiting, but the island is seeing a resurge in trendy brands and hotels opening, in a bid to entice a younger market. With the fabulous Rosewood Bermuda offering old school decadence perfectly blended with new school luxury and the opening of uber trendy, design hotel The Loren at Pink Beach, the islands hotel offering just got way cooler!
Above and below: The Loren offers chic stylish alternative to the islands traditional heritage hotels.
Above and below: International hip hoteliers Rosewood have created an incredible blend of tradition meets heritage, modern day luxury at The Rosewood Bermuda.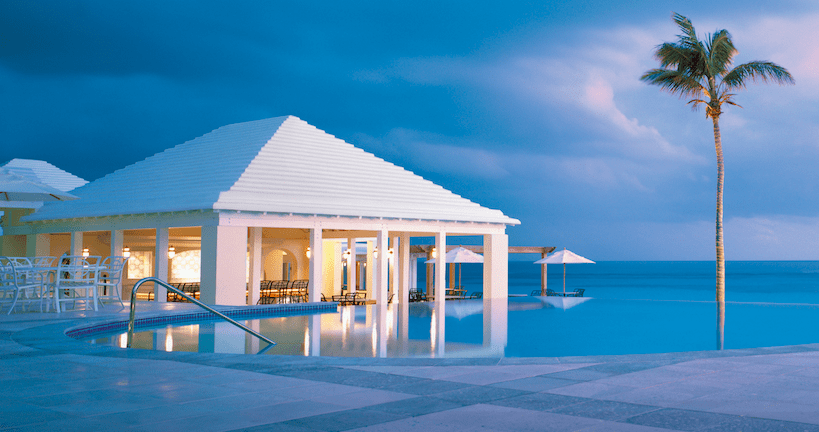 Above the pool bar at The Rosewood and below the Sense Spa.
6) Food and Drink
There are two sides to Bermuda's eating habits. Whether you choose to go for trendy sushi and poke bowls at The Loren with a pool side view and Blue Restaurant, or traditional and 'greasy but good' island classics like a fish breakfast at Flame Restaurant or a Fish Sandwich (a naughty island speciality) at Art Mels, the food choice is diverse.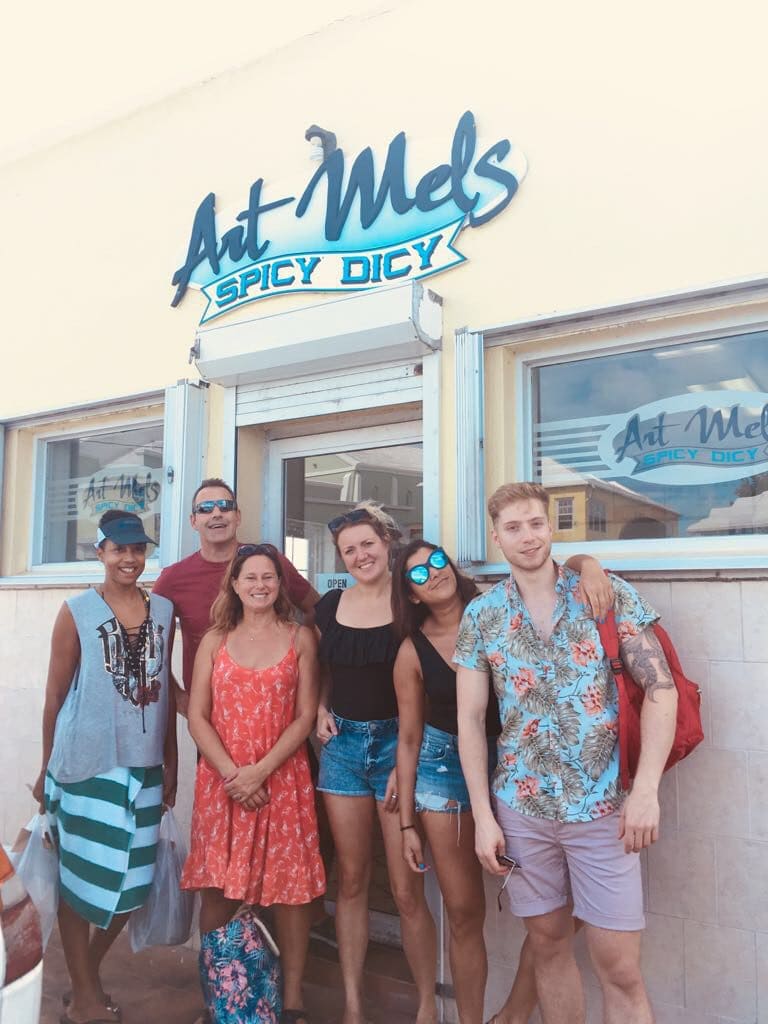 Above: the press trip gang, Charlie and me at Art Mels fish sandwich shop and below: enjoying trendy poke bowl and healthy salads at The Loren.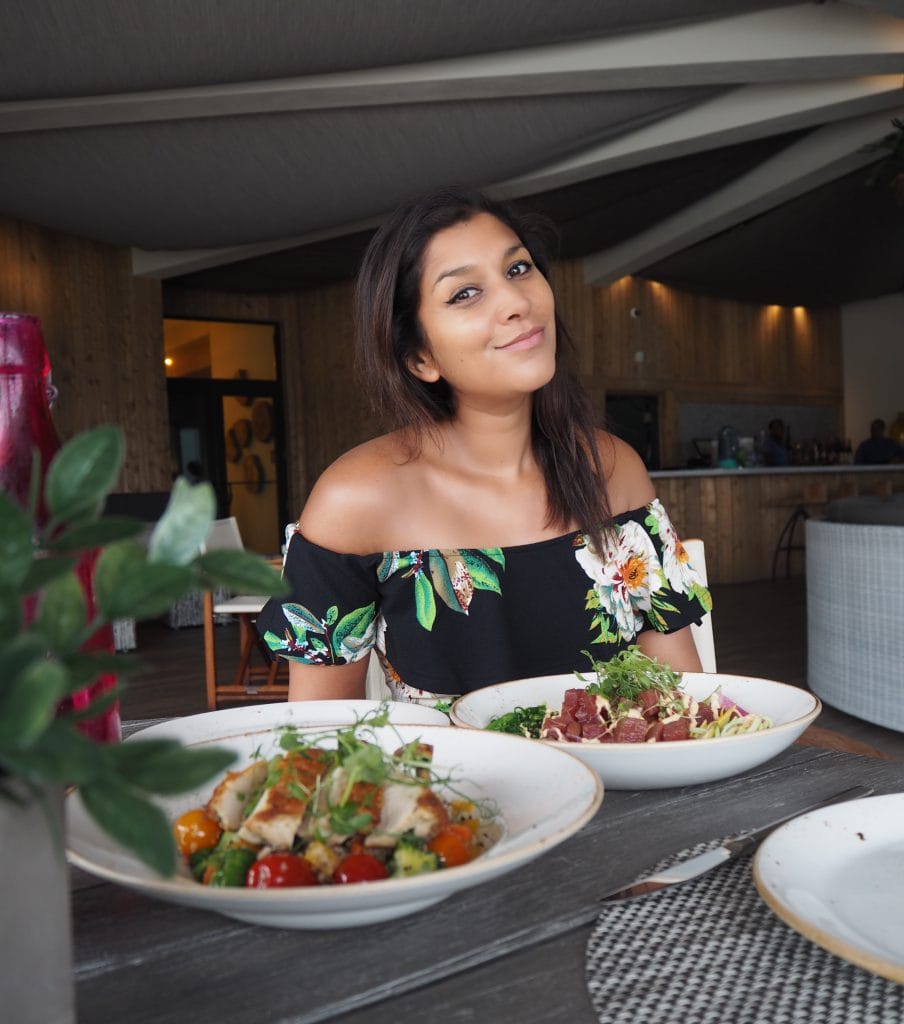 Some new restaurants of note are fine dining Huckleberry Restaurant at the Rosedon Hotel where you can chow down on a full lobster with champagne pairing or shrimp pictured below. Alternatively for a more casual but cool meal, nip into it's trendy newby restaurants the deli style Devil's Isle Coffee or the chic Village Pantry for a healthy menu with jazz music and fairy lights accompaniment.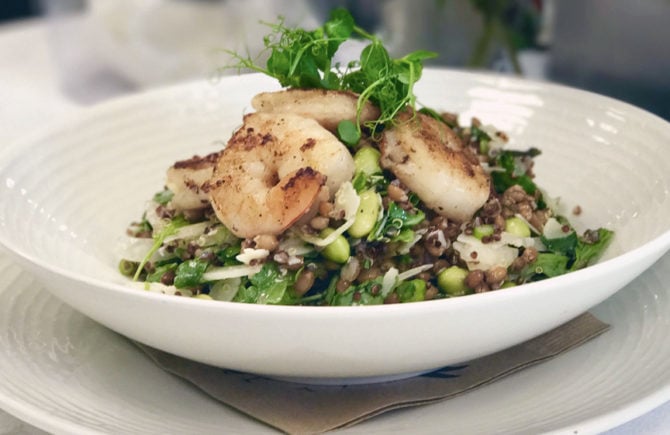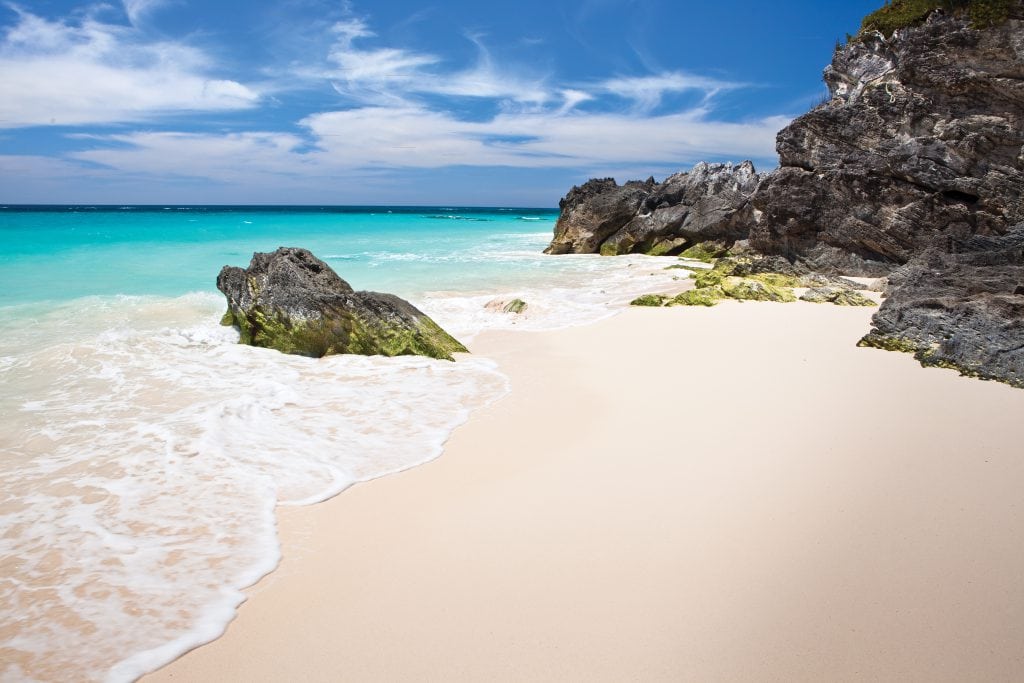 7) Hit the Beach 
If there's one thing Bermuda does well it's a beautiful beach! There are so many spectacular coves and bays dotted all around the island. If you only have a couple of days on the island I would recommend heading to Jobson's cove beach – amazing views and pink sand, the waves are pretty strong though, so it's not one for a leisurely dip.
Likewise Elbow Beach boasts seemingly endless miles of pink sand shore, head here for an afternoon of sunbathing and kite surfing if your extreme sports side needs indulging. Post sun bathing head up to Gibbs Hill lighthouse for stunning views of the island and ocean.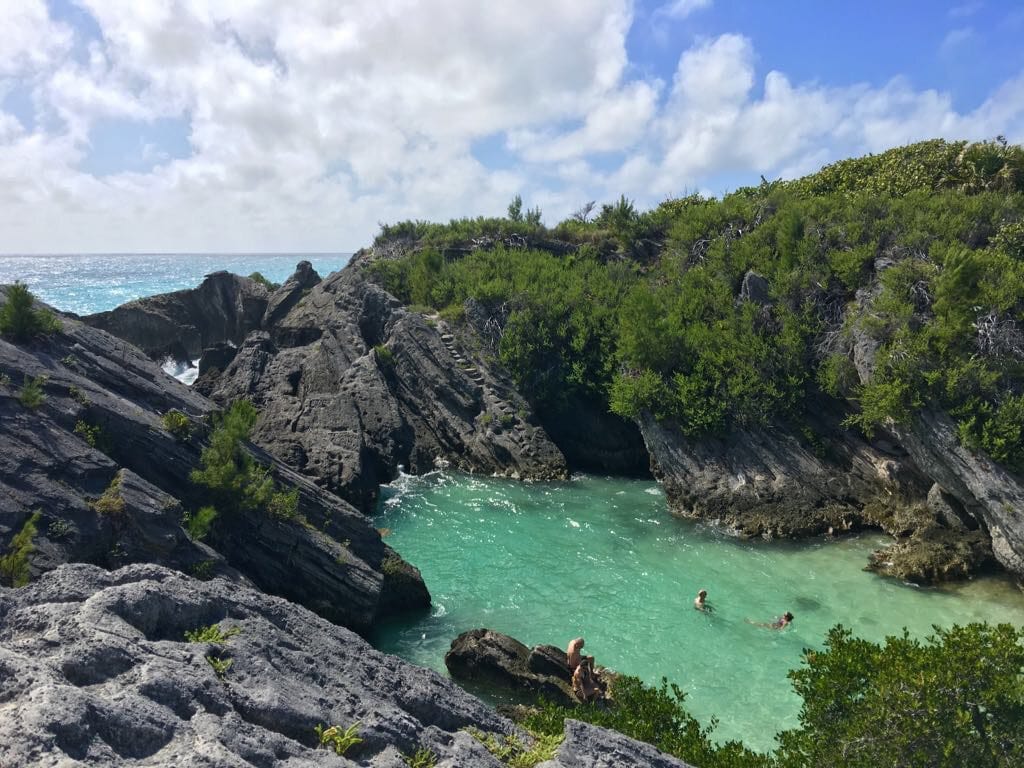 8) Sea splash cruise on the Happy Cat catamaran
All aboard the catamaran cruise with Sea Splash, to sale around the beautiful bays, enjoy the sea air and take the plunge for a spot of diving and snorkelling. It's a fantastic way to while away the day and chill into the local island vibe.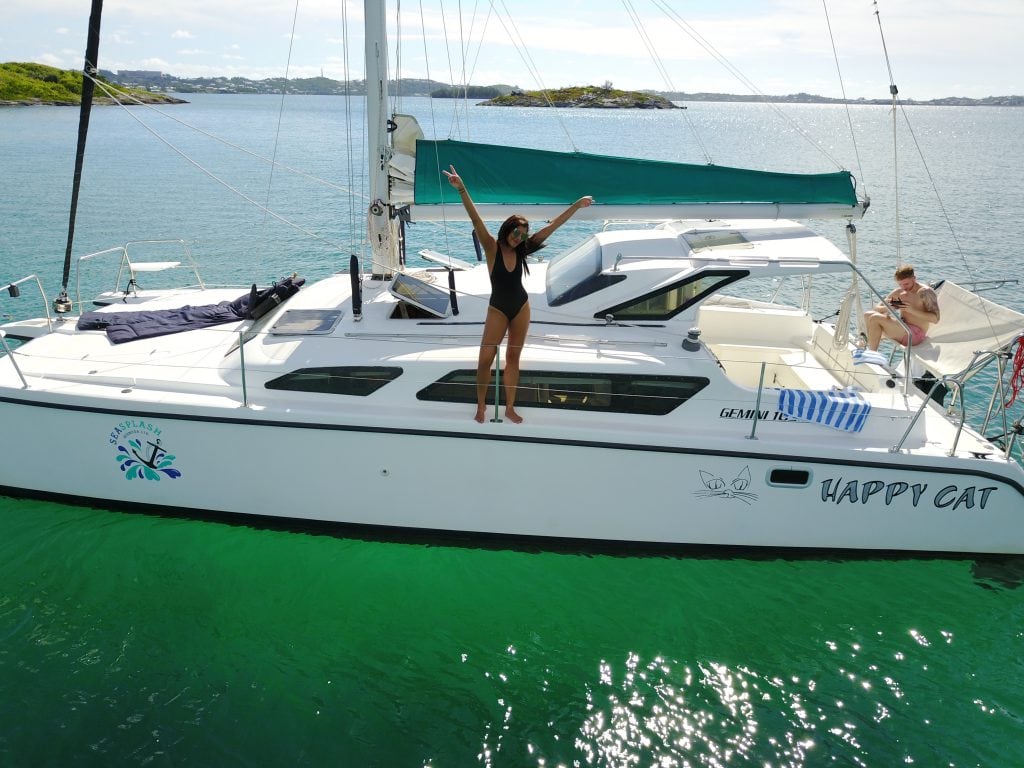 Above: Charlie and I onboard the Happy Cat catamaran.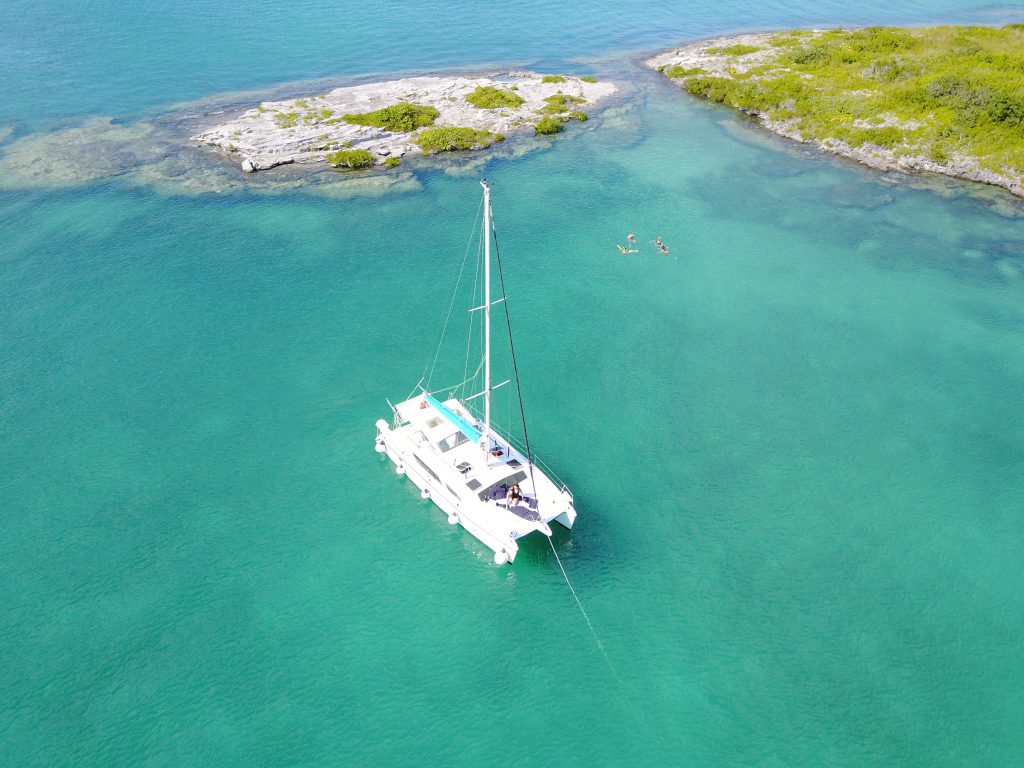 9) Jet ski adventure 
For the intrepid amongst you take a tour of the island the exciting way, driving your own jet ski. The tour takes a couple of hours and you get to see the island from a different perspective. Say hi to the shoals of fish and baby turtles that you'll visit on route.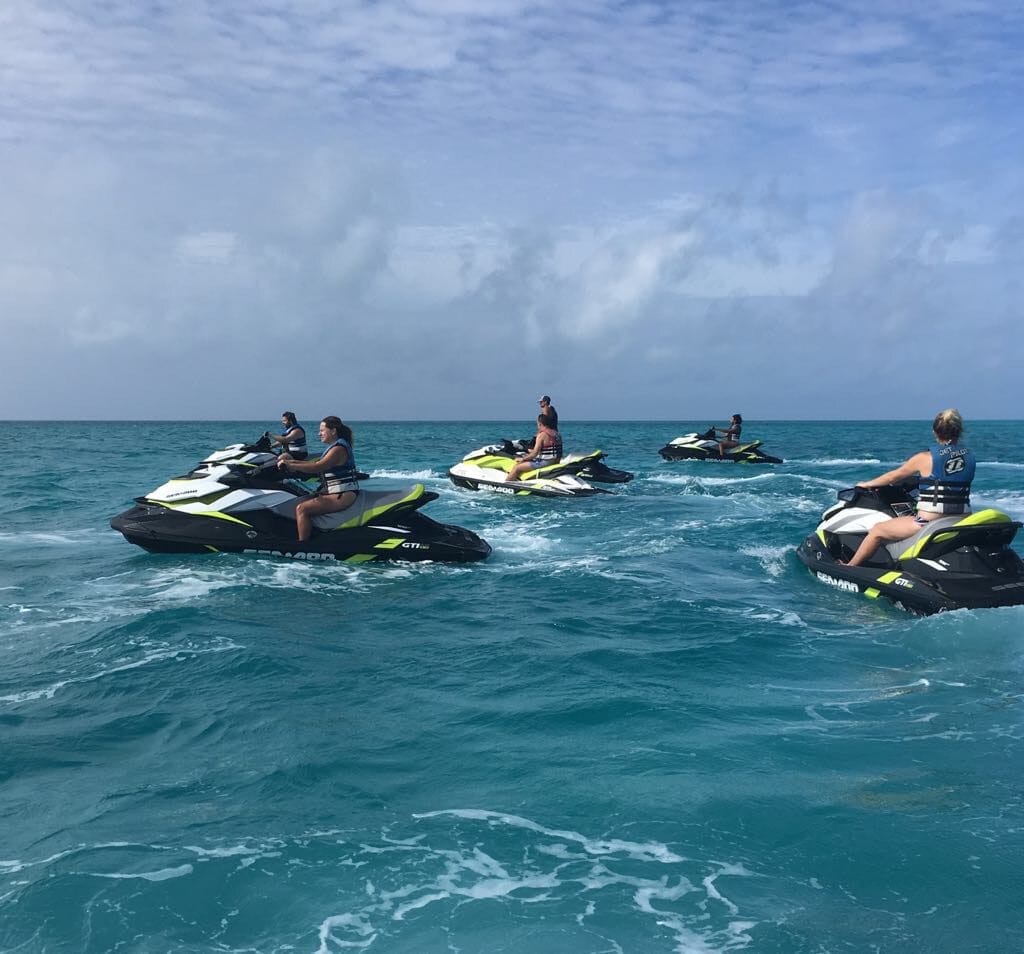 10) Tobacco bay beachside cocktails 
Bermuda wouldn't be Bermuda without sundowner cocktails. The two island specialities are a rum based Dark'n'Stormy and the Rum Swizzle, both deliciously potent and sweet.  One of the loveliest spots on the island to enjoy sunset cocktails is Tobacco Bay. More shabby than chic, but the view of the turquoise water is gorgeous. Cheers!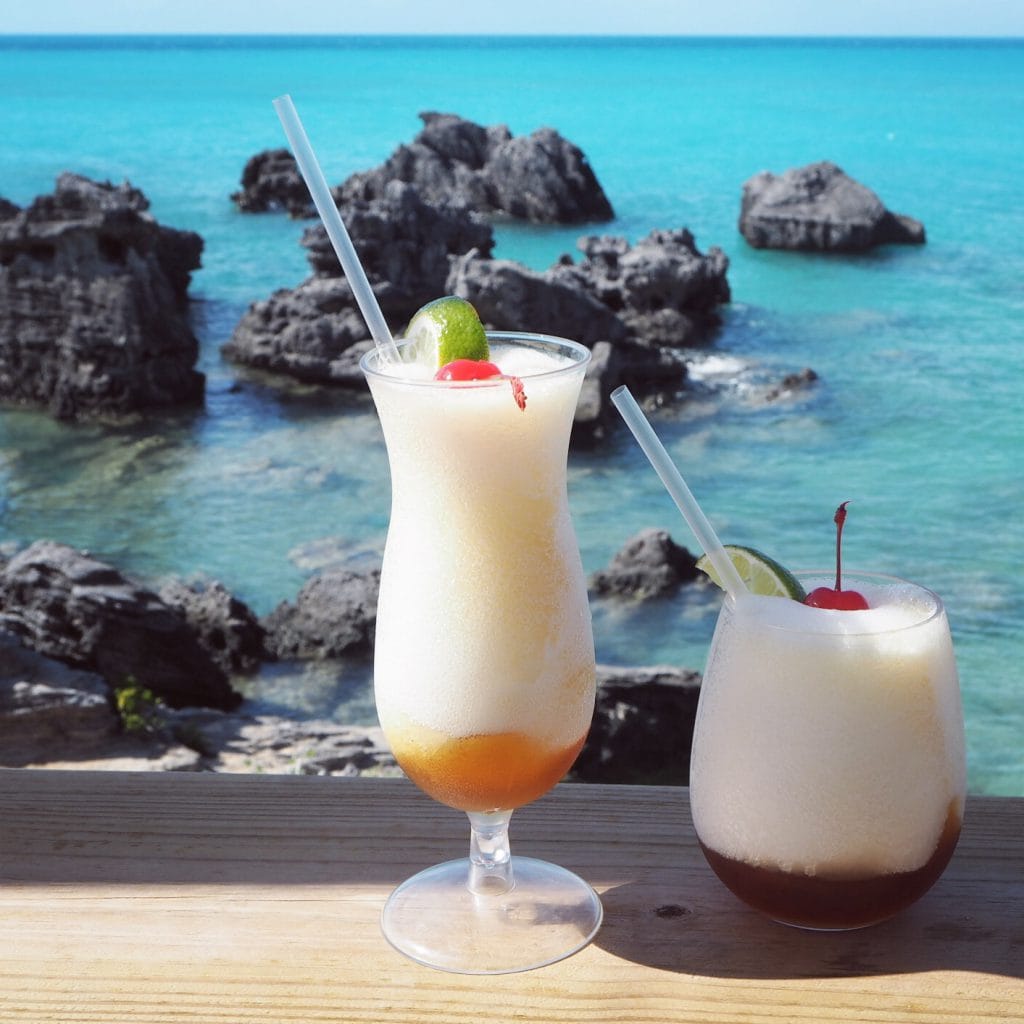 Huge thank you to the Bermuda Tourism Authority and specifically to Sam and Jill for organising such a great trip. It's such a fantastic destination and I hope to visit again soon.
See you next time for the fashion – packing special, a winter sun holiday wardrobe shot on location in Bermuda.
Bon voyage xx