Check In To The Most Expensive Hotel In Marrakech

Check In To The Most Expensive Hotel In Marrakech
Where: The Royal Mansour
Exactly: Marrakech, Morocco
Best time to go: Marrakech is warm all year round. It's the perfect destination for a winter sun holiday, although it does get cooler in the evenings over this period. I've also been in the summer before and it's a scorcher!! Temperatures were well above 40 degrees Celsius!
Above, Bonnie wears star dress by Silk Fred and Below,  Blue dress by River Island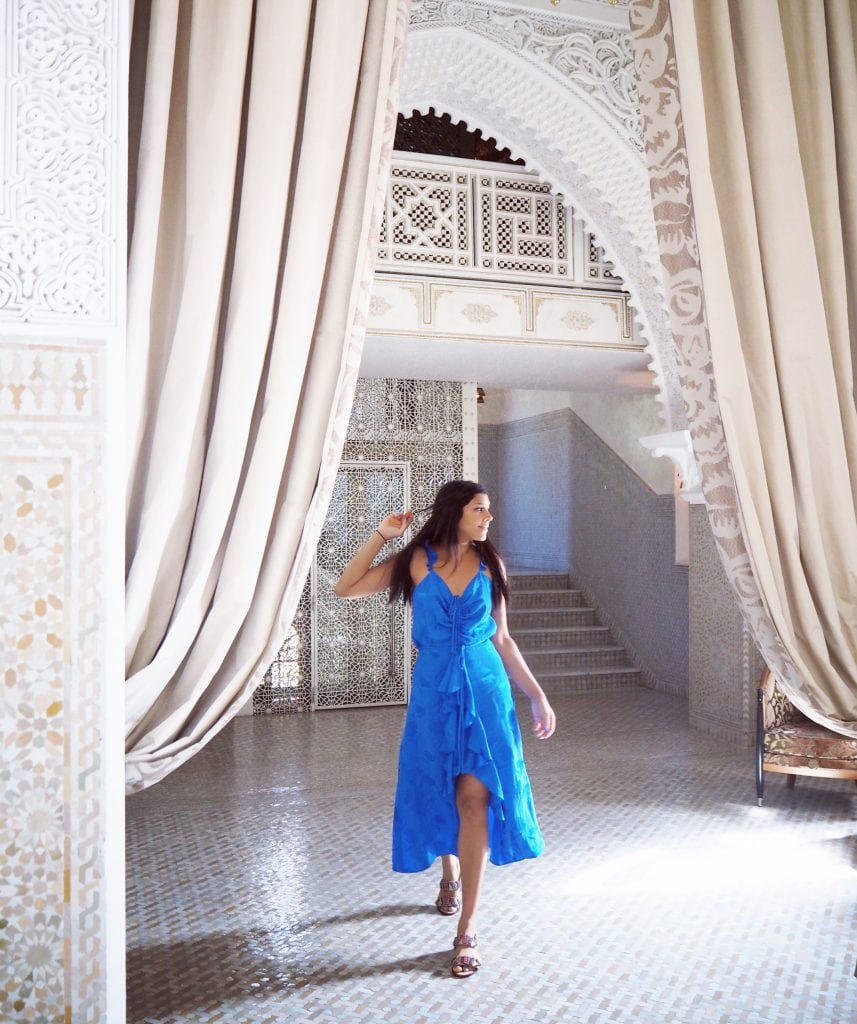 The Royal Mansour
This month I was super excited to be invited to stay at The Royal Mansour in Marrakech. It's a property that's been on my bucket list for quite some time.
Widely acknowledged as the most expensive hotel in Marrakech, having stayed there I can see why. Here are some StyleTraveller facts about the hotel:
-The hotel was built by the King of Morocco in 2010 and is designed to mimic a miniature version of a Moroccan city, complete with riads (town houses), medina (shopping bazaar) and its own palace (in the form of the presidential suite).
– The Spa has been voted the best spa in the world by Conde Nast Traveller, with exceptional treatments, an indoor heated pool and state of the art gym, the white birdcage effect atrium is an instagram dream, see opening shot.
– Celebrity guests to the hotel include Alicia Keys, Enrique Iglesias, DJ David Guetta, Royal families from all over the world and I also bumped into UK chat show host Jonathon Ross at dinner!

The Hotel
Prices start from £900 per night up to £35,000 per night for the 4 bedroom Riad H'onneur or presidential suite. Baring in mind when you book a room here, you don't just get one bedroom like in standard hotels, here you get an entire three floor magnificent riad, with court yard, dining room, living room, bedroom, 3 bathrooms and a top floor rooftop terrace with plunge pool and seating area.
If a normal suite is that amazing imagine what the Riad H'onneur is like. Well multiply that by 4 bedrooms, add a gym, steam room, sauna and full sized swimming pool on the roof and you're getting there.
And of course with the staff to guest ratio at an incredible 10 to 1, each riad comes with seamless, immaculate service and your own butlers and set of personal staff. They really know how to make you feel like royalty here!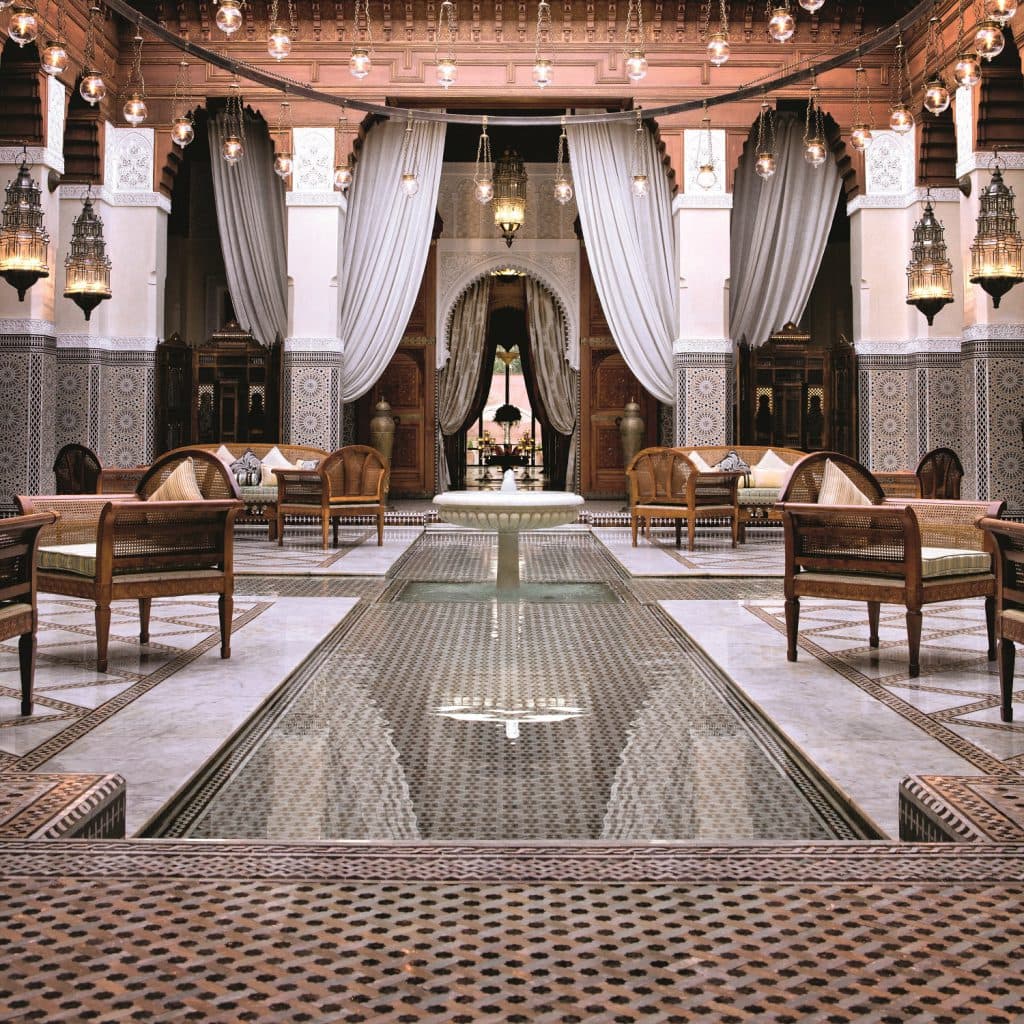 VIP Treatment
The VIP treatment starts right from the Airport. From the moment you land in Marrakech the hotel offers a service to all guests where you are met upon arrival by a member of staff, ushered through the VIP lanes so you don't have to queue at immigration, then the chauffeurs pick up your luggage from the carousel and escort you directly to the Bentley Limousine which is waiting to whisk you off to the hotel, complete with bottled water, hand towels and snacks.
I wish I had this for all my trips!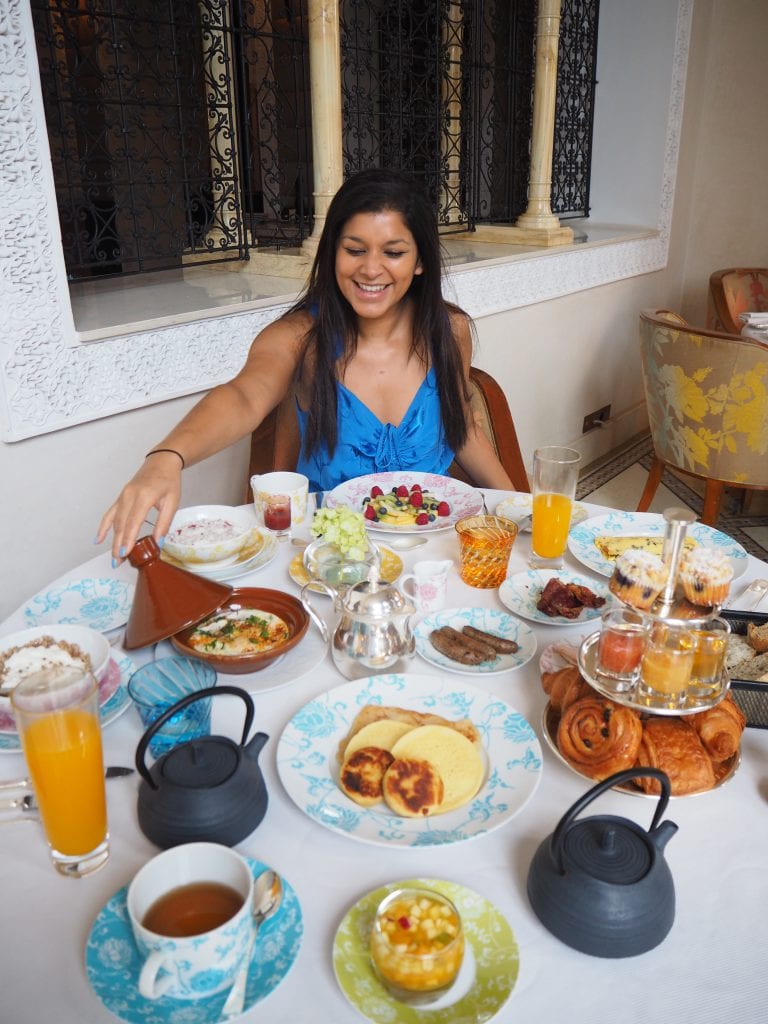 Eating and Drinking
All four hotel restaurants including room service are 3 Michellin star rated and headed up by French chef Yannick Alleno. Widely acclaimed as one of Marrakech's gourmet destinations, I enjoyed relaxed modern dining at La Table (pictured above), an al fresco lunch at the poolside restaurant, through to haute cuisine at the Moroccan and French restaurants,  La Grande Table Marocaine and La Grande Table Française.
Pictured above and below,  just a casual breakfast at La Table during my stay. So this is what they mean by 'breakfast of kings' (and princesses on this occasion!)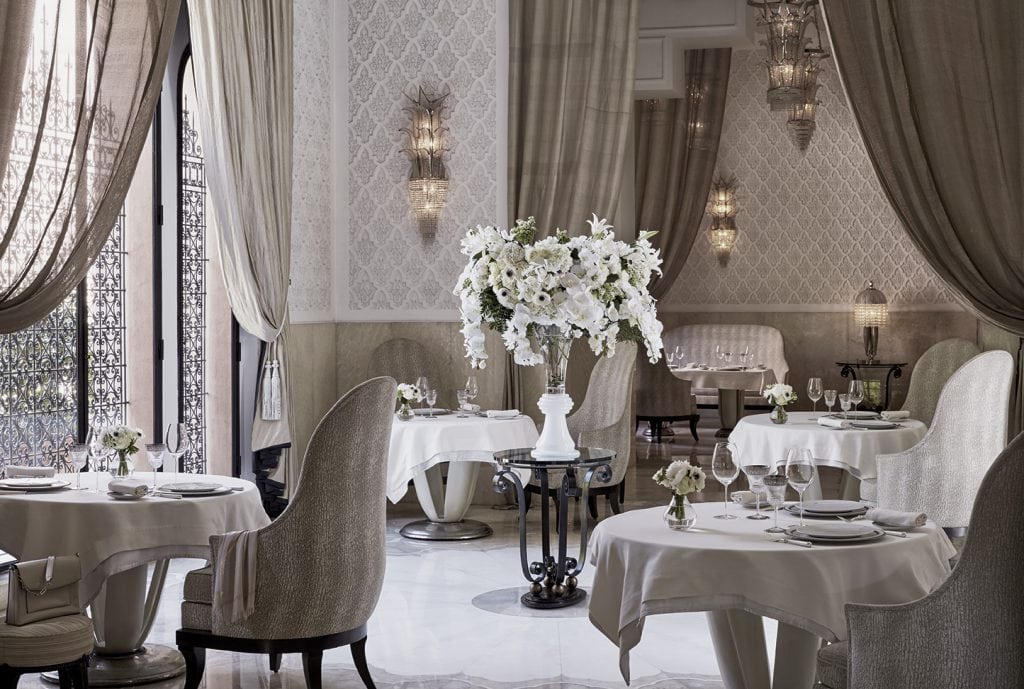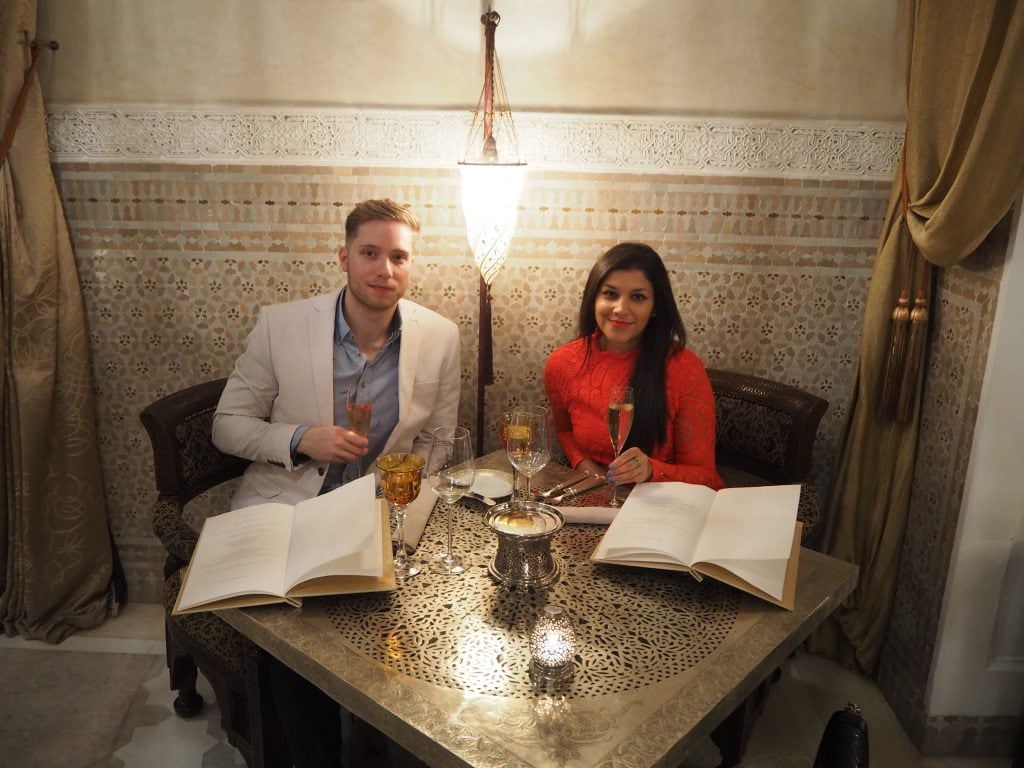 Charlie and I having dinner at the Moroccan haute cuisine Michelin starred restaurant. It was a totally romantic, candlelit atmosphere with traditional Moroccan musicians playing mesmerising music.
All the plates are beautifully presented, looking like mini works of art.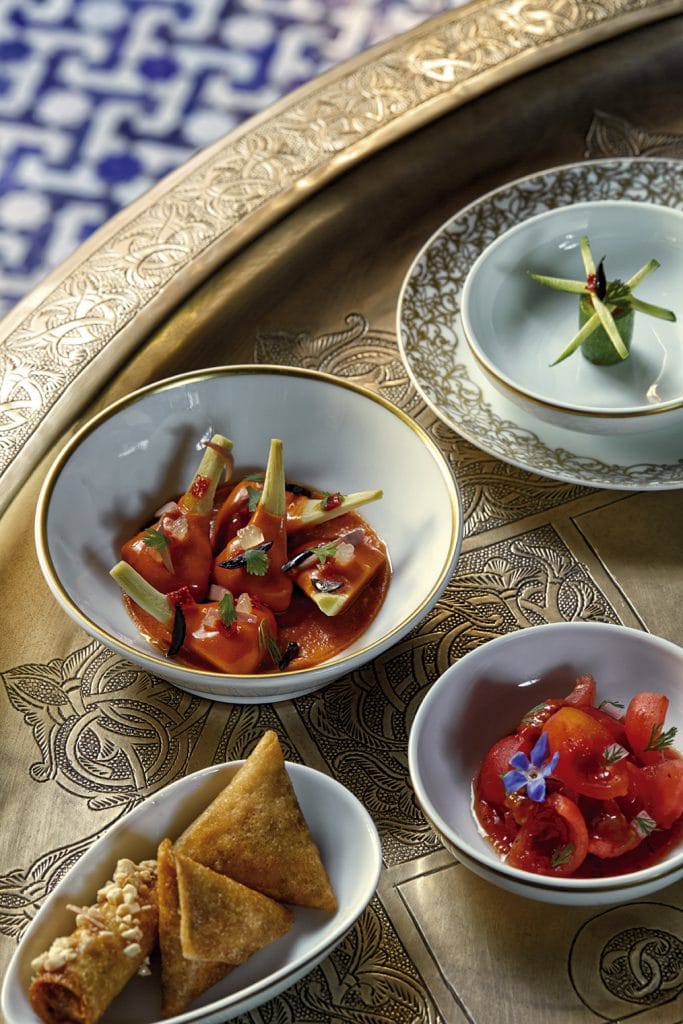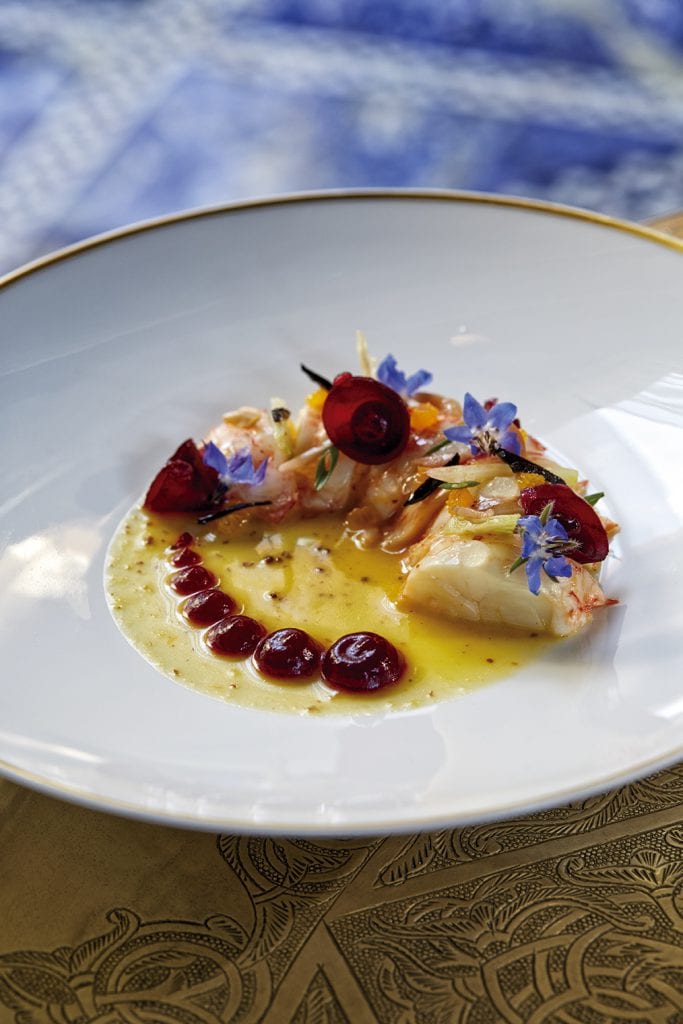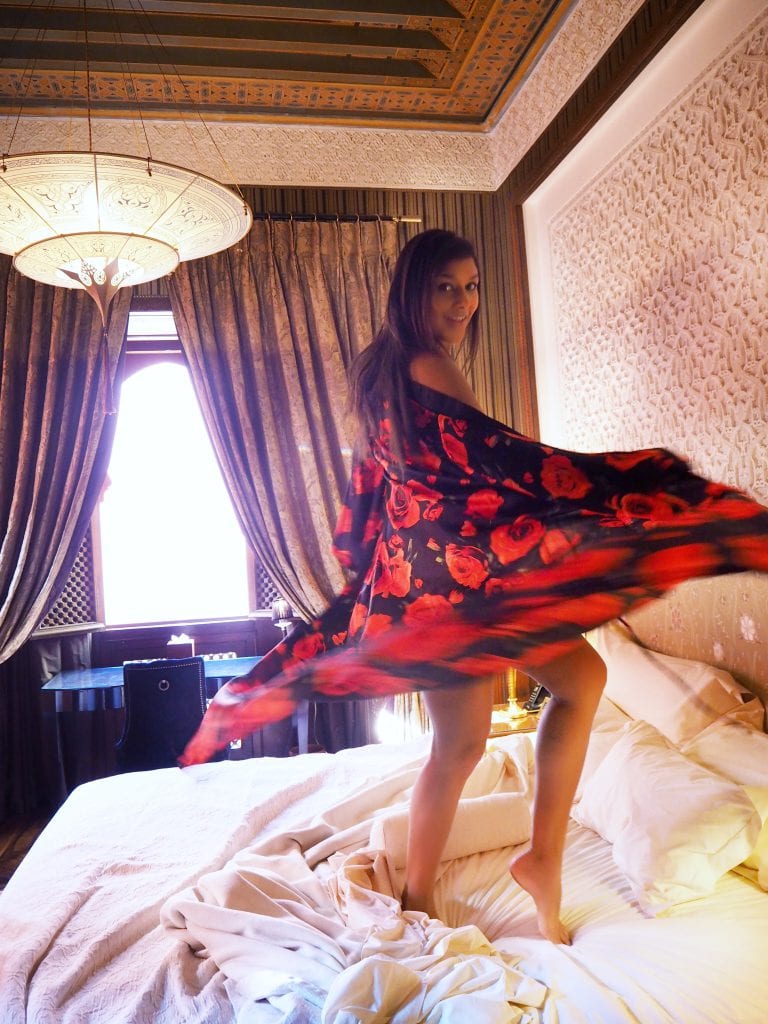 The Rooms
As mentioned above, when booking a room at The Royal Mansour you actually get an entire three story riad (town house with courtyard) to yourself. The decor in the riad is decadent yet elegant, traditional Moroccan style, fully equipped with modern amenities such as wide screen TV's and blue tooth surround sound speakers, but it's all subtly hidden behind picture frames and mirrors, so that the contemporary tech doesn't ruin the beauty of the interiors. How thoughtful.
Personalised letter headed paper
It's all in the detail as they say. I've stay in hundreds of hotels on my journeys, but one thing I have never had until now is my own personalised, letter headed stationary. At my writing desk in the bedroom the hotel made me some super chic, gold embossed, signature note paper with matching envelopes, all with my name on them. How marvellous!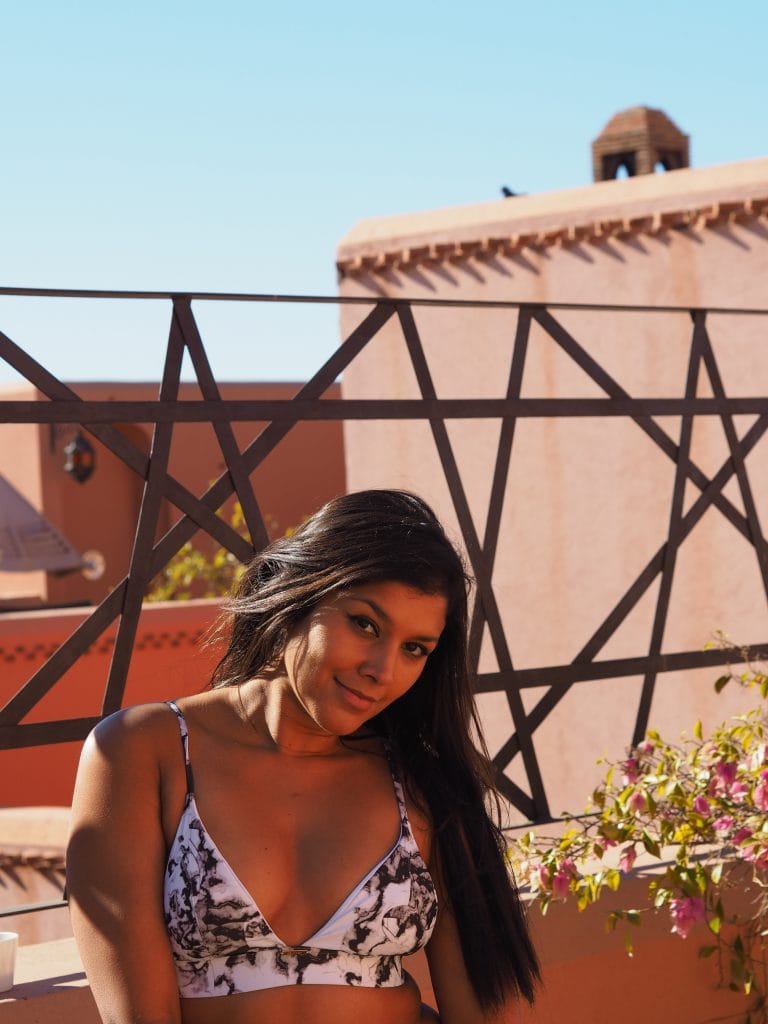 And Relax..
I got to try out a spa treatment in the world's best spa! The decor in the spa is spectacular (image below). Intricate lattice work relaxation areas create an ora of calm and serenity accompanied by the sound of trickling water from the water fountains.  I opted for the hammam treatment which was utterly heavenly and one of the best I've ever had. Sheer bliss!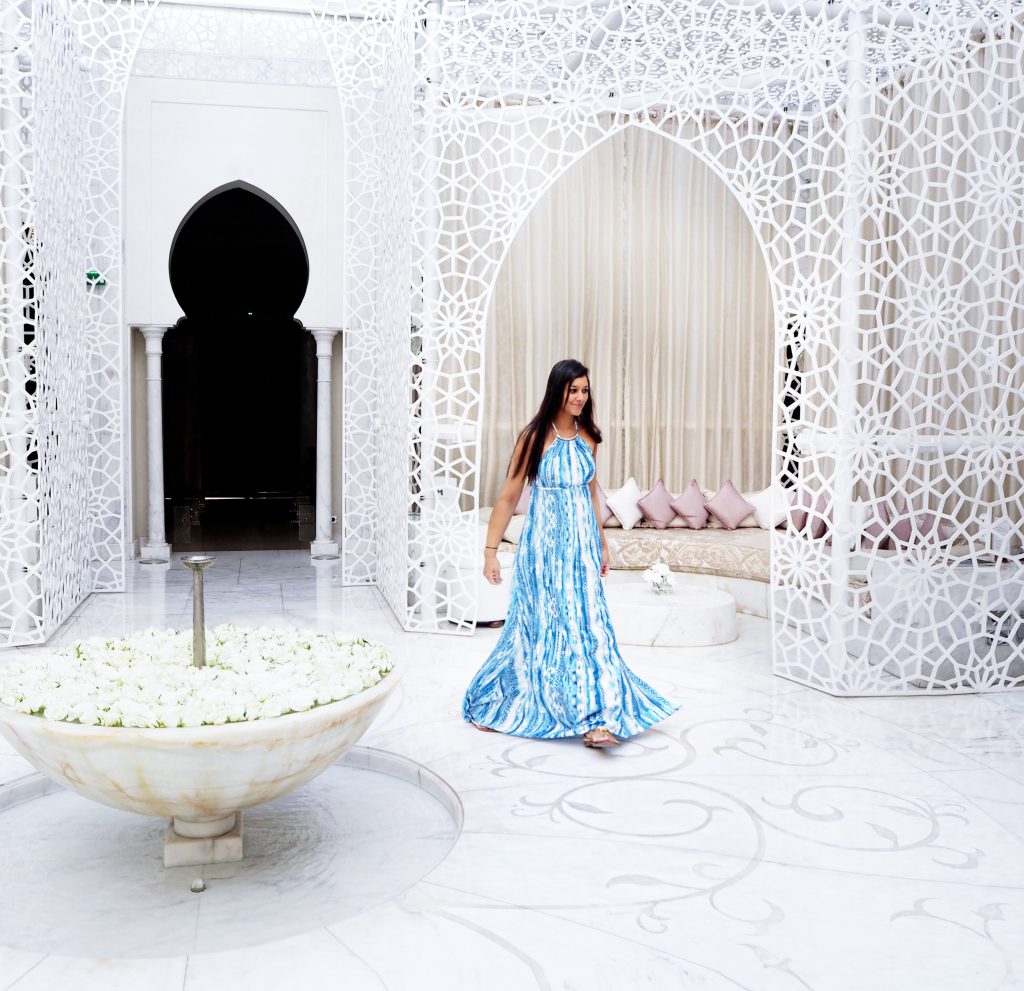 Bonnie wears Bikini above by Calvin Klein and blue maxi dress by Melissa Odabash.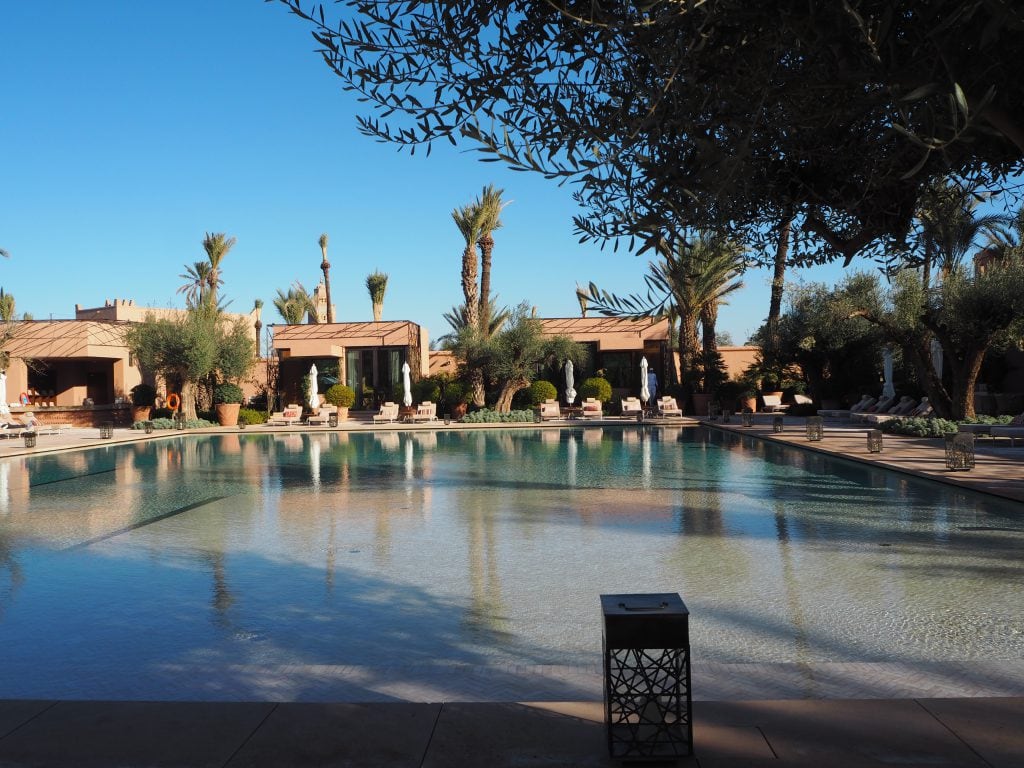 The huge main outdoor heated pool is surrounded by luxurious day pavilions where you take shelter when the sun gets to hot. There's also an indoor conservatory style pool for the winter months in the spa so it's an ideal spot to visit all year round.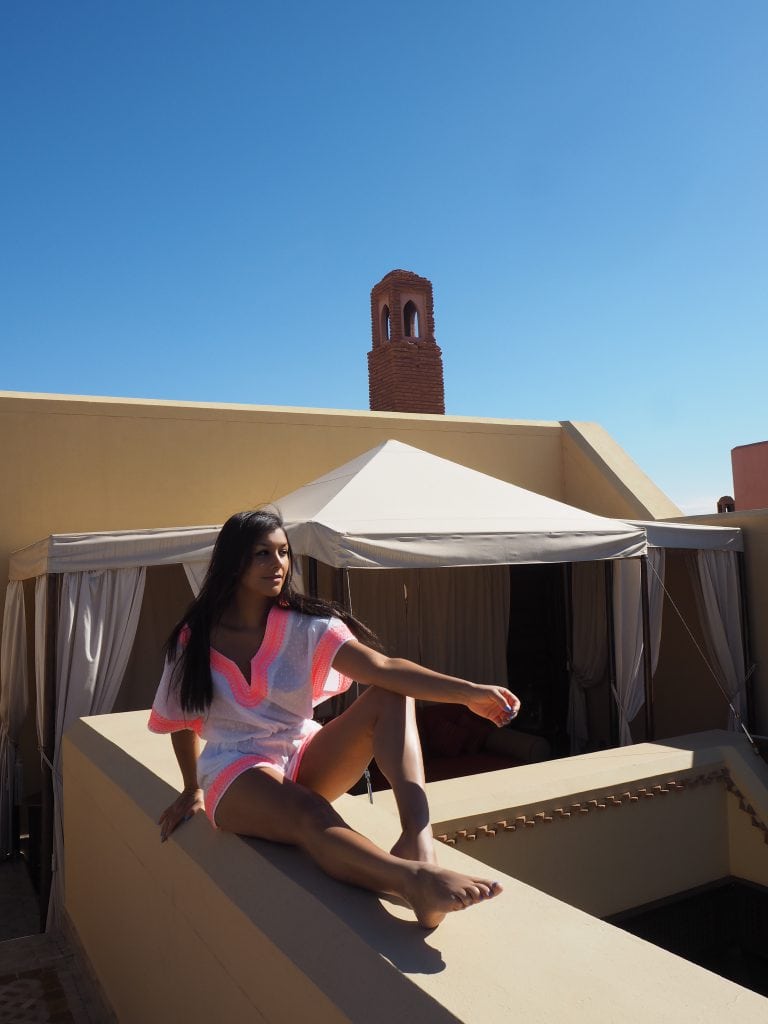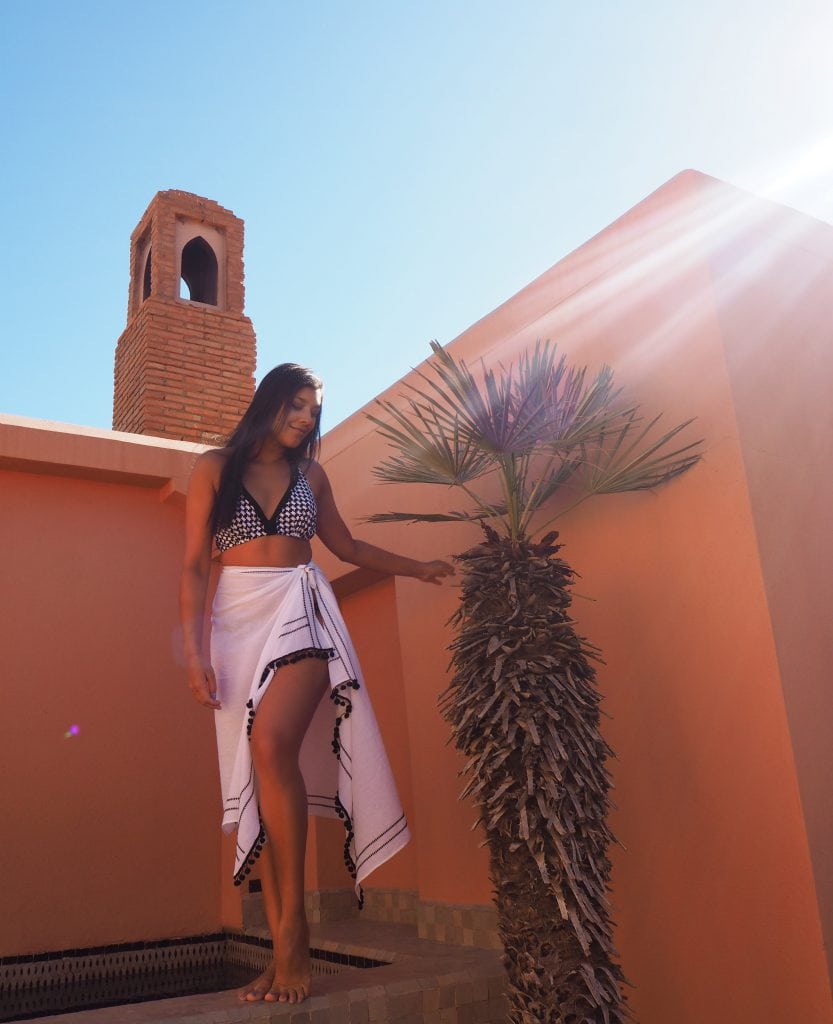 Me posing on my rooftop terrace and by the plunge pool. All swimwear available at Figleaves.com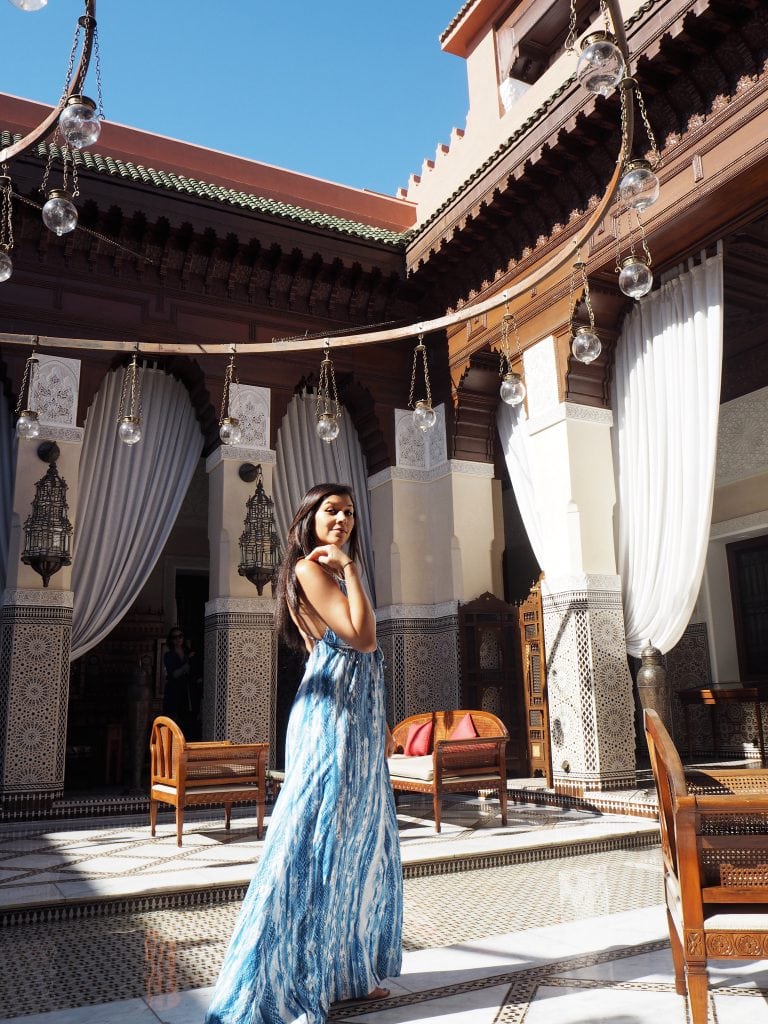 That's all from the incredible Royal Mansour for now, to book a trip like mine check out the Oxford Private Travel website. Next time see my summer holiday swimwear special, shot on location at the hotel.
Bon voyage xx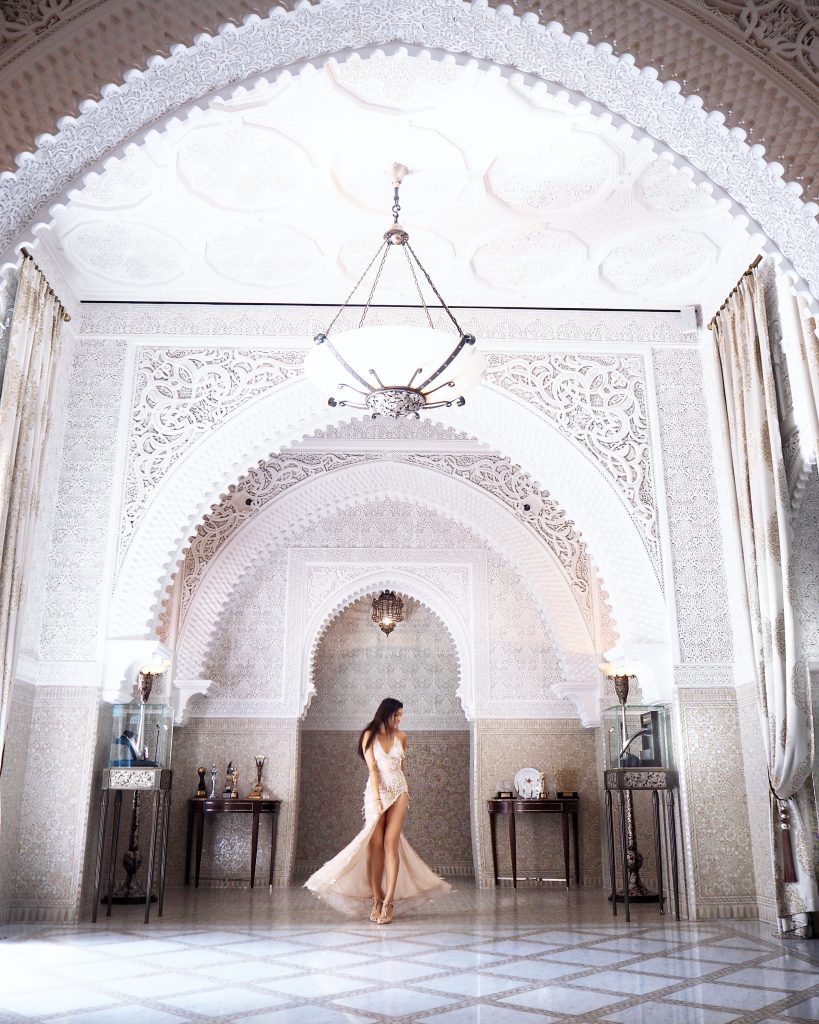 Share the love on Pinterest. Pin this to remember..