How to do London Fashion Week in Style
How to do London Fashion Week in Style
So as most of my readers will know, I've been doing the international fashion weeks circuit for quite a few years now. I used to be the fashion editor at Elle Magazine about 5 years ago (wow how time flies), so it started there and the last few years I've been doing the bi-annual fashion week circuit as a blogger and influencer.
But surprisingly to me, I actually got asked a few times recently, what does fashion week mean and what is it actually for? So here are a few fun facts about London Fashion Week and the international events in general, which you may or may not know:
There are four major fashion weeks which come around every year in February and again in September.
The cycle starts with New York Fashion week to kick things off, followed by London Fashion Week, Milan then Paris.
What's it for? Fashion designers from all over the world flock to these weeks to showcase their collections for the coming season, so in Feb we'll view Autumn Winter collections and in September we see the Spring Summer ranges.
Who goes? Typically the terrain of international fashion editors who will compile style guides and trend predictions for the coming season, based on the shows they've seen. It's also for buyers of high fashion stores and online boutiques, who 'buy in' what their stores will be selling in the coming months, which you and I, the consumers, will then be able to buy. On top of that the lavish event opens its doors to celebrities, models, the glitterati and various influencers.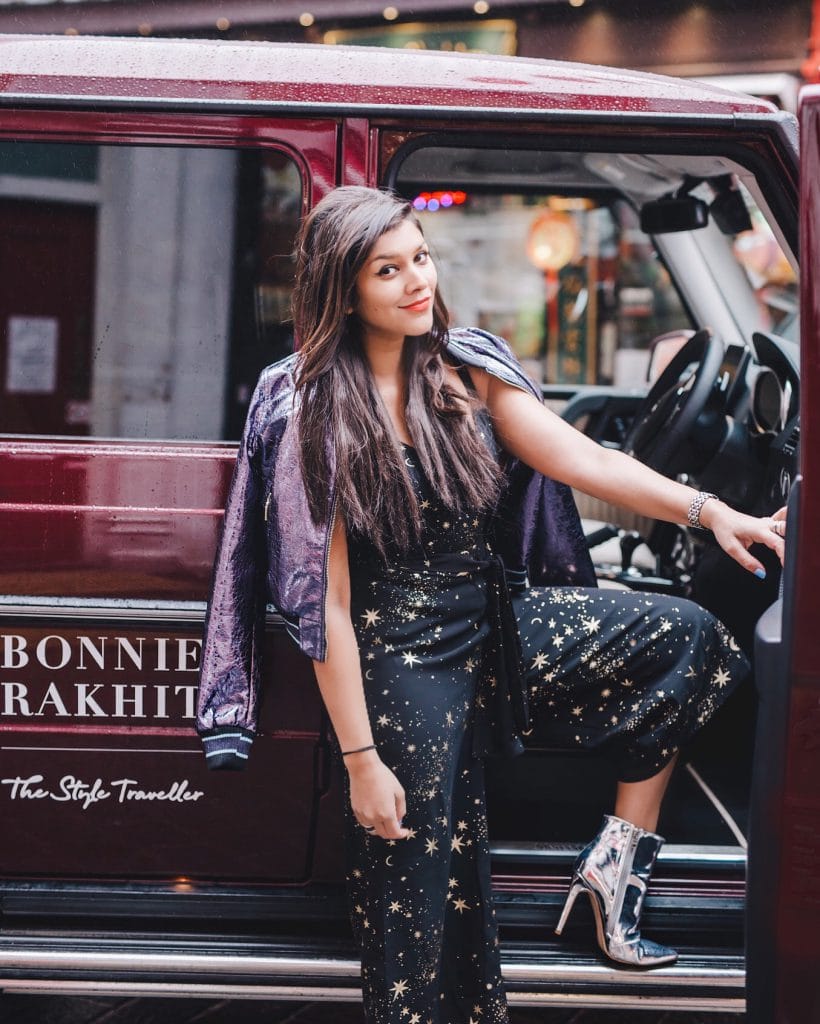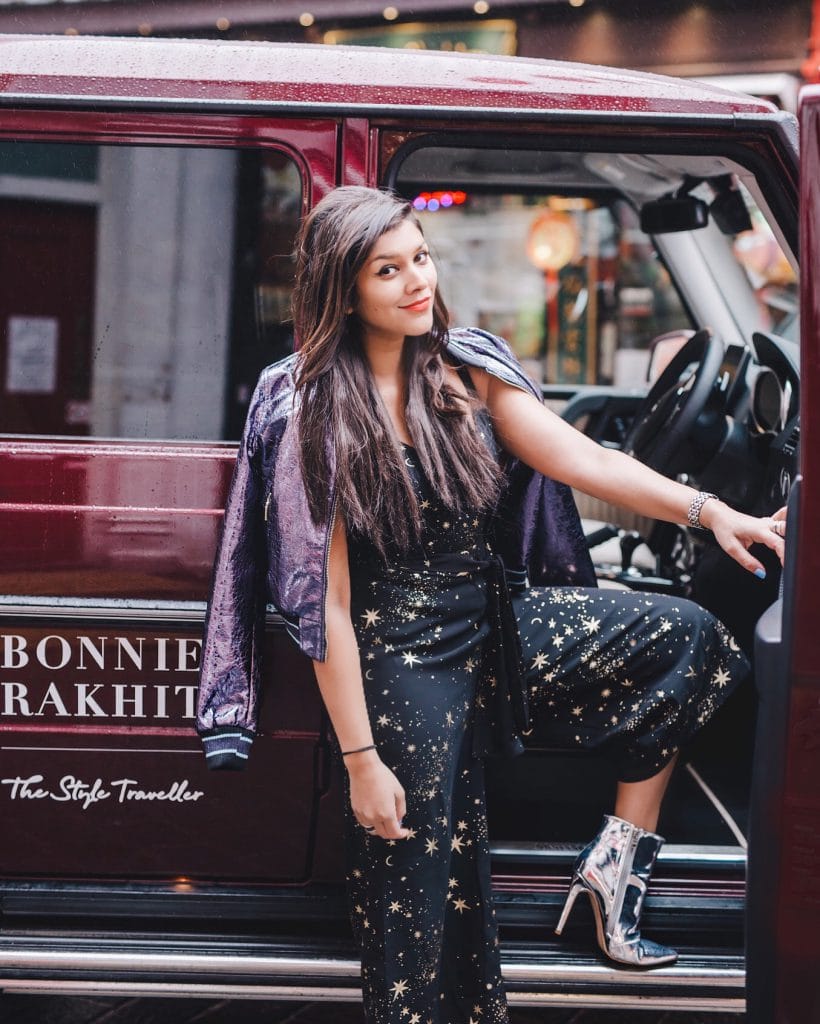 Top image: Girl squad from left to right – Lissy Roddy, Lorna Luxe, Bonnie Rakhit and Anisa Sojka styling out our Mercedes G-wagons which chauffeured us around fashion week
The LFW HQ is currently at Store Studio on The Strand in London. This is the central hub for the shows, with the main 'on schedule' catwalk based here. On top of that there are stands and presentation areas for the designers to show off their wares inside the venue. And during the week itself there are hundreds of event, parties, store openings and pop ups all creating more hype around LFW.
I've been working in the fashion industry for a long time, so I know the ins and outs of the best shows, parties, presentations and how to get invited. Quintessentially LFW is a closed event for fashion industry insiders, but over the last few years it's gained more interest from the media and with it, an influx of new bloggers, influencers and instagrammers. But how do you get invited to shows and be part of the action?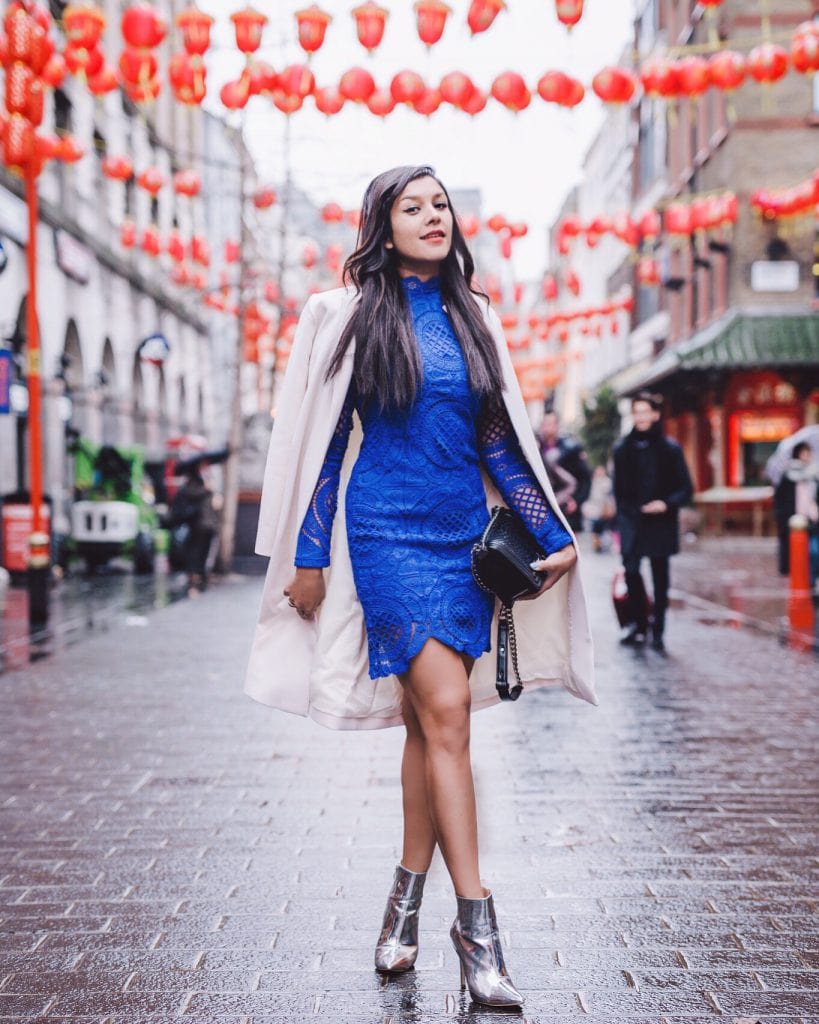 Above Bonnie wears full blue dress outfit by Silk Fred and above star jumpsuit and metallic boots by Silk Fred, purple metallic bomber by Guess.
How to be involved?
So the way to gain access to these shows and the stands is by applying for accreditation on the main LondonFashionWeek website, but you need to have a relevant interest in fashion, work on magazine/ retail outlet or have a following on your social channels/ be a proper acknowledged blogger to fit the criteria on the London Fashion Week website. This will help to have your application approved. If you don't gain accreditation (and it's quite hard to tick all of the boxes) and also none of the tickets you requested from the website are sent to you, there are still ways to feel like part of it.
Look at the schedules online and see which shows you might be interested and apply for tickets with the designer contacts directly. At the side of the main entrance there is usually another entrance (there is at Store Studio) where if a show doesn't fill up, they sometimes take walk ins, but if the PETA supporters are out in force then security is heightened. Also this isn't guaranteed and the main shows do get very busy.
A more successful alternative and it's also an official event, you can buy tickets for London Fashion Week Festival which takes place a day or so after the official LFW. It's housed in the same venue and is open for the public. There are hundreds of talks, catwalk shows, presentations and shopping opportunities to be had and it's a really fantastic and exciting fashionista experience.
It's a much better way to really feel like part of the action!
I hope that you found this blog even remotely helpful or interesting, if you did please leave a comment below.
Keep scrolling to see my photo diary and daily outfits from London Fashion Week this season. Enjoy!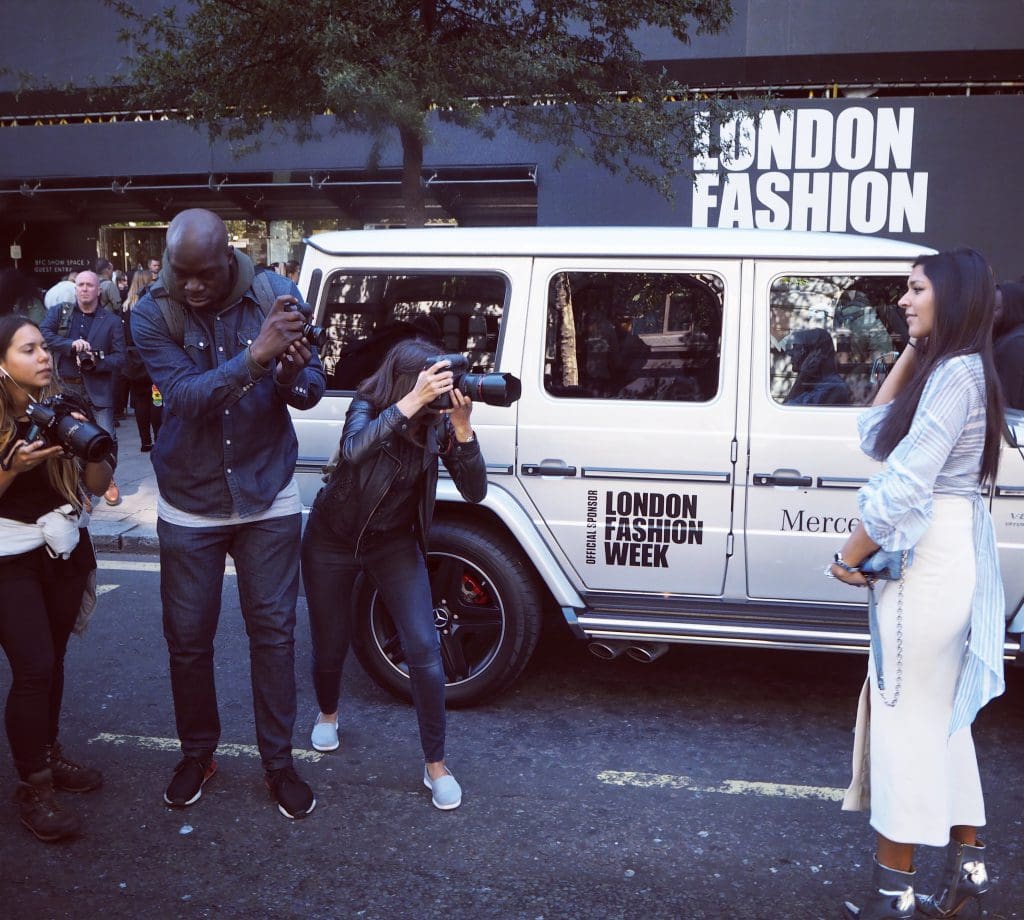 Lights, Camera, Action
Here I am, below, with the lovely Victoria from In The Frow, sat in the frow at the Henry Holland show. Bonnie wears white jumper dress by Asos, blue coat by Amanda Wakeley, pink bag by Christian Louboutin and metallic boots by Silk Fred.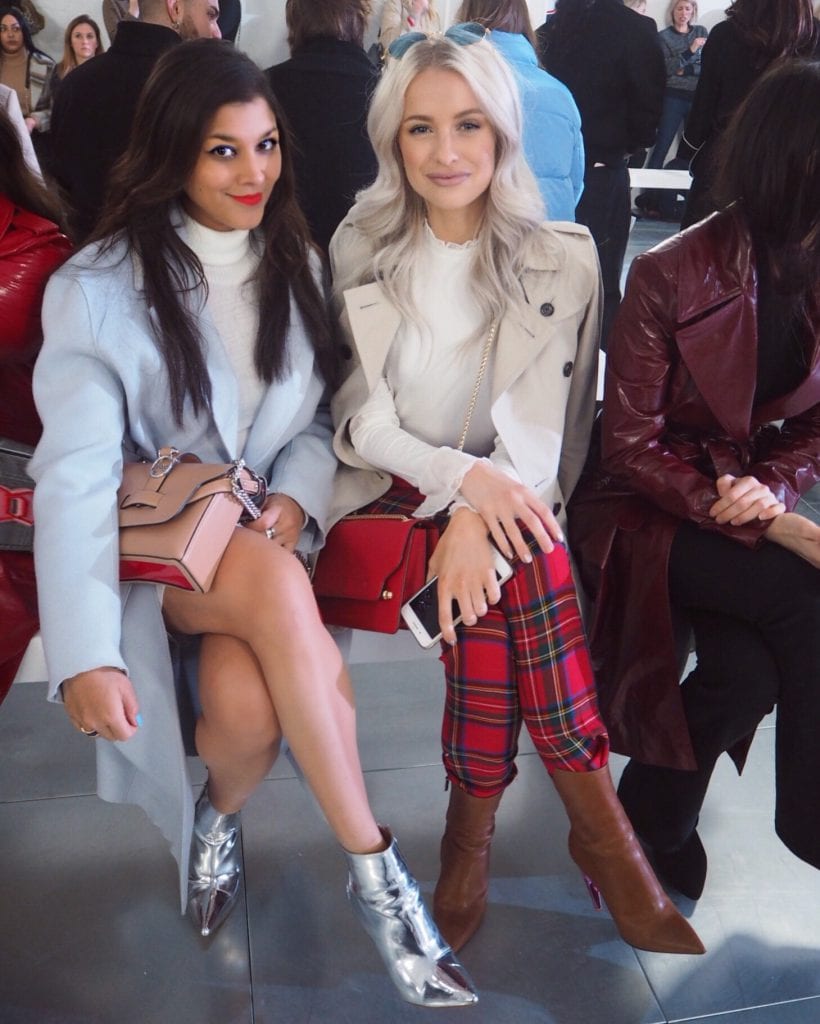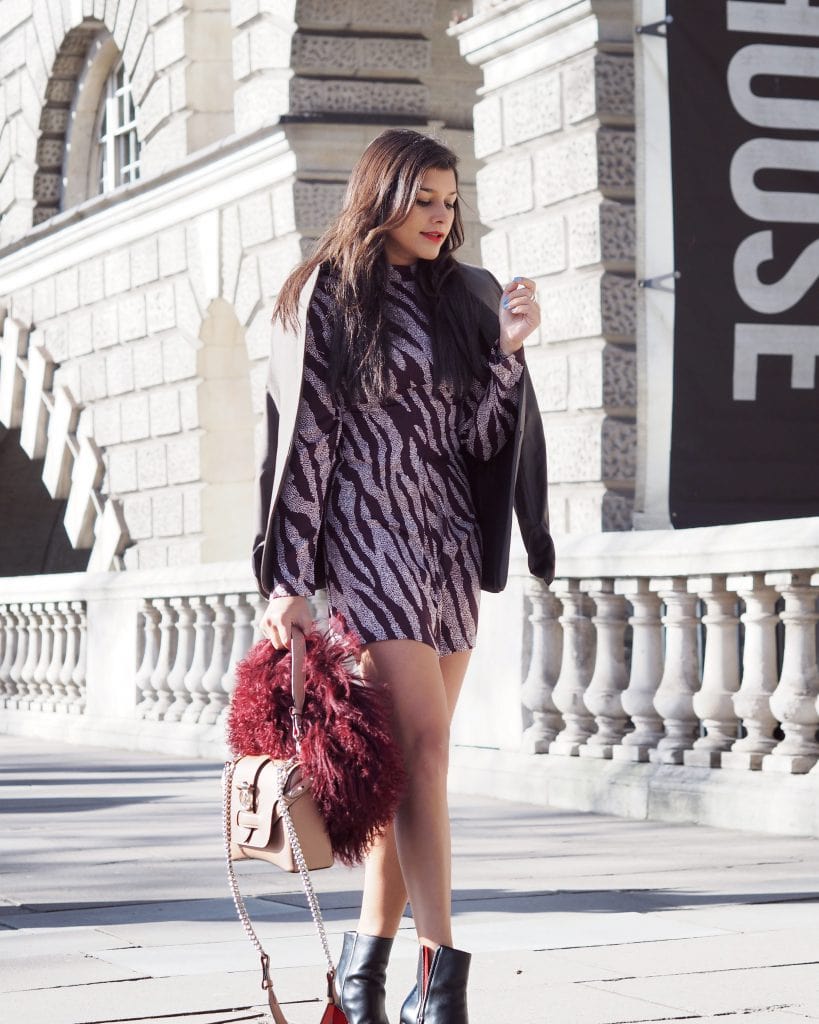 Day 3: Bonnie wears playsuit by 10 store, blazer by The Kooples, bag and boots by Christian Louboutin, shearling by Jigsaw.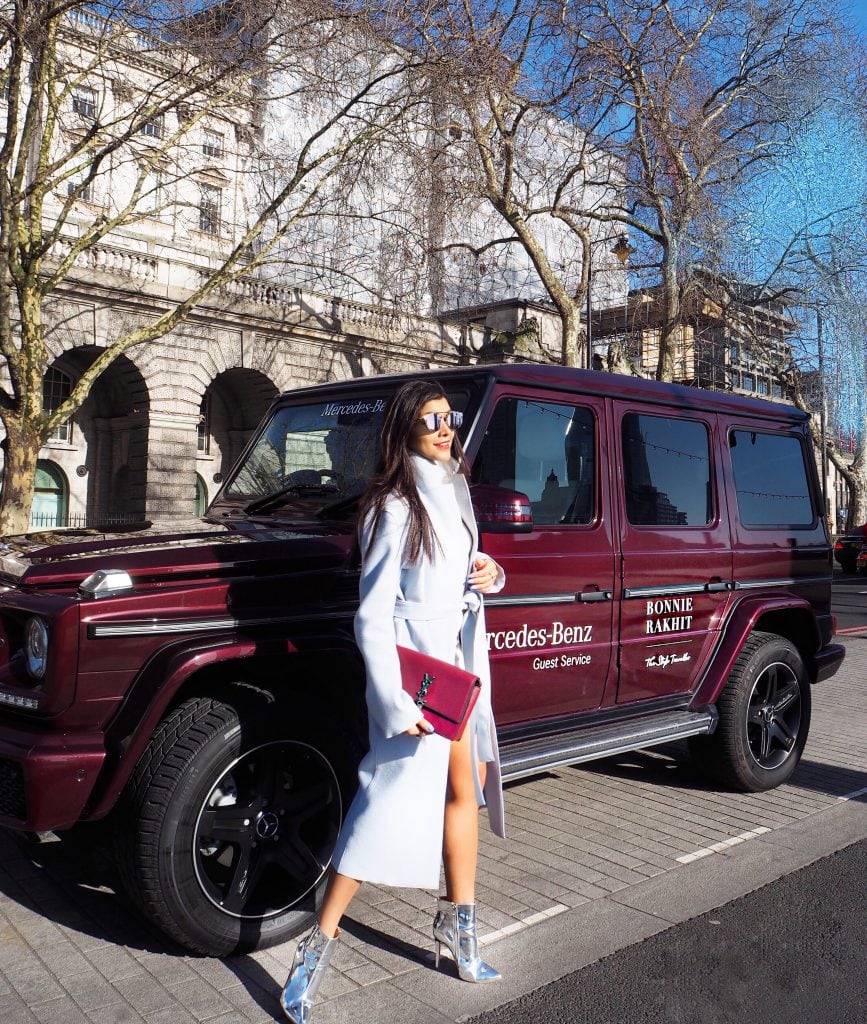 It's The Style Traveller G-wagon!
During London Fashion Week Mercedes Benz very kindly gave me a g-wagon and driver to get me to and from the shows. It was a total god send as sometimes the events can be all over town. I LOVE that they wrote my name on it too!!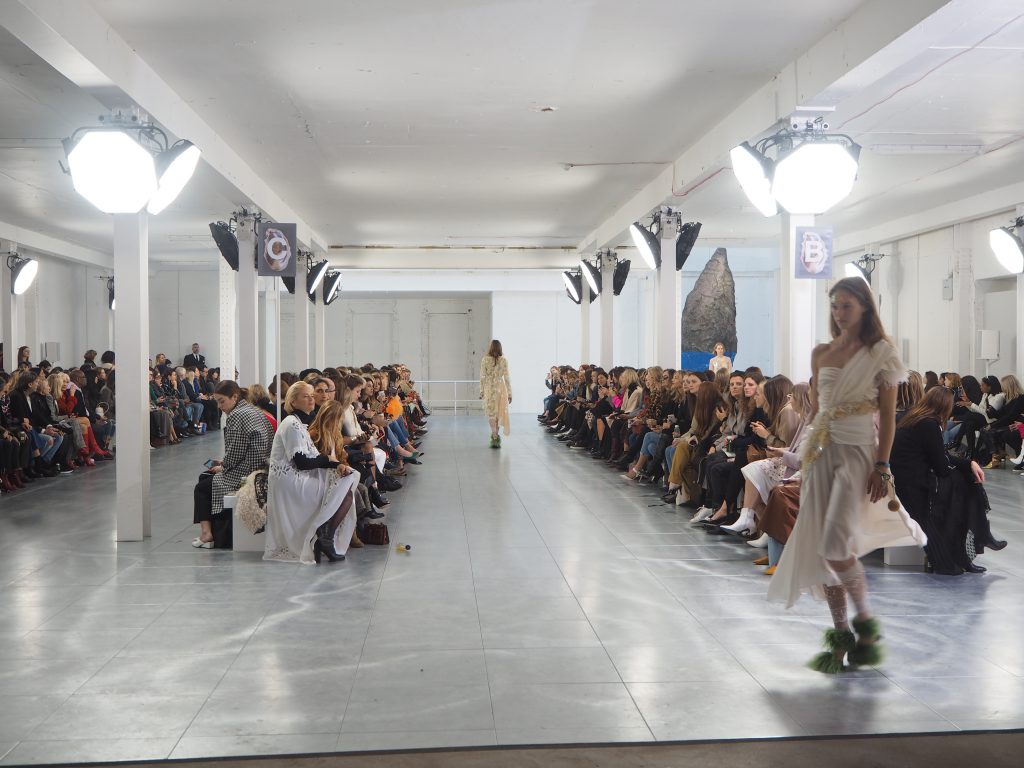 My Favourite Show: One of my favourite designers is Preen by Thornton Bregazzi, it's always such a feminine yet edgy show (pictured above). This season I was lucky enough to be asked to wear a Studio by Preen dress to the show (available at Debenhams, pictured below).
I love how floaty it is, Preen are such masters in pattern cutting, it's the kind of dress that makes you feel like you're walking the catwalk even if you're walking down your local high street.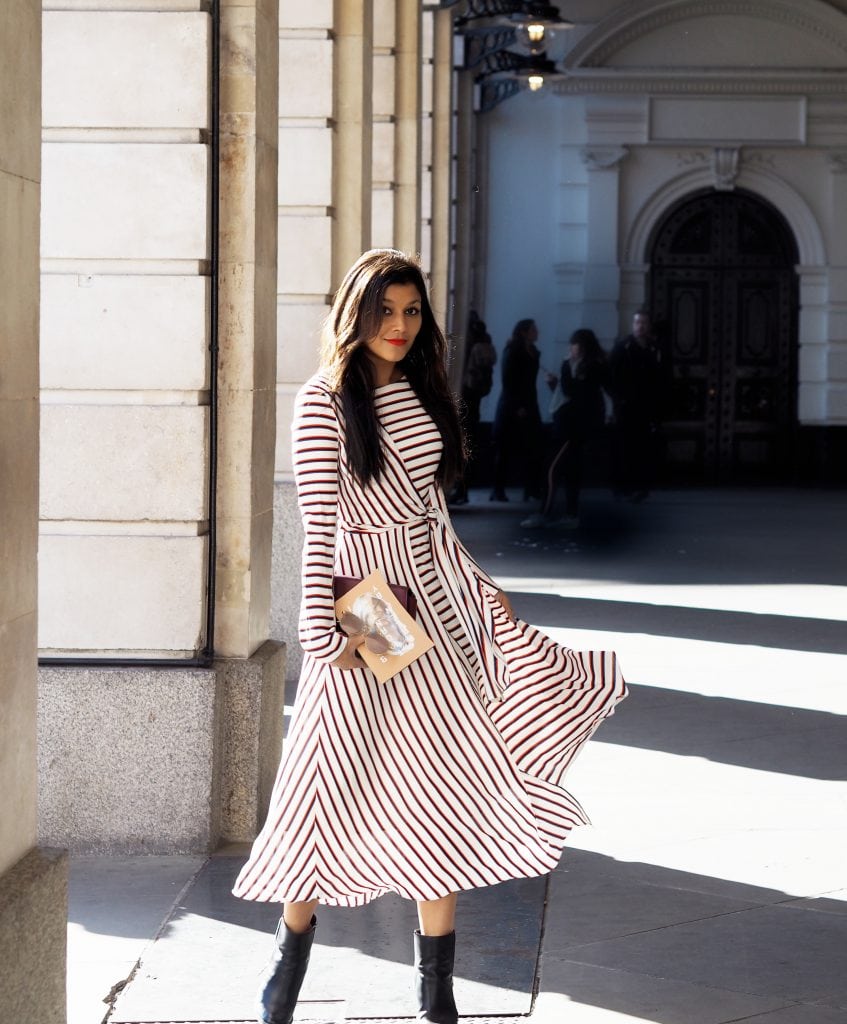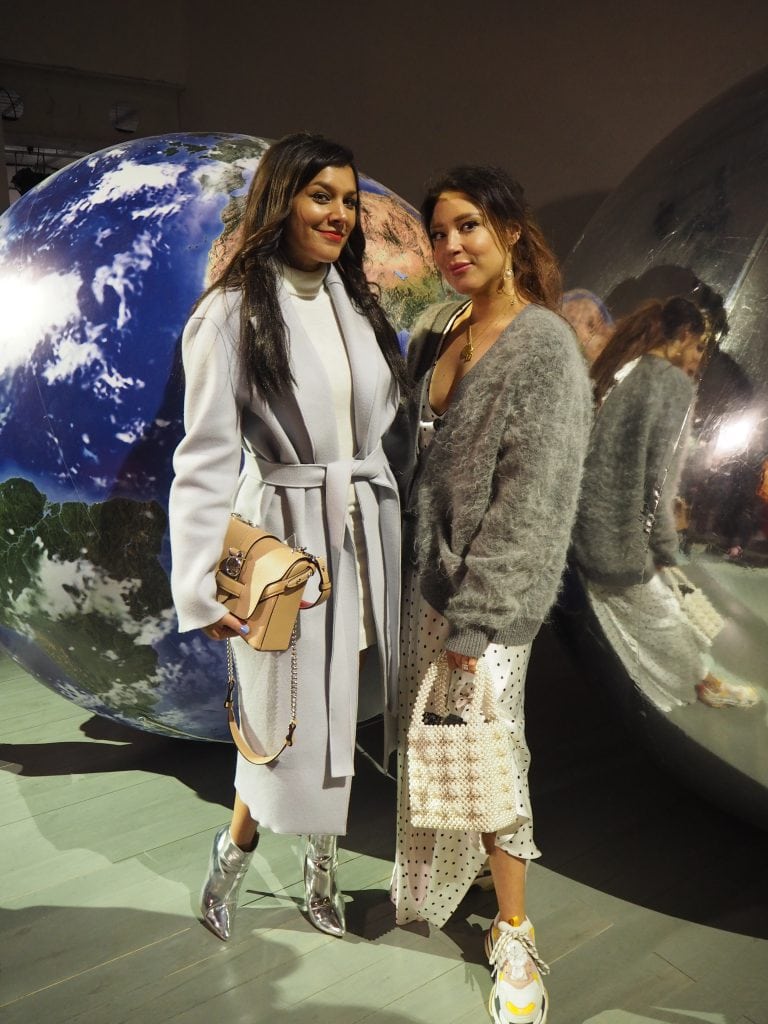 #GirlSquad
A lot of this season I spent with my fellow blogger girl squads! Pictured above me and the gorgeous Lorna Luxe at the Fyodor Golan show. And below at the Sophia Webster event with (left to right) Sinead Crowe, Felicia Evalina, Maja Malnar, Miss Gunner, Me and Lauren Crowe.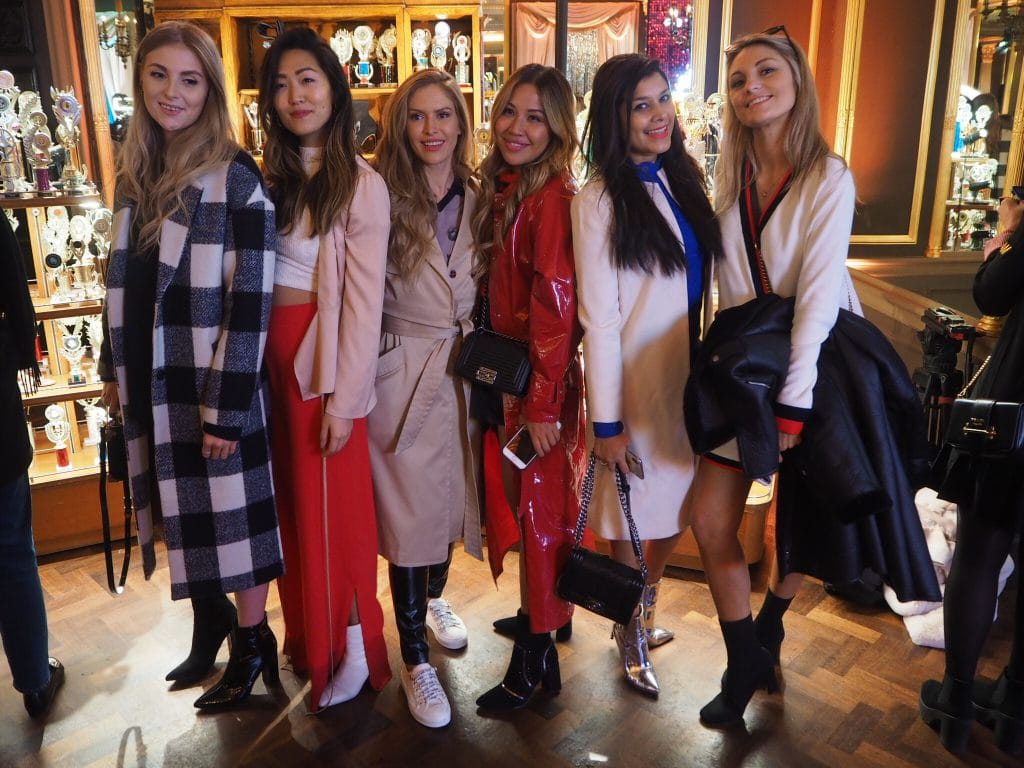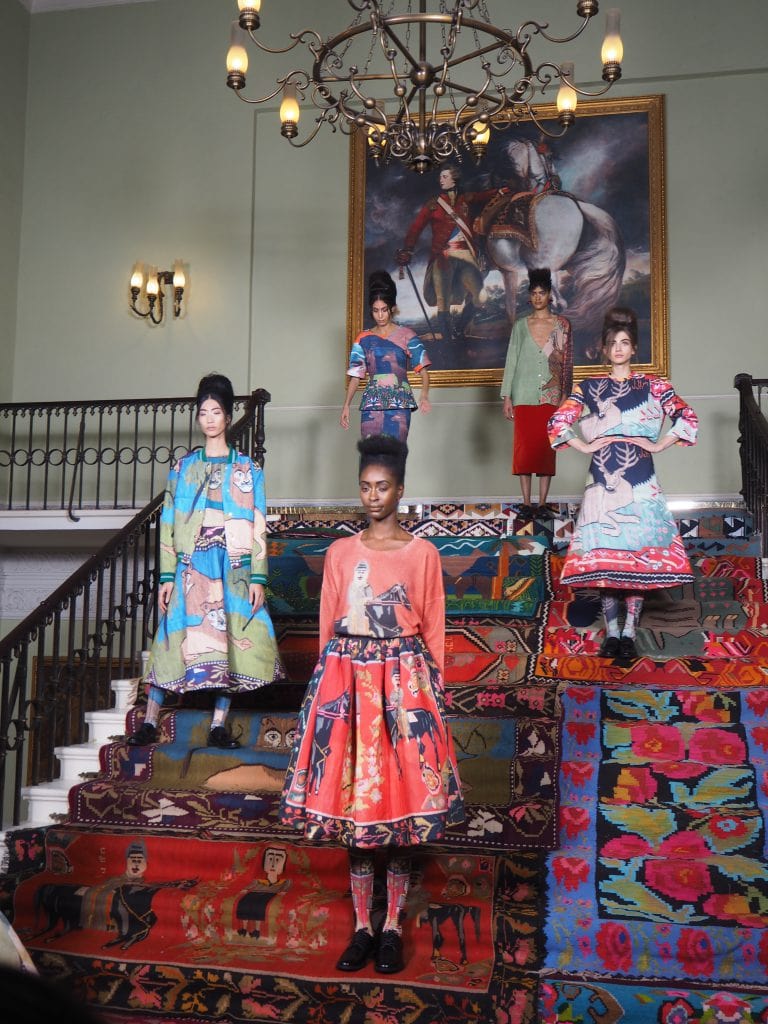 I loved the Tata Naka presentation which was inspired by Ukrainian national costume.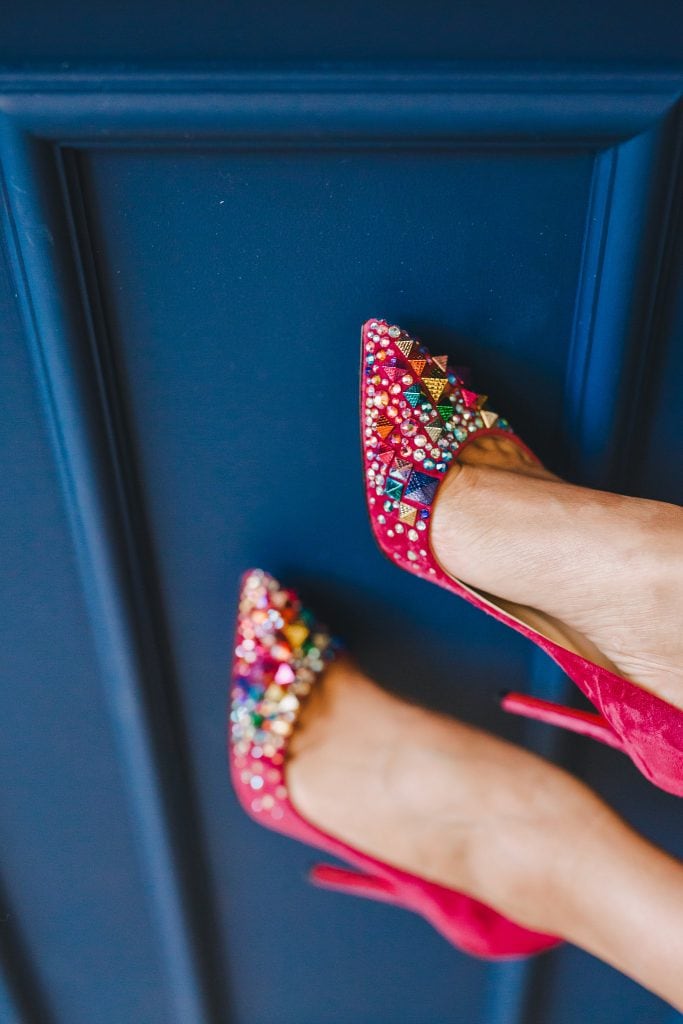 The gorgeous guys at Christian Louboutin gave me these incredible heels to wear to LFW! In Love!!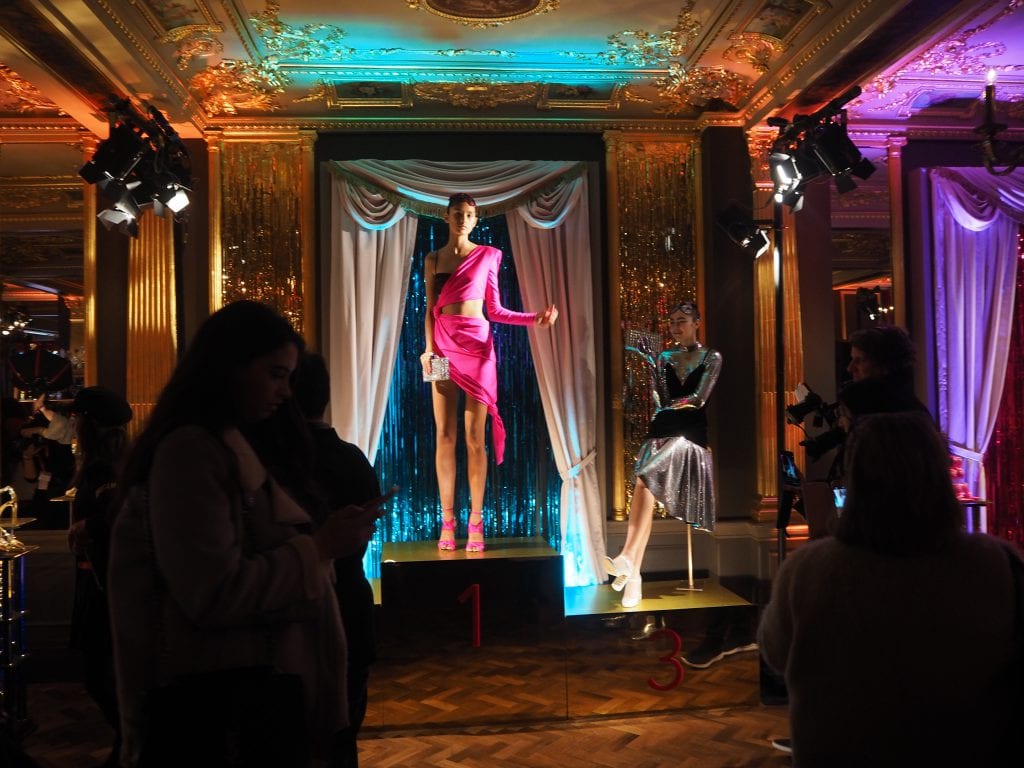 One of the most fun event of the week was the Sophia Webster presentation in the ball room at the Cafe Royal which was taken over by burlesque, tango dancers, models on giant glitter balls and a DJ with full set of percussion drums. It was a super glam event.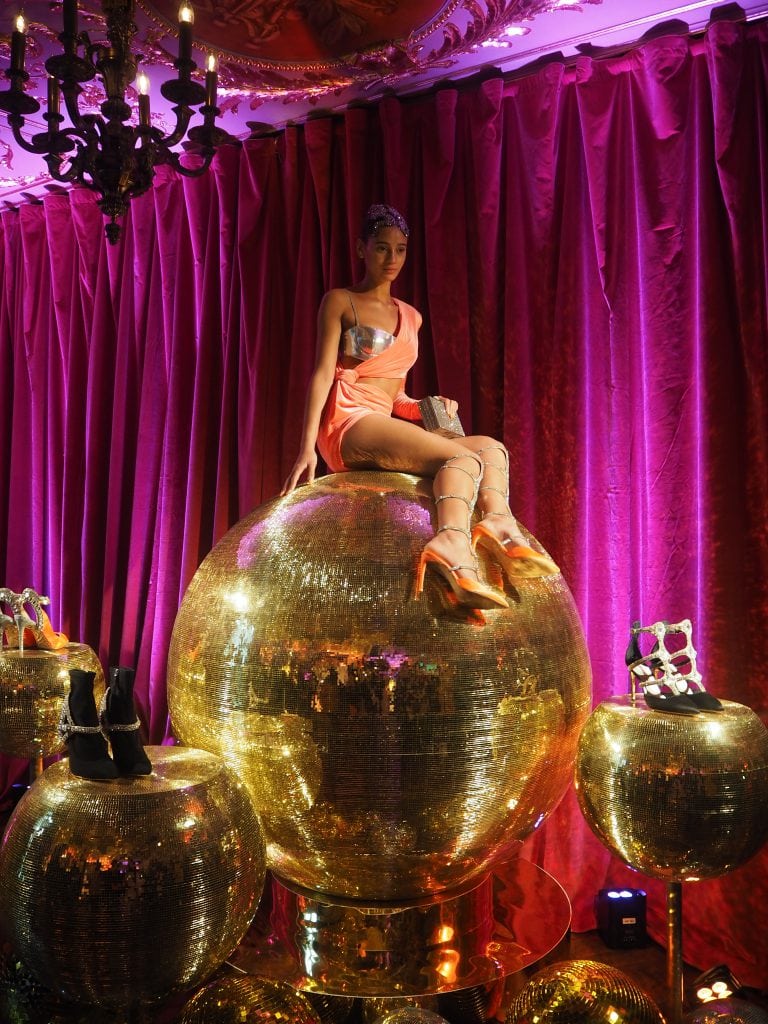 That's all from London Fashion Week for now. Next stop Monaco.
Huge thanks to all my girls who made London Fashion Week so fun for me, here are their instagram handles: Lissy Roddy, Lorna Luxe, Anisa Sojka, InTheFrow, Miss Gunner, Felicia Evalina, Sinead Crowe, Lauren Crowe and Maja Malnar.
And a huge huge thank you to Mercedes Benz for ferrying me around all week in the G-wagon!!
My You Tube LFW vlog will be out soon so please go check it out!
Bon voyage xx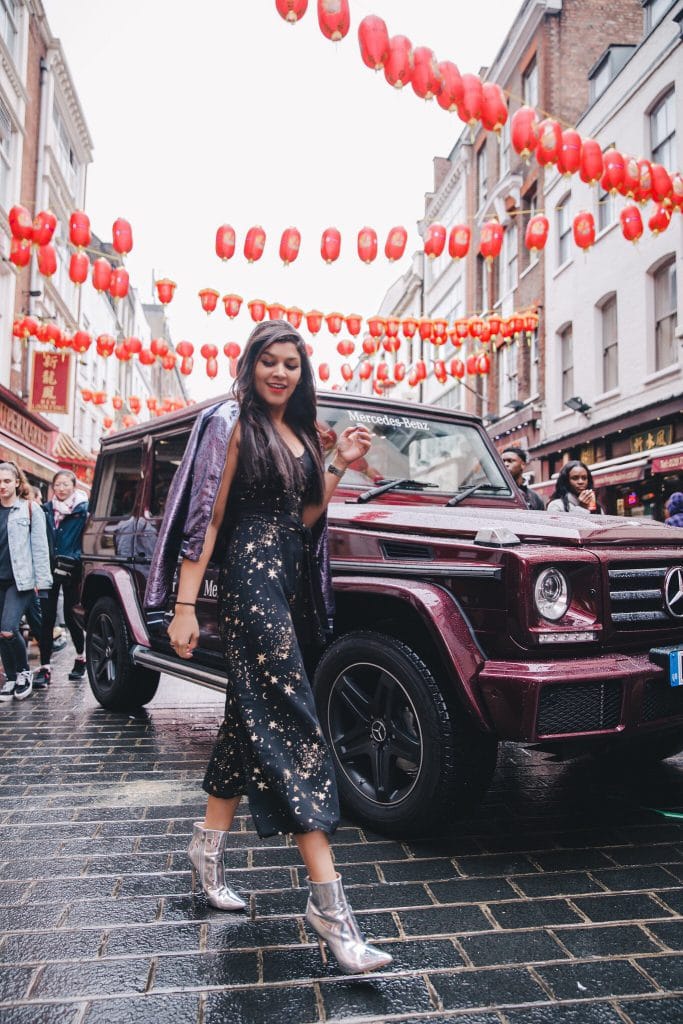 Share the love on Pinterest. Pin this to remember…