Tulips in Amsterdam – Everything You Need To Know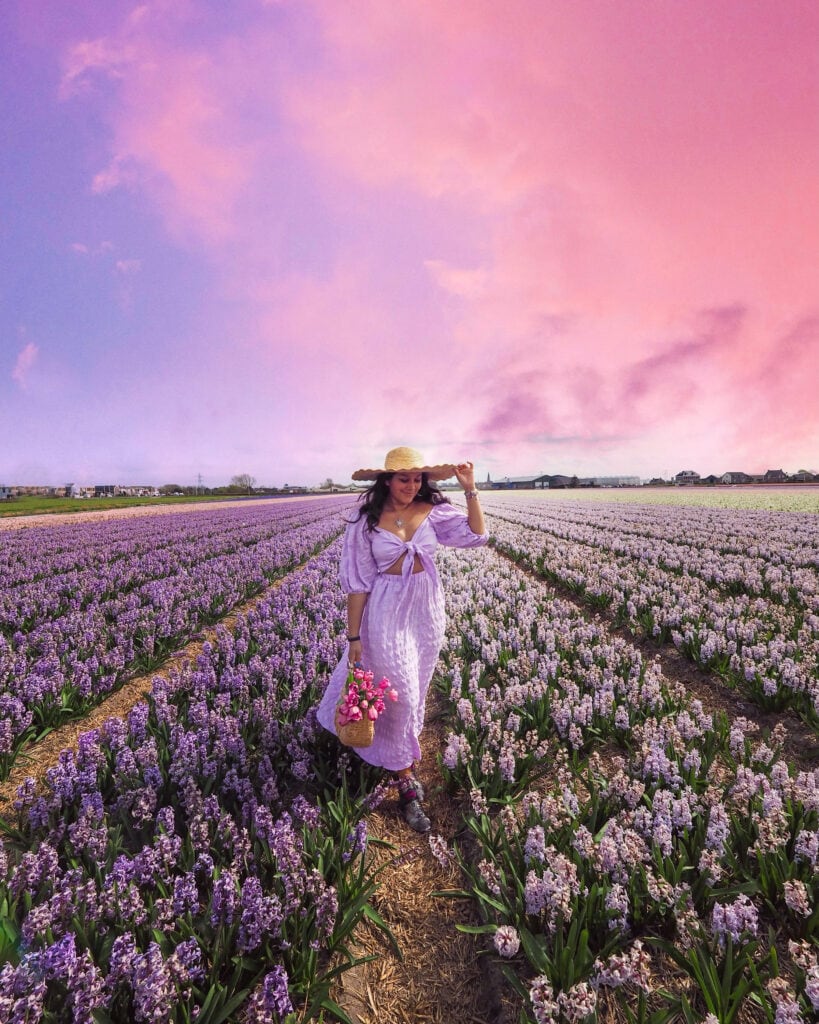 Tulip Fields of Amsterdam – Everything you need to know
The Netherlands is famous for its stunning tulip fields, and there's no better place to see them than in Lisse. 
Located an hour away from Amsterdam, the endless flower fields of Lisse and Keukenhof Gardens are the perfect destination for anyone looking to experience the tulips in Holland. 
So if you're planning a trip to the Tulips in Amsterdam – here's everything you need to know
Where to find the tulips?
Lisse is an agriculturally spectacular part of The Netherlands. Famous for being the world's largest producer of tulips. 
Come tulips season the entire town is filled with acres and acres of tulips. From above it looks like colourful carpet of flowers. It's a spectacular sight to behold.
Best time to visit the tulip fields in The Netherlands
The best time of year to visit the tulip fields in the Netherlands is typically from mid-April to early May. This is when the flowers are in full bloom. 
However, the exact timing can vary depending on the weather. It's always a good idea to check the bloom status before you go. The Keukenhof website and closing dates are usually a good indicator. 
What is Keukenhof?
Keukenhof Gardens is the world's largest flower garden, with over seven million tulips, daffodils, and hyacinths on display. In addition to the stunning curated gardens, you can also expect to find a variety of exhibits, events, and activities.
Including photogenic windmills, giant clogs, specially curated floral installations and shoot worthy flower exhibitions. It's usually better to pre-book your tickets online before you arrive. Sometimes on weekends the park can get over crowded.
It takes at least 2-3 hours to walk around the whole park, and a bit longer if you stop off for lunch, wander around the maze and enjoy all the displays. I would recommend spending the day there. Or having the morning there, then exploring the local area on a bike in the afternoon. The gardens are quieter first thing in the morning and towards the end of the day. 
Pack walking shoes, a hat if it's sunny or waterproofs if it rains, and a cute outfit. You'll definitely want to take lots of photos.
In addition to Keukenhof Gardens, the neighbouring tulip fields are also a must-see attraction for anyone visiting the Netherlands during tulip season. However many of these are privately owned by farmers who don't want to see their livelihood trampled upon by tourists. So visiting Keukenhof or one of the other paid attractions in Lisse is a better option if you want to take instagram photos.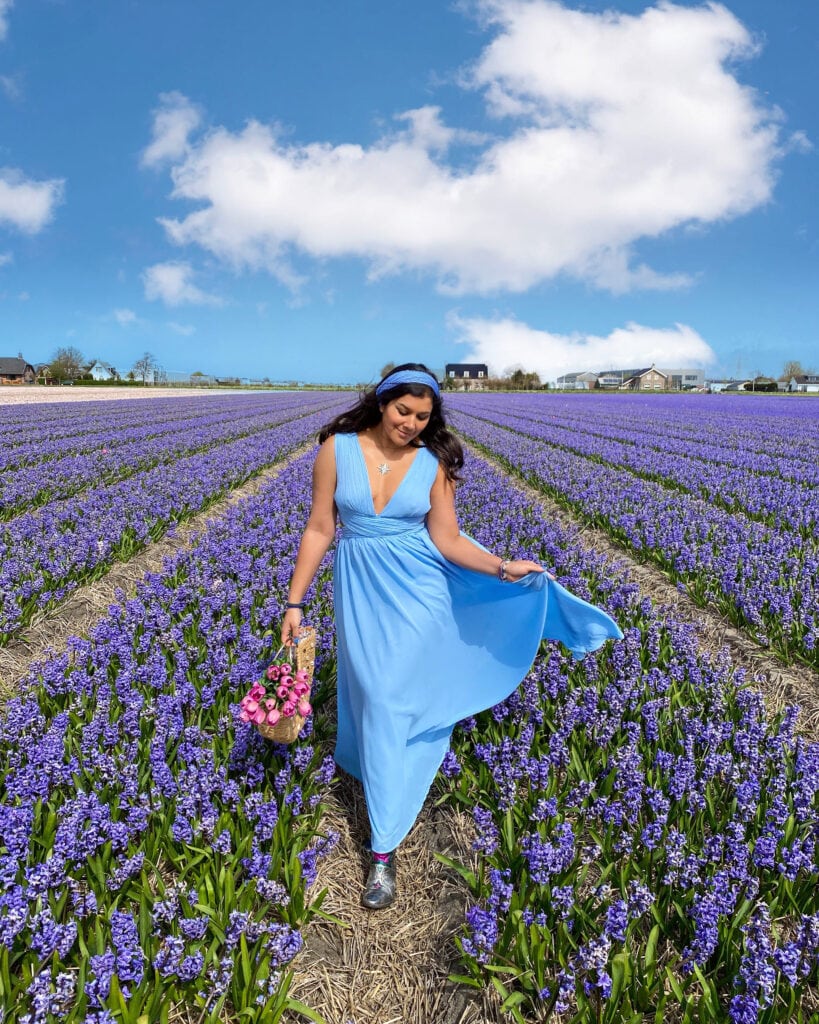 To get the best Instagram shots, consider taking a guided bike tour of the fields or booking a helicopter ride for a bird's-eye view. Be sure to stay on designated paths and respect the farmers' property when you go. 
With vibrant rows of tulips stretching as far as the eye can see, the neighbouring fields are a stunning sight to behold and a photographer's dream come true.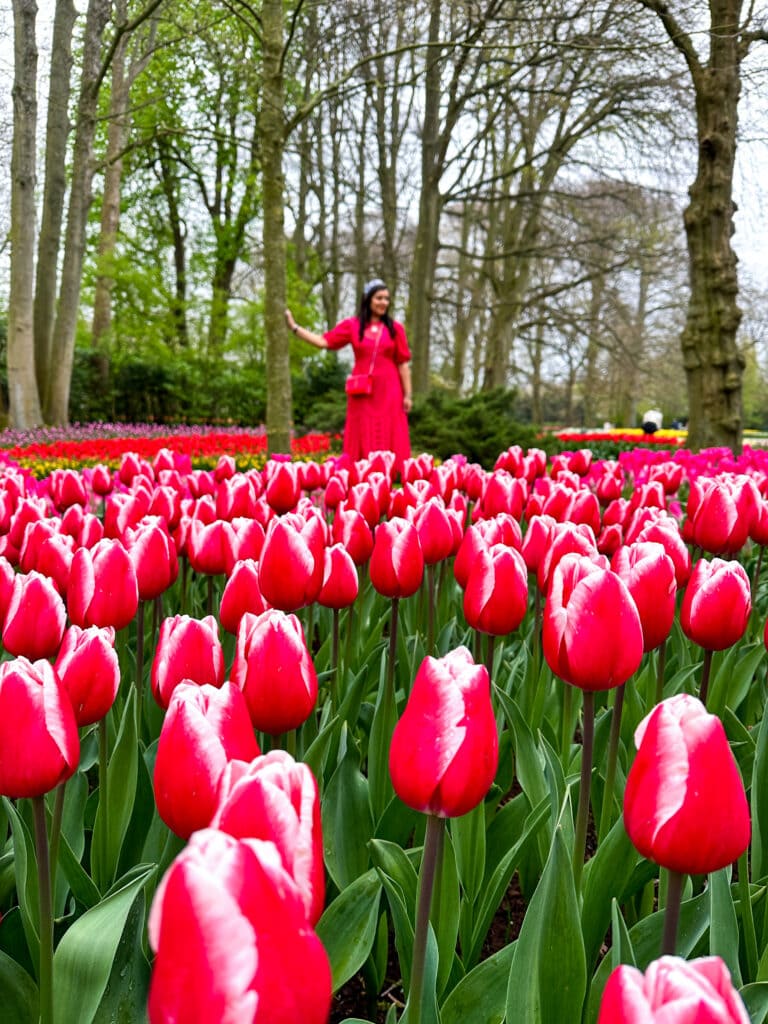 Tulips in Amsterdam – Everything You Need To Know
As well as Keukenhof many new instagram friendly, theme gardens and parks have popped up in the area. Where you can pay a small fee and create your own photo shoots and take as many pictures as you like.
The best are: Tulip Barn Holland And Tulip Experience Amsterdam, where you also get a free bouquet of flowers with your entry ticket.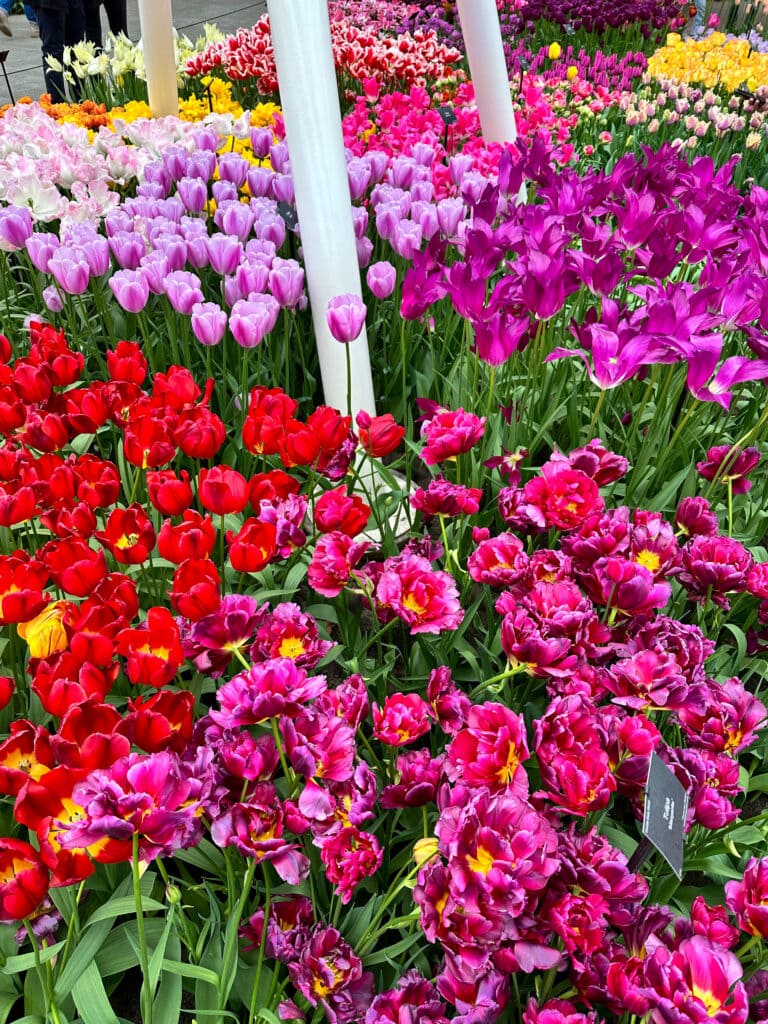 How to get there?
Keukenhof is located in Lisse, around 1 hour from from Amsterdam. You can easily reach it by taking public transportation or driving. 
If you're coming from Amsterdam, take the train to Schiphol Airport and then take the Keukenhof Express bus, which will take you directly to the gardens.
Distance from Amsterdam to Keukenhof
The distance from Amsterdam to Keukenhof is approximately 35 kilometers, which is about a 40 minute drive. If you're taking public transportation, the journey takes about an hour.
Rotterdam cruise terminal – I spent the day at keukenhof on a day trip from a cruise ship, moored at Rotterdam Port. Public transport is easy to get from Rotterdam Port or else pre book a taxi or car, it's about 1 hour drive.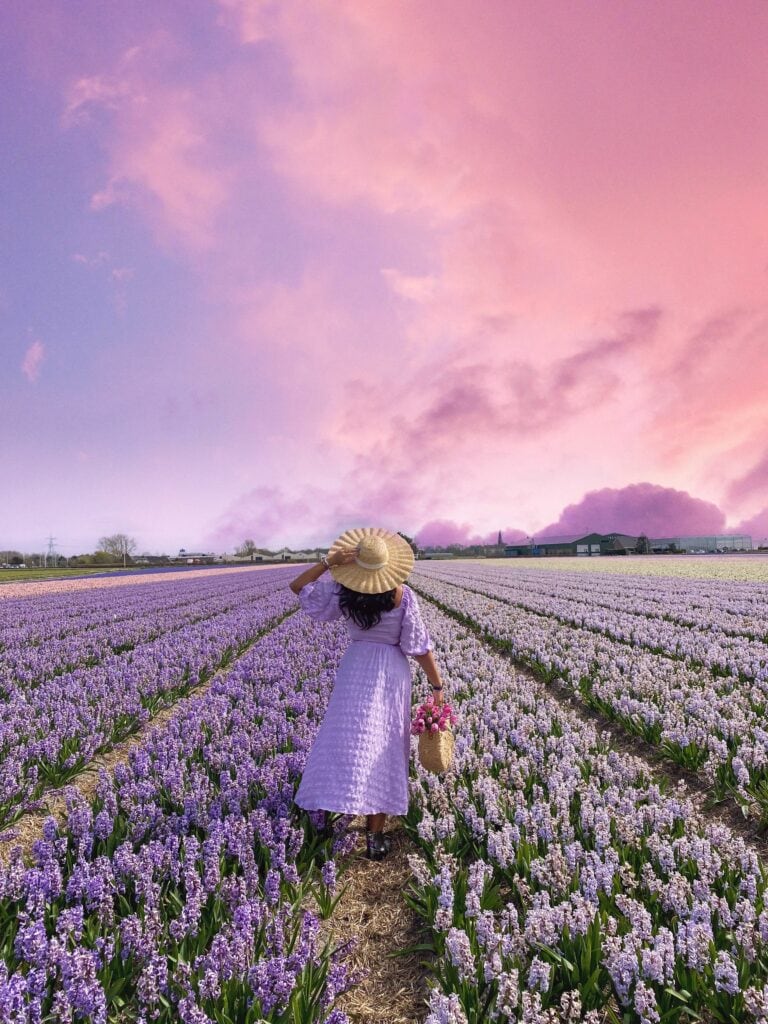 I hope that you enjoyed my blog all about the Tulips in Amsterdam – Everything You Need To Know. 
If you're staying in Amsterdam here's a link to the best hotels to stay in.
If you did please leave a comment below. Also feel free to ask me any questions about it. 
Follow my travels on YouTube or Instagram @bonnierakhit 
Bon voyage xx