40 Best Outdoor Bars, Rooftops and Igloos in London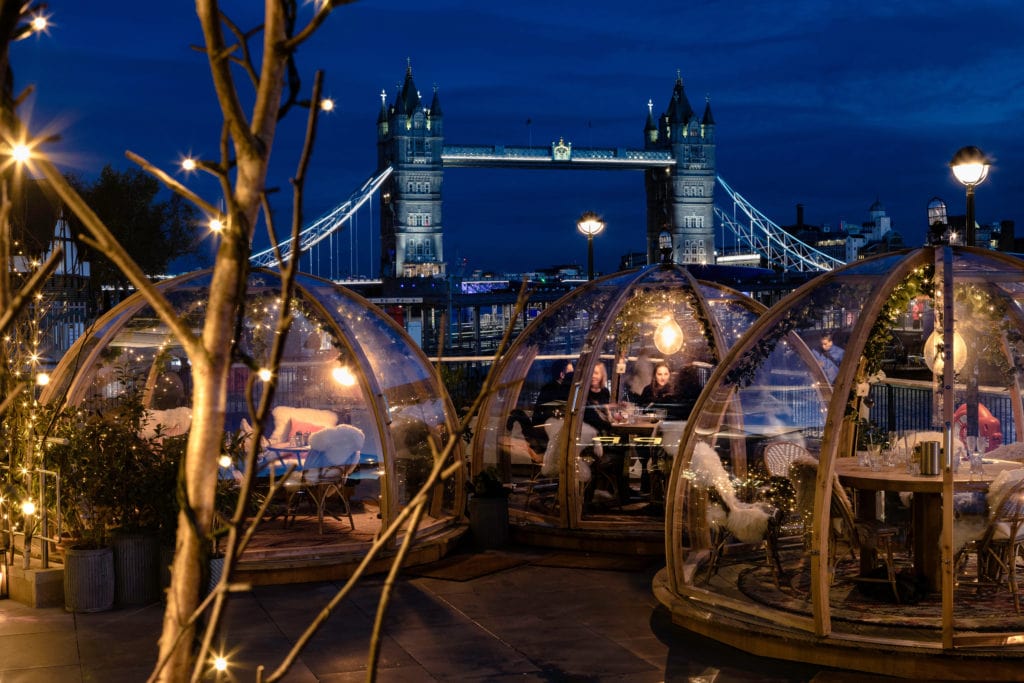 Hey guys!
Welcome to the Style Traveller Guide to the 40 best outdoor bars, rooftops and igloos in London!
Looks like Xmas is back on this year! With bars and restaurants re-opening, I'm sure like me (and rudolf) you'll all be chomping at the bit to find the best outdoor bars and restaurants in town to enjoy the festive period!
Being a Londoner myself and a frequenter of the best watering holes in the capital, I've compiled a little list of the places I love to hang out with my friends. It's not just a list of all the outdoor bars in town, more a curated list of places I genuinely like to go myself, be it for the instagram installations, the great atmosphere, rooftop views or party vibes.
I've grouped the bars into types of venues and also locations, so you can cater your merriment to who you're going with and what kind of night you're looking for. If it's a romantic dinner, insta shoot or girls/ boys party night out. Have fun guys!!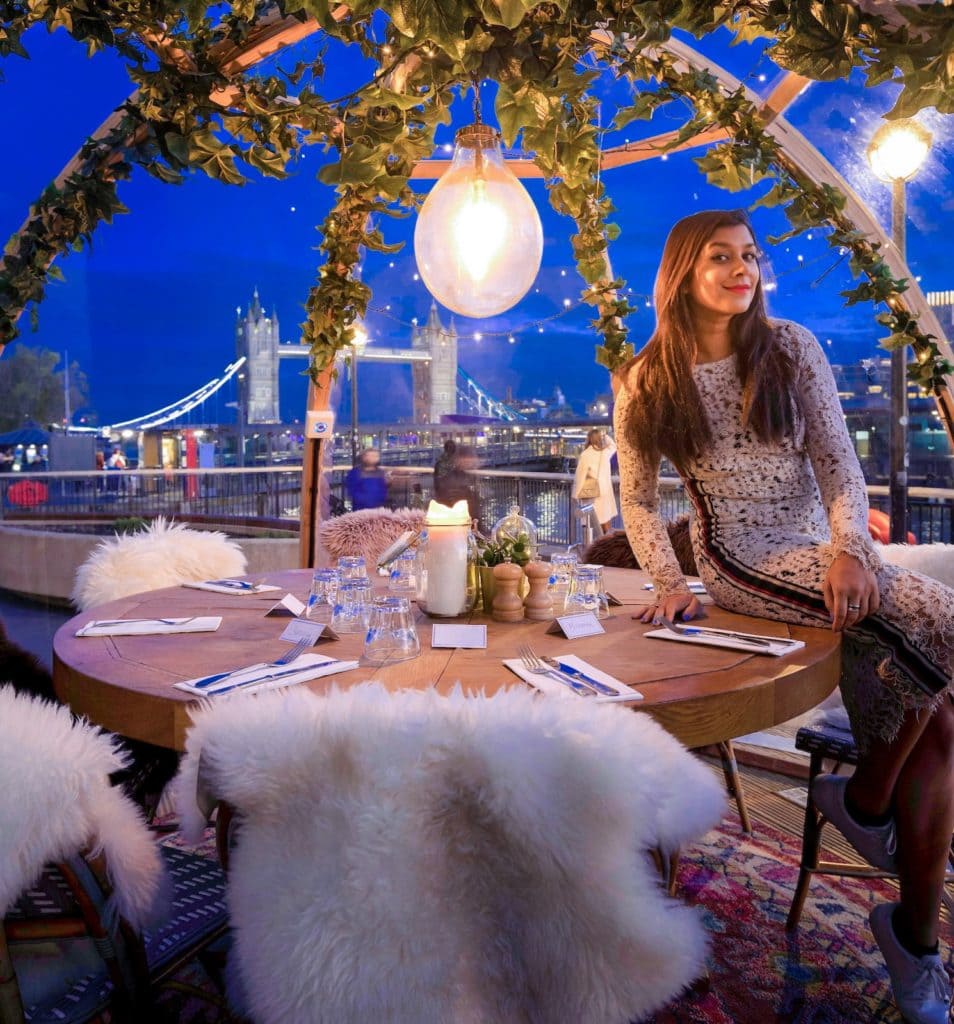 Igloos
In the past couple of years Igloos have become THE place to hang out and get your festive insta shots. Visit the original igloos at The Coppa Club (pictured above) with epic views of Tower Bridge, or pay a visit to its newer siblings at swanky city rooftop bars like Vintry and Mercer or The Aviary.
But for me perhaps the most exciting bubble news is that this season is Jimmy's Lodge igloos on Southbank and also Somerset House is building winter domes in its famous courtyard! Book them quickly though they're both selling out fast!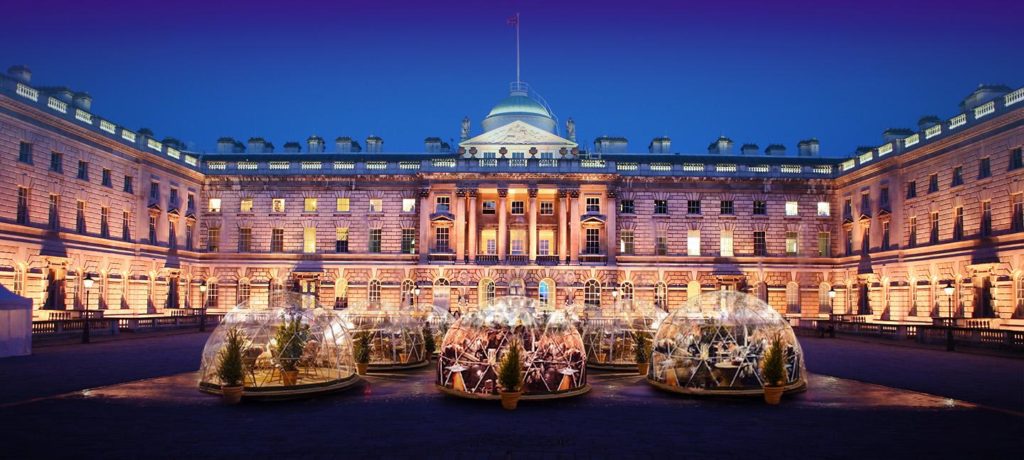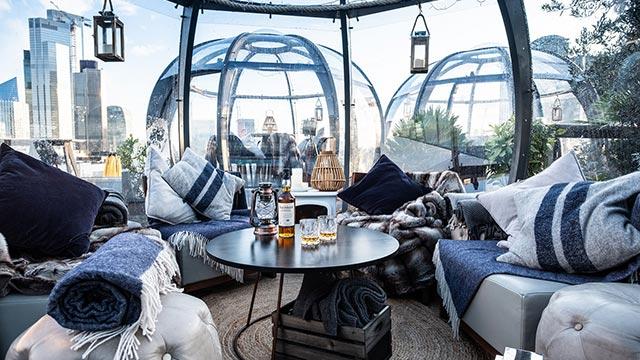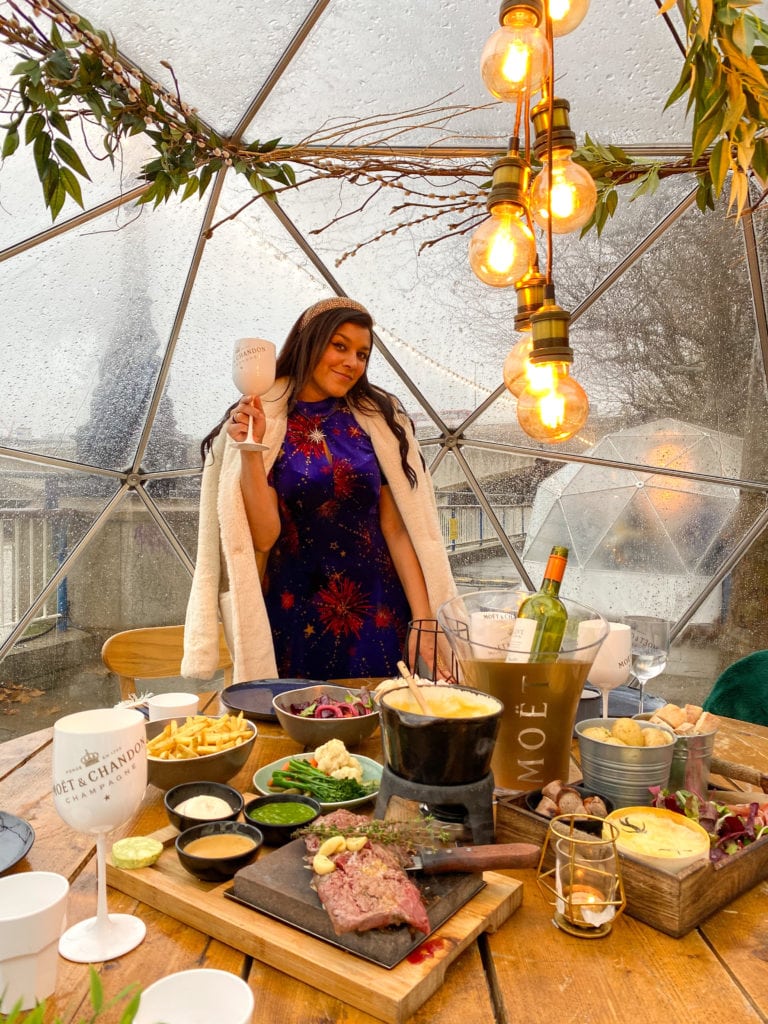 Swanky Rooftop Bars
If there's one thing London knows how to do well it's a swanky rooftop bar with epic views!
Whether your chinking champagne flutes over majestic, St Paul's Cathedral views at Madison, fancy expensive cocktails in the clouds at Sushi Samba, or looking down over regal Somerset House from the Radio Rooftop at the Me Hotel, there are some spectacular vistas to be had and you'll definitely be living the high life.
Other great rooftops include trendy east London vibes at The Boundary and champagne overlooking Oxford Circus at Aqua / Kyoto.
I also love Alto by San Carlo at Selfridges for a quick festive tipple, pre or post Christmas shopping.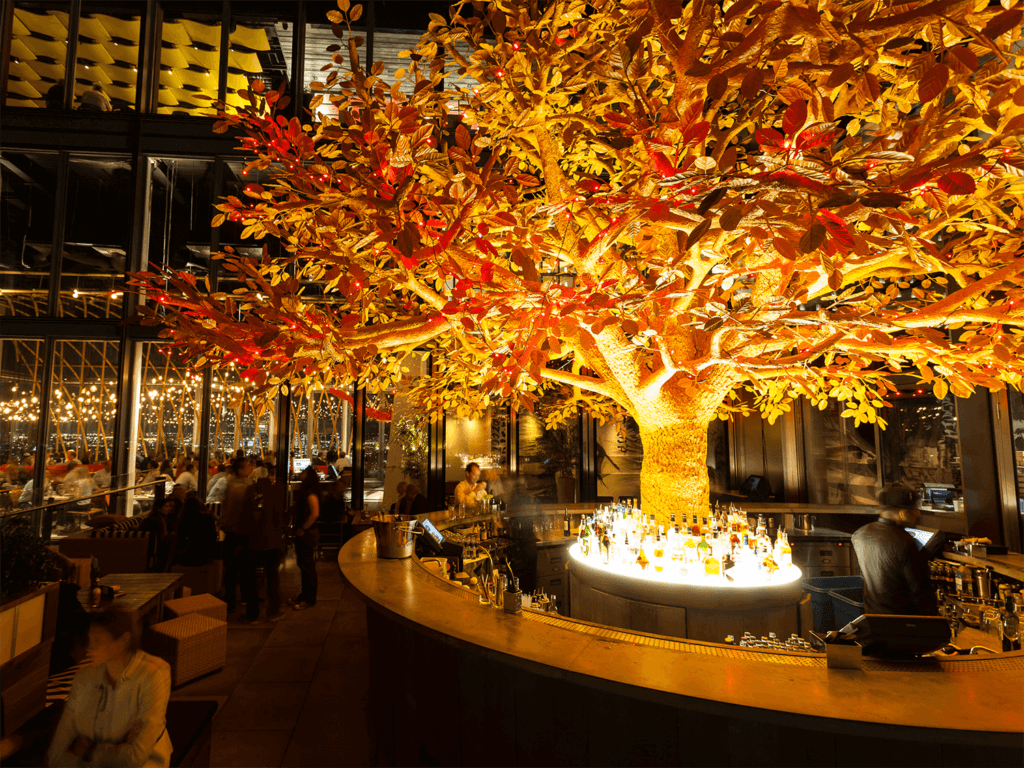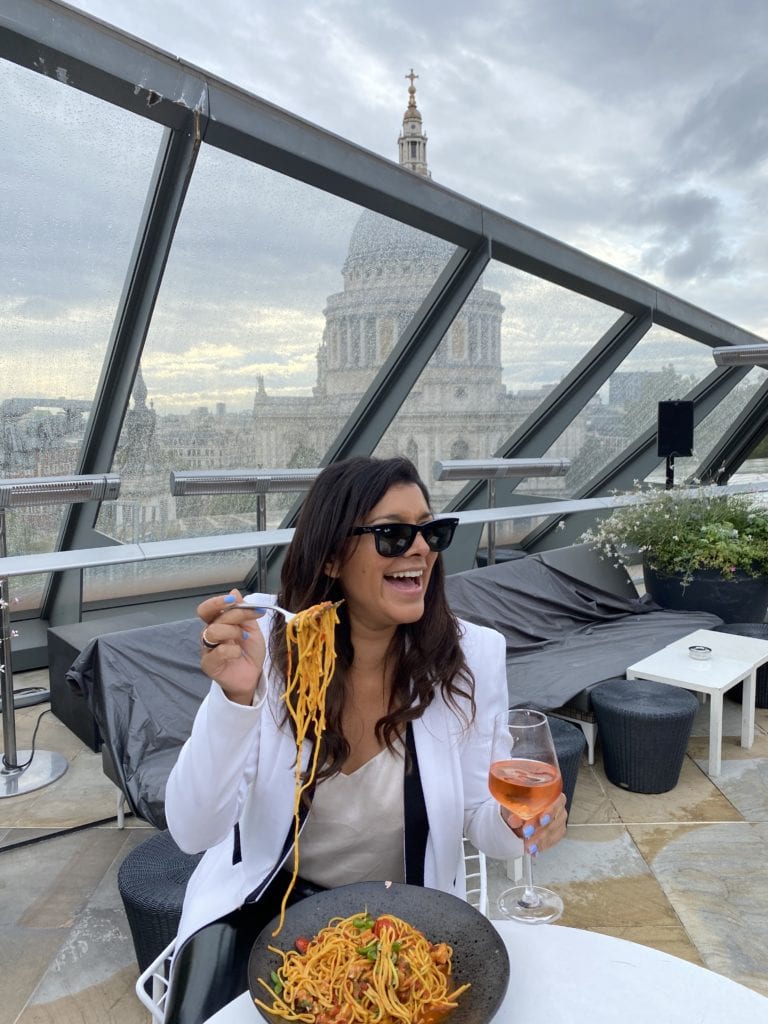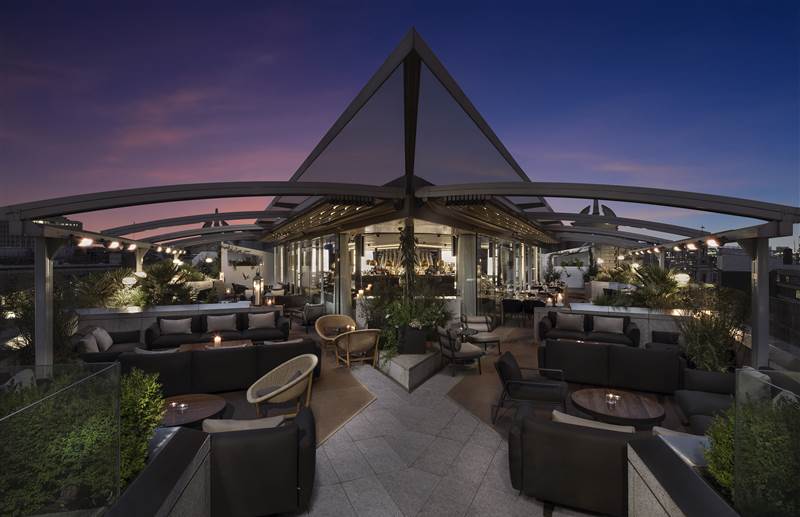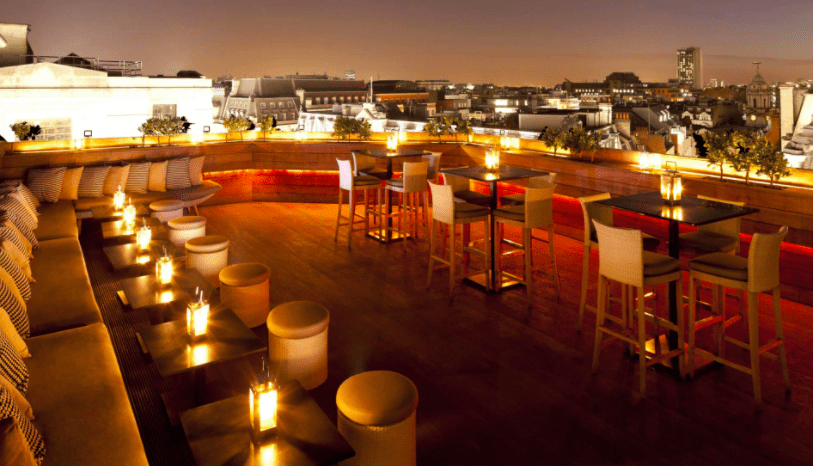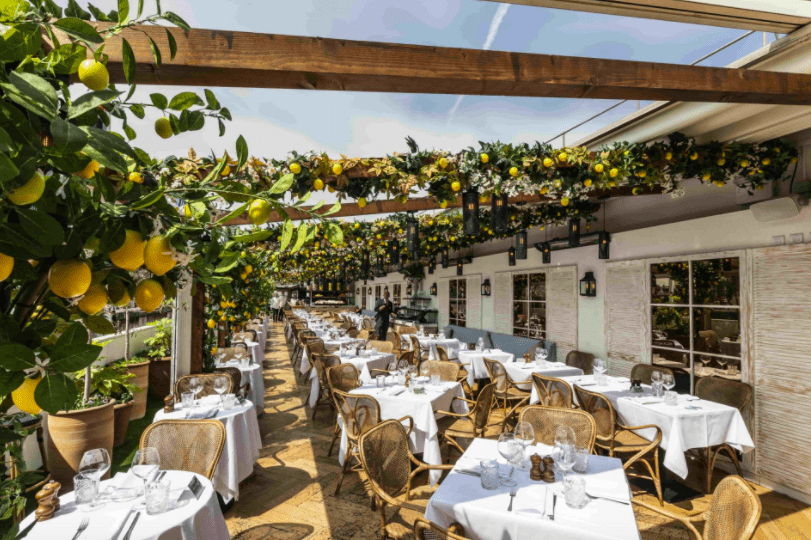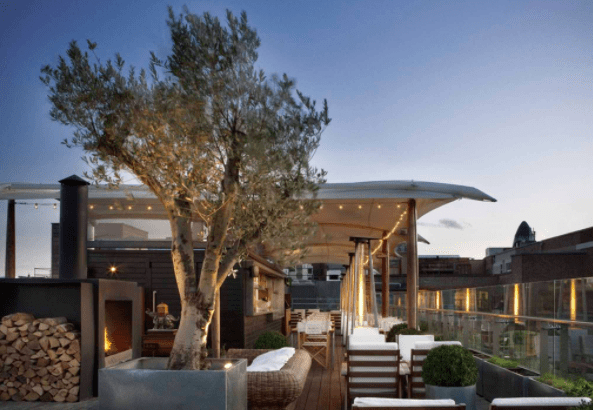 Group Party Vibes
If you're in a group (of 6 or less) and fancy more festive party vibes head to one of the many xmas wonderland that are popping up, like Winterland aka Neverland or Fulham beach as it's known in the summer. The whole place has had an alpine, ski-lodge makeover and staff are wearing lederhosen and dirndls to serve mulled wine and fondue.
Likewise head to Sky Light studios in Tobacco Dock for outdoor festive fun, igloos and fairy lights galore! And this season Pergola Paddington has just announced a xmas tree extravaganza winter wonderland theme.
Over at Elba in Waterloo expect a fairy light filled wall and ceiling, outdoor heaters and group tables to play on.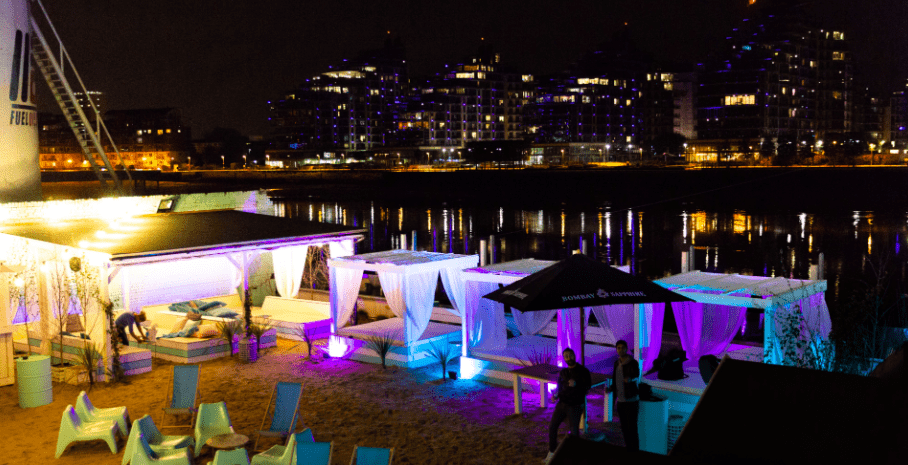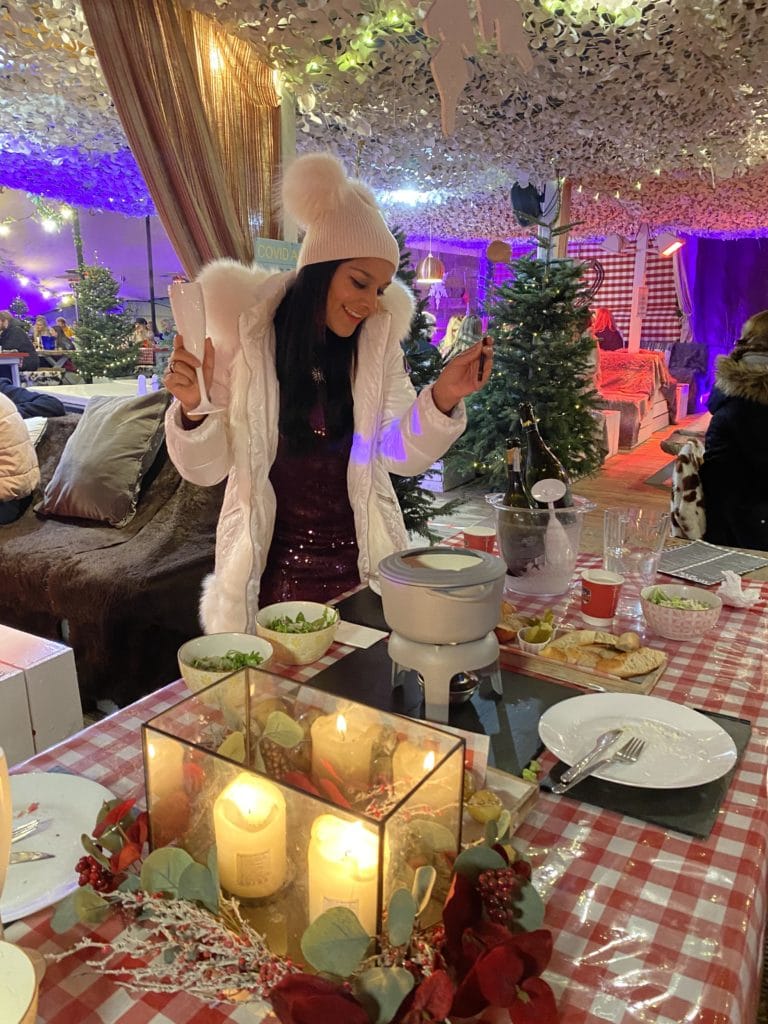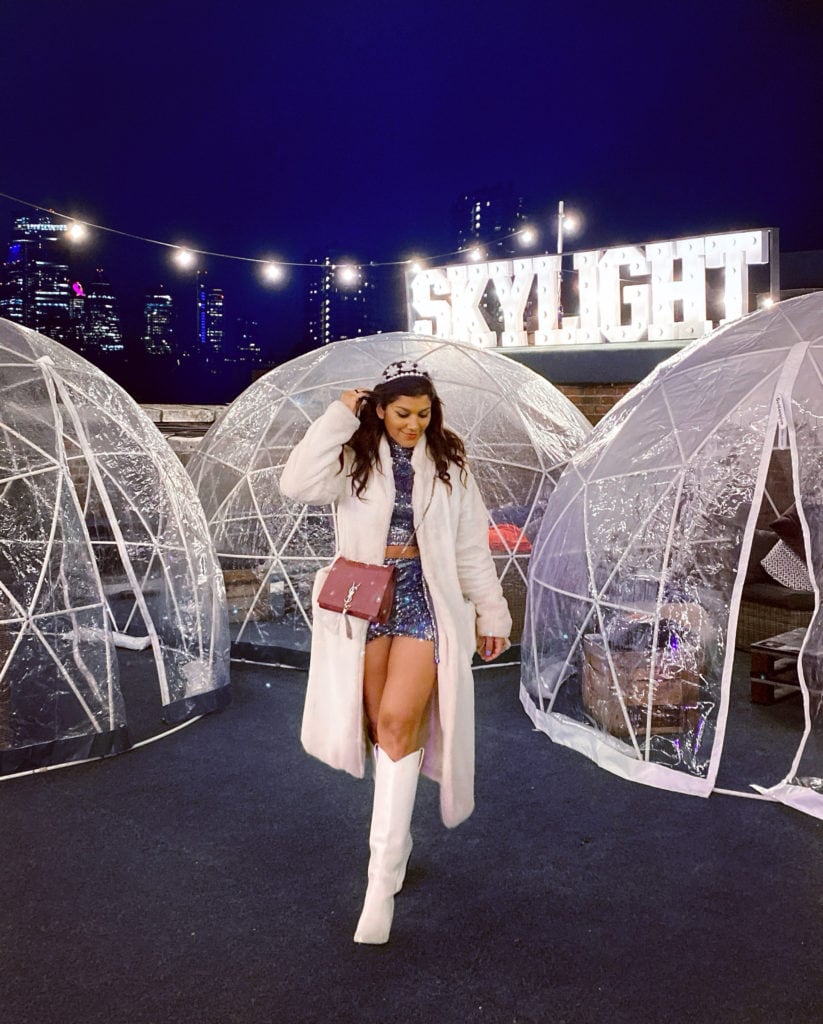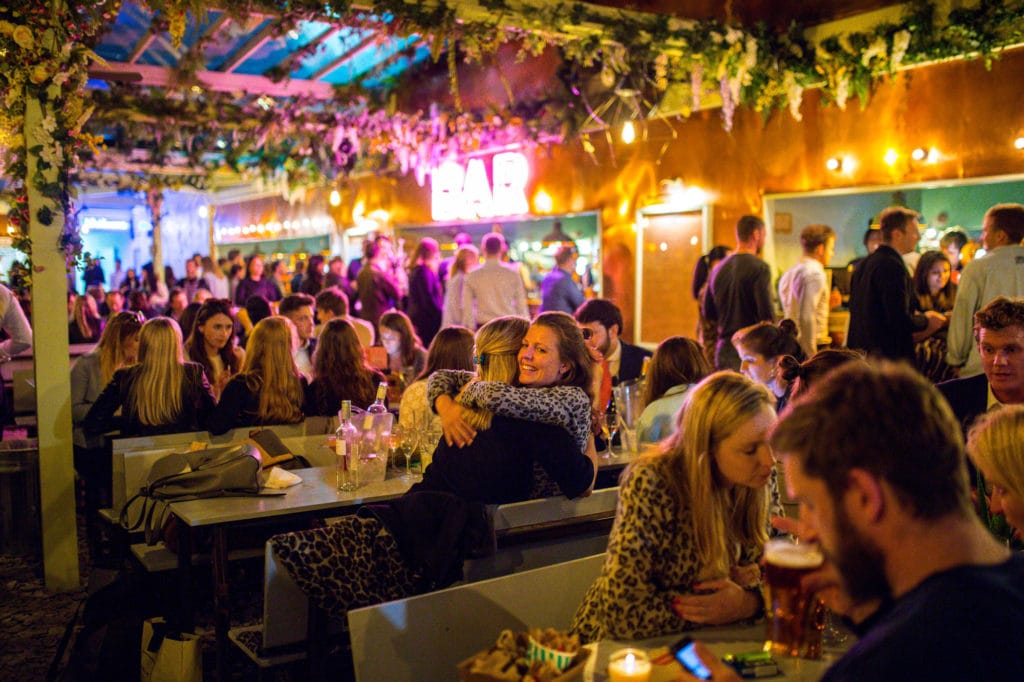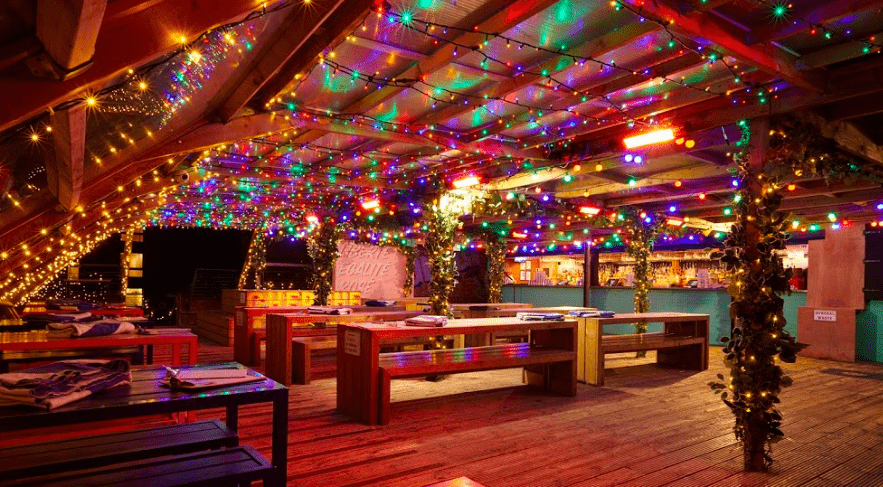 Hipster Xmas
If you want to get festive the hipster way, head over East London or Peckham. Rooftop bar Netil 360 or Crate Brewery and other canal side bars in Hackney Wick are all open air.
If you're in south east London climb to the heights of Franks original carpark bar or The Bussey Building in Peckham to see the twinkling lights of the city from up top. Bar Story in Peckham Rye also has a great outdoor courtyard.
Pop Brixton the crate village is awash with glitter and shimmer to drink in with your tacos and craft beer. And while we're talking crates don't forget Box Park and student hang out Queen of Hoxton in Shoreditch.
Pub on the Park in London Fields has a great garden overlooking the park.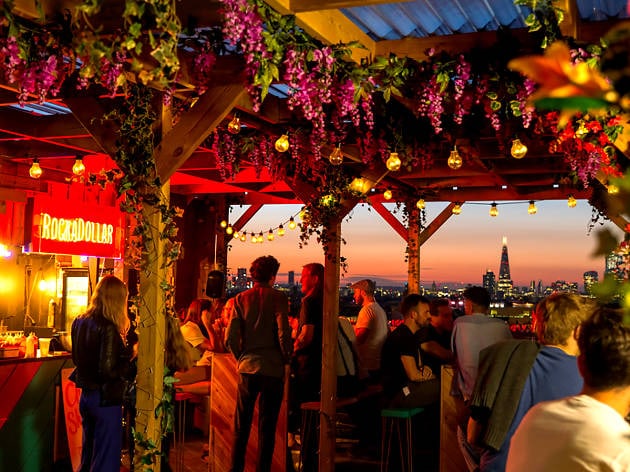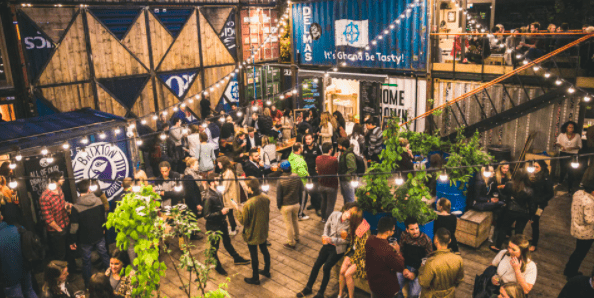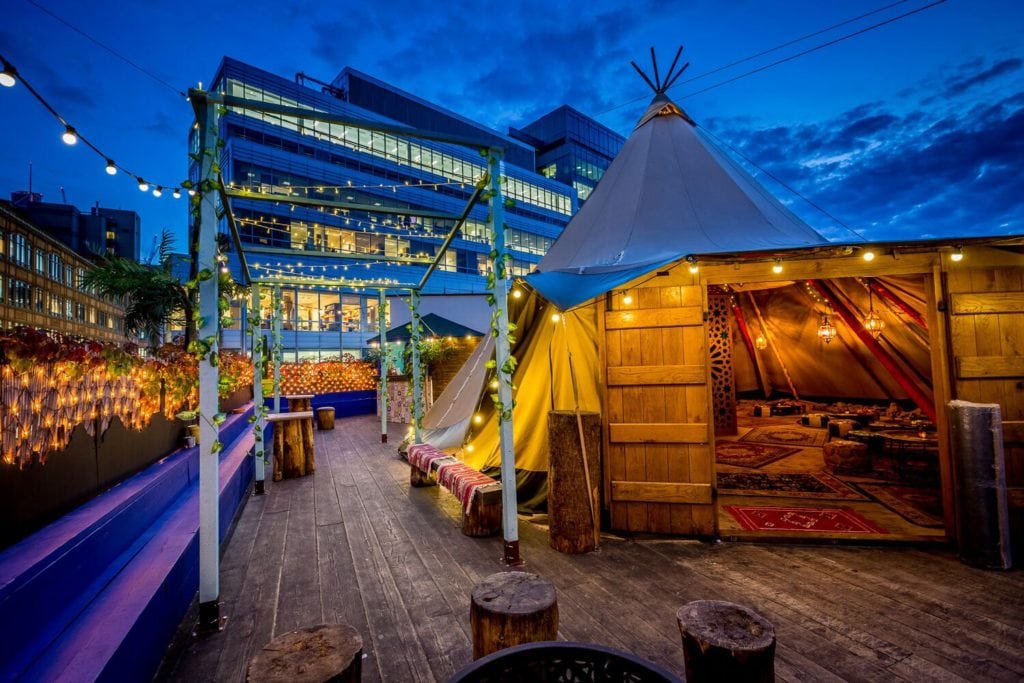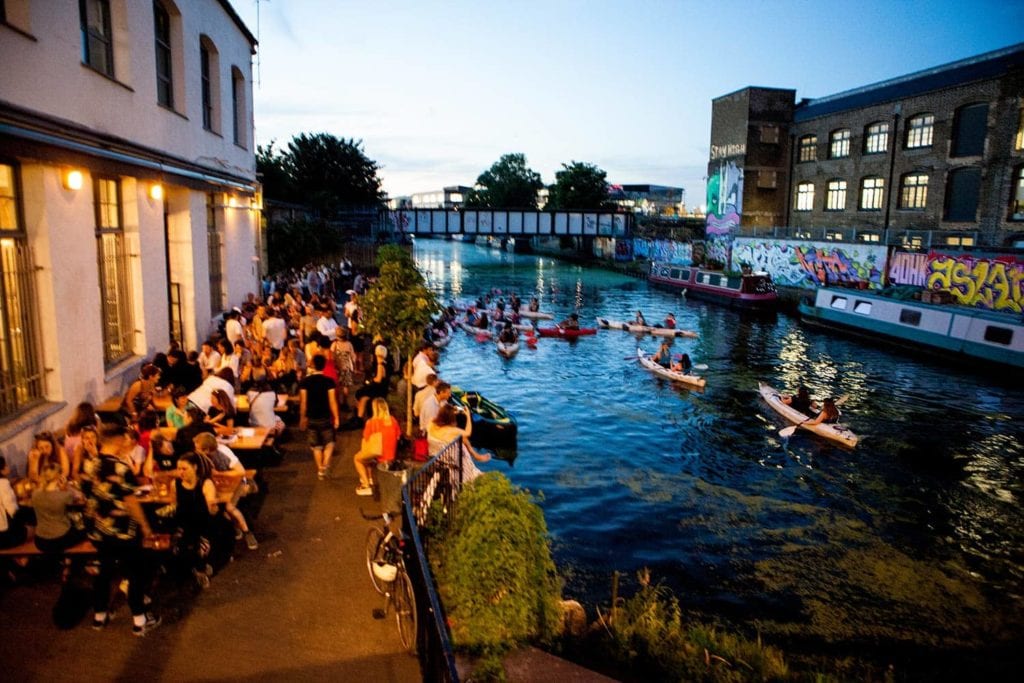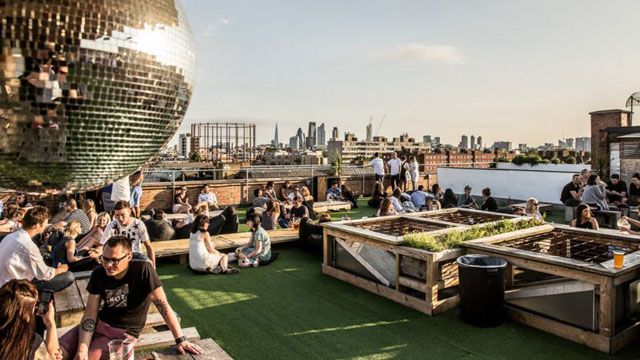 Instagram Gardens
If you're looking for posh instagram friendly afternoon tea or evening drinks and dinner look no further than the beautiful flower or Xmas fern filled terraces at Hush in Mayfair or the part conservatory, part garden at Dalloway Terrace at the Bloomsbury Hotel. They are both insta goals!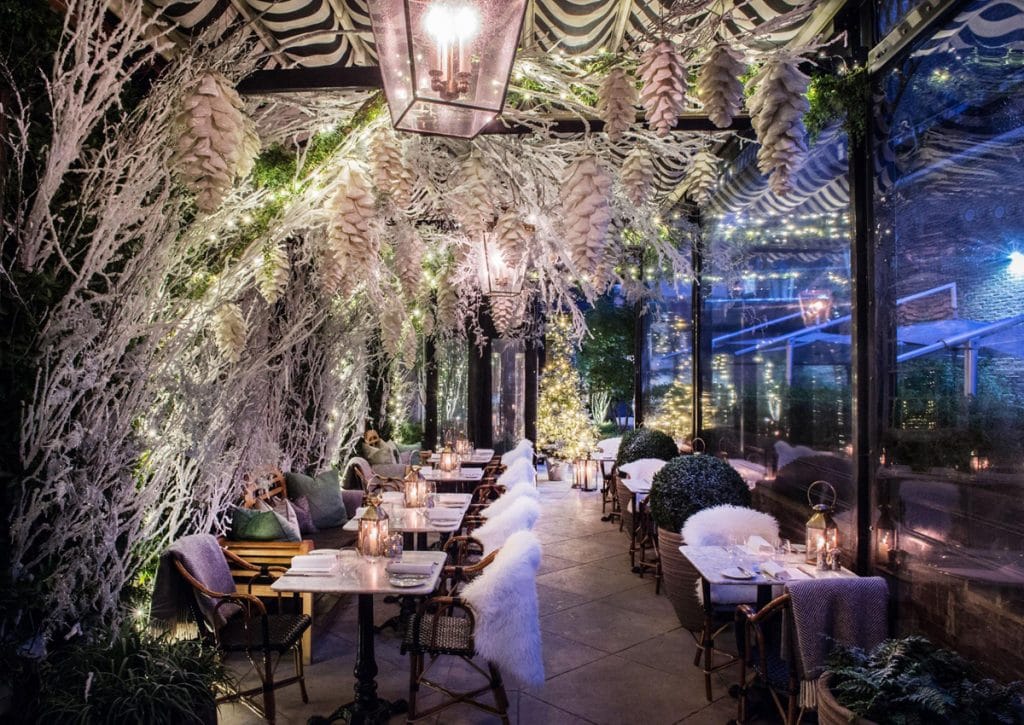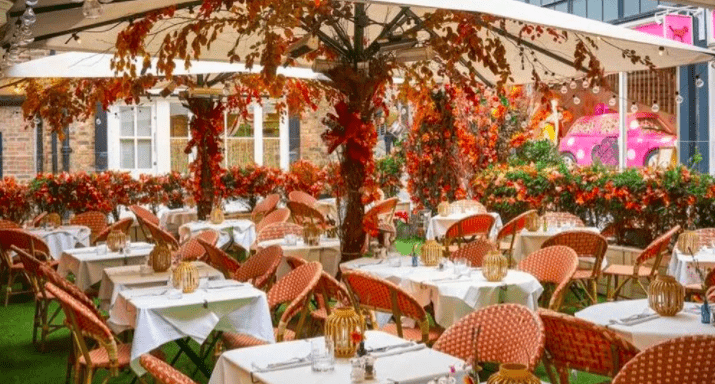 Made in Chelsea
The Kings Road boasts two very insta festive outdoor eateries, namely The Ivy Chelsea Garden with incredible installations on the facade and the back garden. And Bluebird also has a gorgeous winter (and summer) pop area with heaters and fur skin throws.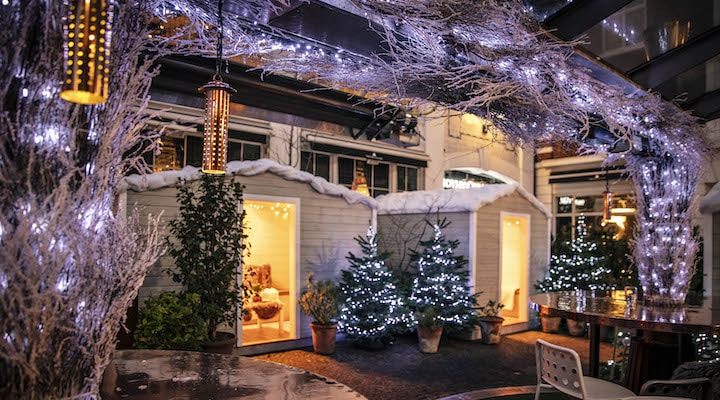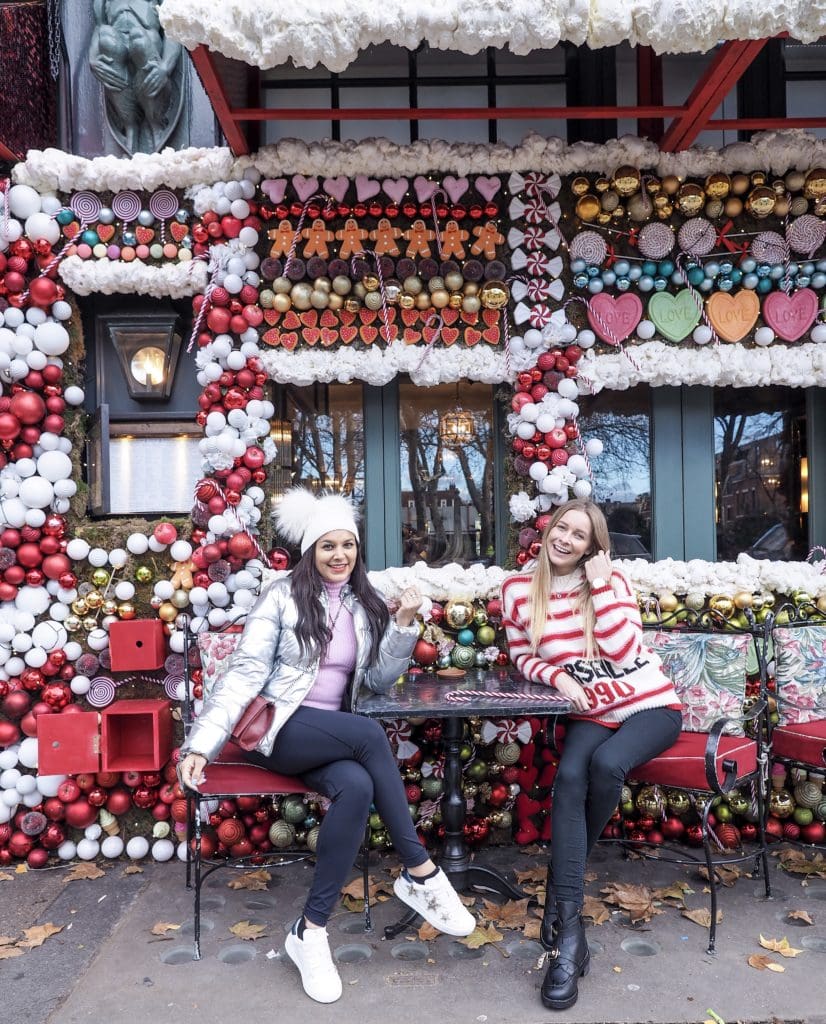 Central London Outdoor Areas, Gardens and Terraces
On Market Place and Kingsley Street both near Oxford Circus expect small chain bars, traditional pubs and a mix of trendy soho types hanging outside for post work drinks.
Other large outdoor areas with seating and festive fairy lights galore include Covent Garden piazza, go to Punch and Judy for the best tourist views of the square and tree or Sushi Samba Covent Garden for super trendy Japanese culinary treats to go with your view.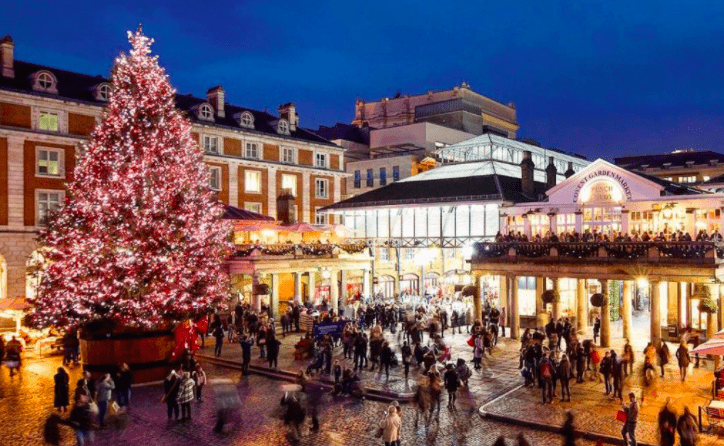 Coal Drops Yard by Kings Cross/ St Pancras filled with water fountain walkways and al fresco dining in various styles, I love the Plaza Pastor (for tacos and margaritas) and also The Granary. Or head to the brand new outdoor terrace at The Standard Hotel (by St Pancras) for posh cocktails.
Eccleston Yard just by Victoria Station is the cutest factory courtyard area surrounded by small individual bars and restaurants. The atmosphere is cosy, cute and romantic.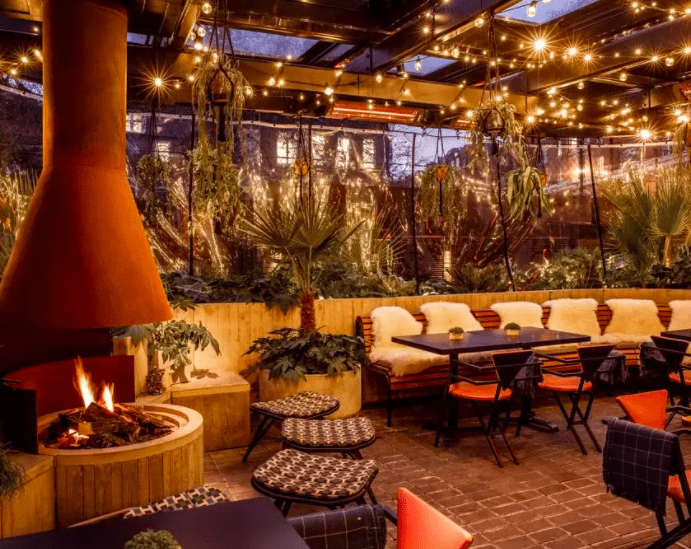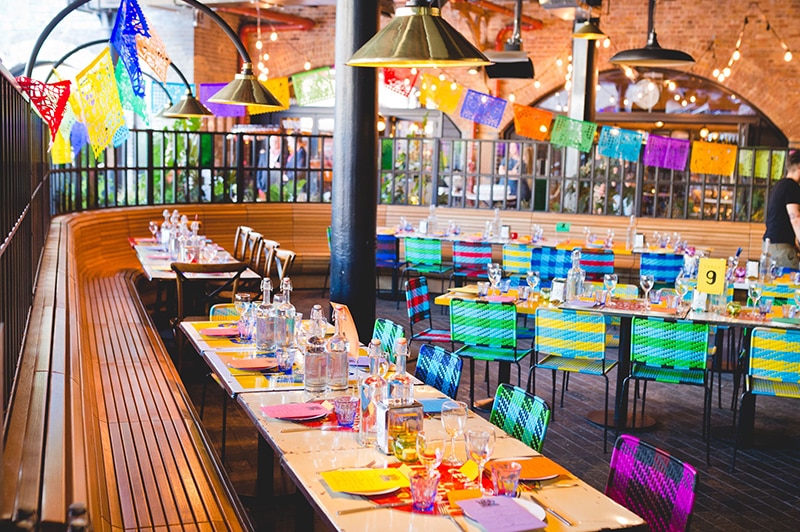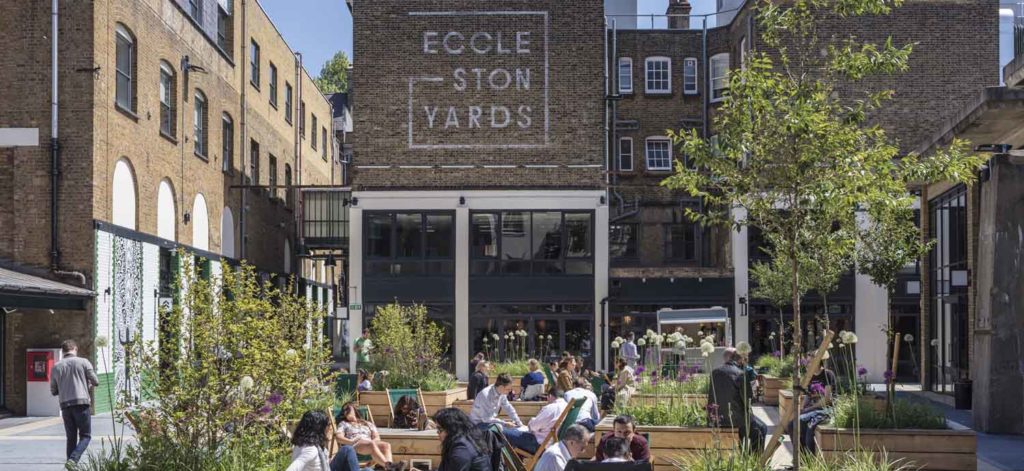 At The River
One of my favourite outdoor venues in London is also one of the oldest bars in the capital, Gordon's Wine Bar. Perched discreetly in a park next to Embankment tube and overlooked by beautiful Art Deco architecture, enjoy some of best wines from their cellars on candlelit beer barrels. It's a real London institution.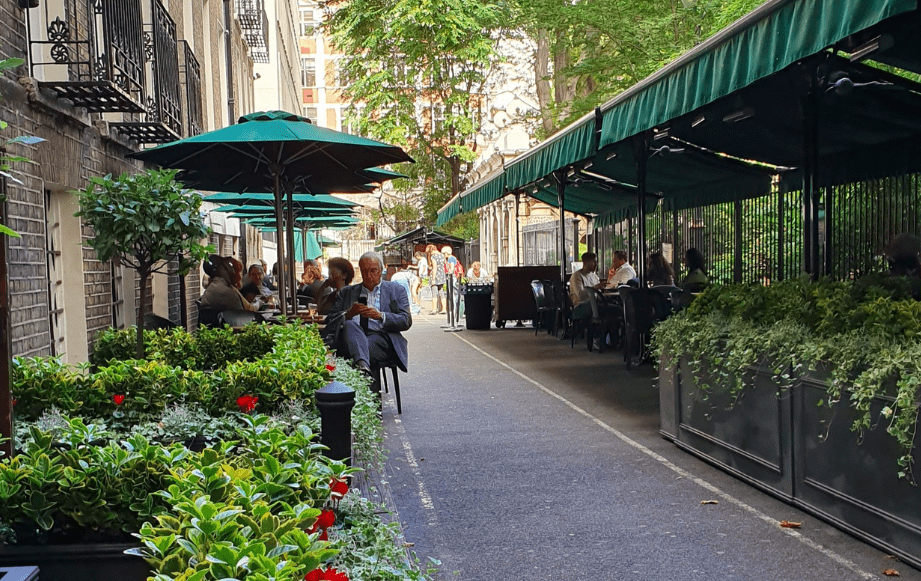 Tower bridge has been recently developed into something of an outdoor promenade with bars and restaurants with large outdoor seating areas.
I love the Ivy Tower Bridge for epic views of the bridge from your table. Or keep walking along the south bank to the plethora of outdoor eateries and bars at Borough Market.
My particular favourite at Borough is the French themed Boro Bistro with fairy lights and vintage French signs and retro memorabilia. Very insta friendly.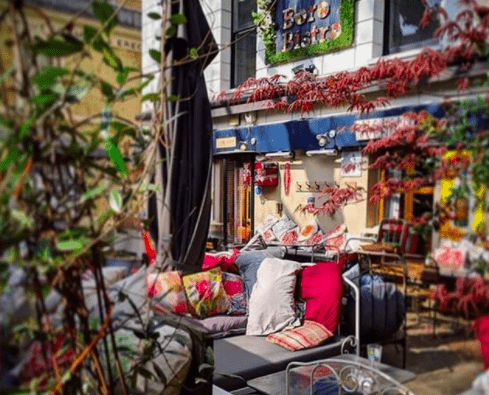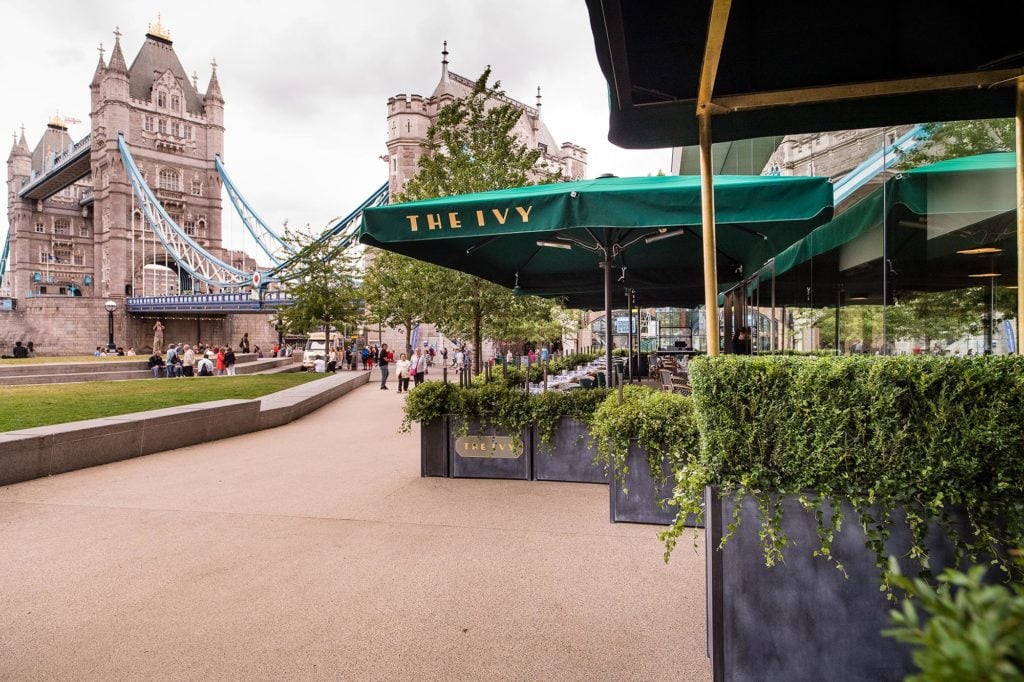 South of the River
I'm a south west Londoner so I've added this little section of my favourite venues in my neck of the woods. Head to Clapham Old Town for outdoor terraces adjoined to the pubs, my favourite is gastro pub, No 32 with its super pretty fairy lit roof terrace.
Other outdoor gardens can be found at The Rookery, The Avalon, The Sun and The Prince of Wales. The Ship in Wandsworth is always pretty raucous for 'Made in Chelsea' style night outs too.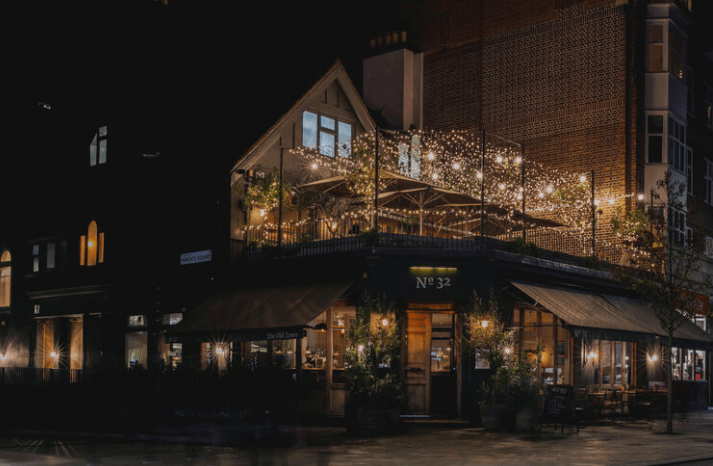 Members Only
Some of the best rooftops in London are reserved for exclusive private members clubs. Find yourself a signed-up member and gate crash the roof at The ned, Soho House, White City House and Shoreditch House. Or the Century Club rooftop in Piccadilly is also looking super festive this year.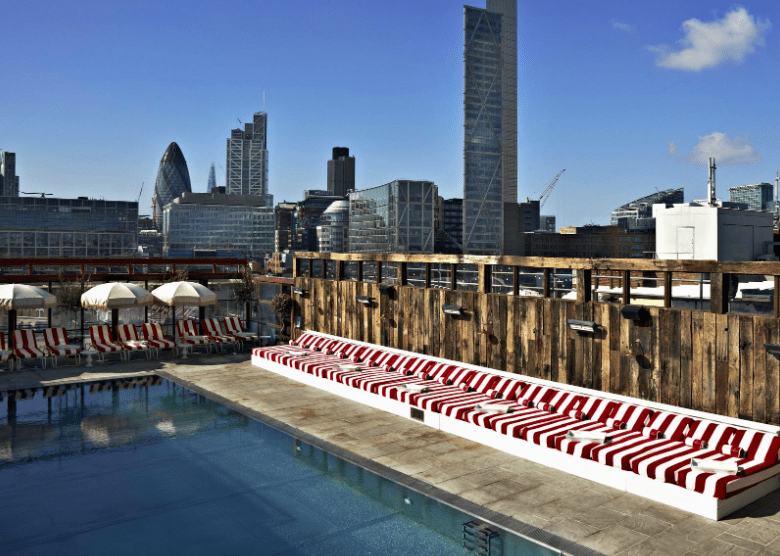 That's it from the London bar scene for now. I hope you liked my suggestions! Here's more on London and do follow me on insta for more of my travels.
Let me know in the comments below what you think and if I missed out any of your favourites!!
Bon voyage!! Xx