The Most Blissful 'Balance Me' Retreat in Cornwall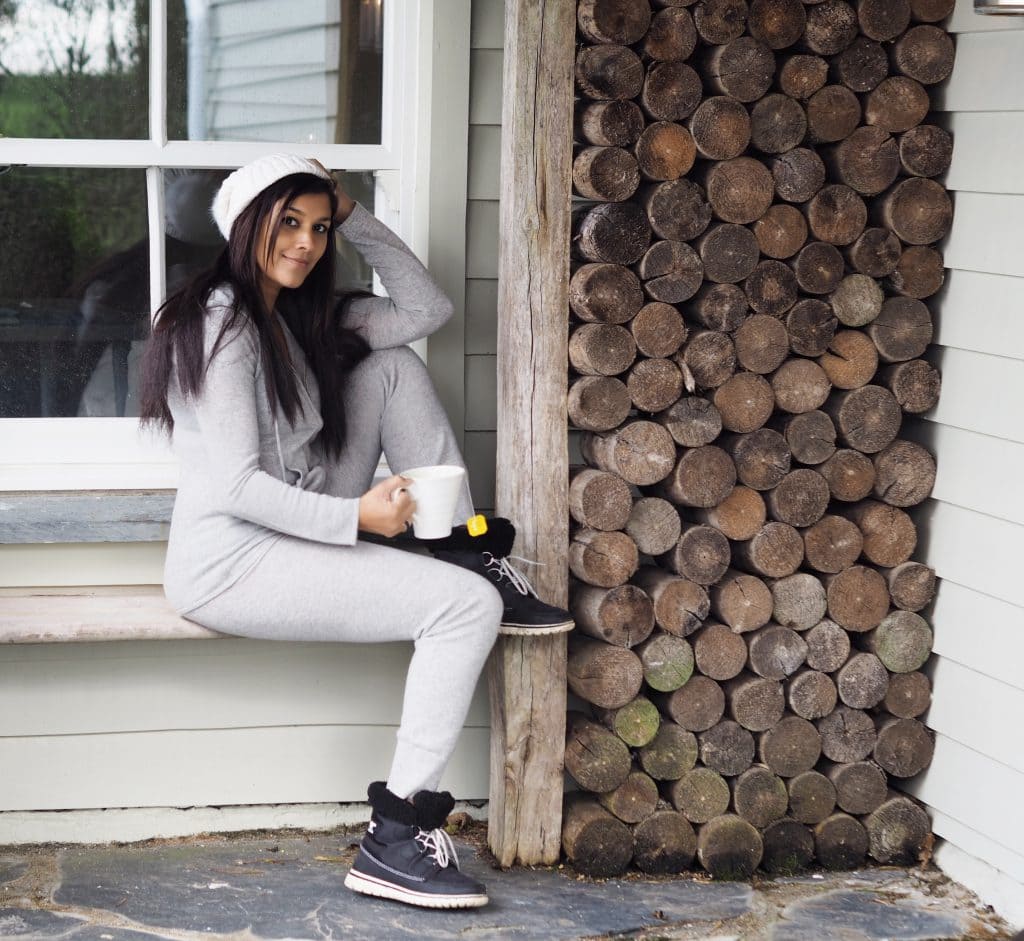 The Most Blissful 'Balance Me' Retreat in Cornwall
Where? CK Rock, a stunning beach-chic home situated in the gorgeous Cornish countryside in Rock, Cornwall.
When? October 17
Why? Post fashion week I always feel exhausted and in need of a recharging break. This season the gorgeous guys at Balance Me Beauty invited me on one of their retreats on the West coast of England.
The purpose of the retreat was all about getting your mind and body back to a calm and balanced state of peace and to celebrate the launch of their new 'hyaluronic plumping mist' which is the natural (non surgical) equivalent to botox in a bottle. The trip incorporated the perfect blend of sporting activities as well as chilling out.
Pictured above Bonnie wears bliss cashmere hoody and matching cashmere cuffed leggings by Figleaves.com, boots by Sorel and beanie by Joules.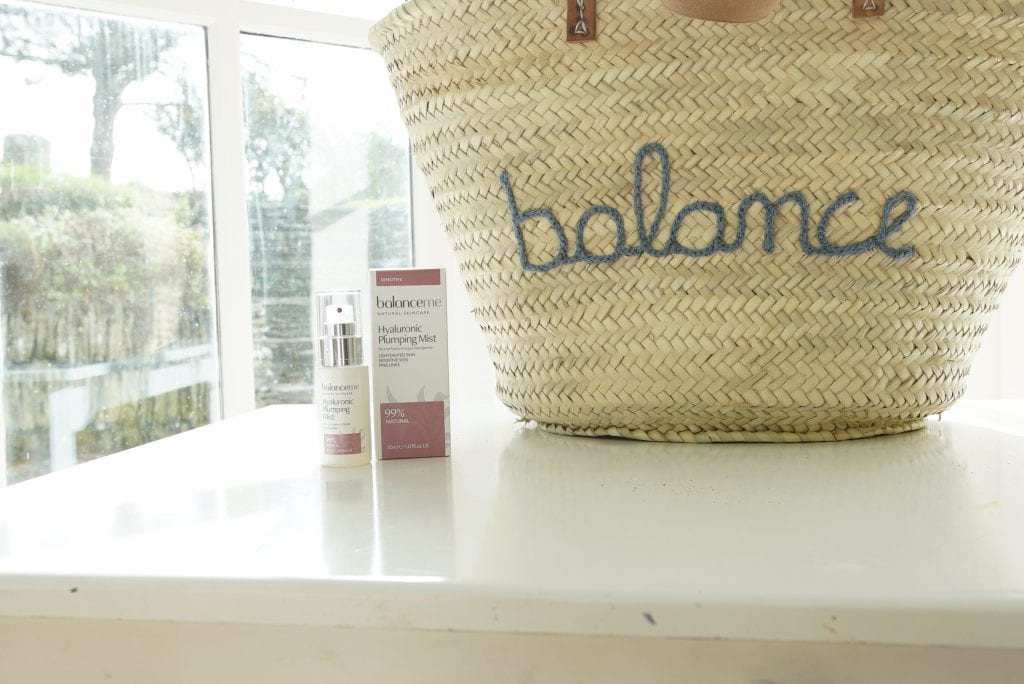 Whilst away I also got to road test the new luxury pyjama and night wear range from Figleaves.com
This is a sponsored post.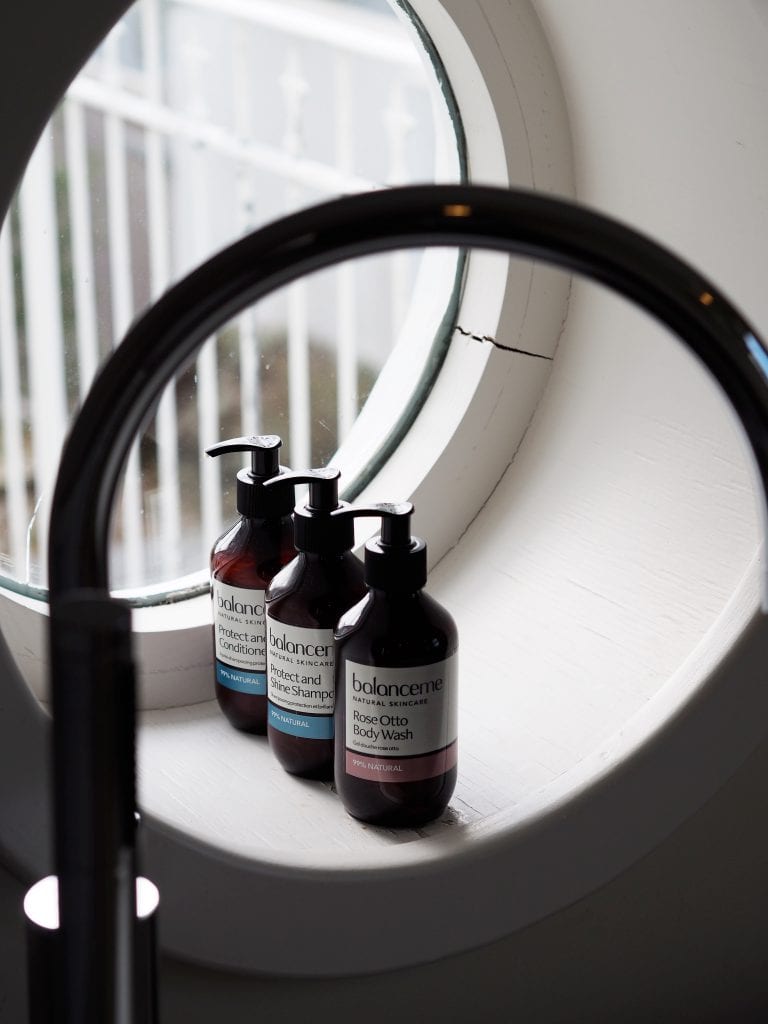 Lovely packaging and wonderfully, natural products from the Balance Me beauty range were dotted around the house for us to use and enjoy. My particular favourite product was the Rose Otto body wash and cream, the smell is beautiful and it's super moisturising.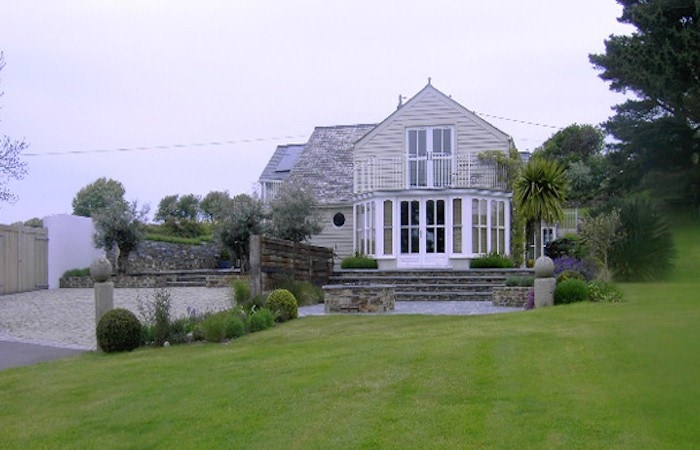 Where we stayed – CK Rock
The house sleeps 12 guests and is set within stunning, secluded gardens with views over the estuary. With 3 different terraces, an outside fire pit, swimming pool and chic, natural decor through out it's a fantastic property to rent for weekends or weeks away by the coast.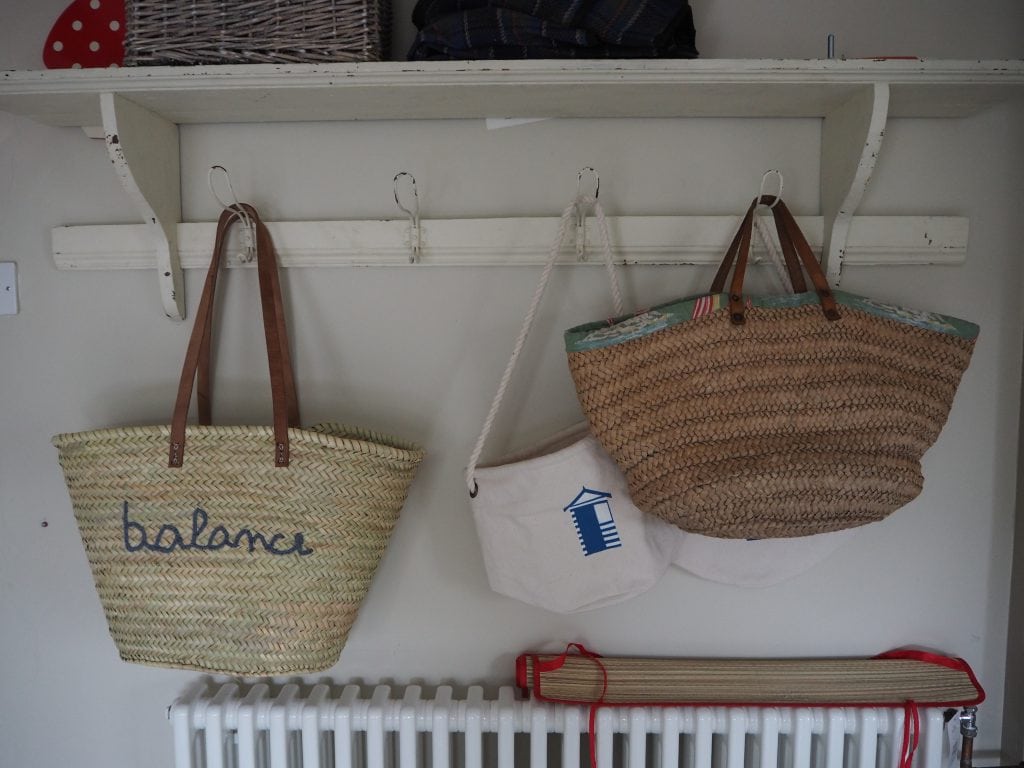 From surfing and morning runs, to blissful yoga nidra sessions with one of the gorgeous founders of the 'Balance Me' brand, it was a lovely itinerary with plenty of 'me' time incorporated into the day. We indulged in delicious home cooked healthy meals prepared by in-house chefs to dinner at Rick Stein's famous St Petroc's brasserie in Padstow.
It was a blissful experience and one I highly recommend.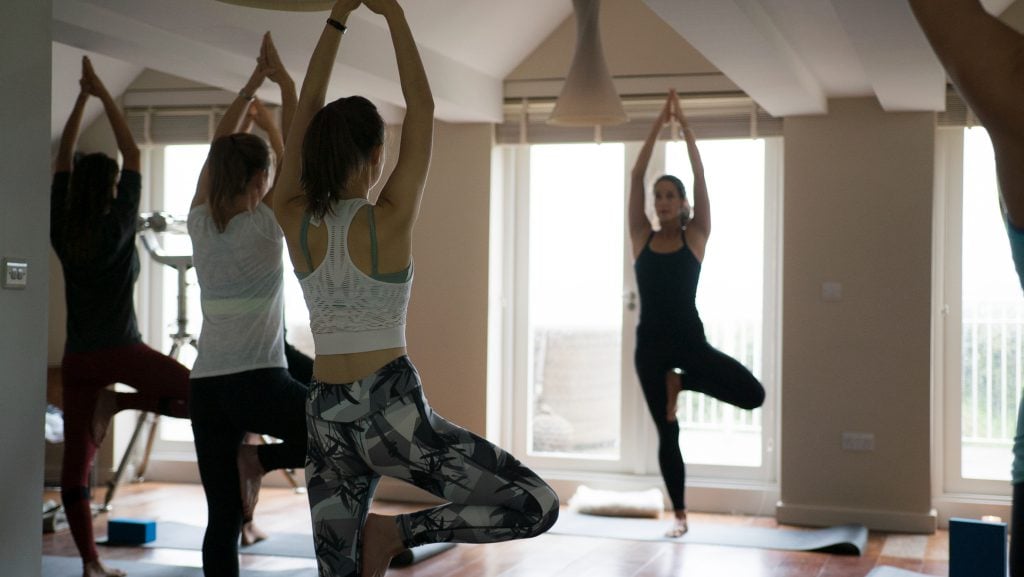 Morning yoga session overlooking the fields and Cornish coastline.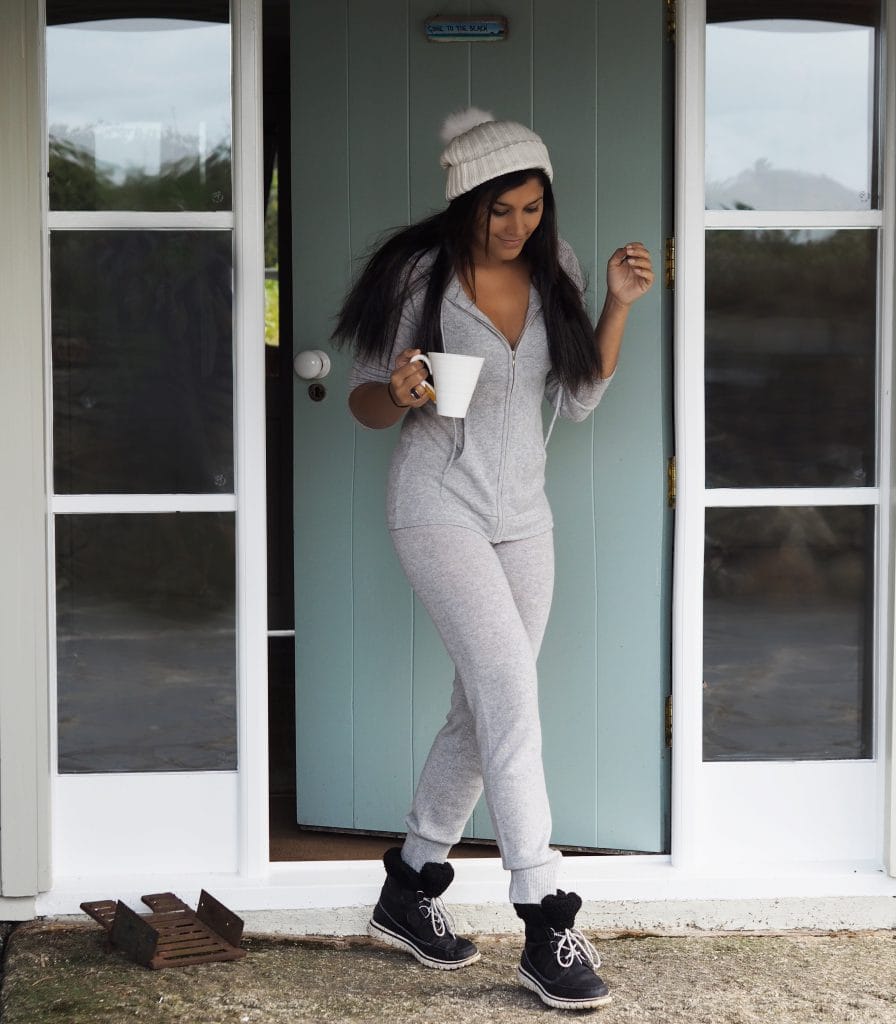 What I Wore
I was very excited to be able to pick some cosy cashmere and silk pieces from the new figleaves Aw17 night and lounge wear range. On a retreat like this it's all about comfort and what could be more comforting than getting into your cashmere pyjamas post a surf lesson or wearing the super soft silk slip and pj's for lounging around the house and bedtime.
Keep scrolling to see my photo diary of the trip and also the cosy loungewear outfits I wore on the trip from Figleaves.com
Bonnie wears bliss cashmere hoody and matching cashmere cuffed leggings by Figleaves.com, boots by Sorel and beanie by Joules.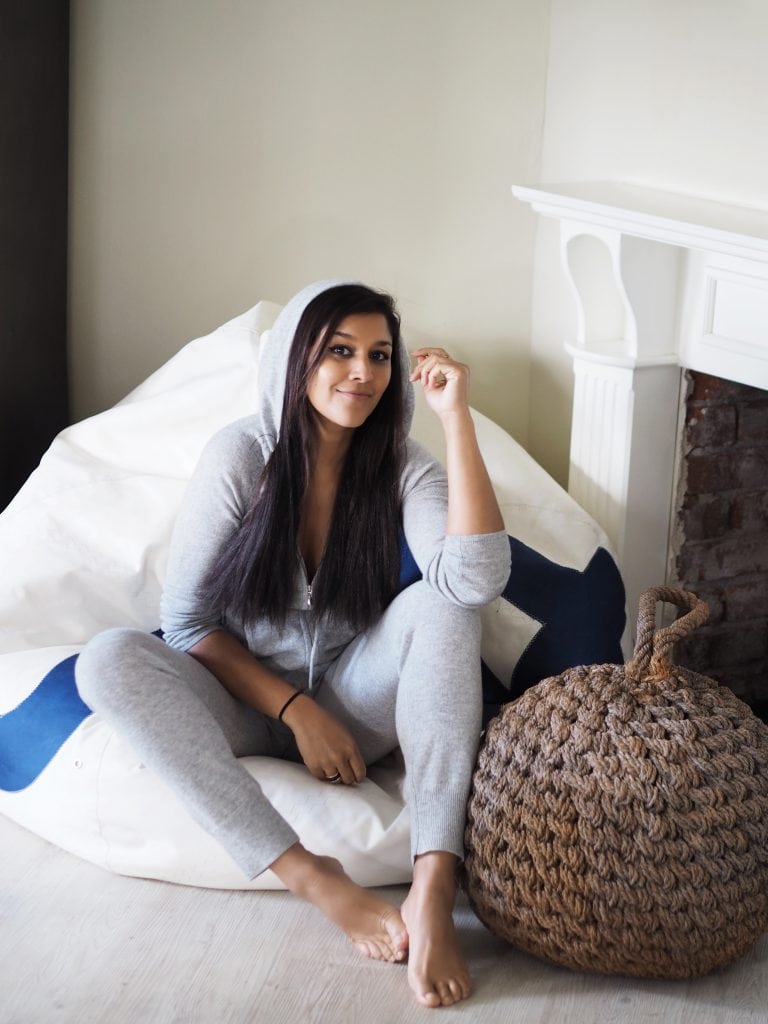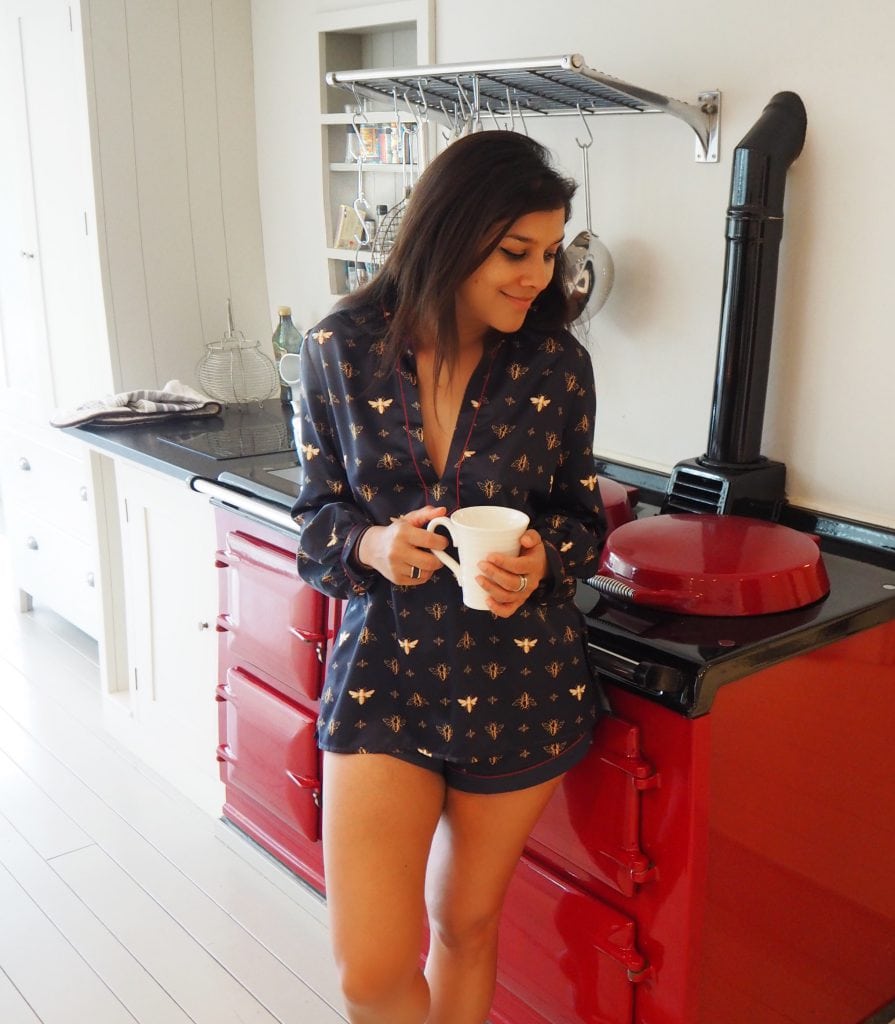 Bonnie wears navy blue 'Bee' print silk shorts pyjamas by Figleaves.com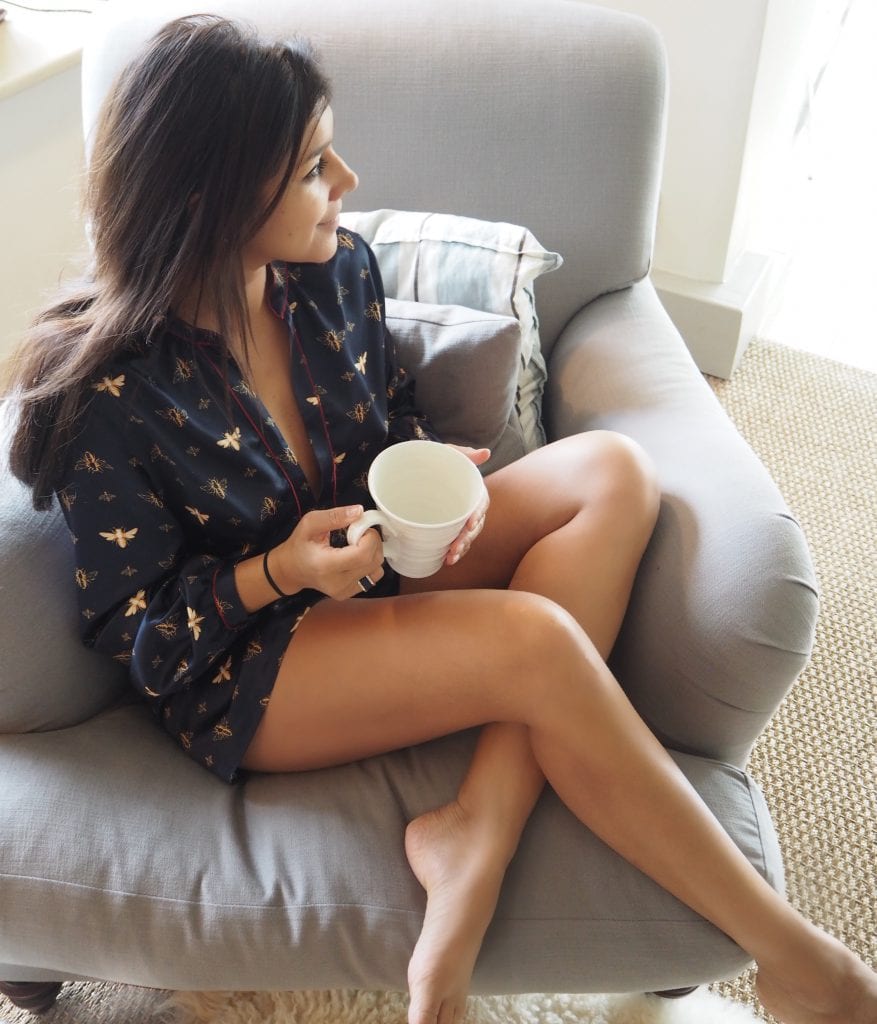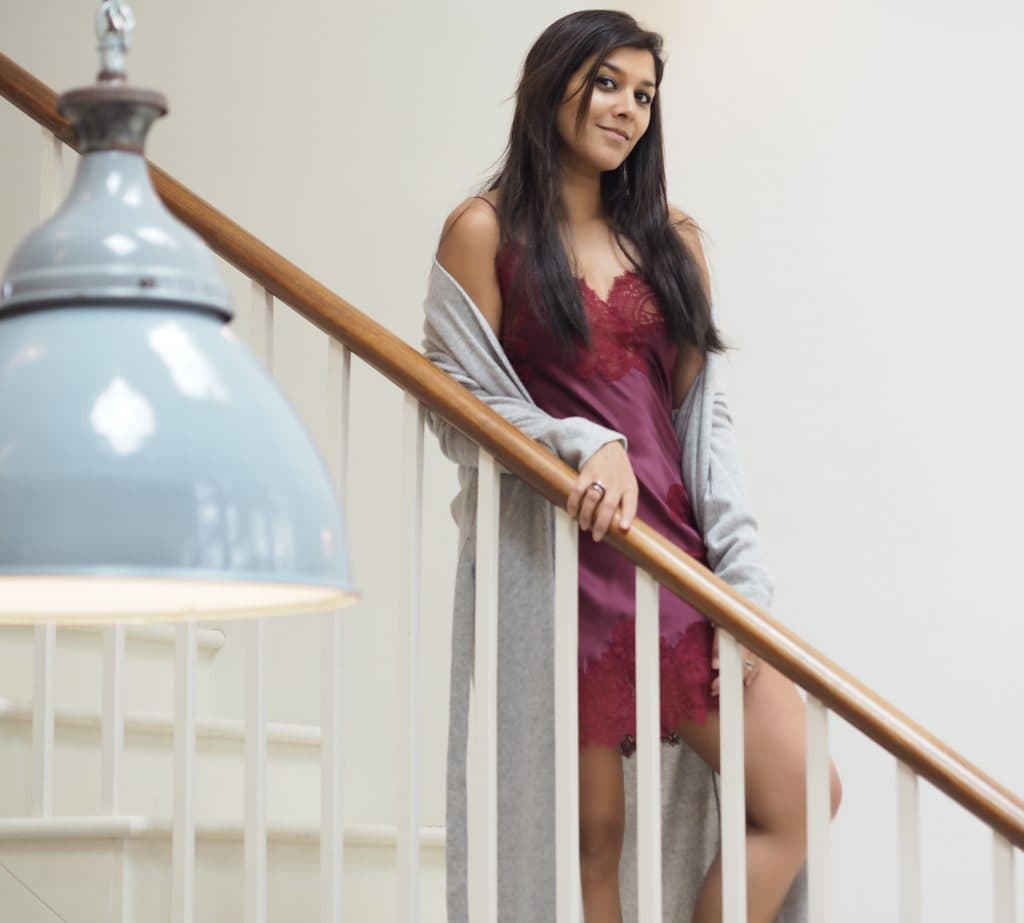 Bonnie wears maroon silk chemise with bliss cashmere long robe from Figleaves.com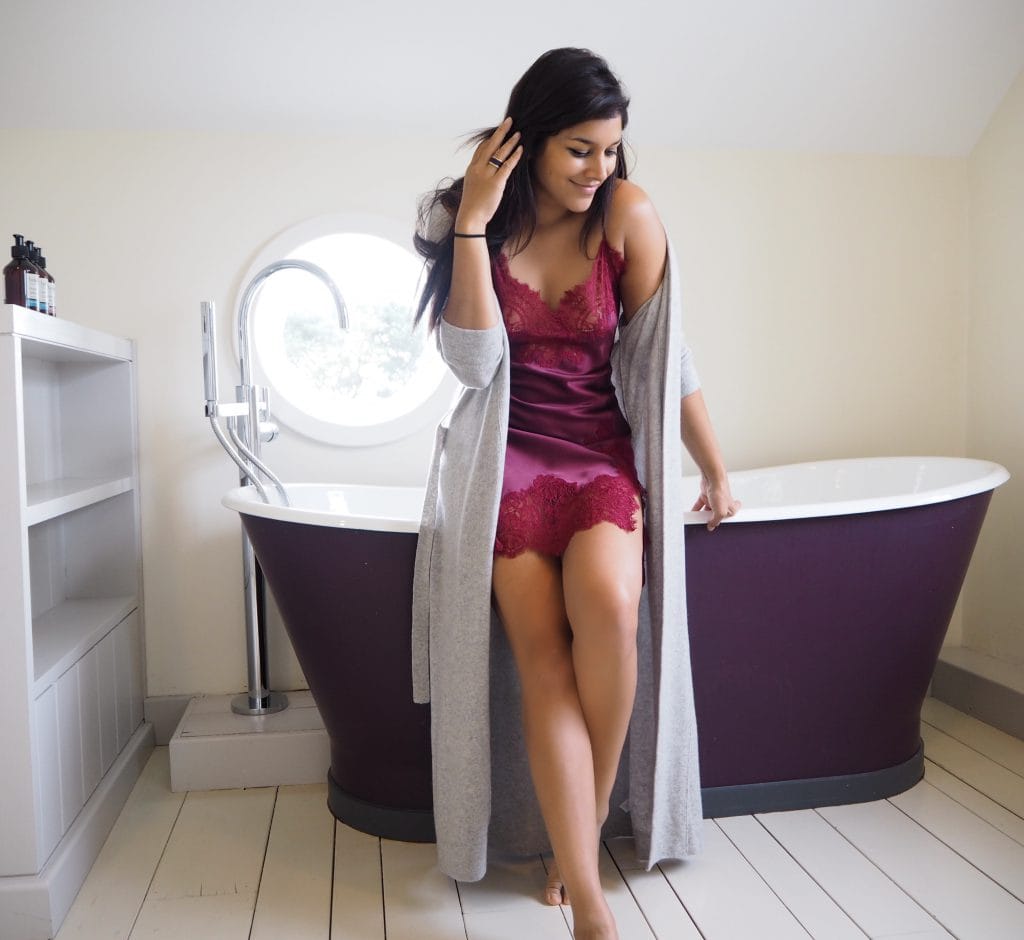 I enjoyed long hot soaks in the beautiful roll-top bath every day, using the balance me oils and products which made my skin feels immaculate!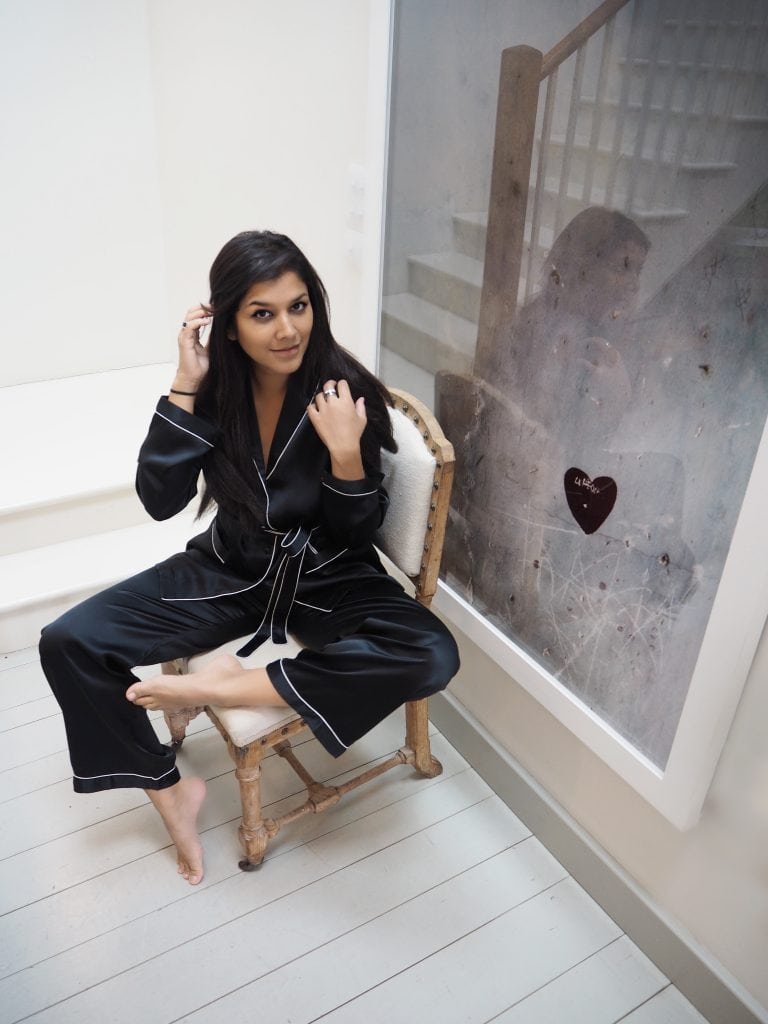 Bonnie wears black silk with white piping luxury silk pyjamas Figleaves.com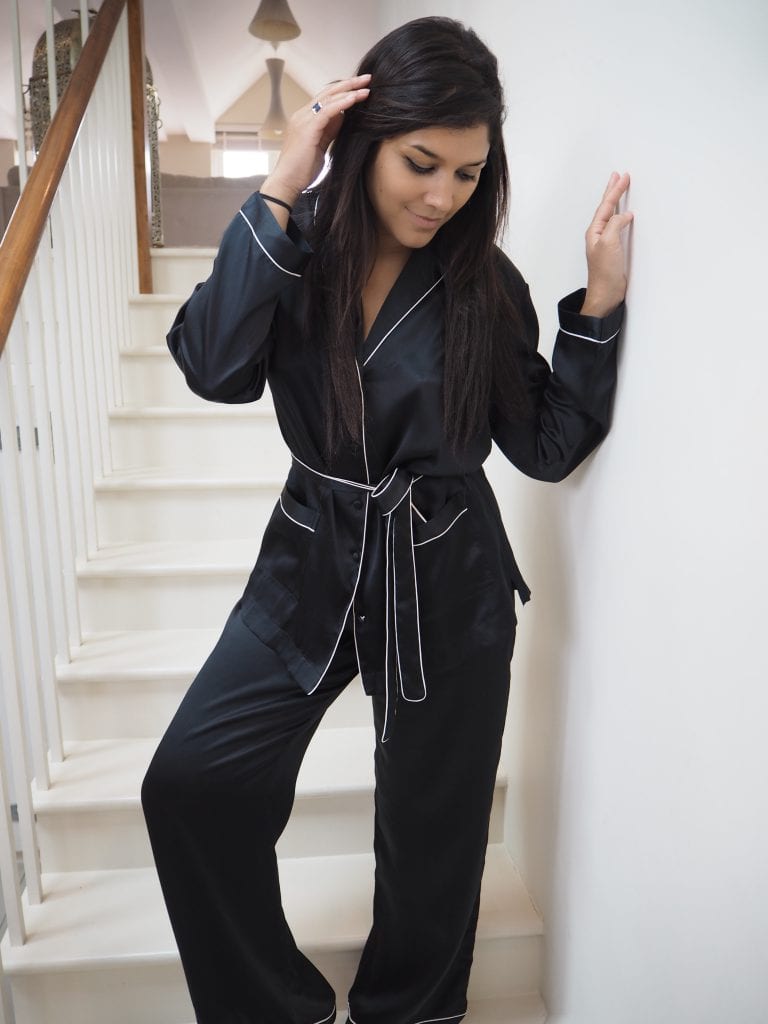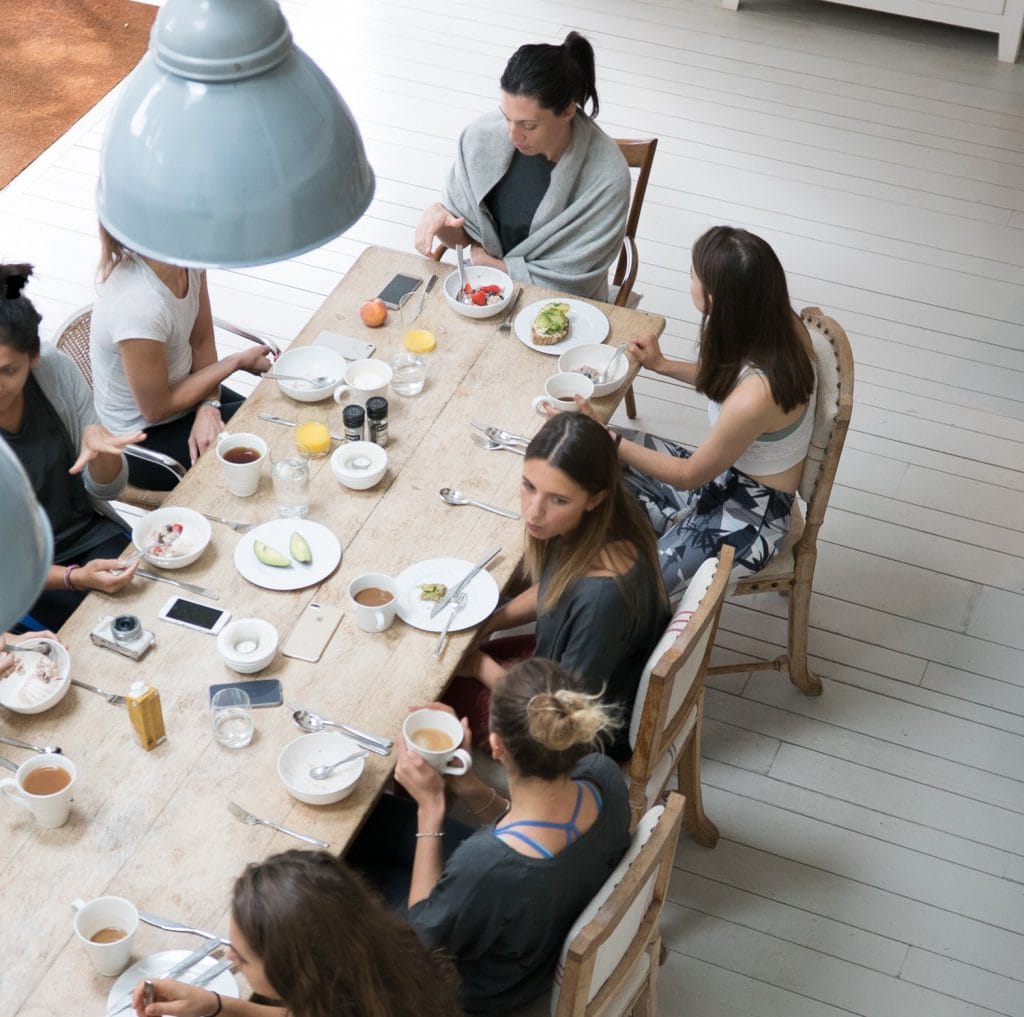 What We Ate
The trip is totally focused on wellbeing. Our meals on the retreat were either cooked by the fantastic in-house chefs or we'd visit excellent local restaurants such as Watergate Bay Hotel and Rick Stein's St Petroc's Bistro.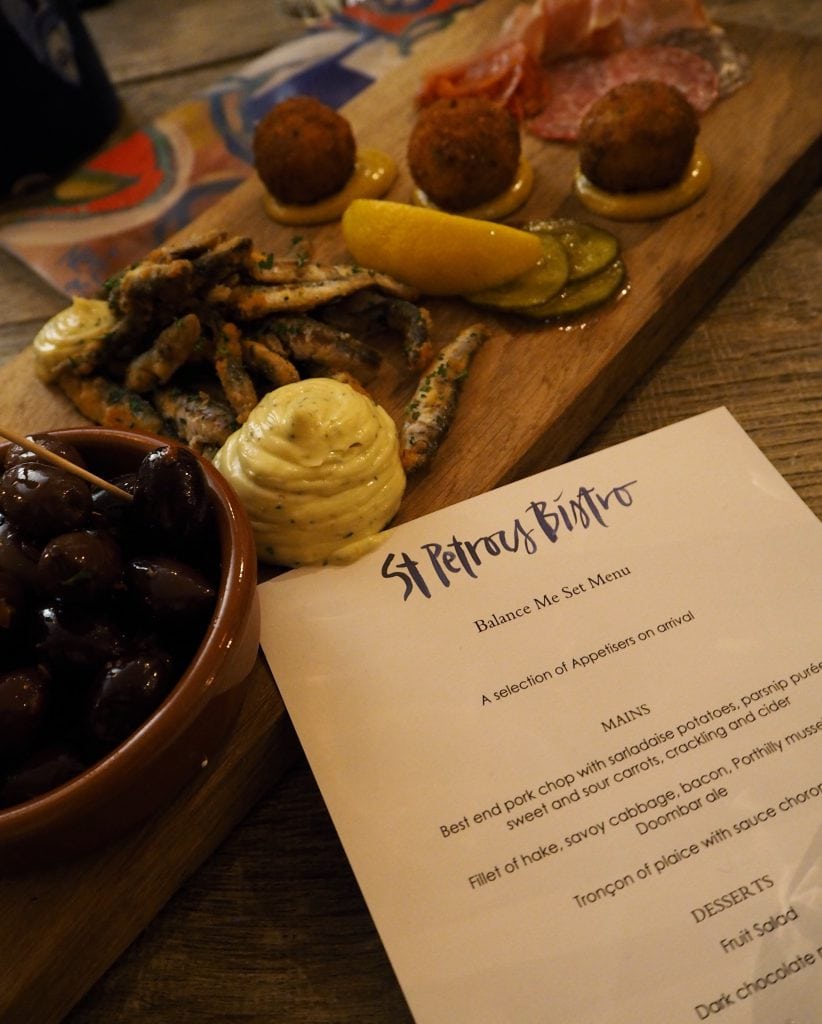 Below: a freshly home cooked sea bass main course cooked by our chef at the house. Dinner was a candle lit affair, the table was decorated with twinkling lights from the gorgeous new Balance Me candles range.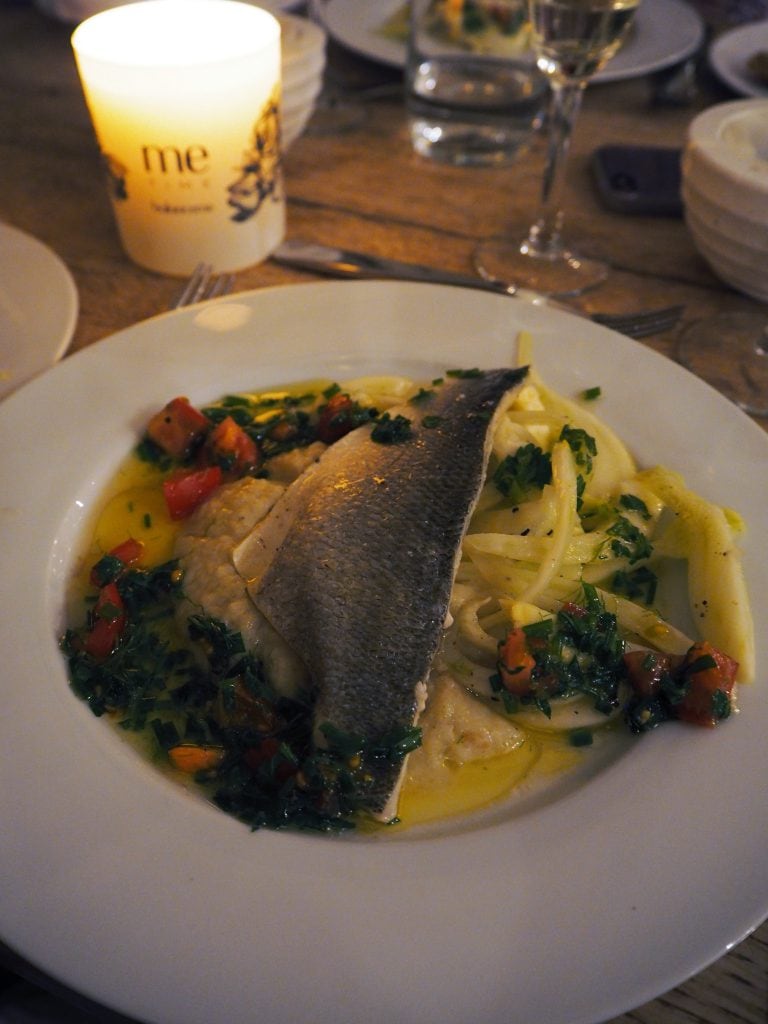 What We Did
The days were a mix of chilling out and having 'Balance Me' treatments, through to more physical activities such as surf lessons, morning runs and yoga.
My favourite activity during the trip was the incredible facial I had on the first day with the 'Balance Me' facialist. Using a special technique of face massage whilst using the balance me 99% natural ingredient products, the facial is definitely one of the best I've ever had (and I've had a lot!).
It left my skin feeling unbelievably soft and smooth, my pores had practically disappeared and the oil balance on my face went right back to normal. Even now a week later I am still feeling the benefits of the treatment! And I'm also excited to use my Balance Me Hyaluronic Plumping Mist it's supposed to be the perfect skin accessory on a flight!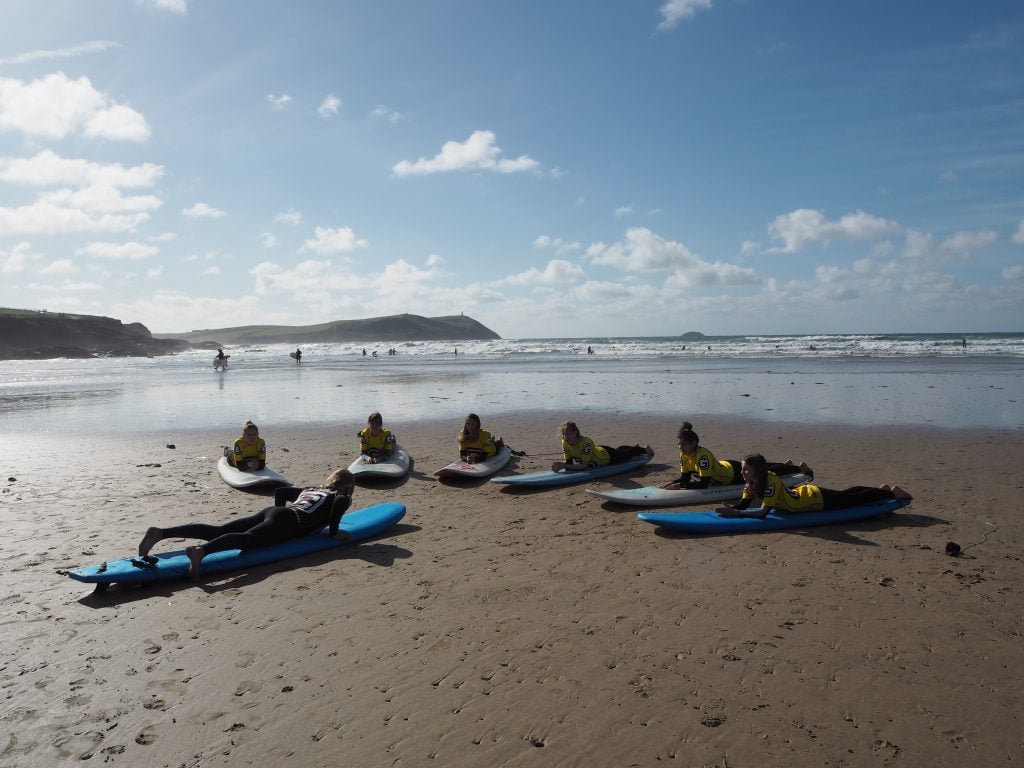 We were invited to a surf lesson with George's surf school on Rock Beach.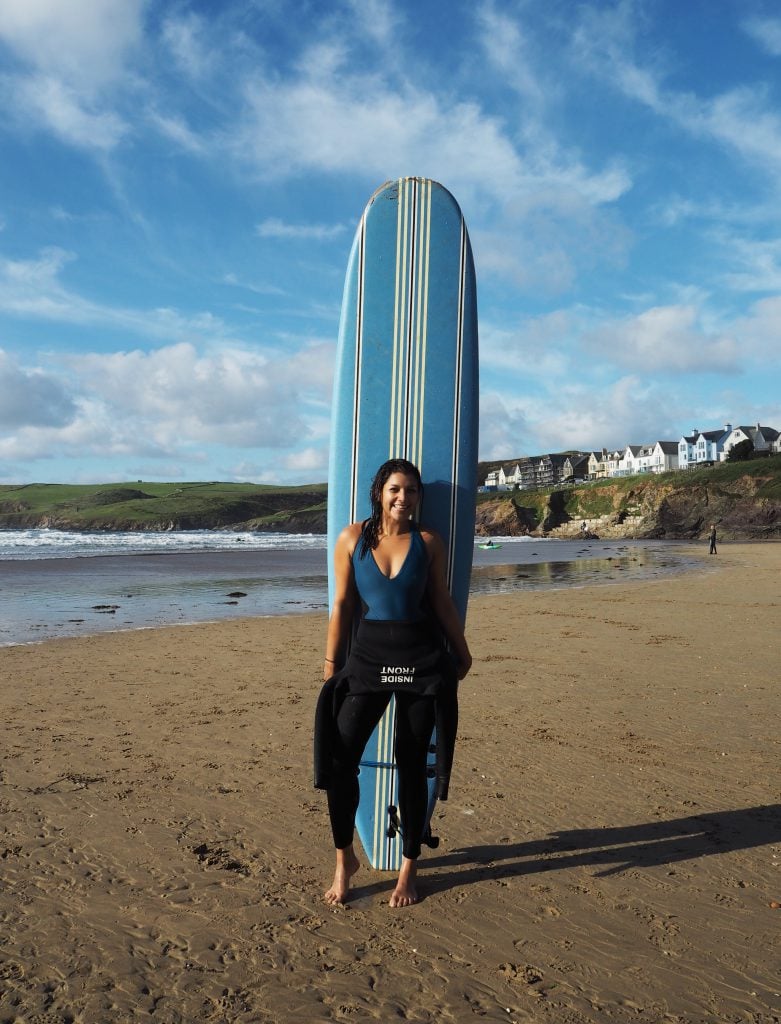 Post-surf lesson posing and below me and the girls at Georges Surf School enjoying a hot chocolate at the cabin café.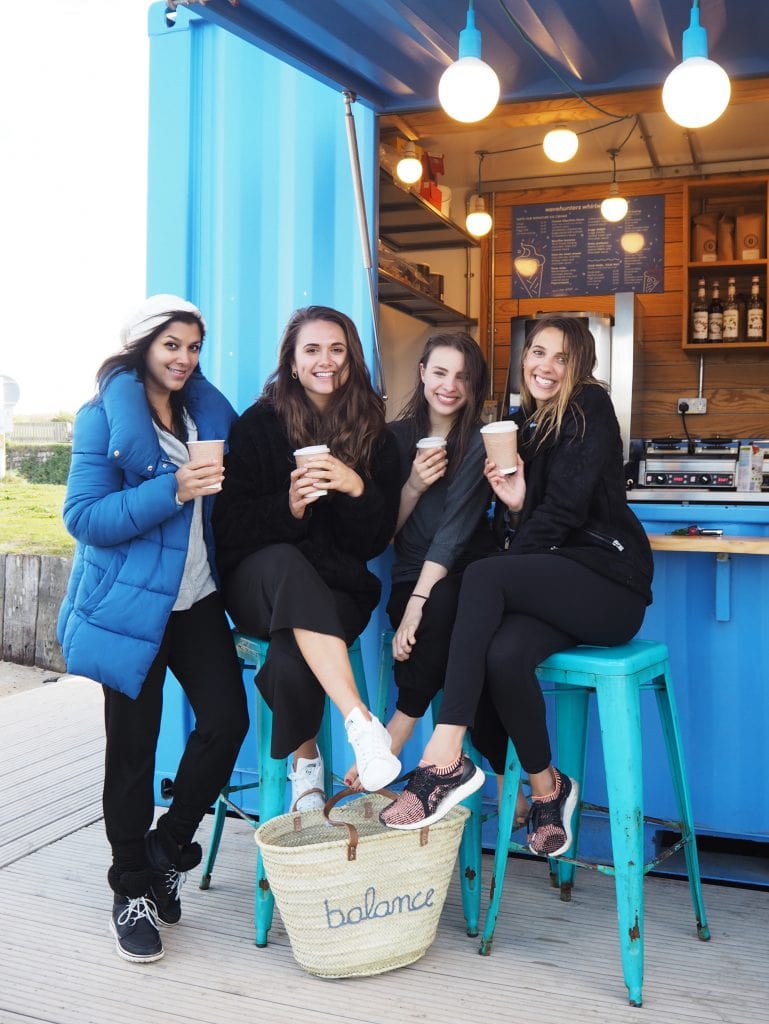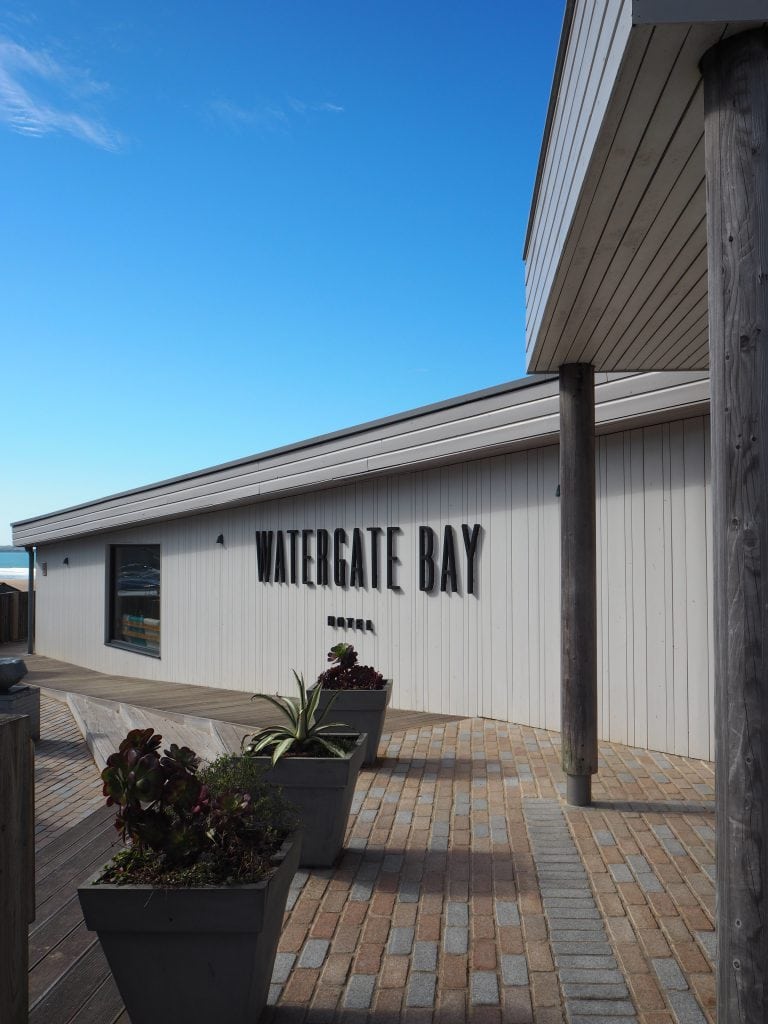 On the last day before our one hour flight back to London we got to enjoy a blissful afternoon at Watergate Bay Hotel, which if you have the chance to visit the fantastic spa there, you'll know it is THE most relaxing chilled out place. It's like heaven on earth… a very trendy instagramable heaven!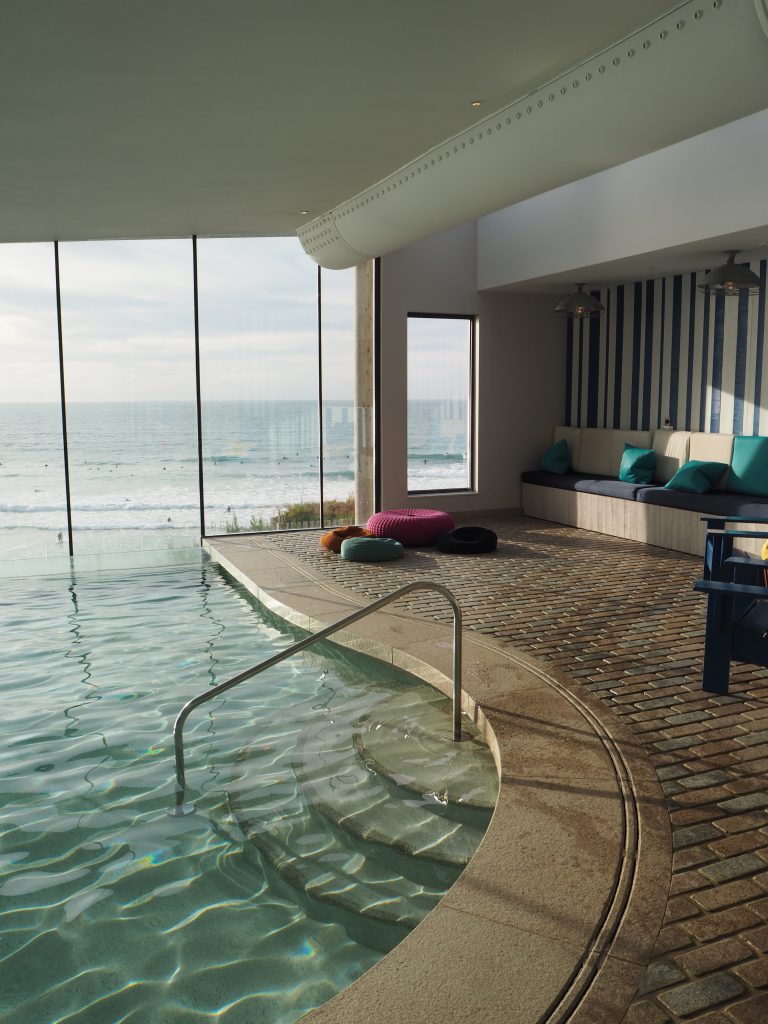 The warm pool has sweeping views out over Rock Beach.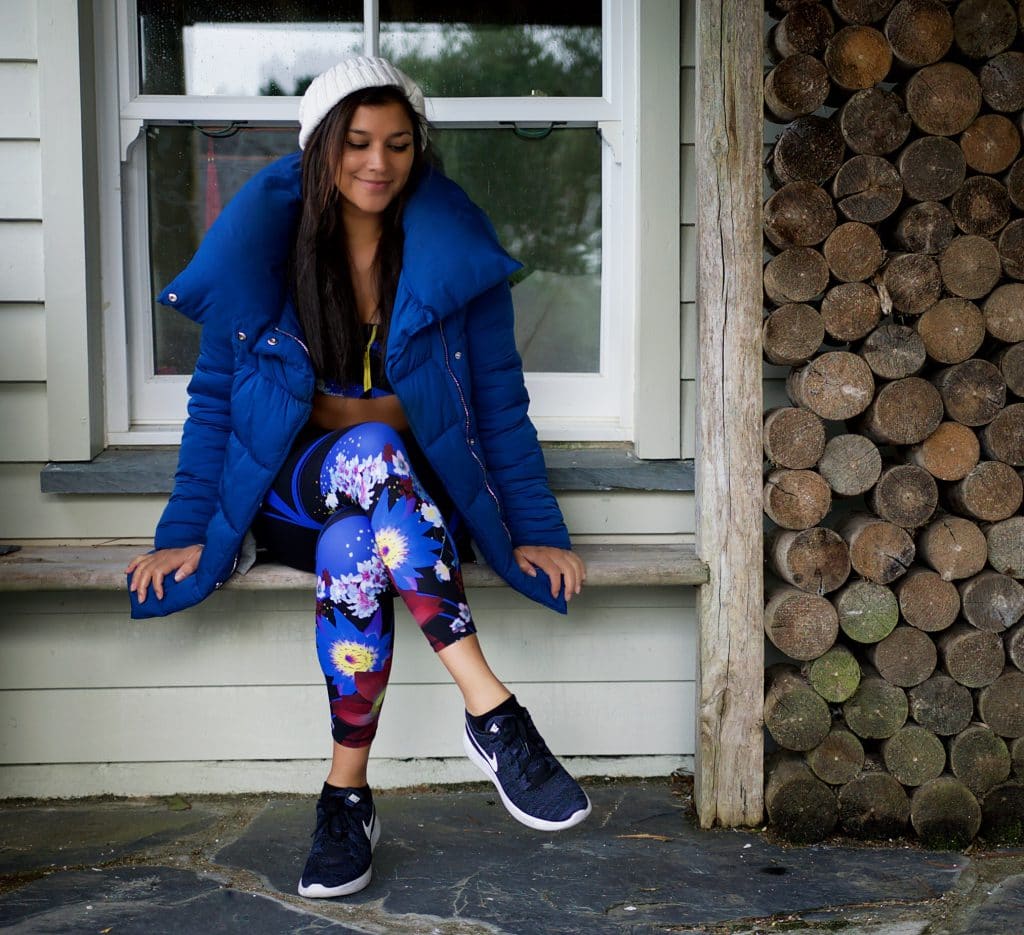 So that's good bye from Rock and back to London. I'd like to say a huge thank you to Balance Me Beauty for inviting me into their sublime and very special world and nurturing me so well! Also to CK Rock for being a stunning home for a few days and Figleaves.com for giving me the perfect wardrobe to lounge in style!
Bon Voyage xx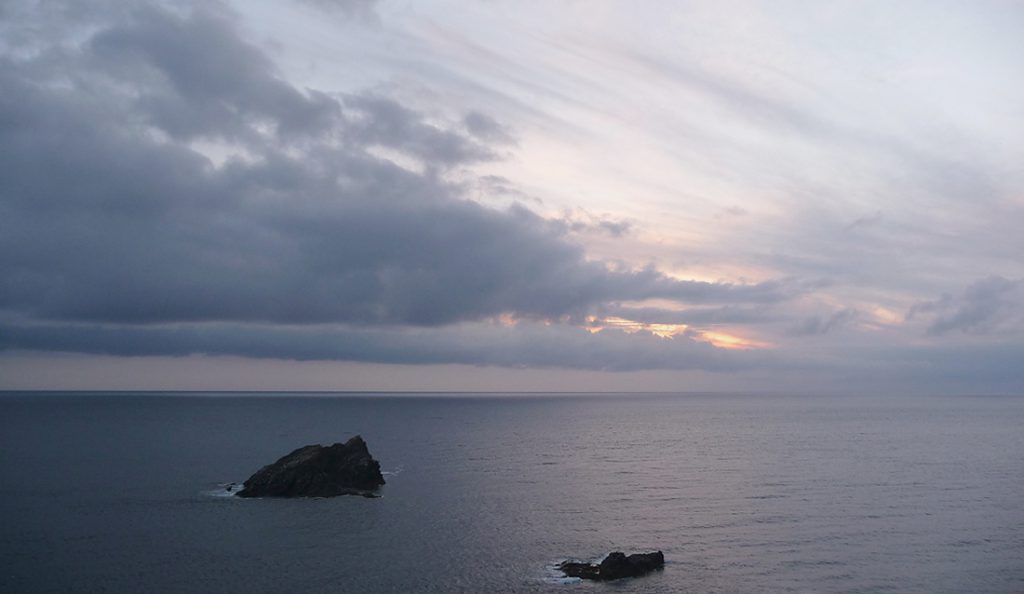 Share the Love on Pinterest