10 Best Instagram Locations in Palm Springs plus Coachella Tips!

10 Best Instagram Locations in Palm Springs plus Coachella Tips!
Where? Greater Palm Springs, California
Exactly? We stayed at the brand new Hotel Paseo in Palm Springs' exclusive, luxury shopping district of Paseo.
When? April 2018 aka festival season!
Why? As part of the Road trip with Visit California, stop number two was one of my all time favourite places, Greater Palm Springs. I'd visited Palm Springs 2 years ago for the Coachella Festival, but as most of my time was spent in the festival grounds, so I was determined to revisit and discover this incredible city.
It is without a doubt one of the most beautiful and interesting locations I've been to, a desert oasis, surrounded by snow capped mountains with breathtaking views in all directions and the mid-century architecture is inspirational. Greater Palm Springs (or GPS for short), is becoming one of the most popular instagram destinations, which is why, rather than 48 hours in Palm Springs I decided to devote this blog post to something way more useful to my fellow instagrammers and lovers of fashion, architecture and all things aesthetic….
Here's the Style Traveller 10 Best Instagram Locations in Palm Springs plus Coachella Tips!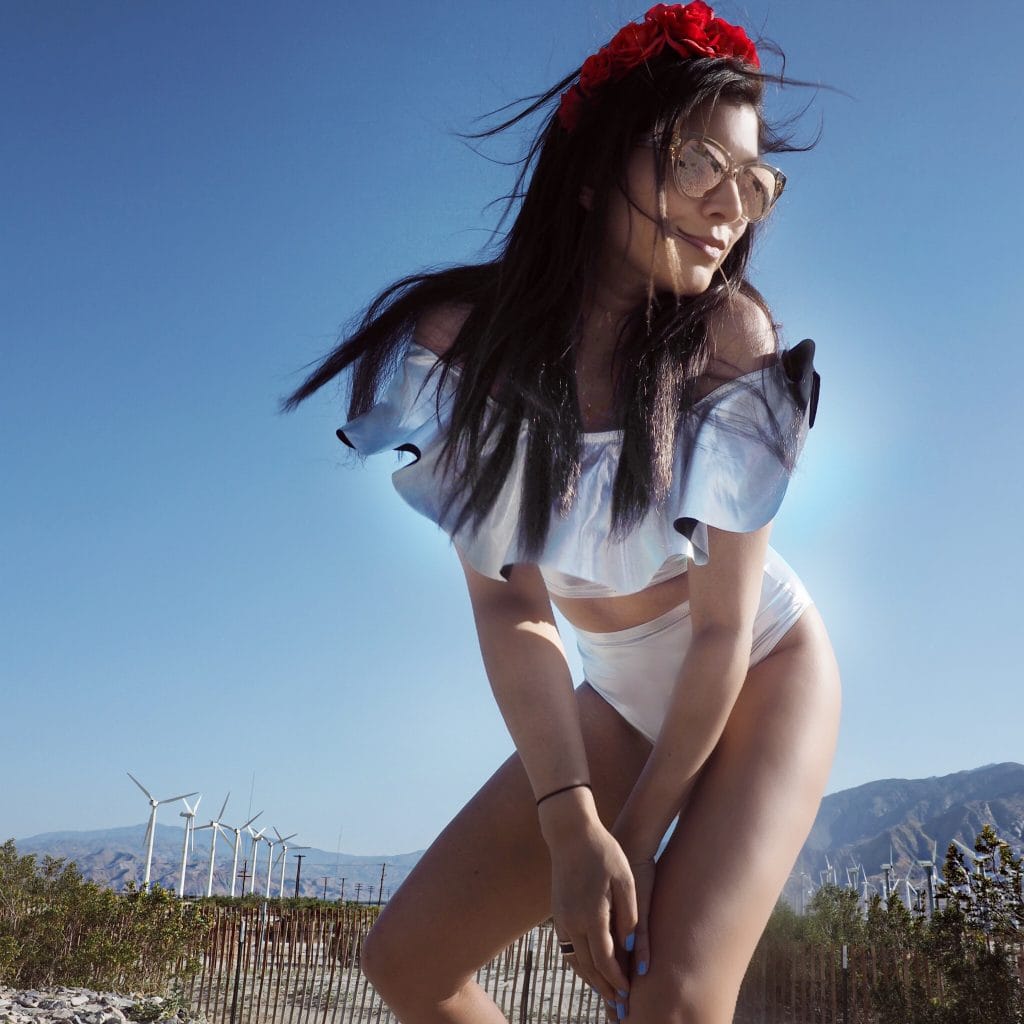 1 – The wind turbine city on the drive into Palm Springs
One of the most iconic insta shots in GPS, you'll see even before you even enter the city limits! On your drive from LA to Palm Springs you'll come across the majestic wind farms. Thousands of acres of desert land filled with gigantic, graceful and beautiful wind turbines. A good place to park to get great, undisrupted views of the turbines and the mountains beyond, is the Amtrak Train station car park, on your way into Palm Springs take exit 120, Indian Canyon Drive, pinpointed on this map link.
Opening shot Bonnie wears dress by Hansine and sandals by Blowfish Malibu at Office. Wind farm shot Bonnie wears silver co-ords by Boohoo.com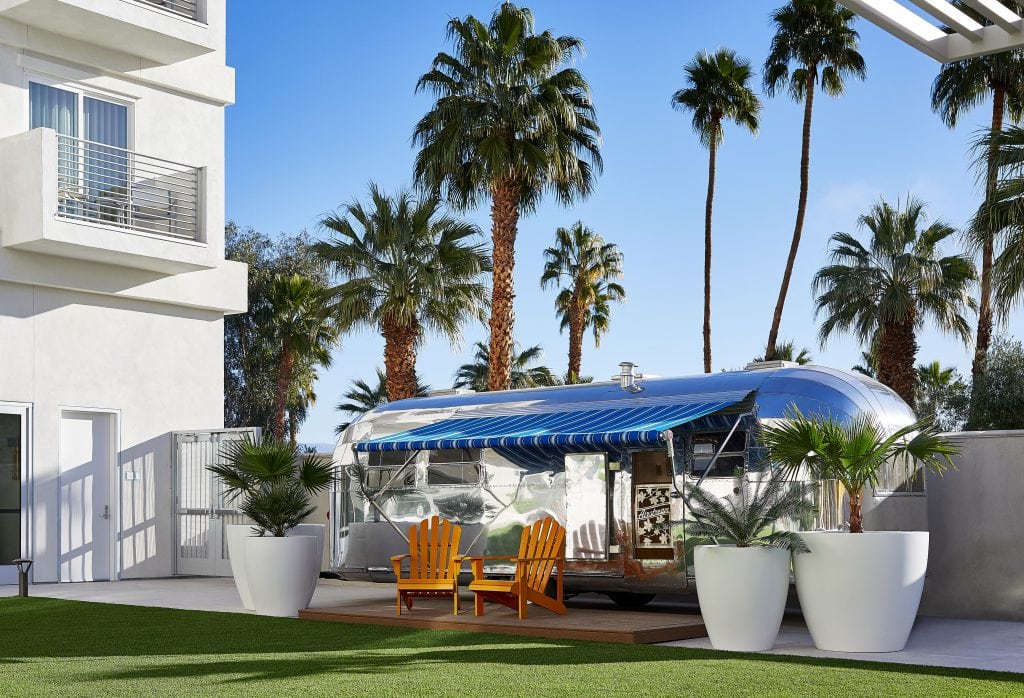 2 – Hotel Paseo – the one with the airstream caravan!
Many of the hotels in Greater Palm Springs adhere to the mid century aesthetic, incorporating quirky interiors, 50's style architecture and bursts of kitch colour. The newest hotel in town (it literally opened its doors last month) is the trendy Hotel Paseo in the boutique shopping district of Paseo. Nestled in behind Louis Vuitton and Ralph Lauren, expect a chic clientele of trendy tourists, who've opted to stay here in order to utilise the brand new luxury spa and the AC3 restaurant, which is Palm Springs' coolest restaurant of the moment, serving up delicious, beautiful plates of American, Mexican and world classics with decent portion sizes too. I highly recommend the Lobster Macaroni!
But the piece de resistance of the hotel has to be the chic, symmetrical pool area with a super trendy airstream caravan installation, it's insta ready for you! The rooms are minimal and chic, with all mod cons including rain showers, kitchenettes, comfortable beds, stunning balconies views, abstract art works and our suite even came with a pool table and mini bar in case you fancy a late night party! How very Palm Springs!
Rooms from $299 per night, check out www.hotelpaseo.com for more details.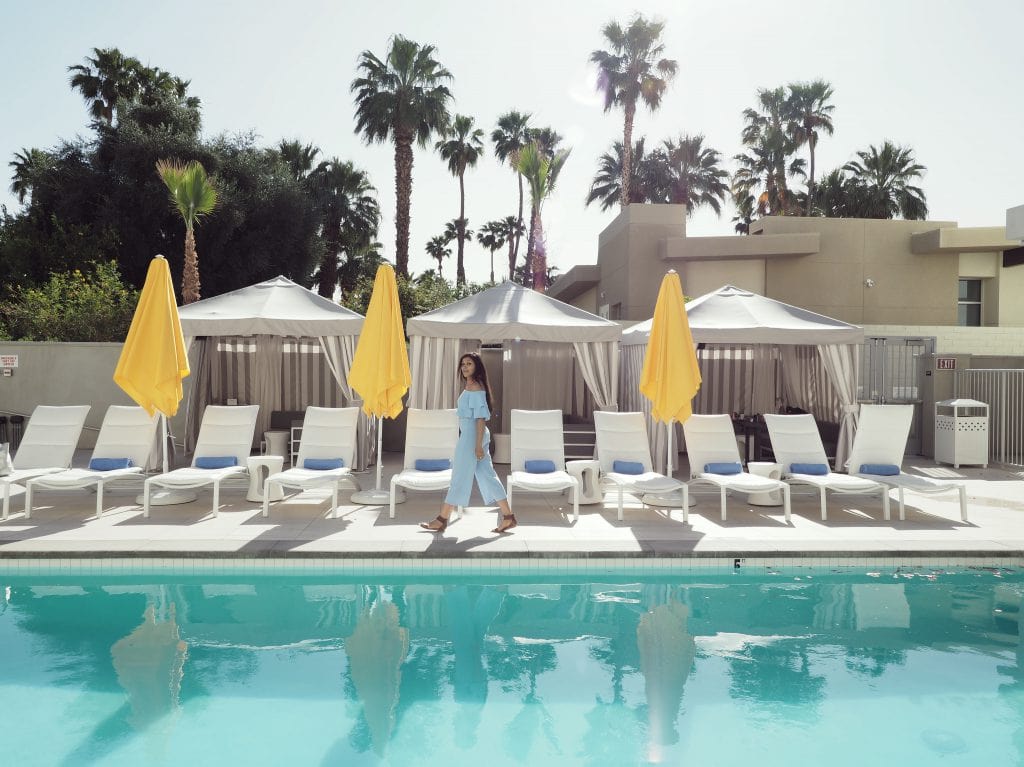 Bonnie wears baby blue top and cullotte co-ord set by Boohoo.com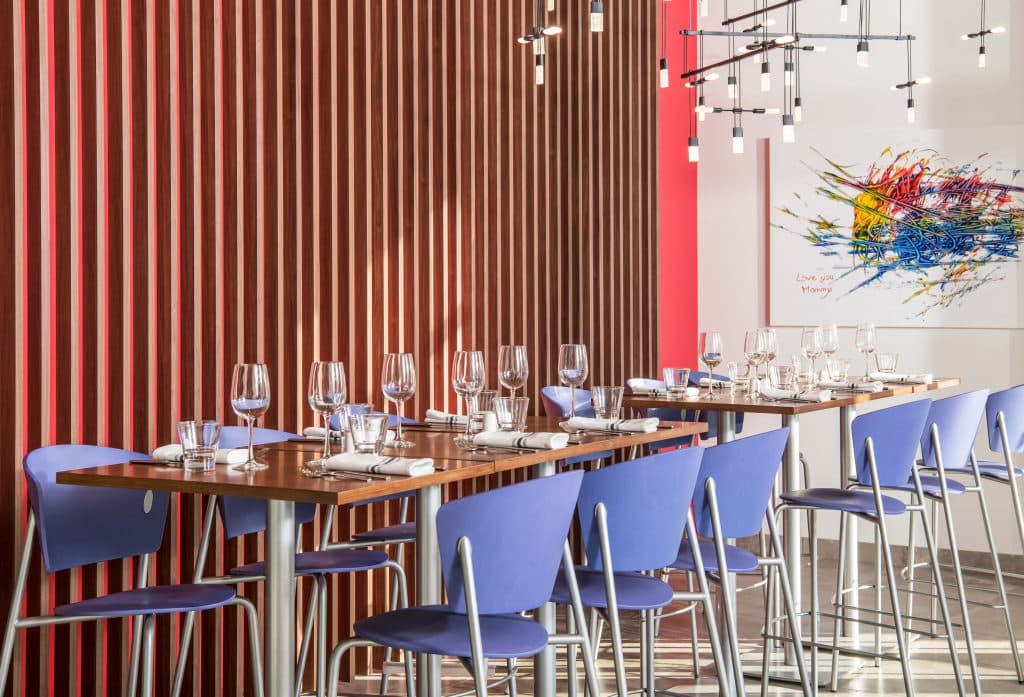 Hotel Paseo's trendy new AC3 restaurant with stylish interiors and abstract artwork and below the view from our balcony of the pool at The Paseo.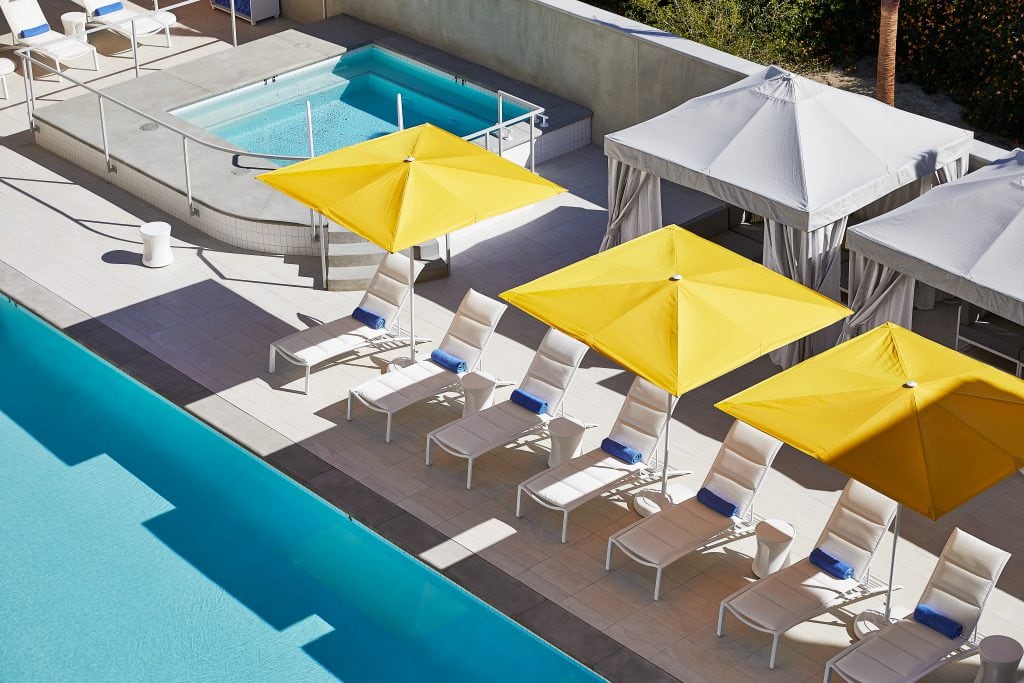 3 – Palm Springs Mod Squad Architecture Tours
Why not start off your trip with a guided tour by the super knowledgable (and enthusiastic) guys from The Palm Springs Mod Squad. It's the best way to get acquainted with the iconic mid-century architecture style of the city, learn about its celeb history and see some incredible buildings and interiors, whilst getting the lay of the land.
You can pick from 'martinis and mid century architecture tour', interiors, essential Palm Springs or something more customised to what you're interested in. Essential Palm Springs Tour costs $70 for a 90 minute guide and you meet at the famous Saguaro Hotel (aka the one that looks like a rainbow exploded on it, see below). Check out www.psmodsquad.com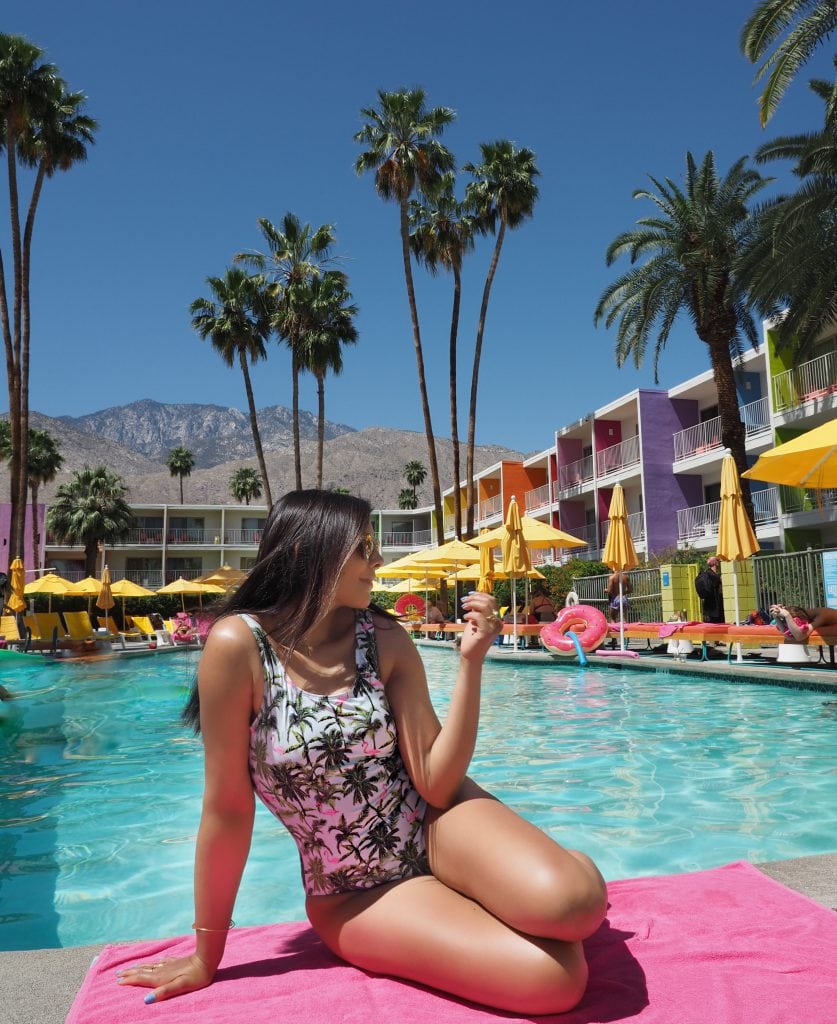 Bonnie at the very insta friendly Hotel Saguaro wearing swimsuit by Primark above and orange jumpsuit by Asos below. Did someone say 'pink wall!'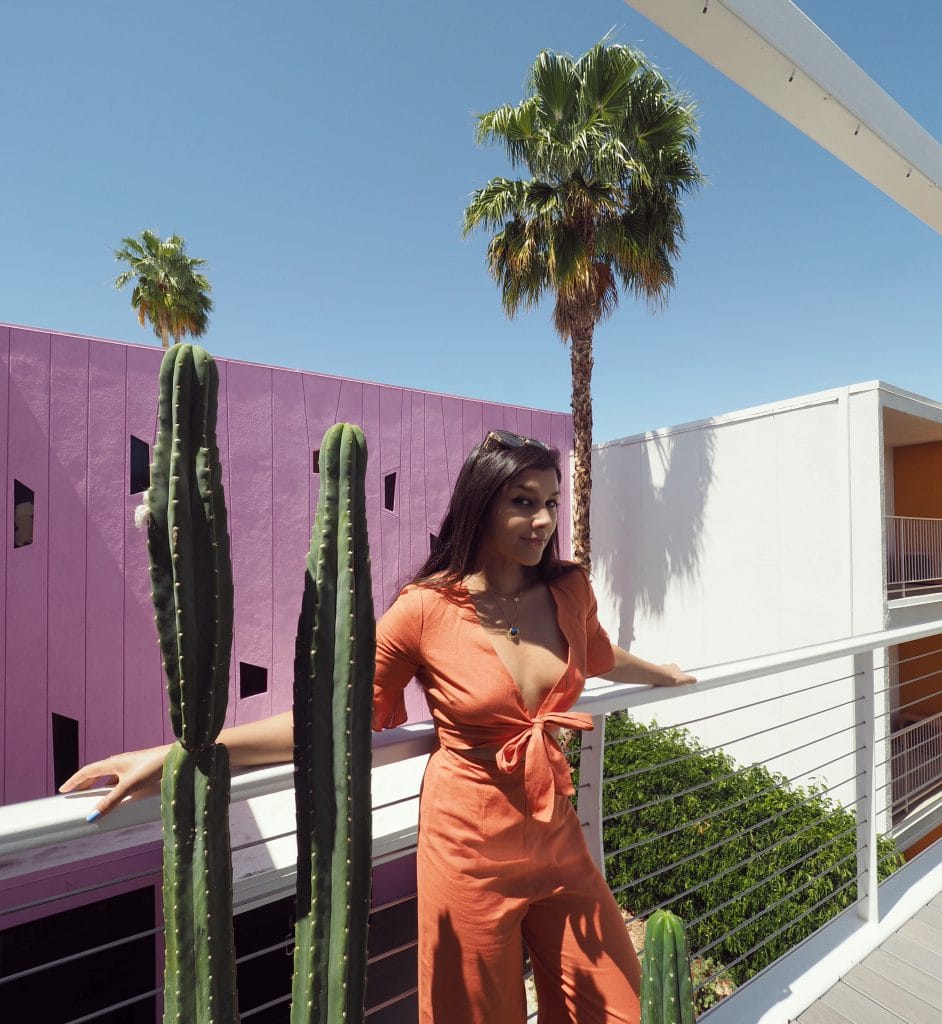 4 – Joshua Tree National Park
You can't come to Palm Spring without taking a mini adventure into the desert to experience the truly epic Joshua Tree national park. It's about an hours drive from Palm Springs through some otherworldly scenery, it is very impressive.
Once in the park make sure you have plenty of water, paper maps and petrol in the tank! The park is vast and it has limited mobile connection and no service areas like cafes. You really are out in the outback. But with this comes some seriously incredible back drops and almost lunar landscapes. From hundreds of miles of cactus fields to giant boulder ranges to mountains, it's one of the most interesting and instagrammable destinations I've been to.
Entry costs $25, you'll need a good few hours to even brush the surface, so make sure you have enough provisions and sunscreen with you. I'd definitely take a hat, proper walking shoes and covered shoulders if you plan to hike as the temperatures are searingly hot. Click hear for more details.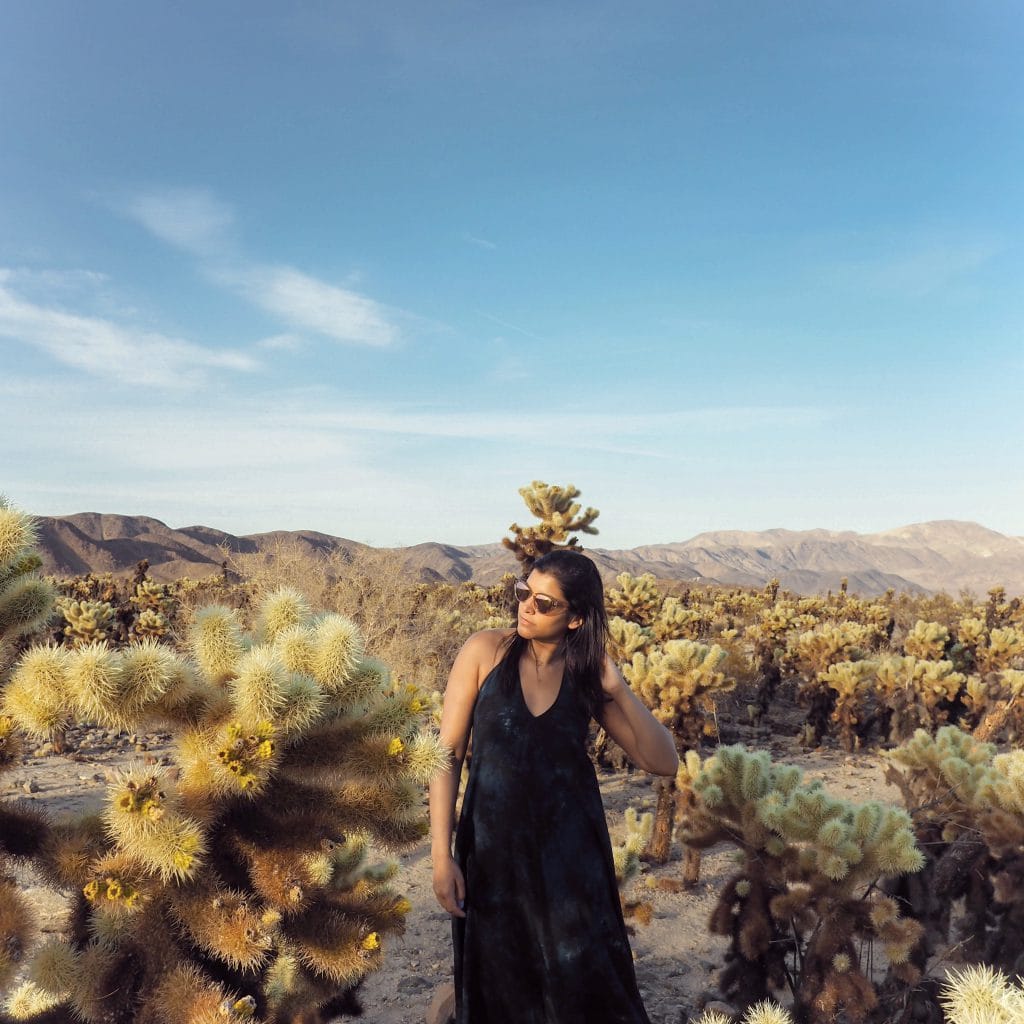 5 – The Parker Hotel
One of the chicest and perhaps most exclusive places to stay in Palm Springs is The Parker. Famed for it's outlandish decor (see below), celeb guests and total privacy, The Parker is a decadent, bohemian hotel filled with objets d'art, quirky sculptures and the entrance… well if you like insta walls, take a look above!

6 – Sunnylands Center and Gardens
Frank Sinatra got married here, hundreds of celebrities, politicians and royal families have stayed there over the decades, famed as a classic mid-century modern building, with a pink roof, set in 15 acres of stunning gardens, Sunnylands is today a non profit making trust. You can visit the house and gardens for free and take some sublime insta shots while you're at it! Pictured below.
7 – Palm Springs Art Museum
The building itself is a feat in modernist architecture but that's just on the outside. Head in and you'll be treated to a whole host of incredible exhibitions including the current Andy Warhol exhibition which is on until 28 May 2018. Adult entry is $12 Check www.psmuseum.org for listings.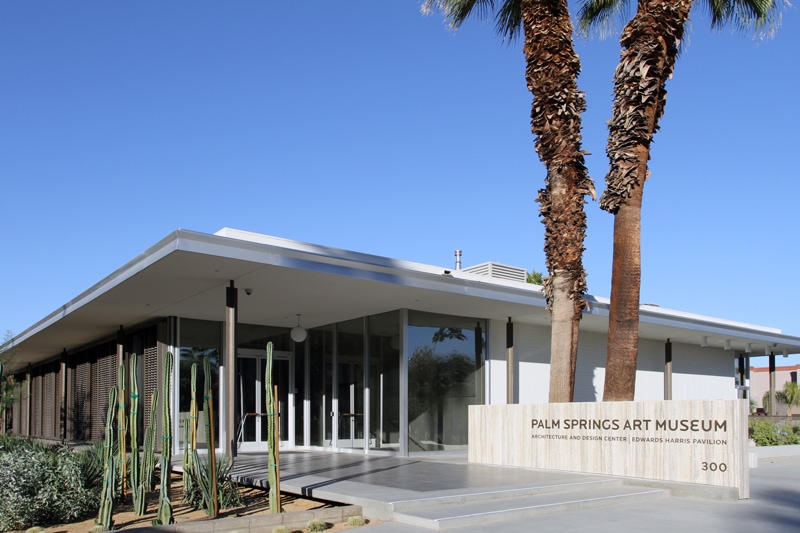 8 – The Ace Hotel and Swim Club
Filled with murals and artworks, the super hipster Ace Hotel and swim club is not only a great place to stay, but also an instagrammers dream. The rooms are awash with retro inspired interiors, the food looks too good to eat (try the tacos!) and the vibe is 'only trendy desert cool kids allowed'. The iconic mural below is a top insta spot.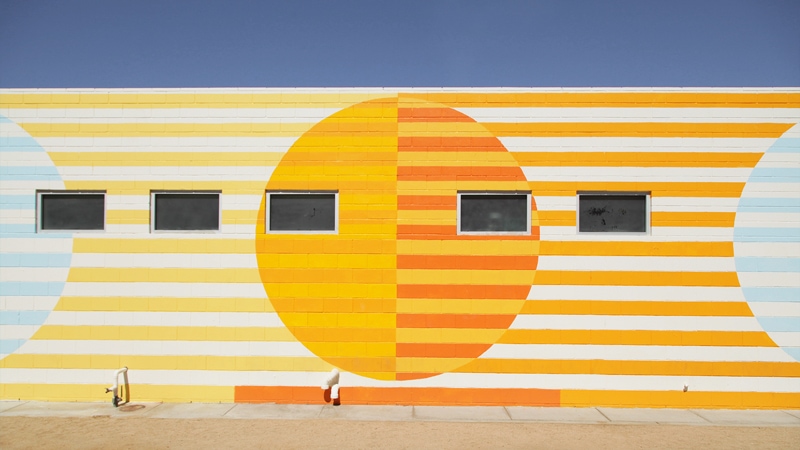 9 – Flamingos at the JW Marriot
Palm Springs is famed for being kitch. If this city had a spirit animal it would be the flamingo. Et voila! Head to the entrance of the JW Marriot hotel and spa you'll see a whole host of GPS's spirit animals wandering around.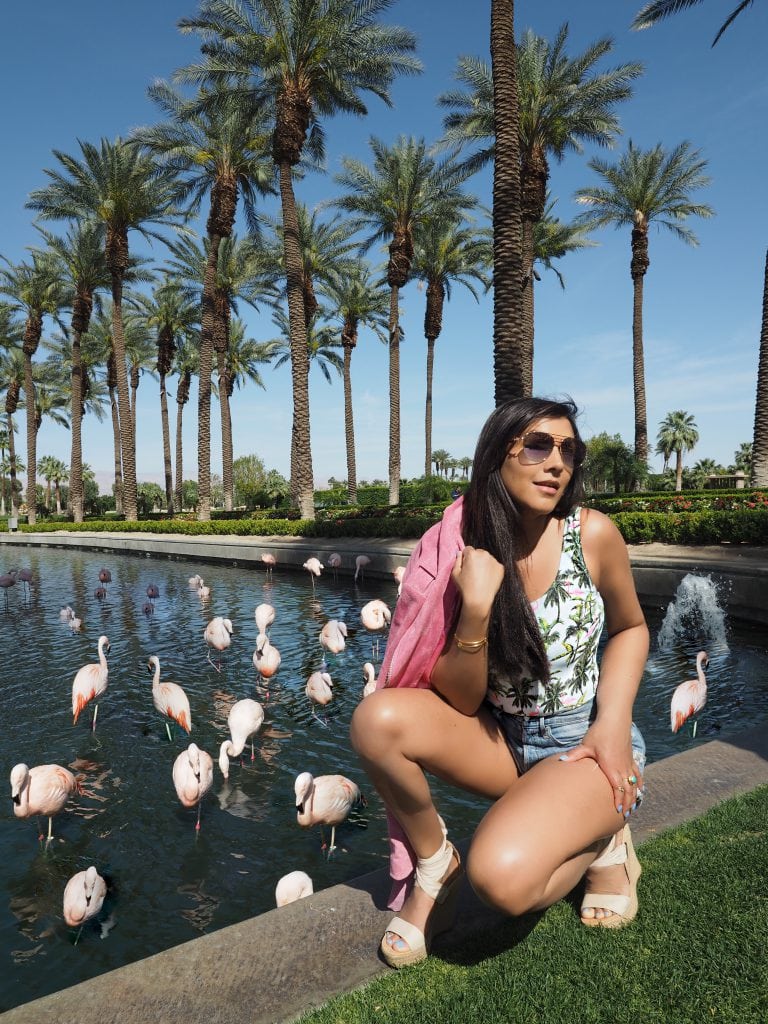 Above Bonnie wears Pink jacket by mbyM at Debenhams, swimsuit by Primark and below Bonnie wears jewellery by Ottoman Hands and sequin swimsuit by Asos.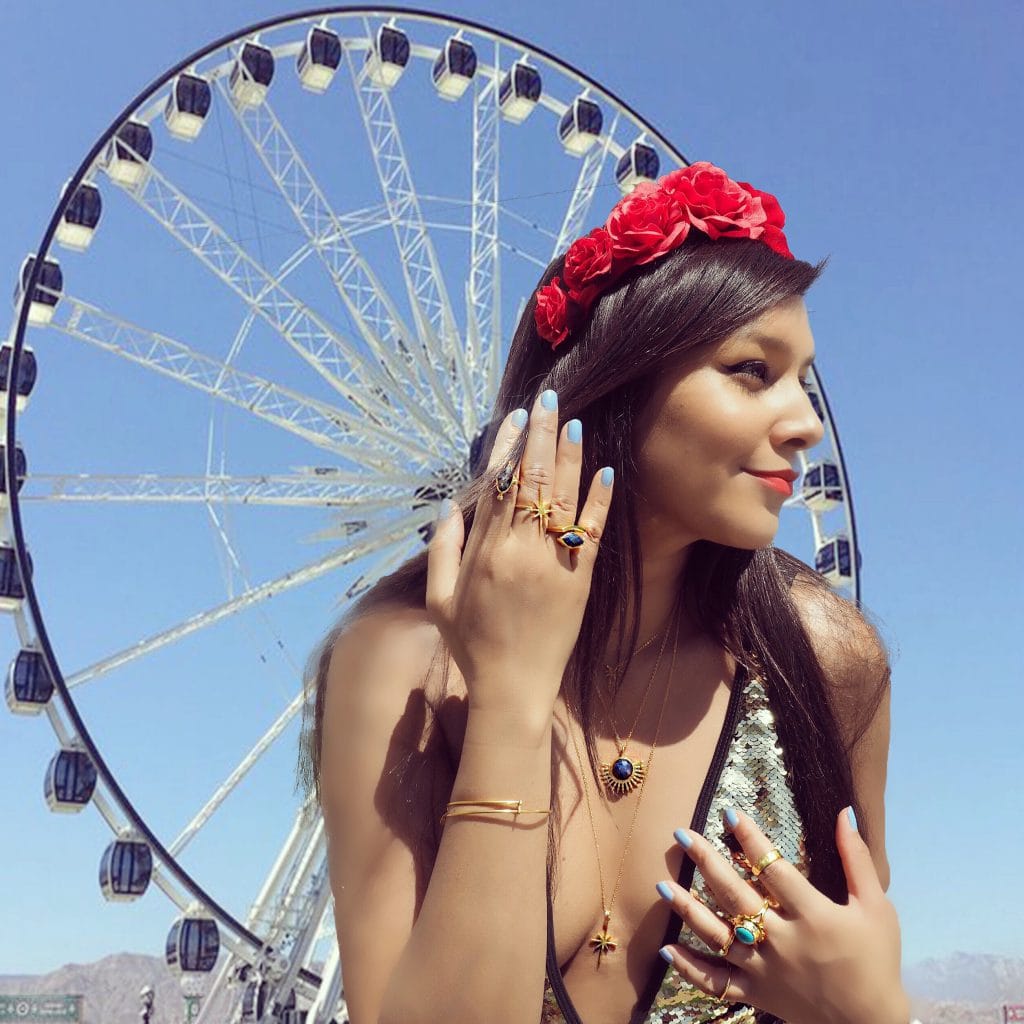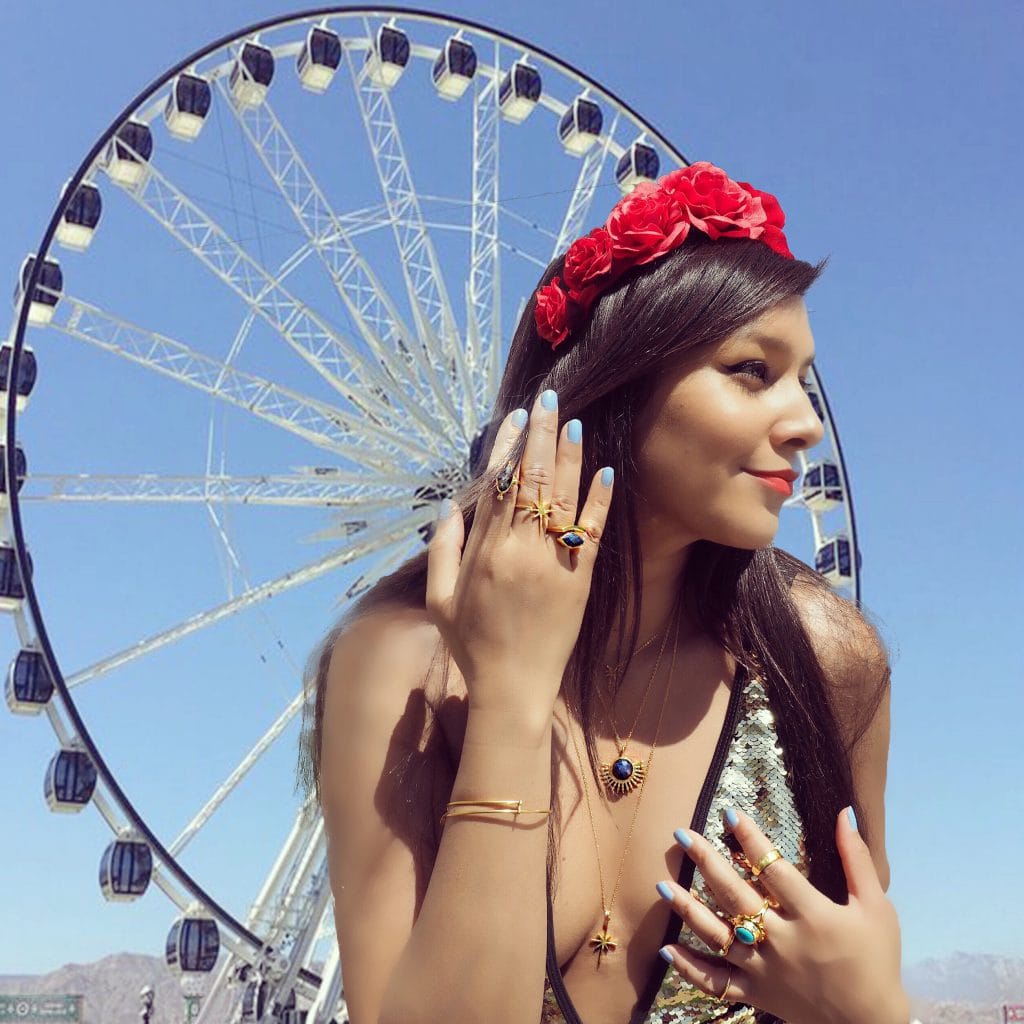 10 – Coachella Baby!
If like me you were visiting Palm Springs because of Coachella Festival, you may not have much time to check out the area outside of the festival grounds. But the famous murals all over Coachella town are well worth a visit if you have time. Here are a few other useful tips for festival first timers, especially ones coming from abroad.
You're most likely going to be flying into LAX so you need to know, Coachella is not in LA, it's a good 2 and 1/2 hour drive from LA in Greater Palm Springs. I would recommend hiring a car at the airport, staying 1 or 2 nights in LA to acclimatise to the time zone, then doing the drive to the festival once you've rested and settled in.
Unlike most European festival, activities such as drinking alcohol etc, are limited to designated areas within the festival. The only place you can have a drink in your hand while watching the main stage acts is in VIP.
Coachella festival is all about fashion, style and how many outfit changes you can fit into one day! But in this heat your clothes will get ruined, especially if there is a desert wind in the air. Wear light airy breathable clothing, or affordable festival styles that you don't mind throwing away after the festival. You can get some fantastic outfits on Asos, Boohoo and Pretty Little Thing which are super affordable.
Wear flat shoes. The site is vast and you'll be walking around all day. Keep it comfy yet stylish. Take water, sunscreen and sunglasses. Scarves come in very handy, they can act as a mouth barrier if it's dusty, a hat for shade, a throw to sit on and a towel too. Take lots of cash, drinks and food are expensive and ATM machine queues long.
The main acts are on in the evening but activities do start around lunch time. I'd recommend getting there around late afternoon.
It's unlikely you'll be staying on site, most people tend to stay in hotels and air b'n'b's around the area, but they do book up super fast, sometimes a year in advance!
To get that quintessential ferris wheel shot, if you don't want other people in your shot, stand at a distance quite far away from it and cover the crowds and little stalls (and drunk people) with your body filling the frame, it's all about the crop. See above. I love the golden hour 4 pm sunlight for a golden glow or sunset for a beautiful pink sky.
I highly recommend investing in VIP tickets if you're a style traveller like me (i.e a bit of a princess). Although the grounds are stunning and it's a really beautiful festival, the VIP areas is a little rose garden paradise filled with water fountains, chic eateries, its own bars and lovely toilets, it makes the experience a million times nicer and a lot more enjoyable. Plus you may get to bump shoulders with A-listers like Leonardo Dicaprio and Rihanna, who were hanging out together at the next table last time I was there? (yes there are tables and sofas in VIP, it's all very civilised!)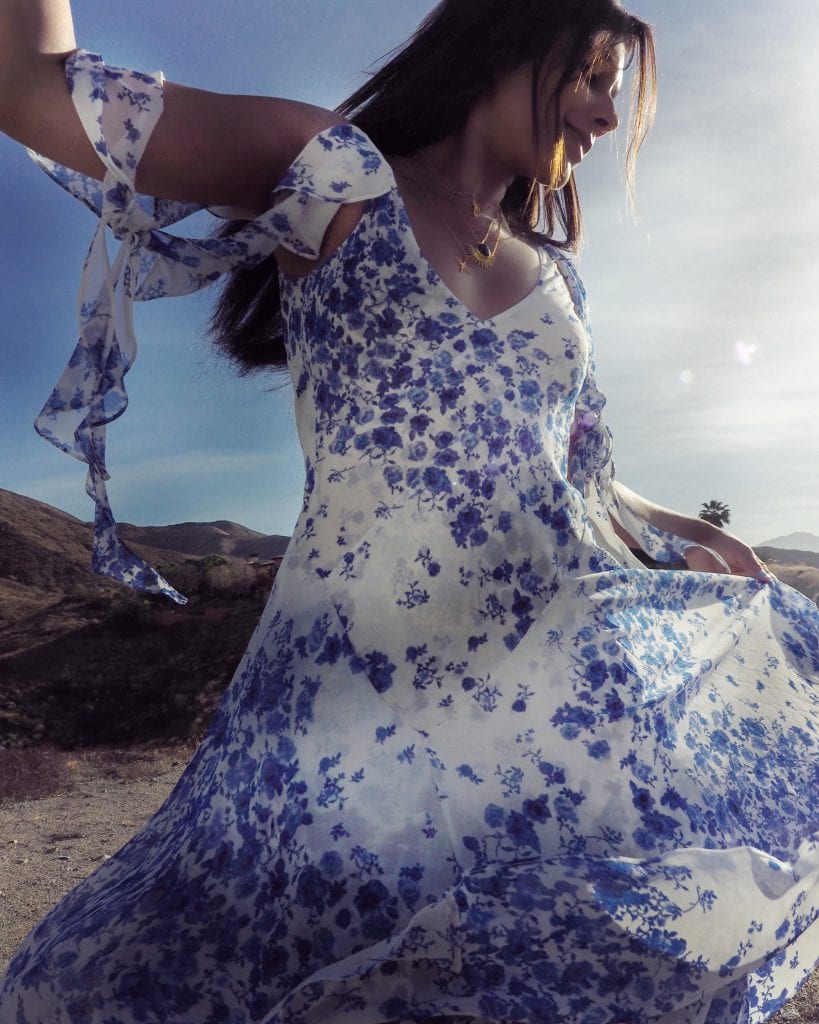 Above and below Bonnie wears blue floral dress by Studio by Preen at Debenhams, jewellery by Ottoman Hands, sandals by Blowfish Malibu at Office.
That's all from Greater Palm Springs, still one of my favourite destinations in the USA. Next stop West Hollywood.
For more information about Greater Palm Springs and to find your oasis within its nine cities, see www.visitgreaterpalmsprings.com
Bon Voyage xx