Newport Beach California – 48 hours in The OC
Newport Beach California – 48 hours in The OC
Where? Newport Beach, California
Exactly? The Resort at Pelican Hill
When? April 2018
Why? A few weeks ago the wonderful guys at Visit California invited me to experience a California road trip. Having done the route from San Francisco to LA a couple of years ago, I decided to try a different route, this time taking in a couple of less touristy spots on route to Coachella.
So the drive would take us from LA, to Newport Beach (aka the chichi harbour town from the TV series The OC), then to Greater Palm Springs, the home of Coachella music festival, ending with a couple of detox and chilled nights in trendy West Hollywood.
We booked a car from Rentalcars.com for 8 days for only £322 with GPS included, which we picked up at LAX airport on arrival. It was super easy to do.
Here's my 48 hour guide to Newport Beach, the first stop on my mini California road trip…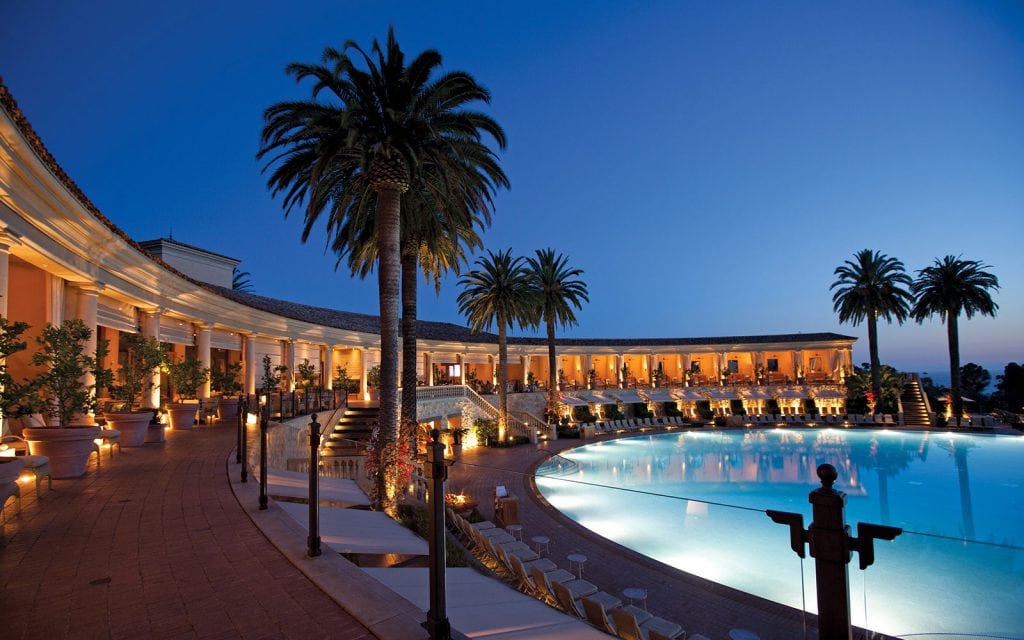 Where to stay in Newport Beach?
For the style travellers amongst us there is only one obvious option, the super luxurious and exclusive Resort at Pelican Hill. Situated atop 504 acres of breathtaking Californian coastline the hotel boasts 204 perfectly appointed bungalows, 128 dreamy villas, a world class golf course, a 22 private treatment room spa, eight dining options and one spectacular coliseum swimming pool.
The resort is vast and yet you always get the feeling of upmost privacy and the service is impeccable. It's a wonderful hotel and I can see why so many a-listers choose to stay here for a little undisturbed r&r. It's literally an hours drive from LA and situated in sunny Orange County where TV series The OC was set.
Opening shot Bonnie wears white swimsuit by Asos, wedge sandals by Ugg.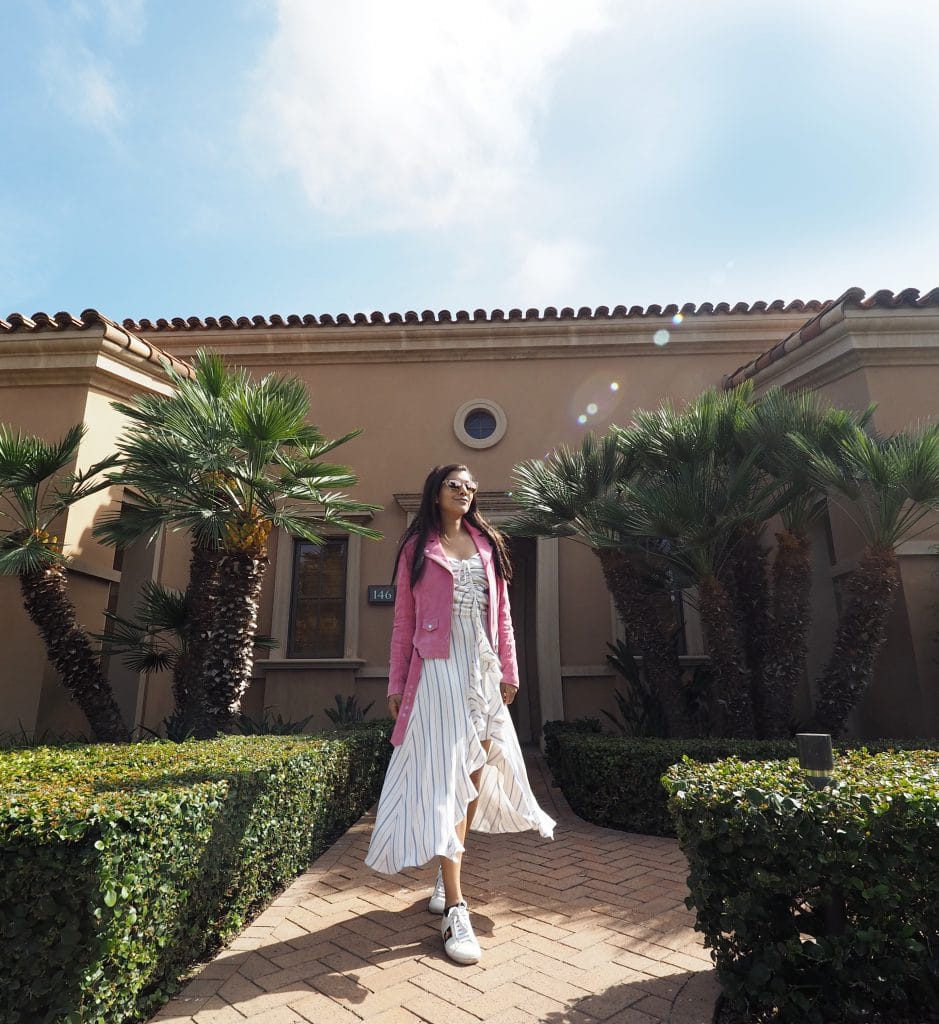 The Rooms
You can take your pic from one story luxury bungalows, which is where I stayed, or opt for 2,3 or 4 bedroom villas. All come with an in room Italian limestone fireplace, huge wide screen TV, free wifi, marble walk in showers, expresso makers and the cosiest beds with signature linen. Oh and did I mention the incredible balconies with views across the grounds?
Bonnie wears pink suede biker jacket by Debenhams, white stripe dress by River Island, Ace trainers by Gucci.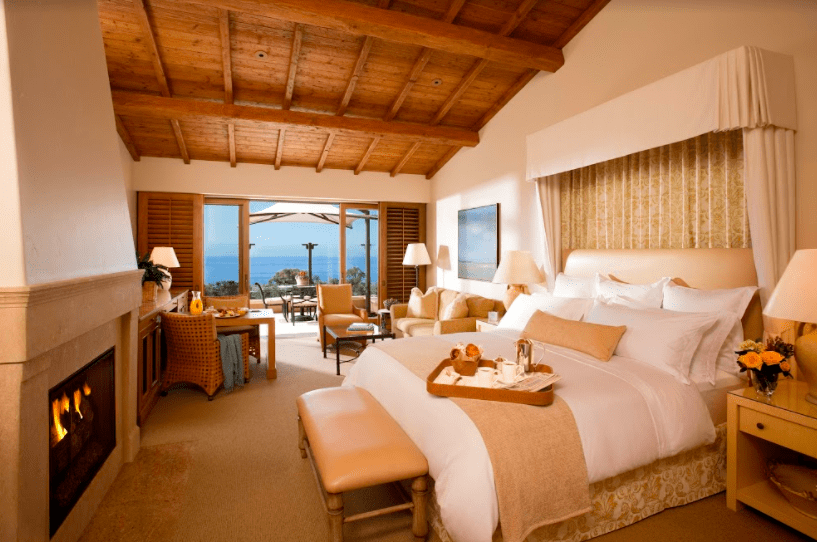 Elegantly decorated bedrooms with neutral oatmeal tones, gorgeous soft furnishings, wooden beam ceilings and incredible sea views from the balconies.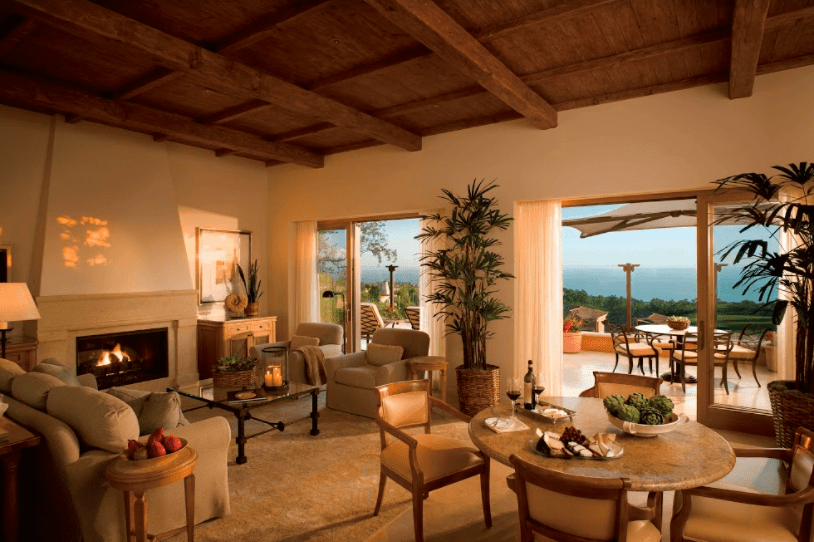 The living and dining room in the villas are beautifully furnished too, with literally everything you need. When can I move in!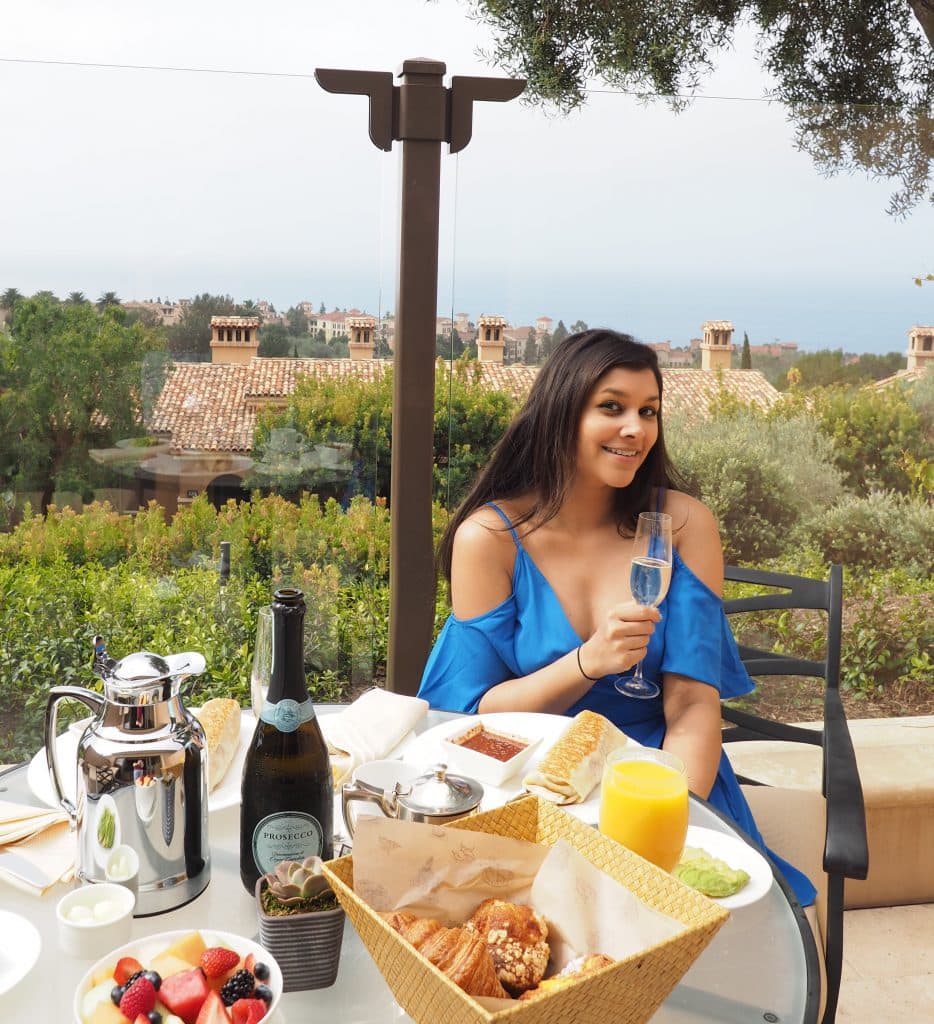 Bonnie wears blue dress by Silk Fred on the bedroom balcony enjoying an al fresco breakfast with a view of the Pelican Hills terracotta rooftops. So pretty!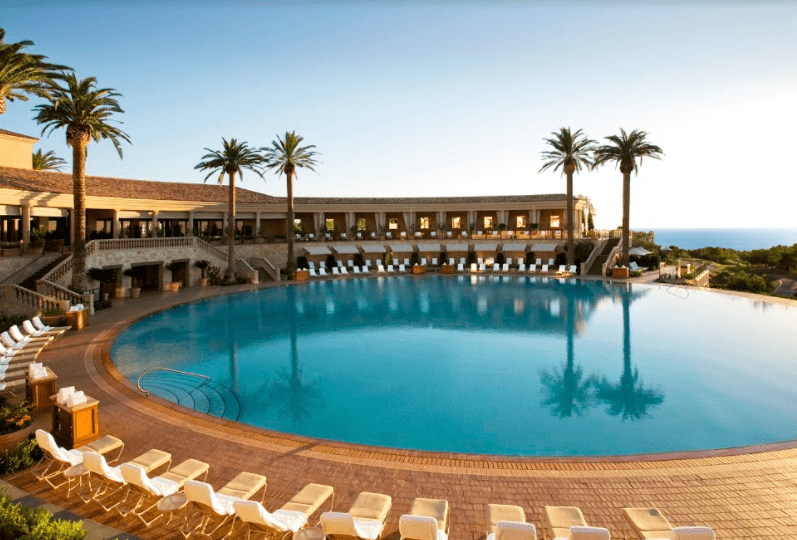 The view of the Coliseum Pool from the restaurant. The swimming pool is huge, it was possibly the best pool for swimming laps in any hotel I've ever stayed in.Don't forget your goggles! There are plenty of day beds for everyone and waitresses and tanning butlers on stand by, in case you need an iced lemon water or a quick spritz of suncream.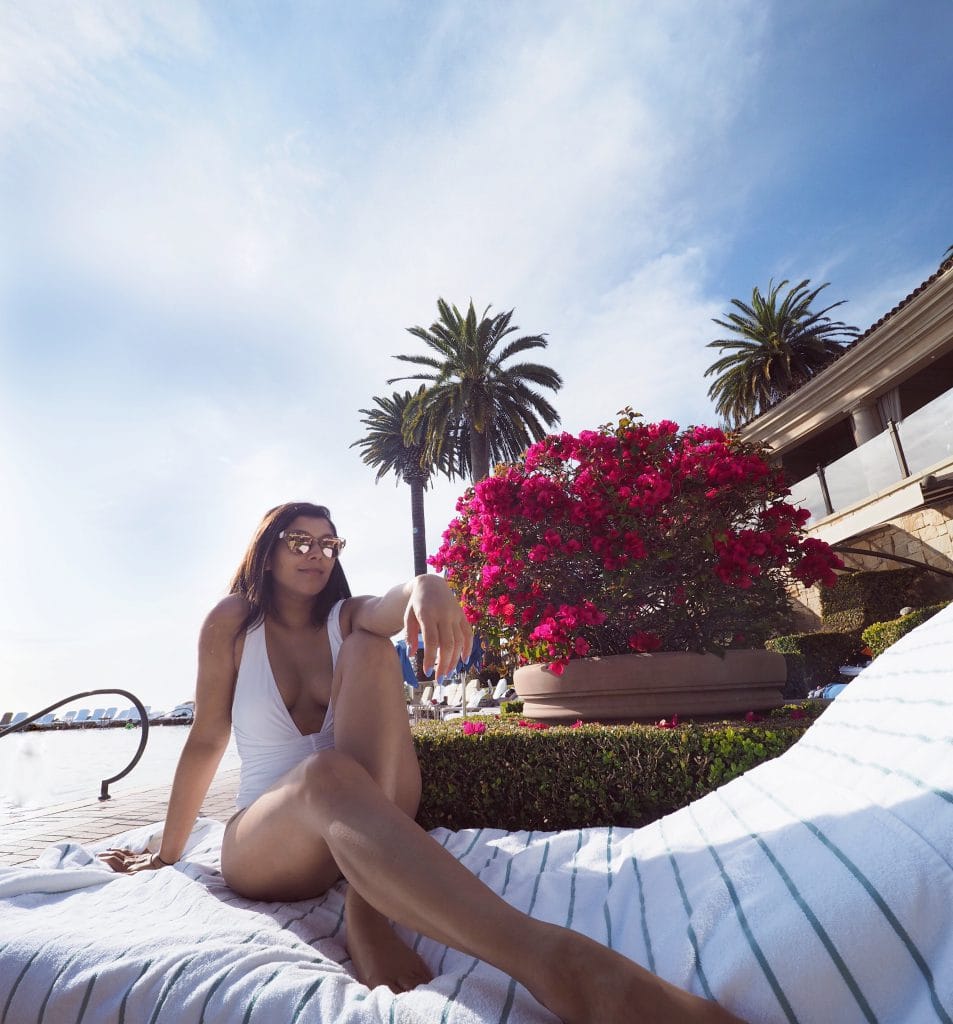 Time for a spot of sunbathing before dinner. Below at night the Coliseum restaurant becomes a romantic, candle lit spot over looking the turquoise waters of the pool and the ocean beyond. There are 8 separate dining options at the hotel including the Pelican American grill, three cafes to in-room dining. There's so many options you really don't need to leave the hotel.
Bonnie wears white swimsuit by Asos.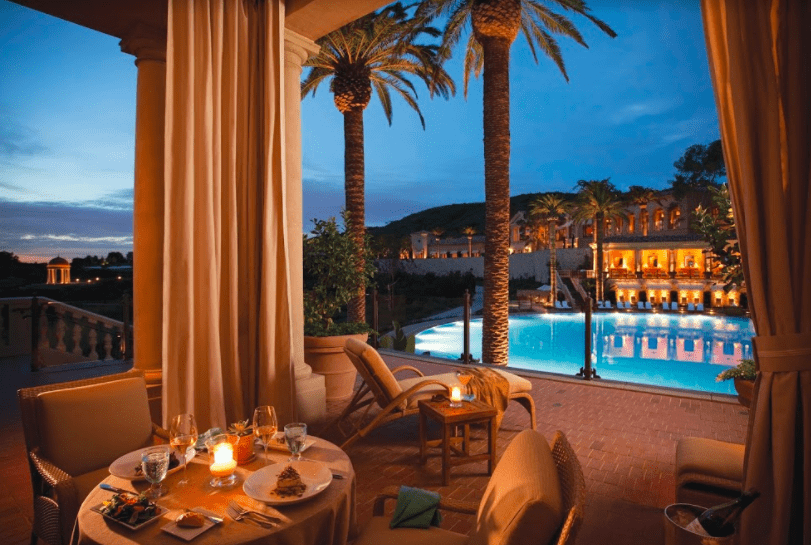 What to do in Newport Beach – 48 hours in The OC
We only had 2 nights in Newport Beach before heading on to our next road trip destination, but we managed to pack as much as possible into the itinerary. I would have been equally happy spending a little bit more time at the hotel too so do try and factor that in if you can.
Bonnie wears black spotty dress by Silk Fred and pink biker jacket by mbyM at Debenhams.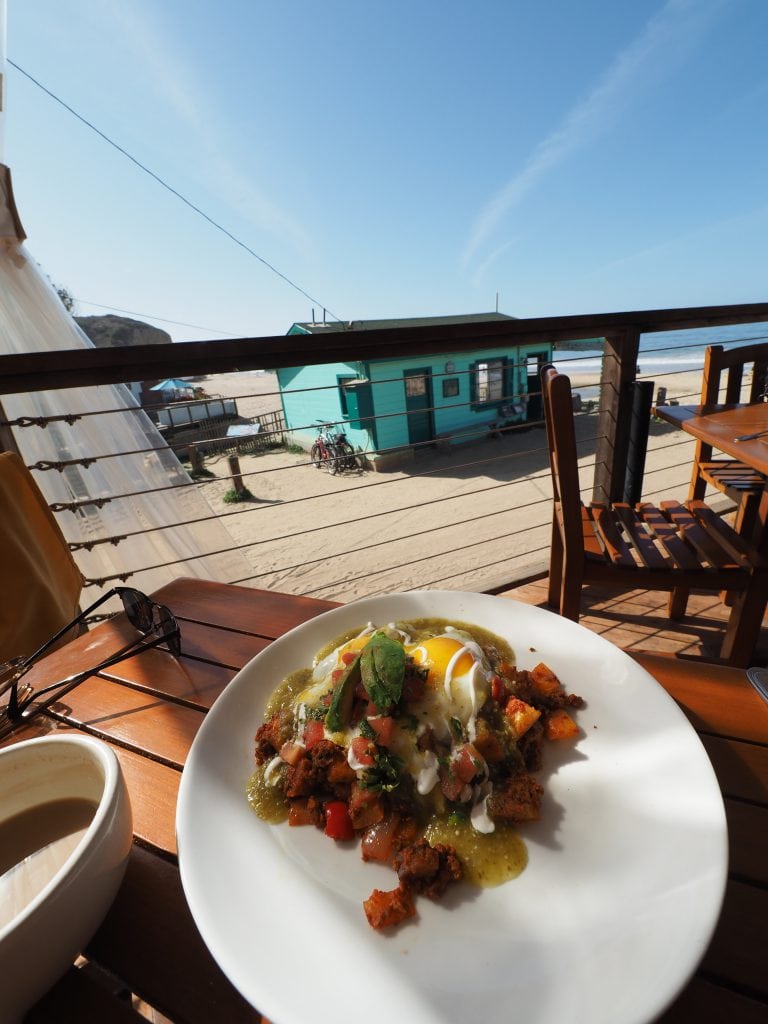 Breakfast at Beachcombers
Start the morning off with a healthy breakfast at the Beachcomber Café. Enjoy sunny views over the stunning Crystal Cove beach and beyond whilst chowing down on Huevos Rancheros, or Mexican eggs and guacamole breakfast to you and me! Yum!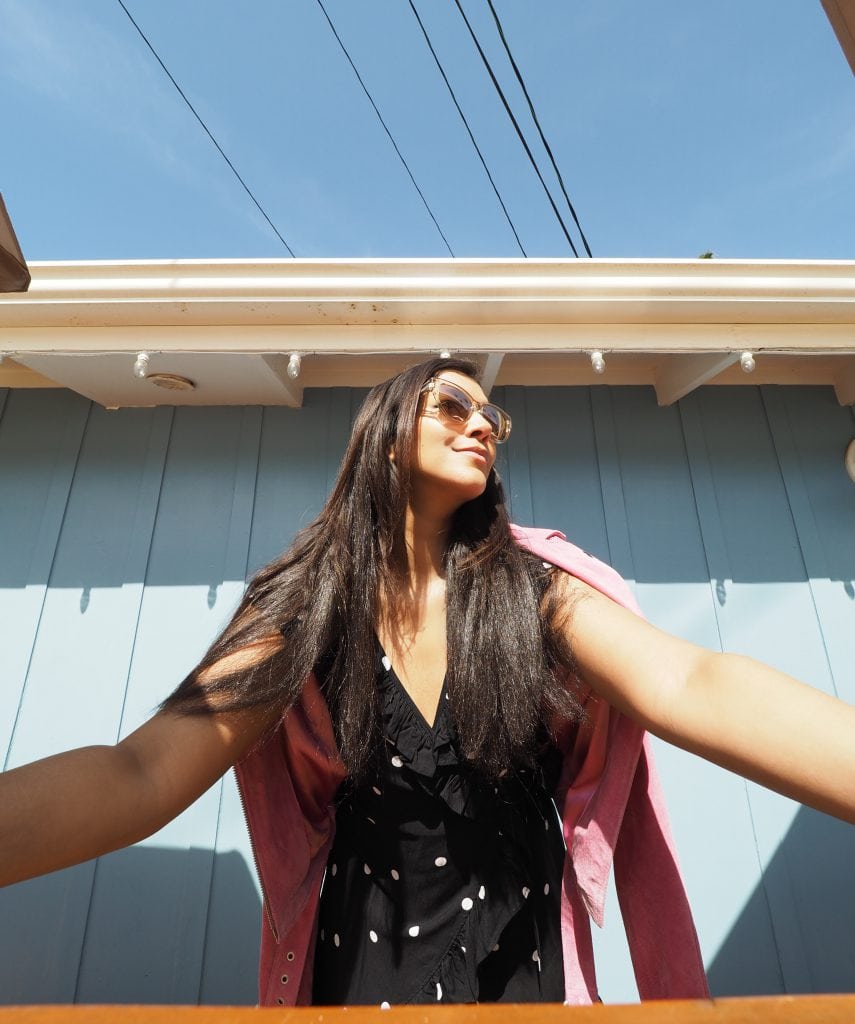 The Beachcomber cafe is super instagrammable and the little shops and gallery in the area (pictured below) are so quaint and pretty.
Bonnie wears black spotty dress by Silk Fred, pink suede biker jacket by Debenhams and Ace trainers by Gucci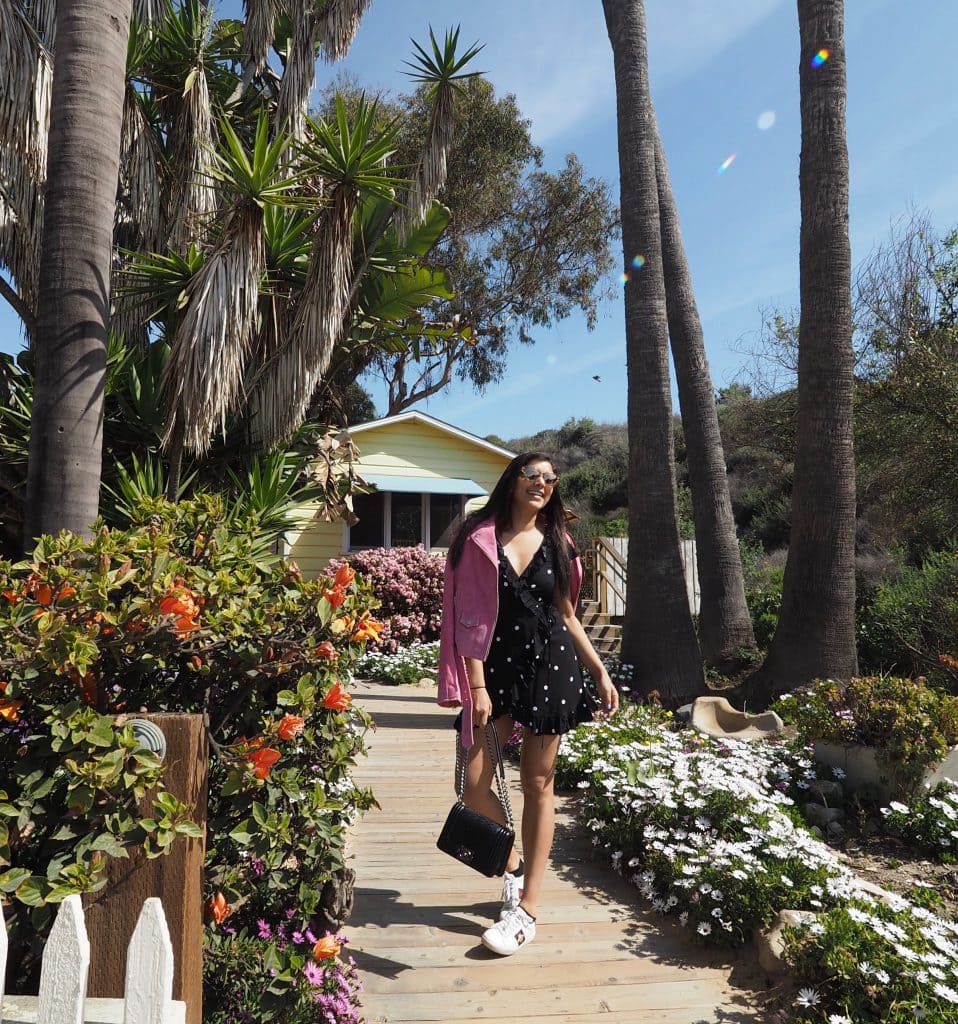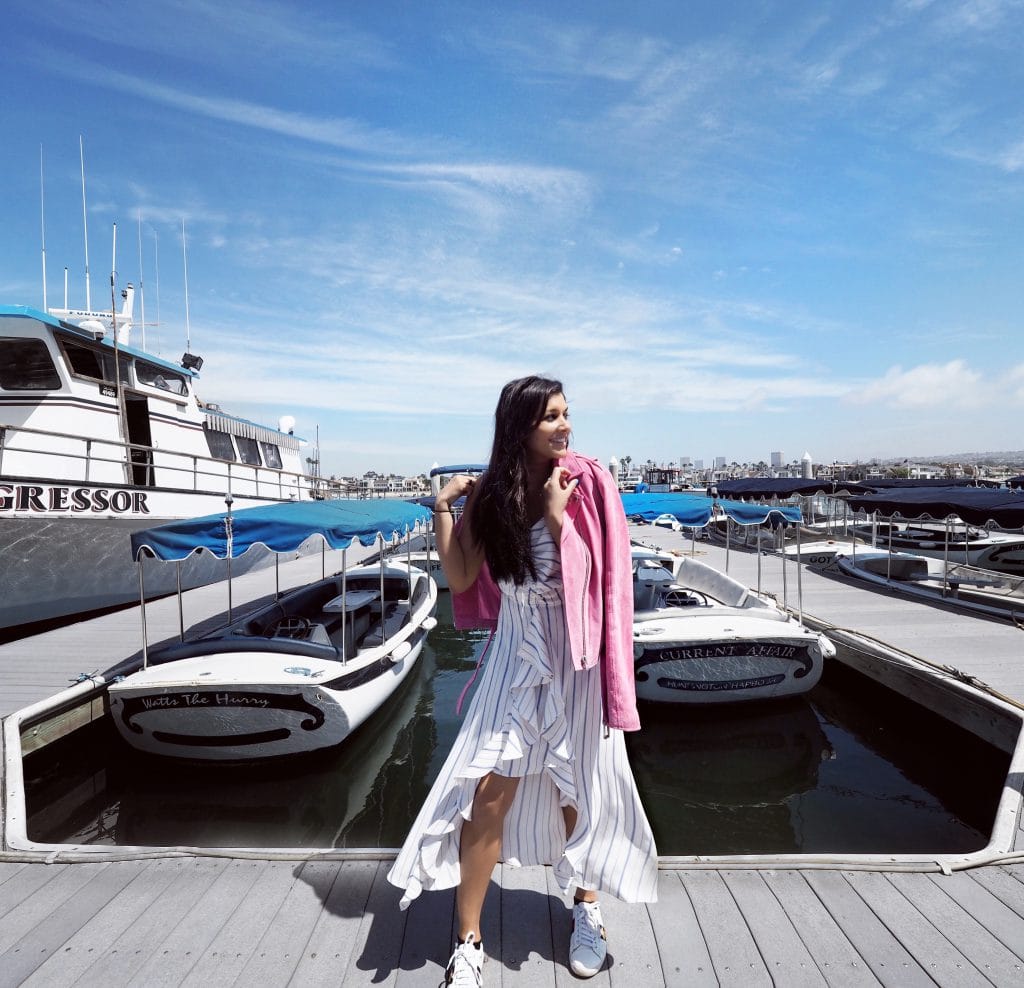 Hire a Duffy Boat
In the list of top 5 things to do in Newport Beaches, hiring a Duffy boat keeps coming out at the top. That's because the perfect way to see Newport is from the sea. Hire a duffy by the hour from the harbour front and take a tour around the local landmarks and sites. You may even see George Clooney's house if you're lucky! Self drive hire boats are available from boats4rent.
Bonnie wears pink suede biker jacket by Debenhams, white stripe dress by River Island, Ace trainers by Gucci
Me taking to the helm, for all of two minutes!!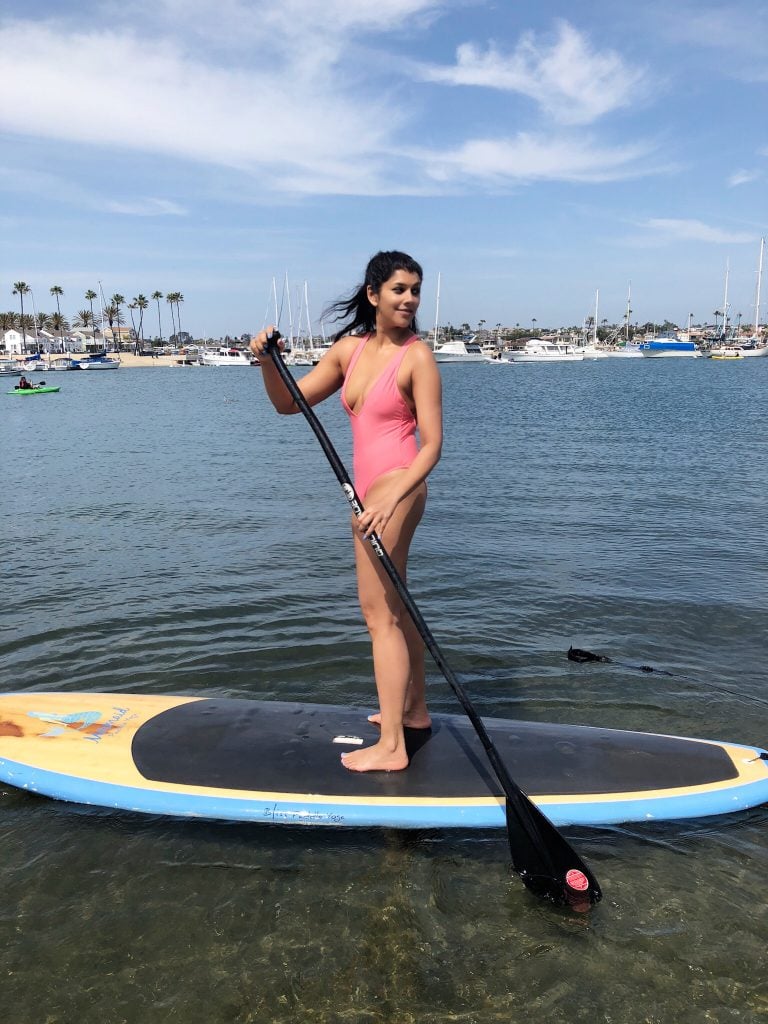 SUP paddle boarding
As if boating wasn't enough water based activity, we decided to do an afternoon of SUP (stand up paddle boarding) just to really be at one with the sea. The waters here are so calm and relaxing you can drift by the super yachts and million dollar mansions at your own pace, don't go out too far though, the row back is always harder than the outward journey! We got our boards from Bliss Paddle Yoga.
Bonnie wears PINK cropped hoodie by Victorias Secret.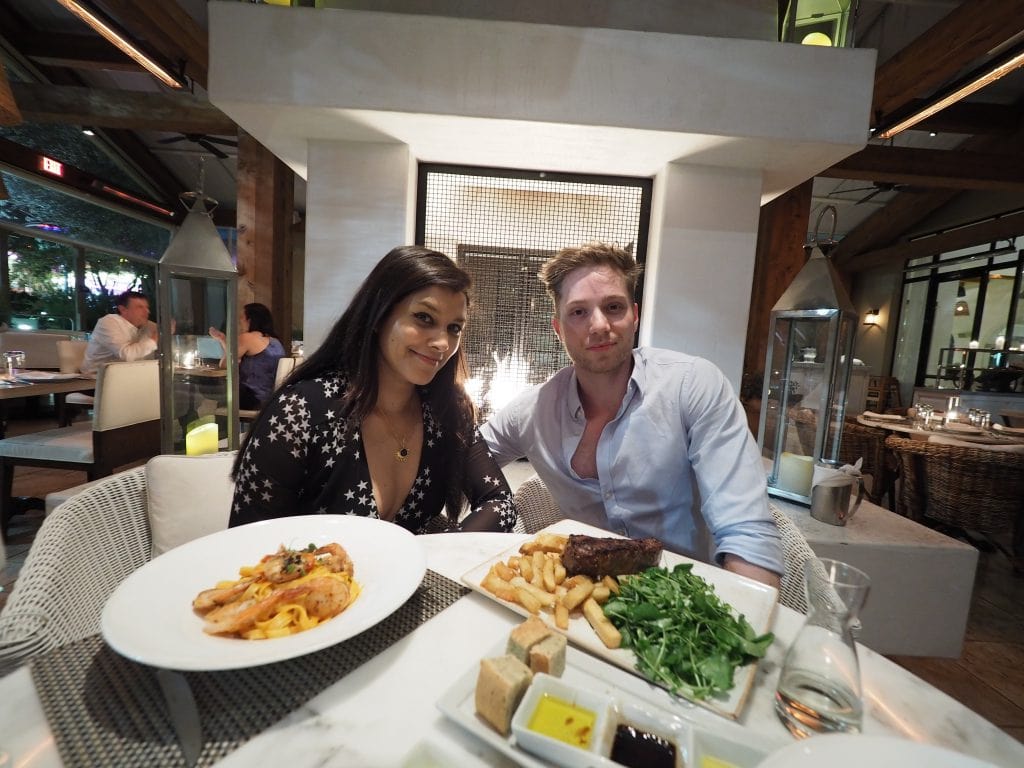 Dinner at Fig and Olive
Well that was a hectic day. Final stop is dinner at trendy new Italian spot Fig & Olive, FYI there is a Nobu in Newport, but having spent a long weekend at Nobu Marbella last week, we fancied a little variety. The food here is delicious and the fairy lit kitchen garden and outdoor fireplaces all conjure up a little bit of Italy in heart of California. Very romantic and great food.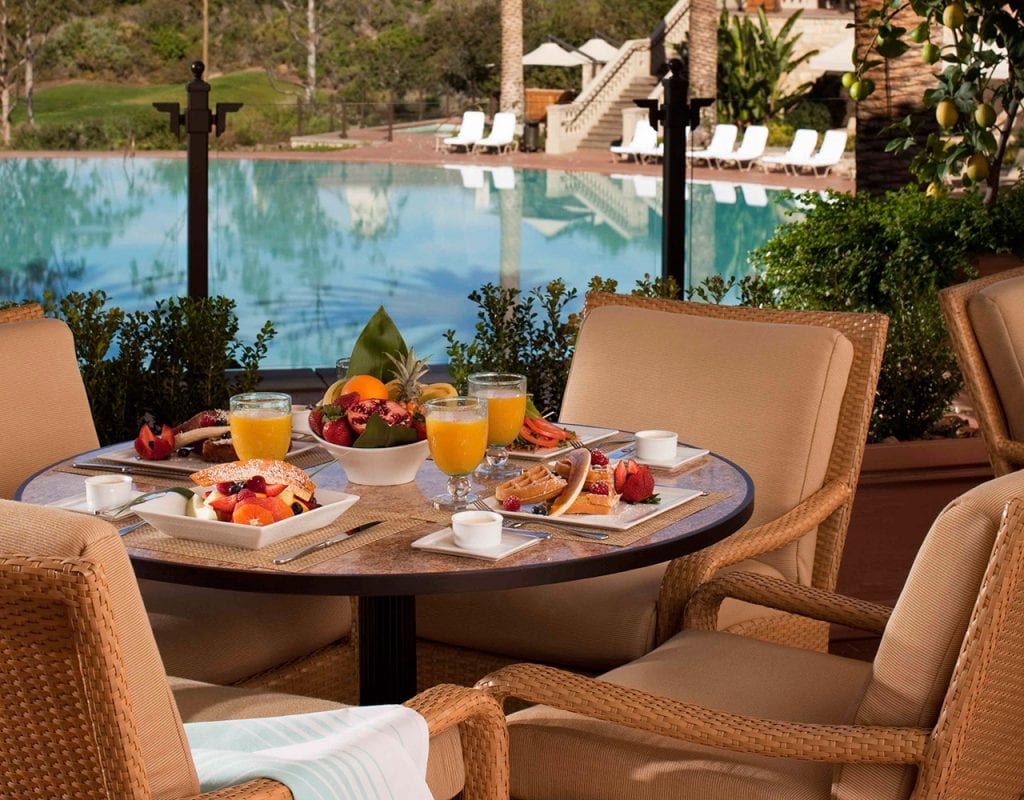 That's all from Newport Beach, thank you so much to the stunning Resort at Pelican Hill for an incredible stay. It really is the perfect place for a luxurious, pampering stay.
Next stop on the California road trip, Greater Palm Springs and Coachella… See you next time.
For more of Bonnie's American road trip adventures click here for the San Fran to LA journey.
Bon Voyage xx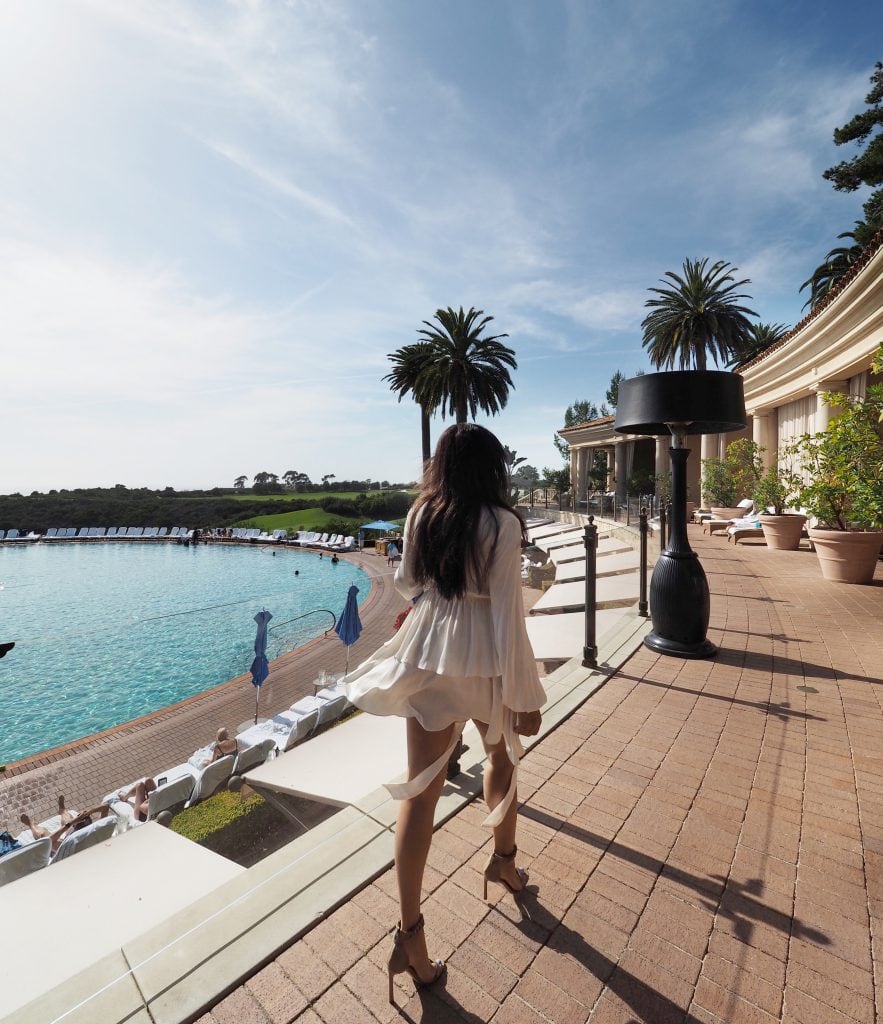 Bonnie wears cream silk Berkshire dress by Majorelle at Revolve