Finding My Zen at Absolute Sanctuary, Koh Samui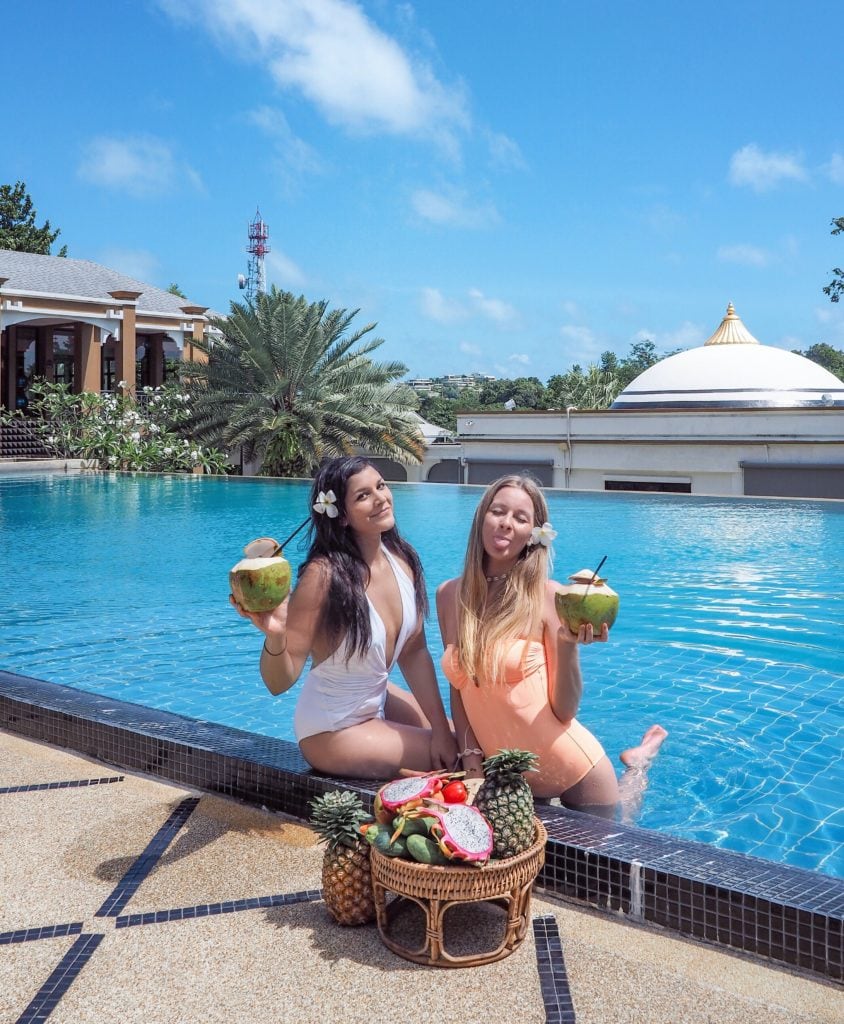 Finding My Zen at Absolute Sanctuary, Koh Samui
Where? Absolute Sanctuary
Exactly? Nestled amidst lush green hills on the beautiful Thai island of Koh Samui, with architecture akin to a palatial, Mediterranean villa, the Absolute Sanctuary is haven of peace and wellbeing.
When? Feb 2019
Why? The multi award winning spa and resort has just introduced six new innovative wellness and fitness programs to its schedule. Already renowned as a place you can come the rest, recuperate, lose weight and increase your fitness levels, the lovely guys at Absolute Sanctuary invited me to come and stay for 5 days and try out one of the new plans, perfectly tailored to my needs. #presstrip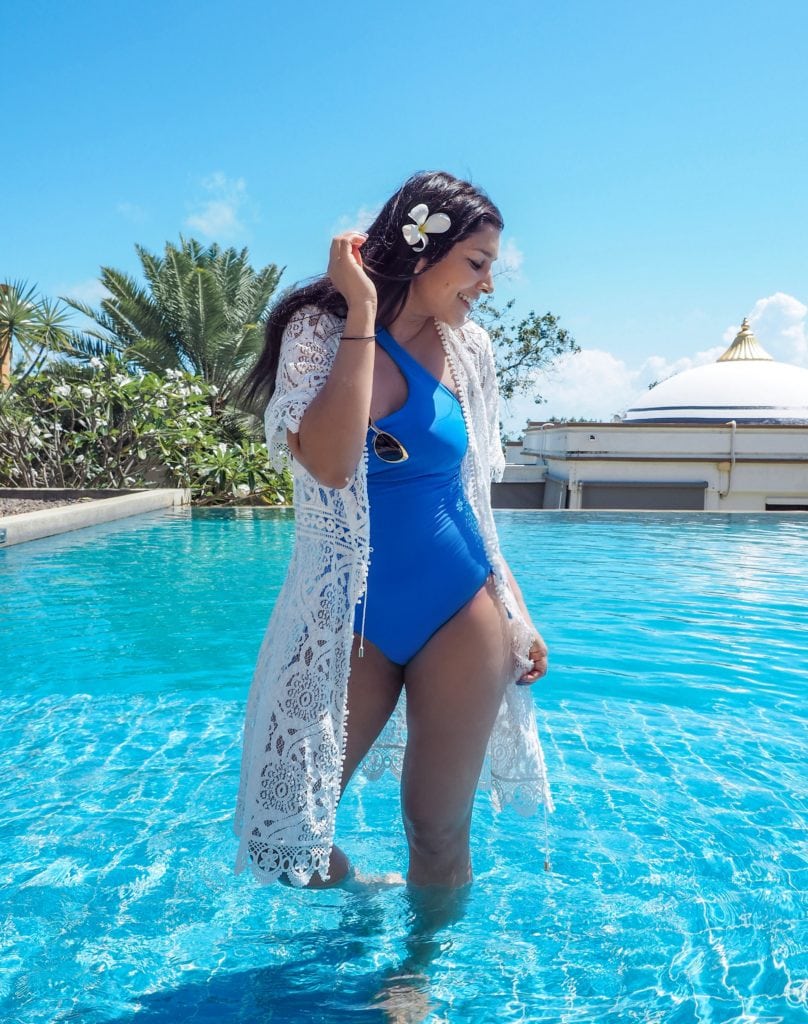 Images above Bonnie and Dom both wear swimwear from Melissa Odabash
The new programs
Everyone who visits the sanctuary is in need of something different. Whether they've burnt out and need to de-stress, weight loss for an event or a lifestyle change, whatever the need there's a plan for you.
The 6 new programs are:
Women's Holistic Health
Designed for women over 35, this female-specific programme looks at hormone balance and the factors that can affect it.
Men's Vitality
The Men's Vitality programme targets those that lead hectic lifestyles and work in high-pressure jobs. A large number of men that visit Absolute Sanctuary are looking to lose weight and get healthy.
keep scrolling to see the others…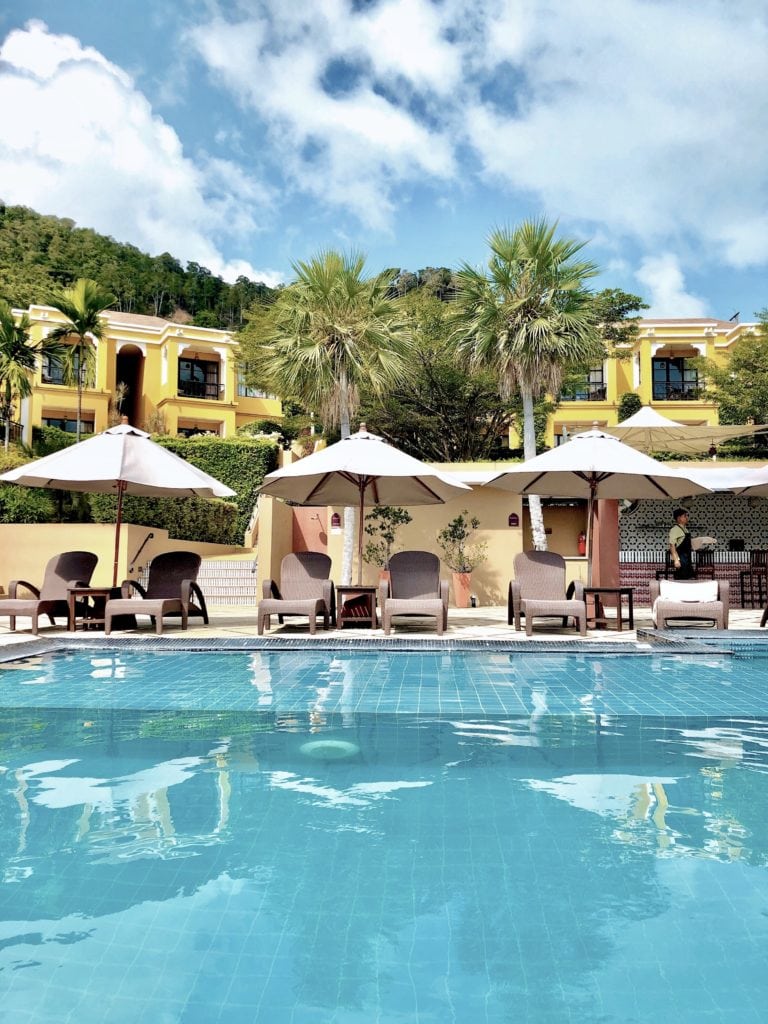 Body Realignment
Neck, back and shoulder problems are familiar to almost everyone who works at a desk. This program aims to alleviate pain and set guests up for better long-term spinal health.
Sleep Well
Poor sleep can be extremely debilitating, both physically and emotionally. The Sleep Well programme explores how to enjoy a better night's sleep.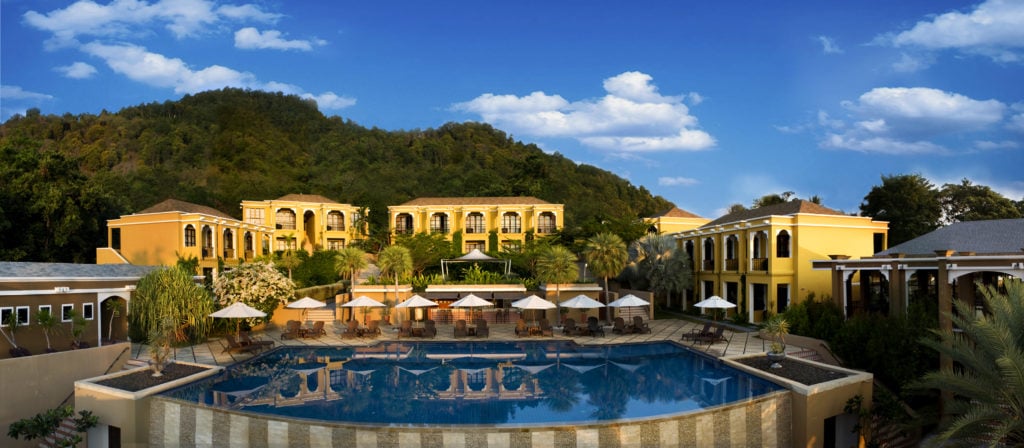 Mindfulness
This programme is designed to help an individual feel truly at one with themselves. It helps them to find an inner peace and calm, putting aside the stresses and strains of modern day life.
Rest and Rebalance
The Rest and Rebalance programme offers guests guidance on how to find a healthy balance in their lives.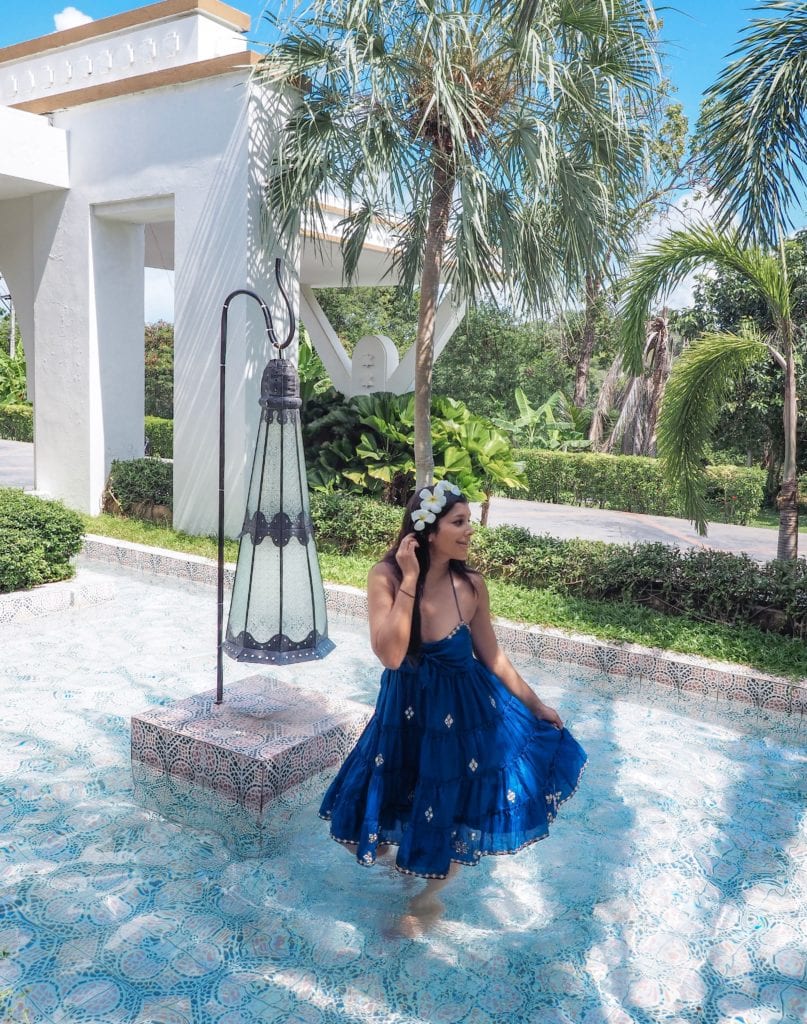 Bonnie wears blue beach dress by Juliet Dunn at Beach Cafe and below white beach dress by Pampelone at Beach Cafe
How it works?
Before I arrived I had a one to one consultation over the phone and then another personal consultation once at the hotel. We both came to the conclusion that I needed a mix of the 'Realignment Program' and 'Rest and Rebalance'.
My schedule was planned for the 5 night stay to include group and one to one pilates/ yoga classes focusing on my posture and reasons I was getting back pain, as well as plenty of time to de-stress, detox, relax and enjoy lots of pampering treatments every day.
It also included on average at least two massages a day, this was definietly the right program for me! The schedule was reasonably flexible with no pressure to do anything you don't feel like.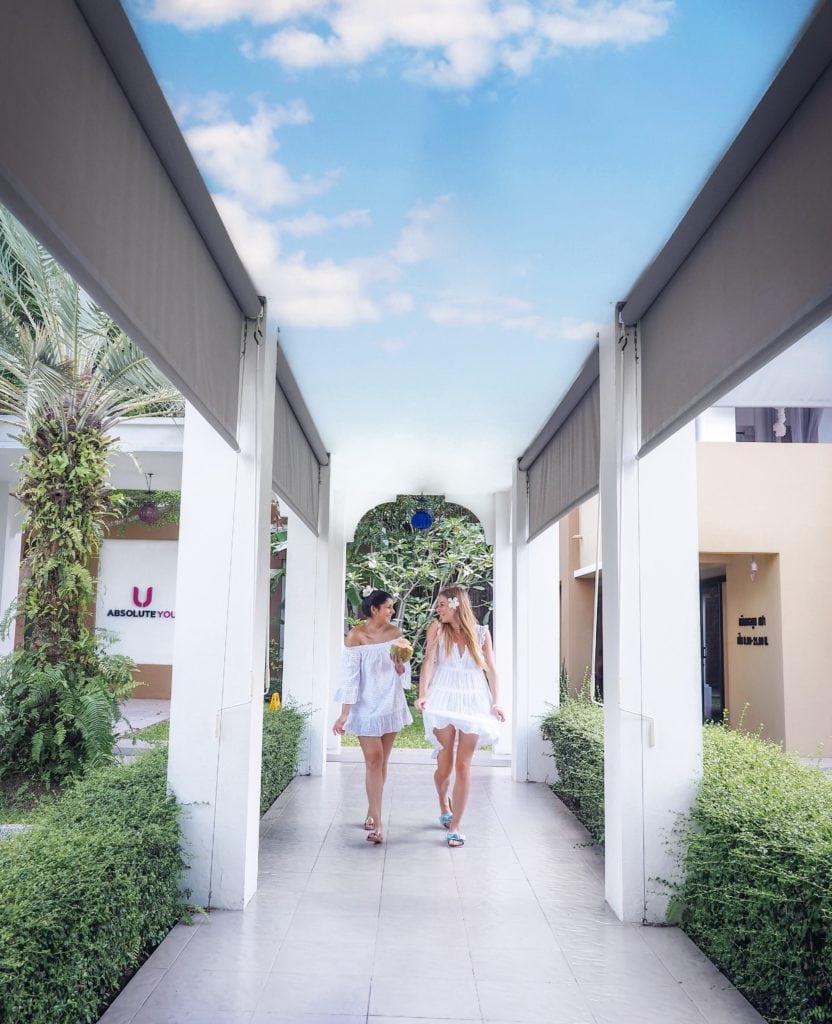 It's all about finding sanctuary in a place where there's always blue skies! Mindfulness, healing and positive thinking in a place of solace and wellness.
I was travelling with my wonderful friend Dominika from Blonde Flamingo blog, but there were many solo travellers, as well as couples and groups. It was a real mixed bag of people from all over the world but one thing we all had in common was that we had gone there to improve a particular part of our lives. There was a real atmosphere of kindness and camaraderie.
The Routine
I would normally start my day with a group meditation class followed by yoga. Breakfast was served at the Love Kitchen. After a small rest you could join a group pilates class or enjoy free time for the day. This was divided into massage and spa treatments, more optional scheduled group classes/activities or one to one fitness sessions for a more personal and targeted approach.
Likewise if your mind or body didn't feel like partaking in that days scheduled activities it was totally fine to chill by the pool, head out to the beach and into town, or simply rest in the comfort of your own room.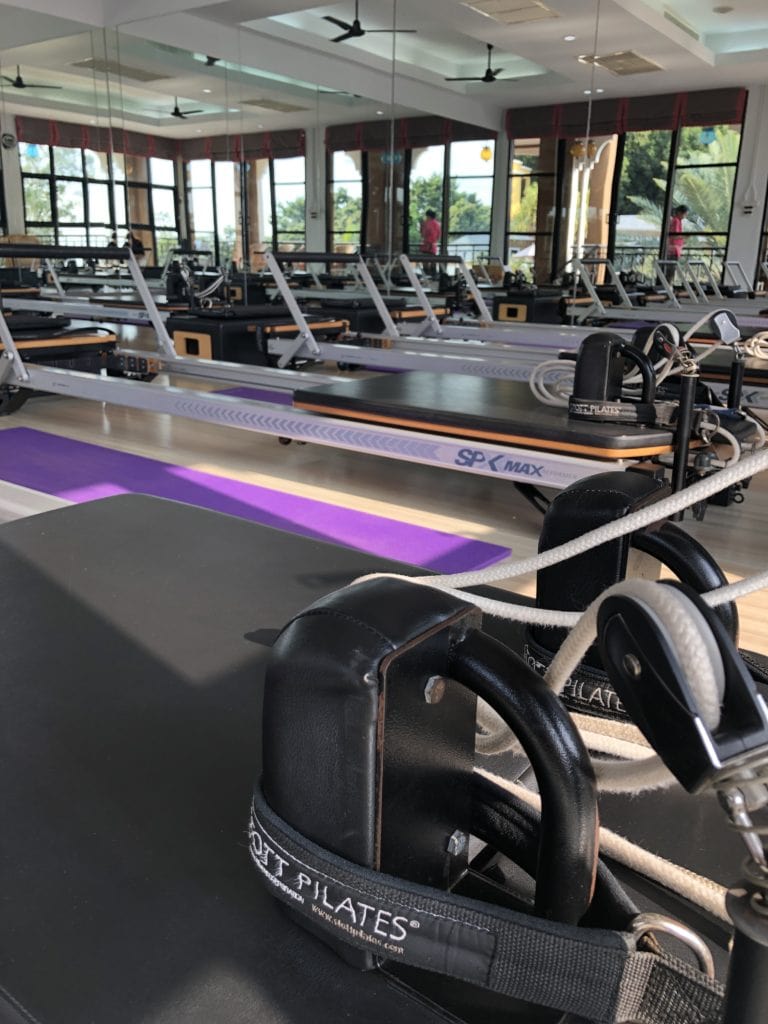 The reformer room for the group and individual pilates classes.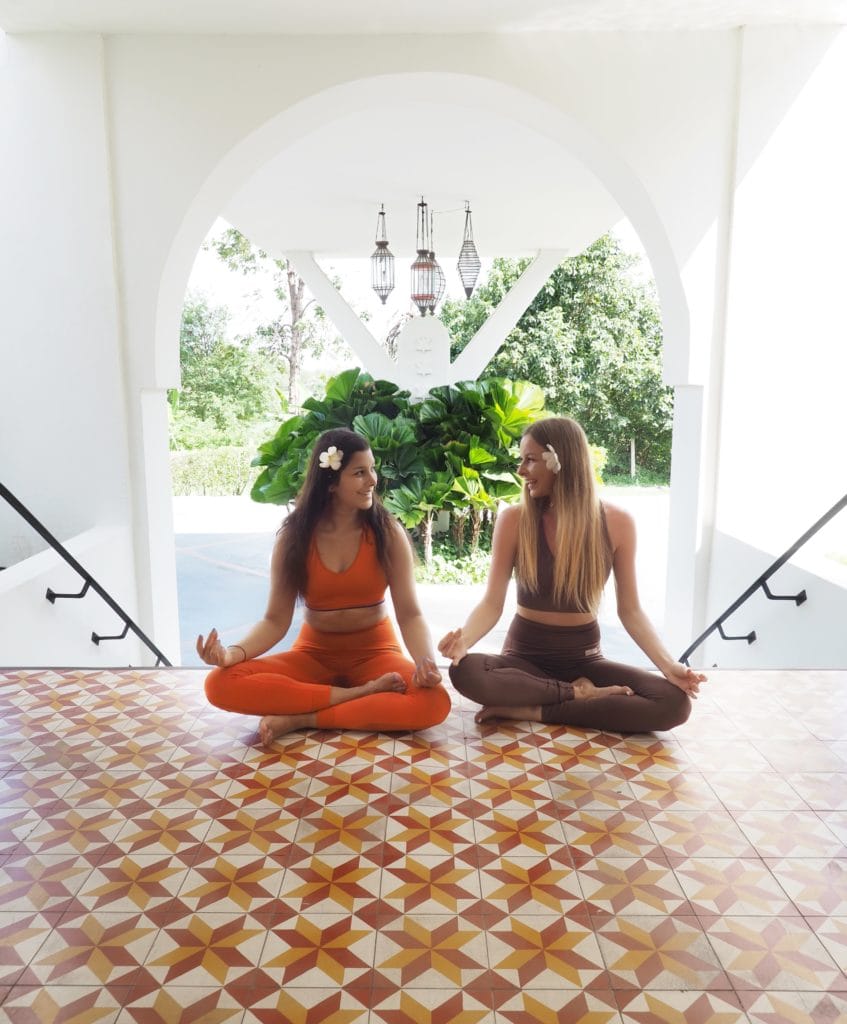 Me and Dom find our zen wearing co-ordinated yoga wear from Evveervital.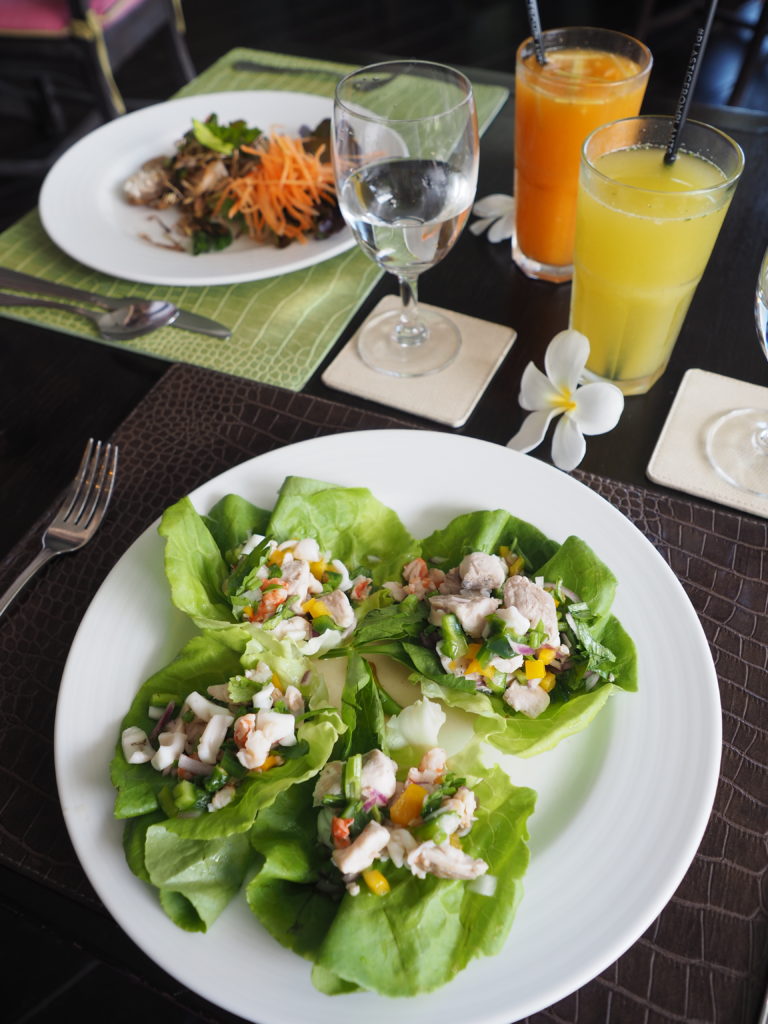 The Love Kitchen
As part of the program we were invited to enjoy 3 meals a day at the delicious and nutritious Love Kitchen. Using the freshest ingredients, each meal was packed with minerals, vitamins, fresh fruit, veg and accompanied by healthy juices, herbal teas and coconut water.
After dining here for 5 days I still didn't manage to try everything on the menu. What really surprised me was just how tasty and full of flavour these healthy meals could be. My favourite thing on the the menu was the tangy, super flavoursome seafood ceviche lettuce wraps pictured above. Yum!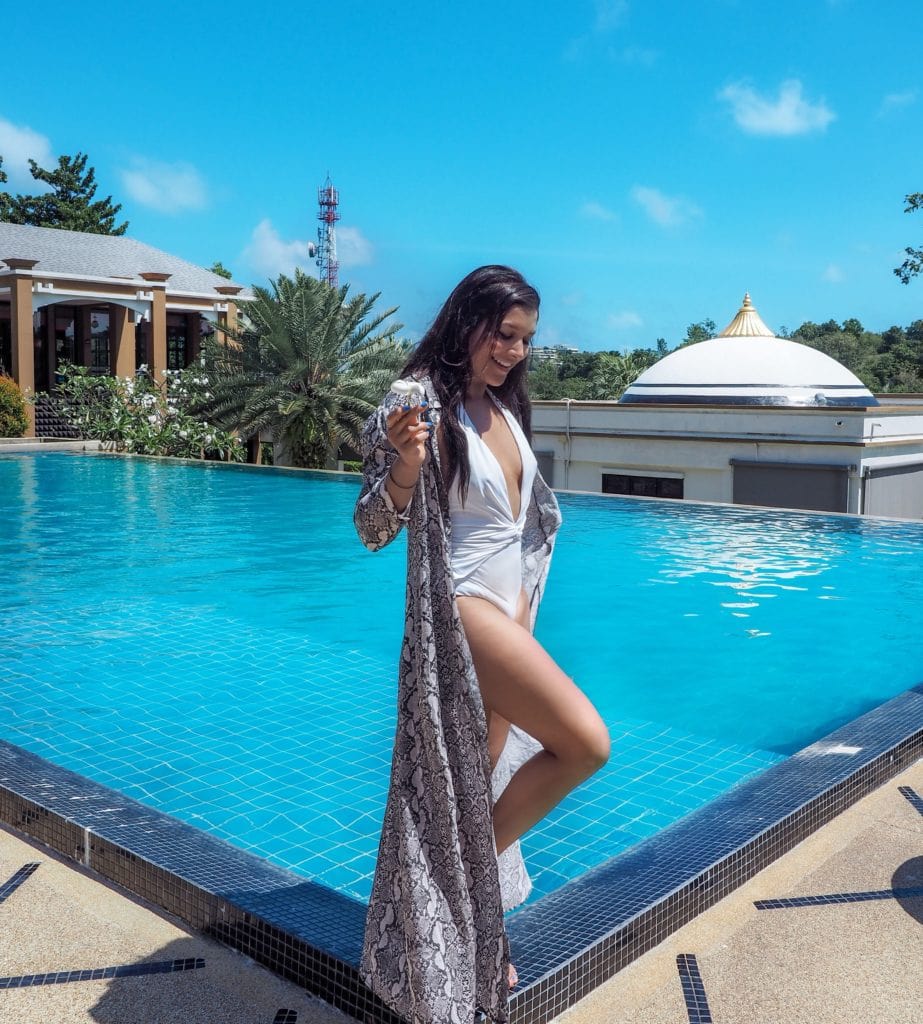 And most importantly there was plenty of time to relax and bask in the sunshine by the pool, which is exactly what I needed.
Bonnie wears Swimsuit by Melissa Odabash and below bikini by Crave Closet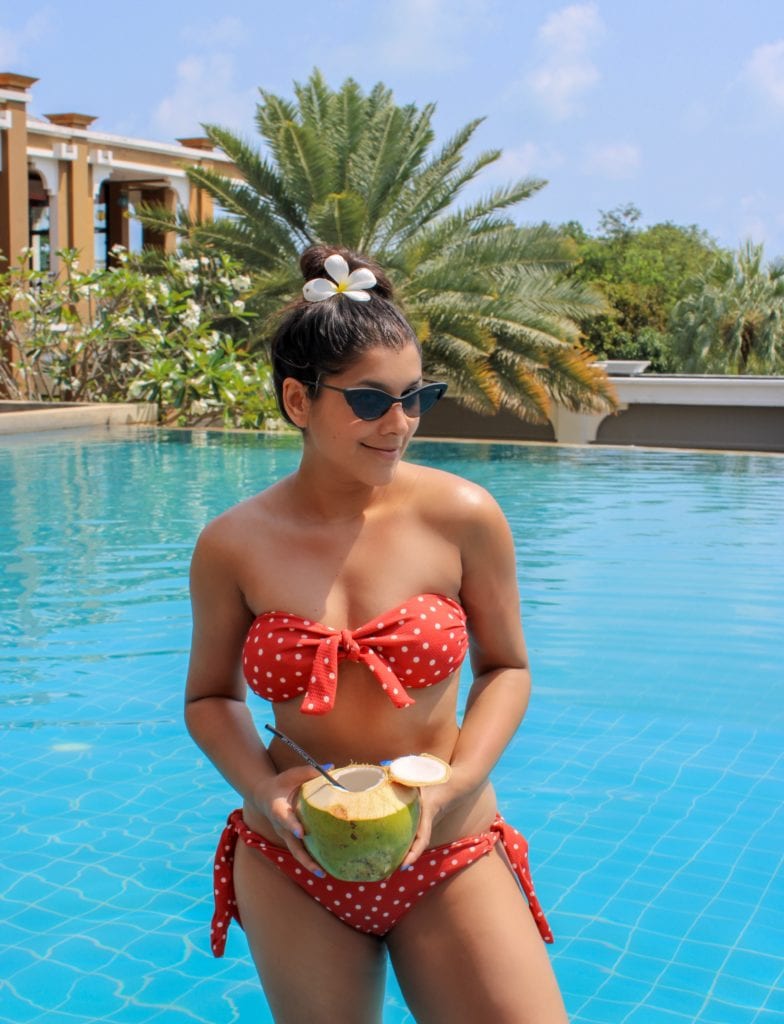 Fresh coconut water every day, the perfect rehydration drink for our fitness schedules.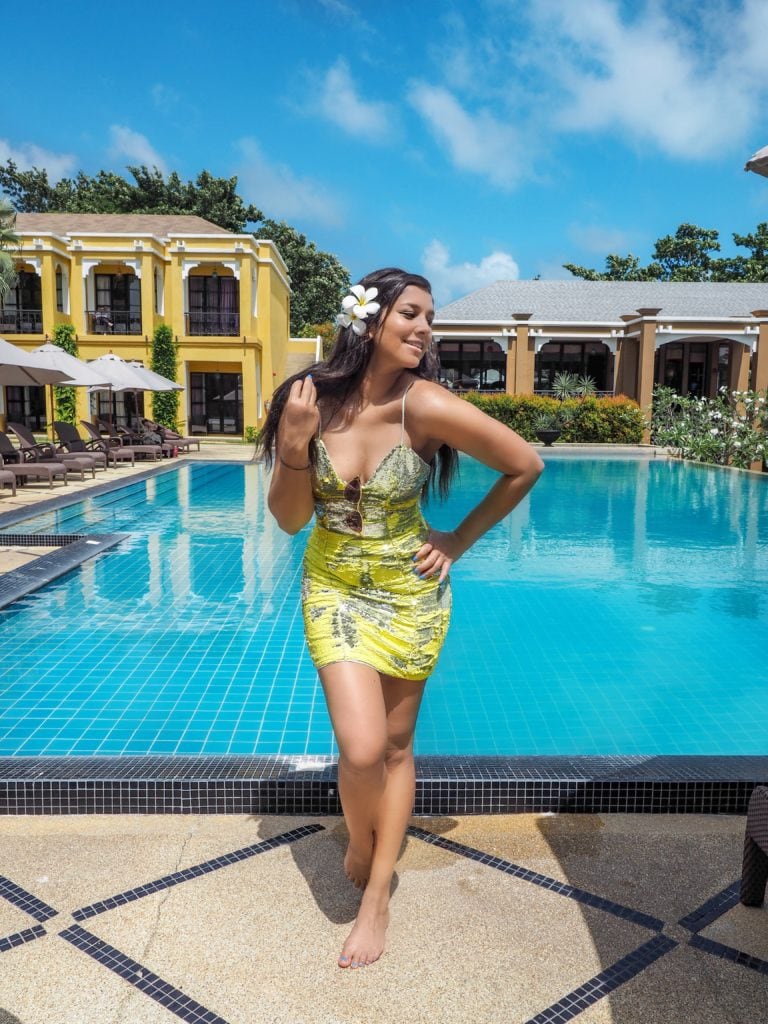 Above: Bonnie in banana yellow sequin dress by H:ours at Revolve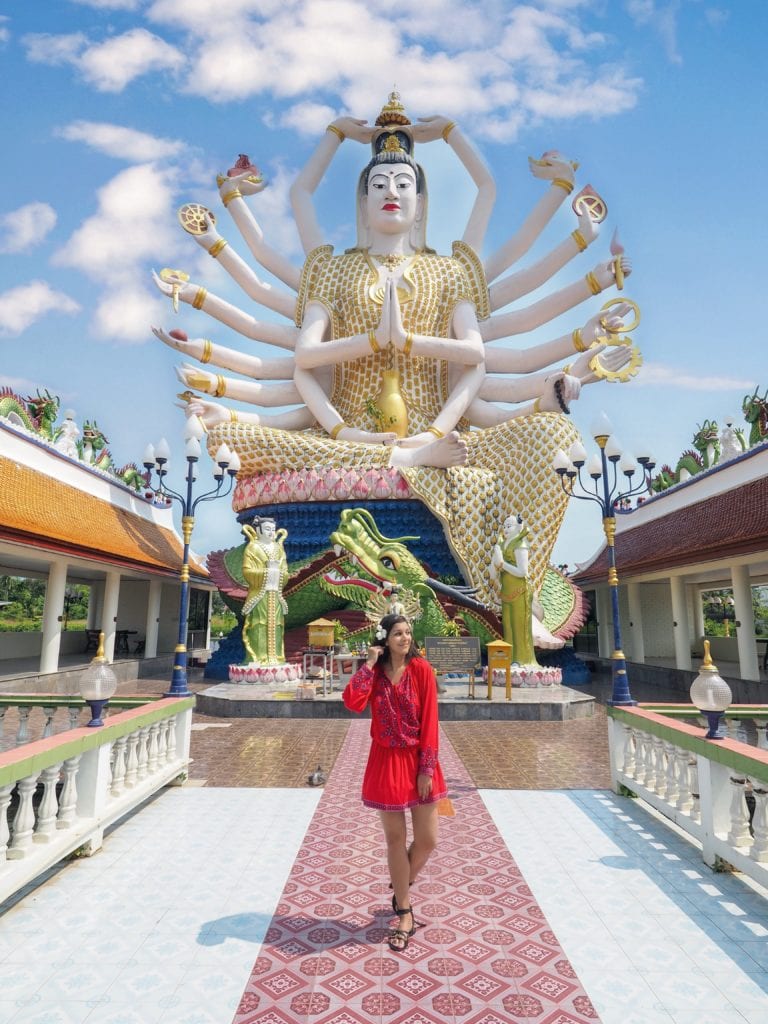 Temple and Beach Tour
It's not all hard work at Absolute Sanctuary :)  There were daily trips to town and the beach. We took a guided trip to the incredible Wat Plai Leam Temple complex picture above followed by an afternoon at Silver Beach. I highly recommend both activities, especially the temple as it's a truly breathtaking place and the best bit is that there are hardly any tourists, making it the perfect insta location!
Above and below: Bonnie wears Melissa Odabash swimwear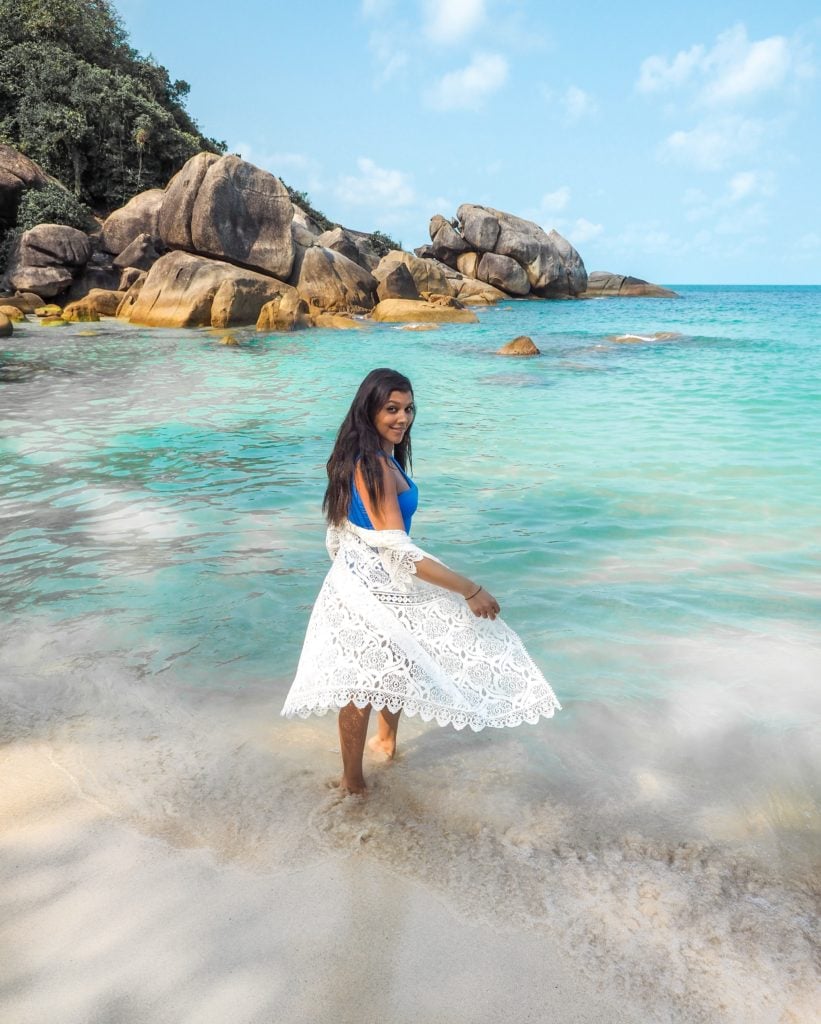 That's all from Koh Samui for now, next stop London.
I just want to say a huge thank you to the wonderful, kind and beautiful people at Absolute Sanctuary, it was a real pleasure staying with you. I will miss the calm, kind, non-judgemental atmosphere, you really helped me to feel restored, renewed and peaceful again. I won't forget it.
To find out more about the Absolute Sanctuary and the individual programs on offer check out their website here.
Bon voyage xx