Where To Take Your Mum For The Perfect Mother's Day Weekend
Where To Take Your Mum For The Perfect Mother's Day Weekend
Where? Queens Hotel Cheltenham by M Gallery
Exactly? The beautiful old spa town of Cheltenham, in the Cotswolds, UK
Why? In celebration of International Women's Day and for an early Mother's Day treat, the lovely guys at M Gallery invited me and Mama Rakhit (aka Mama Style Traveller) over to the Queen's Hotel Cheltenham for a lovely weekend mini break.
Keep scrolling to see what we got up to…
This is a sponsored post.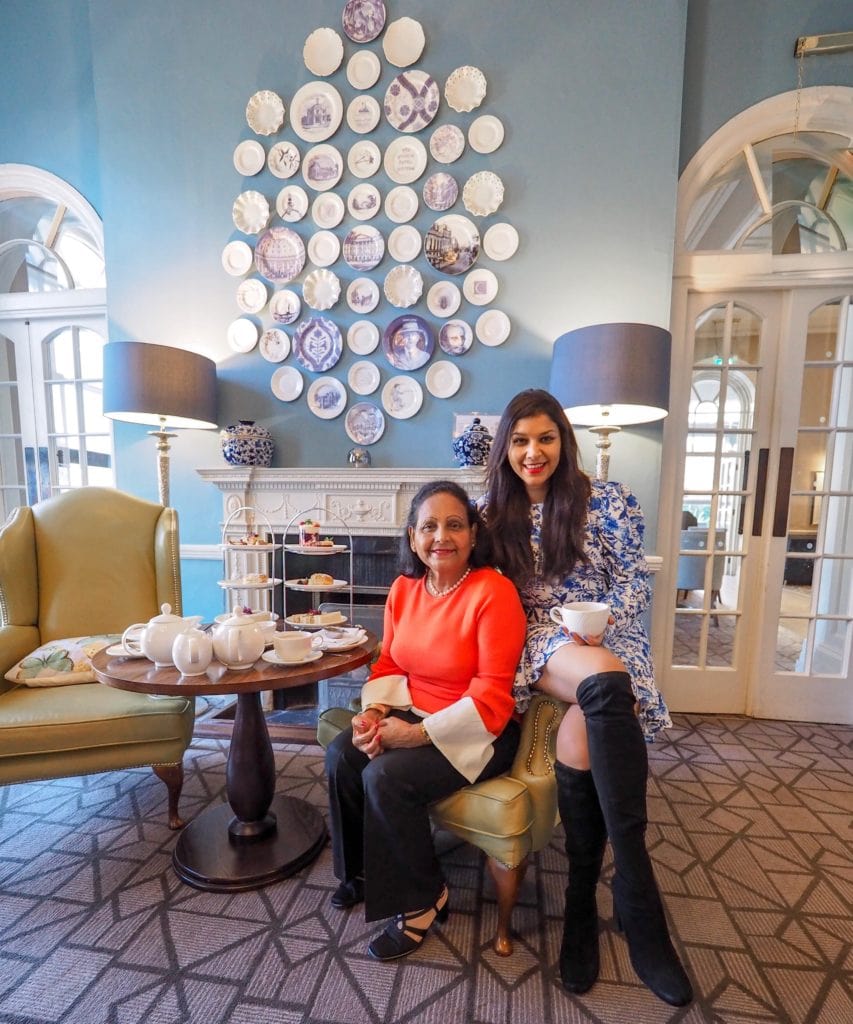 Top image: me and mum standing outside the neo-classical architecture of the Queens Hotel, which is an iconic landmark of the famous spa town.
Above: Us enjoying afternoon tea in the elegant duck-egg blue tea room at the hotel.
Celebrating International Ladies Day
It is ladies first in Cheltenham – the town is home to Cheltenham Ladies College and also the Cheltenham Festival where many incredible female writers and authors share their work every year. The hotel is also just 10 minutes from the stunning Faithfull House, a charity created by Lilian Faithfull who advocated women's rights and was one of the UK's first female magistrates.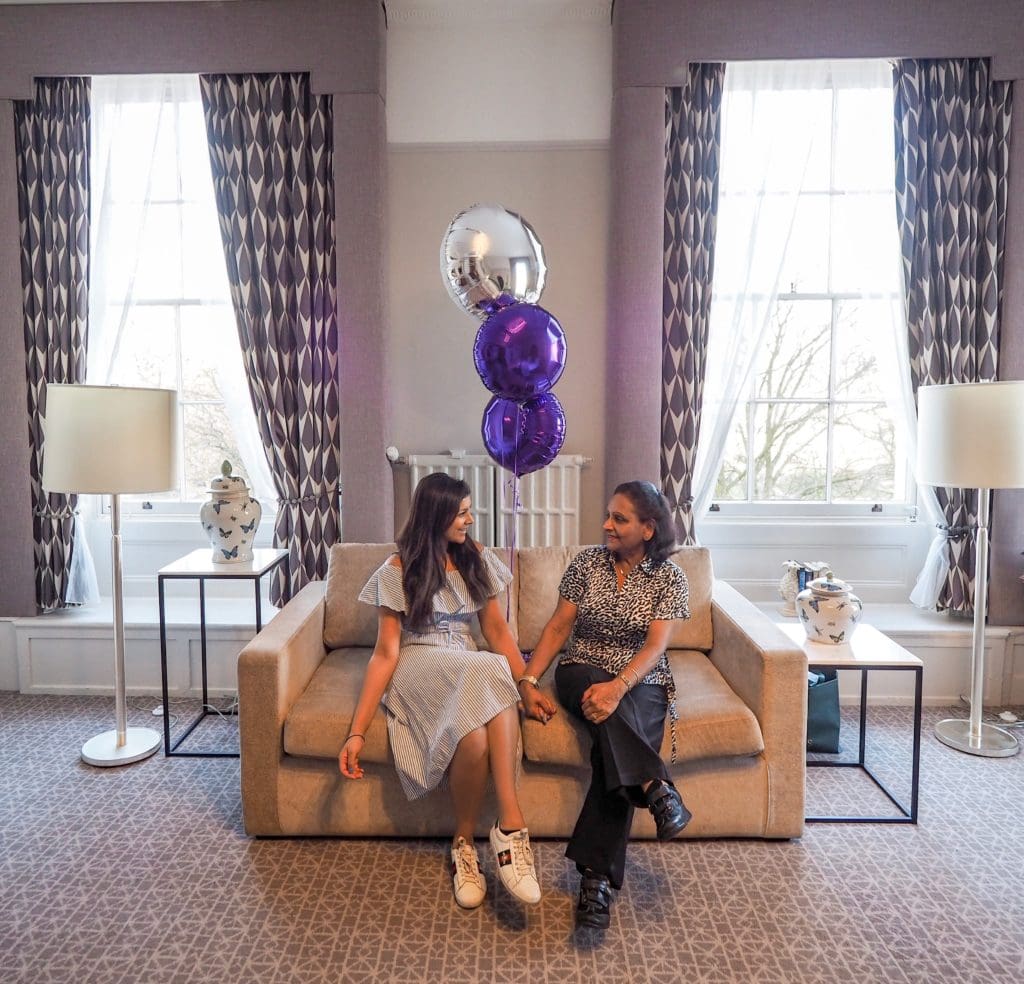 In-room treats
On arrival mum and I were treated to some lovely in-room goodies, including well curated beauty products like lavender sleep oil, nail polish and face creams.
To welcome us to the room we were also brought a delicious International Women's Day cocktail adorned with real rose petals, home made chocolate cookies and Women's Day logo balloons. How thoughtful.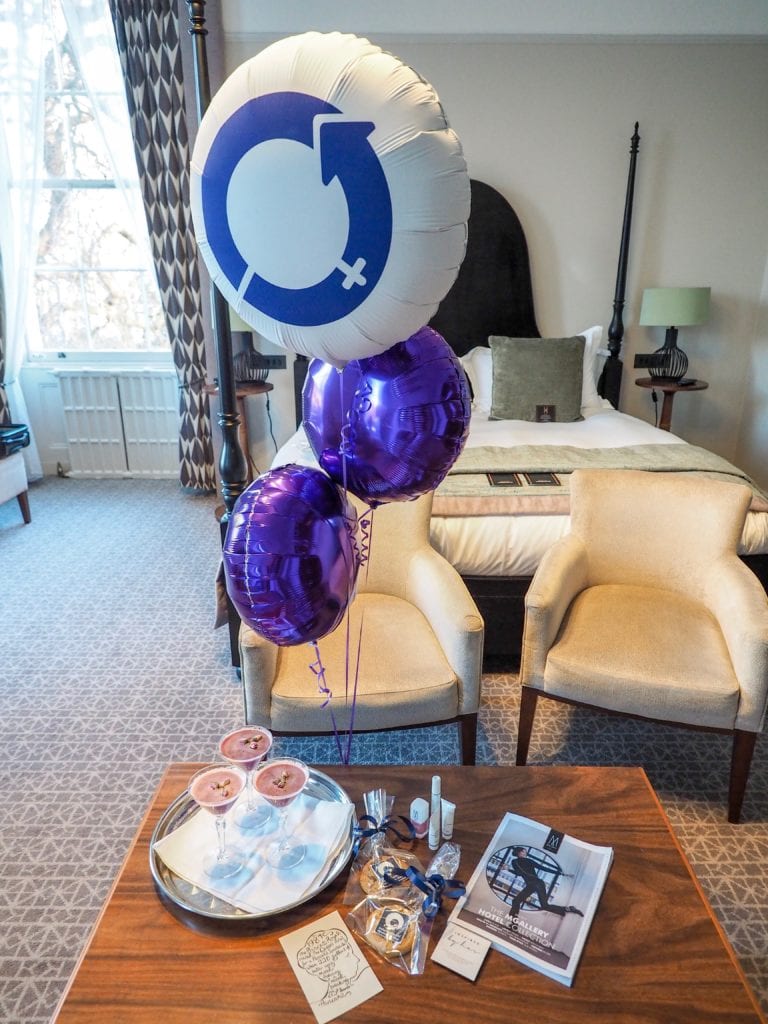 The Queens Hotel Cheltenham
Cheltenham has long been the cultural heart of the Cotswold since the first natural spring was discovered in 1716. It became a vibrant and fashionable regency travel destination, which royalty including King George III visited in order to bathe in its medicinal waters.
Built in 1838 the Queens Hotel was named in honour of Queen Victoria, who is rumoured to have once stayed in the Montpellier Suite. It was one of the first purpose built hotels in Europe and underwent a £5Million refurbishment in 2015.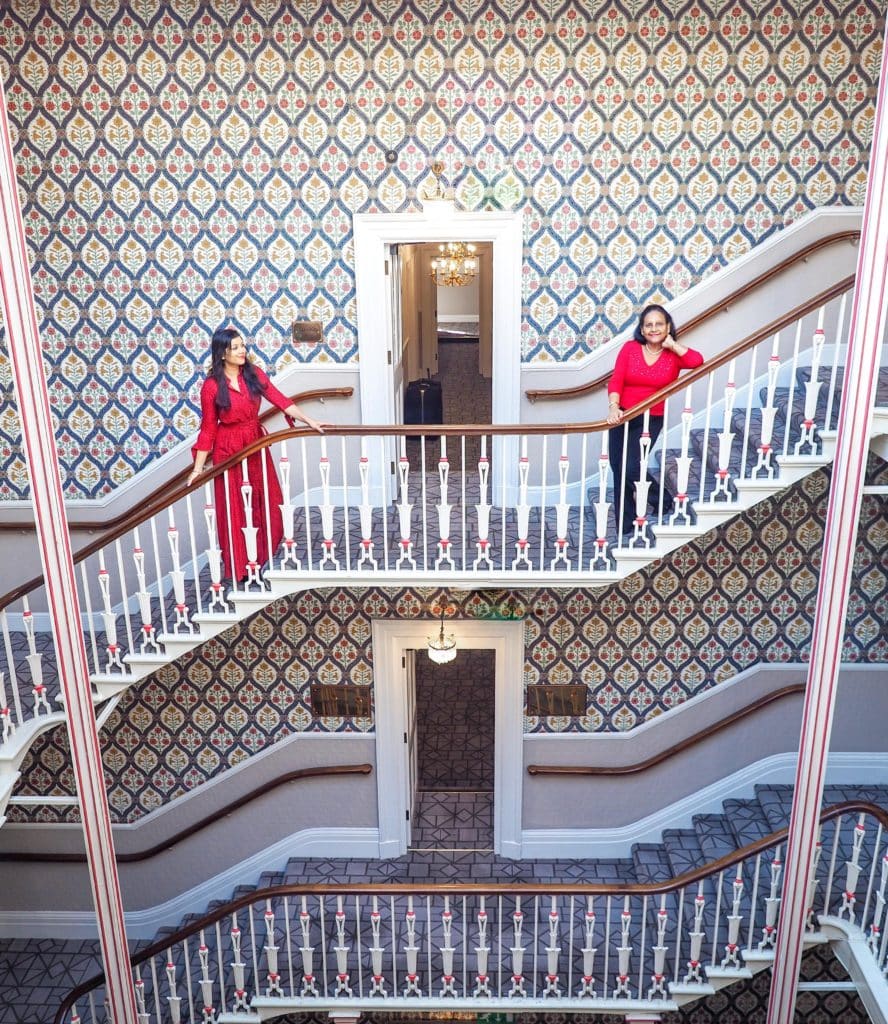 Recently refurbished to incorporate modern-meets-traditional interiors, some of the original period furnishings have been restored to their original splendour.
The wallpaper in the central stairwell dates back 180 years and looks just as fresh as it did on the day it was hung (pictured above). Other features such as columns, ceiling roses and the hand carved wooden bar which was shipped three times to and from India still graces the hotel.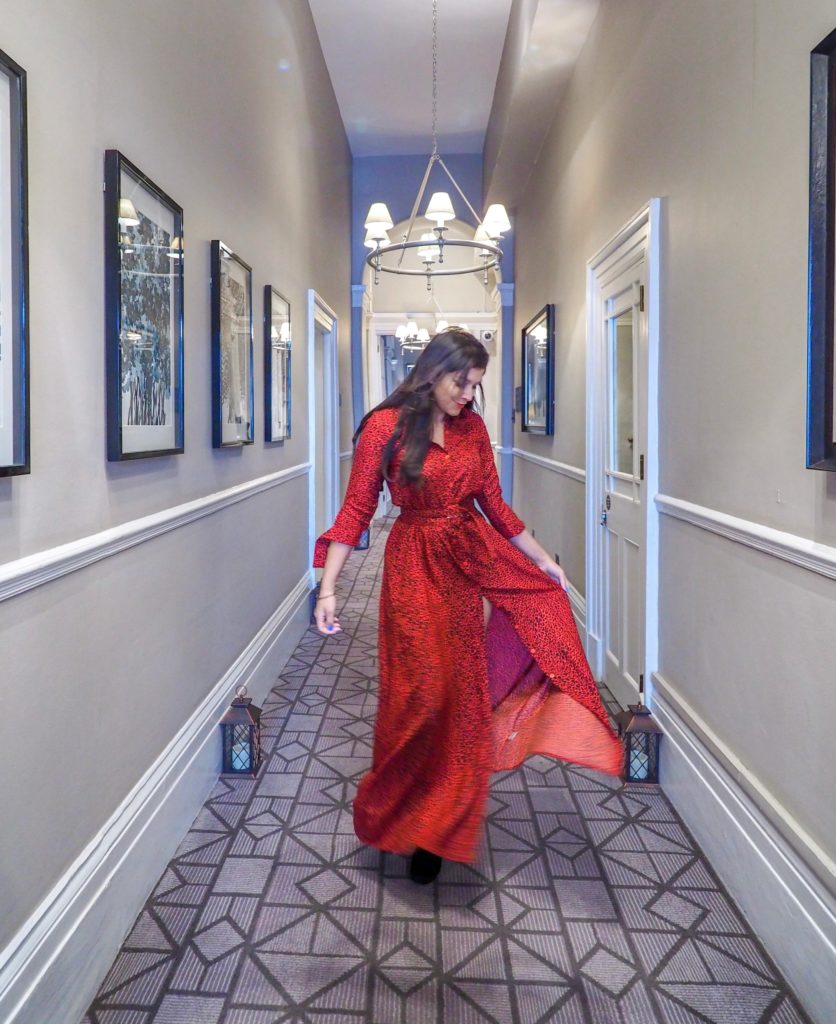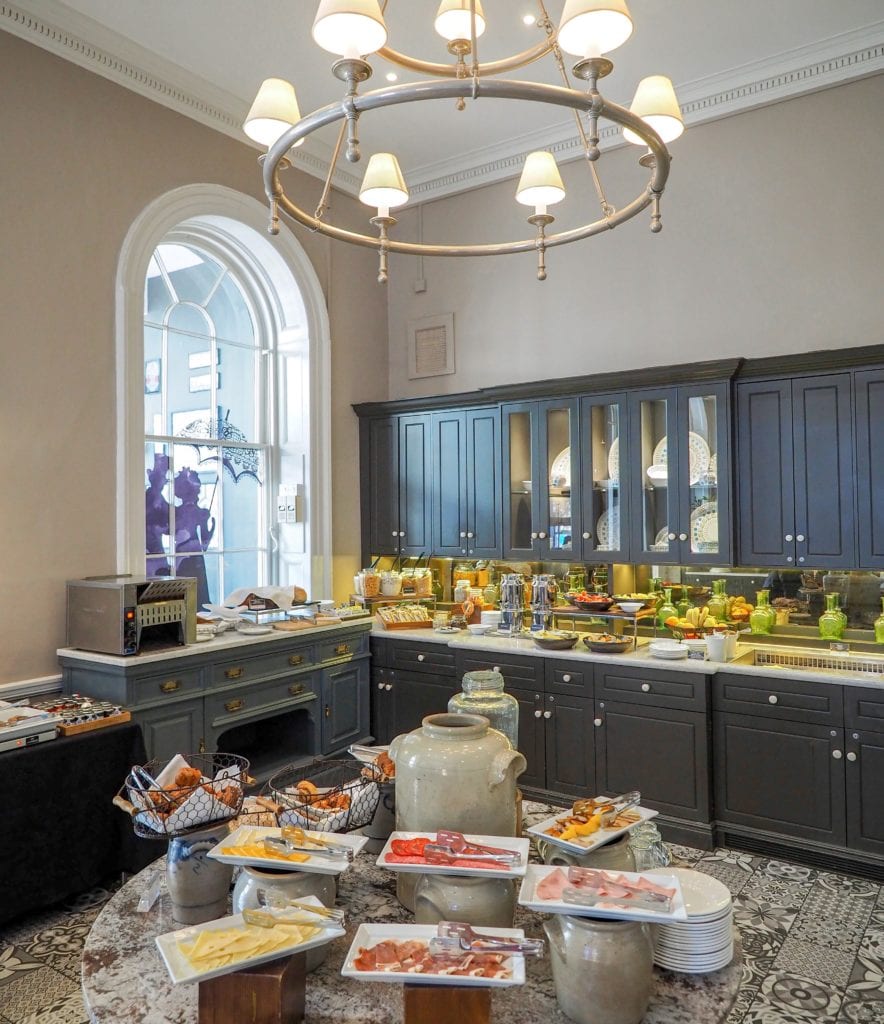 Food and Drink
The in-house restaurant at the hotel serves up a fantastic daily breakfast buffet, from a traditional full English or eggs-your-way to more healthy options like fresh fruit, freshly baked breads, cereals and juices, there are plenty of choices to fuel you through a day of sight seeing.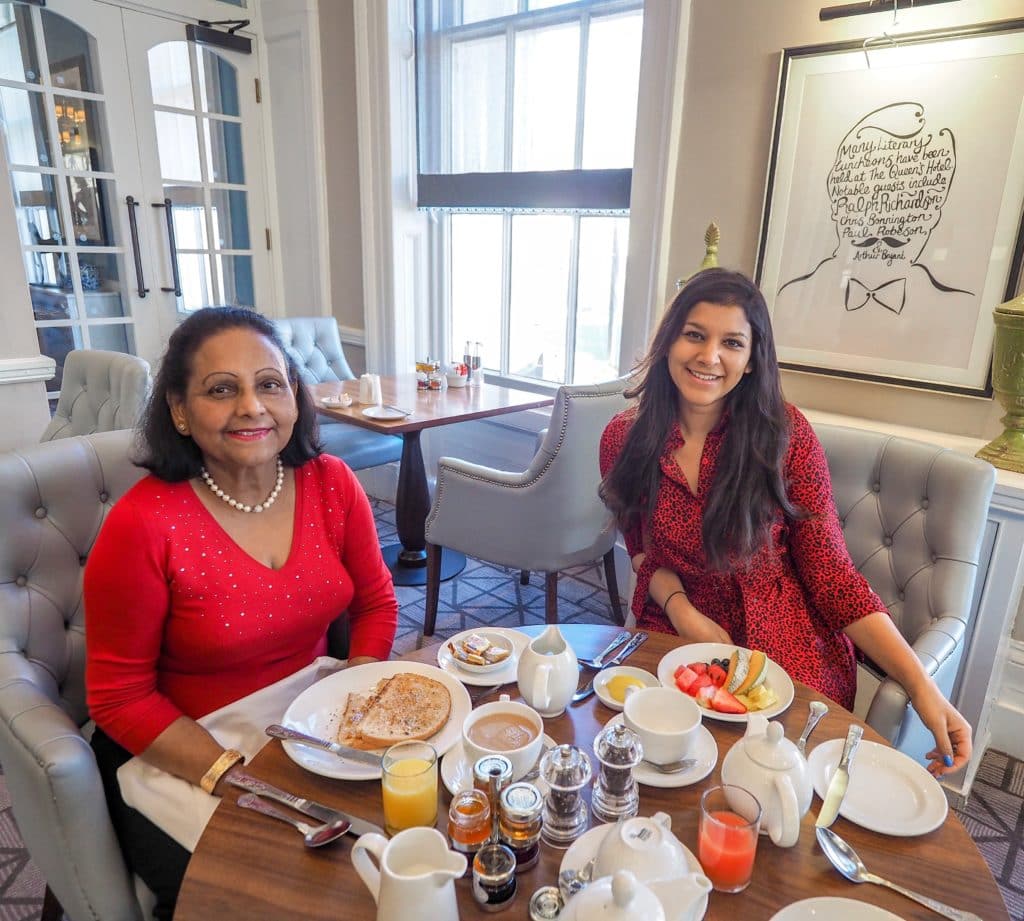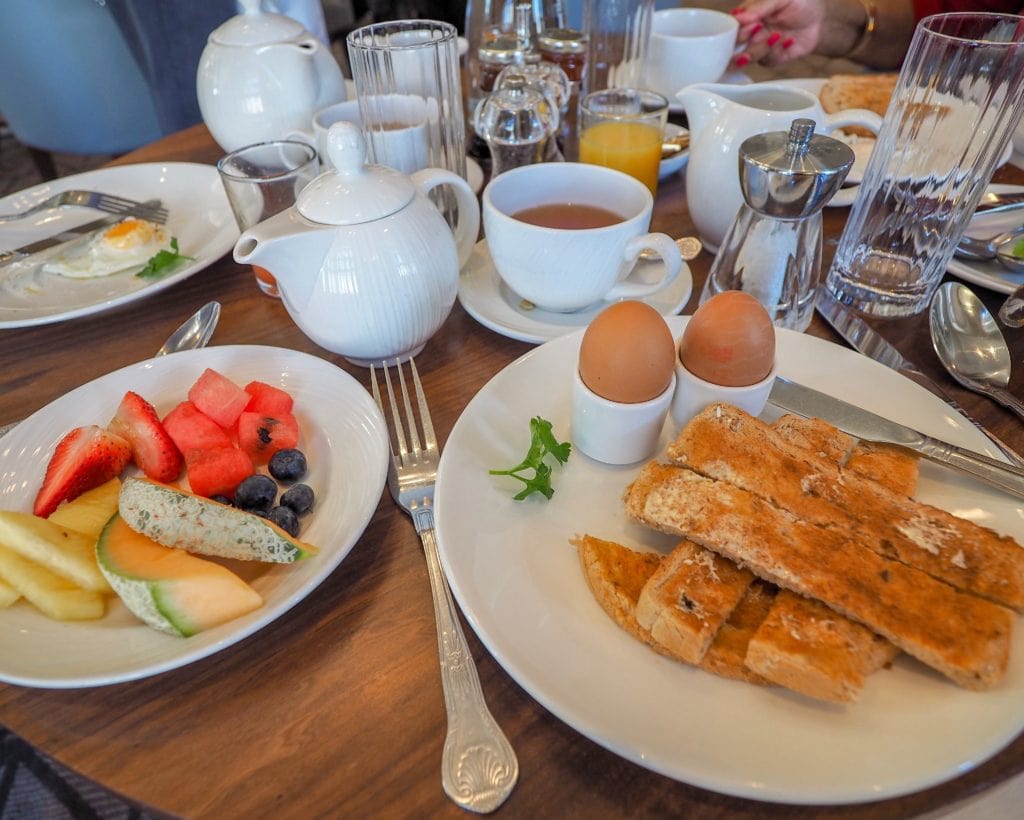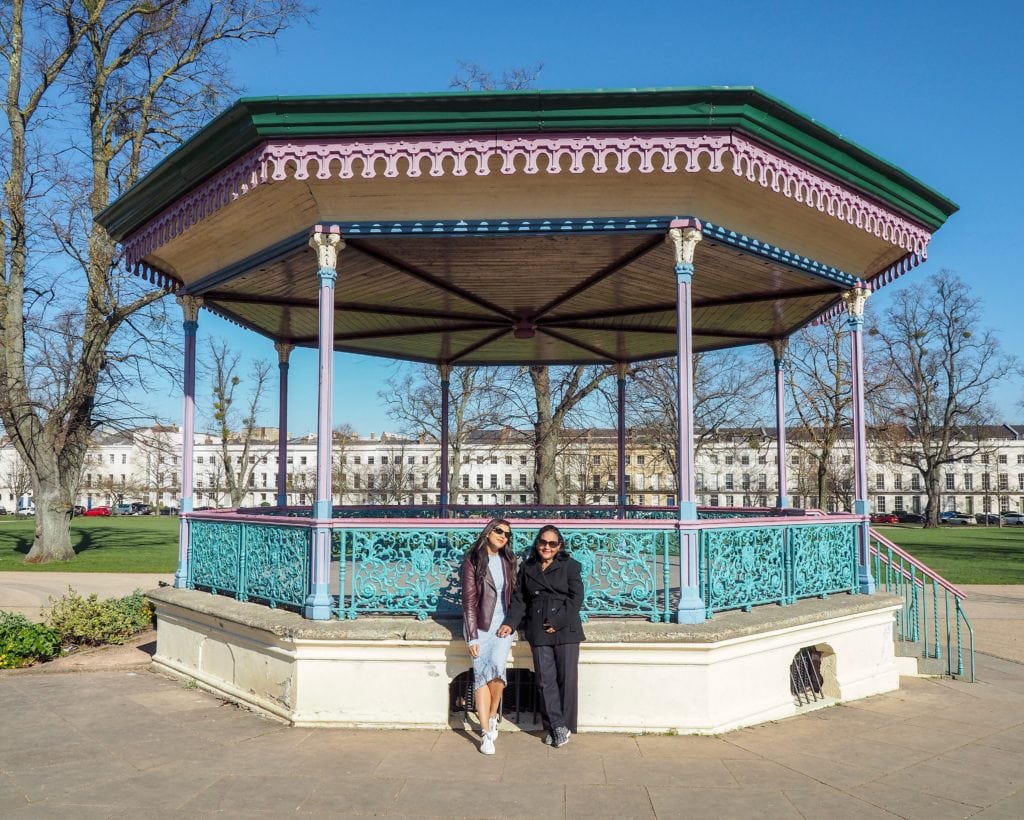 What to do in Cheltenham
After a hearty breakfast we decided to explore the old spa town. We started with a morning stroll around the beautiful parks and gardens which surround the hotel, then wandered into town to do a spot of shopping and a visit to the local art gallery.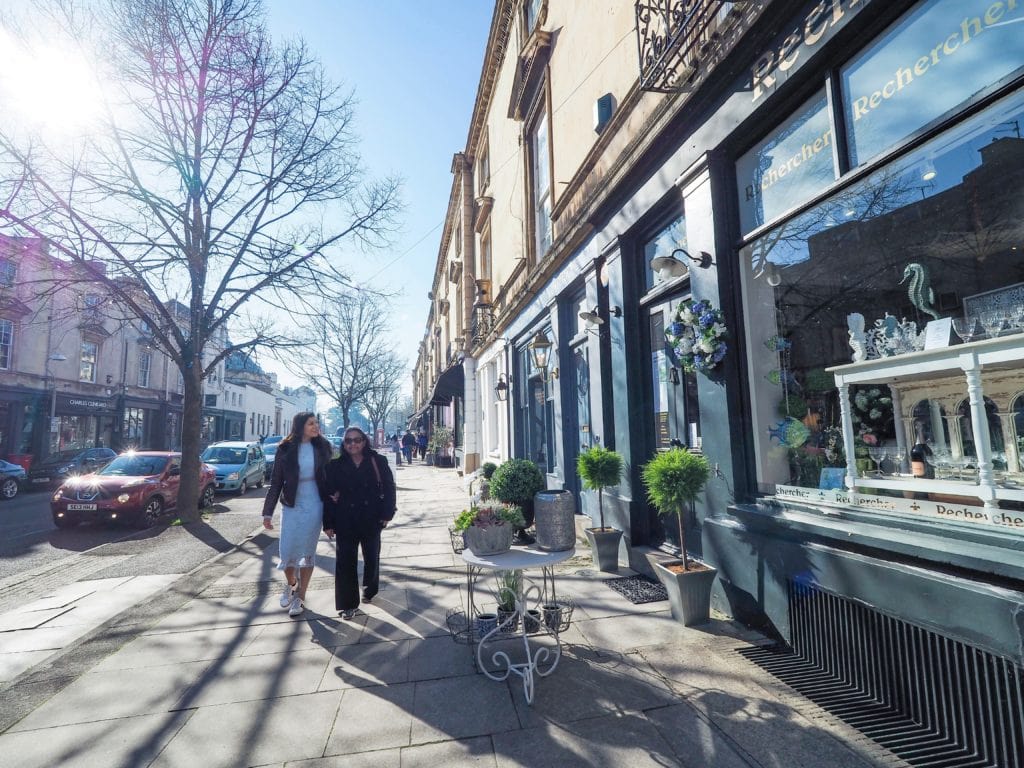 After a lovely sunny morning taking in the beautiful Palladian and neo-classical architecture, we walked back to the hotel just in time for afternoon tea. Which happens to be the best afternoon tea in town.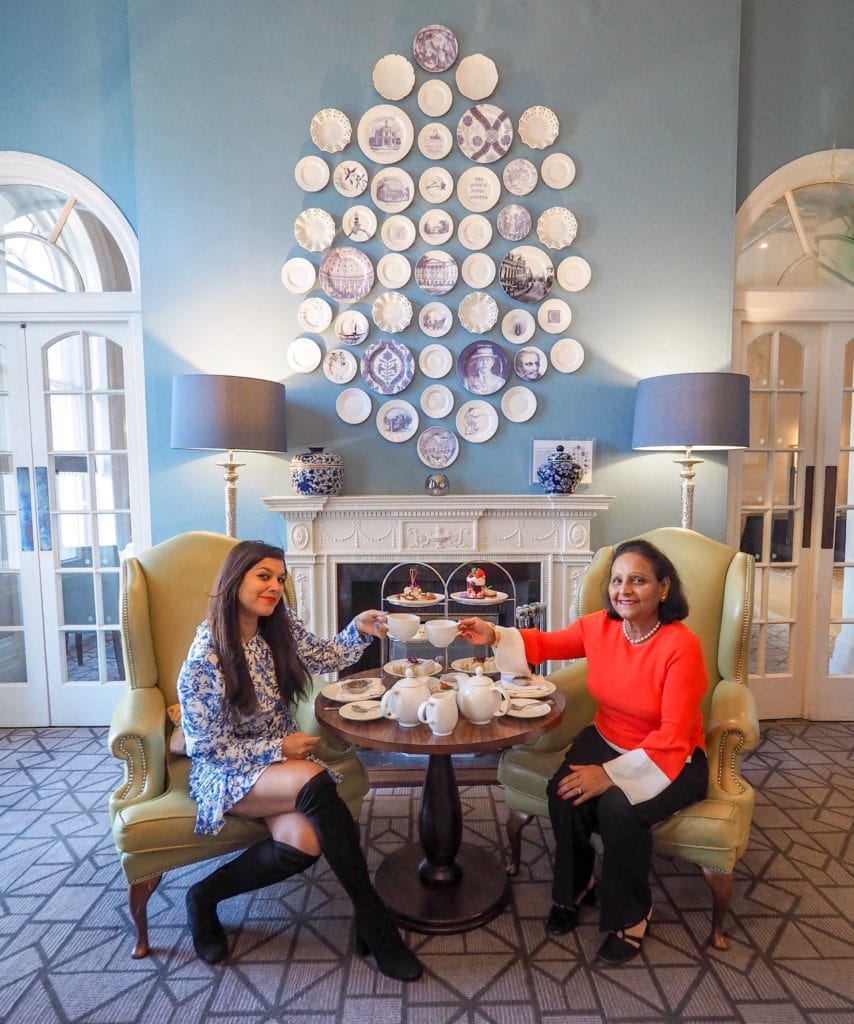 Afternoon Tea at The Queens
One of best places in town to enjoy afternoon tea is in fact the Queens Hotel. Whether you opt for champagne and cakes in the glass orangery or tea and the full tiered savoury and sweet selections in the drawing room (like we did) one thing is for sure, you need to be hungry. The cakes and sandwiches are super delicious and super instagramable too!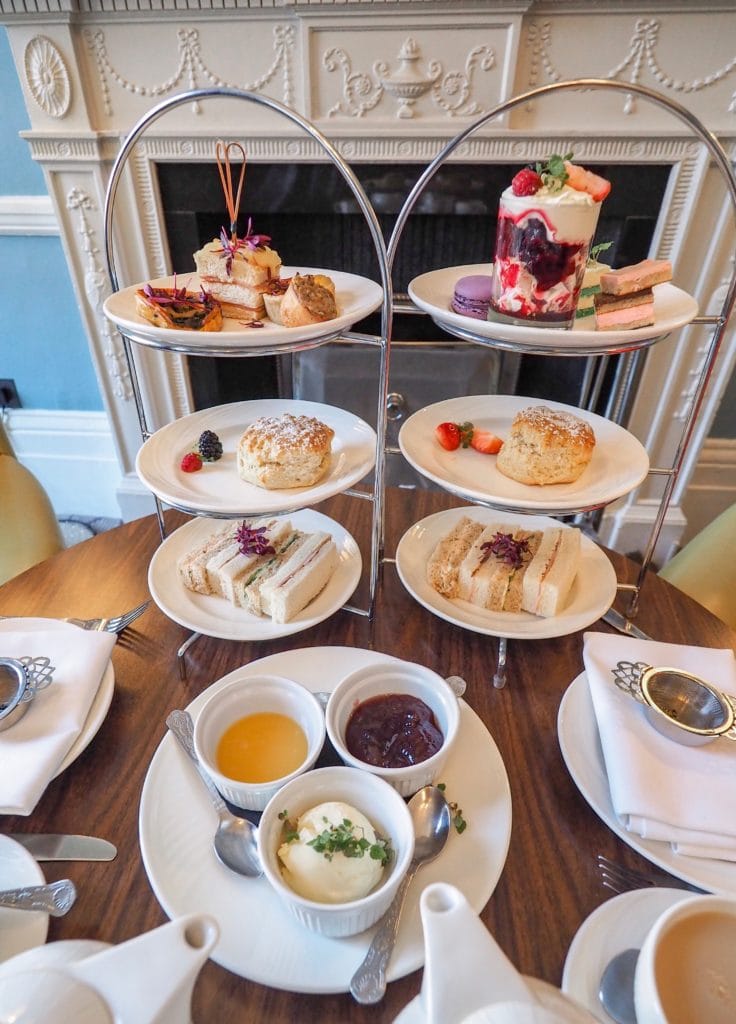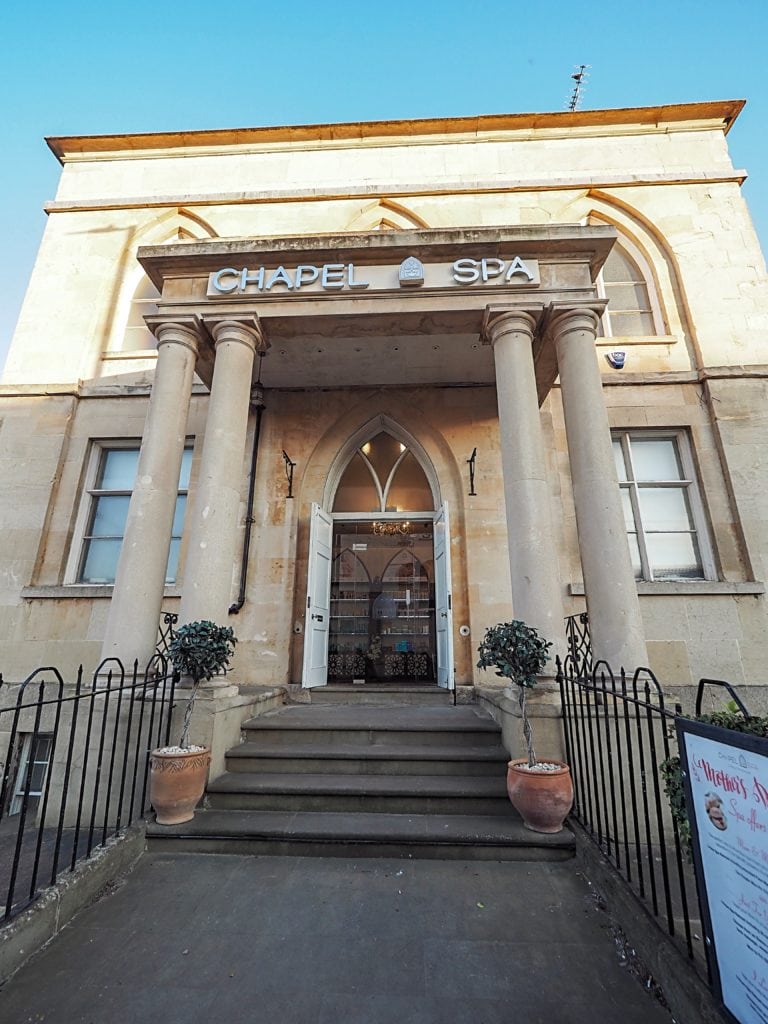 Pamper Time
Post afternoon tea, in order to indulge in some pampering treatments we decided to head to The Chapel Spa in Cheltenham town centre. It's only a 5 min drive or 15 min walk away.
We tried out the special Mother's Day packages where you get to have a treatment, including massages, manis and pedis, enjoy a dip in the spa pool and sip on a glass of bubbles. The perfect way to feel pampered before a night out.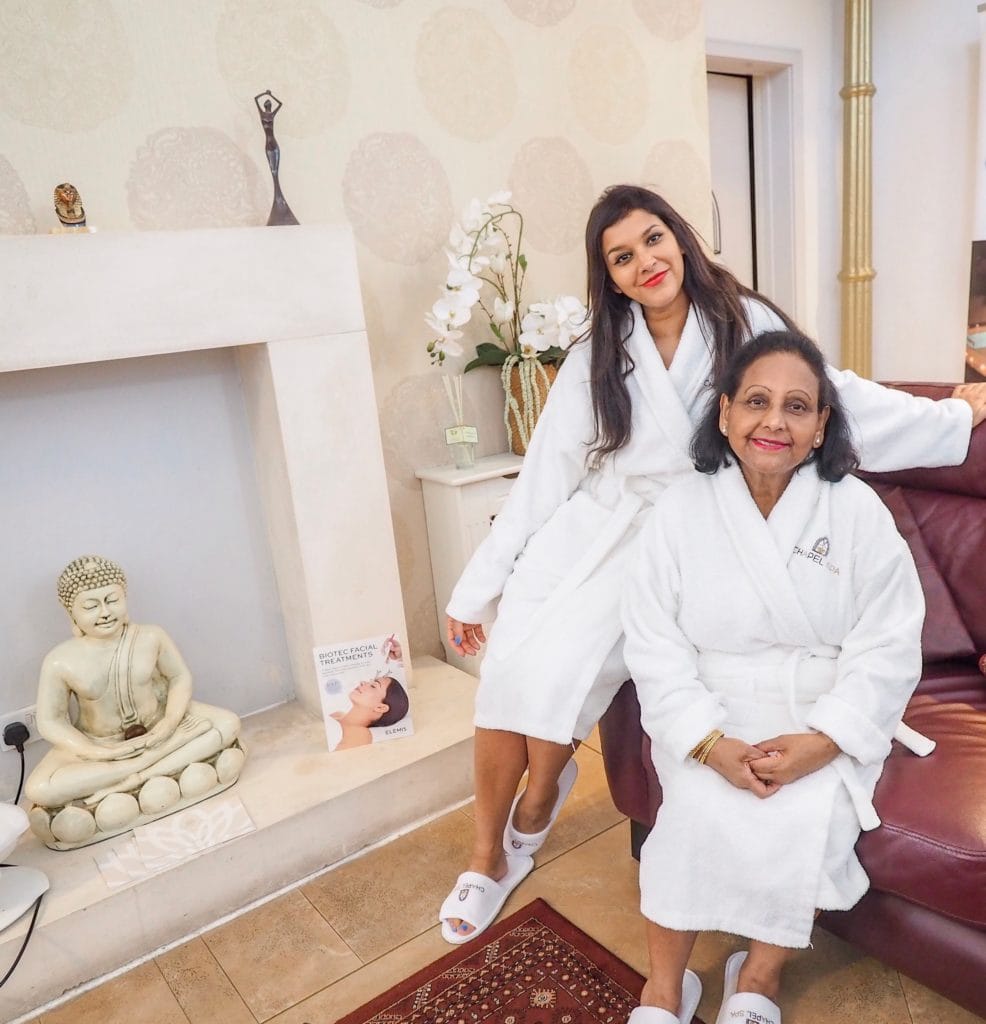 Above: me and mum ready for our massages in the Chapel Spa gowns and below, the perfect spa plunge pool.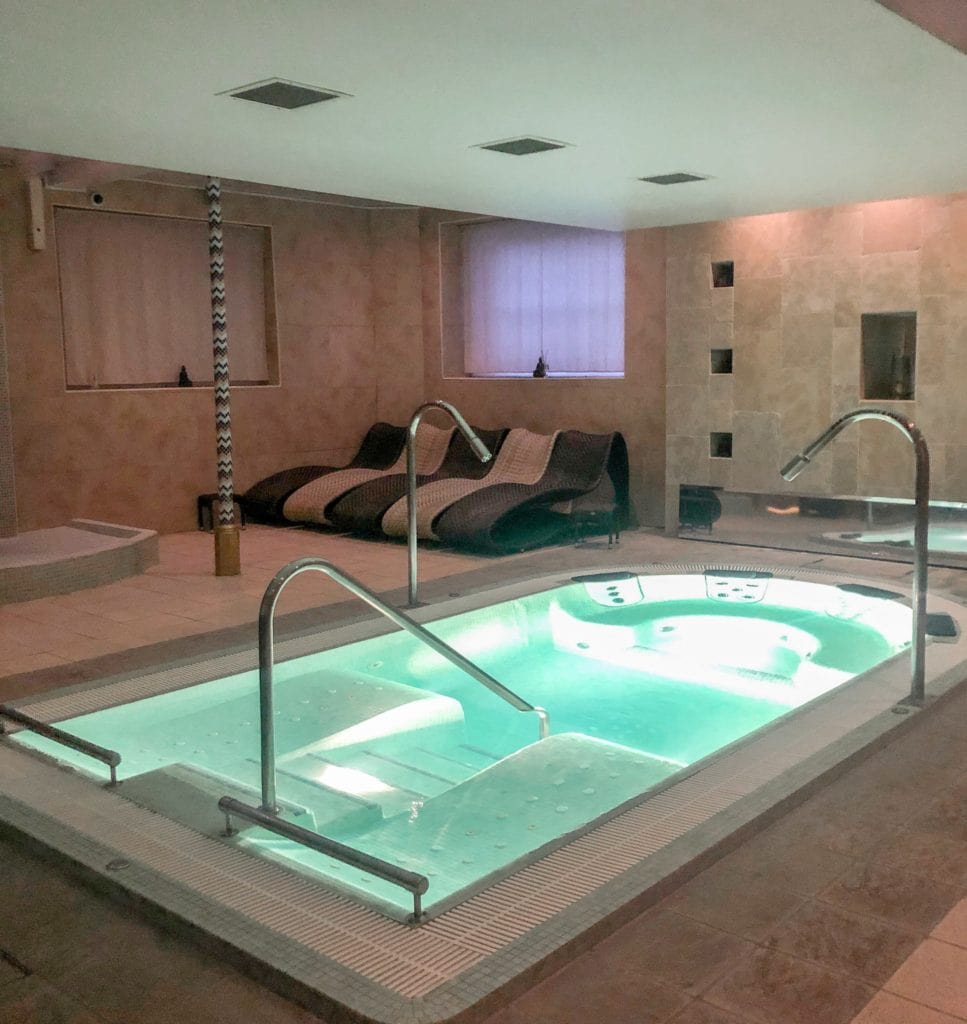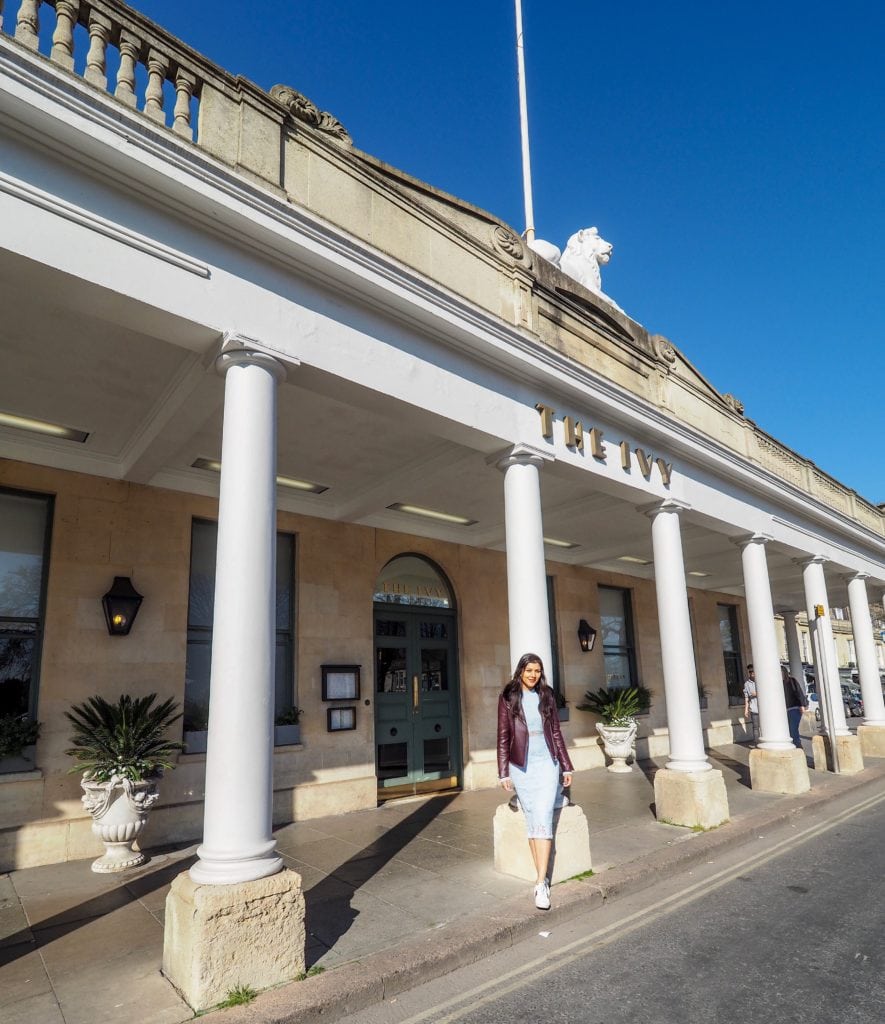 Dinner at the Ivy
Lucky mama! After our spa treatments we nipped back to the hotel to get changed then enjoyed dinner at the spectacular Cheltenham restaurant, The Ivy.
Housed in the stunning Grade I listed Montpellier Rotunda Building make sure you book a table in the fabulous dome-ceilinged central room for a really special evening. I highly recommend the famous Ivy shepherd's pie and the oysters are delicious.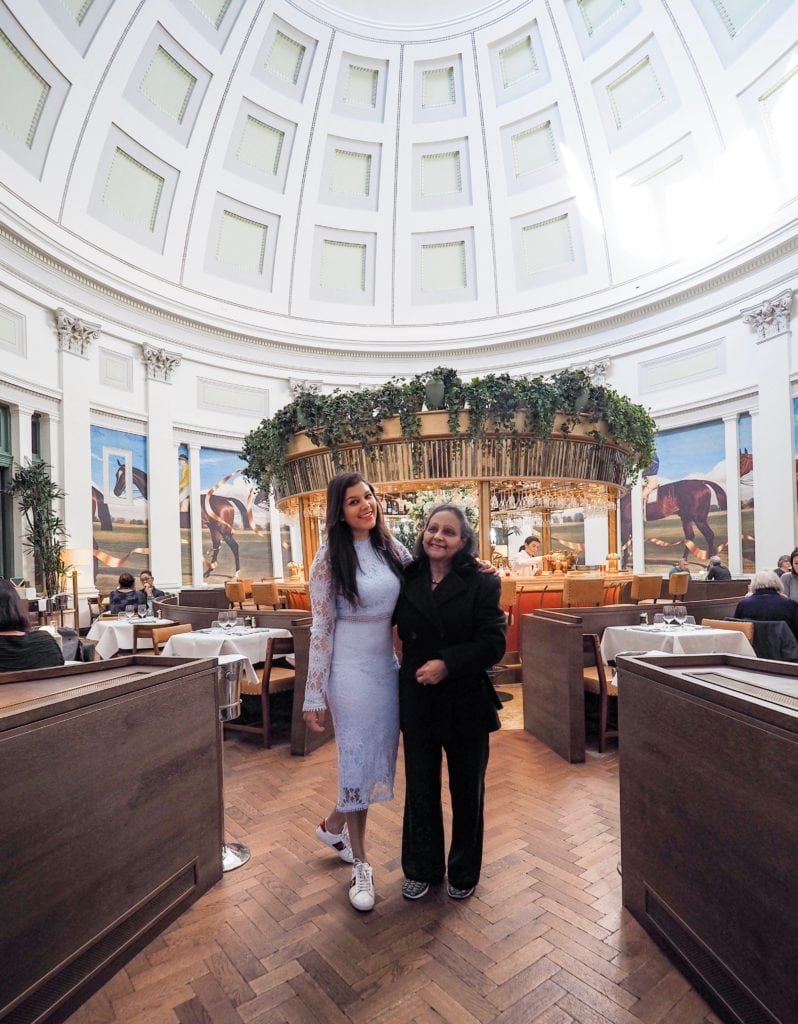 After a good nights sleep and another yummy breakfast we had enough time to spend an hour or so taking in the beautiful lawns and lakes of Pitville Park and the historic Cheltenham Pump Rooms, which is the original site of Cheltenham Spa. What a great way to end a lovely weekend.

Huge thank you to M Gallery The Queen's Hotel for treating me and mum to such a fantastic weekend away. To find out more about the hotel and book a trip for you and your mum check out the website here.
And also a special thank you to Papa Rakhit (pictured below) for taking such great photos of me and mama! Even though you did try and eat the afternoon tea before we had finished photographing it. Ha ha you deserve it, thanks dad ;)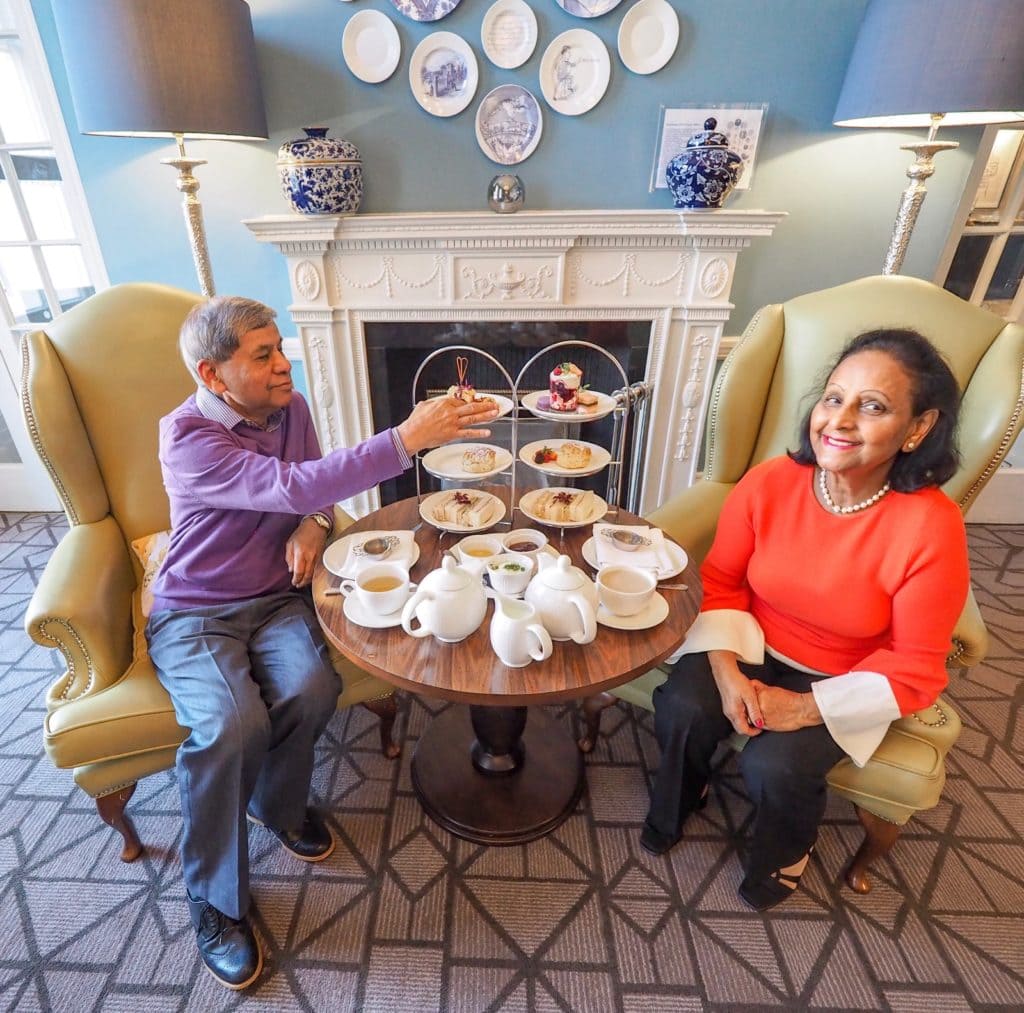 That's all from Cheltenham for now. Next stop Berlin.
Happy International Women's Day and Happy Mother's Day to you all!
Bon voyage xx
To see more of Bonnie's adventures with M Gallery in Windsor and Bath click here.