London Christmas Lights – A Festive Walking Route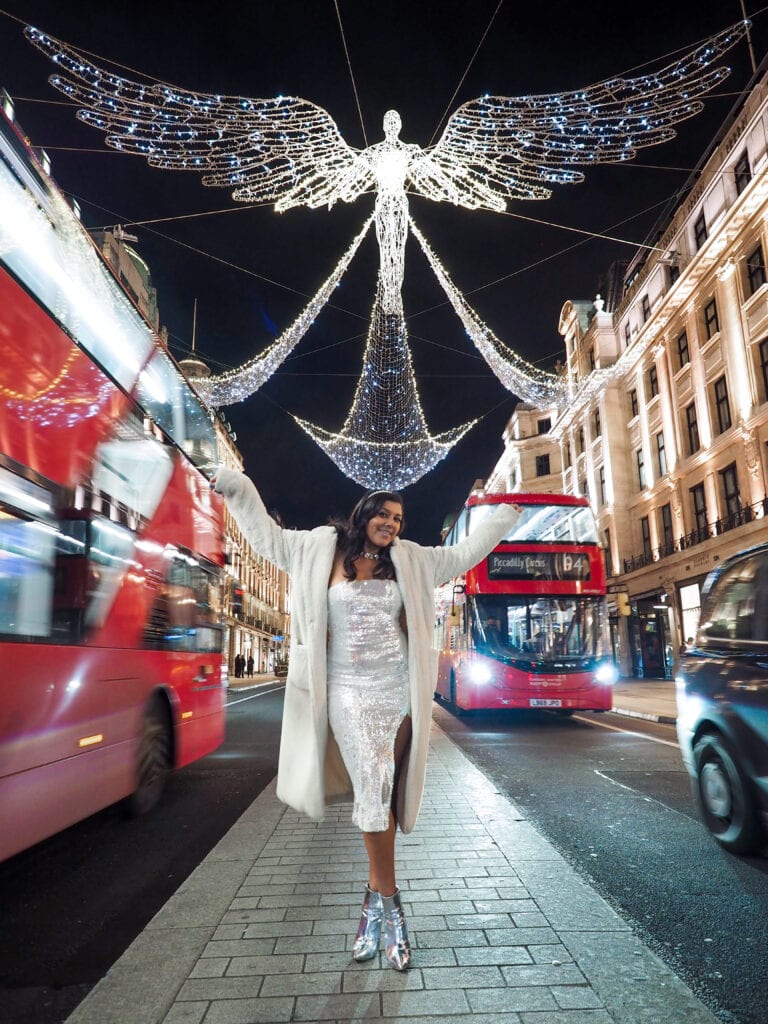 London Christmas Lights – A Festive Walking Route
I've lived in London for over 20 years now and one of my favourite times of year in the capital is Christmas.
It's just so magical. Regardless of the fact that the weather might be terrible, the glittering lights which adorn the city, more than make up for it.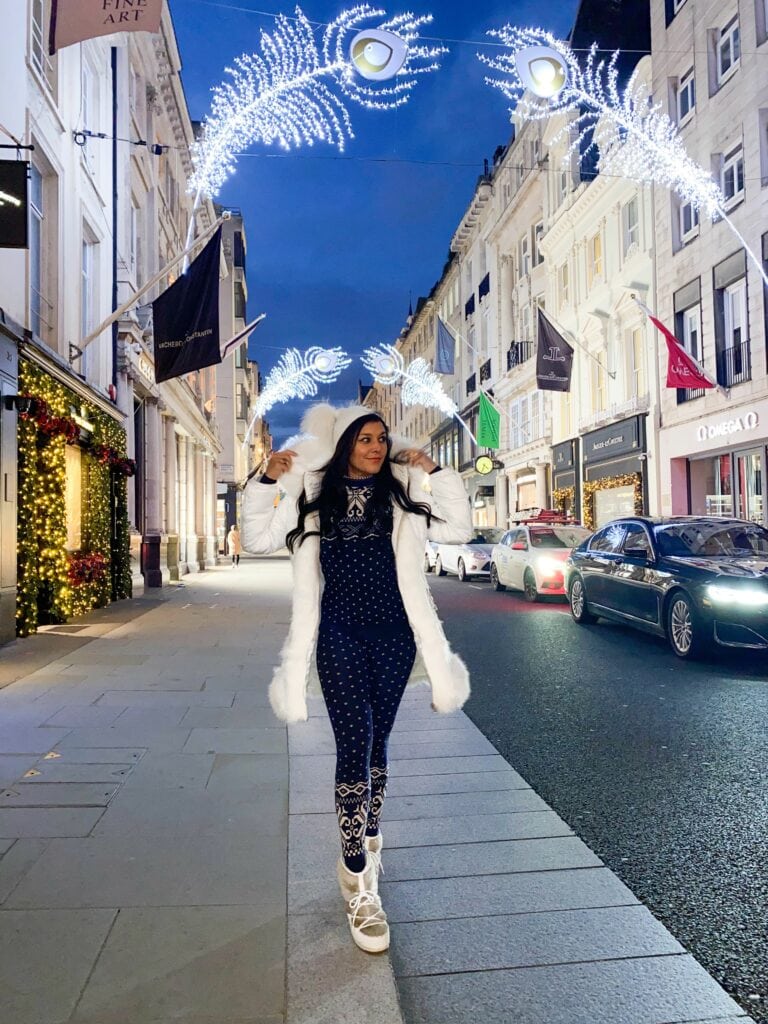 Themed Displays
I love that many of the lighting displays give a nod to the historic background of the location. For example, this years Carnaby Street decorations are inspired by the areas legendary, musical history.
From the 'Spirit of Christmas, angels' installation twinkling all the way down majestic, Regent Street, through to the crowns, adorning a very regal, Bond Street, the city is filled with magic and festive spirit.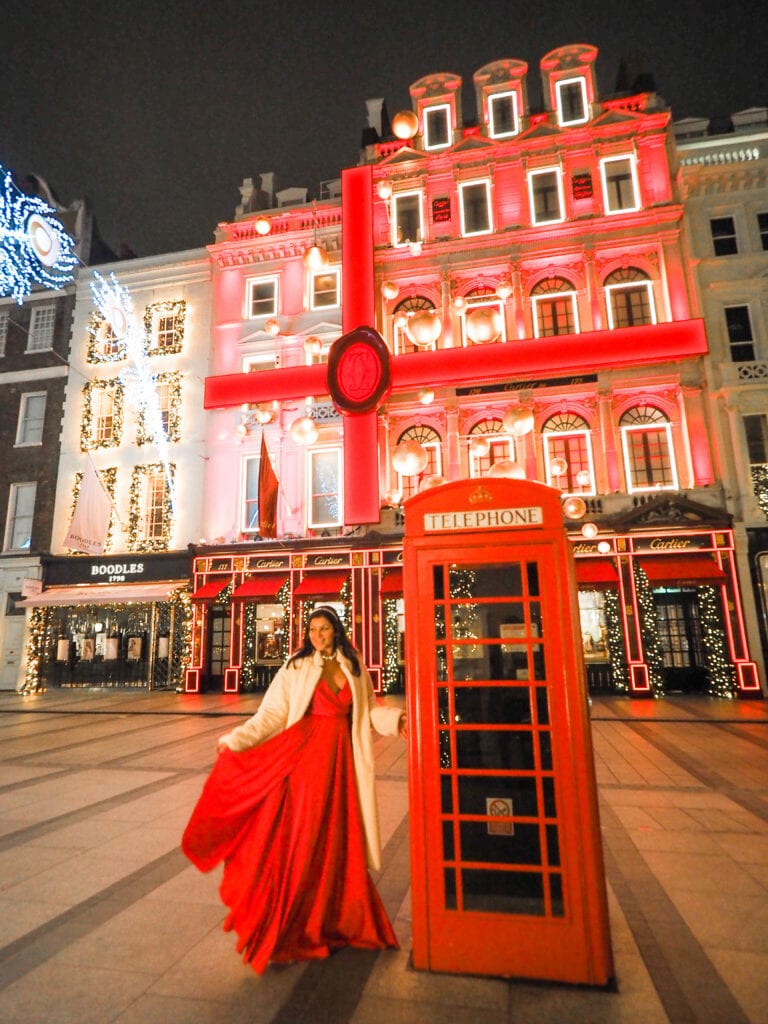 From December onwards, London's street become a shimmering show of magical lights. And the best bit is, you can view it all for free.
So, without further a do here is my walking guide to the best Christmas light displays in London.
I recommend stopping off for photos and a little bit of Xmas shopping on route. You must factor in mulled wine / hot chocolate stops! And make sure you wrap up warm and wear flat shoes.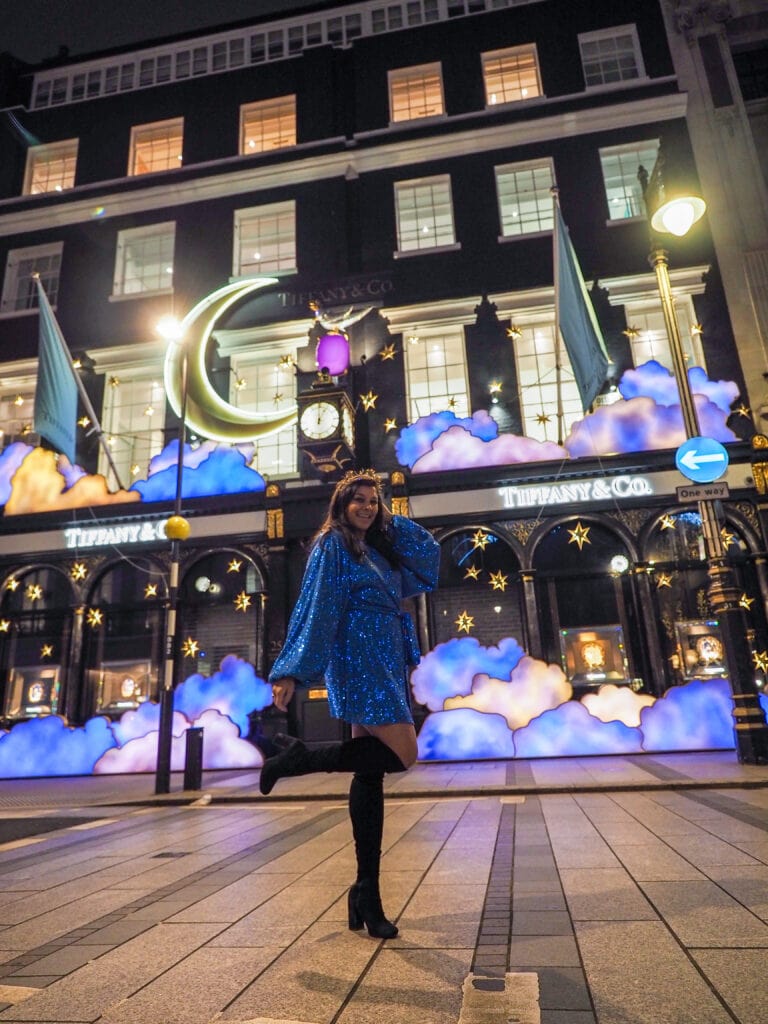 Bond Street
Start your route on Bond Street, the junction between Tiffany's and the Ralph Lauren flagship store is probably the most glamorous place to meet.
Whether you walked up from Green Park tube via The Ritz, or down from Bond Street tube, through festive South Molton Street, both routes lead to the prettiest part of Bond Street lights.
All the high end stores in this section, from Cartier to Dior, change their displays every year in an attempt to, 'out do' each other. So expect some spectacular exhibits.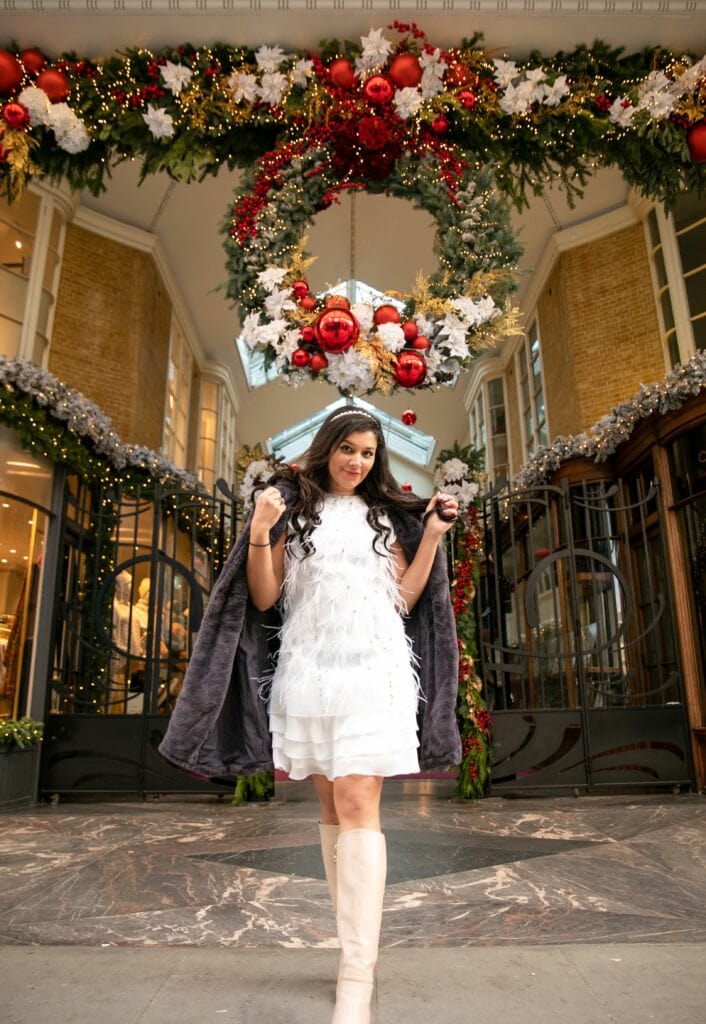 After shopping on Bond Street, cut across through Burlington Gardens, towards Regents Street to see the 'Spirits of Christmas' angels.
Burlington Arcade, on route, is a beautiful, traditional, Victorian shopping arcade. It also puts on a beautiful xmas display and has high end artisan, gift boutiques inside.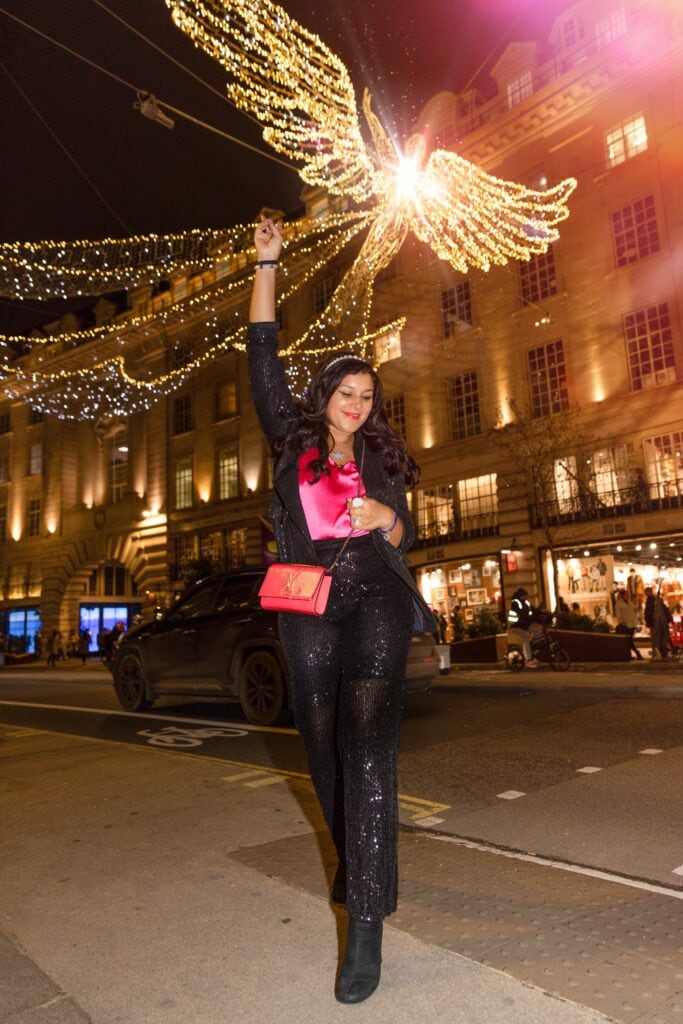 Spirit of Christmas Angels on Regent Street
Once on Regent Street use the opportunity to take a photo. This junction is a particularly good angle from which to capture all the angels lined up the street.
Ask your friendly photographer/ tripod to go low to the ground, so you get a more dramatic shot of you with the angels soaring above your head.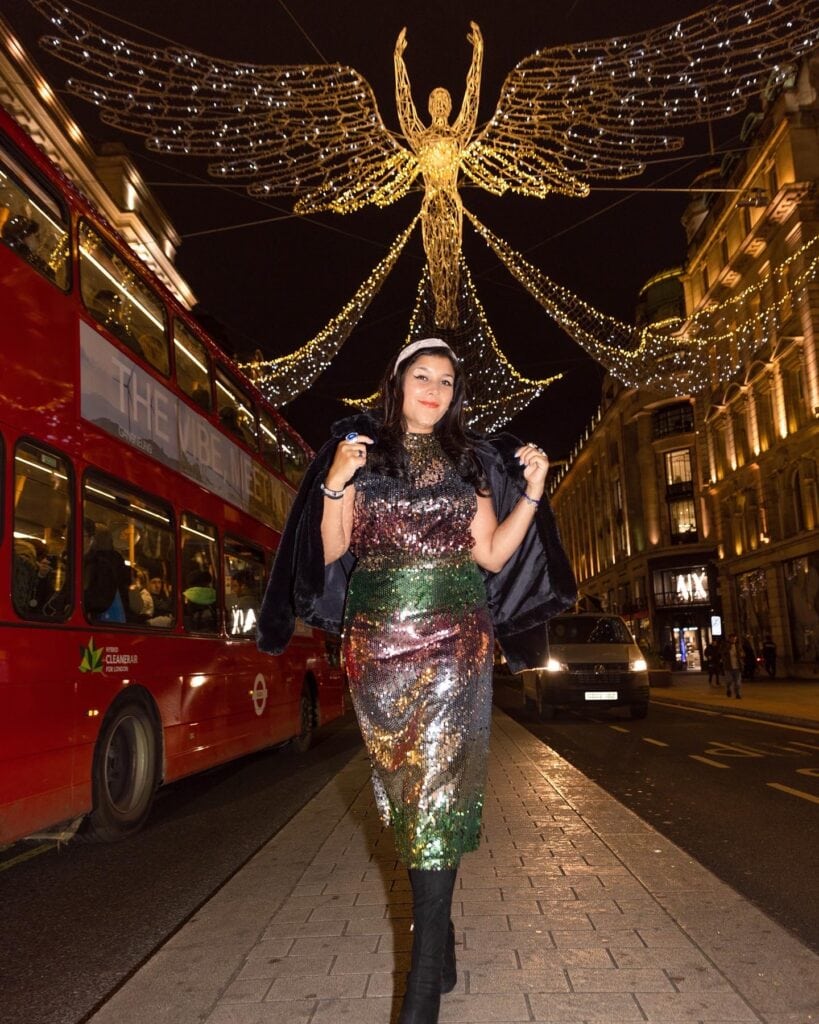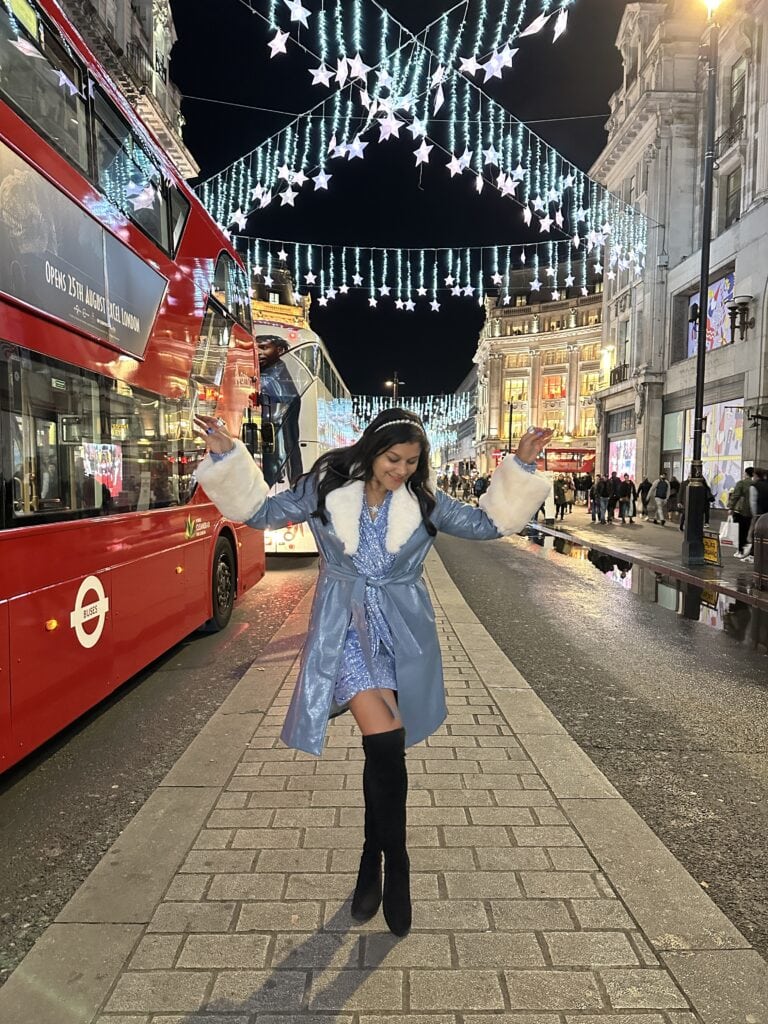 Oxford Street All Stars
Make your way up to Oxford Circus to star gaze at the celestial themed lights. Standing on the islands between the car lanes, gives you a nice perspective from which to take a star quality photo.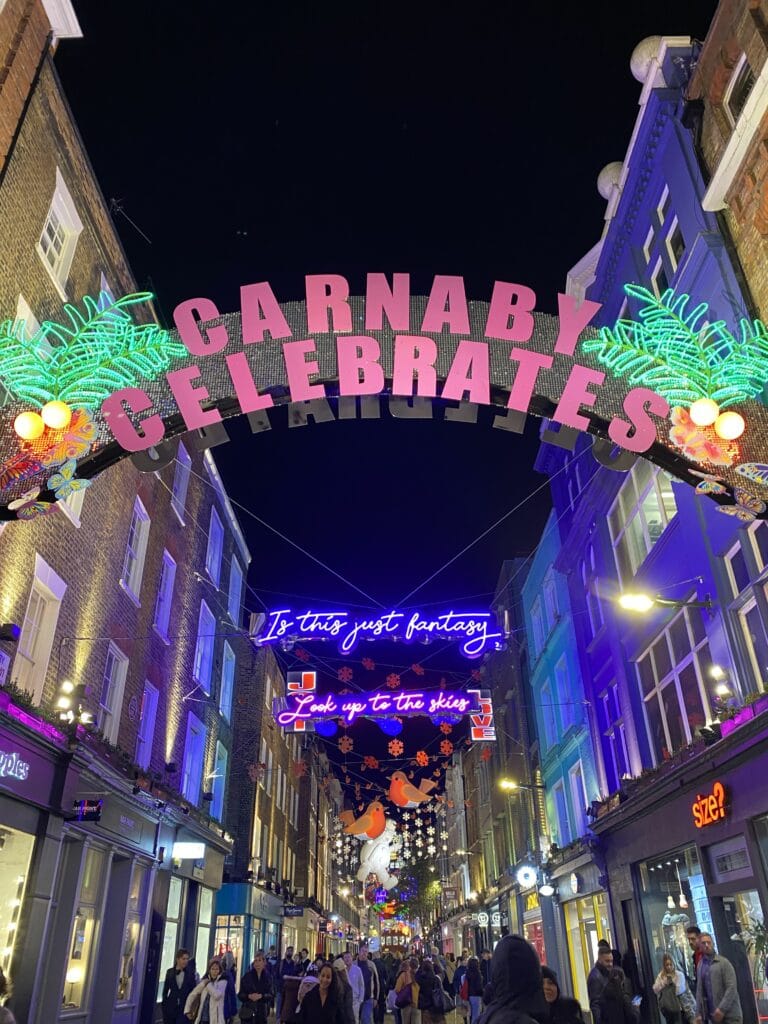 Rock on Carnaby Street
After your 15 minutes of stardom on Oxford Street, make your way down towards Carnaby Street.
Get musical as you take in all the rock and roll references of this years lights. From song lyrics lit up in neon lights, to musical instruments and planets, the lights are an eclectic mash up of the road's legendary musical past.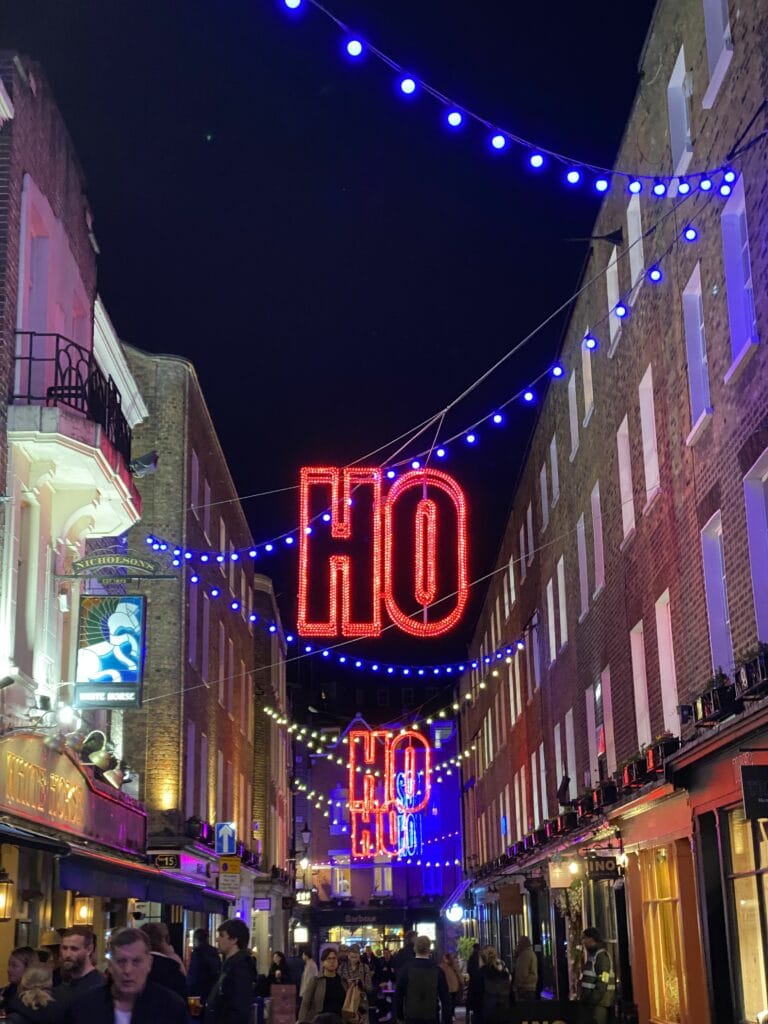 After Carnaby Street, wander through the trendy streets of Soho in the direction of the Covent Garden Piazza.
So ho ho ho!
Now is a good opportunity to grab something to eat or drink. The options in Soho are numerous. If you fancy something festive and cosy, head to Dean Street Townhouse for mulled wine, roaring fires and red curtains.
Or there are loads of 'affordable eats' options in Seven Dials too, such as Chick'n'sours who have a yummy new festive burger.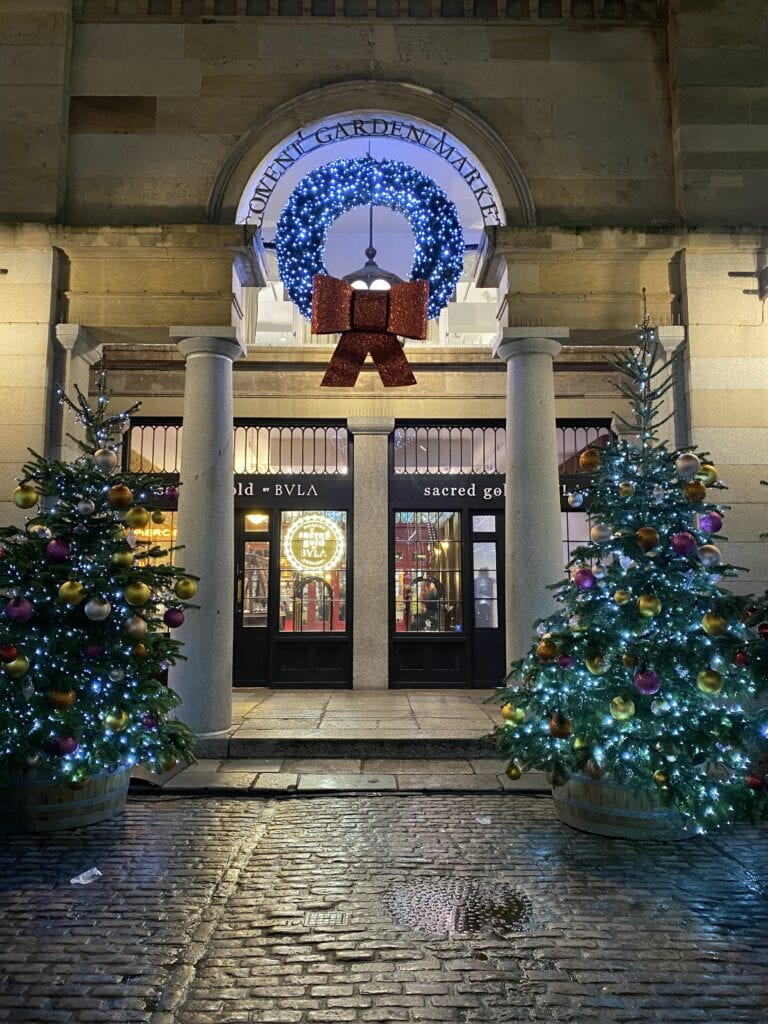 Covent Garden
If it's Christmas instagram photo opps you're looking for, then Covent Garden is the one for you.
See the traditional Santa sleigh parked outside the Apple Yard, adorned with giant glittering mistletoe hanging from the rafters. Dance through to the shimmering Infinity Tunnel.
You can do a twirl in front of the row of Xmas trees or simply enjoy a cup of mulled wine on the piazza, underneath one of London's largest Xmas trees, you'll be hard pushed not to feel festive here!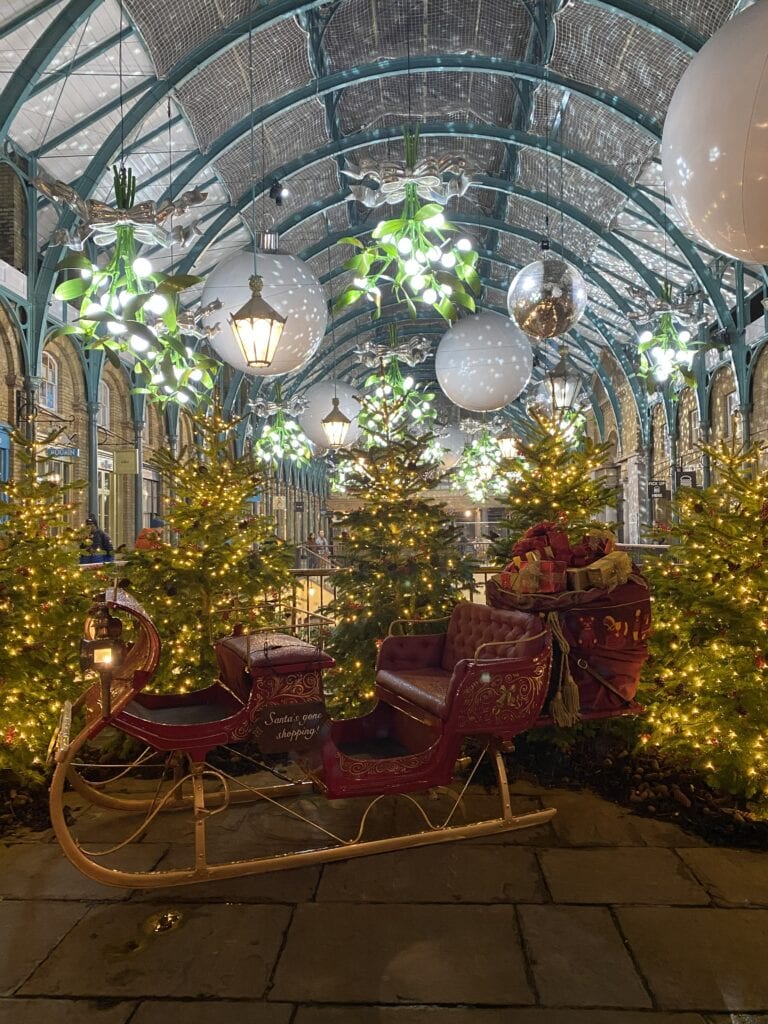 This year the Dolce and Gabbana boys have gone one step further by creating the most spectacular, jewellery box, pop-up-shop in the middle of the piazza. It's the cutest little shop filled with the most decadent designer Xmas gifts imaginable.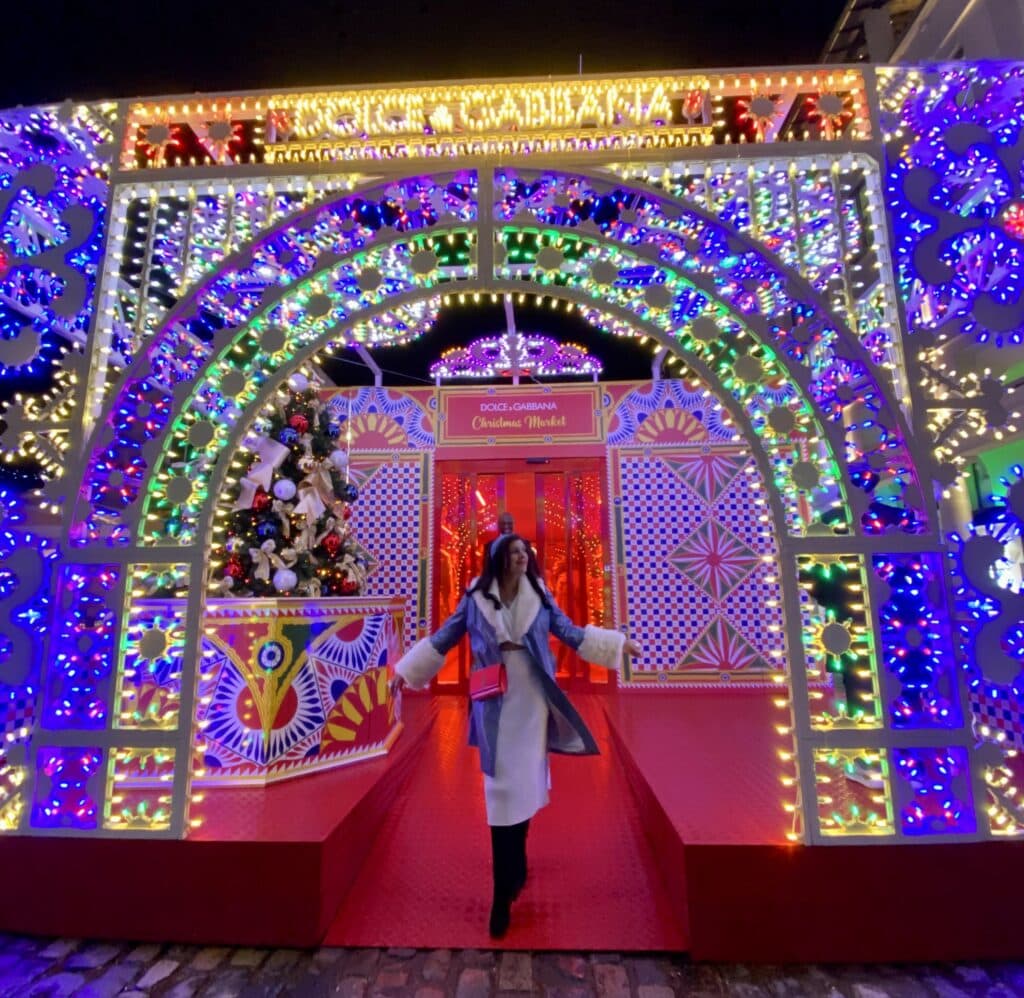 For the ultimate Xmas vibes, head to the big tree on the piazza. Every hour, on the hour, (once it's dark), a flurry of fake snow is released, to make you feel like you're on the set of a Xmas movie!
Wherever you turn in Covent Garden it's a festive explosion. And the snow showers are just the magical icing on the Xmas cake!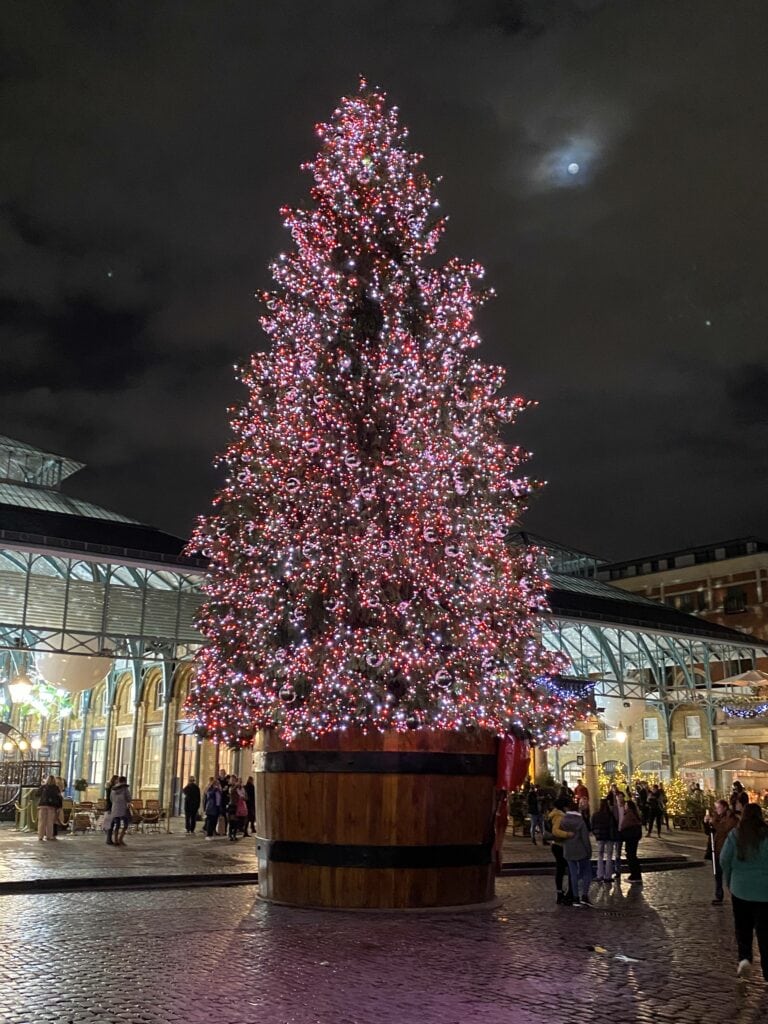 Other great festive locations in London include: Winter Wonderland, South Bank igloos, Somerset House and Battersea Power Station Ice rinks and Harrod's Xmas lights.
If you're looking for a hotel in London I recommend these central hotels.
Happy Christmas Everyone
I hope that you enjoyed my London Christmas Lights – Festive Walking Route. If you did please leave a comment below or sign up to the newsletter. For more of Bonnie's travels in London follow her on Instagram @BonnieRakhit.
Where are your favourite Xmas locations? Let me know in the comments below! And for more of Bonnie's London adventures click here.
Have a magical Christmas everybody.
Bon voyage
Bonnie xx