Goa Eating and After Dark
Goa
Eating and After Dark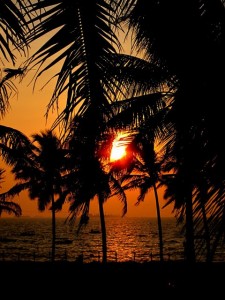 After Dark
Many people head out to Goa in search of the legendary beach parties of the 90's, but these are a thing of the past. Full Moon parties no longer happen due to strict government restrictions on sound.
Goa is definitely a chill out zone these days, don't expect Ibiza style partying, you'll only be disappointed. There are club nights in specialist venues, but the latest clubbing trend to take Goa by storm is the silent disco. Normally located on the beaches of South Goa, speak to locals in the bars to find out venue details as they change regularly.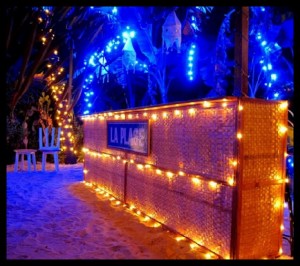 La Plage outdoor bar
La Plage
My favourite night spot in Goa is La Plage, a French owned bar/restaurant in Ashvem. It's quite hard to find, especially at night, as it's located at the end of a rather long, pot holed, un-lit, dirt track. But once you get there it is totally worth it. Maybe take a torch if you're walking. Once inside, expect slick cocktails and delicious French food with a firey asian kick. This place exudes bohemian spirit amidst the coconut palms, swathes of colourful sari fabrics hang from the wooden pagoda style beach huts. It was recommended to me by Jade Jagger, which is a good indicator of the sort of crowd that hangs out here.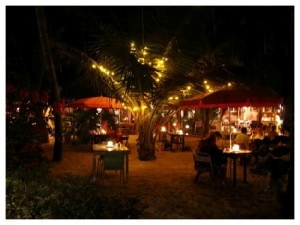 Fairy lights and al fresco dinning at La Plage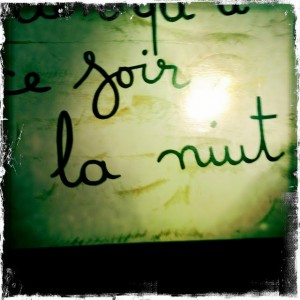 The tables are decorated with handwriting at La Plage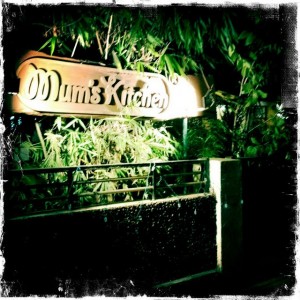 Mothers from various parts of Goa have helped compile the menu for Mum's Kitchen. It is part of a growing trend of restaurants trying to preserve Goan food traditions. Mum's Kitchen doesn't have a stunning interior, it's simple and rustic, but the food is great and it's a good place to refuel if you're in the capital, Panjim.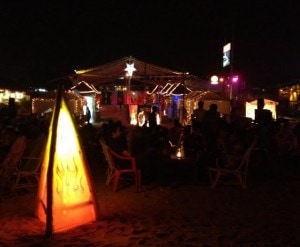 Beach bar on Baga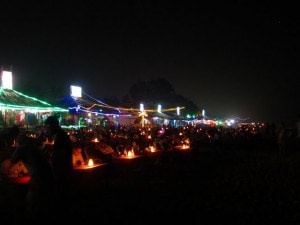 Baga
The main commercial hub for tourists in Goa is called Baga Beach. The beach here is lined with bars and shacks serving drinks and playing techno music. Yes, techno is still really popular out here. You can get food in the bars, but I wouldn't recommend it.
Head to the beach to watch the sunset while sipping cocktails, then a little further up the road you can try Tito's for dinner. Baga is not the chicest or most beautiful area in Goa, but it's popular and Tito's has become part of the establishment here. After dinner and few more drinks you can always head to
Mambo
, be warned though, it is a bit of a meat market. The partying doesn't really get started until midnight.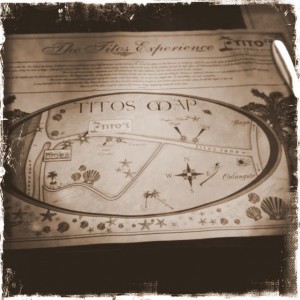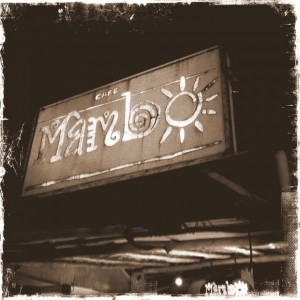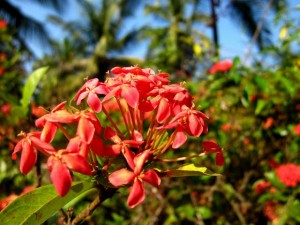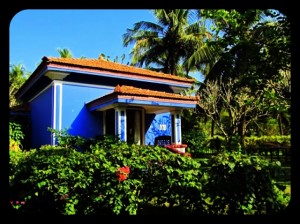 My beach bungalow at Taj Holiday Village
Sleeping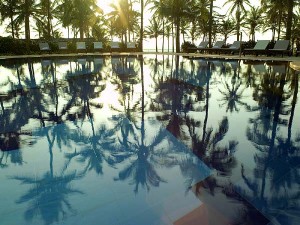 When deciding where to stay in Goa you really need to think about what you want from the holiday. If you want beaches and total relaxation head to the South of Goa. To be near markets, bars and restaurant areas, the North is more lively and better for you. It is quite rough around the edges though, areas like Baga are quite dirty, but this is the main commercial hub of Goa. We stayed in the North at the Taj Holiday Village in Candolim.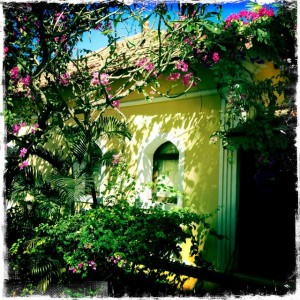 Set amidst the swaying palms of Candolim beach the Taj Holiday Village is a luxury hotel with impeccable grounds and service. We stayed there for a week and didn't want to leave. Our beautiful beach bungalow had a colonial style interior, elegant and chic but with all mod cons, such as rain showers and wide screen TV. We stayed over New Year and the hotel was filled with Bollywood film stars. My favourite memory – eating breakfast on my personal garden terrace overlooking the Indian Ocean.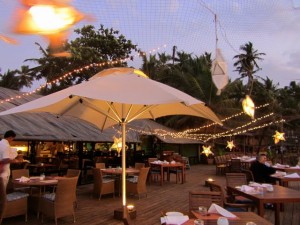 The bar at the Taj Vivanta
Other places you can look into are:
Beach shacks in Palolem,