Helios Mykonos – The Ultimate Luxury Fitness Retreat
Helios Mykonos – The Ultimate Luxury Fitness Retreat
Where? The Greek island of Mykonos
Exactly? Helios Retreat Mykonos. The luxury sports and fitness retreat is set in a stunning whitewashed villa perched on the hilltops of the picturesque island, with breathtaking views of the sea and a dreamy infinity pool.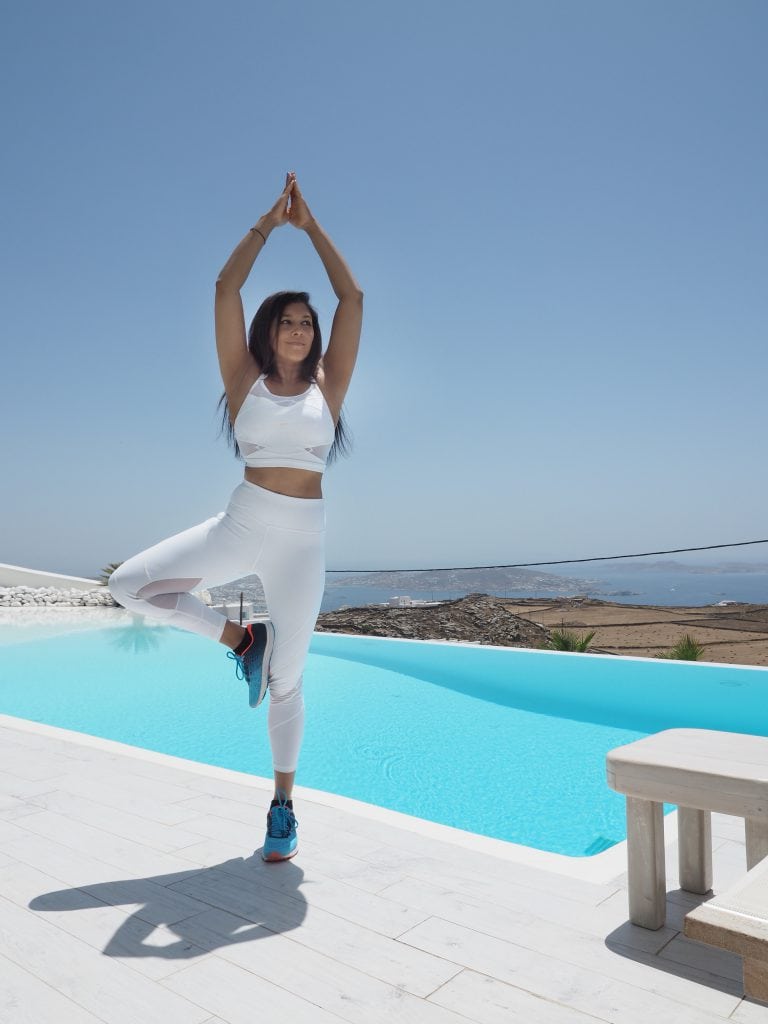 Why? When the fun loving Brazilian retreat leader, Hugo Martini Mensch invited me on one of his renowned fitness retreats in Mykonos I was thrilled and accepted immediately! I'd heard a lot about the Helios retreats for a while and when you combine the fitness and yoga classes with luxury accommodation, individually catered meal plans and it's right at the start of bikini season, it was an easy sell!
Above: Bonnie wears white celestial sports bra and white capri leggings by Sweaty Betty and turquoise trainers by Karrimor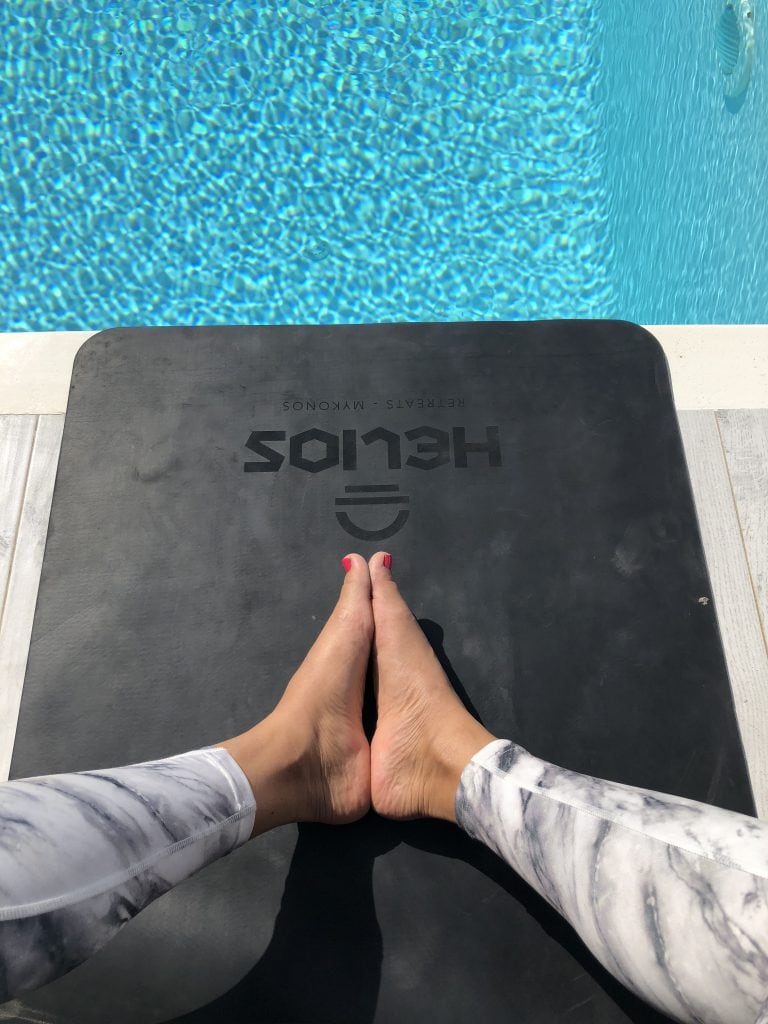 What Happens – The Schedule
On arrival on the first day we did a mini hike to a nearby lighthouse to take in the local surroundings and also get to know the other guests on the retreat a little better. As everyone was a little tired after the flight, the first session was a lovely chilled yoga class on the pool terrace taken by the beautiful Amanda from Yoga Alchemy, followed by a healthy dinner at the villa and an early night.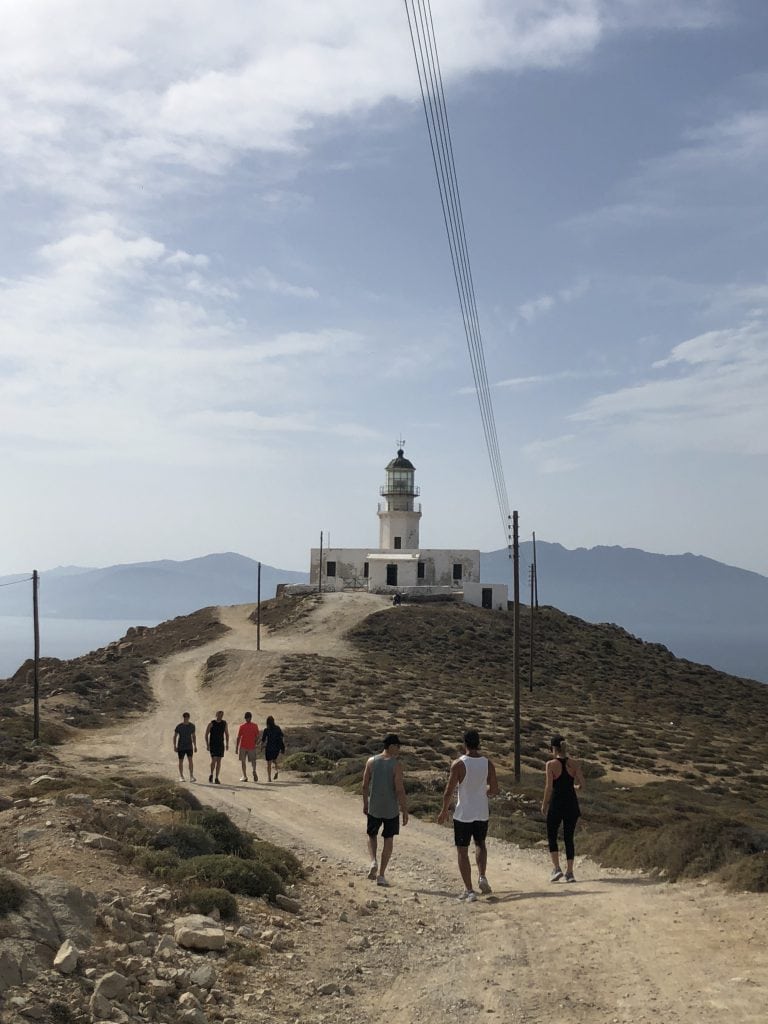 The group hike to the light house, not too strenuous on arrivals day.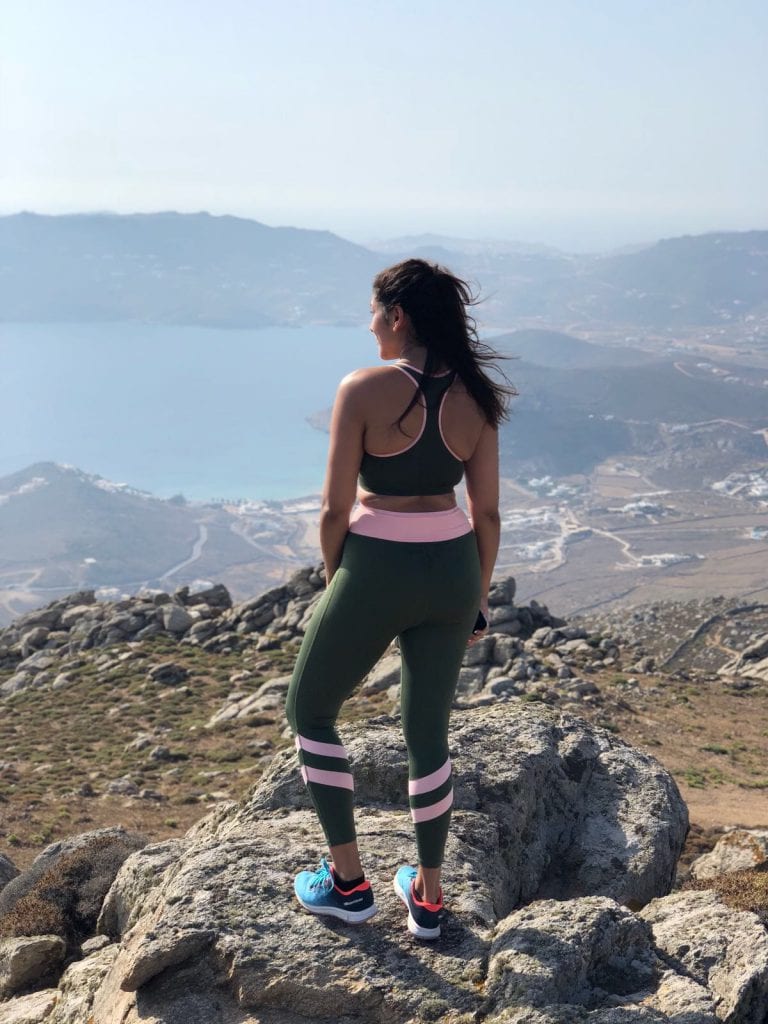 The rest of the trip is set into a schedule of intense training sessions, yoga, meals times, as well as some much needed chill time. The day is normally broken up into 3 or 4 classes, a fun activity and three delicious healthy meals a day. No scrimping on food here, the portions are generous, you're training so hard, you need to eat for energy.
Above and below Bonnie wears khaki and pink top and leggings from USA Pro at Sports Direct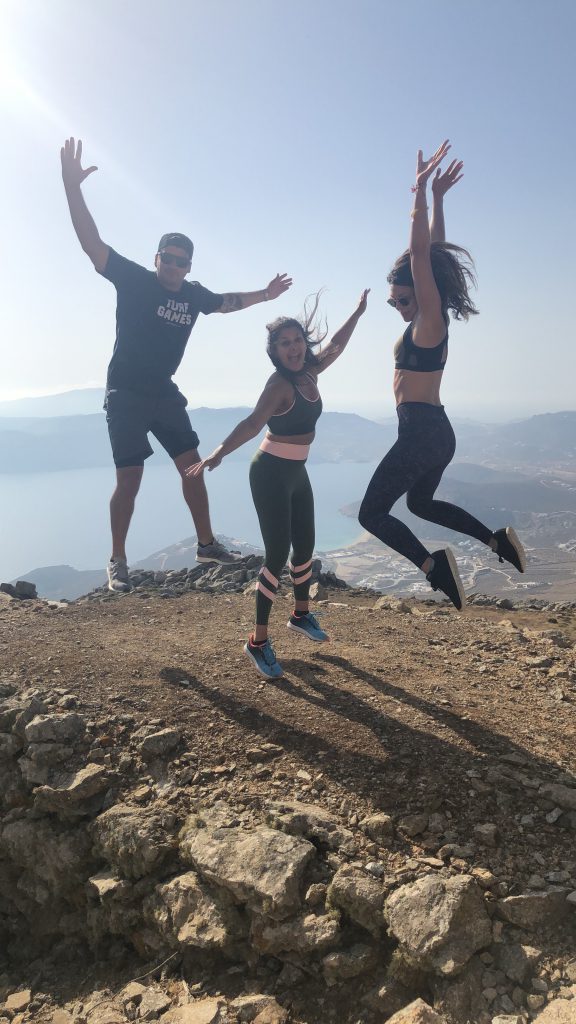 Each retreat varies, but an example of our day would be a wake up yoga session 7am, short juice/shake break, followed by a 8.30am HIT (high intensity training) session. We'd then have a protein and veggie rich breakfast at the poolside dining table altogether as a group. The rest of the morning is divided into either hiking, visiting the beach, or chill time by the pool and lunch.
Above: Bonnie at the end of the hike with master trainers Method Man Josh and Amanda from Yoga Alchemy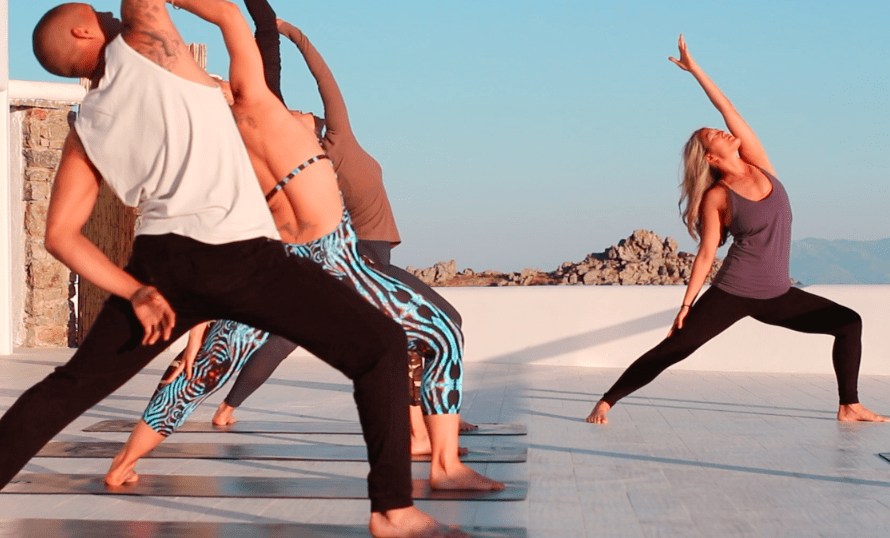 At 5pm once the heat is less intense we would have another training session, perhaps boxing, TRX, HIIT, weights, core or cardio. The training schedule created by London based, celebrity trainer Joshua Clark aka The Method Man of Method Movement, was really varied and kept the pace exciting. We all had different fitness levels but it really didn't matter, you can do as much or little as is right for you. We never repeated the same class twice and I loved his very Physio style of training, perfecting your posture and core all the time.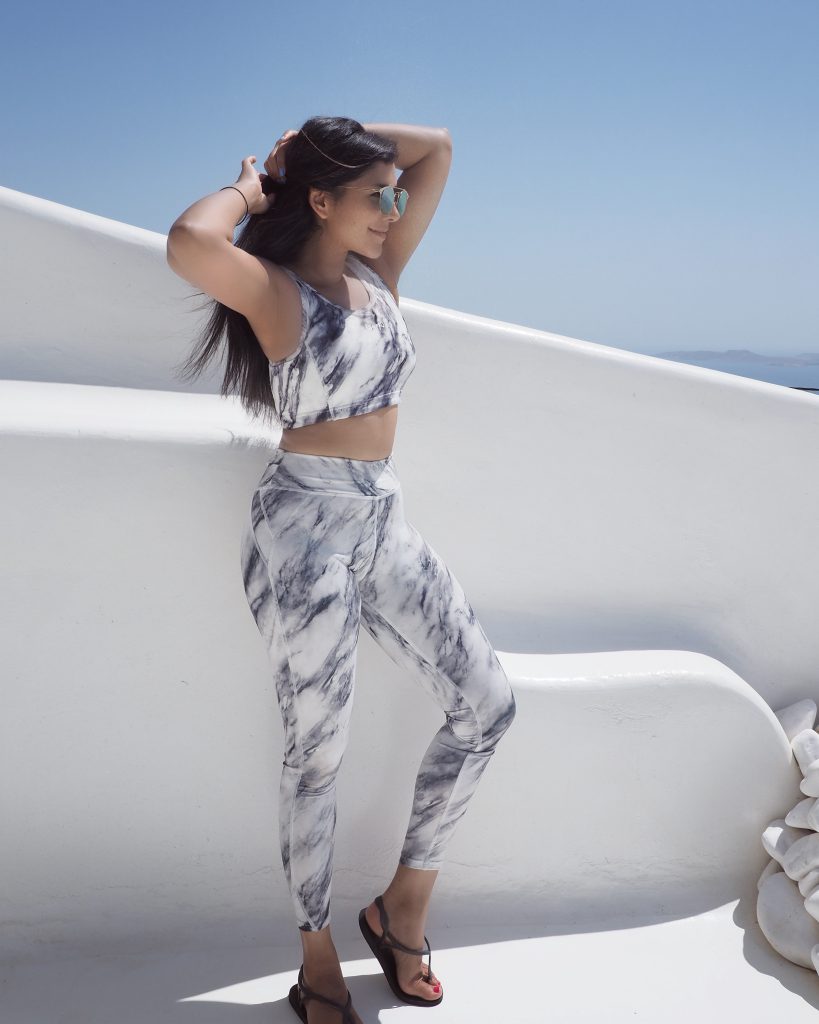 Above: Bonnie wears white marble bra and leggings by USA Pro at Sports Direct and Below: White swimsuit by Asos.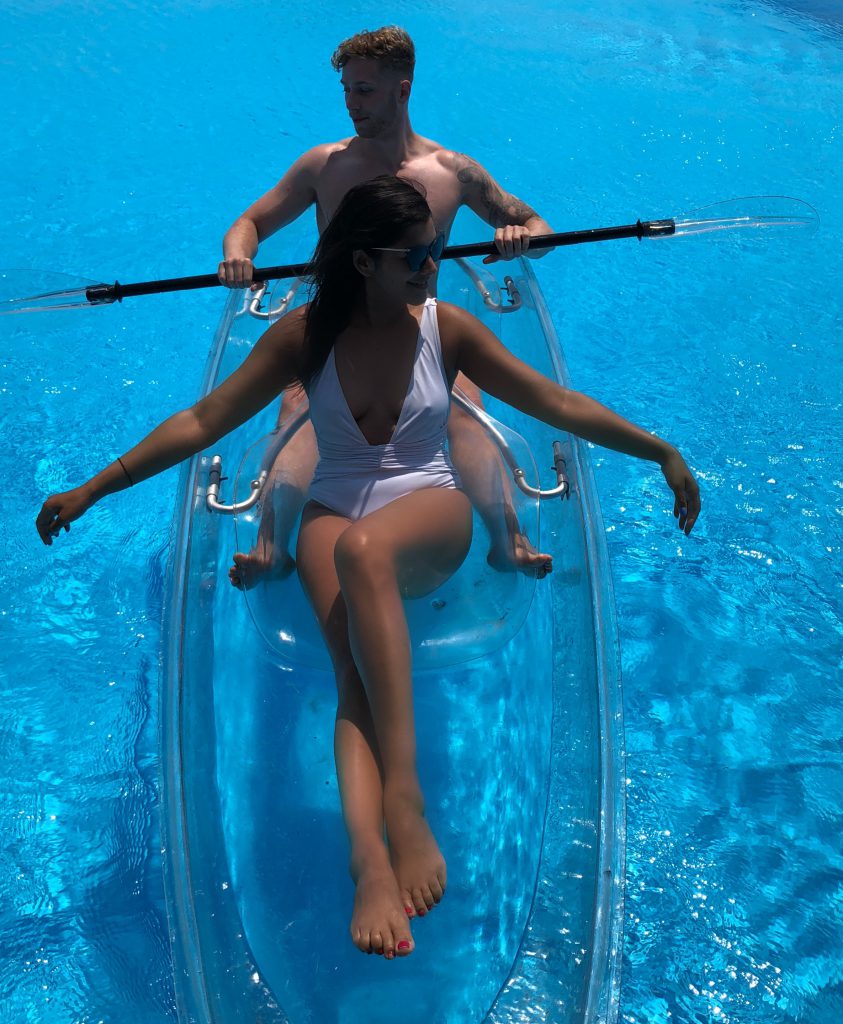 The Accommodation
Hugo likes to change up the villas from season to season, but one thing is for sure, they will be super luxury! This time we were staying the spectacular Zina Villas. Situated high in the Mykonos hills with awe inspiring views. The villa itself was whitewashed to perfection with a beautiful central infinity pool, which all the main activities, classes and meals are based around.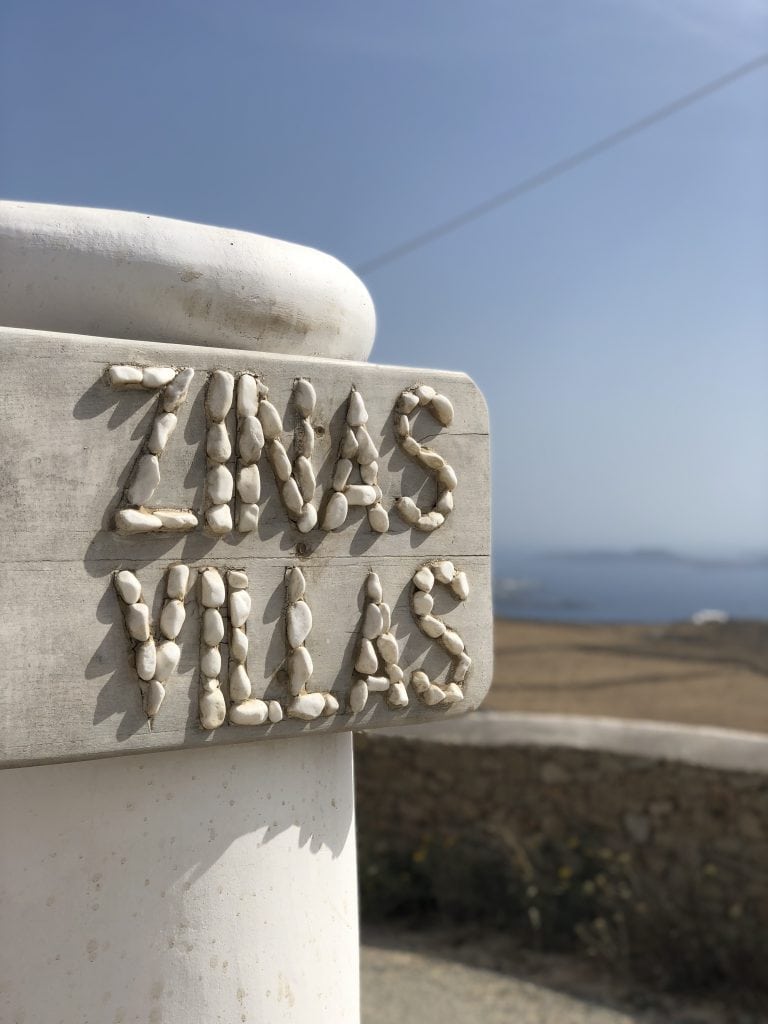 My room was large, airy and beautifully decorated with neutral coloured, soft furnishings and cute local art works. There was a powerful rain shower, soft fresh clean bed linen, 180 degree views through the huge windows and a spectacular balcony with private sun beds. I'd often sleep with the curtains slightly open at night so I could wake up to the sunrise. I literally loved my bedroom and was sad to leave it at the end of the trip!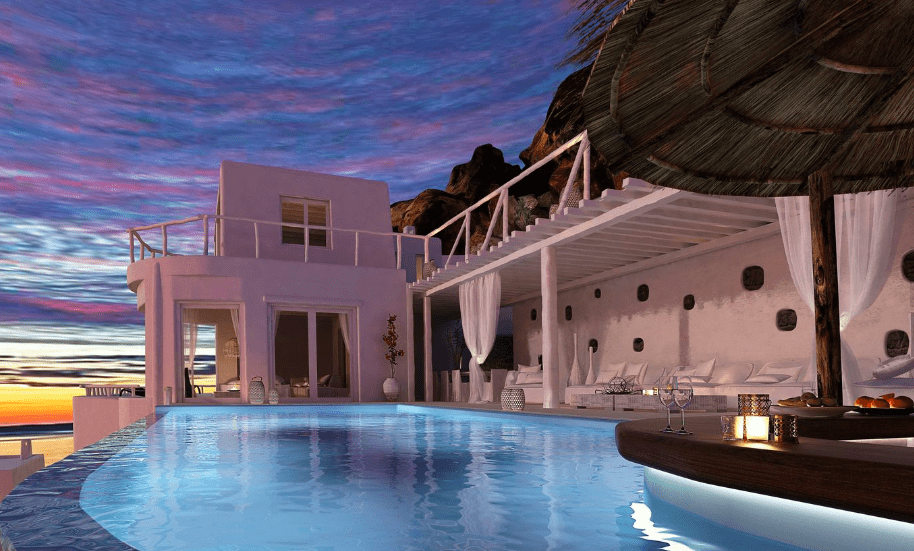 Pool view at sunset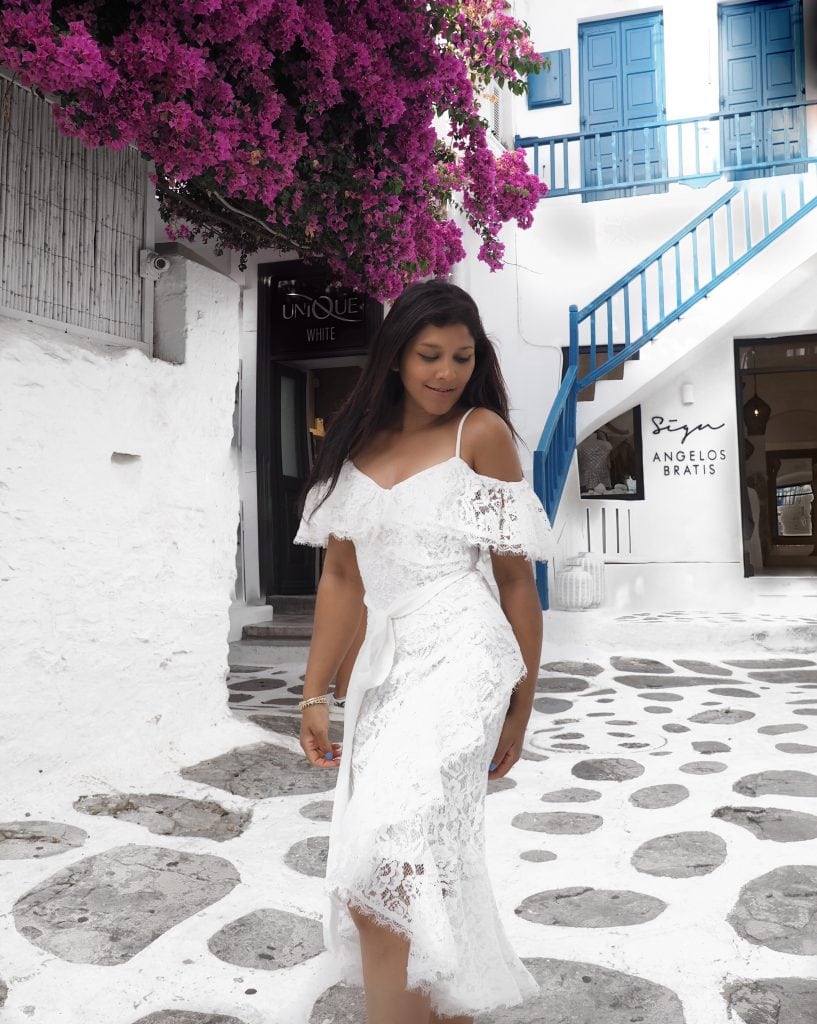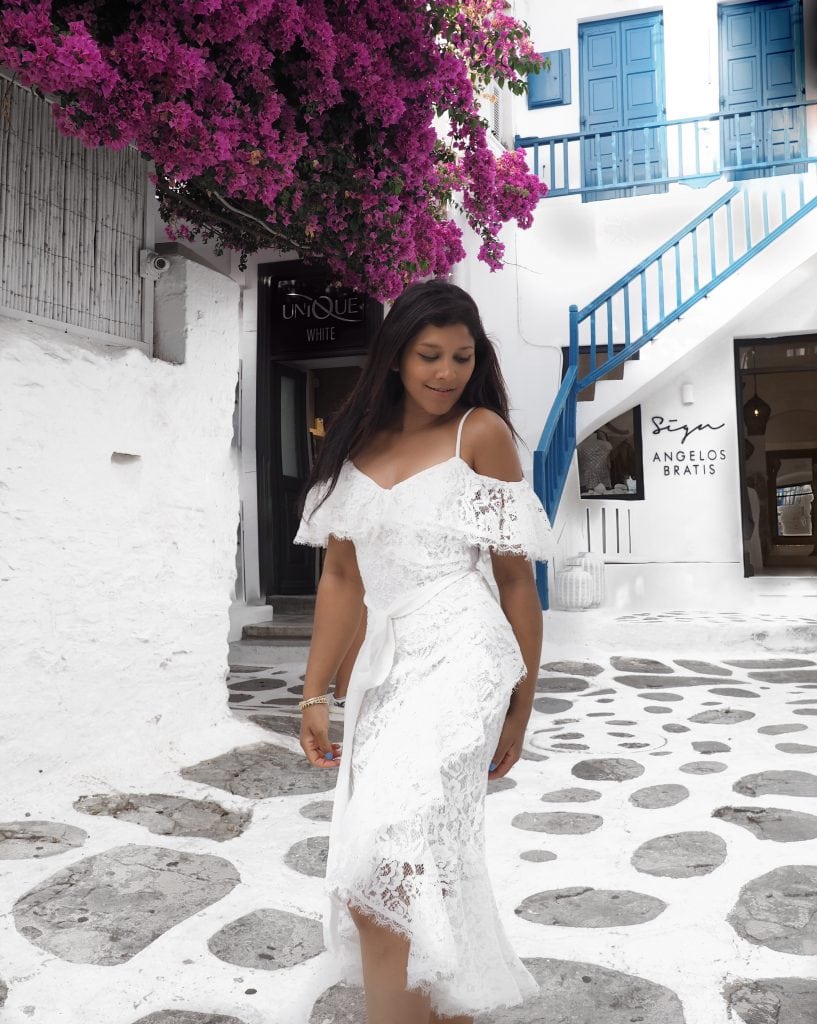 Bonnie hanging out in Mykonos Old Town wearing white lace dress by Very.co.uk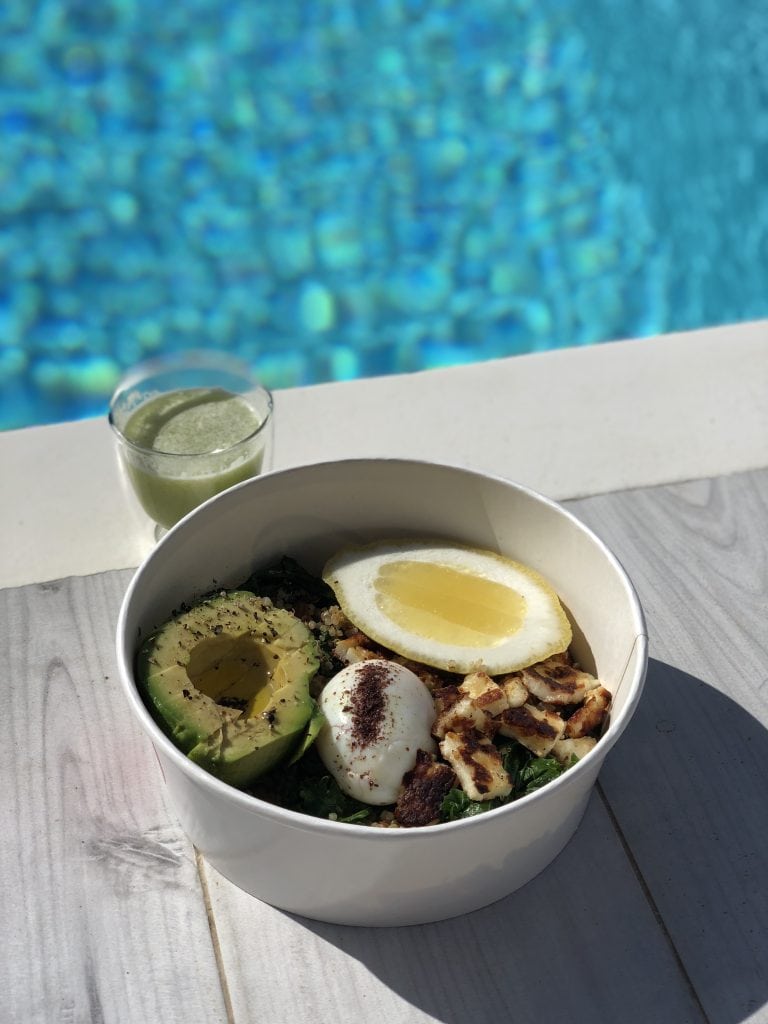 The Food
Delicious daily meals are provided by Mykonos Bowl, filled with super healthy, nutritious, organic ingredients, it's exactly the sort of fuel you need to aid your high energy days, plus it's super tasty too. There are plenty of snacks, nut bars, protein shakes and juices in the communal fridge on hand too in case you get peckish.
In the evenings we mainly ate out. Restaurants varied between fantastic traditional Greek tavernas, farm-to-table organic restaurants like Farma (keep scrolling) and we also had two nights out in Mykonos town which are free nights where you can go off and explore. Interestingly we all stayed together anyway and dined at Interni and Avra two of Mykonos' best restaurants (more on restaurants below). You can also chose to do your own thing on these days if you prefer, perhaps visit the famous windmills, or go shopping in the super chic individual boutiques.
Above: a typical breakfast from Bowl and below a protein rich lunch.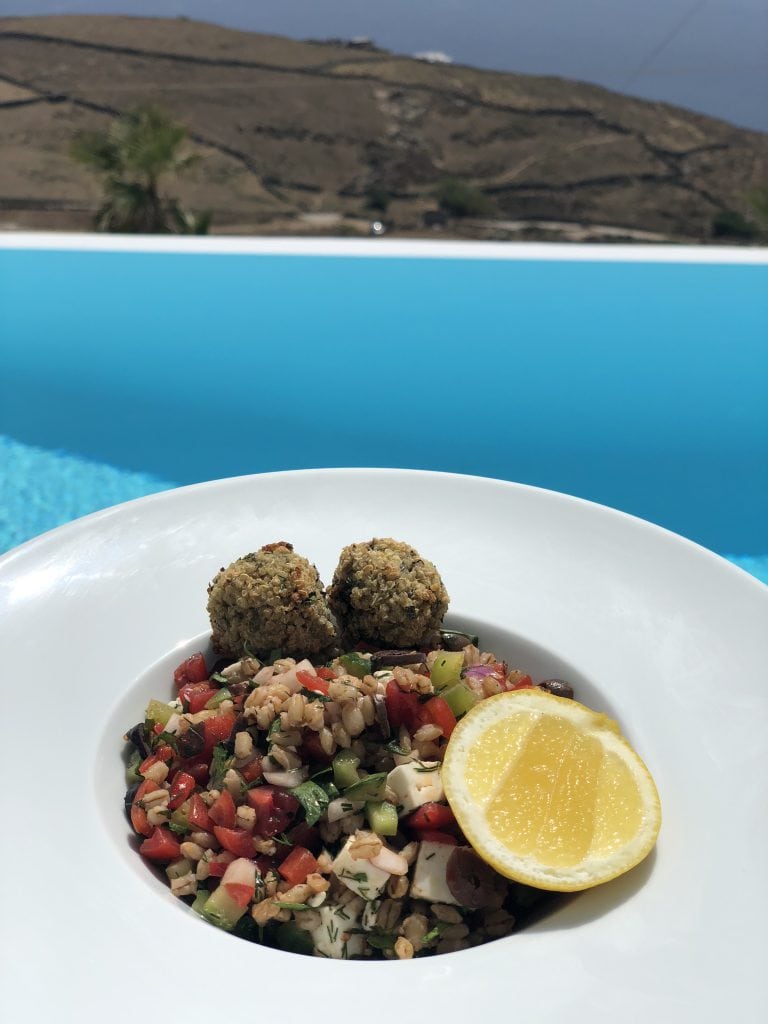 The Results!
After of week of training, eating healthily and enjoying yoga sessions, hiking and swimming in the sea, I felt rejuvenated, rested (unusually) and filled with a new force of energy and positivity. It's exactly the sort of retreat I was looking for. And more importantly, do I feel bikini ready for summer now? Hell yes!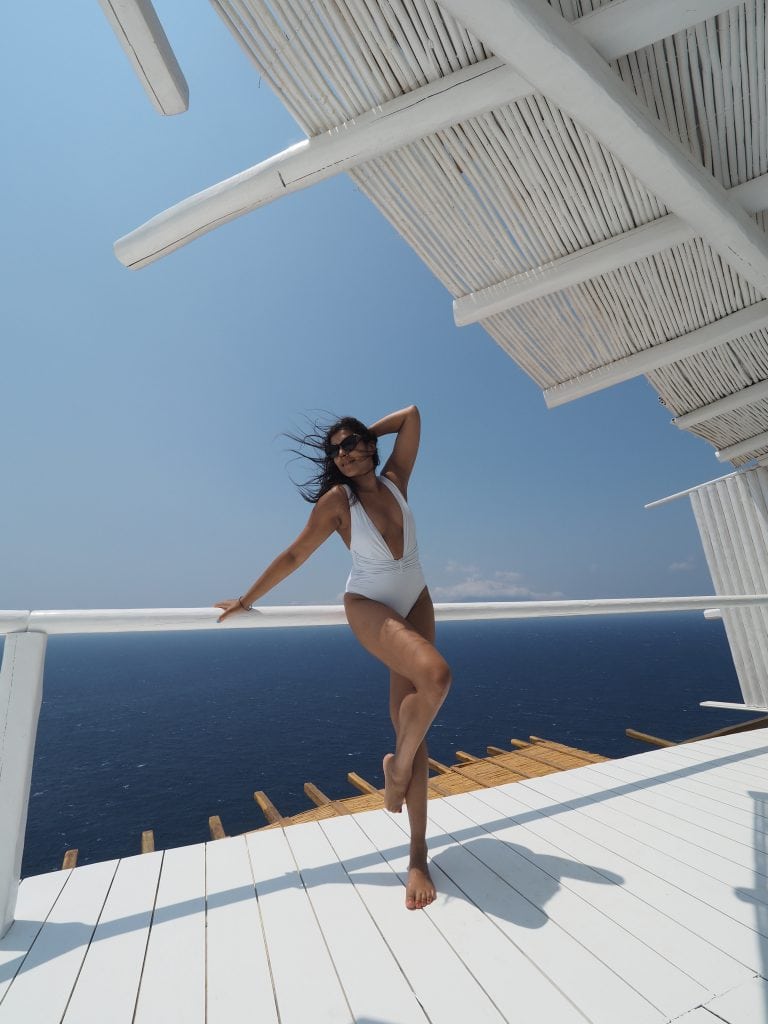 The trainers were so amazing and enthusiastic and nothing like at the usual boot camp style, starvation retreats I'd been on in the past. I arrived feeling exhausted and I left feeling fitter, relaxed and renewed. I can't recommend it enough, it's the perfect fitness retreat for a pampered style traveller like me. And I highly recommend the Physio massage too!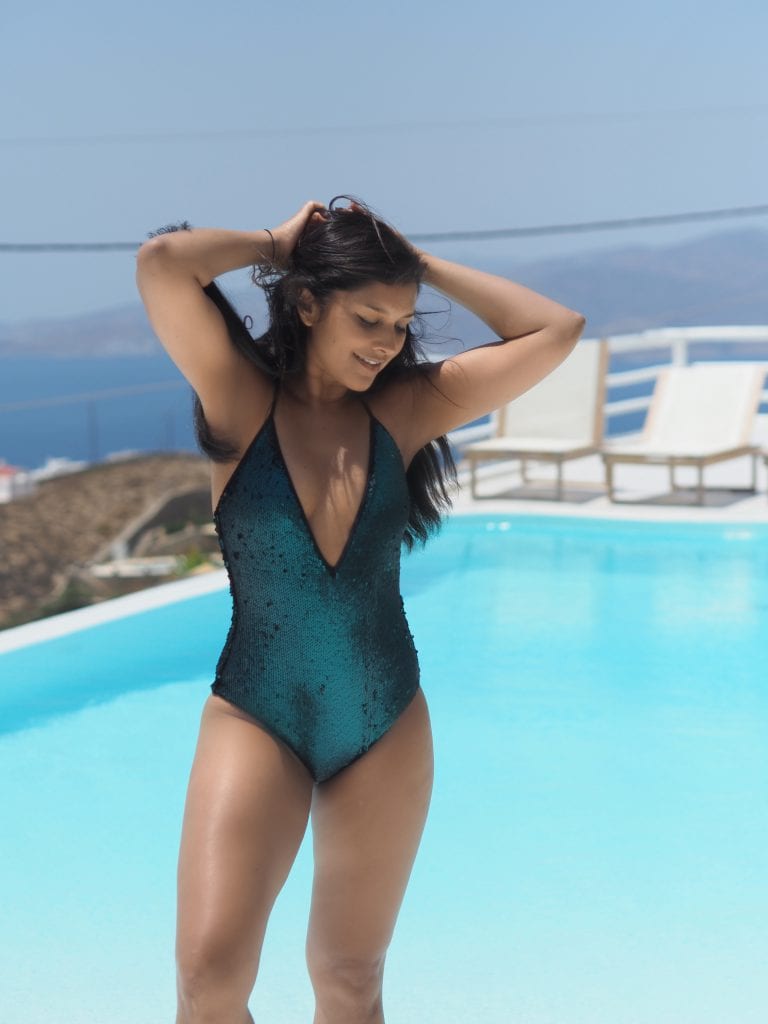 Above: Bonnie wears green sequin swimsuit by Goldigga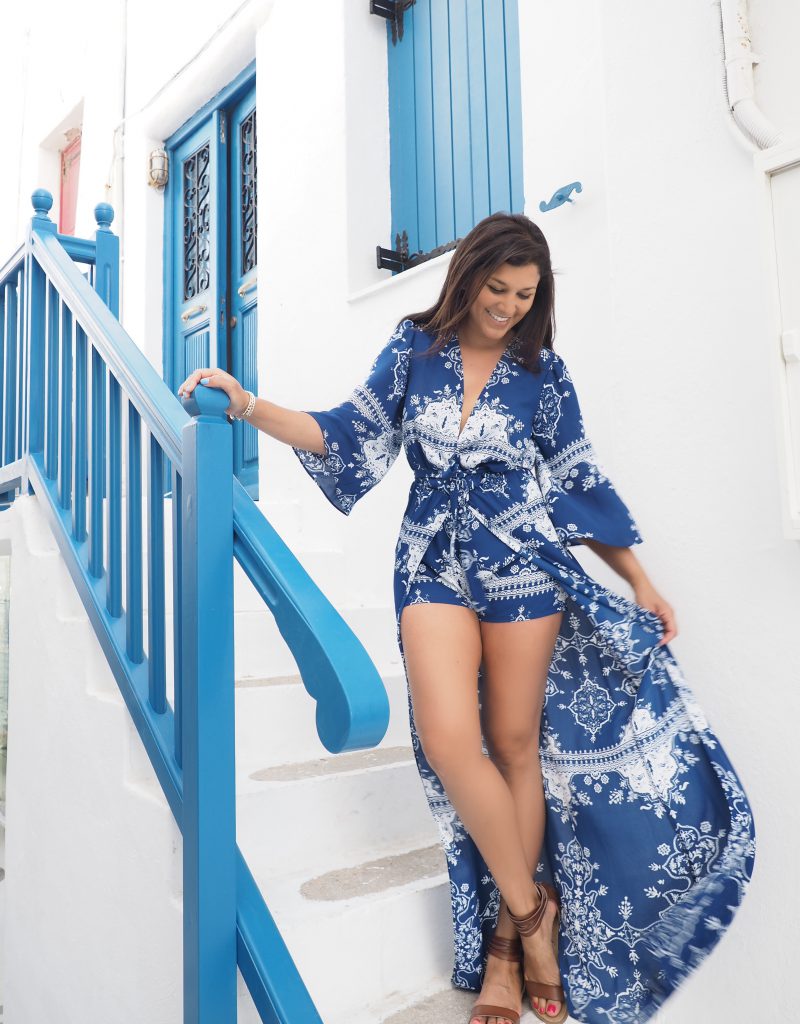 Extra Curricular
If like me you like to discover your local area a little, I'd recommend a lovely late afternoon or morning visit to Mykonos old town. Or combine a late afternoon browse around the amazing little boutiques, followed by sunset drinks overlooking the famous windmills.
There are also lots of excellent restaurants and beach bars here too if you fancy doing your own thing one day.
Above Bonnie wears blue jumpsuit dress from Lovers and Friends at Revolve.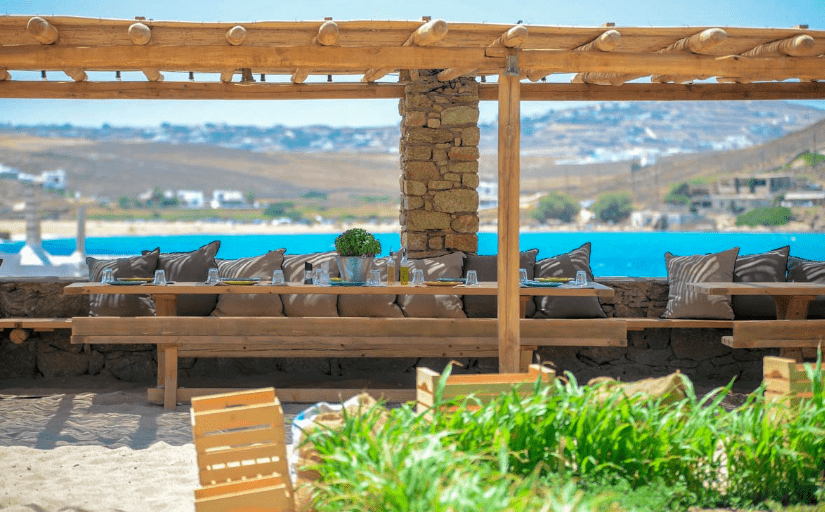 My Top 3 Restaurants in Mykonos
Farma – (above) Farm-to-table fresh organic restaurant in a rustic garden setting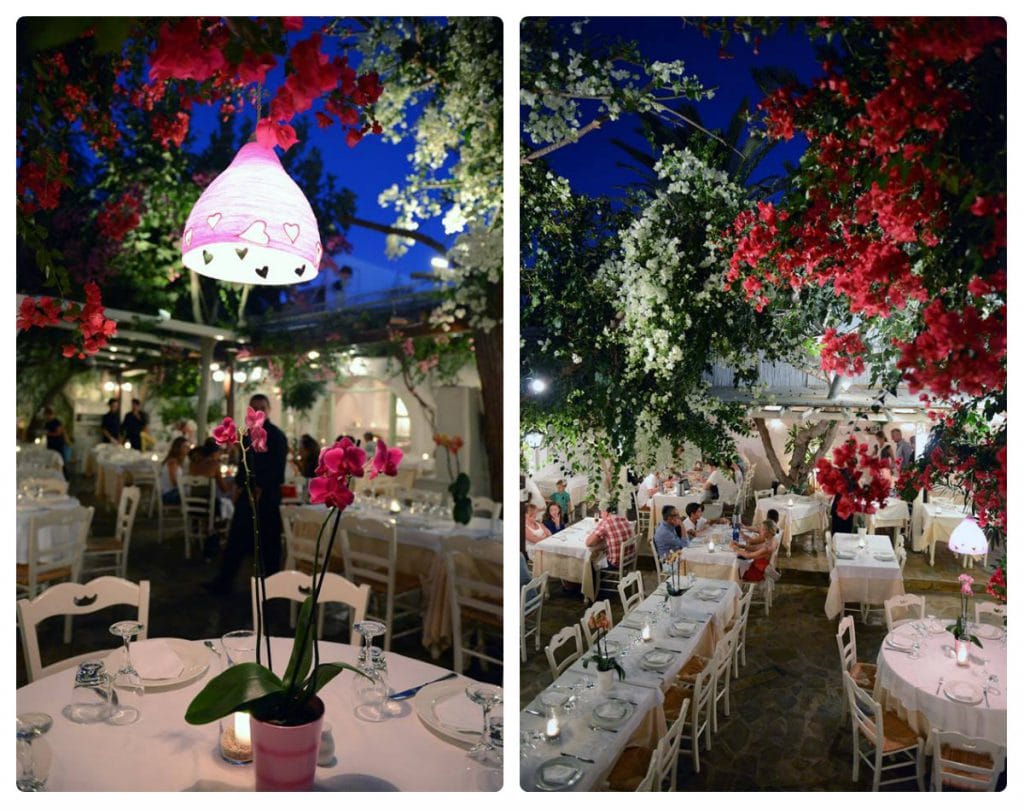 Avra – (above) Greek 'secret flower filled garden' taverna with amazing Greek food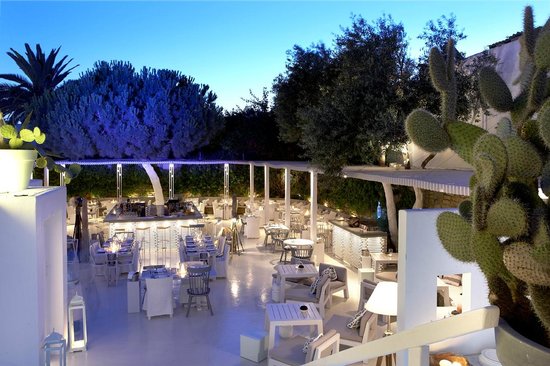 Interni – (above) super chic, expensive, white washed with white tulle curtains, chilled house music and candle lit vibes. Haute Cuisine.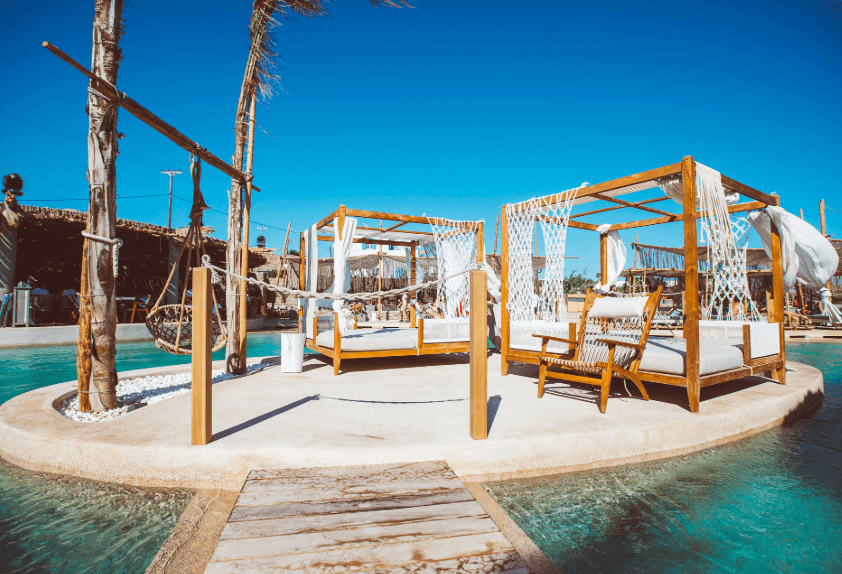 Top 3 Beach Bars in Mykonos
Sant Anna Pool and Beach Bar – (pictured above) chill out day beach bar with pool and house music, the temperature rises in the evening.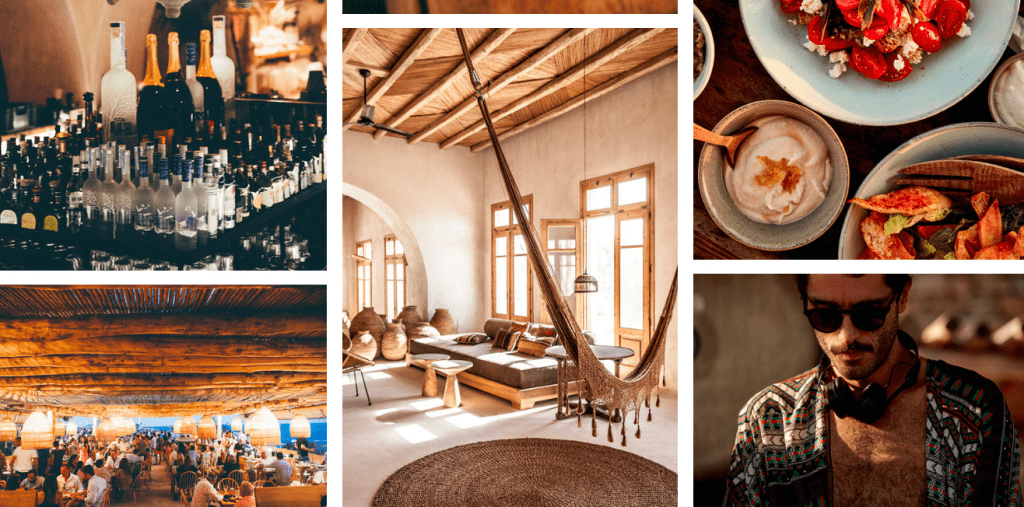 Scorpios (pictured above) – luxury Ibiza vibes, where the trendy Mykonos hipster crowd hangs out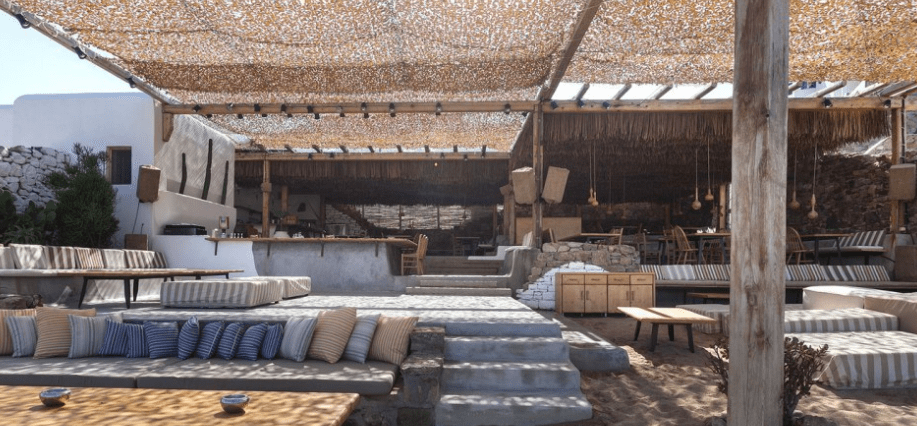 Alemagou (pictured above) – Tulum chilled beach vibes, still cool but not as party-tastic.
Thanks so much Hugo for organising such a great trip. And when can I visit again please!!
For more information on Helios Retreats (in Mykonos as well as other destinations such as Morocco, Mexico and more, head to the website www.HeliosRetreats.com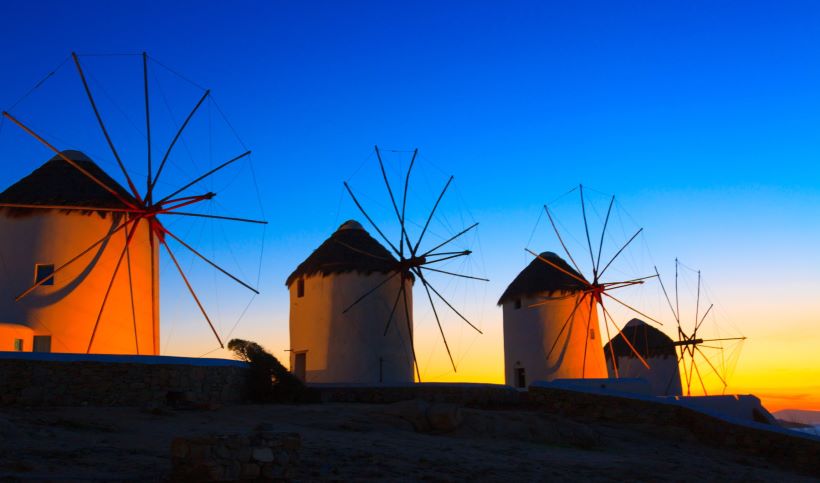 Above: the famous Mykonos windmills and below: Charlie perfects his handstand in an unusual spot :)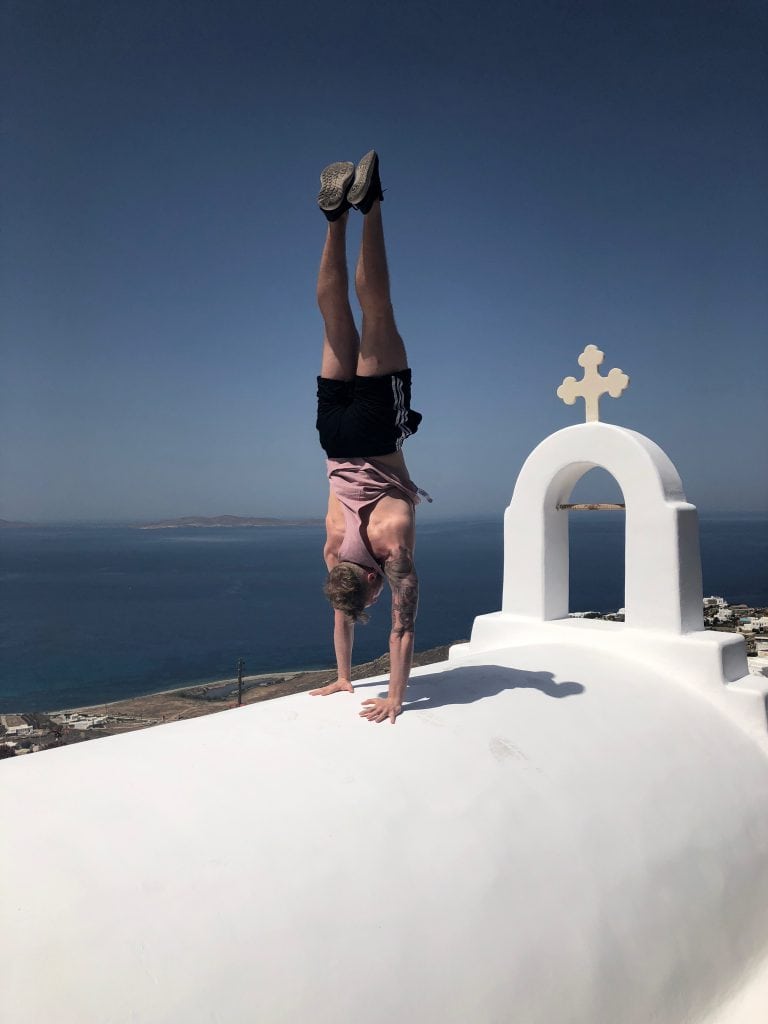 That's all from Mykonos for, next stop Ibiza!
Follow Bonnie's travels over on Instagram and for more on Greece click here…
Bon voyage! xx