Ibiza – Where To Stay – Boutique Hotels & Villas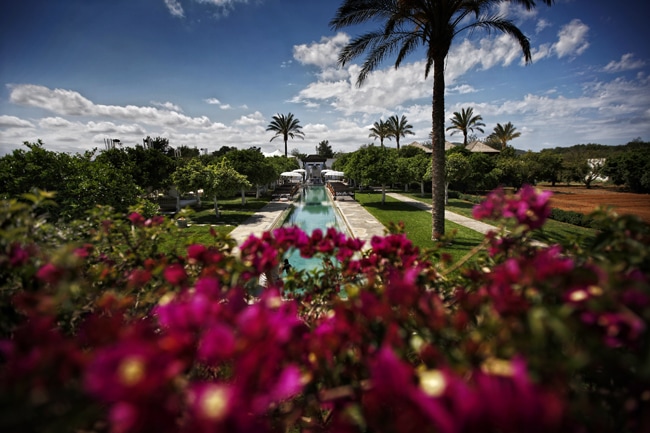 Photo credit – Brett Harkness

Ibiza – Where to stay – Boutique Hotels & Villas
My recent trip to Ibiza this season with Essential Ibiza Concierge Service was my 21st time on the island. I've been reviewing hotels on the island for over a decade, so you can imagine I've stayed in quite a few different places. From Boutique hotels, villas, chic fincas, to bigger international, hip hotels. Here's my Style Traveller round up of my favourite places to stay in Ibiza.
I tend to opt for different types of accommodation, dependant on who I'm travelling with. For fun girls weekends and full on party trips, I'd stay at Es Vive, Pacha Destino or The Me Hotel. For chill out time at my favourite spa in Ibiza, I head to Atzaro.  The Giri Residence is also wonderful for a relaxed getaway. And for off the beaten track retreats, I love Cas Gasi (which is a favourite of Kate Moss and Mario Testino) and the beautiful, Can Lluc.
Sometimes it's lovely having your own villa and private space. If this is more your style, check out chicibiza.com for some of great (and affordable) properties on the island.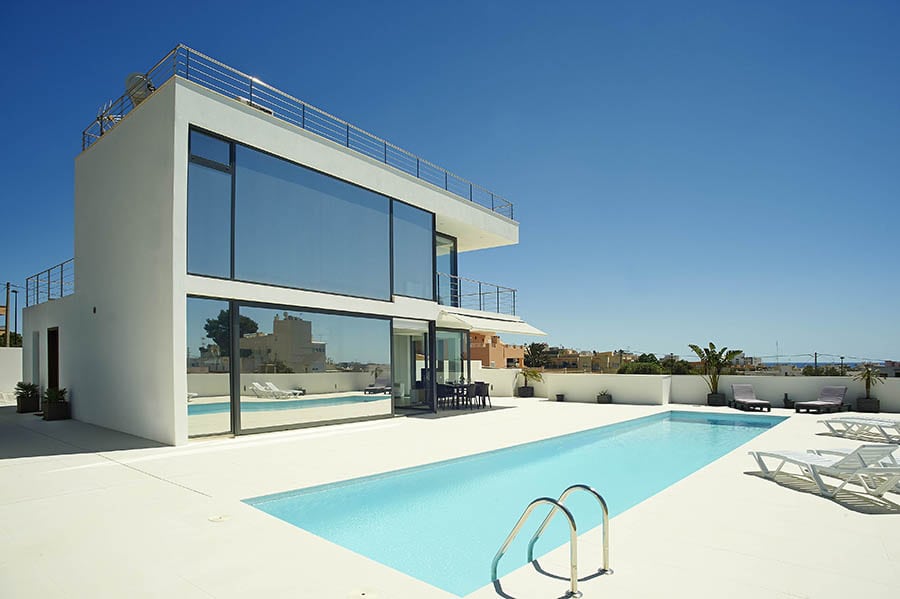 The Villa – Chic Ibiza Villas
If you're in a larger group and want your own space, there are hundreds of fantastic villas dotted all over the island. But it's hard to know which one to choose. I would head to ChicIbiza.com for some great properties, they have everything from urban apartments, traditional Balearic villas, to ultra modern, luxury party pads like Casa Cristal pictured above.
Villa catering is all the rage here now, whether husband and wife team Nico and Marilena of Organic Acai, bring along a hearty breakfast or the BBQ specialists at Cook Ibiza, rustle up a chargrilled feast for you by your pool, healthy ecologically sourced menus are definitely in fashion and take the stress out of feeding your entourage.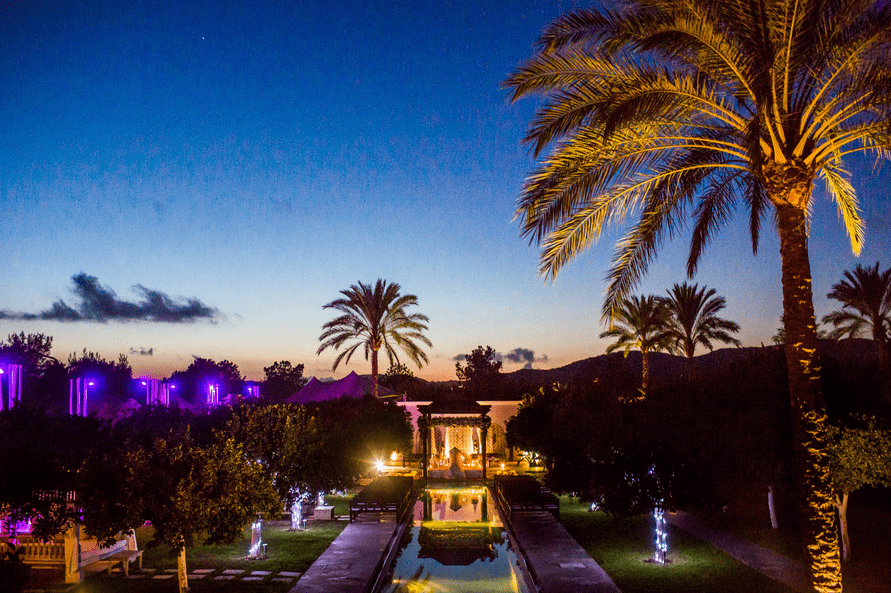 Stunning grounds at Atzaro
The Spa hotel – Atzaro Ibiza
If you truly want to get away from it all and indulge in a little pampering, head to the serene and enchanting Atzaro Hotel. Hidden away in the heart of the island, amidst orange blossom filled fields, the floral gardens provide the perfect backdrop for you to while away the afternoon.
I often split my stay spending a few days partying in town, then checking into Atzaro for the last few nights, to detox and chill, before heading home.
The grounds are spectacular with turquoise, lap-pools, perfectly manicured lawns, tranquil outdoor restaurants and rustic, private bungalows and rooms.  In high season they host parties, art exhibitions and fashion shows in the oriental gardens.
The La Veranda restaurant headed up by chef Lucia Ferrar, serves exquisitely presented, healthy gastronomic, Spanish delights. I love the Tuna tataki and papaya salad or try the burattina with tomatoes, picked fresh from the garden.
My favourite part of the hotel is the indulgent spa, with a wonderfully zen atmosphere. Book in for an Elemis or Natura Bisse treatment and feel totally blissed out. Atzaro is my go-to hotel in Ibiza for the ultimate, pampering experience.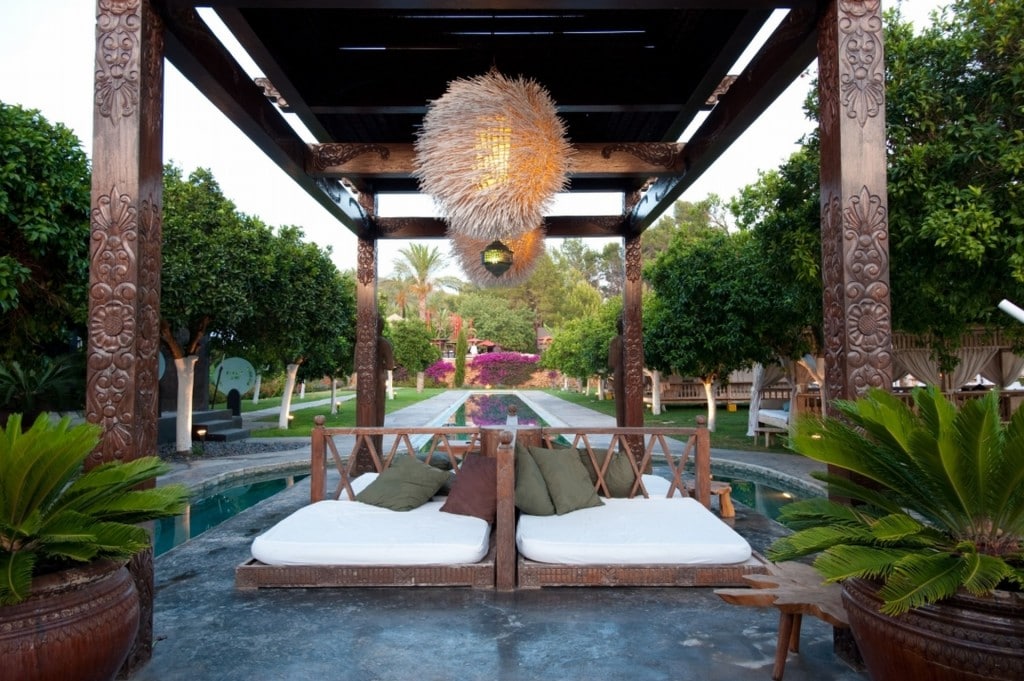 Day beds at Atzaro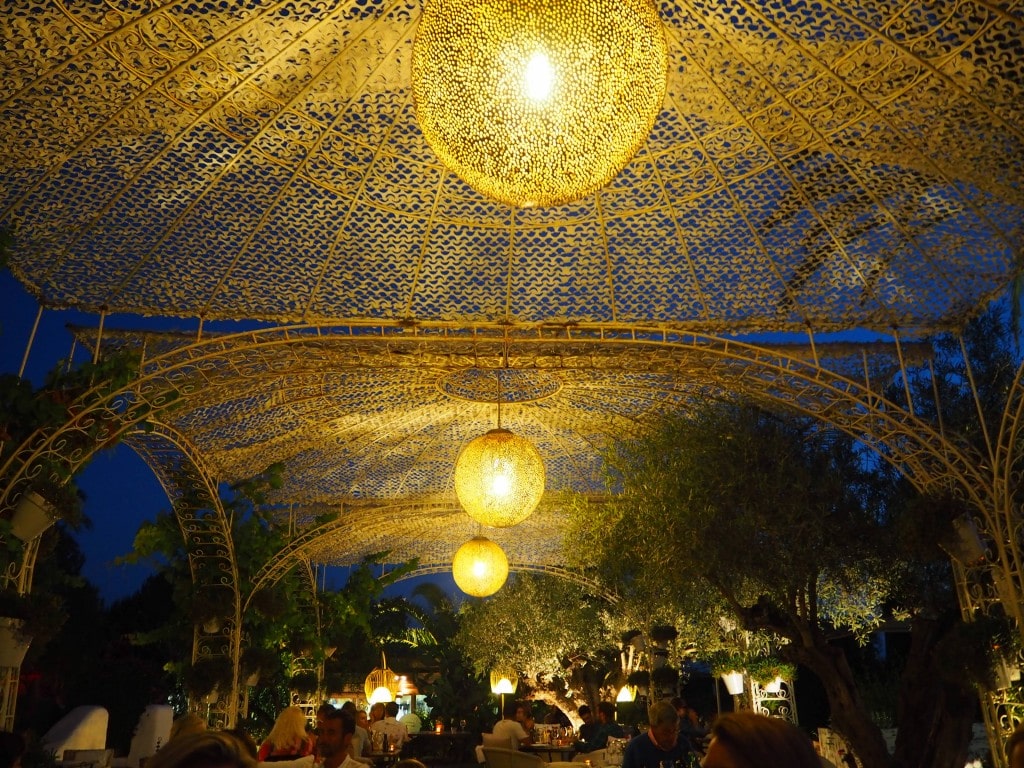 Al fresco dining at La Veranda, Atzaro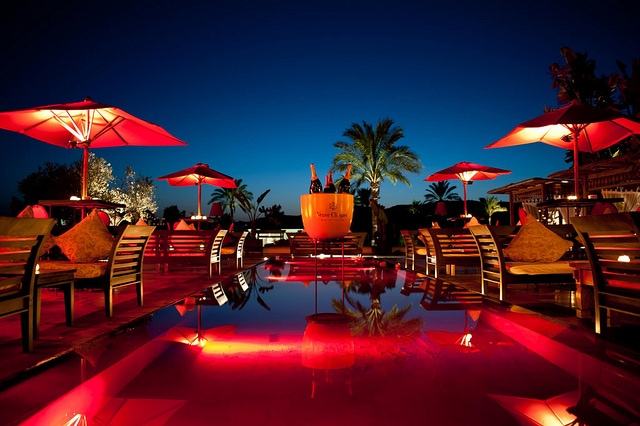 After dinner drinks at the Veuve Clicquot bar and club at Atzaro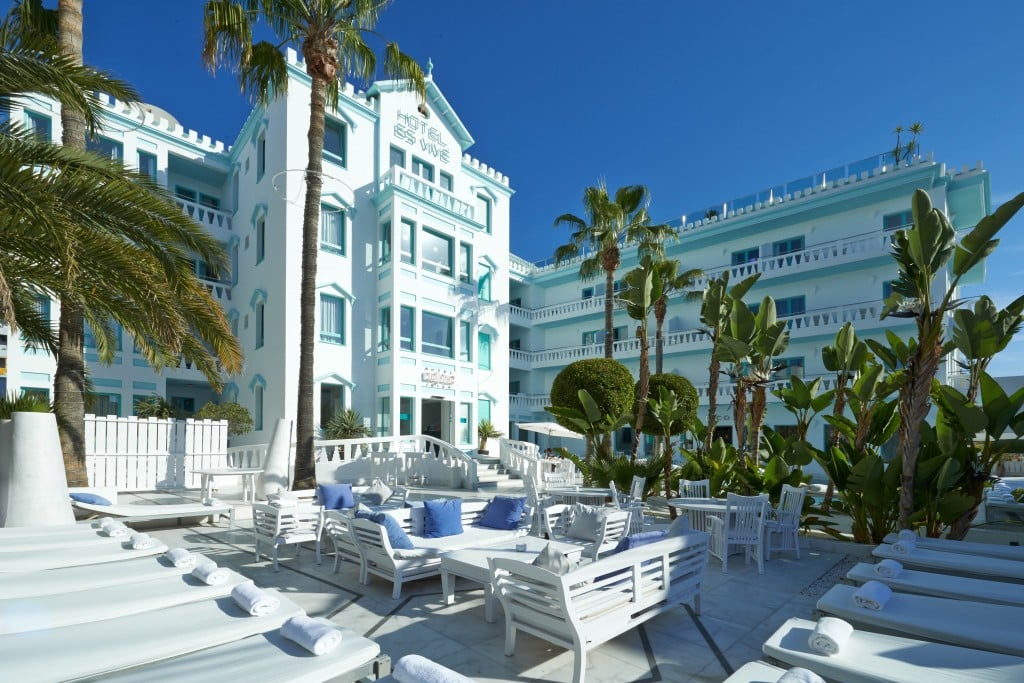 The Party Hotel – Es Vive
Set in the perfect location for Ibiza party people, (it's equidistant from Ibiza Town and Playa d'en Bossa), you can't find a better boutique abode than this Art Deco inspired hotel. With a stunning white washed roof terrace, a 24hr (sound proofed) night club on site and a clientele that boasts international DJ's, fashionistas and style savvy celebs, this is one of my favourite places to stay on the island. Whether you're in a couple or a group of friends, I highly recommend Es Vive for clubbing holidays in Ibiza.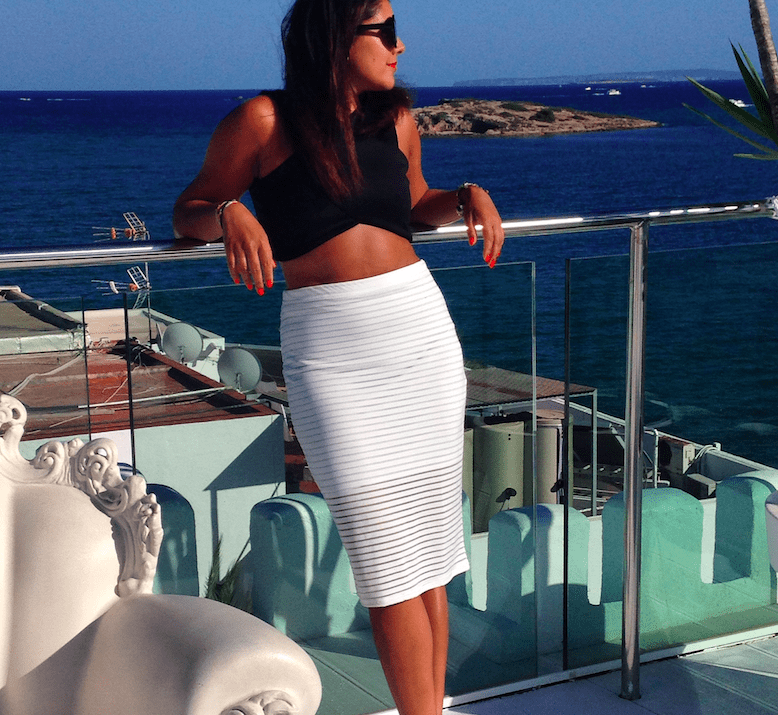 Me posing on the stunning white washed roof terrace at Es Vive. The best sun trap for topping up the tan, whilst listening to chilled house tunes and drinking an iced cocktails.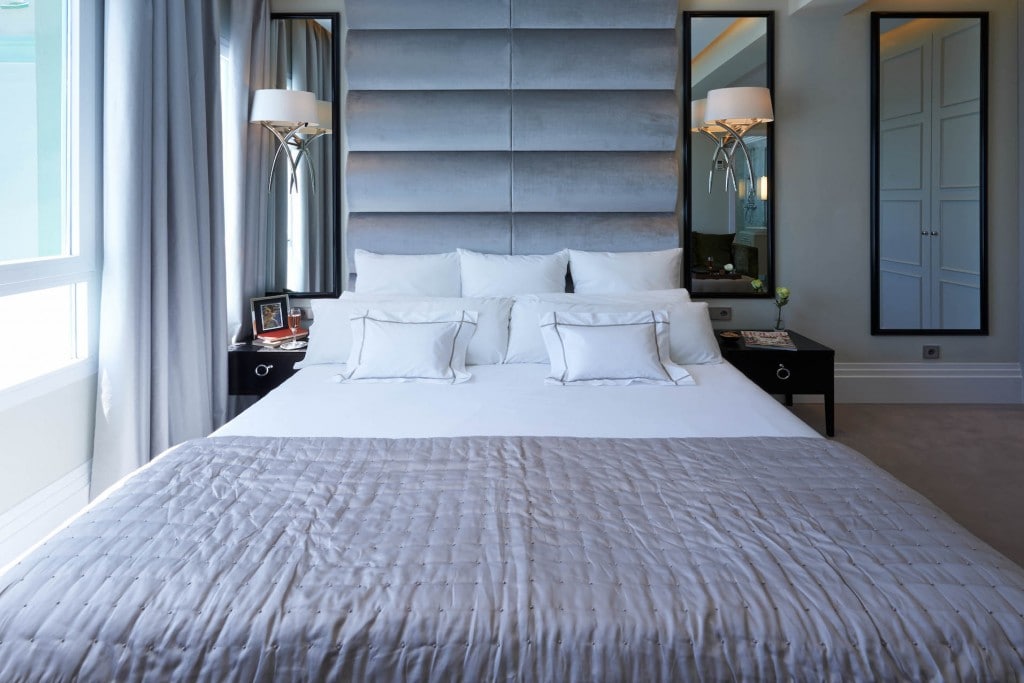 The newly refurbished rooms at Es Vive – chic, modern and minimal.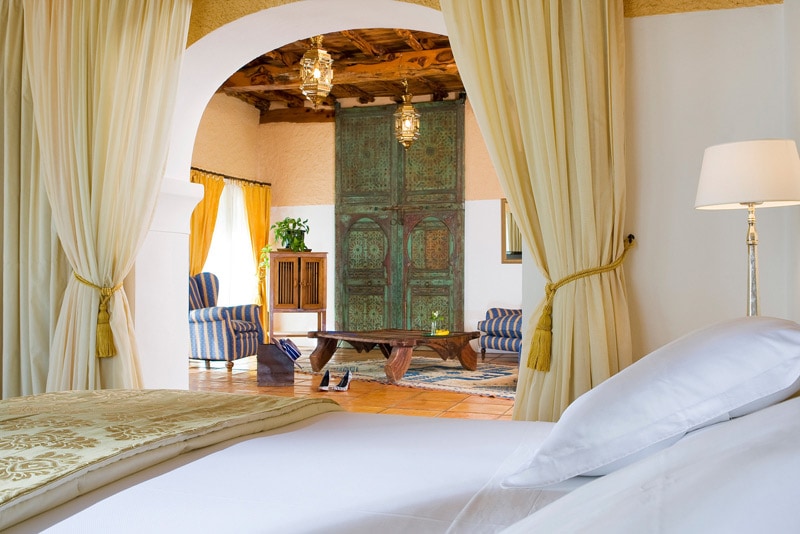 The Countryside Retreat – Cas Gasi (pictured above)
Run by the lovely Margaret and her family, Cas Gasi is a charming agro-tourismo hotel, located on the tranquil, pine filled rural side of the island. The Decor is an eclectic, mish-mash of architectural salvage, elegantly put together with a Morrocan vibe.
I stayed in the romantic honeymoon suite, with my own personal library full of travel books belonging to the globe trotting family (pictured above). The secluded pool side terraces and hideaway day beds within the grounds, add an air of privacy. It's a firm fashion favourite, great for shoots. No surprises then that both Kate Moss and Mario Testino have stayed here.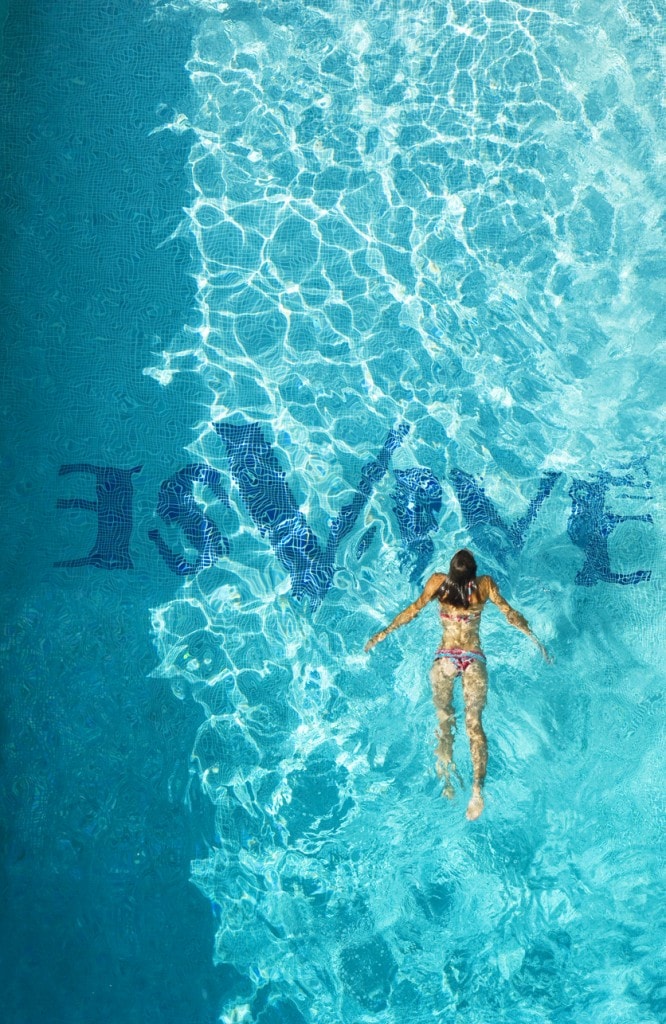 Monarch Airlines Facts:
Monarch, the scheduled leisure airline, operates flights to Ibiza from Birmingham, London Gatwick and Manchester airports during the summer season with fares, including taxes, starting from £41.99 one way (£67.98 return)
For further information or to book Monarch flights, Monarch Holidays or Monarch Hotels, please visit www.monarch.co.uk