Italian Wedding in Petritoli
 Italian Wedding in Petritoli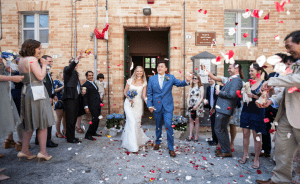 Where? Palazzo Mannocchi, Petritoli.
Exactly? Le Marche region, Italy, nearest airport – Ancona.
Why? The wedding of my old school friend Sui Chung to his beautiful bride Liz Mundy.
Companions? 
80 guests plus Miss and Mr Style Traveller.
Special Thanks
to wedding photographer 
Steve Shipman
 for letting me use some of his beautiful images, credited with an SS in the caption.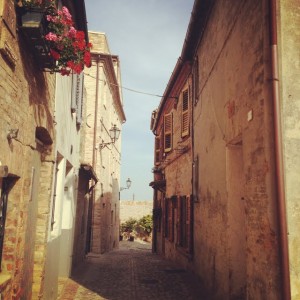 A Summer Wedding in Italy
I was lucky enough to be invited out to Italy for a week, for the wedding of my old school friend Sui.  Held at the stunning 17th century Palazzo Mannochi in the tiny town of Petritoli, 80 guests and I had helped Sui and Liz celebrate their big day.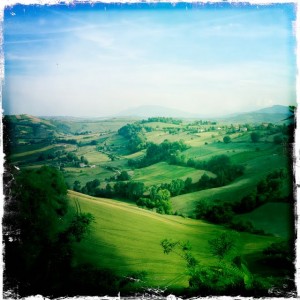 The rolling hills of Le Marche, Italy.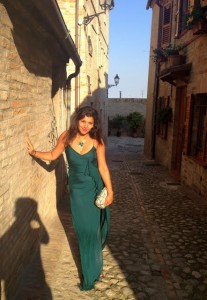 I wore a Pinko emerald dress for the big day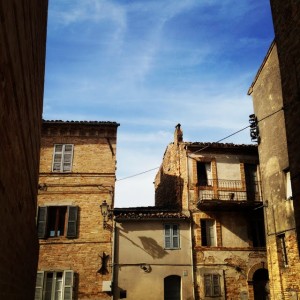 Petritoli is a picture perfect Italian town situated high on a hilltop, with a quaint town square, clock tower, 3 restaurants and even fewer shops! Framed by the azure Adriatic coastline to the east and surrounded by lush green countryside, it was the perfect setting for an Italian summer wedding.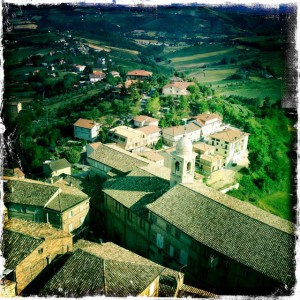 The view from my bedroom window in the Palazzo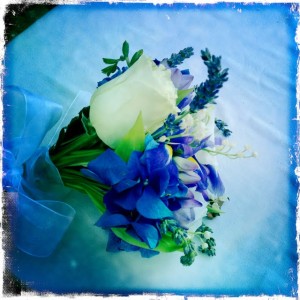 The Big Day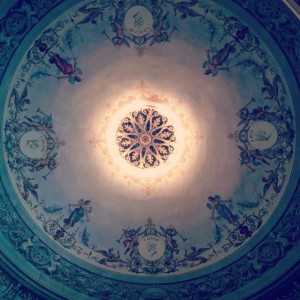 Frescoed ceiling in the Theatre
After a leisurely few days lounging, sunbathing and eating as much delicious local Italian food as possible, the big day arrived. We all enjoyed a lazy Saturday morning breakfast followed by a dip in the pool, got ready (see what to wear to a summer wedding) and then made our way through the old town to the wedding venue. Accompanied by a string quartet, in the baroque surroundings of the town theatre, the ceremony was utterly romantic.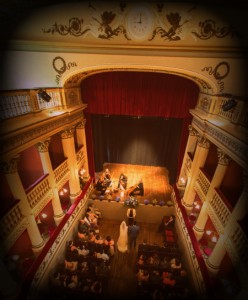 View from the top tiers. SS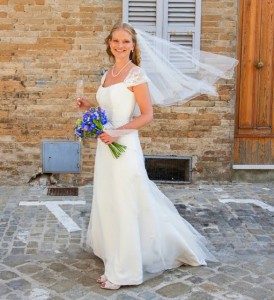 Liz looked like a fairytale princess in a stunning ivory wedding dress! SS
Time to celebrate….
After the ceremony we all moved to the old town square for an al fresco wedding breakfast.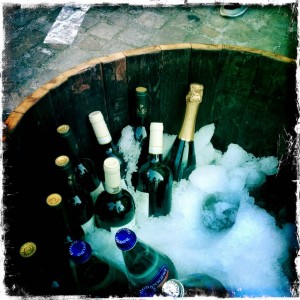 Wine and champagne flowed all day and evening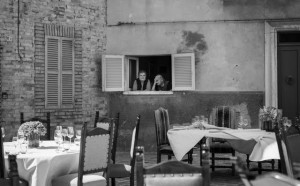 The local residents get in on the action! SS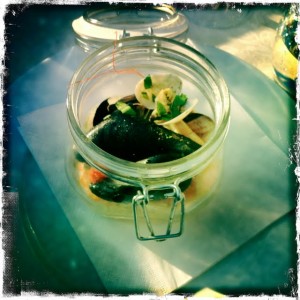 The fish course arrived in pretty little glass pots
Anti-Pasti    ss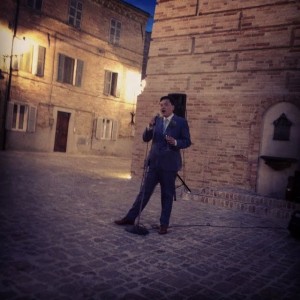 The grooms speech was eloquent and hilarious!
After dinner…
As the sun set over Petritoli, dinner was followed by the speeches…the cutting of the cake….the throwing of the bouquet and of course……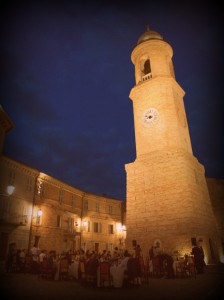 time to party..                                                                   ss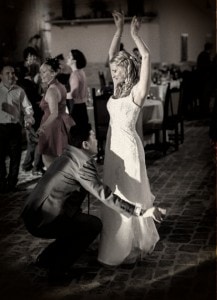 Sui and Liz throwing some shapes on the dancefloor. SS