Marrakech – Dar Lain – A Palace Of Your Own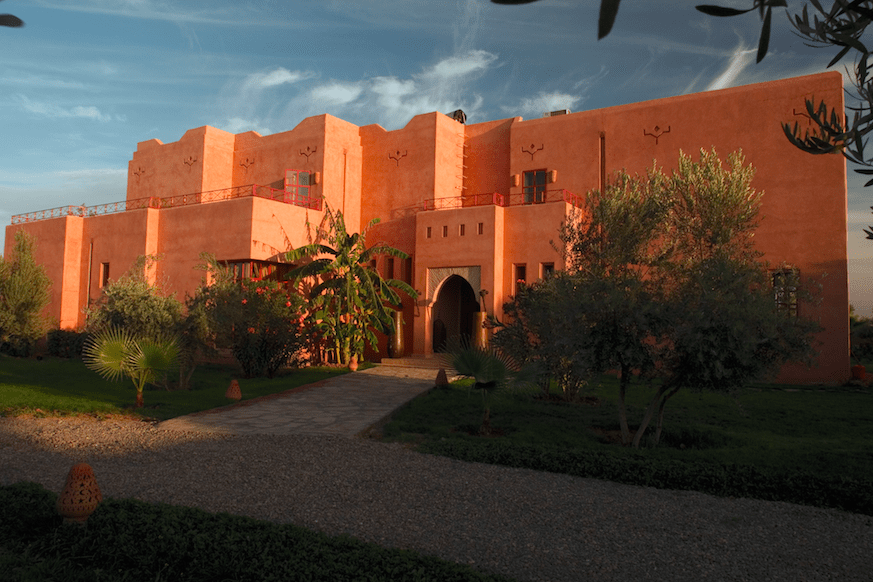 Marrakech – Dar Lain – A palace of your own
Where? Marrakech
When? Sept 2015
Exactly? Dar Lain, part of the Hideaways Club of exclusive, international, luxury properties.
From the facade the impressive Dar Lain (Dar means grand house in arabic) looks more like a fortress or a citadel, but on the inside it's altogether more homely and furnished in a luxury, elegant Moorish style. This spectacular, palatial property was my home away from home for the first 3 days of my Marrakech adventure. The fact that Dar Lain also happens be a 4 double bedroom villa, meant that I could invite all of my best friends along to share the experience! And what a fabulous time we had too!!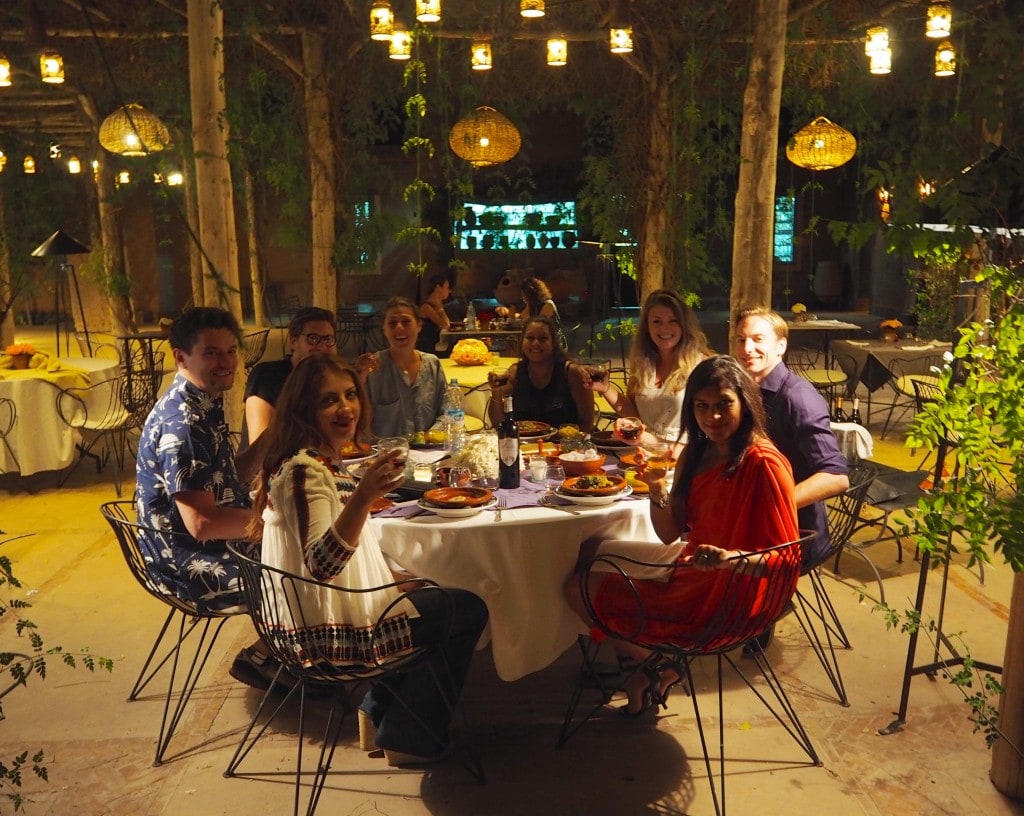 Me and my lovely crew having a chilled dinner on our first night in Marrakech… Tagine anyone?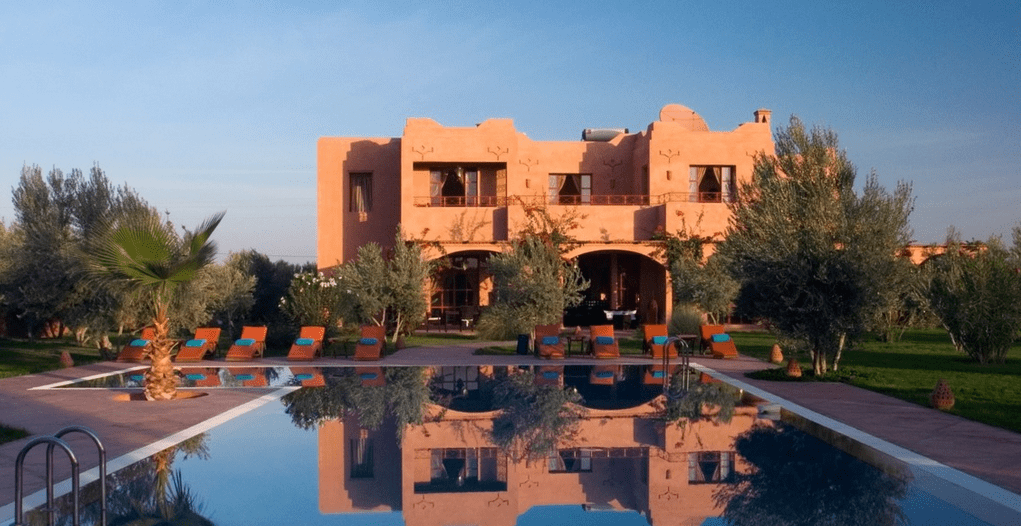 Marrakech has a wealth of stunning properties, but what makes Dar Lain stand out from the rest, is that it feels like a home (a very splendid one indeed), but comes with a full concierge service. So you have all the privacy of being in your own space, with all the added benefits and services of a luxury hotel.
Everything is efficiently and perfectly organised for you and your guests, from being picked up in luxury transport at the airport, to being booked onto VIP tables at all the best restaurants and clubs in Marrakech. Half an hour drive away from the hustle and bustle of the city, the house provides the perfect backdrop for an idyllic and peaceful countryside retreat. The paps won't get you here!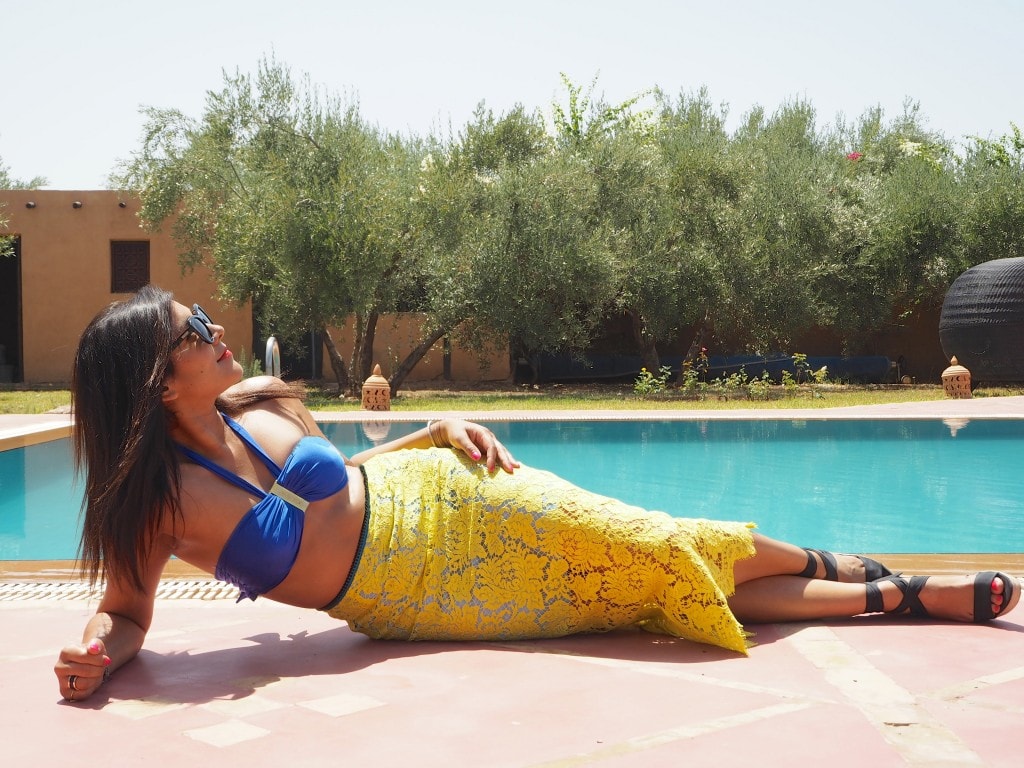 Above: Strike a pose – me posing by the pool for the Fenwick/The Style Traveller photo shoot. This is how I normally dress to sunbathe of course! Bikini top by Nicole Olivier at LilyLola Skirt by Preen at Fenwick of Bond Street.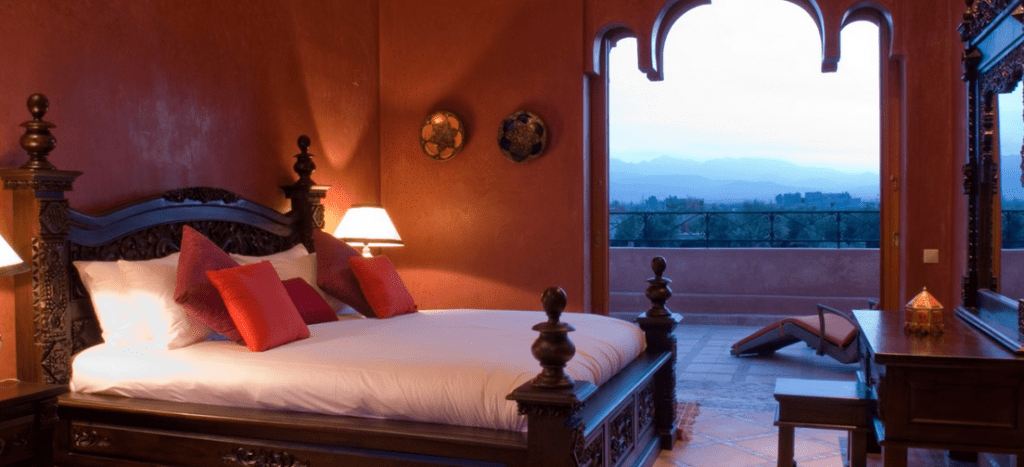 The bedrooms are decorated in splendid, traditional Moroccan style, with warm ochre walls, elaborately carved furnishings and intricately, tiled fireplaces. Each bedroom comes with it's own sun drenched terrace or balcony, overlooking the majestic Atlas Mountains. Sit out on the veranda at sunset with a chilled glass of prosecco, listening to evening call to prayer, a more hauntingly, beautiful experience is hard to come by.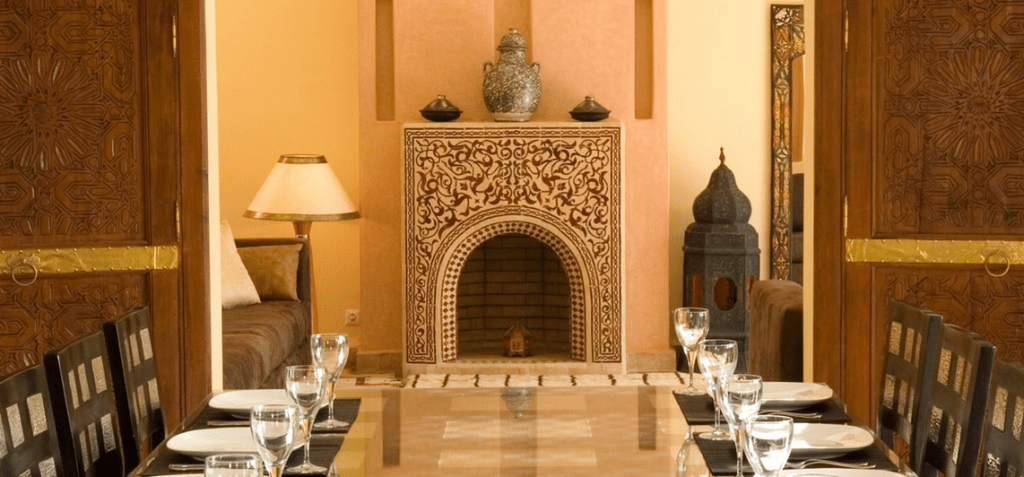 Above: The regal dining room and below the view of the pool from my balcony. The grounds are beautifully manicured, filled with olive orchards, bougainvillaea and lily scented walk ways. The pool is the perfect size to do lengths in the day or simply laze around in the afternoon sunshine.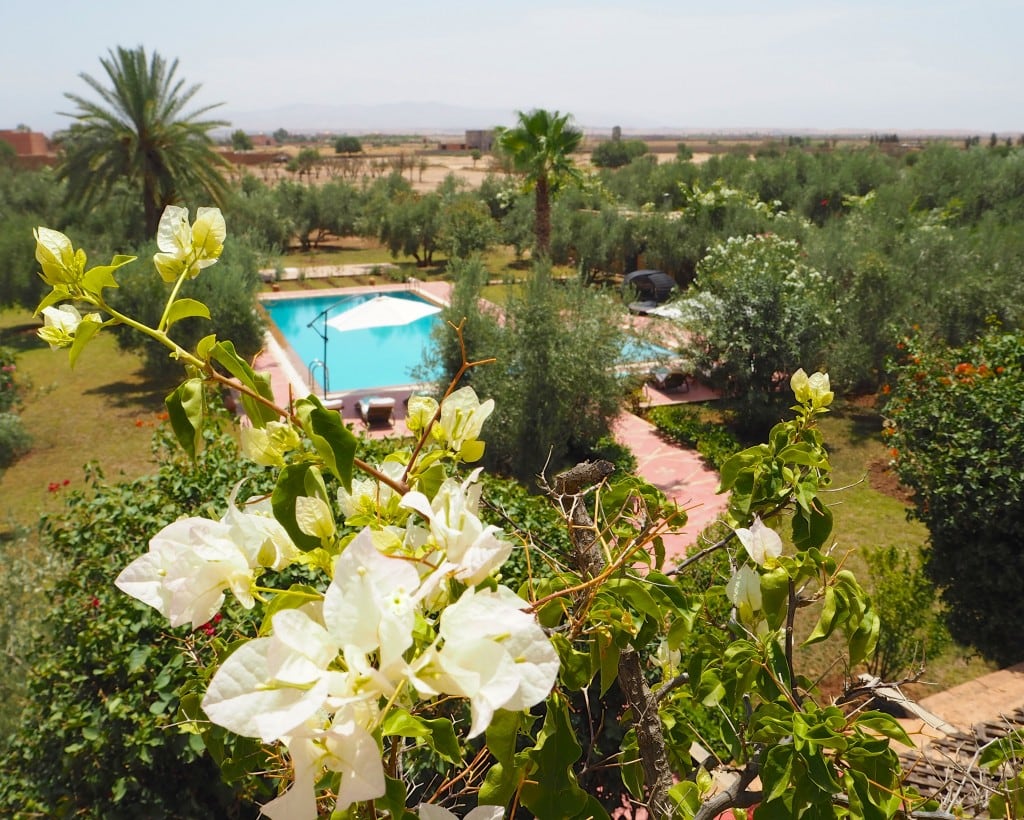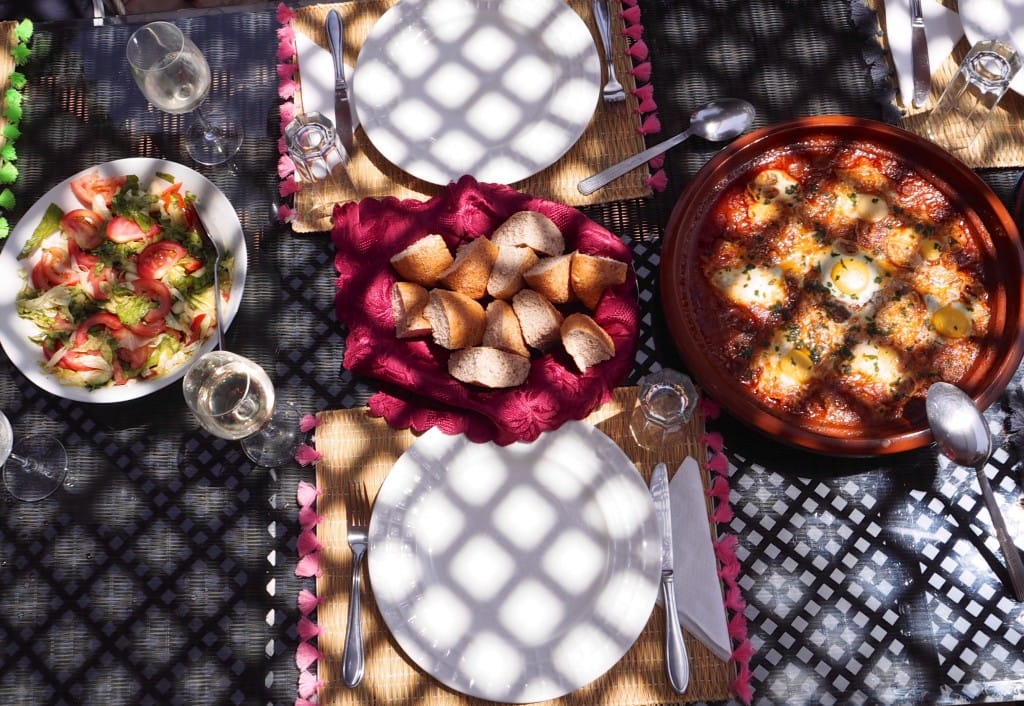 Lunch is served – In house chef, Selma prepares traditional, Moroccan delights all made with fresh local produce, to be enjoyed at the poolside table, under a glittering canopy. Or for a more formal experience request a banquet in the dining room. We had breakfast and lunch prepared for us most days and went out for dinner and dancing in the evenings. Selma's speciality is the kefta tagine with eggs and meatballs, pictured above. Simply delicious!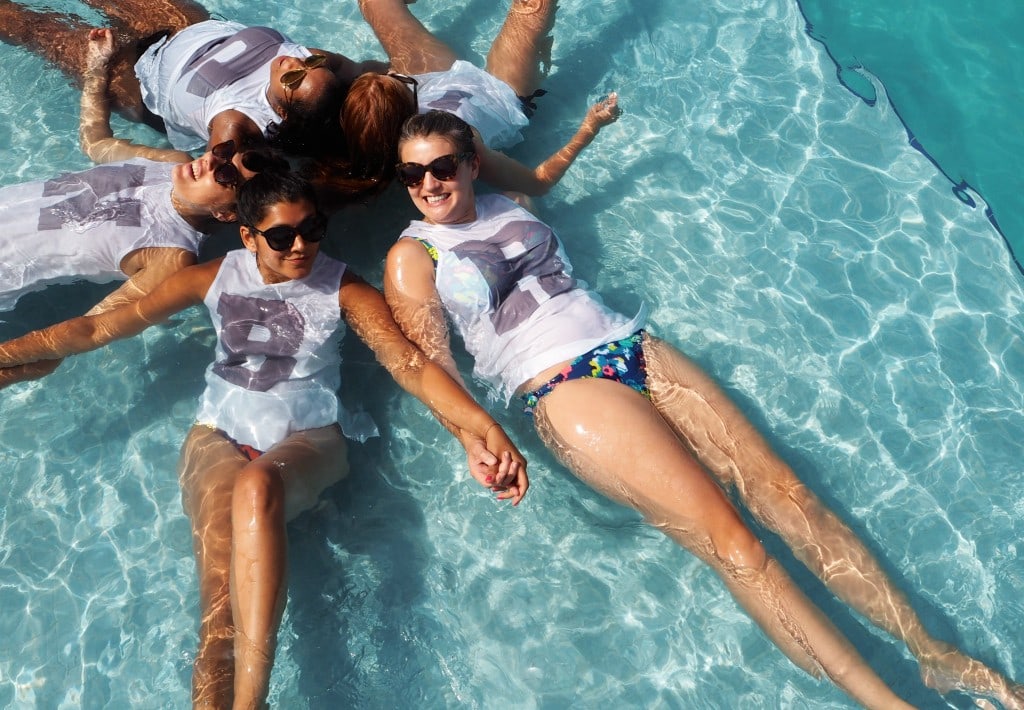 Post lunch synchronised swimming session with the girls! haha!
Below from left to right: Natalie, Lian, Me, Ruby and Sharon posing by the pool in our initialled tees.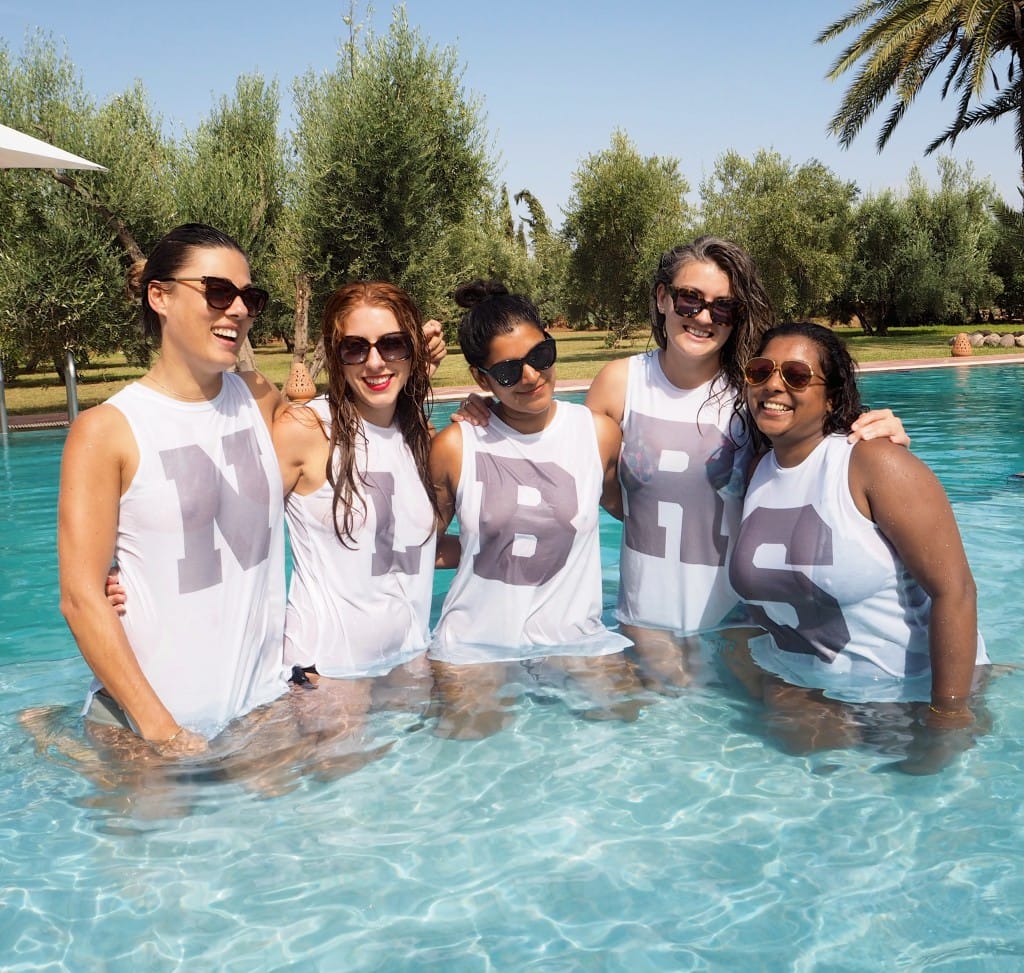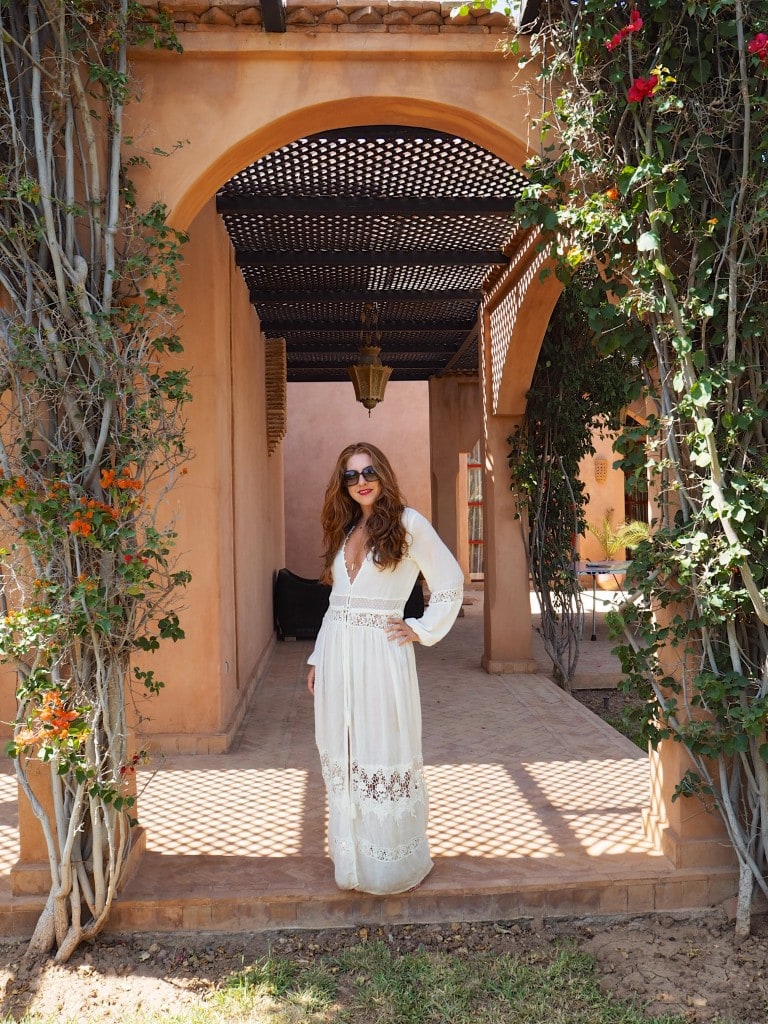 What to wear in Marrakech? Lian strikes a pose on the veranda in a beautiful Zara lace dress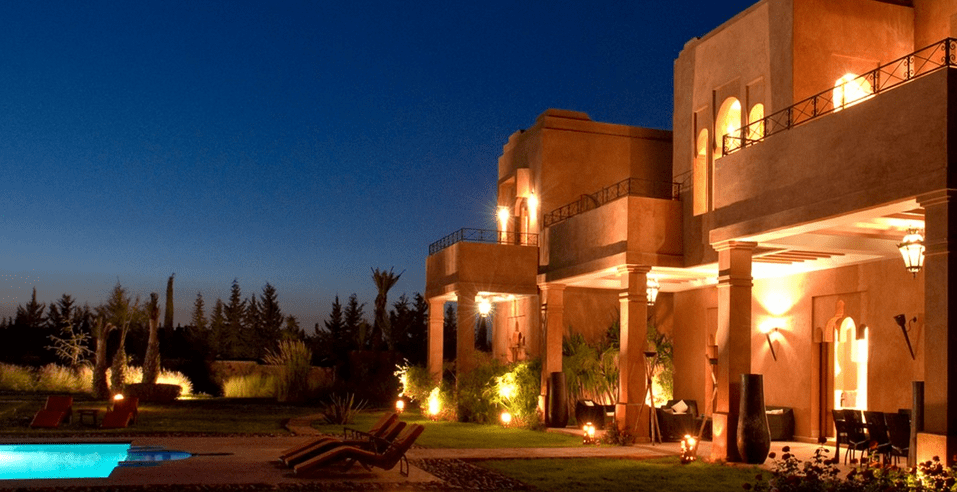 Above – Night falls at Dar Lain.
Below – The crew chilling out by the pool, left to right, Paul, Lian, Sharon, Ruby, Me, Adrian, Natalie and Matt.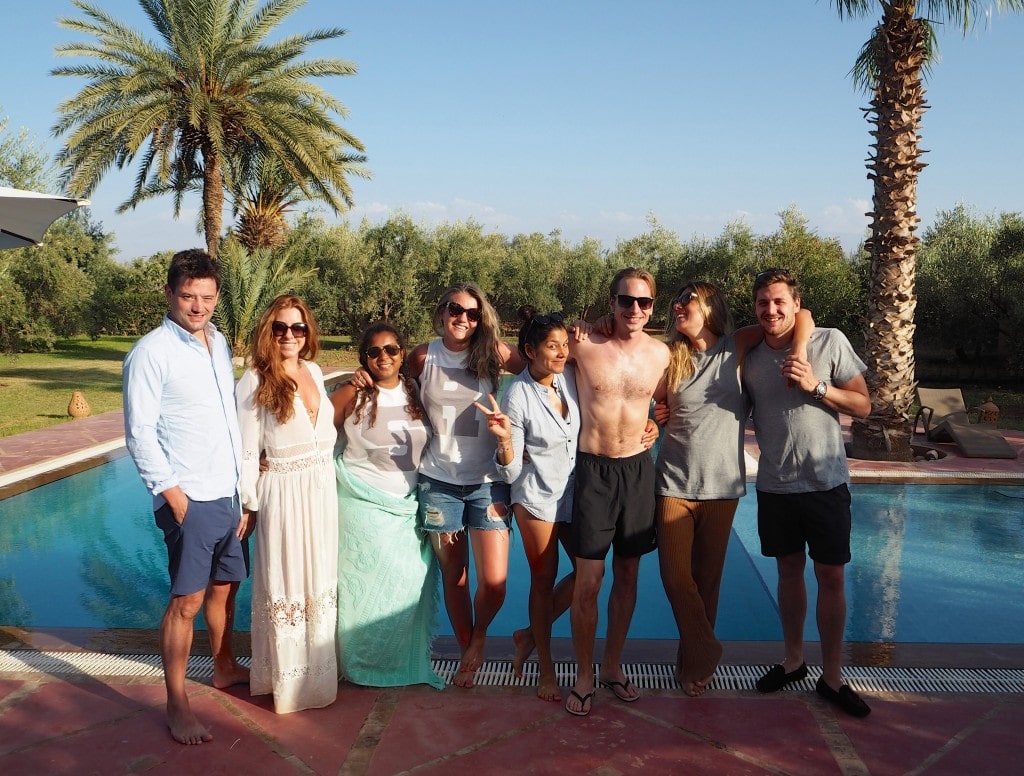 To see the full Style Traveller photo shoot click here – Marrakech fashion shoot
And for more Moroccan adventures click here.
The details:
The Hideaways Club  is an alternative form of holiday home ownership which allows members to invest in, and holiday in, a collection of luxury homes in fantastic locations across the globe. The Club is designed for those looking to invest in a second home, but who want the flexibility of travelling to different locations without the hassle of maintaining a foreign property.
Goodbye from Dar Lain, next stop Palais Namaskar.