Mexican Adventure – Azulik Tulum

Mexican Adventure – Azulik Tulum
Where? Azulik Hotel and Maya Spa
Exactly? Tulum, Mexico
When? December 2016
Why? On the third leg of my Mexican adventure with my lovely friend and excellent photographer, Olivia Ebeling, we stayed at the spectacular eco, hotel Azulik. Tulum ruin Photo above taken by @showinmyeyes.

The extremely instagram friendly hotel is built from a natural drift wood and glass. It's philosophy is truly inspirational, the ethos is to reconnect with nature and your inner self. Minimal electric sockets, outdoor bath tubs, candle light in the bedrooms and wifi in communal areas only are part of it's back to basics plan.
From the Mayan ceremony of warding off evil spirits with a scented smoke on arrival, to the technology free zones, it's all about  finding yourself, recharging and leaving the stress of urban life behind.
Add to that it's stunningly beautiful construction and location, it's really hard not to fall in love with this incredible property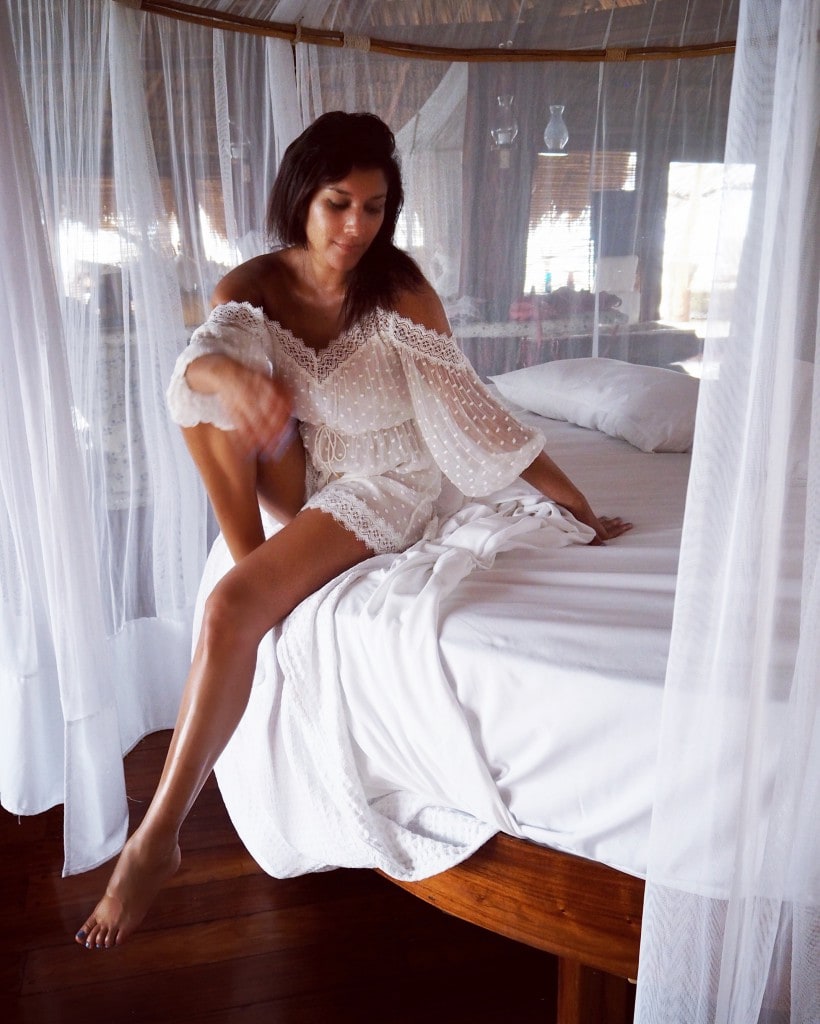 Top photo: Bonnie wears Miss Selfridge pink silk dress on the balcony of the sea facing suite. And above wearing Zimmerman white playsuit in the circular bed.
Here's my Style Traveller photo diary of the final leg of my Tulum adventure.

Sunset on the balcony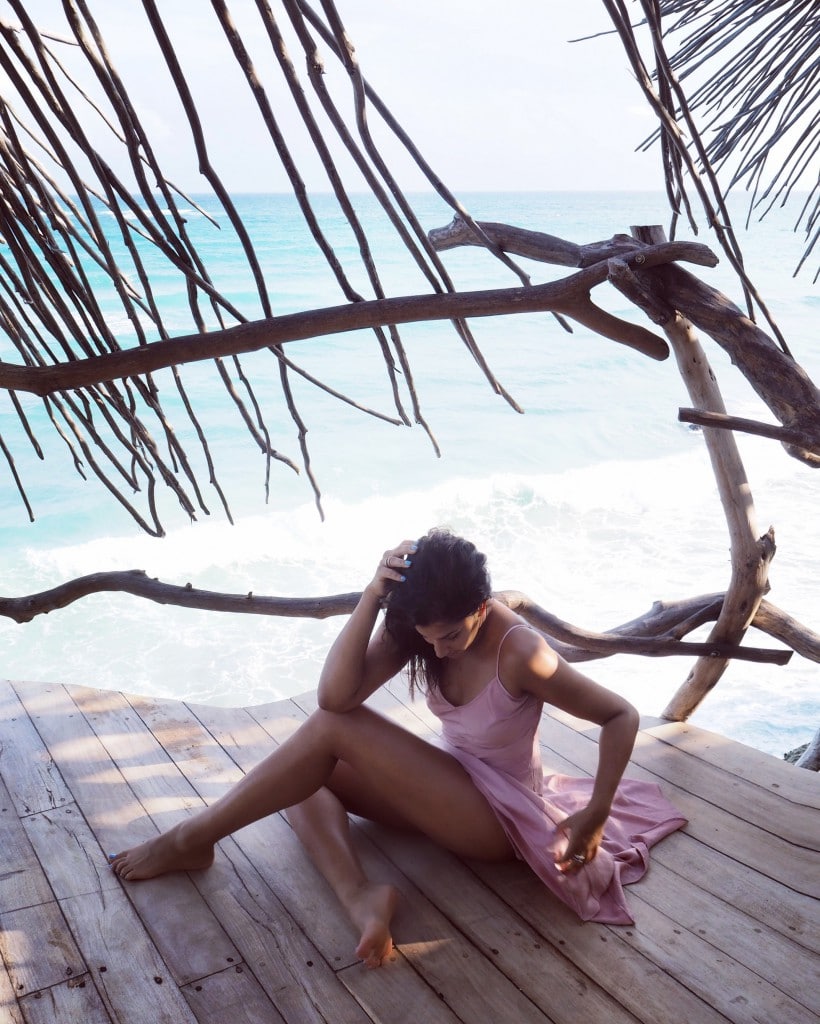 Above: Bonnie wears pink silk slip dress from Miss Selfridge

The view of Azulik from the beach, showing it's intricate driftwood construction.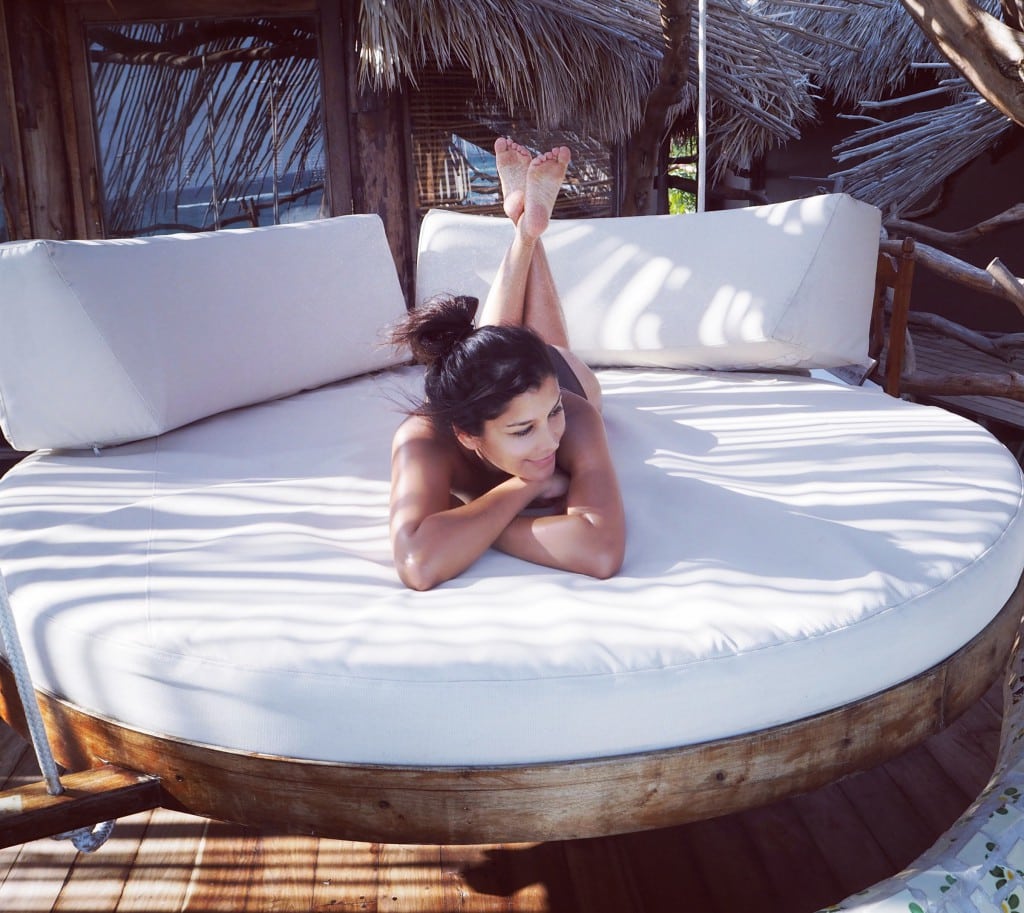 Starting to reconnect with the philosophy at Azulik – getting back to nature (in a luxury way :) on the drift wood terrace. And relax….

Steps lead from the villas down to the sea or the beach club.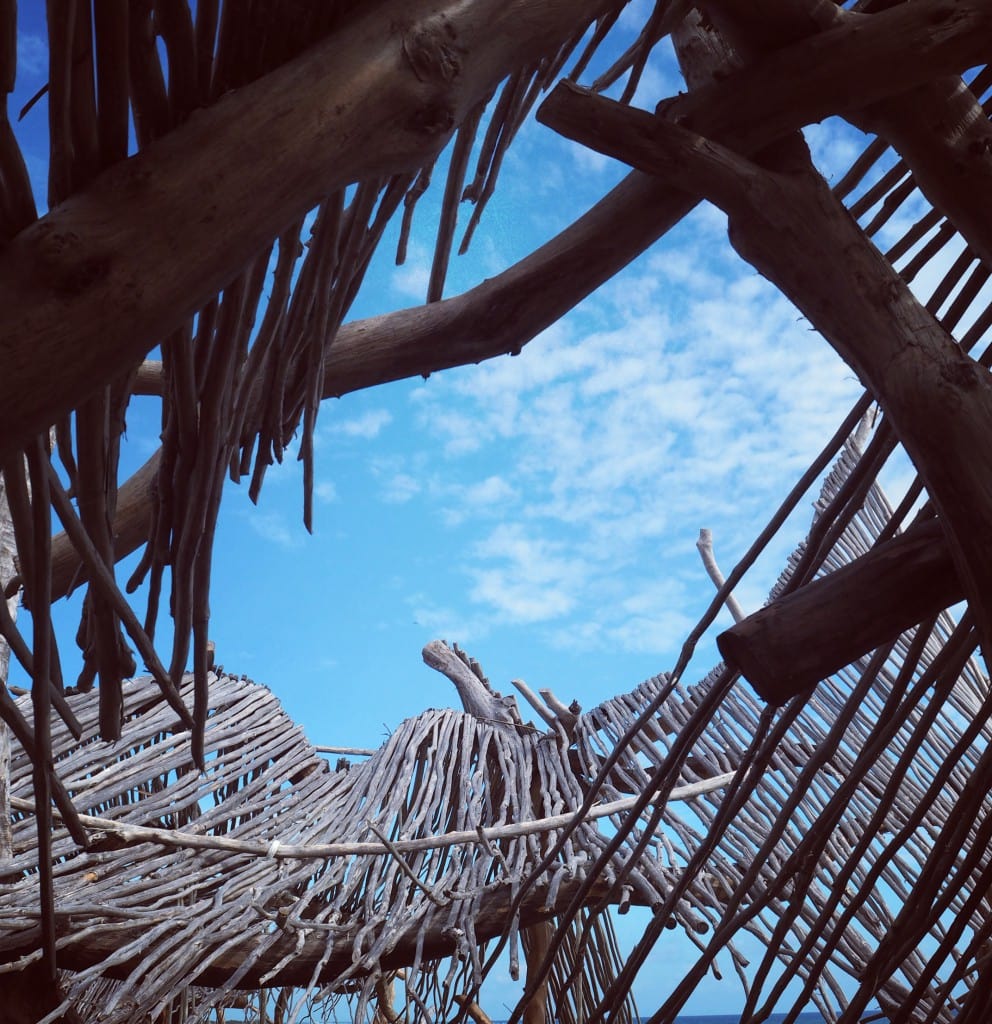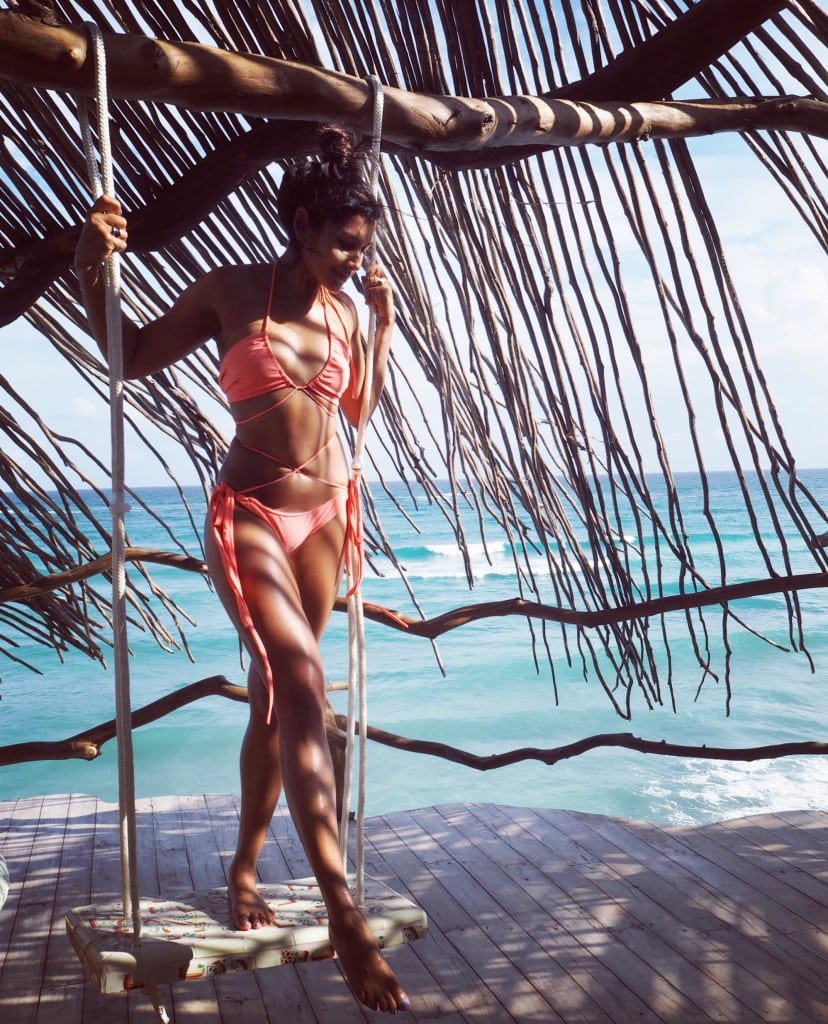 Above and below: Bonnie wears Pretty Little Things bikini.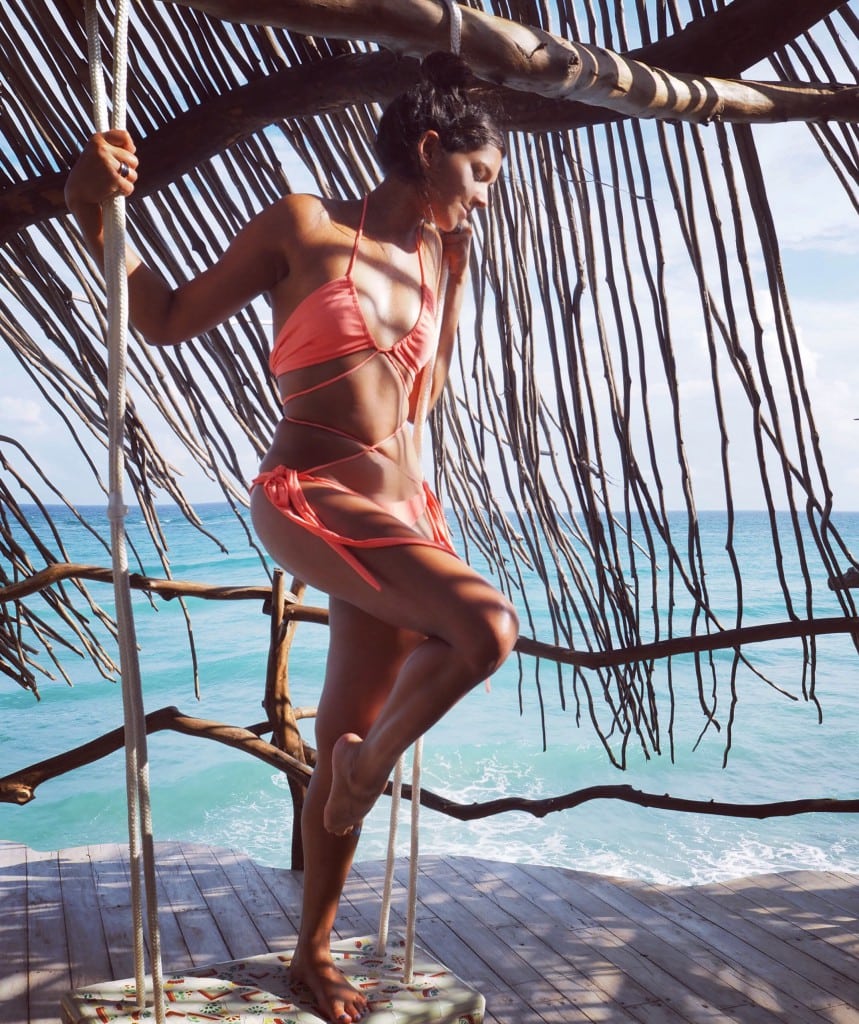 Cenotes – natural sinkholes within cave formations are a natural geological formation found all over Mexico. Many are in Tulum and the surrounding area. It's a wonderful way to spend an afternoon, bathing in the cool, clear waters.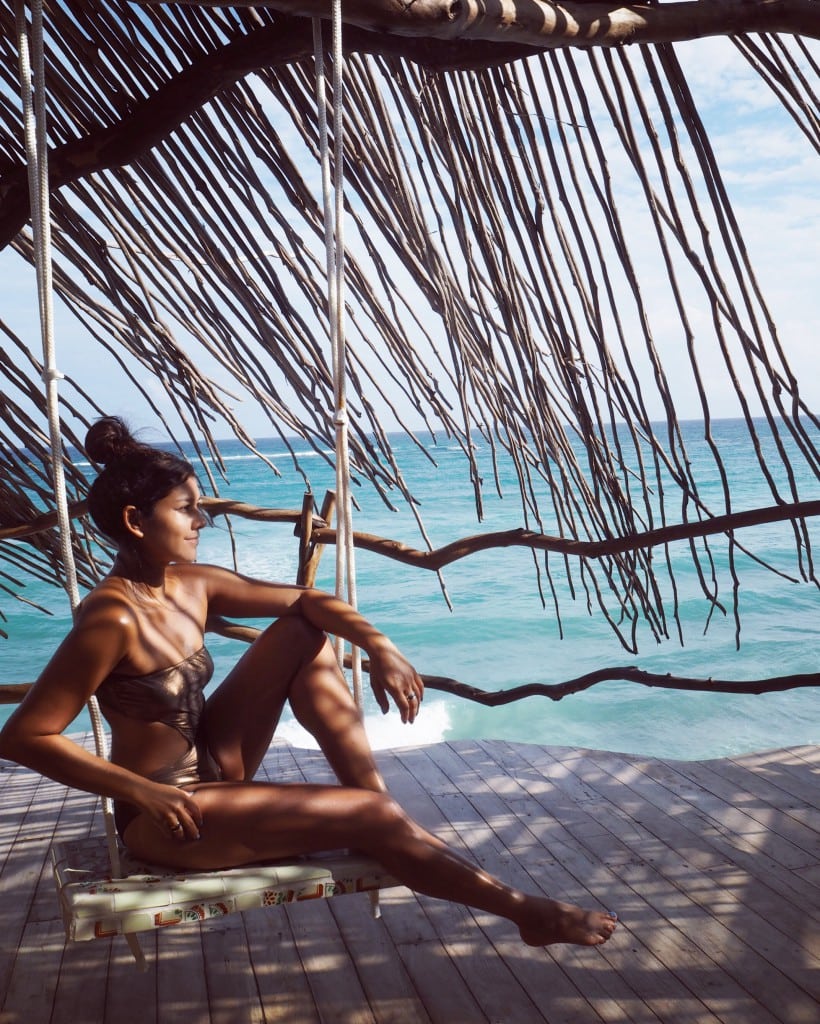 Above and below: Bonnie wears bronze cut out swimsuit from Elizabeth Hurley Beachwear.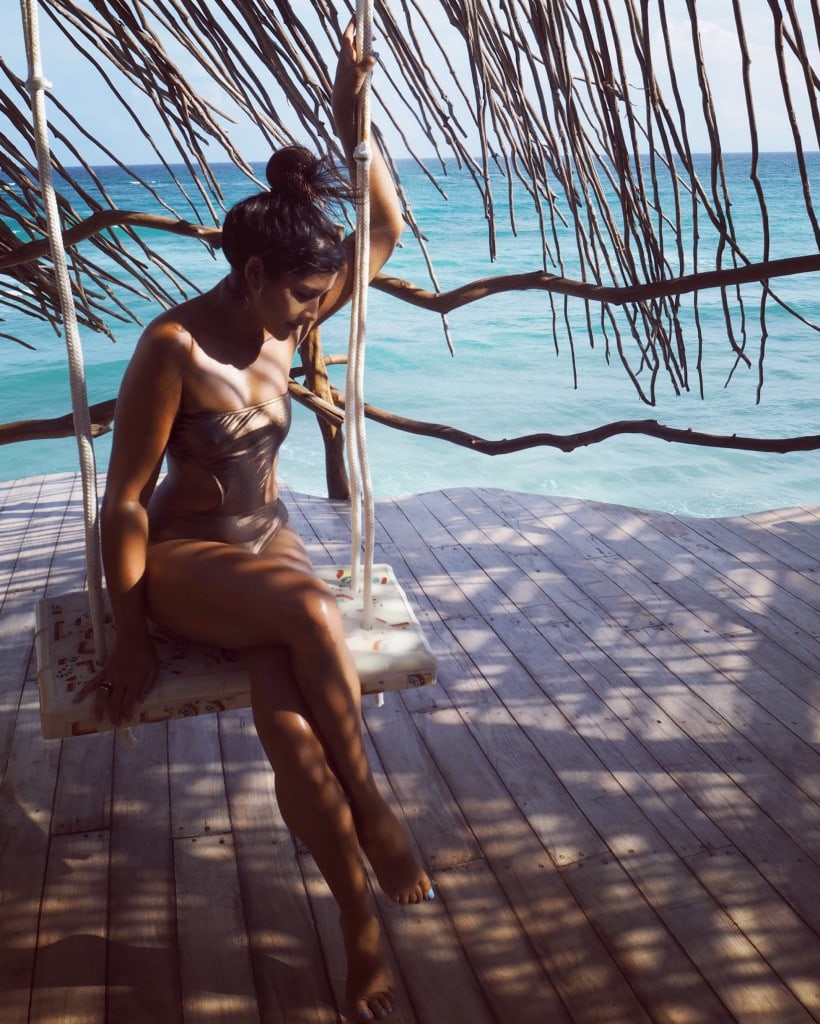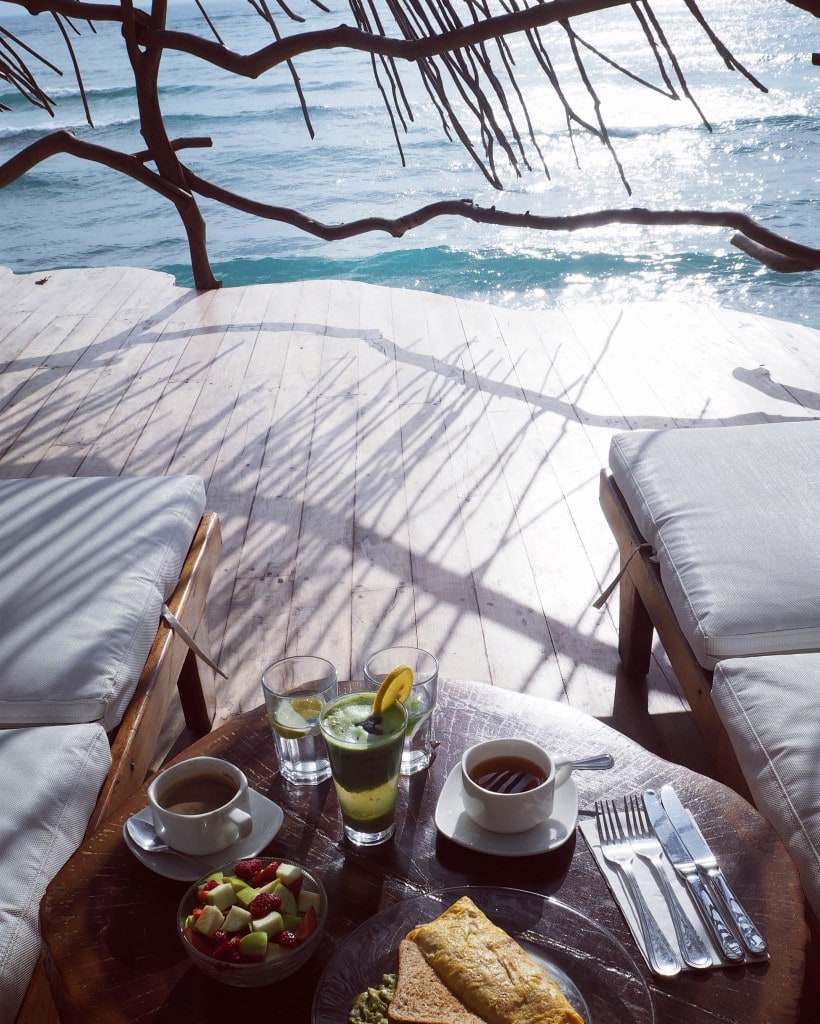 Breakfast on the balcony is the perfect way to start the day. Below: the jungle restaurant at Azulik serves breakfast, lunch and dinner daily. Try the cinnamon pancakes and almond coffee, it's a delicious treat.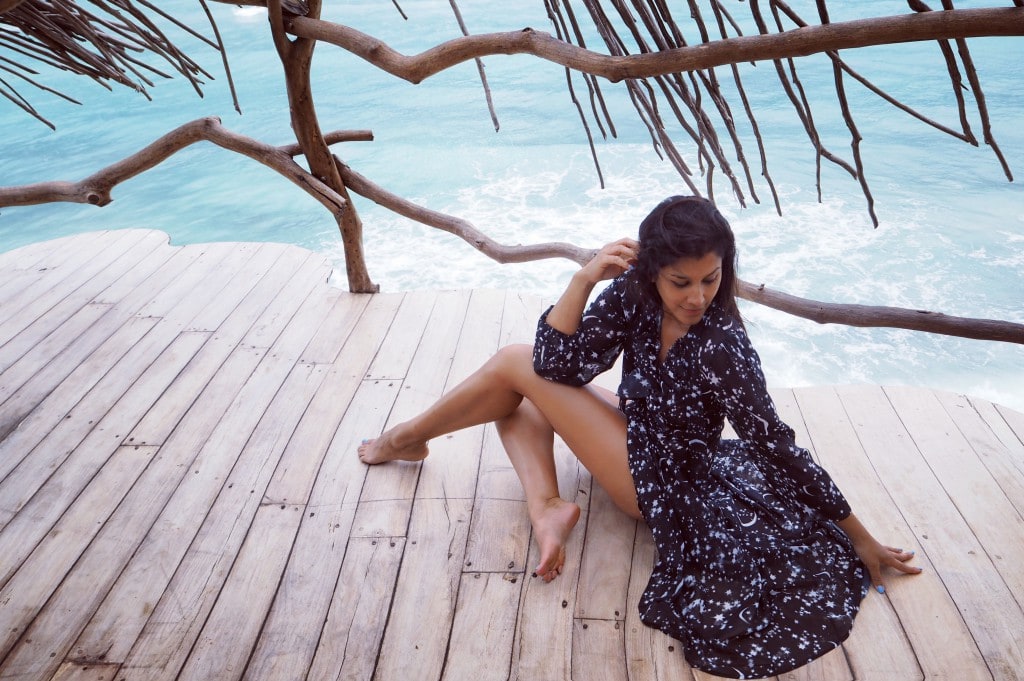 Bonnie wears star print dress by Lily and Lionel.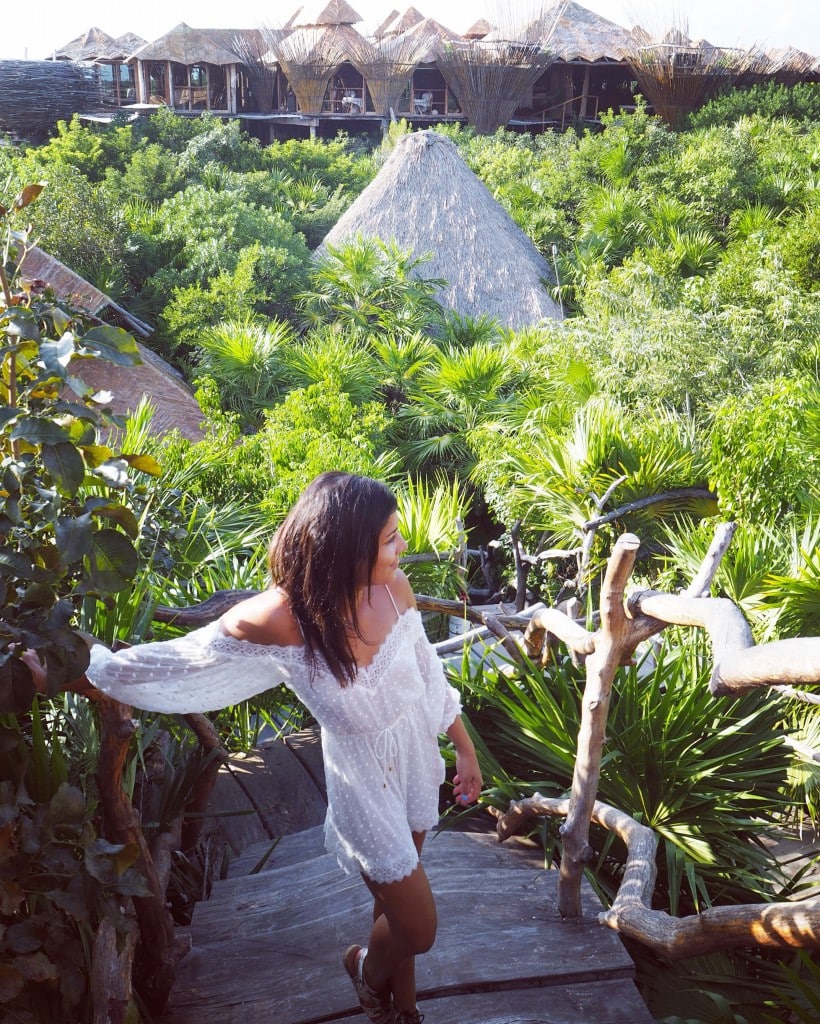 Jungle Massive!
Bonnie wears Zimmerman playsuit above and below, looking out over the central jungle section of the hotel.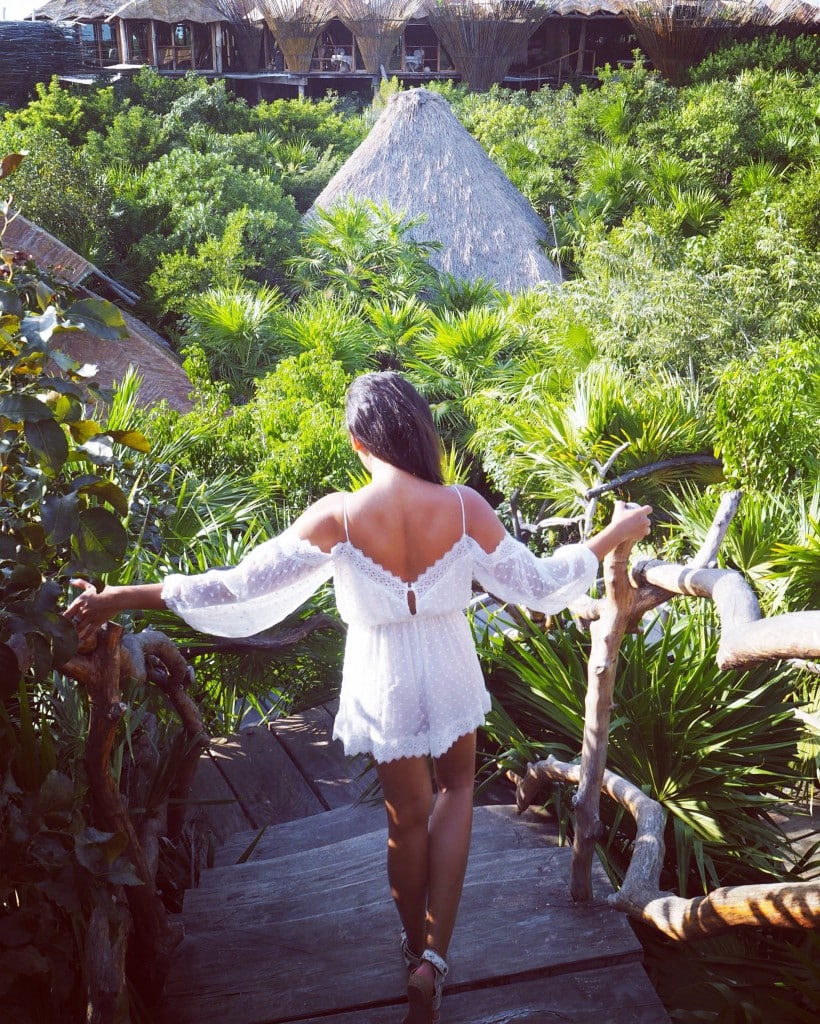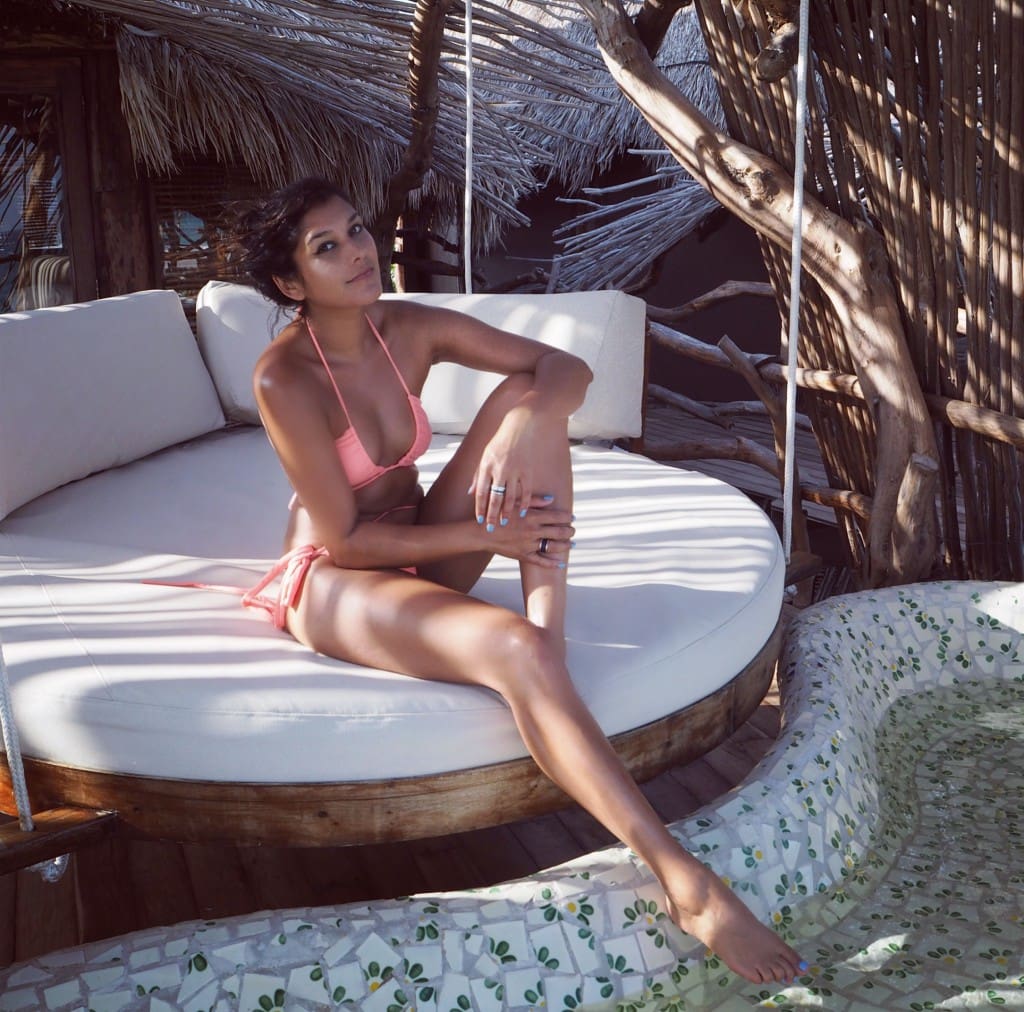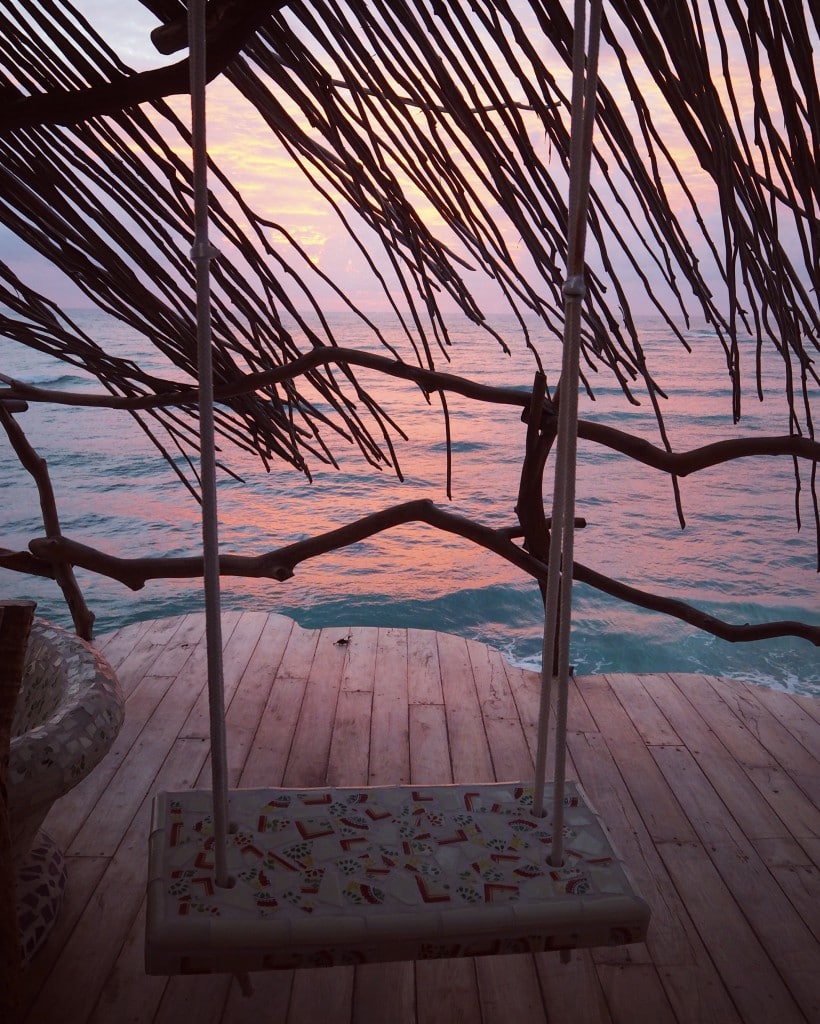 Sunsets and outdoor bathing at Azulik. Bath tub photo credit www.az.jasonchinn.com/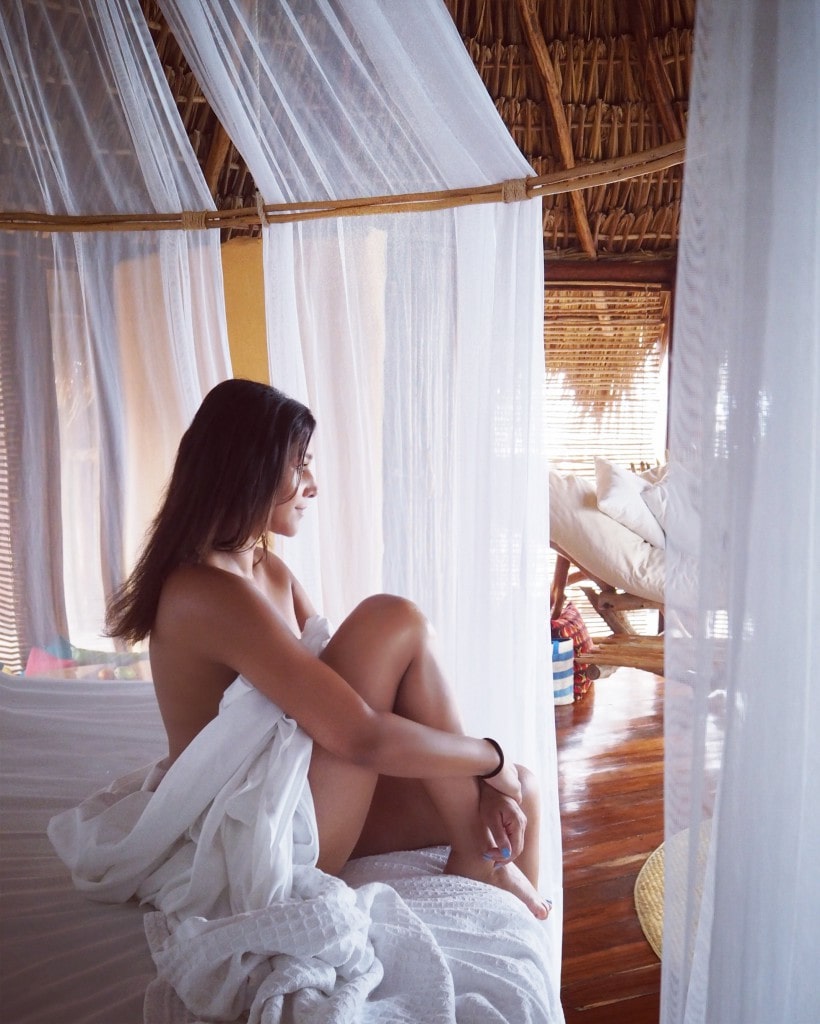 Staying at Azulik was one of the most magical experiences I've had in a long time. The philosophy truly works, I really did reconnect with nature and also get a step closer to finding myself during this trip. For all of you who have stressful, urban, hectic lifestyles and want to disconnect for a while, I would highly recommend this enchanting experience.

Photo credit for the incredible sunset shot above and int he opener check out adam @aqsf1 on instagram!
For more from The Style Traveller Mexican Adventure click here for Esencia Luxury hotel or Papaya Playa Project, Tulums eco, party hotel.