New York After Dark Restaurants Bars and Clubs
New York
After Dark
Restaurants Bars and Clubs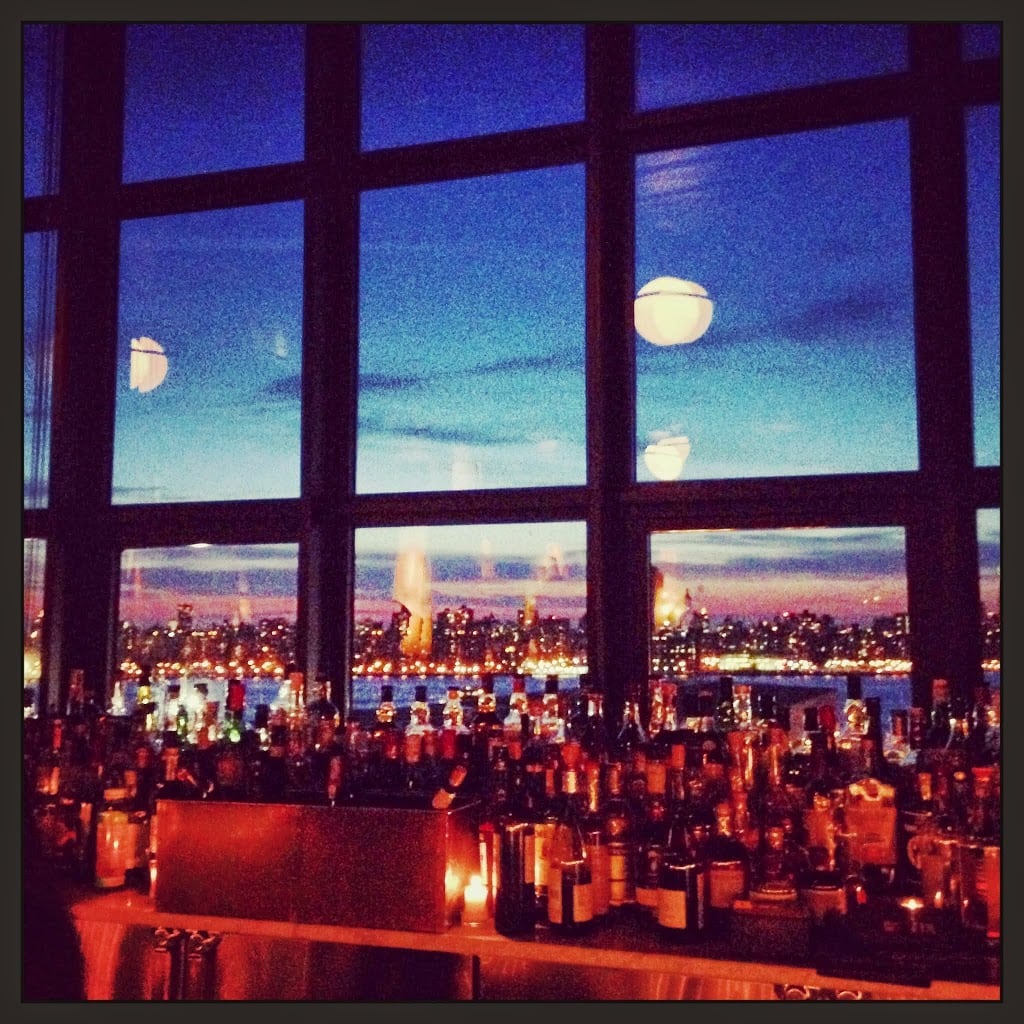 The view from Ides Bar at The Whythe
To condense all of New York's restaurants and bars into one blog post is a completely impossible and thankless task. So instead here is TheStyleTraveller's 24 hour edit of the best places (in my opinion) to eat and drink in this ever changing city. All of these venues I have frequented on my many trips to the city and would happily recommend to any of my friends, or New York newbies.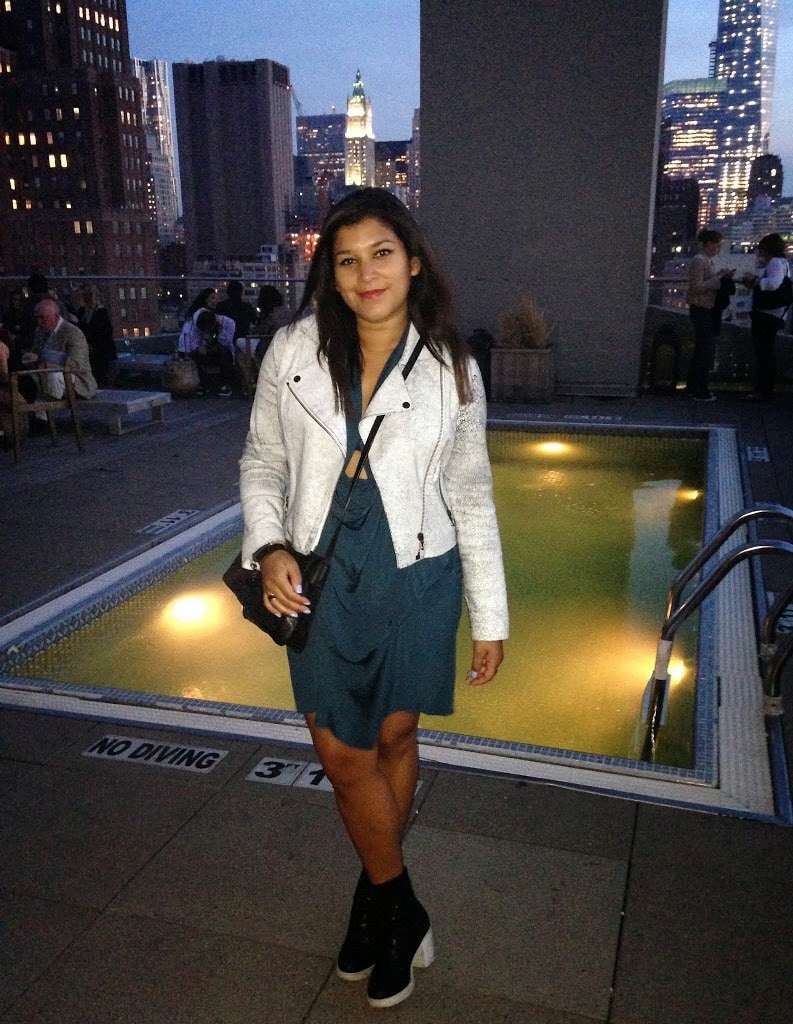 Me at the Jimmy rooftop bar
New York – Eating
The Loeb Boathouse in Central Park
New York is a veritable foodies paradise. My favourite New York eating experiences include brunch at The Boat House in Central Park overlooking the lake, the Grand Central Oyster Bar at (you guessed it!) Grand Central Station and also, check out a couple of my other fashion foodie favourites Balthazar's, The Spotted Pig, ABC Kitchen and NoMad, all of them have great interiors, a buzzing atmosphere and of course delicious food.
ABC Kitchen
Bars – NYC – Drinking and Cocktails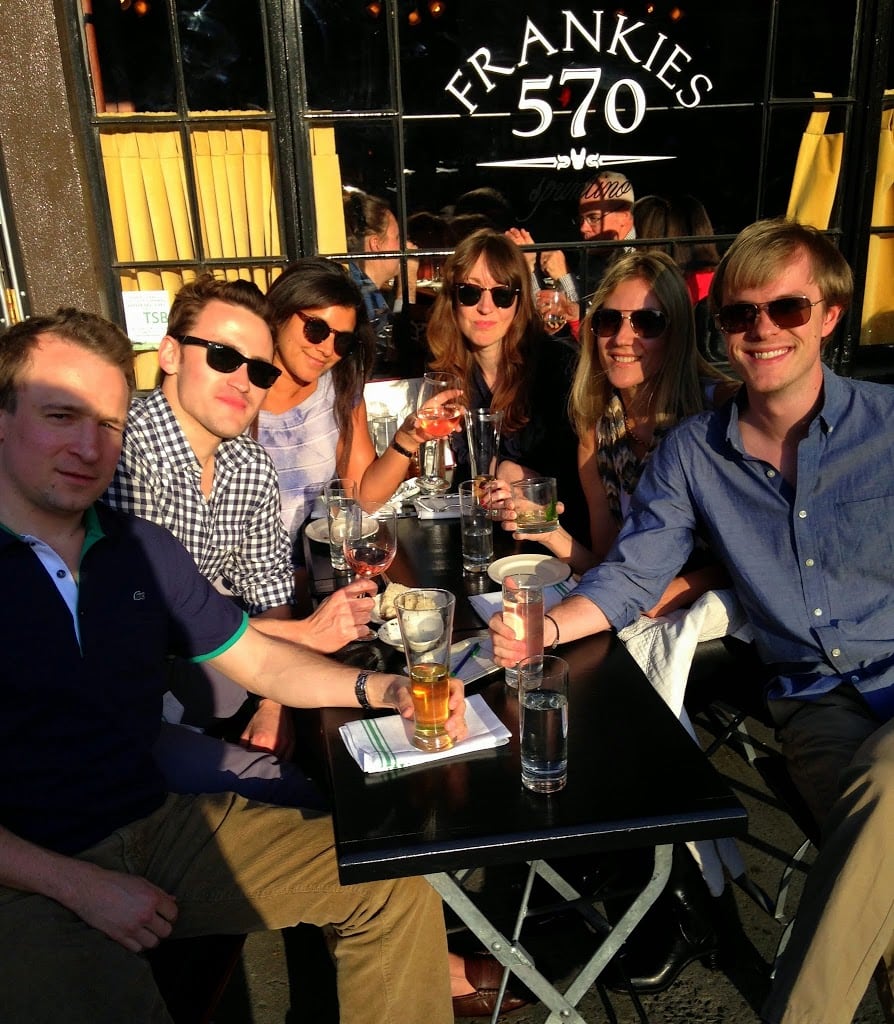 A motley crew – drinks, lunch and sunshine in NYC  – left to right Parker, Henri, Me, Fiona and friends.
New York Rooftop Bars
One of the best (and most fun ways) to see the city is from the dizzy heights of a rooftop bar. The Standard Hotel bar (aka. celeb central) and the Jimmy at The James Hotel boast two of my favourite and most spectacular views over the Manhattan skyline.
For an alternative view of the city (from across the river), head to THE hotel of the moment, The Whythe in Brooklyn for dinner, followed by cocktails at the chic Ides Rooftop Bar.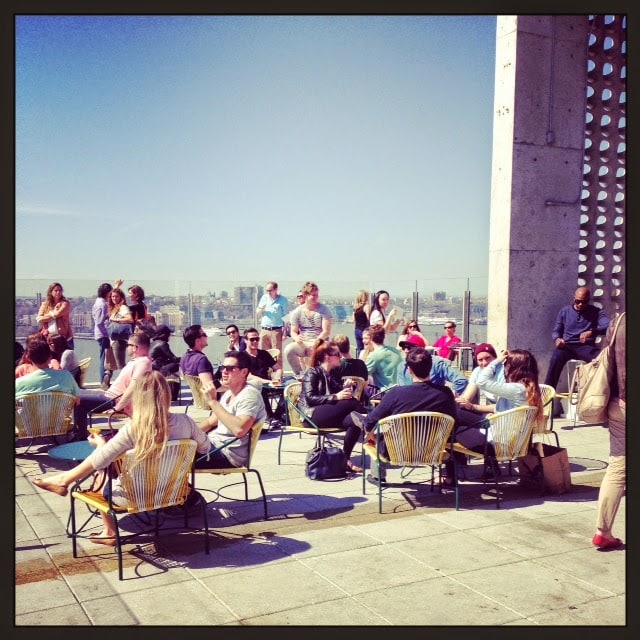 Glorious afternoon sunshine at The Standard Rooftop Bar
Brooklyn – Bars and restaurants
If you fancy a night out in New York's Hipster HQ, head to uber trendy Brooklyn across the river from Manhattan, specifically Williamburg and Green Point.
For hipster haunts check out Five Leaves and Enid's for brunch through to drinks in the evening and for the best Brooklyn pizza head to Paulie Gee's.
Bedford, Berry and Whythe Streets are where you should position yourself for a plethora of dive bars, drinking dens and trendy clubs, wander around and soak in the atmosphere until you find the bar for you, there are so many great places to discover. Berry Park Rooftop, Whiskey Brooklyn, Bembe, Manhattan Inn and Barcade should help start you off. Also The Brooklyn Night Bazaar on Fridays is worth checking out.
For die hard house music clubbers, Output is the club du jour, alternatively go up market and enjoy cocktails with a view at The Whythe.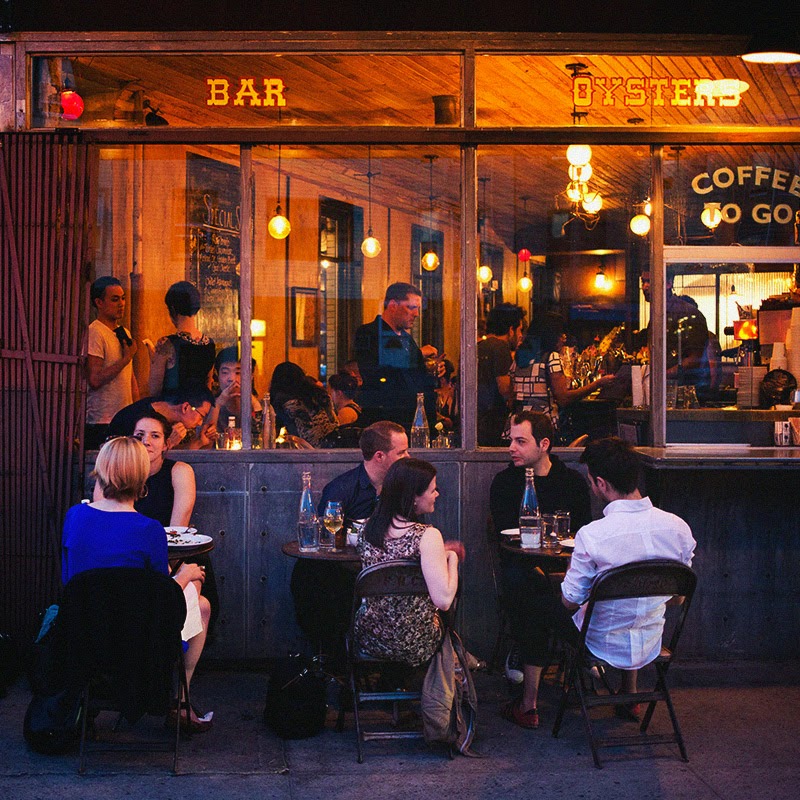 Five Leaves Cafe,  Brooklyn (photo from website)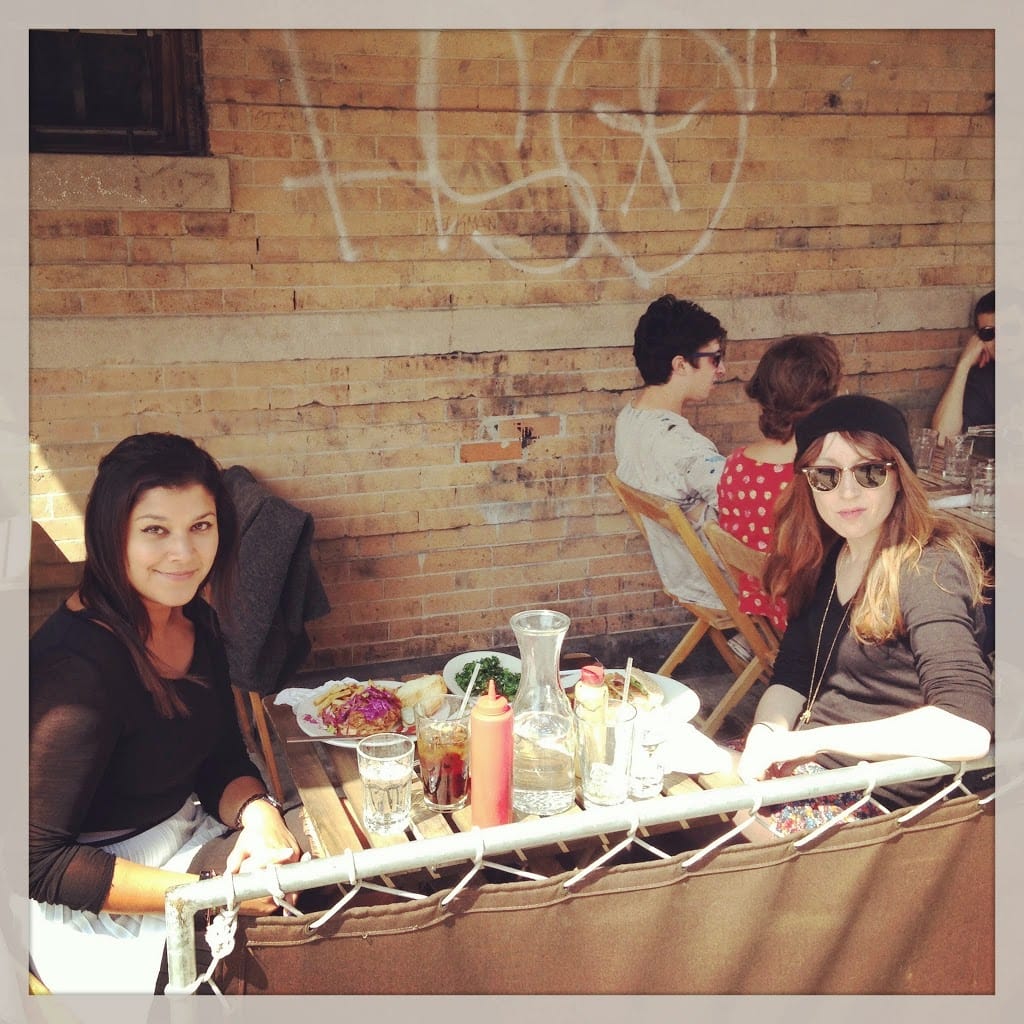 Fi and I chow down on a hangover brunch of pulled pork burgers at Enid's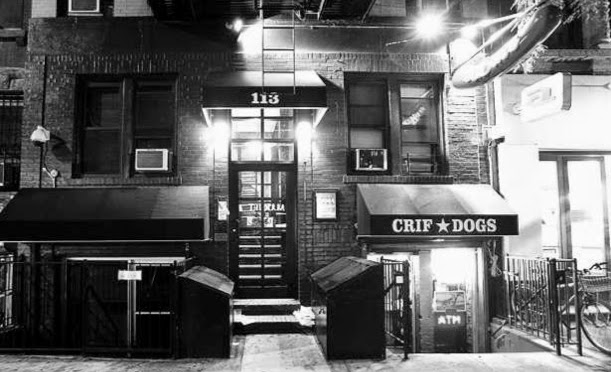 Enter tiny speakeasy bar 'Please Don't Tell' via a vintage phone booth inside a hot dog shop!
Manhattan – Bars
Manhattan offers one of the largest choice of bars in the world! My two favourite areas which are great for partying, bars and clubs are Meat Packing and East Village.

East Village – Check out dark and sexy Death and Company and PDT (aka, Please Don't Tell) speakeasy, which you access through a vintage phone booth in a Hot Dog joint.
Meat Packing – Get the taxi to drop you off at 9th and Gansvoort where you can dwell in Dive bars or lounge on louche rooftops like Soho House (members only), The Gansvoort and The Standard but make sure you end the night in the decadant drawing room at The Jane Hotel. Order a champagne cocktail and party the night away with Manhattan's fashionista's, please note dancing on the tables and swinging from the chandeliers is most definitely encouraged!! It's so much fun!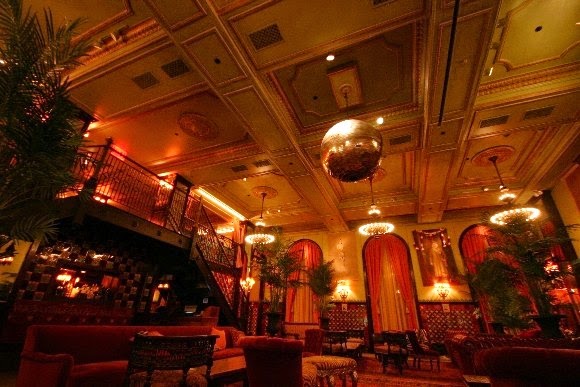 Drawing room antics at The Jane's night club – the calm before the storm!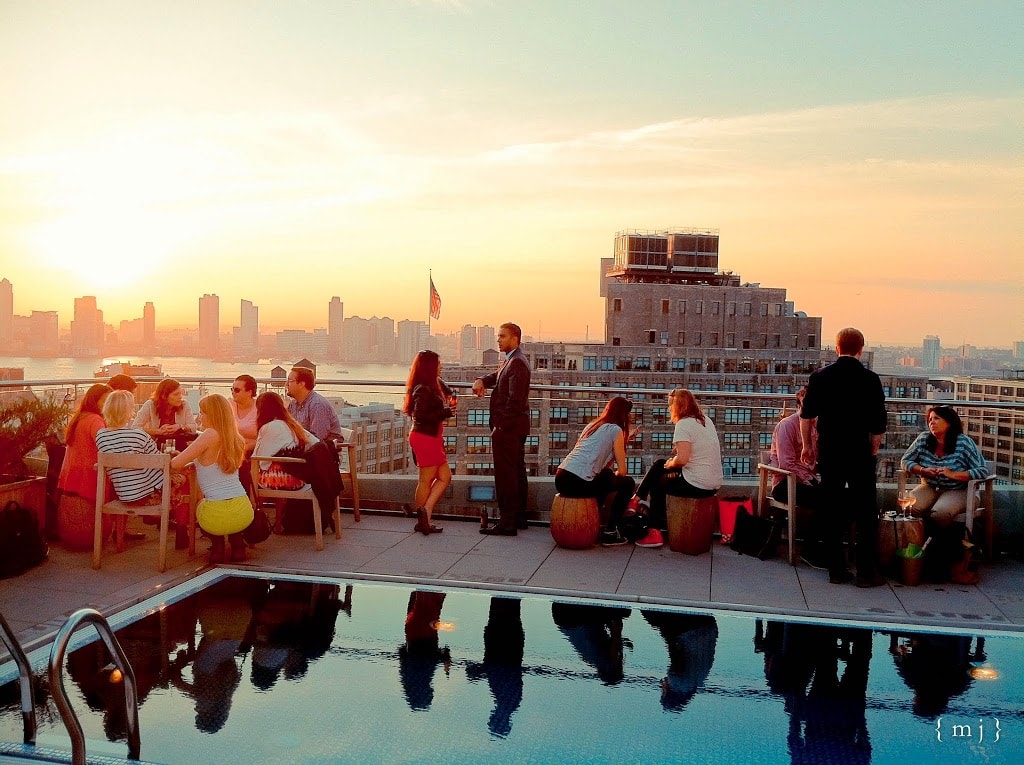 The spectacular view from the pool at The Jimmy