Paradise Found – Anguilla – The Caribbean's Best Kept Secret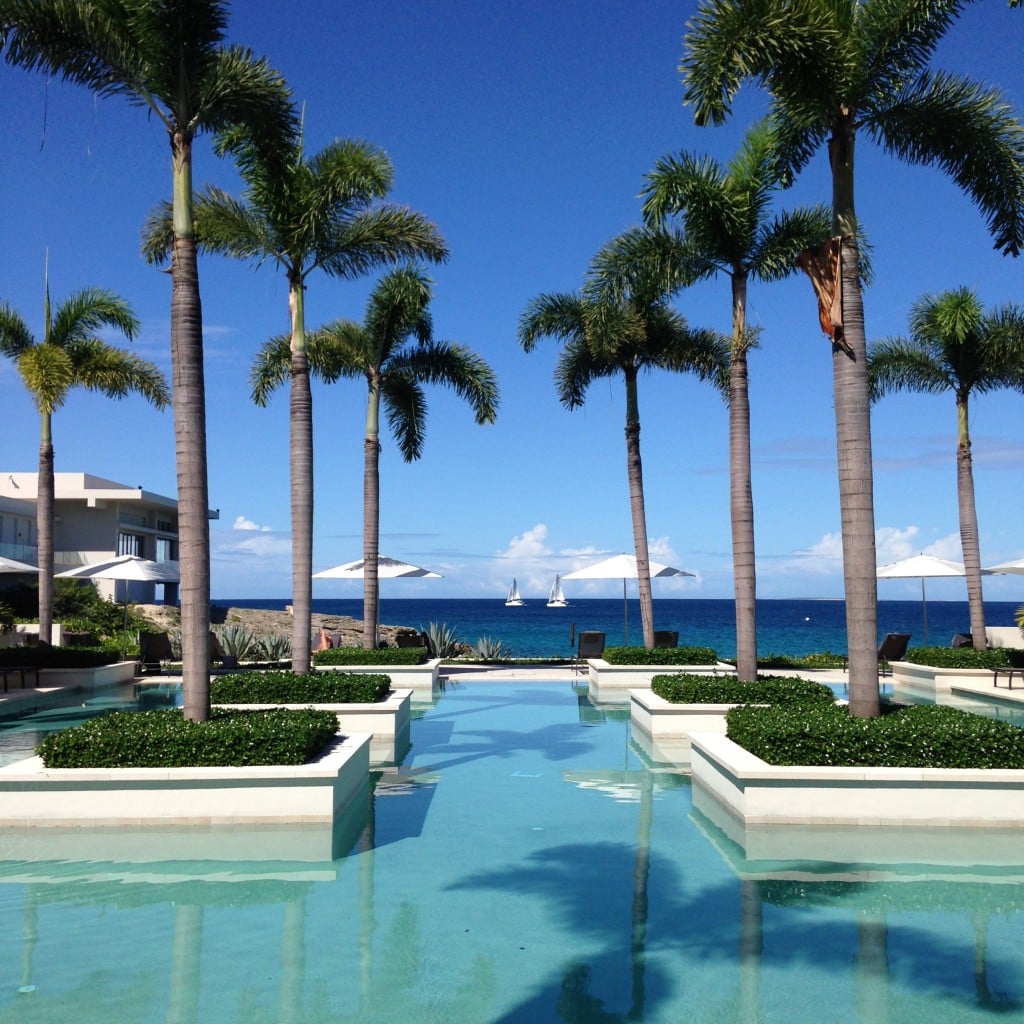 Paradise Found – Anguilla – The Caribbean's Best Kept Secret
Anguilla Part 1 – at the Viceroy Hotel
When I recently mentioned to people that my next Style Traveller trip was to Anguilla, I was met with some rather blank expressions. 'Anguilla? Where's that?' And this response came from some of my more well travelled friends too! The answer dear reader, which I'm sure you know, is it's in The Caribbean.
The paradise island of Anguilla is situated in the north of the Caribbean. It's closest islands are St Barth's, Antigua and St Martin, all much busier commercial hubs. Leaving their laid back sister Anguilla to enjoy a little peace and quiet.
Imagine deserted, snow-white sand beaches, all to yourself. Your footprints are the first to hit the sand in the morning. You get the picture. Anguilla delivers and then some.
As mentioned in the previous 'What to wear when you're there' post, Anguilla is the first stop on my Caribbean island hop adventure. Followed by billionaire's  destination, St Barth's and ending at exclusive private island, Jumby Bay. We spent the first 3 nights in Anguilla at the stunning, modern property, The Viceroy. Here's The Style Traveller's Anguilla photo diary…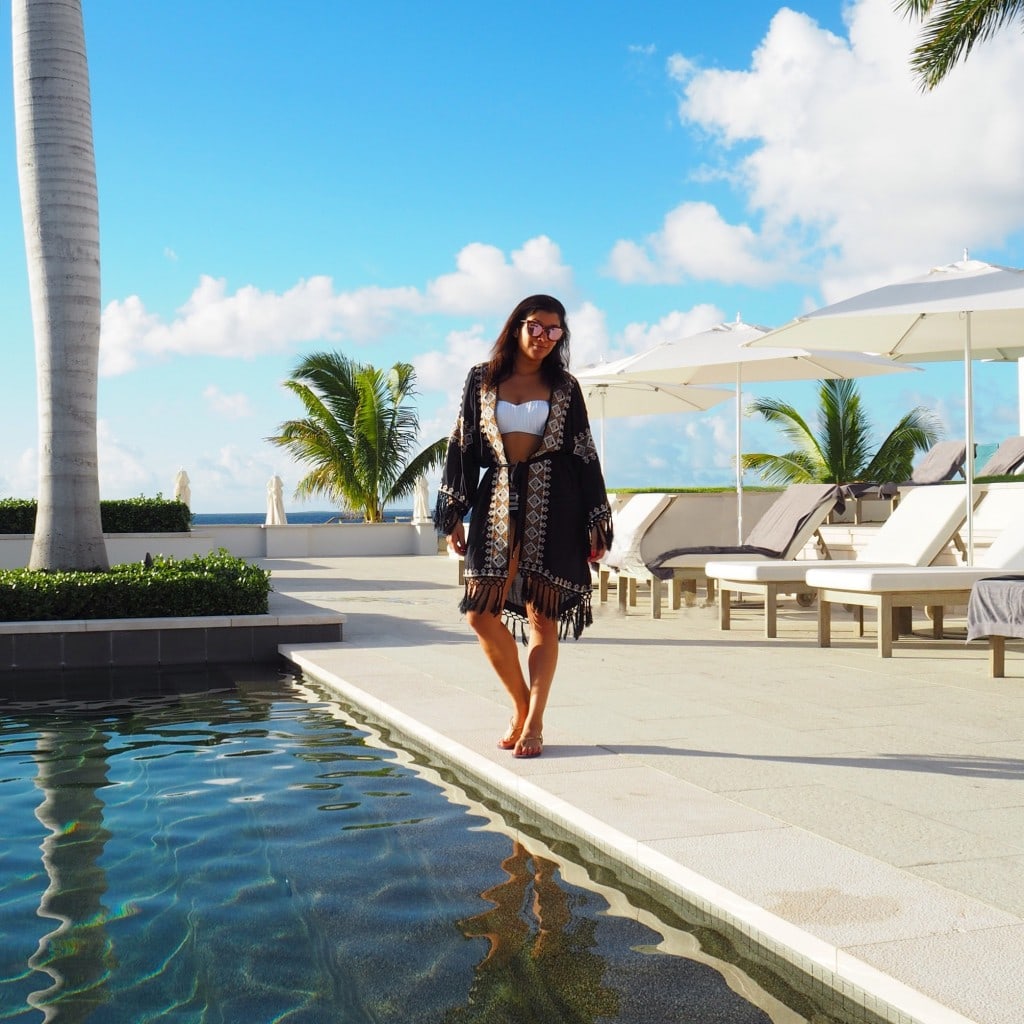 Above: Me posing by the infinity pool at The Viceroy wearing Kaftan by Melissa Odabash, Bikini by Seafolly and sandals by Havaianas both at Coco Bay, sunglasses by Le Specs.
Where? Anguilla
Exactly? The Viceroy
When? November 15
Best time to go? Peak season in the Caribbean is December to March. Style Traveller tip – you can get some great deals outside of these months, as the weather just before and after this period is still great and the beaches are quieter.
Getting There? Virgin Atlantic flights fly into Antigua twice weekly. Connecting flights are available through LIAT or private charter companies. Special Thanks to: ATB Anguilla Tourist Board for organising such a special trip and to Adrian Collins for taking beautiful photos.
If you're looking for that all elusive deserted island beach scenario look no further than Anguilla. It remains one of the least commercialised (yet tourist friendly) islands in the Caribbean. There's no Starbucks or Mcdonald's to be found! A few luxury international hotel groups have reached the island, like the Viceroy, with its sleek 'Bond-movie' style exterior, which is one of the places I stayed. But otherwise it's still relatively untouched.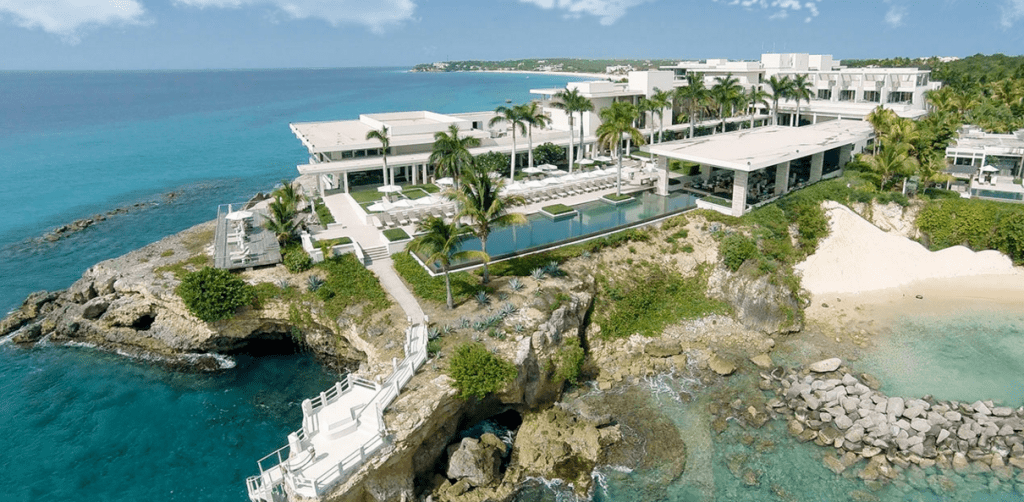 The Viceroy, Anguilla.
A sleek, modern feat of architecture set atop the rocky cliffs of sun kissed Meads Bay, the Viceroy stands elegantly, whitewashed and minimal like a set location from a Bond movie. There is direct access to the stunning private beach, with soft, white sand and barely a foot print to be seen. The linear lines of columned walk ways frame all the views from property, creating breathtaking vistas where ever you turn. Lush, landscaped gardens and marble pathways guide you through the hotel grounds. It is a stunningly designed hotel with every aspect adhering to strict aesthetic principles.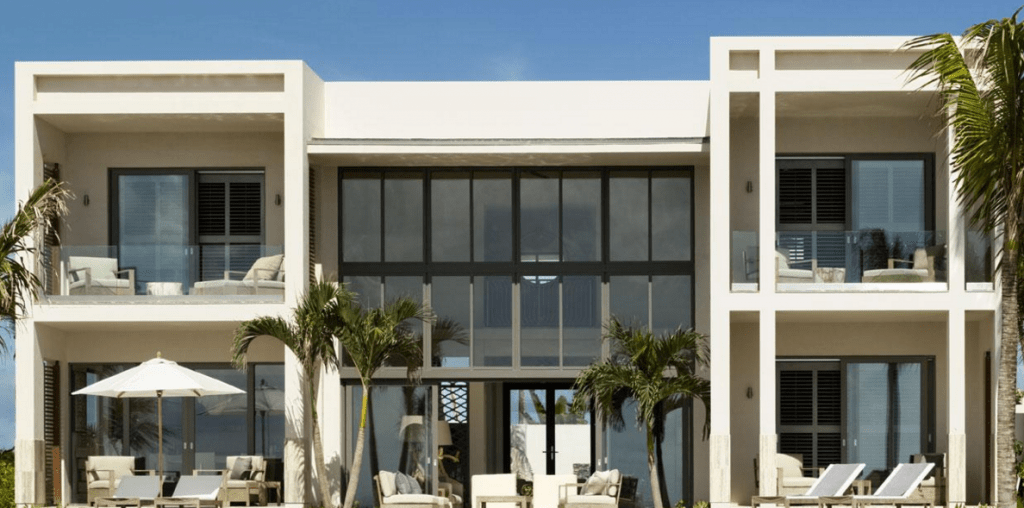 For those who want a little more privacy or are coming in a group, rent one of the uber luxurious private villas, complete with your own swimming pool over looking the beach, butler and buggy so you can get around the resort at your own pace. Recent celebrity guests staying at the private villas include Michael Jordan, Simon Cowell and Shakira. Prices can reach up to $20,000 a night during the Christmas peak season. I'll take two!!!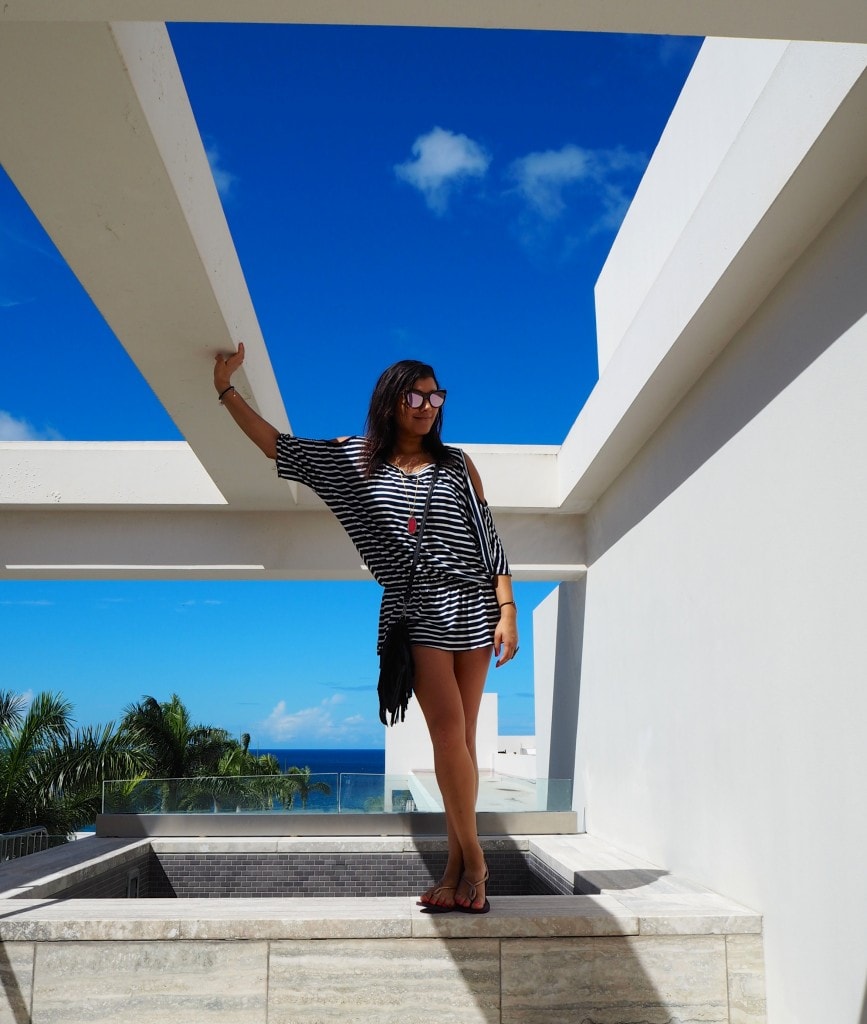 All rooms come with plunge pools on your personal balcony or terrace. Me wearing Iconique stripe beach dress from Coco Bay. Sunglasses by Le Specs & Necklace by Soru Jewellery under the linear, graphic architecture of my roof terrace.
Sophisticated, contemporary interiors prevail throughout the property, all expertly curated and designed by Kelly Wearstler. Colours are warm, muted beige and sand tones, typical of the Anguillian landscape. All fabrics, art works and furnishing are softly textured, to give each room a calm, relaxing atmosphere akin to a spa or retreat. The pieces de resistance are the huge decadent bathrooms with outdoor shower areas, plunge pool or hot tubs, fully private and a wonderfully luxurious way to bathe under the Anguillian sun. Pictured above and below.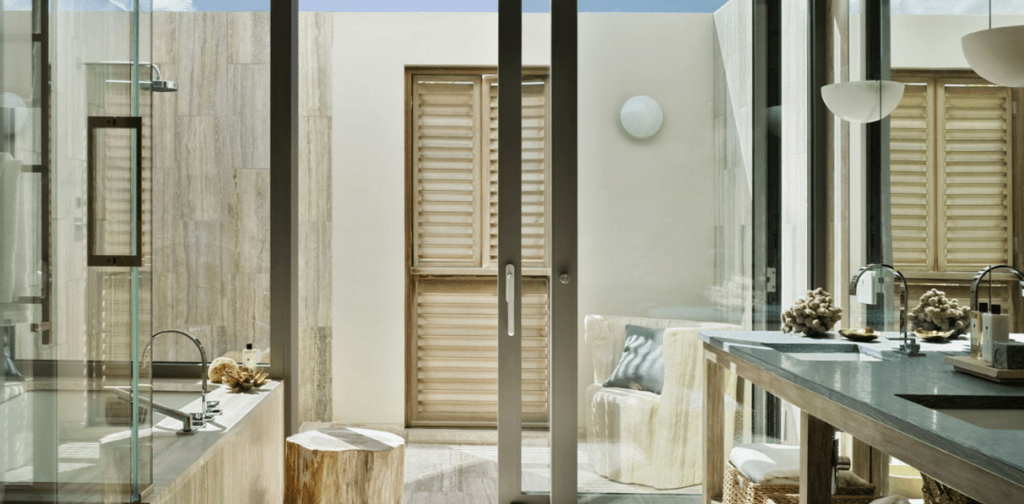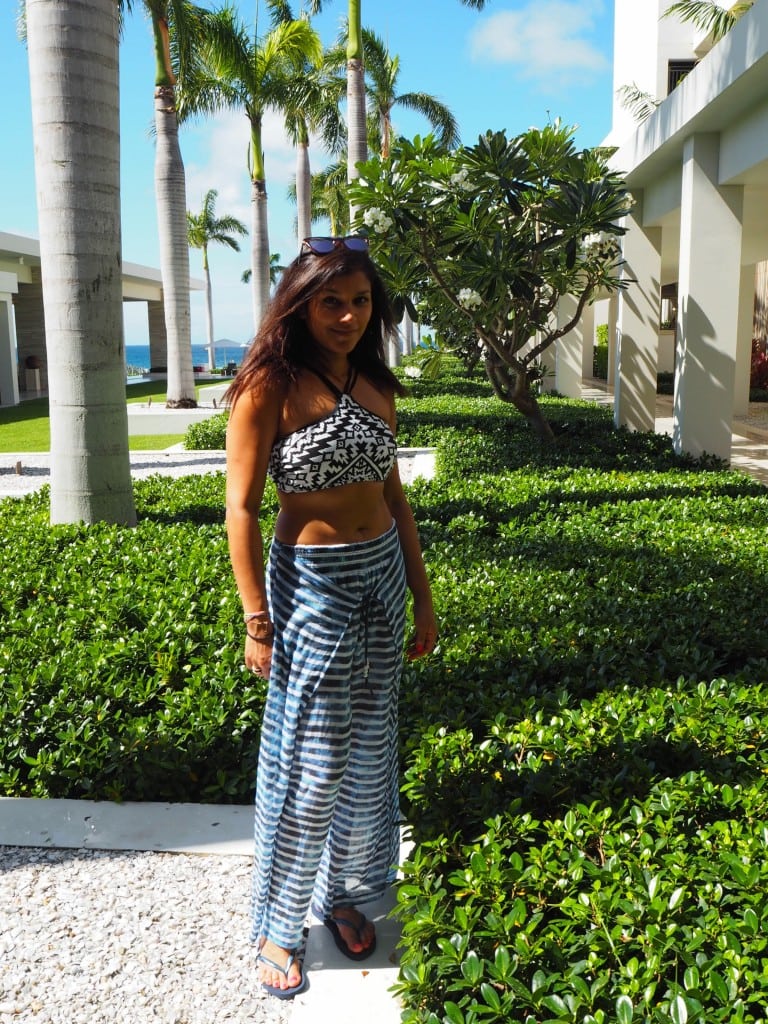 Me wearing Kasbah Bikini top and Hydro beach trousers both by Seafolly at Coco Bay in the main garden area. Style Traveller Tip: Book in for a relaxing signature massage at the rejuvenating spa on arrival, it's the best way to start the trip and get into the Caribbean vibe.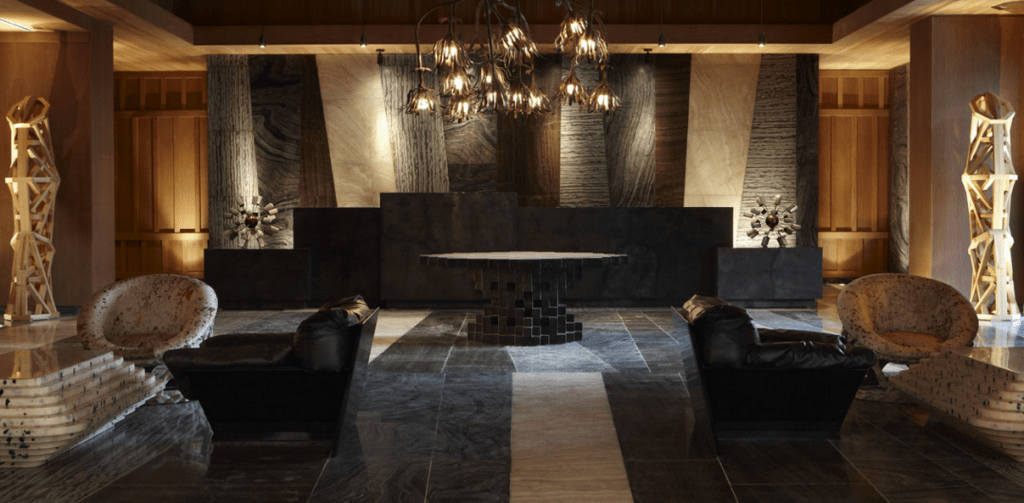 Above: Elegant, natural stone and wood interiors in reception.
Below: Living area and terrace at one of the private villas.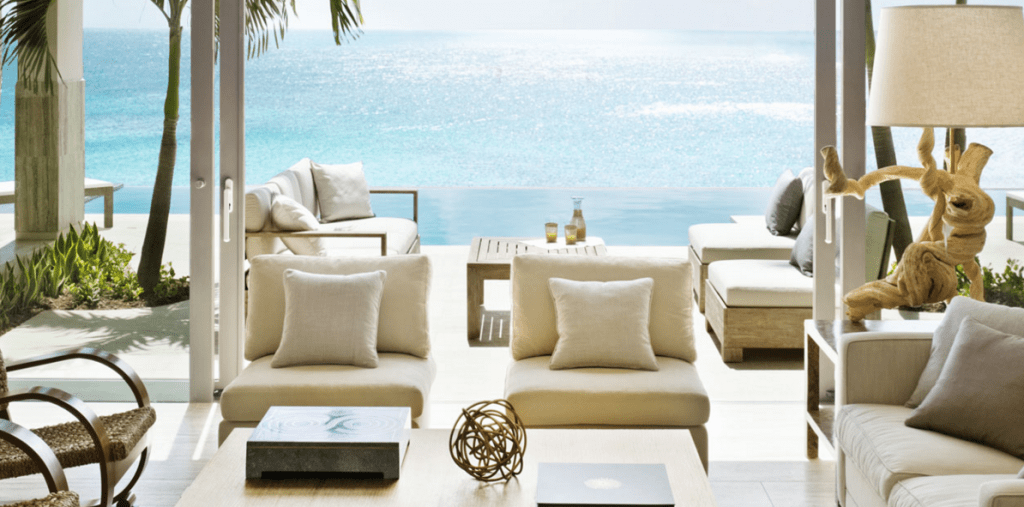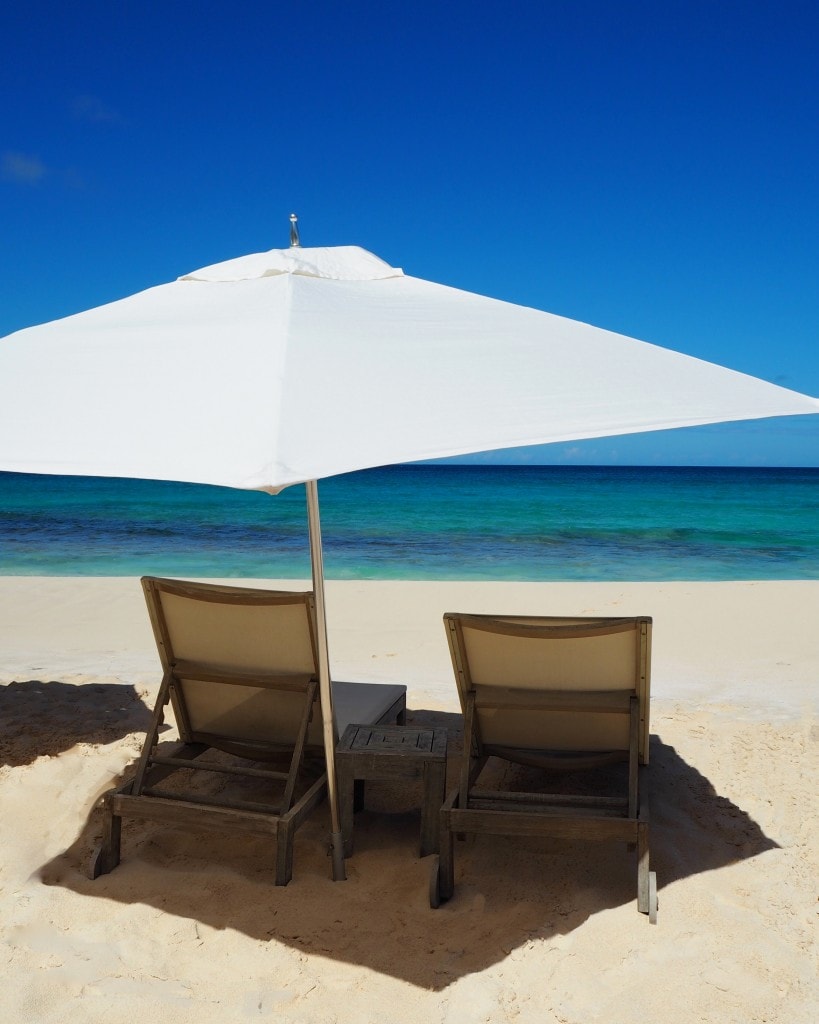 Above: The serene white sand beach at The Viceroy.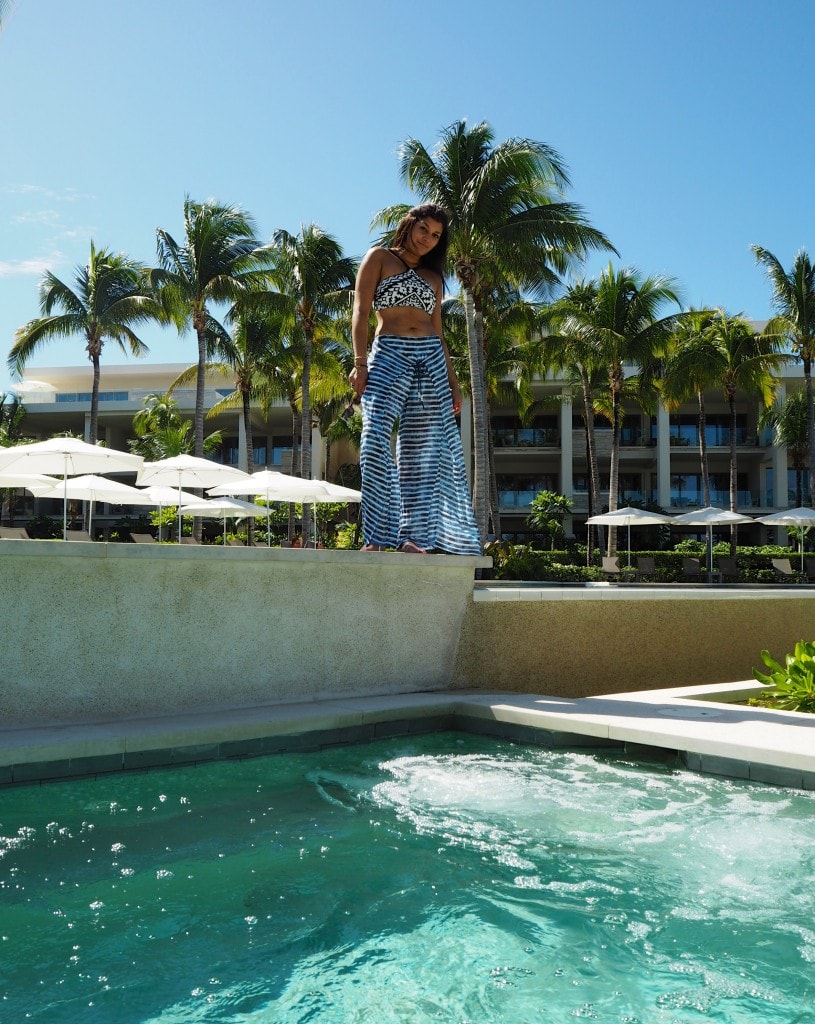 Above: Me wearing Kasbah Bikini top and Hydro beach trousers both by Seafolly at Coco Bay, standing by one of the many infinity pools at the Viceroy.
Below: The crystal clear, turquoise waters and pristine, untouched sand at The Viceroy beach.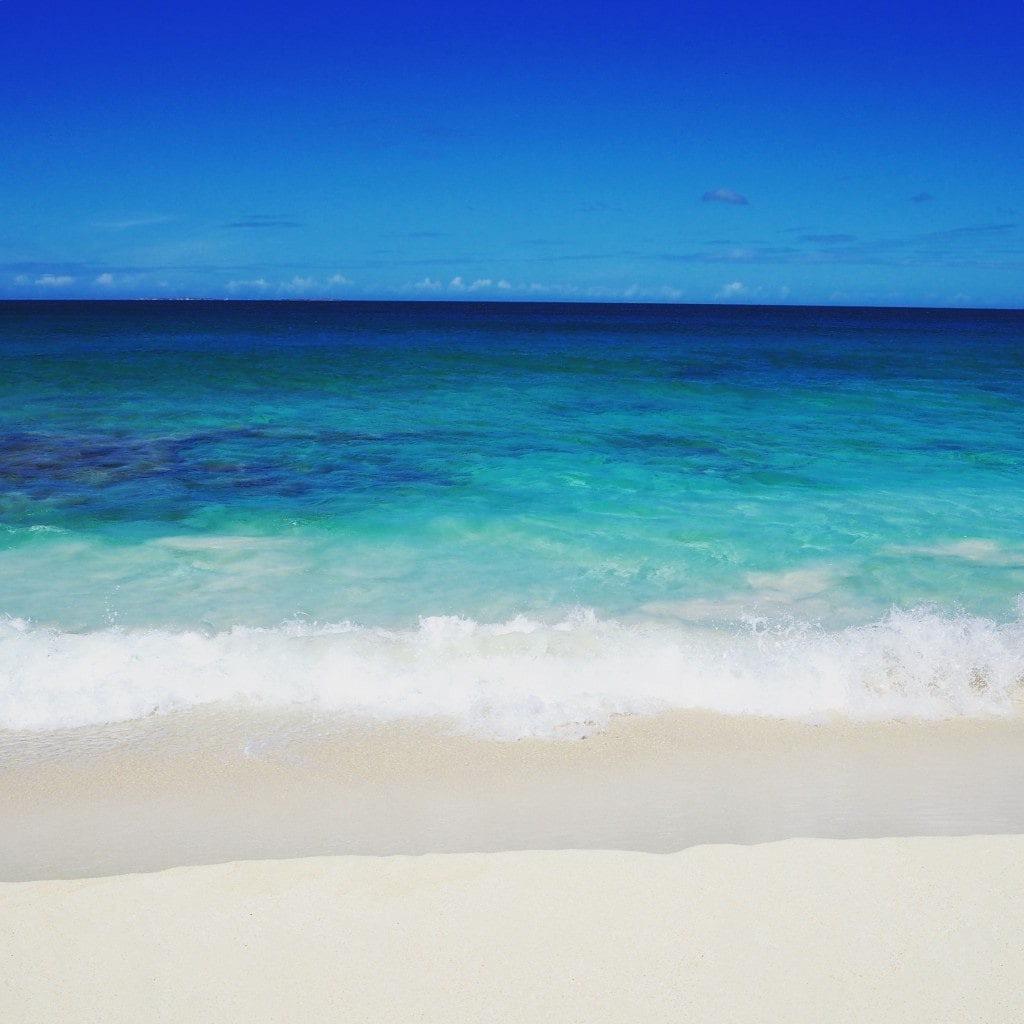 Good bye from the wonderful world of The Viceroy, Anguilla. Next stop beautiful boutique hotel, Malliouhana…