Singapore Eating and After Dark
 Singapore Eating and After Dark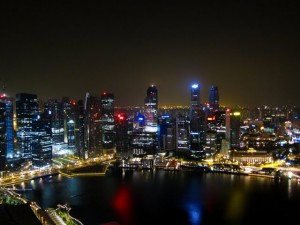 View of Singapore Marina from the Marina Bay Sands
Where? Singapore, a city-state off the south coast of Malaysia, South East Asia
When? Aug/Sept 2011
Why? On Holiday with boyfriend
Best time to go? Singapore is equatorial so its hot and humid all year round, it does rain on occasion but its quite welcome in the heat and aids the lush green tropical plant life in the city.
Insider knowledge? Special thanks to Sasha Wilkins Libertylondongirl.com who is an ex-resident of Singapore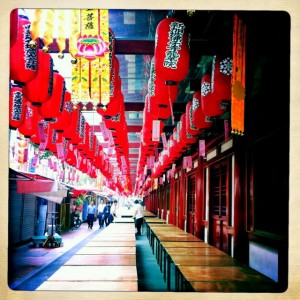 China Town
Food and Drinking
Eating in Singapore is fantastic, from Singapore streetfood to world class restaurants to all the international chains which have flocked to the many malls and food courts. You will not go hungry.
The China town and Little India areas are great for food too.
For cocktail fans an absolute must is a visit to the Long Bar at The Raffles Hotel, the birth place of the Singapore Sling.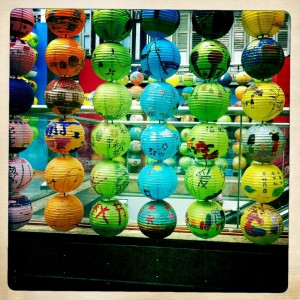 China Town
I couldn't recommend one particular place here as there are hundreds of restaurants on every street. Most serve up various oriental dishes in street food style cafes, the air is filled with delicious spicy aromas, so the best thing to do is pick the one you like the look of.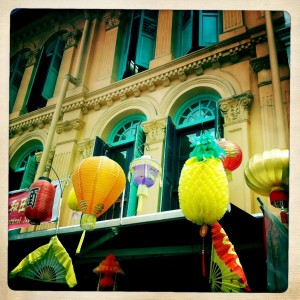 Peranakan Place
Orchard Road
Singapore 23884
Peranakan Place
Just off the Orchard Rd towards The Raffles Hotel is Peranakan Place. We discovered this little hidden street of bars and restaurants by chance. The old colonial style buildings have a lot of more character than the modern malls on Orchard Rd. It's a place where city workers head to after work and stays busy till late. Dress code? Office style as most people usually straight from work.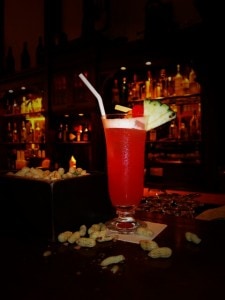 The original Singapore Sling
The Long Bar at The Raffles Hotel
1 Beach Road
Singapore 189673
No visit to Singapore is complete without trying a famous Singapore Sling cocktail, in its birthplace, the Raffles Hotel. The floor of this beautiful colonial style bar is littered with peanut shells, its the only place in Singapore that littering is actually encouraged. Head here any time of the day, we went for a pre dinner aperitif. The local live bands are very entertaining.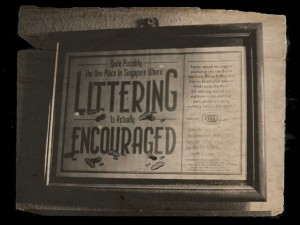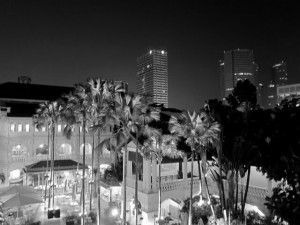 Raffles Hotel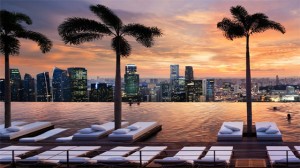 Rooftop infinity pool at Marina Bay Sands
This is the partying ground of Singapore's rich and famous. The stunning Marina Bay Sands building was completed in 2010.  Three main towers incorporate a hotel, ice rink, two theatres, huge exhibition spaces and 7 celebrity chef restaurants. Head to the 'skypark' which stretches across the rooftops of the three towers. Have drinks at the bar by the 150m infinity swimming pool with spectacular views of the city of lights. It normally costs 20 dollars just to get up there, for dinner its worth making a reservation. I definitely recommend MBS just for the stunning views.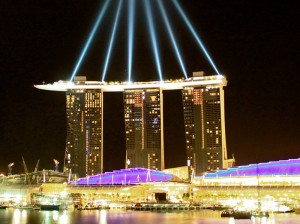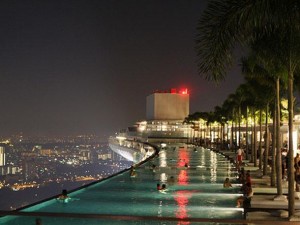 The rooftop infinity pool at night
Fullerton Bay hotel –  Lantern bar
The Marina
Lots of bars and clubs for you take your pick from along the strip. Tuesday night here is ladies night so plenty of free drinks to be drunk.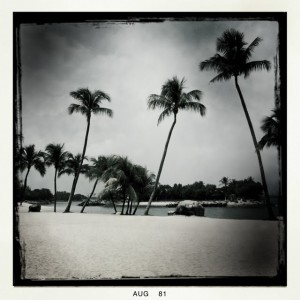 If city life is getting too much head to Sentosa Island for a little R&R. Just off the south coast of Singapore and a short taxi ride or sky train away, Santosa houses Universal Studios Singapore, theme parks, beaches and great bars, clubs and restaurants. In the evenings head to the south beaches to party the night away. International DJ's come to spin tunes or you can just chill out on the loungers and enjoy cocktails.
Favourite beach bars include: Azzura beach club, Tanjong Beach Club, Coasts and Cafe Del Mar.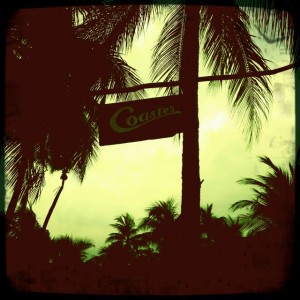 http://www.nightsafari.com.sg/
As this is the after dark section there is one more night time activity I would like to recommend. Not strictly a club and definitely not for adults only, the Singapore Zoo's night safari is one adventure not to miss. Its wild!