Sonoma – The Style Traveller California Road Trip

Sonoma – The Style Traveller California Road Trip
Where? Sonoma.
Exactly? The Farmhouse Inn, Forrestvillle.
Why? On the third leg of The Style Traveller California Road Trip we made a stop off in Californian wine Country, Sonoma, at the luxury, boutique hotel, Farmhouse Inn. With a Michelin starred restaurant, farm to table spa, hot tubs in the suites and a deliciously relaxed atmosphere, it was a much needed retreat after the long drive from San Fran and post Coachella festival.
The Suites
In a soft, sophisticated palette of neutral tones, natural wood furnishings and an abundance of light, the spacious, rooms at The Farmhouse Inn each come with hot tubs, wood burning fires and many have their own steam rooms too.
Every inch the spa hotel, the inroom beauty products are all made with local organic materials. This is THE place in Sonoma to come and rest, relax and pamper yourself.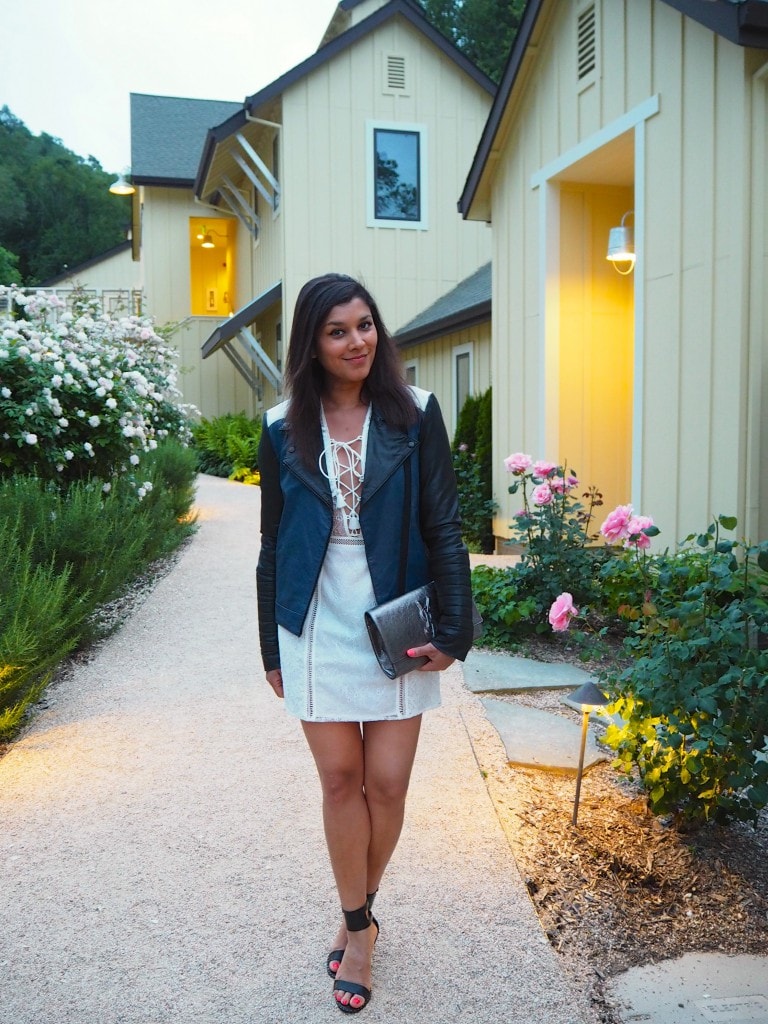 Above: Me, Bonnie feeling very chilled out in the beautiful, floral grounds at Farmhouse Inn. Wearing dress by The Jetset Diaries, shoes by Kurt Geiger, bag by YSL, jacket by Atterley.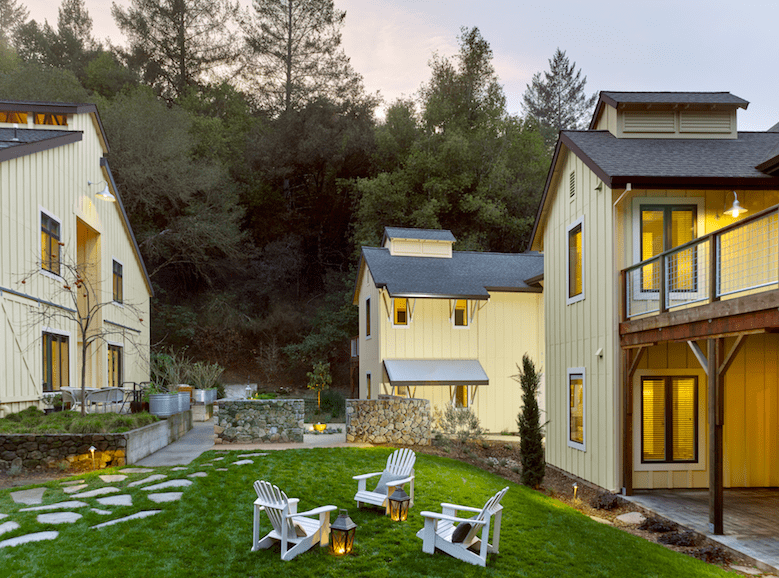 Above and below, the charming, rustic, buttercup yellow buildings at Farmhouse Inn.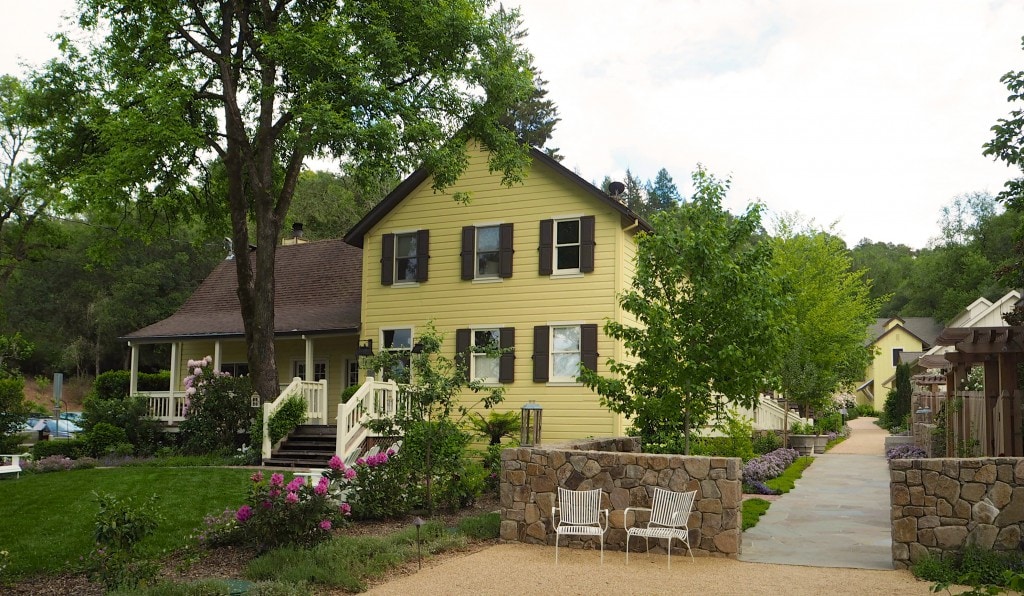 A spot of wine tasting
In the afternoon we headed over to Macrostie Winery for a spot of expert Californian wine tasting. Housed in a modern, contemporary building with exposed rafters and abstract art works, we sampled and indulged in some of the best wines in Sonoma. I thoroughly recommend an afternoon of wine tasting in a local vineyard, to get a real feeling for the local grapes and flavours that the area specialises in.
Above: me by the Mustang, wearing Me + Em sweater, Thierry Lasry sunglasses and Mint Velvet bag.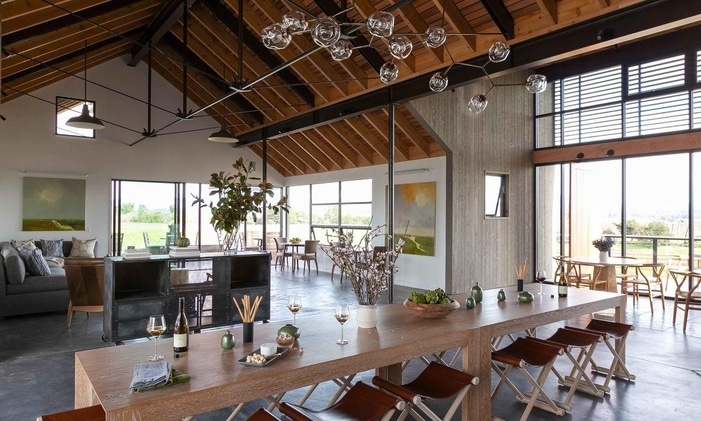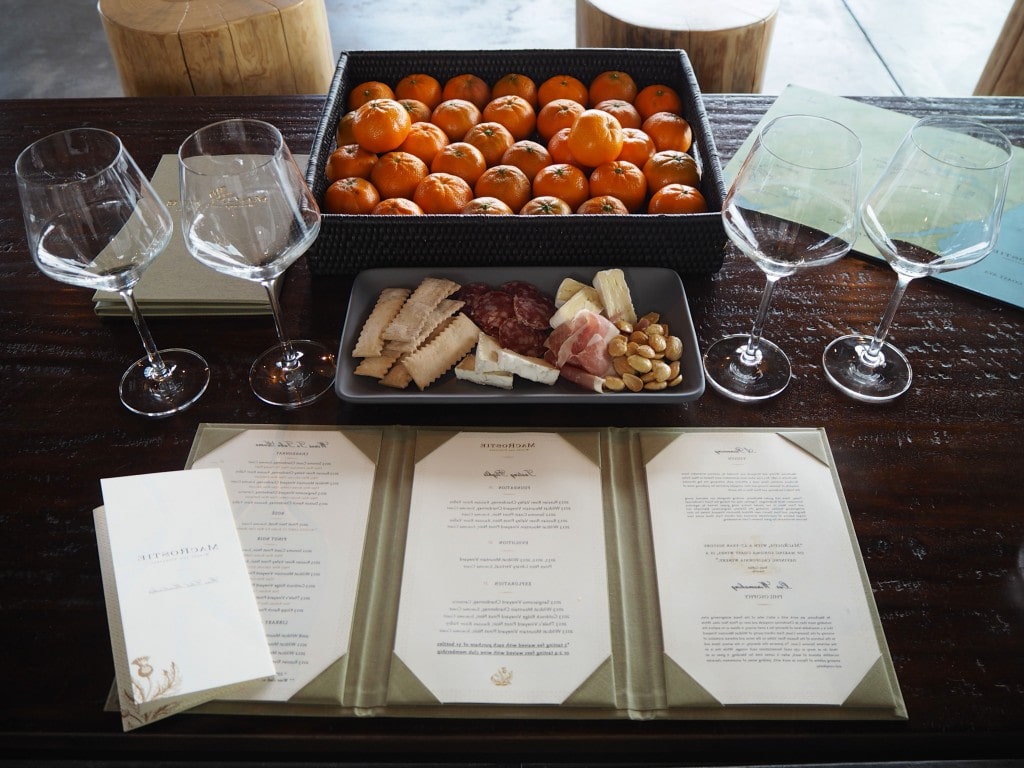 Glasses and light nibbles laid out prior to the tasting session.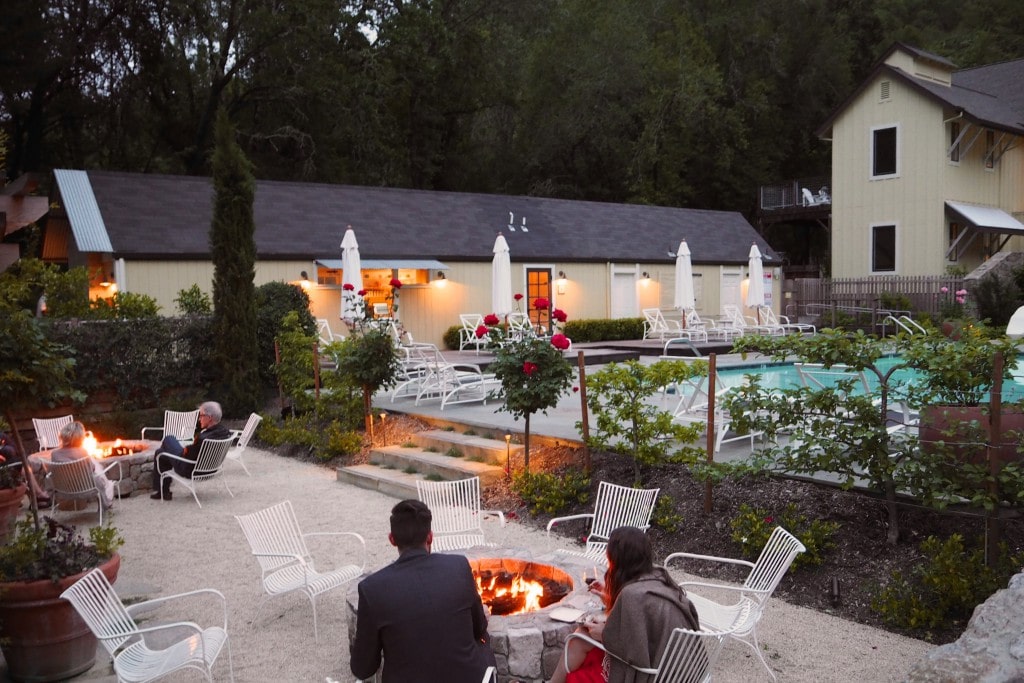 Back at the Farmhouse Inn, guests indulge in a little afternoon 'smore' session by the pool. In the cooler months the fire pits are lit and guests are invited to heat marshmallow, chocolate and biscuit sandwiches, more popularly known as 'Smores'.
As in I'd like s(ome) more!!! And I certainly did!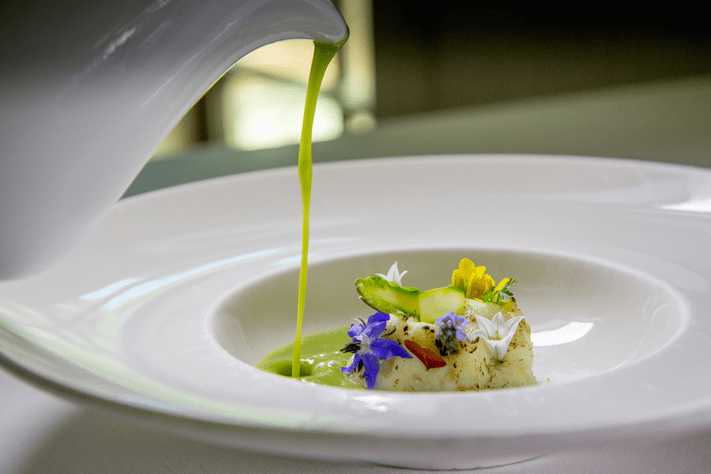 The Michelin Starred Restaurant at Farmhouse Inn
That evening we were very lucky to be invited to dinner at the hotels renowned Michelin starred restaurant. We indulged in the delectable four course tasting menu with elegantly chosen wine pairings from the award winning sommelier.
Pictured above: Local speciality, Dungeness Crab Salad with avocado citrus dressing and spring asparagus soup. The below the wild Alaskan Halibut, shallot braised Bloomsdale spinach, fresh English peas and dashi-braised hon shimeji.
Utterly delicious!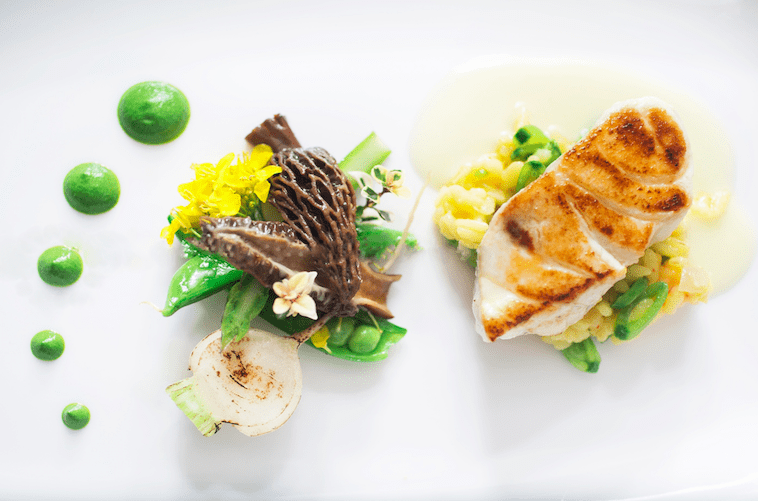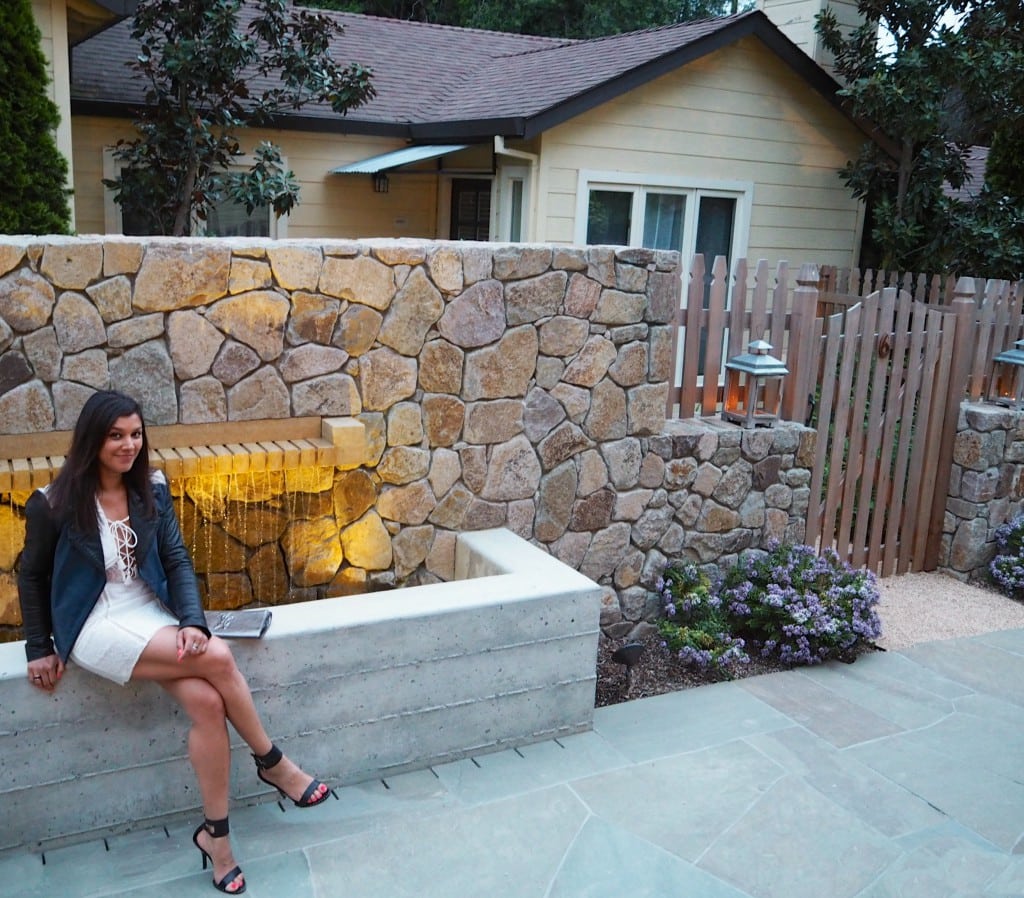 Me post dinner feeling decidedly stuffed and very content indeed!

Good Morning!
After such a splendid evening of dining, at breakfast we were greeted by yet another indulgent treat, a spectacular 3 course breakfast! My favourite course was the delicately flavoured poached eggs in polenta with flowers, pictured on the right.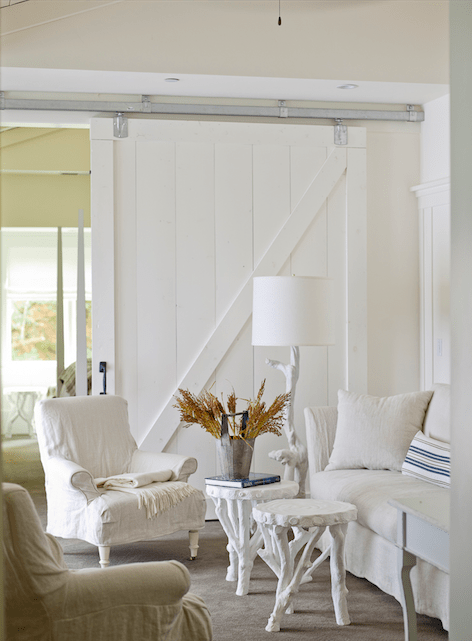 The Spa
Built in the old horse stables on the property each of the large, bright spa rooms is filled with fresh country air and the soft fragrances of the naturally made product range. It's so relaxing, you can feel your shoulders drop as you enter, this is before you've even had a treatment.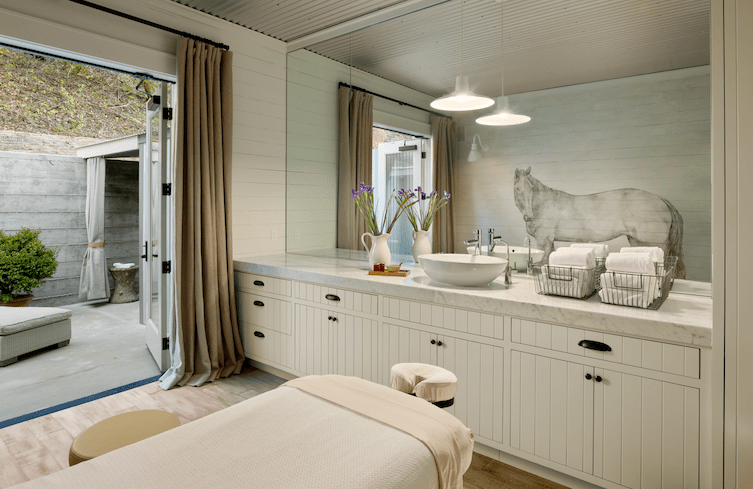 And so feeling utterly rejuvenated and revived it was time to hit the road again! Next time I visit it'll be for a week. I really didn't want to leave the Farmhouse Inn.
Next stop…Yosemite National Park
For more on The Style Traveller California Road Trip click here for Coachella high lights and here for the San Francisco 24 hour style guide. For help with devising the perfect itineraries log onto Visit California.