South Africa Johannesburg Shopping and Sightseeing
South Africa
Johannesburg Shopping and Sightseeing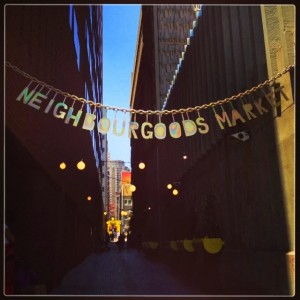 Shopping 
The shopping in Johannesburg mainly centres around the many malls dotted around the vast city. But  recent years have seen the emergence of trendy weekend food and crafts markets. The Neighbourgoods Market in Braamfontein is one such example, as is Maboneng, previously a corrupt district in Joburg which has recently been the subject of an urban regeneration project. Once filled with decrepit warehouses and disused buildings, this area is now a vibrant hub, filled with shops, bars, cafes and creative businesses.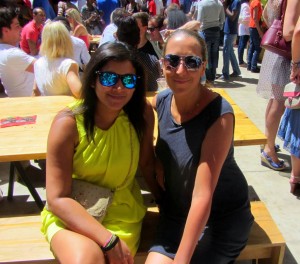 Me and Caroline enjoying the sunshine at Neighbourgoods Market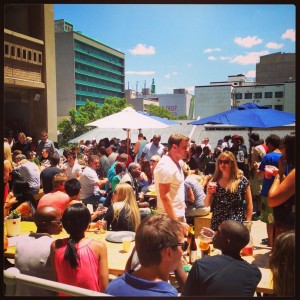 Al fresco rooftop dining at neighbourgoods market
Saturday brunch at Neighbourgoods Market
Arrive around midday and make sure you're hungry. This is THE place for all of Joburg's food lovers to come and have their gastronomic fill for the week. It's also rather trendy so bring your hipster friends as accessories and wear your sunglasses so you can people watch. Specialising in organic, home grown produce indulge in everything from enchiladas to oysters, chilli halloumi to coconut water.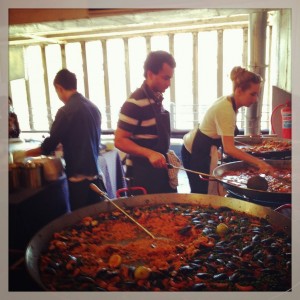 Paella pans at Neighbourgoods Market
Sundays in Maboneng
Start the morning with a spot of culture. Head to
Museum of African Design
, the very first museum on the continent devoted to design, currently exhibiting the works of Southern Guild. The MOAD was officially opened in October this year by architect David Adjaye.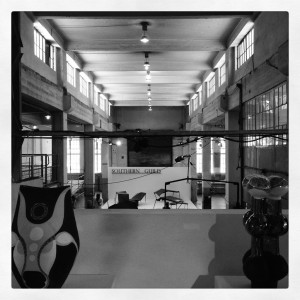 After the museum take a stroll down the road, nipping into craft and clothing boutiques, then head to Art On Main for lunch. Similar to the gastro extravaganza at Neighbourgoods Market, Arts on Main is housed in a multilevel warehouse, purveying food, vintage clothing, crafts and accessories. After a full day of shopping head to the Rooftop Bar or
The Living Room
for sunday afternoon sundowners.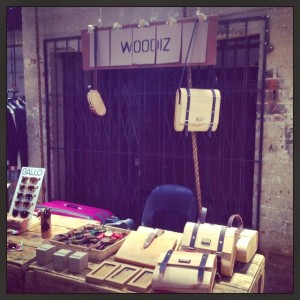 Cool wooden accessories at Woodiz, Arts on Main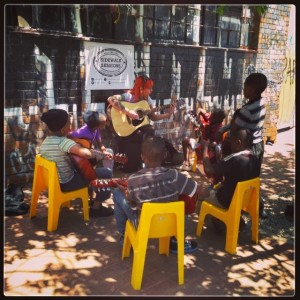 Kids guitar lesson on the street in Maboneng
Another shopping area perfect for design lovers is 44 on Stanley. These converted units house clothes, antiques and homeware boutiques as well as cafes and restaurants.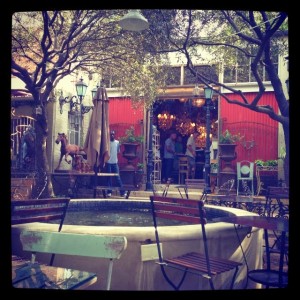 Antique store at 44 on Stanley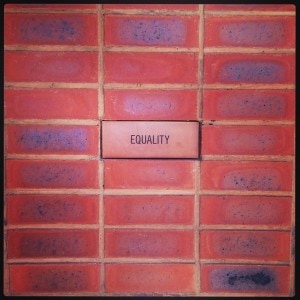 Bricks on the side of Mandela House
Soweto – Mandela House
As part of our visit we took a little time out to go to Soweto, South Africa's biggest township. It was an emotional trip as we visited the house in which Nelson Mandela lived before he was arrested and detained at Robben Island. The whole experience was really moving. As a tourists I'd definitely recommend a visit to the house to gain even a tiny bit of insight into this fascinating countries history.
Having a Brai
I was told not to leave Johannesburg without trying a brai, which is basically a traditional South African BBQ. Where better to try one than in Soweto.
Chaf Pozi
(which means 'a place to chill') in Power Park serves up the works; beef and pork worst sausages, chicken, lamb, chakalaka salad of carrots and beans, pap (a sort of porridge substance) and sos (a spicy tomato sauce). The location is marked by two huge chimneys, which you can also do a bungee jump off, although I'd recommend you do the jump before lunch!