Toulouse – Markets
If you manage to prise yourself away from the pool the nearest city is Toulouse. The shopping here is like a mini edited down version of Paris. The centre of town isn't huge, you can easily walk round it in a day.
Start the morning wandering around the gourmet food markets on Place Victor Hugo. You'll find an amazing selection of fois gras, cheese, fresh fish, charcuterie and of course the best locally sourced wine from the Gaillac.
If all that food shopping makes you hungry head to place St. Georges for lunch (5 mins walk away), but make sure you go via Place Wilson and take a look at the vintage carousel and gardens.
Around the corner from Place Wilson is the chic Place St. George. Stop in one of the many al fresco restaurants for lunch. The food here is as good as in Paris but without the hefty price tag. Head to Le Miroir Restaurant (in the middle of the square) for a delicious salad and chocolat crepe, the perfect place for people spotting.
12 Place St Georges
31000 Toulouse, France
05 61 12 04 16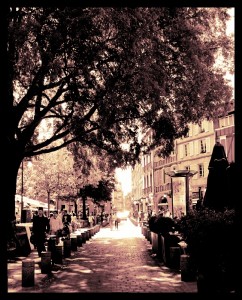 Place St George