3 Fabulous Luxury Villas in Mykonos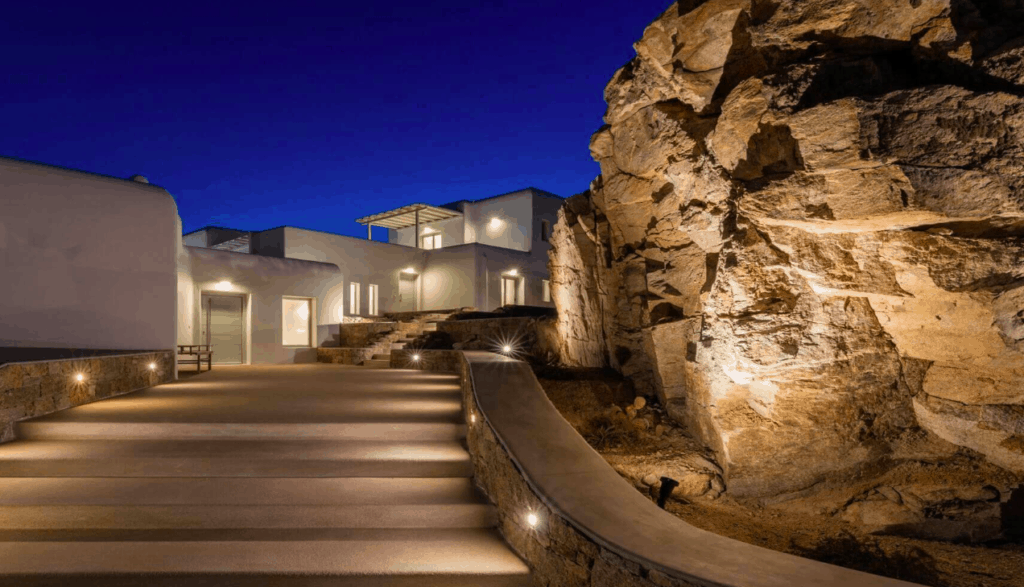 Exclusive Mykonos Villas  – Becoming One With The Azure Mediterranean Sky And Shimmering Aegean Sea
This is a sponsored post.
Encircled by the picturesque Tinos, Sifnos, Ikaria, Paros, and Naxos islands, Mykonos is the beating heart of the Aegean Sea. Being a place much favoured by A-listers, world-renowned athletes, actors, celebs and jetsetters for its vibrant party and night scene and the exquisite lifestyle, Mykonos is home to lux villas of unsurpassable beauty and allure which are fully equipped to handle all desires and wishes, even the most quirky ones! Below is a small sample of three luxury properties nestled in pristine spots across the Island of the Winds.
 Pictured above and below Villa Alaia.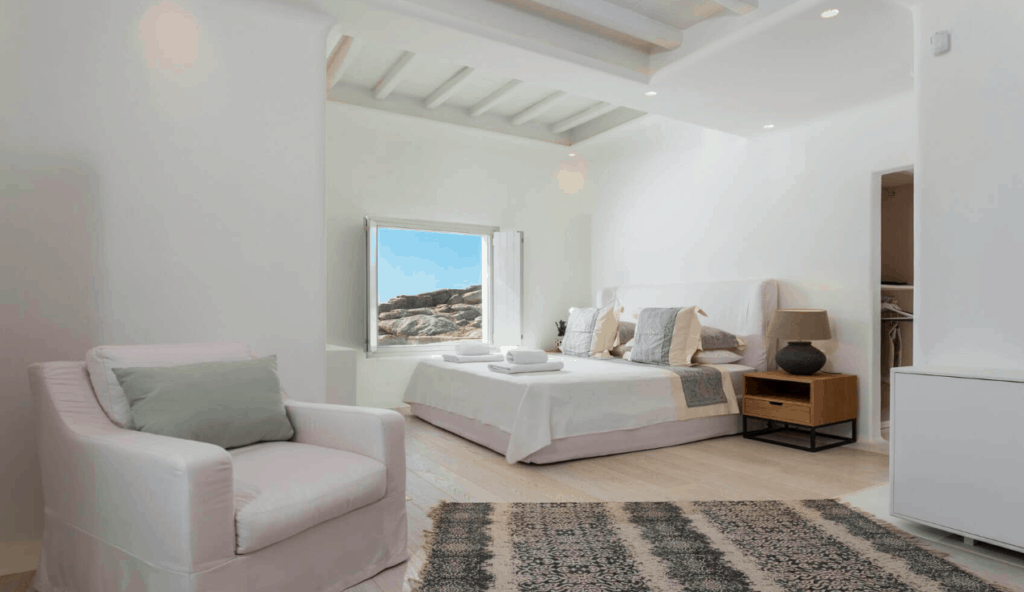 Pictured above: Beautiful interiors of Villa Alaia
Bonnie wandering around Mykonos Old Town.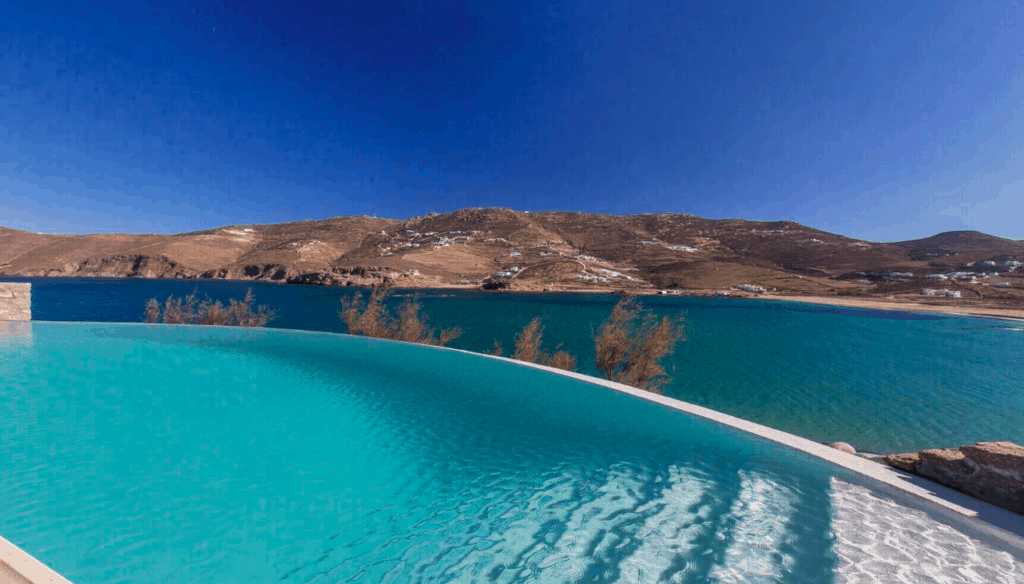 Villa Krista – Where simplicity meets elegance
With sculptural cubic-shaped structures in the grounds and a loyal obedience to the local colour schemes, Villa Krista is a luxurious villa that speaks of the traditional Cycladic architecture in the most alluring way. The 310 m2, 5-bedroom property features a breath-taking view of the crystal clear Aegean Sea waters and the cloudless skies. Sitting on a 6,000m2 land, Villa Krista is stunning. Providing amenities such as its private waterfront, a gorgeous infinity pool overlooking the ocean, staff rooms, private dining and lounge areas, and lots of nooks to enjoy seclusion when you so desire it, Krista has everything required for a royal stay. Luxury, finesse, and chicness characterise every inch of this beautiful beach residence, making it a unique gem in the Ftelia region.
Pictured above and Below Villa Krista.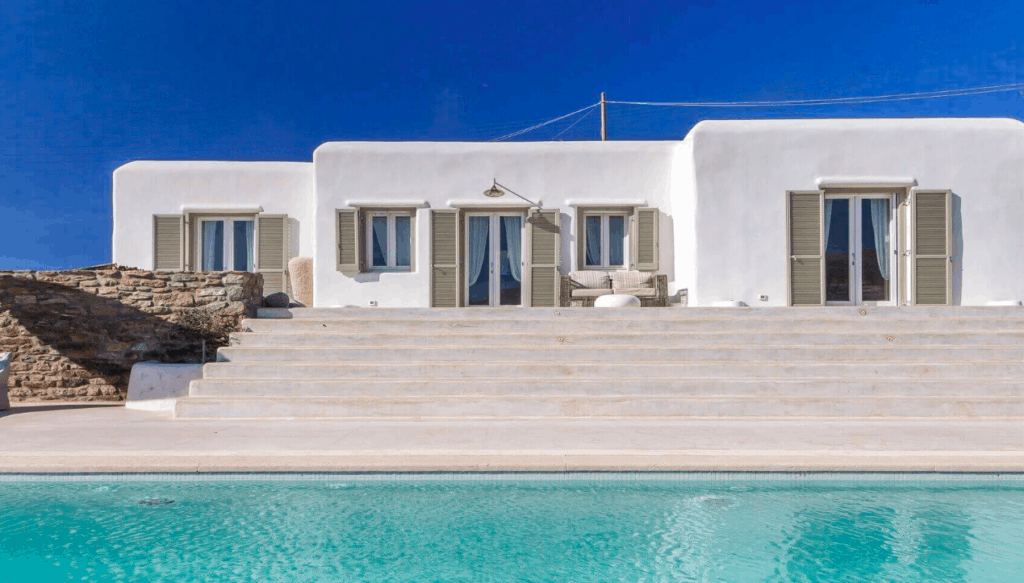 Villa Kristas minimal exteriors with spectacular views.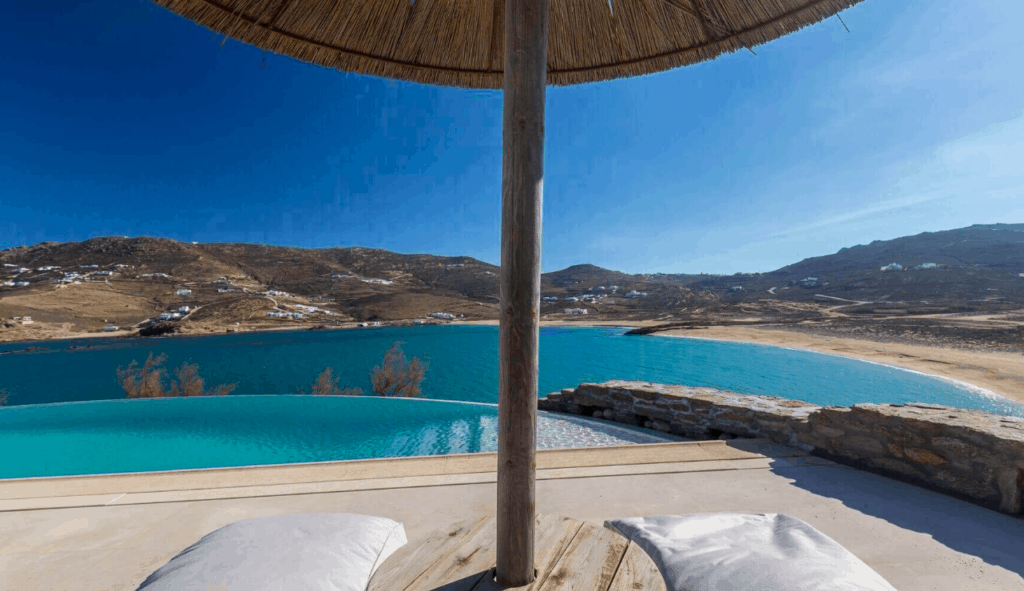 The pool at Krista
Villa Sui Generis – Charming & Palatial in Every Way
The whitewashed walls, the blue shutters, the beamed ceilings, the stone arches, the full range of facilities, and the incredible panoramas of the sea are features that don't go unnoticed when laying eyes on Villa Sui Generis for the first time. For most people, it is love at first sight. For others, an irresistible infatuation that fulfils all of their requirements for a VIP holiday. Occupying a hilltop location in the privileged Agios Lazaros area, the stunning mansion gives lessons of grandeur, opulence, and style. Ready to accommodate and cater to the needs of up to 10 guests, providing each and every one of them with the comforts, conveniences and privacy they are used to and need.
Pictured above and below: Villa Sui Generis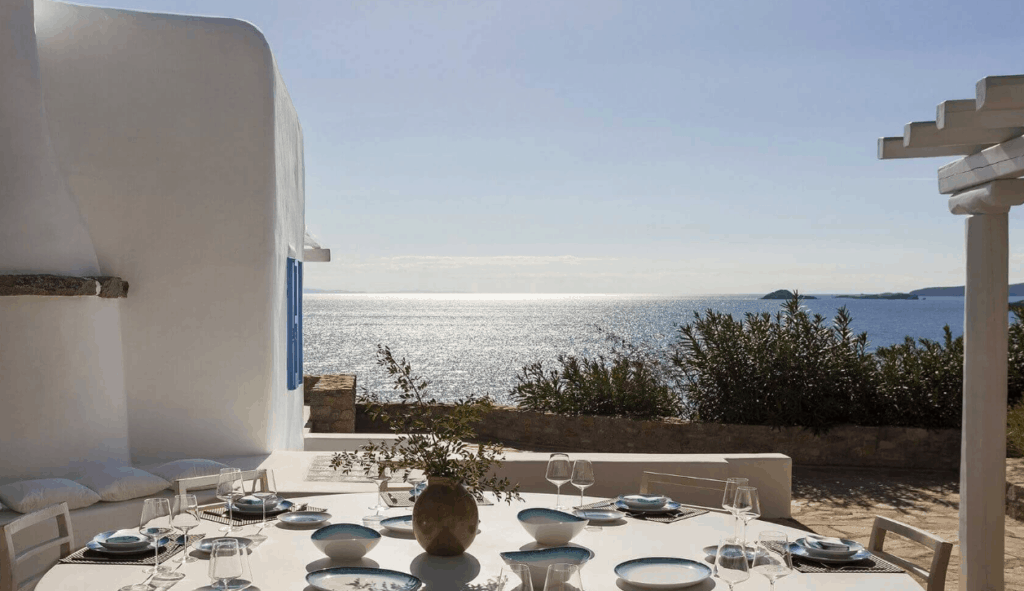 Above: Al fresco dining at Villa Sui Generis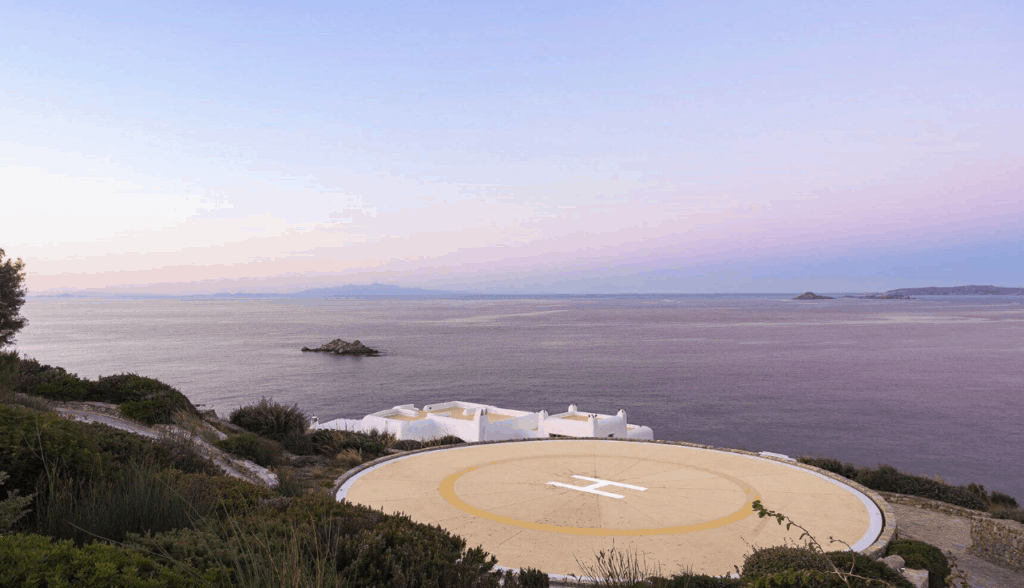 The helipad at Villa Sui Generis and below, the aerial view.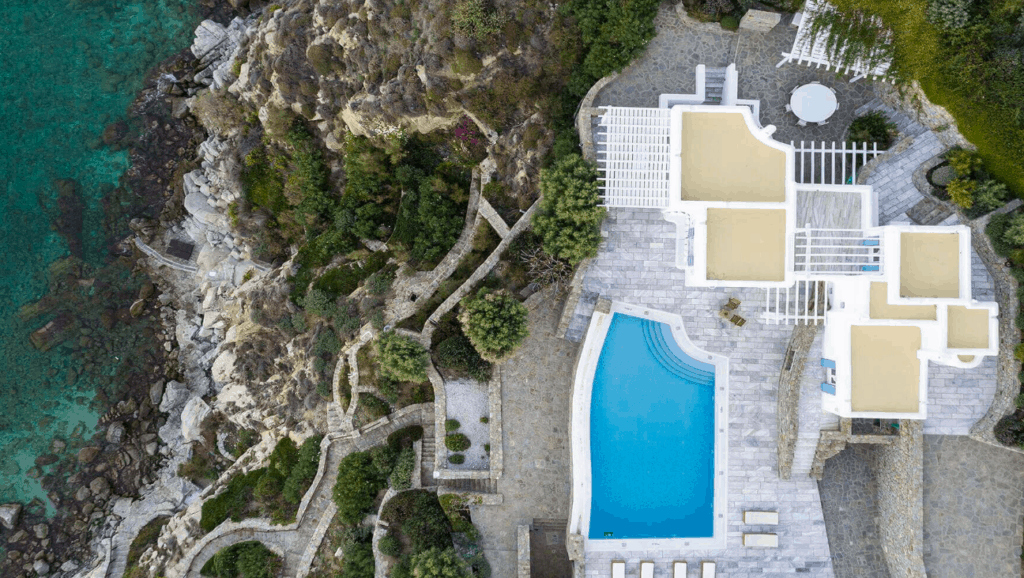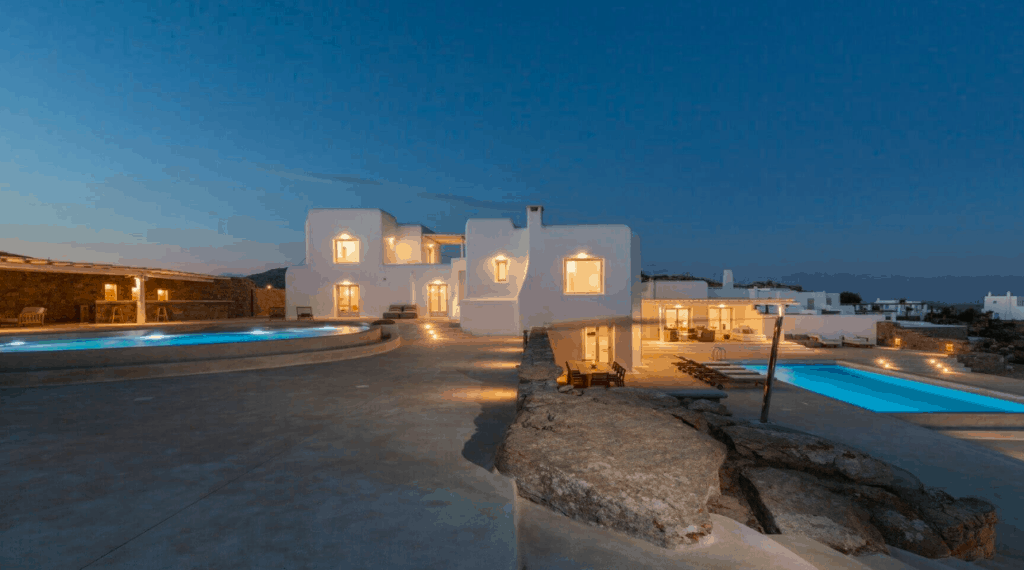 Villa Alaia – Minimalistic & Stately
A majestic residence in the Agia Sophia neighbourhood that has been specifically designed to meet the demands of even the most discerning guest. With tranquil natural surroundings and gorgeous seascapes that stretch all the way to the islands of Delos, Paros, Naxos, and Antiparos on a sunny day, Villa Alaia seems as if it has jumped straight out of a fairy tale. With ample space to host a large family or group of friends and lots of private areas created for maximum privacy and relaxation, it is no wonder that Villa Alaia is one of the most booked properties in the region. Also perfect for entertaining get-togethers, it offers comfy seating, plush daybeds, BBQ sections, an overflow pool, al fresco dining spaces, a pool-side bar, and a Jacuzzi – all part of a long list of amenities that can turn your vacation into one of the most memorable holidays you've had.
Pictured above and below: Villa Alaia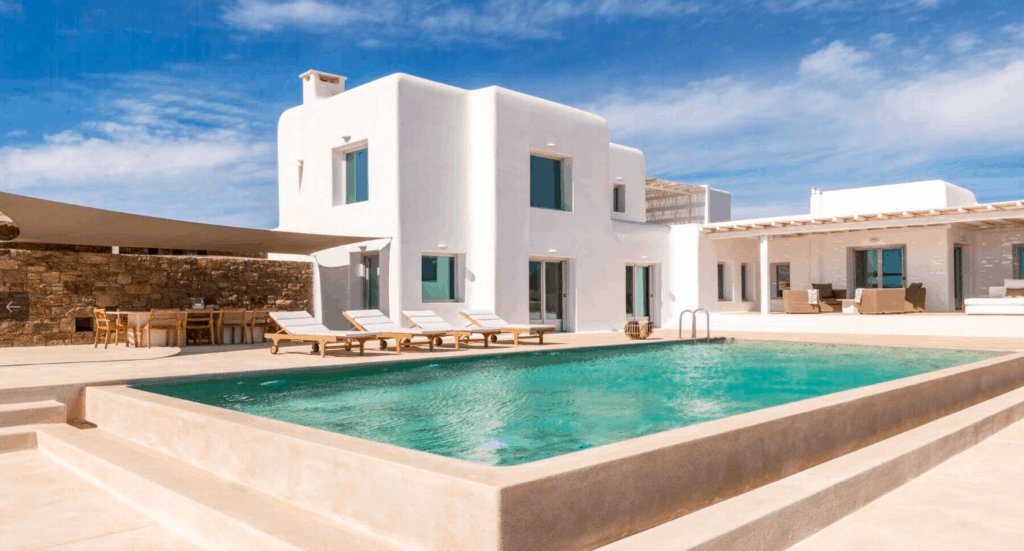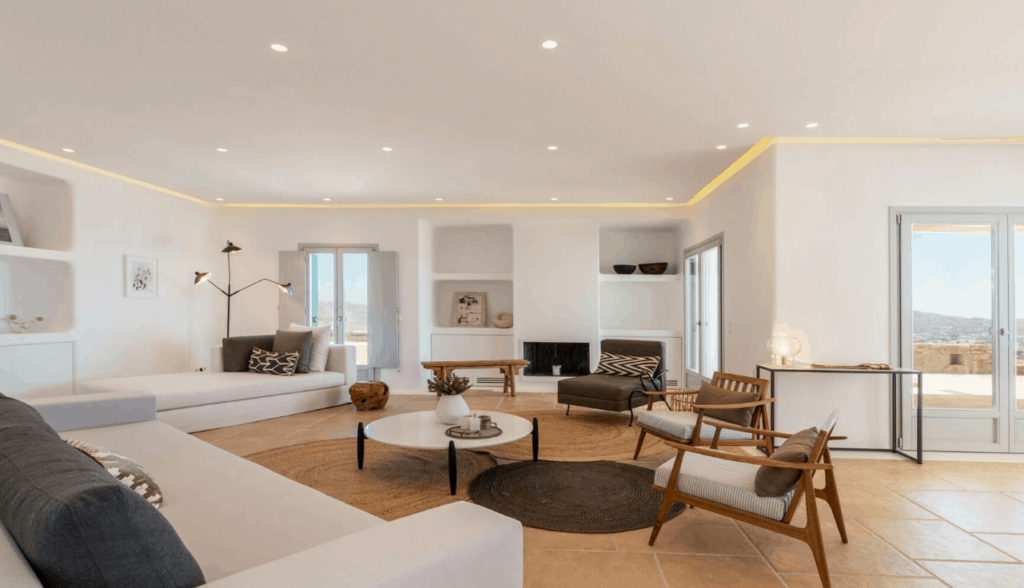 Pictured above and below: the stunning lounge and breathtaking pool views at Villa Alaia.