Dubai – The Perfect Spa Weekend at Palazzo Versace

Dubai – The Perfect Spa Weekend at Palazzo Versace
Where? Palazzo Versace
Exactly? Dubai
Why? Post London fashion week I was in need of a bit of pampering and relaxation and as if by magic the perfect invite landed into my inbox. 'Would I like to spend three days at the spectacular Palazzo Versace in Dubai, experience the indulgent treatments and review the state-of-the-art, brand new spa?' I didn't need to give it a second thought…Dubai here I come!
Here's my photo diary of the perfect spa weekend at Palazzo Versace…

The Hotel
The Palazzo Versace is an elegant, luxury hotel and spa owned by the world renowned fashion label, Versace. Reminiscent of a 16th century Italian palazzo, every inch of this perfectly styled hotel emulates the resplendent ethos of the opulent fashion house.
Situated only 15 minutes drive from Dubai International Airport and 8 minutes from downtown Dubai and Burj Khalifa, the location is ideal for those who want to venture into town yet relax in the serene Dubai Creek area.
Above and below: Bonnie wears silk jumpsuit by Bedouin, a Dubai based label available at OwnTheLook.com, watch by Longines.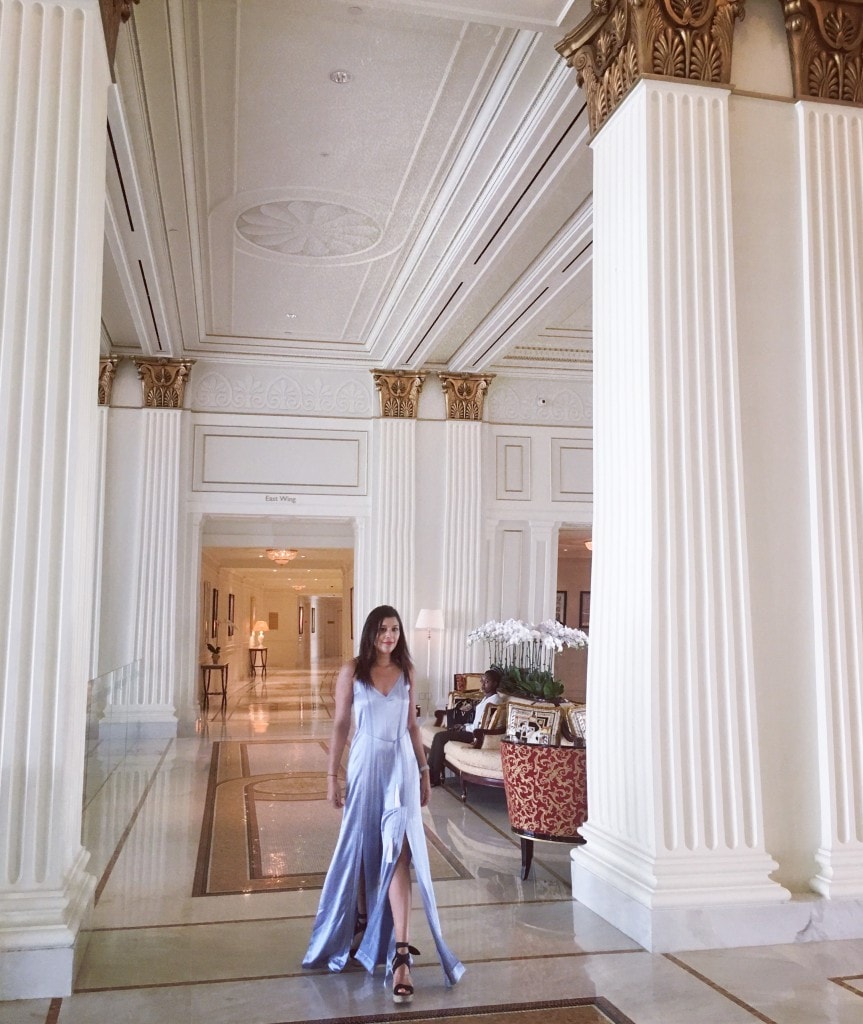 What to wear in Dubai
Staying in fashion hotel can be daunting, especially in a style conscious city like Dubai. For an Islamic country it's reasonably liberal here when it comes to dressing, but there a few rules, mainly to be conscious of revealing too much skin in public places.
The style of Dubai is high octane glamour and the Versace Hotel is no exception. Take inspiration from the original fashion illustrations on the walls of the hotel. Make sure you pack all of your bling jewellery, designer hand bags and heels, this destination is your one passport to wearing it all at the same time.  If you are heading clubbing or to a beach club then you still can channel sexy beach style. But Ibiza this is not, just make sure you have enough cover up for getting to and from your locations.
Dubai is a holiday destination but it is also a busy working city, so take some smarter attire for dinner and if you're heading into the malls during the day, where the air con is fierce.

The Decor
With neo-classical, decadent interiors, lavish high ceilings, perfectly groomed gardens, chandeliers a plenty and fashion illustrations as art works, this hotel is a fashion shoot waiting to happen. So I decided to take full advantage…
The foyer is a stunning, bright open space, with opulent high ceilings, grand windows to let in the light and mosaic tiled floors featuring the Versace Medusa head logo.

Above: Bonnie lounging around in the glass chandelier corridor wearing white lace dress by The Jetset Diaries.

The Rooms
There are 215 immaculately designed luxury rooms and suites, as well as 169 residences. Each designed with baroque silks, in a soft pastel palette. Balconies look out over the pools and Dubai Creeks swaying waters beyond. Everything you can want for is provided, from in room phone chargers to a very well appointed walk in wardrobe and dressing area, complete with adjustable lighting around the mirror so you know how your make-up looks from day to night. How very fashion!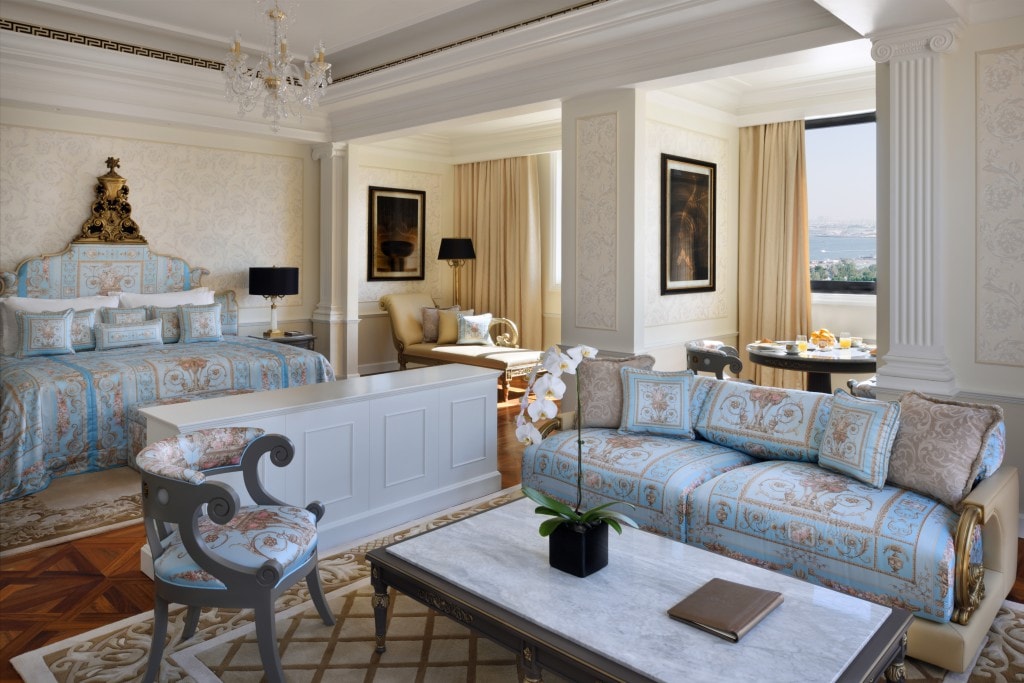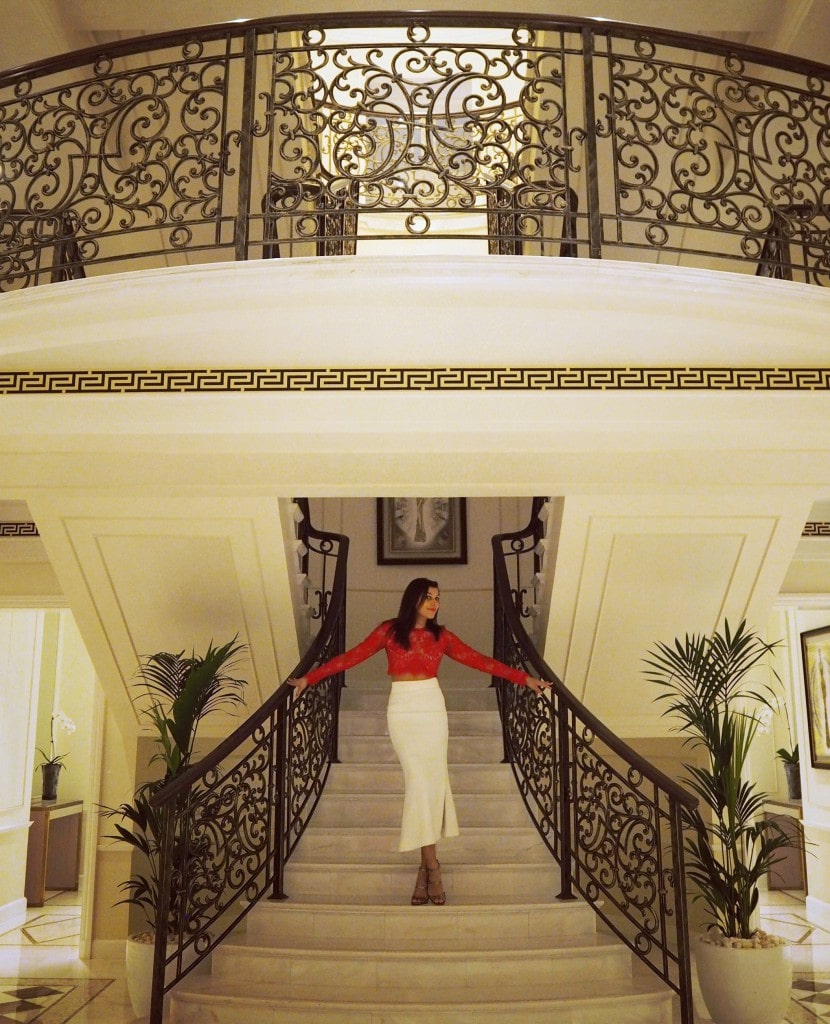 Above: me posing on the interior staircase of the presidential suite and below the suites own private pool, it also has it's own gym room.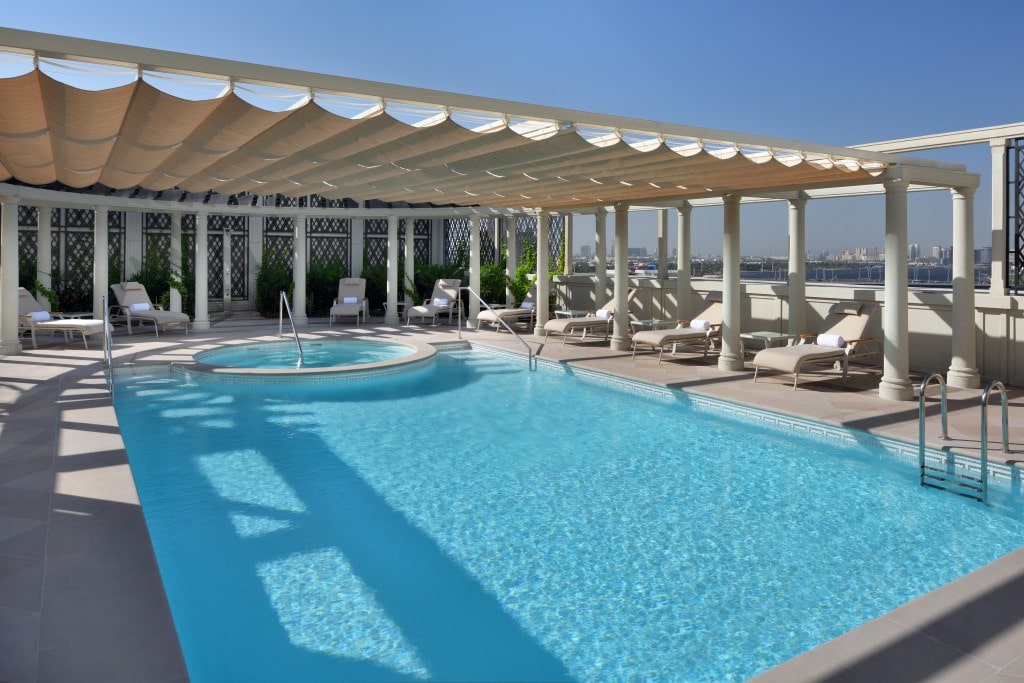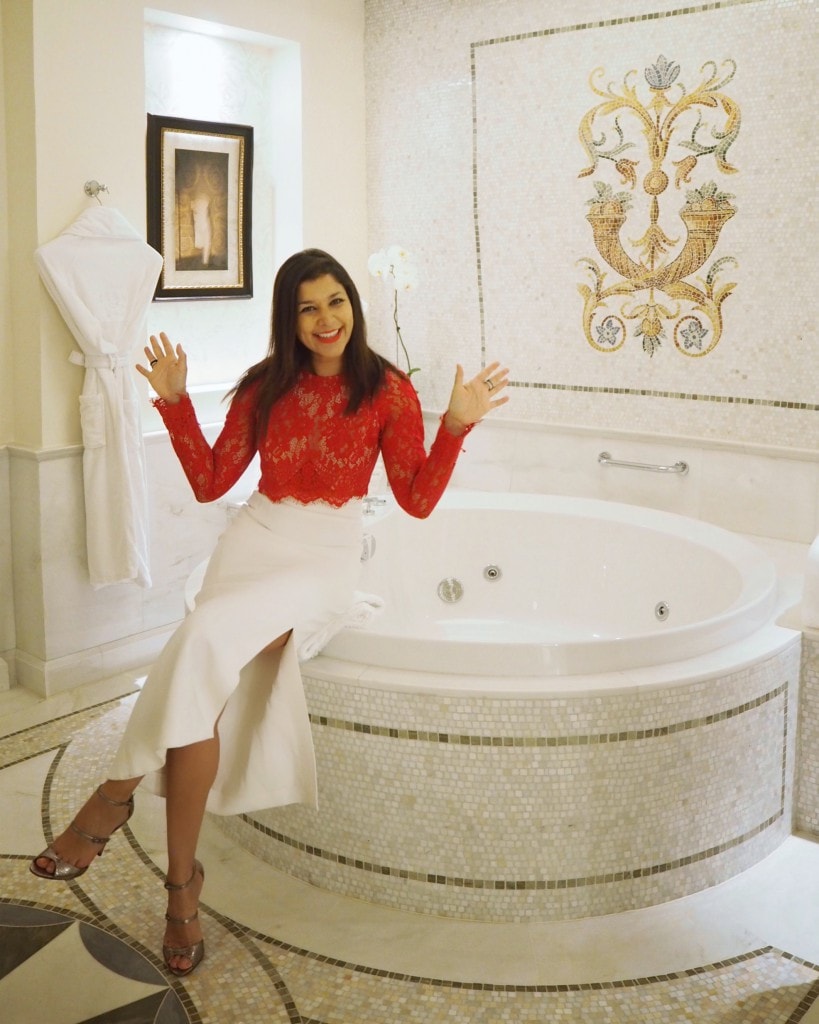 Bathroom goals!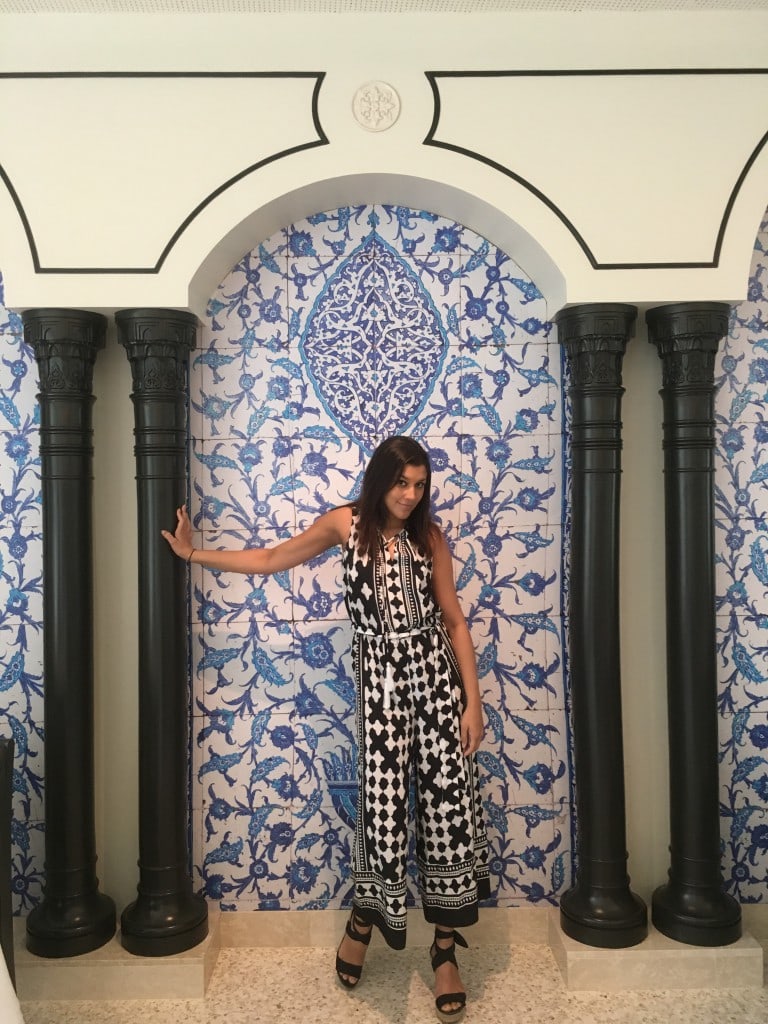 Above: Bonnie wears Kate Spade jumpsuit at Enigma Restaurant, the hotels Turkish kitchen.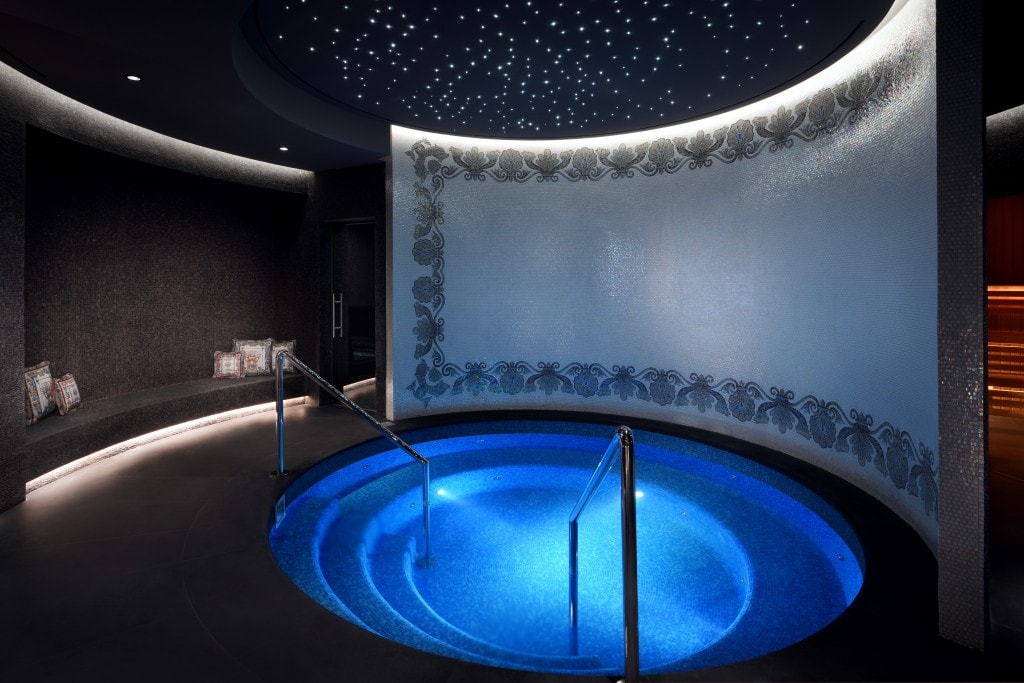 The Spa
Set over 1000 sq metres the brand new spa at Palazzo Versace houses 7 private treatment rooms, steam rooms, saunas, jacuzzis, rain and mist showers and hammam rooms. Beautifully styled in the hotels signature mosaic with soft, mood lighting, it is the epitome of relaxation.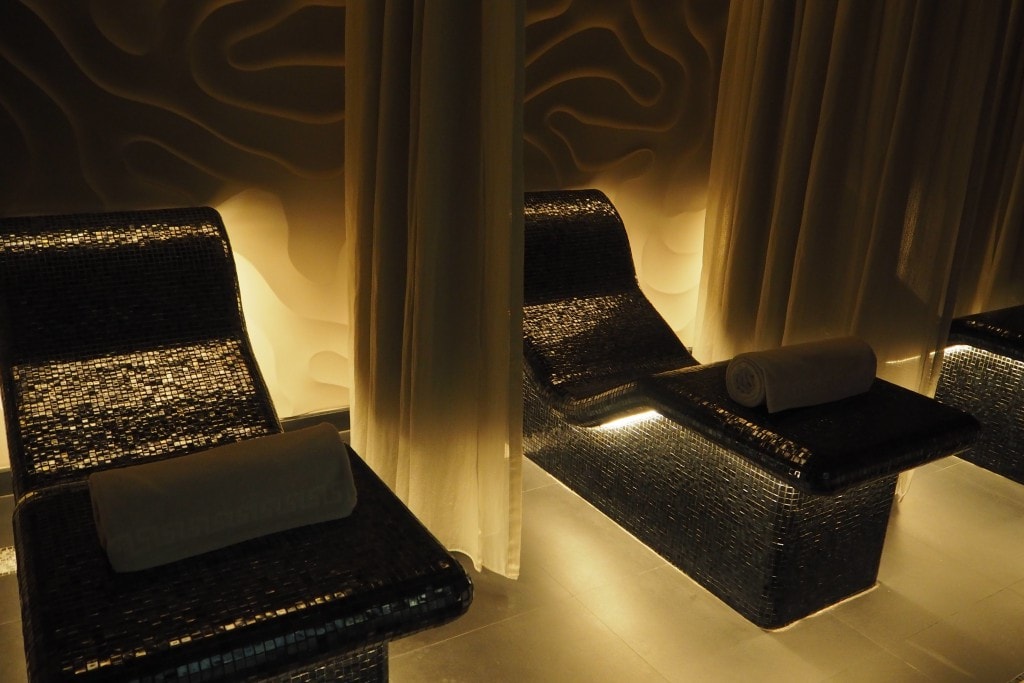 Heated tiled beds in the relaxation area.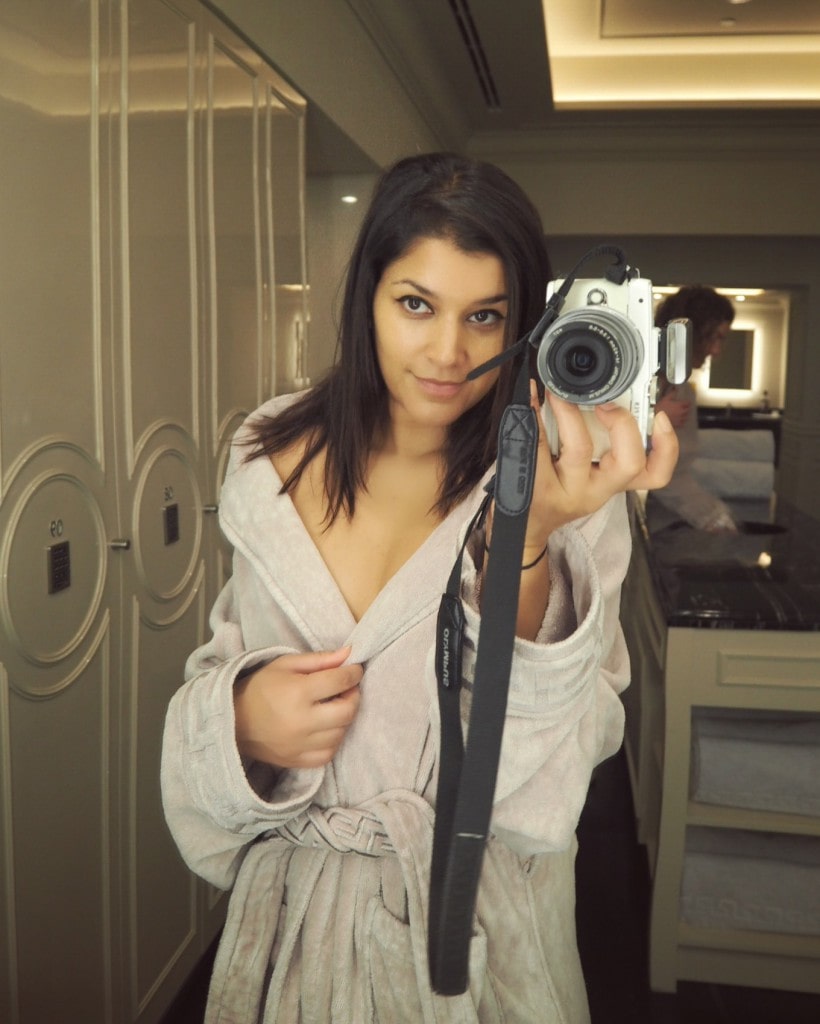 The spa menu is full of delicious treatments, I opted for a hammam massage for my first day, which is taken in the purpose built steamy hammam room. And on the second day I tried out the royal rose facial, which left my skin soft, toned and glowing for days.
For those with a limitless budget, there's always The Ultimate! This is the mother of all treatments, it takes 7 hours and 30 minutes, a Maserati car comes to pick you up, if you aren't staying at the hotel, you have breakfast at Giardino Restaurant followed by a hammam and ceremonial massage, then lunch at the hotel. This is followed by a full afternoon to blow drys, manicures, pedicures all accompanied with champagne of course. But be warned, all this indulgence comes at a cost, of around £900 to be precise!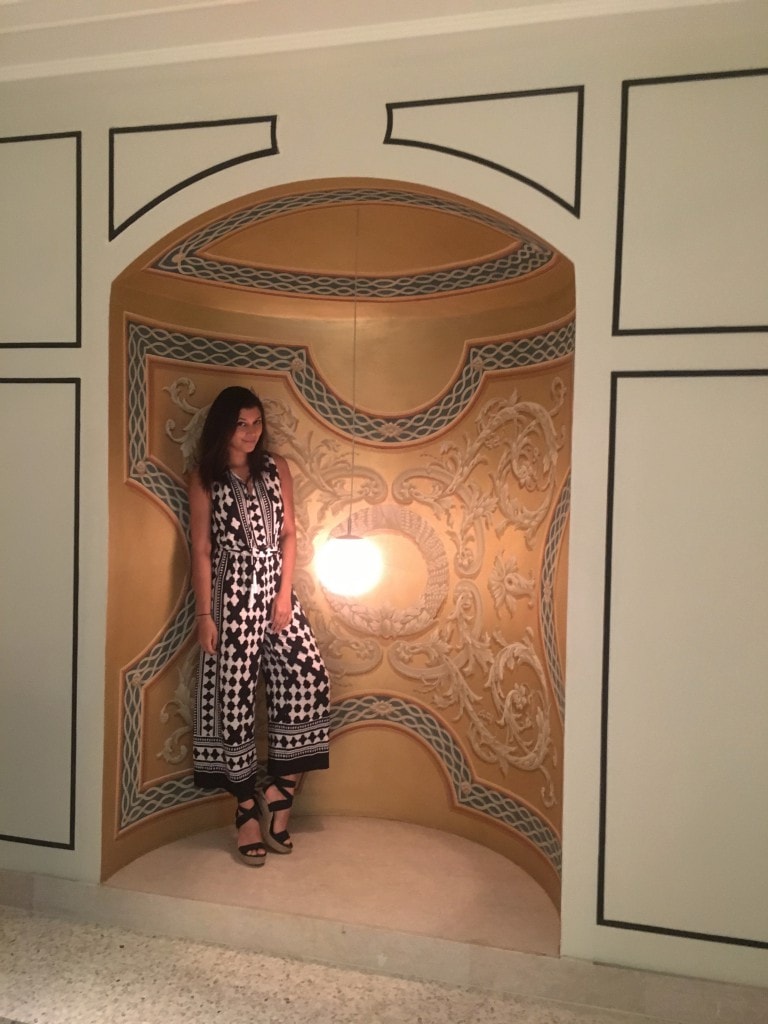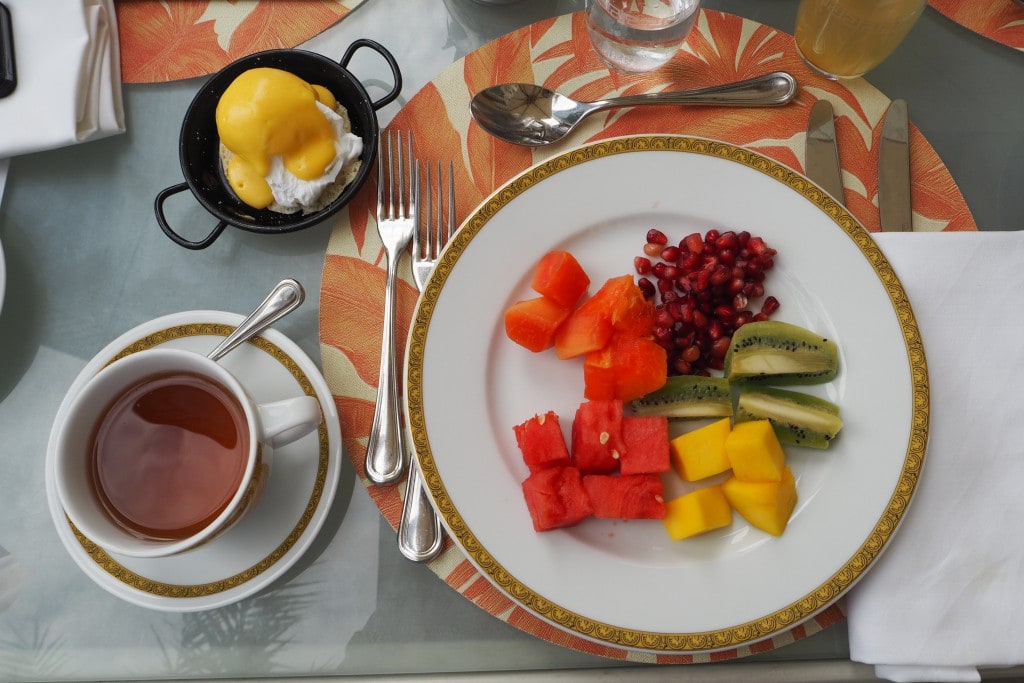 Eating and drinking
There are 8 bars and restaurant offerings at the hotel from breakfast at Giardino filled with exotic palm prints and delicious healthy buffet style servings, through to Enigma for fantastic Turkish food and Vanitas which offers fine dining and a chair for you expensive handbag… more on that later. But whatever time of day there's are more than enough options food wise.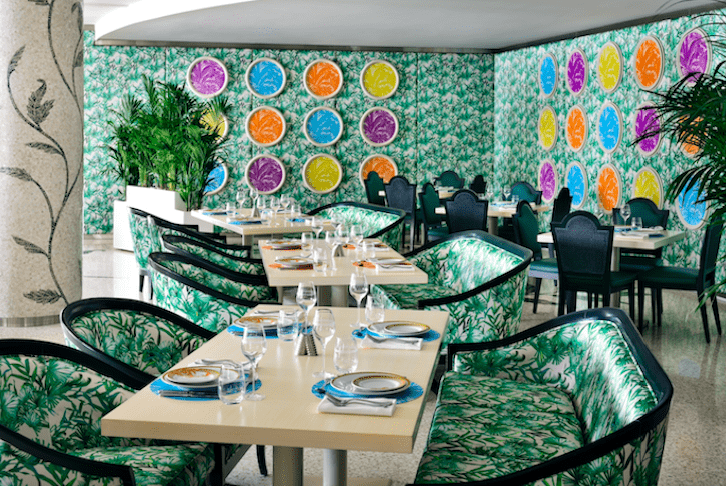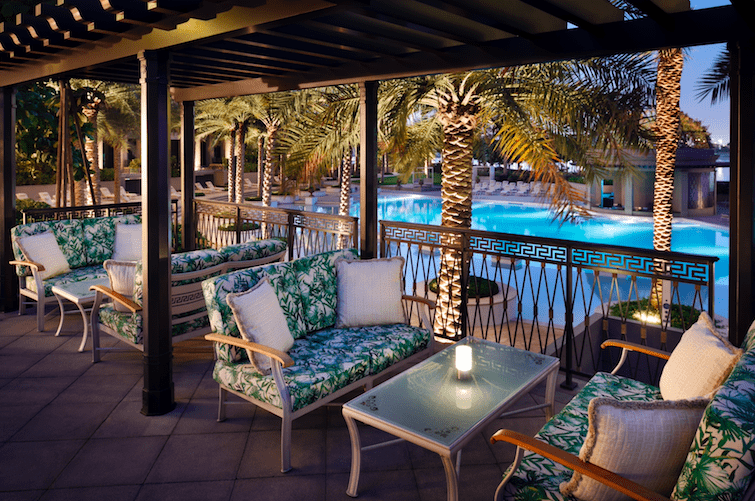 Above: The Gazebo shisha lounge by the pool.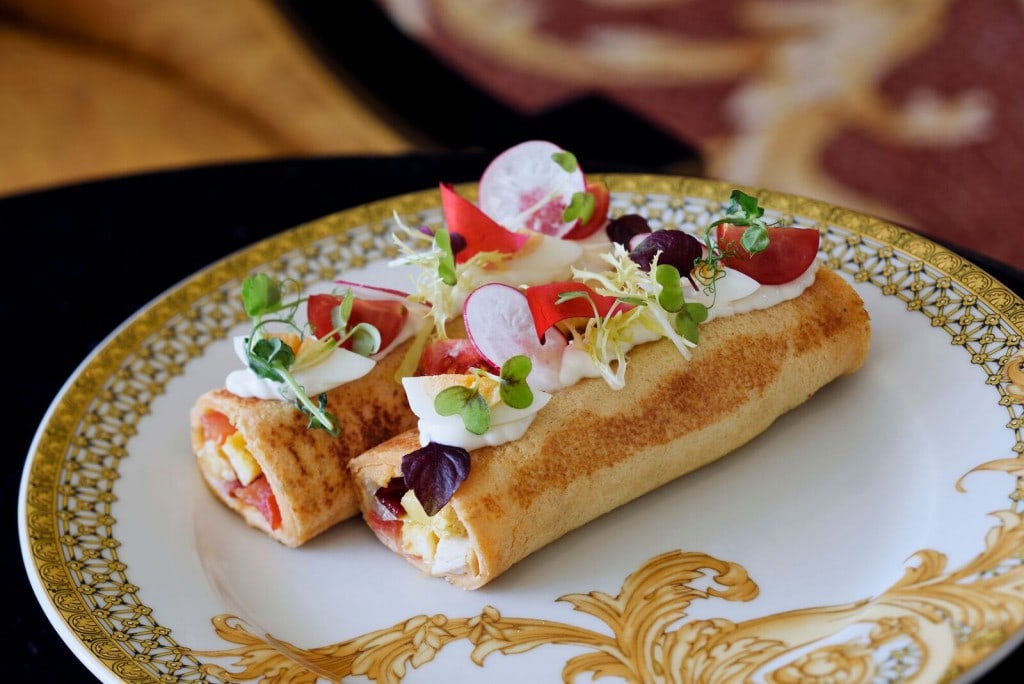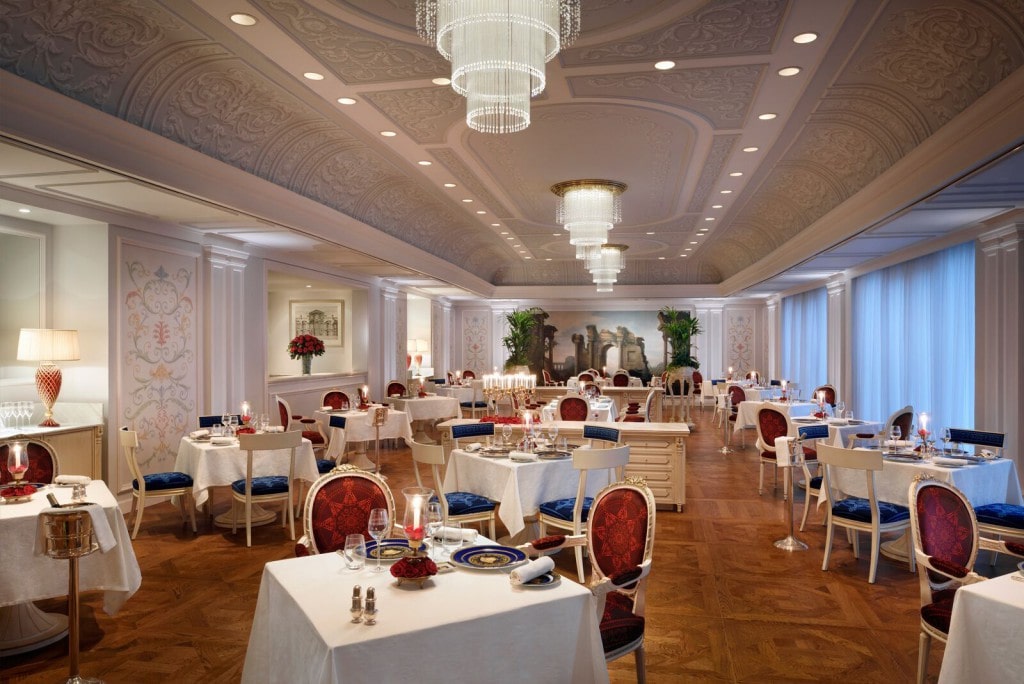 Vanitas fine dining restaurant has a predominantly Italian menu, with an amazing range of homemade pastas served at lunch time. Each dish is perfectly styled and bursting with flavour.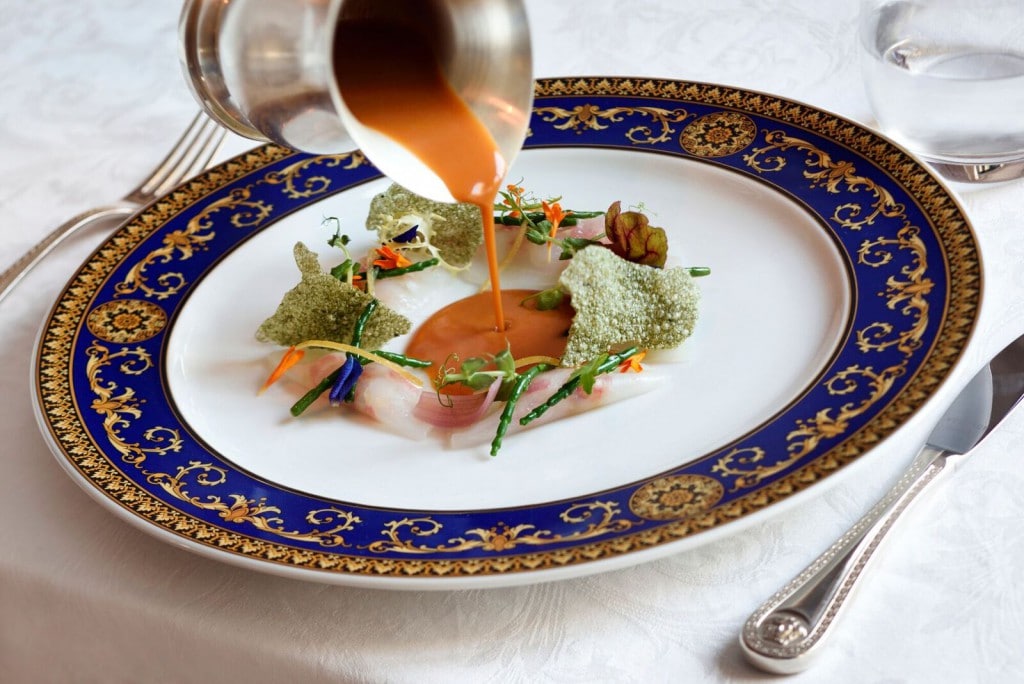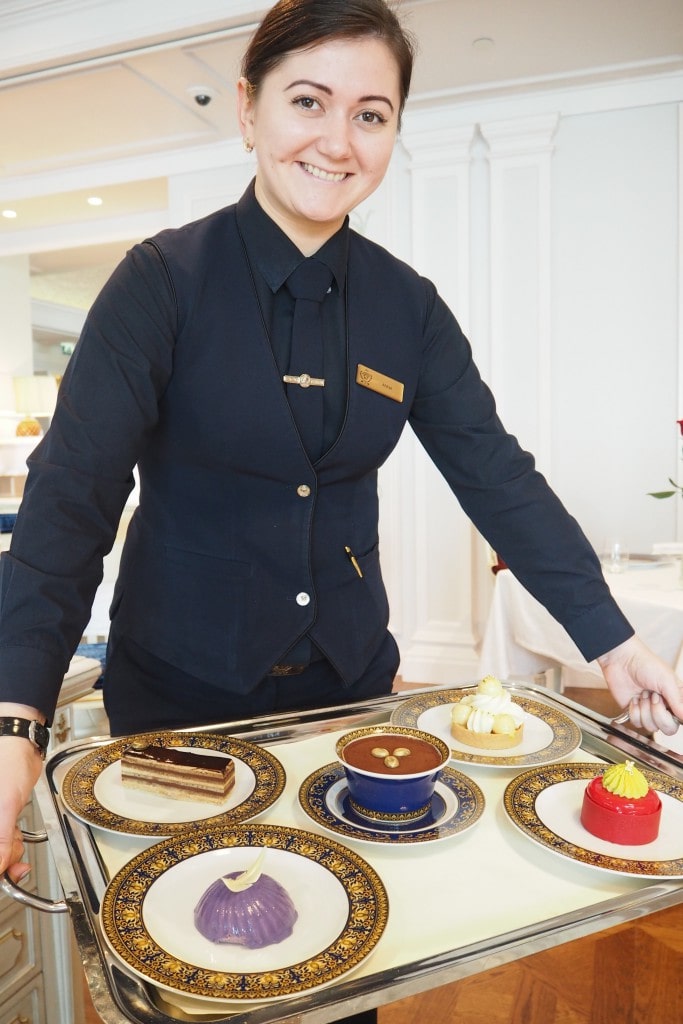 Our waitress brings over a tray of desserts, so we had one of each!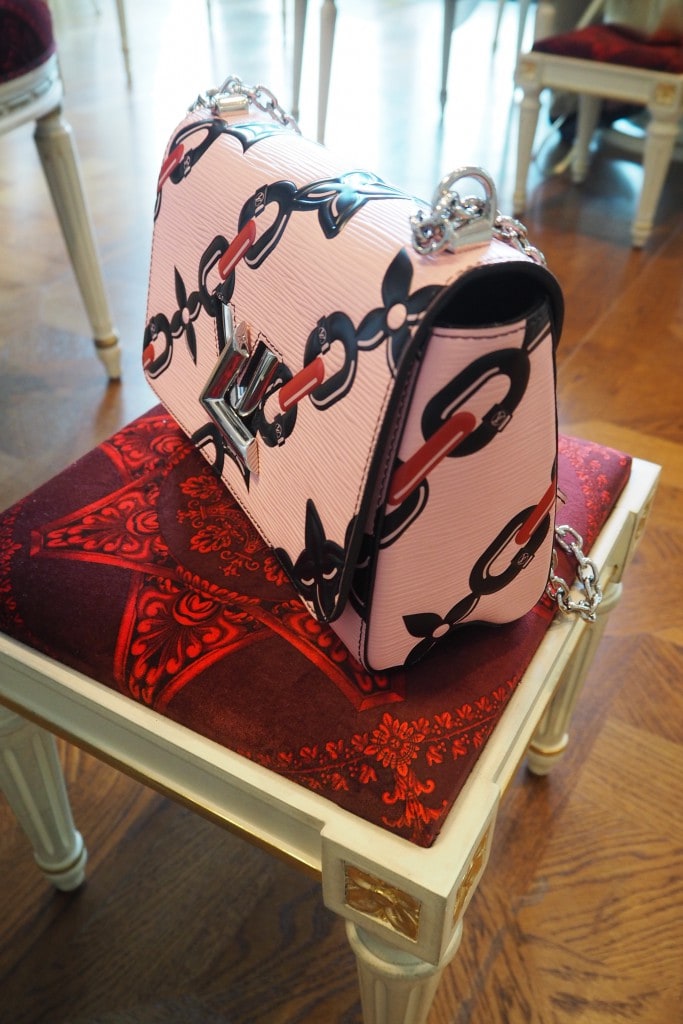 They make you feel so special here that even your handbag gets it's own seat.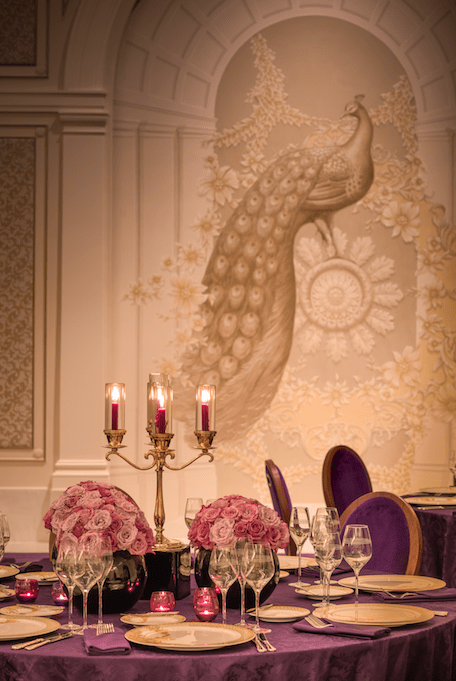 The occasion dining rooms are beautifully decorated in Versace purple.
The girl gang from the press trip. Thank you Cosima (centre right) for looking after us all so well!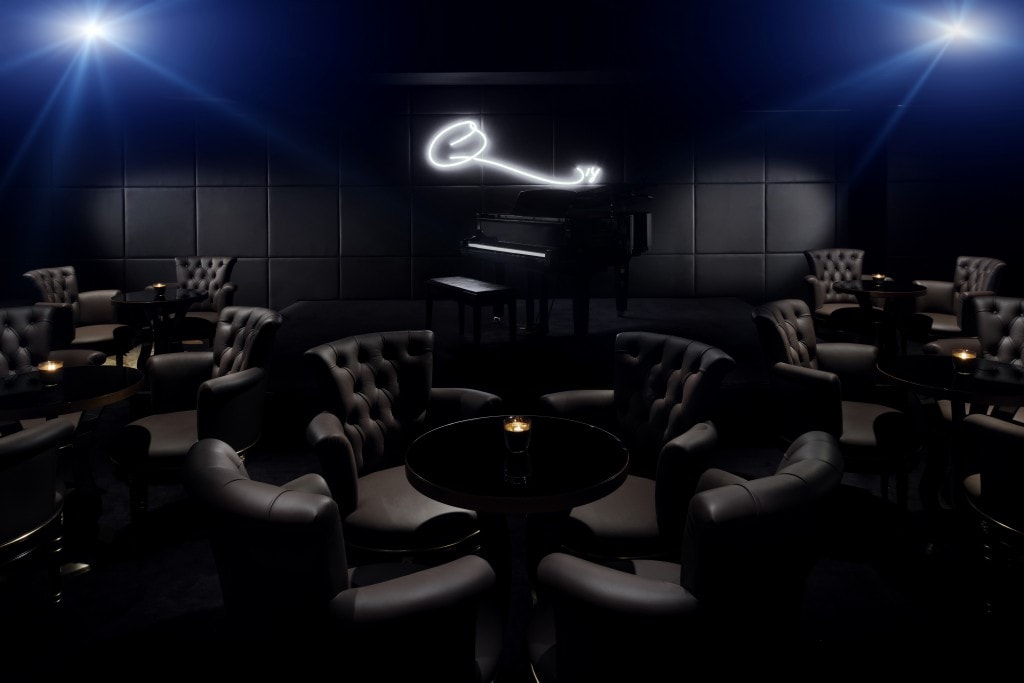 And a couple of post dinner drinks at Q's bar which plays live jazz.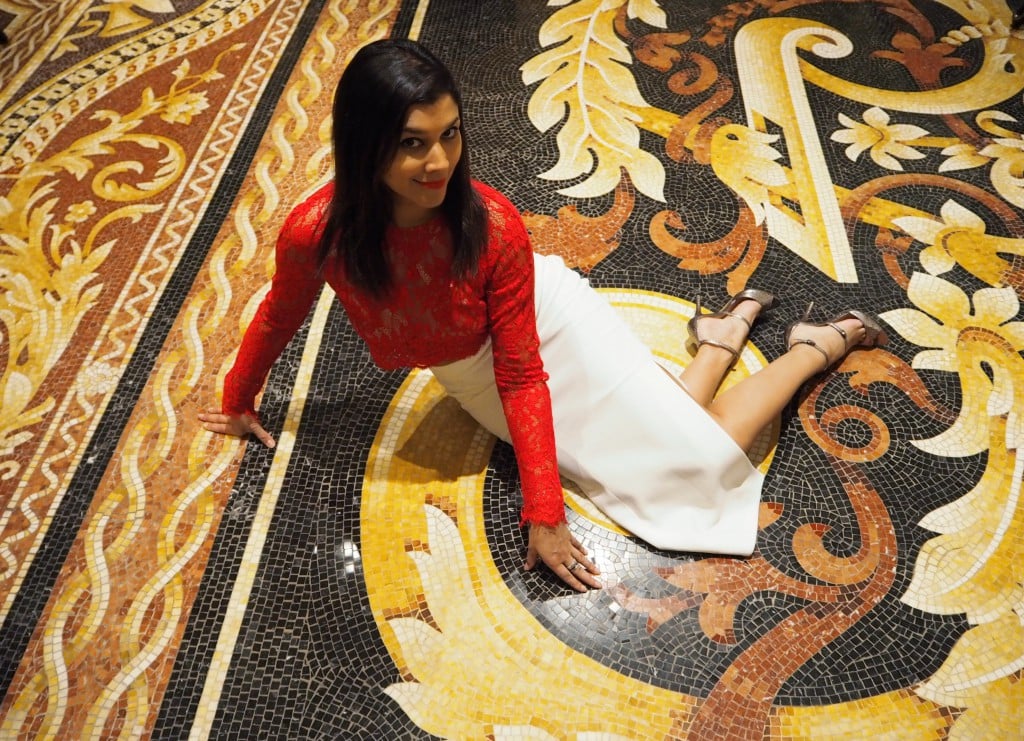 Above and below: Playing around in the grand foyer. Bonnie wears top by The Jetset Diaries, skirt by La Mania, bag by Louis Vuitton and shoes by Alexandre Birman.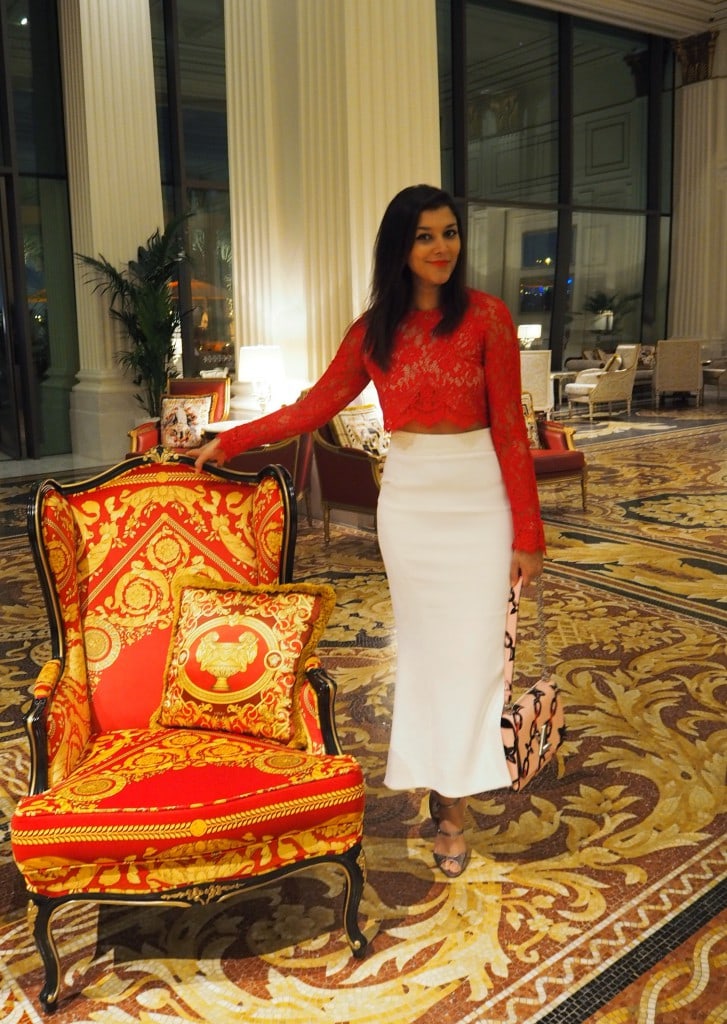 Bye bye Palazzo Versace, I can't wait to come again soon!
Next stop Ferrari UK road trip…