How to Photograph The Taj Mahal – Best Instagram Locations India, Jaipur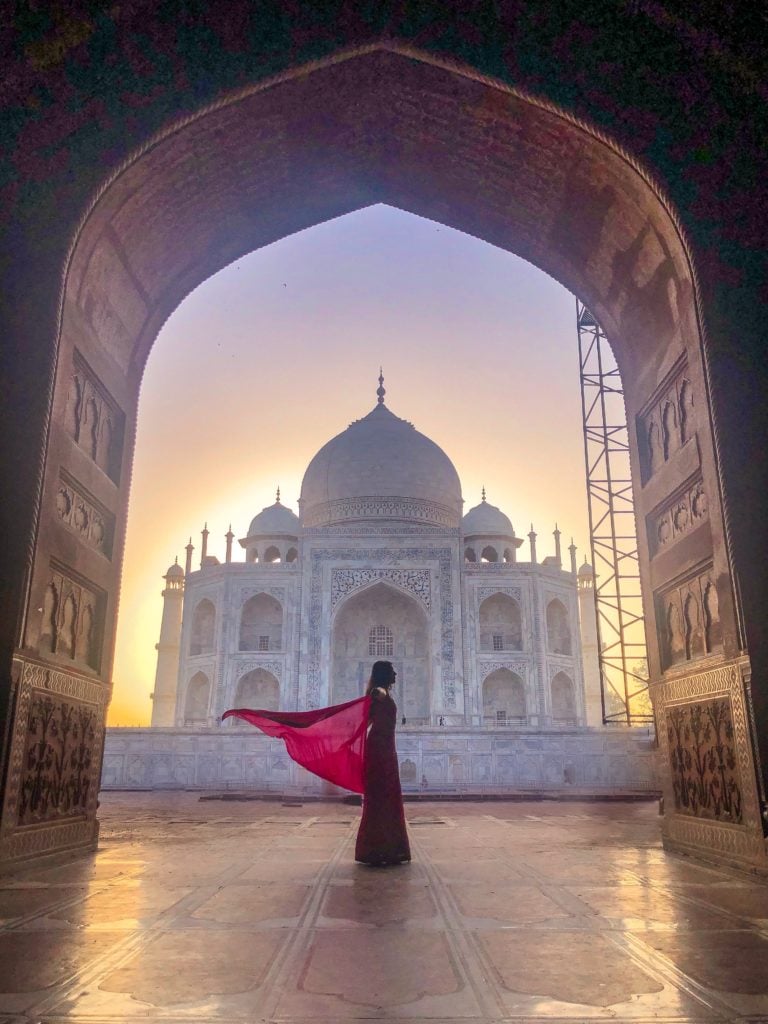 How to Photograph The Taj Mahal – Best Instagram Locations India, Jaipur
For those of you who have visited Rajasthan in India, you'll know that literally everywhere you look makes for a beautiful insta photo, it is quite simply the most colourful and photogenic place, I think, in the world.
But if you're travelling through India on a tight schedule, that isn't very helpful, so I've compiled a list of my favourite including the most iconic sights to visit, particularly if you're looking for those pretty, picture perfect instagram shots. This is by no means an exhaustive list but just my personal favourites. It's more of a bucket list or tick list of the most goals insta locations in Rajasthan.
Pictured above: Me at the Taj Mahal and below the Blue room at the City Palace, Jaipur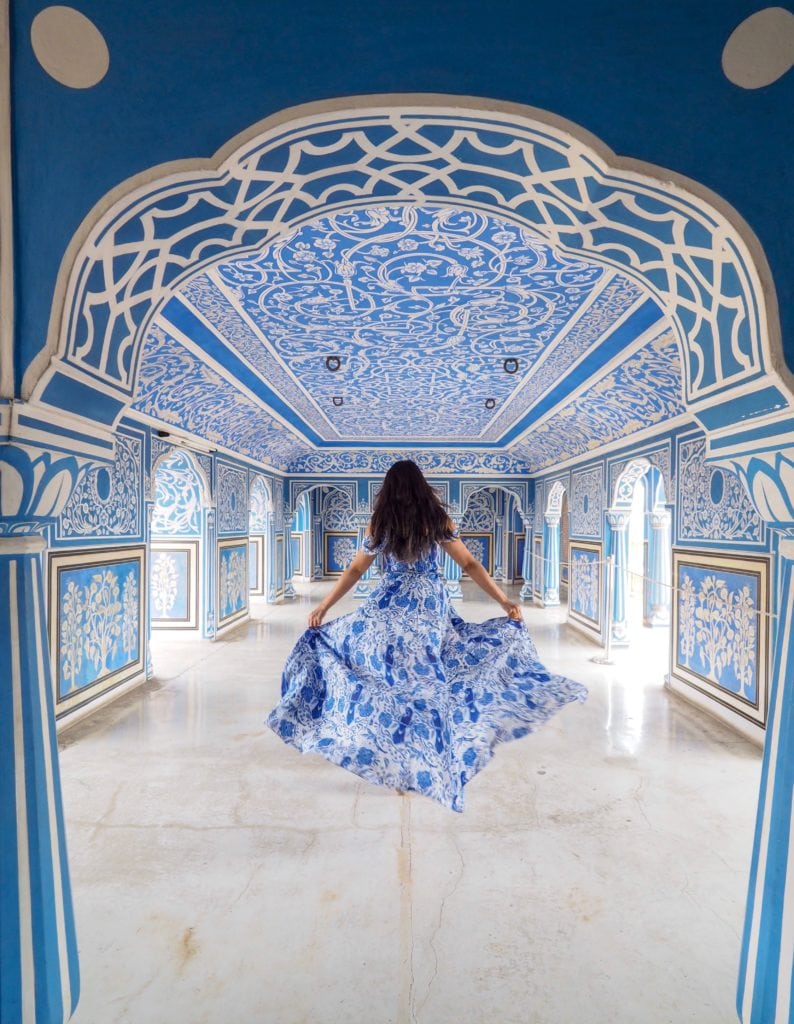 If you have limited time in India, are on a strict itinerary and want to use those trending hashtags to full effect, here are TheStyleTraveller recommendations for the Top 10 Instagram locations in Rajasthan and on the golden triangle route.
I haven't even factored in Delhi here because I didn't have time on my latest trip. But if you want to add your own locations, think I've missed some out, or want to share your tips too, then please let me know in the comments below, I'd love to hear from you.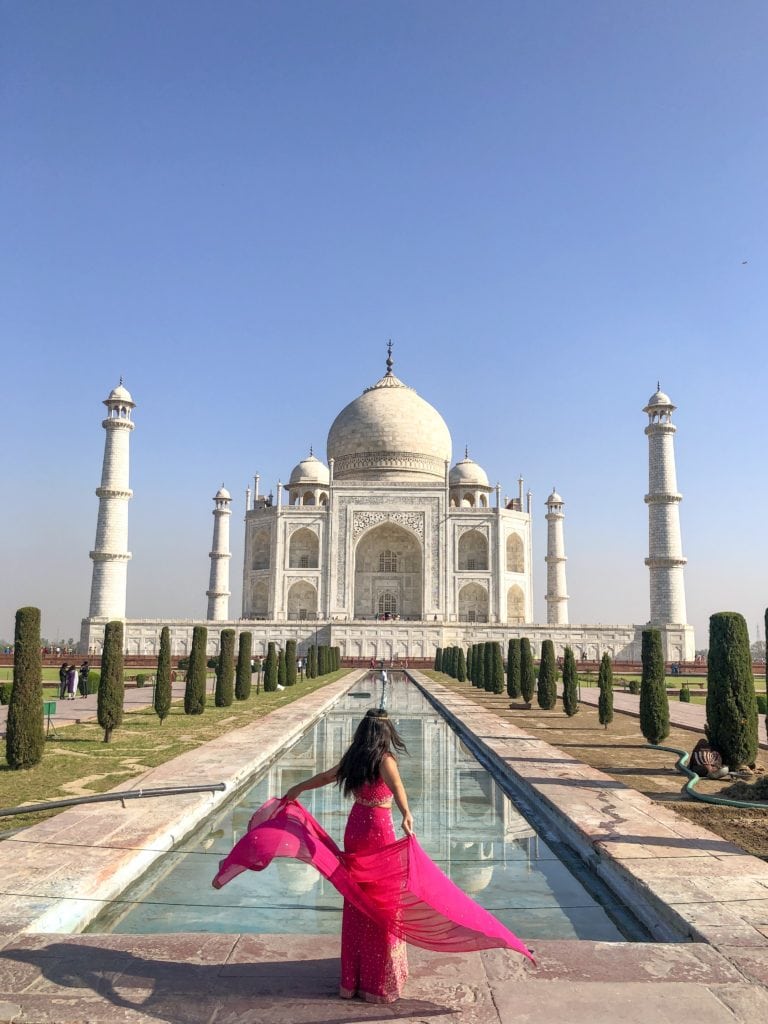 1 The Taj Mahal
Quite simply one of the most spectacular wonders of the world. It is the most famous symbol of love on the planet, a mausoleum of a kings undying love for his queen. It is the most loved and most photographed building in the world. Which in turn means it's really hard to get a decent photo of it without a huge crowd in your shot.
Tip 1 – Buy a ticket online so you can skip the queues. Check opening days, it's currently closed every Friday for conservation (article written in April 2019).
Tip 2 – Gates open at sunrise (usually around 6.30am dependent on season) this is when I arrived and crowds were minimal compared to an hour or two later.
Tip 3 – On arrival don't dawdle in the gardens, head straight to the Taj Mahal itself and to either of the two burnt sienna coloured mosques which stand either side of the main white mausoleum building. From inside the arches of the mosque you get a beautiful arch framed shot of the Taj Mahal like in the opening shot of this blog.
– For the photo above taken from the water gardens we waited in a small queue of people (about 5 mins) let each of them take their shots then we got our time. It's pretty easy if you're patient.
– Shot below is taken inside the mosque next to the Taj Mahal.
– I would also recommend going on a week day, not a weekend or a public holiday if you can, it's much quieter.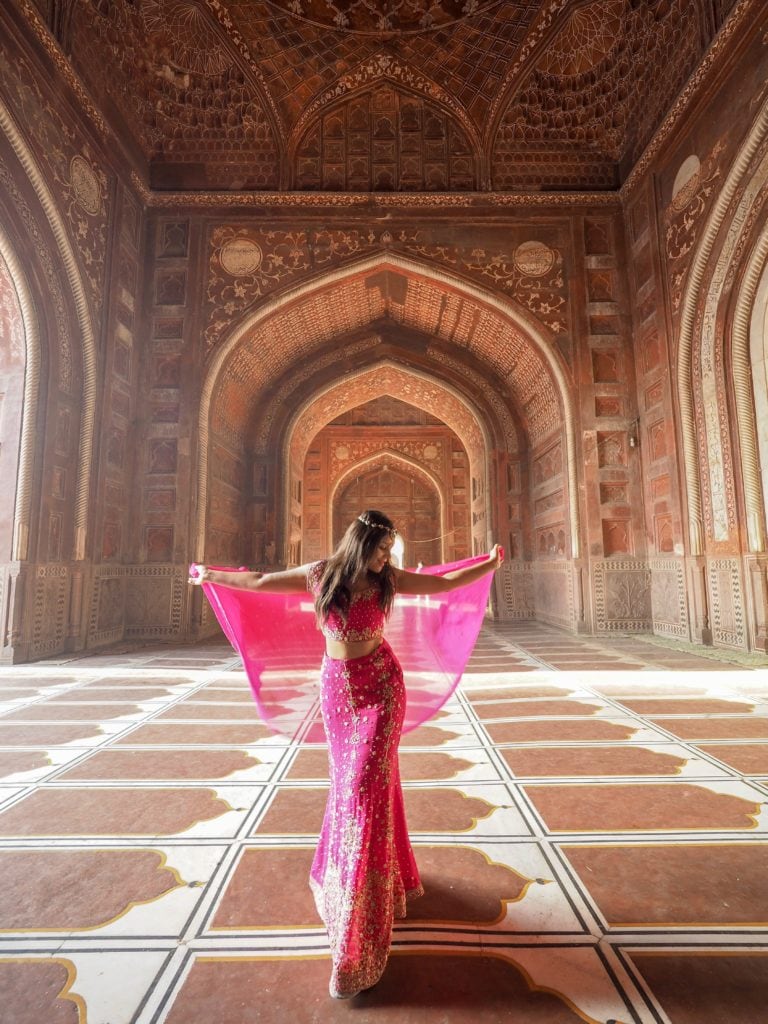 Jaipur Old Town – The Pink City
Set aside a good few hours to discover Jaipur old town, aka the pink city. In this area you will find Hawa Mahal (the wind palace pictured below), City Palace and Jantar Mantar (the Royal Obseravtory) all in close proximity, but they are different buildings each with separate (but minimal) entry fee payments.
We loved it here so much we stayed the whole day, I packed a few different outfits to shoot. We went shopping in the gorgeous handicraft stores afterwards, the markets are also a fab backdrop for photos.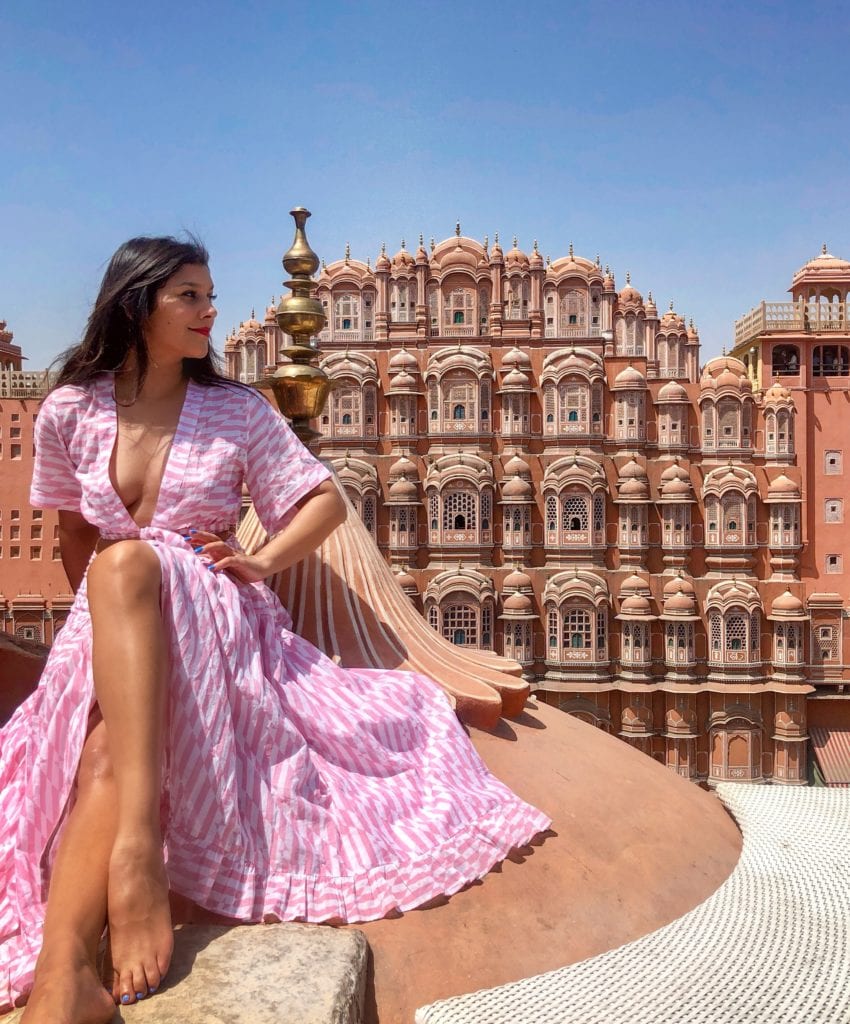 2. Hawa Mahal, Jaipur
Tip 1 –  In order to get the shot with the full front facade of the iconic building, arrive at the main gate, cross the road in the opposite direction and head to the rooftop cafes on the other side of the street.
It's polite to buy a drink or a snack and if you ask nicely they should let you get on the roof to take a pic. Be careful though, this is india so there's no rails, you're basically on private property, if you injure yourself or act stupidly there's no one to sue or blame here.

3 City Palace – The Blue Room, Jaipur View Rooftop & Peacock Gate
The city palace is filled with treasures. From the spectacular Peacock Gate (below), to the incredible Blue Room (above) and also hundreds of other shoot locations with no name. I highly recommend a guide, it's big and not so obvious where to go.
To get to the private quarters of the king (where the blue room is and also the rooftop view) you have to pay an extra fee. It's expensive by Indian standards, around £35 GBP per person. But it is so worth it. If you get a good guide ours was called Vijay (in house guide at the Jai Mahal Palace) he'll show you all the best insta spots, give you a history lesson and also politely ask other tourists in Hindi to wait till you get your shot! Now that's priceless!!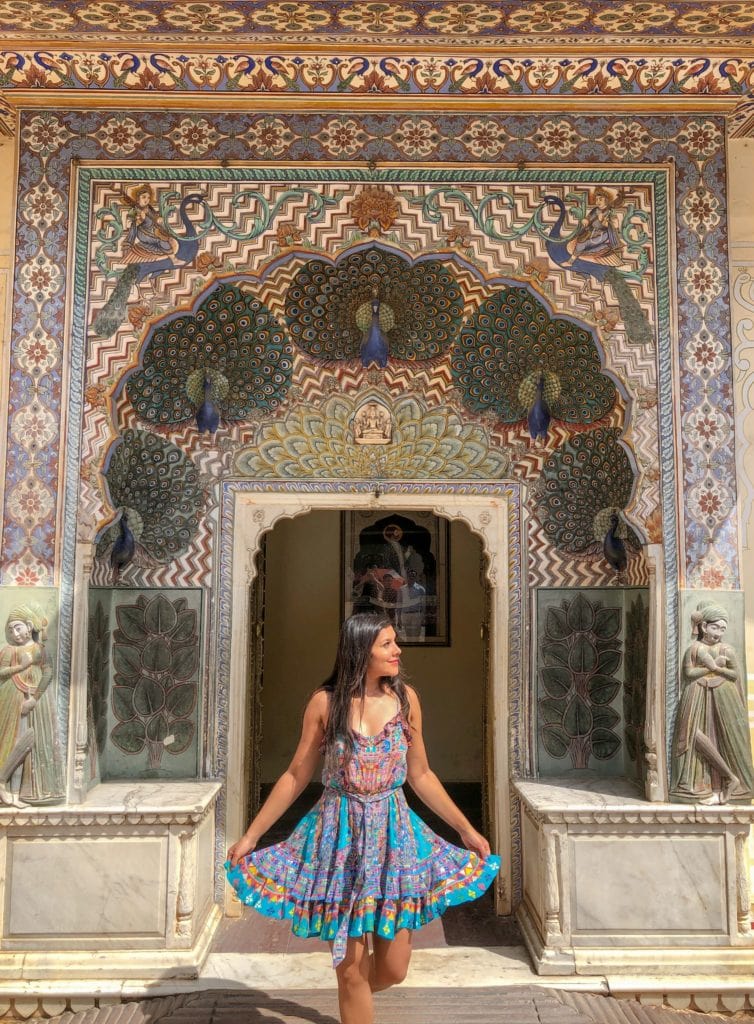 Above: Peacock Gate, Below: the rooftop view from the King's private quarters at The City Palace.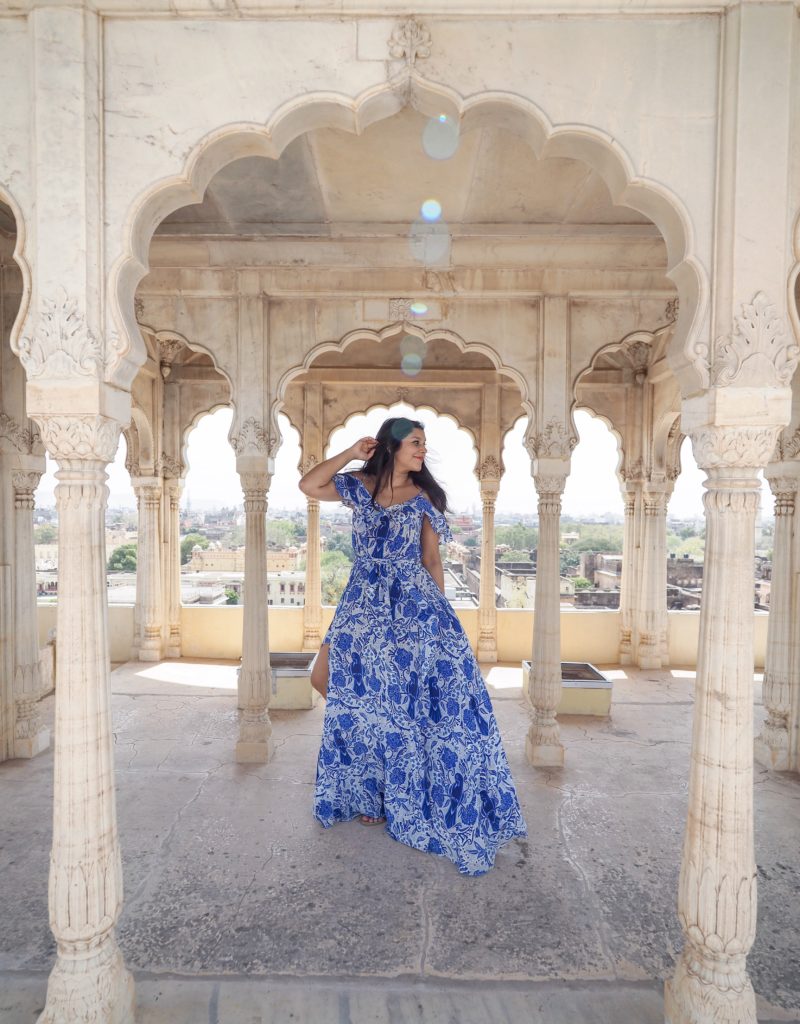 4  Patricka Gate, Jaipur
Around a 15-25 min drive out of town (dependant on traffic), away from the Pink city is the insta heaven of Patrika Gate. It's free to get in, there's literally nothing else here apart from the gate itself in the middle of a huge round about. Get a taxi or private car, get your shot, head home. Job done!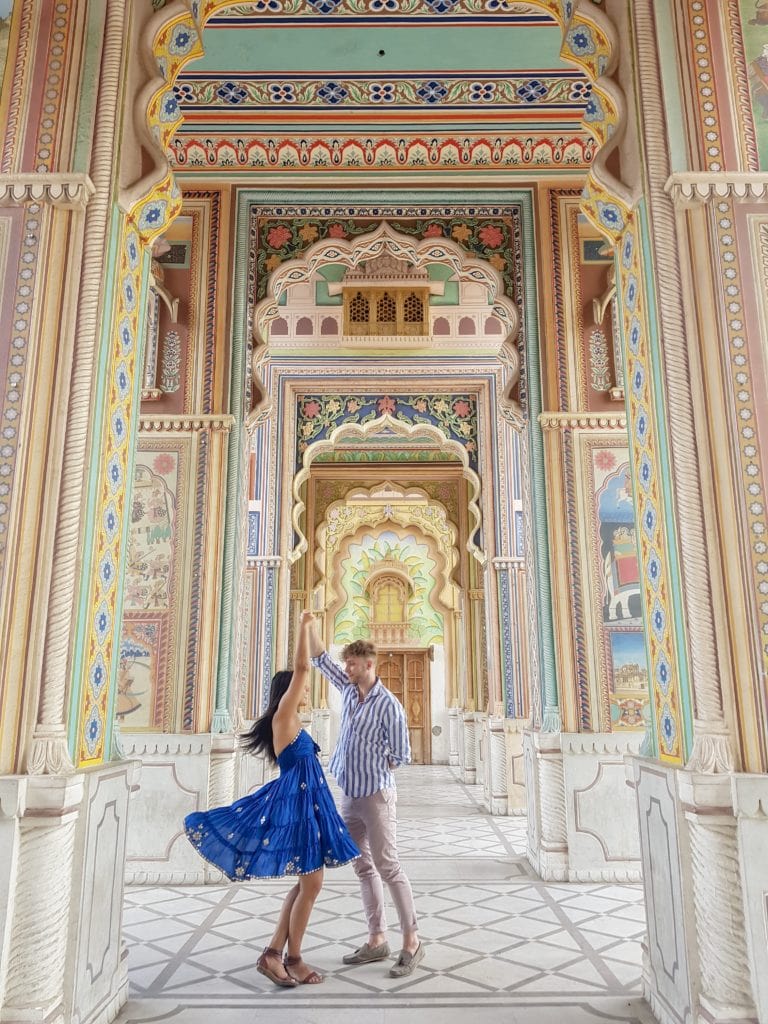 5 Amer stepwell, Jaipur
There are several stepwells in Rajasthan, I know this because we drove to so many. But not all of them let you actually stand on the steps to get a photo. At the moment the Amer stepwell, which is a 20 minute drive North of Jaipur, does let you stand on the steps, but it's worth checking with your hotel if they are allowing photography at the time of your  visit.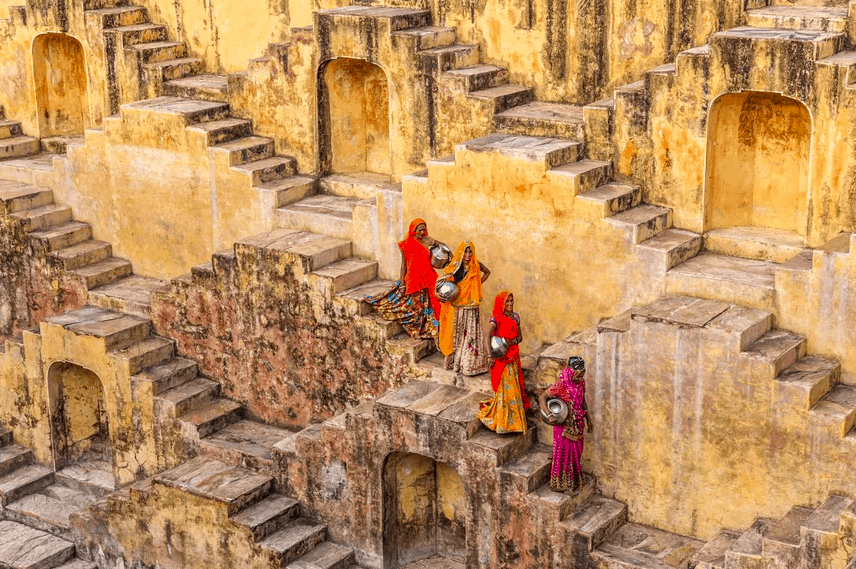 Amer stepwell: hadynyah/Getty Images
6 Jantar Mantar, Royal Observatory, Jaipur
This place is simply incredible. Filled with ginormous astrological instruments like huge graphic architectural statues it is one of the the most incredible insta locations I've seen. Get the tour guide to walk you through the astrological charts and find out more about what your future holds!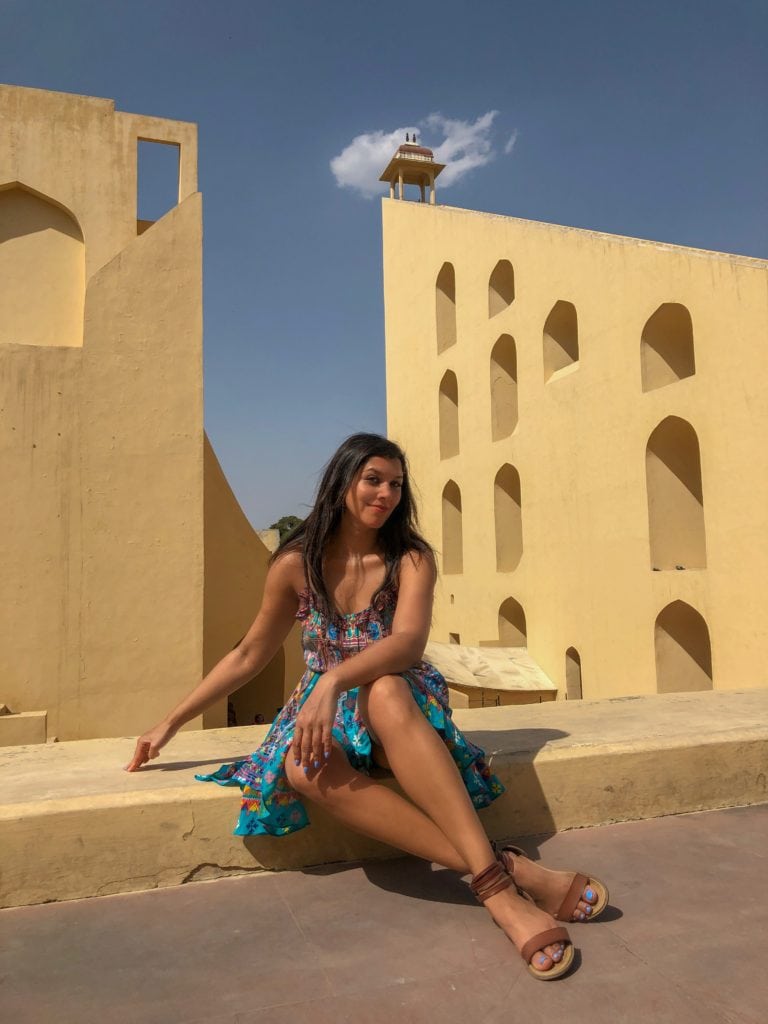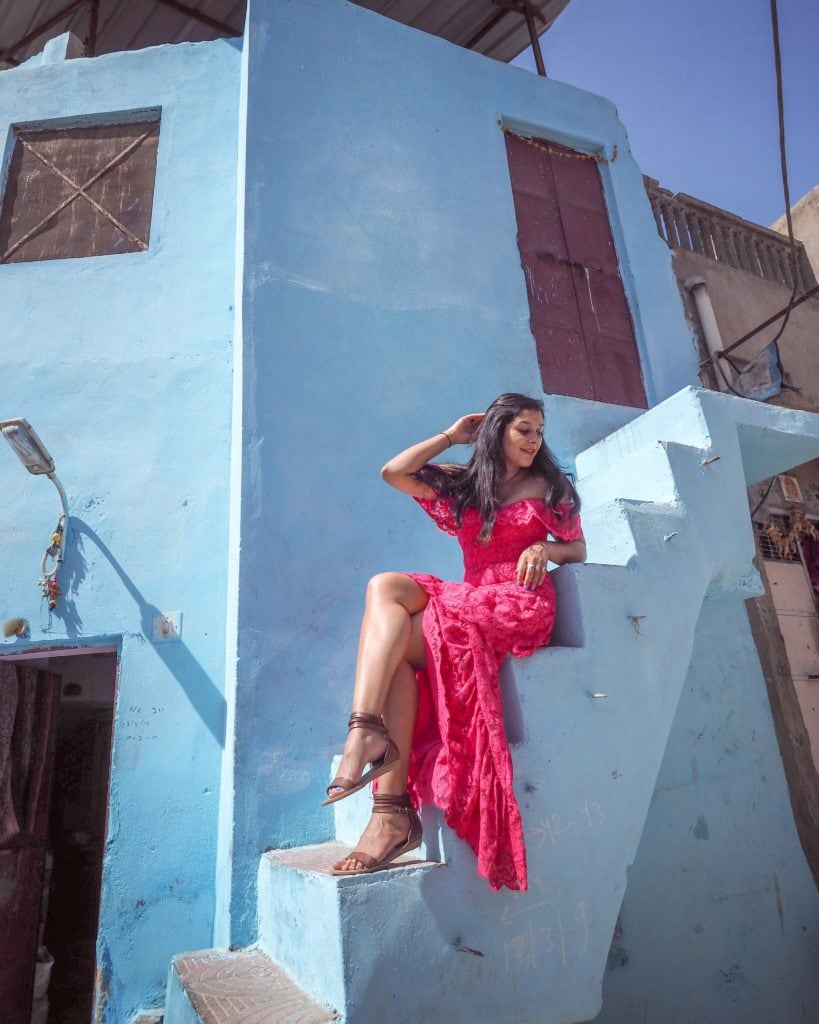 7 Jodhpur & Mehrangarh Fort
The immense castle like structure over looking Jodphur and the Blue City is Mehrangarh Fort (pictured below). Not only for the views of the incredible sea of sky blue houses below, but also the structure and intricate architecture inside, it is a must visit location.
Afterwards head down into the city and wander around the beautiful blue buildings. It's such a calming and visually stunning city. (pictured above)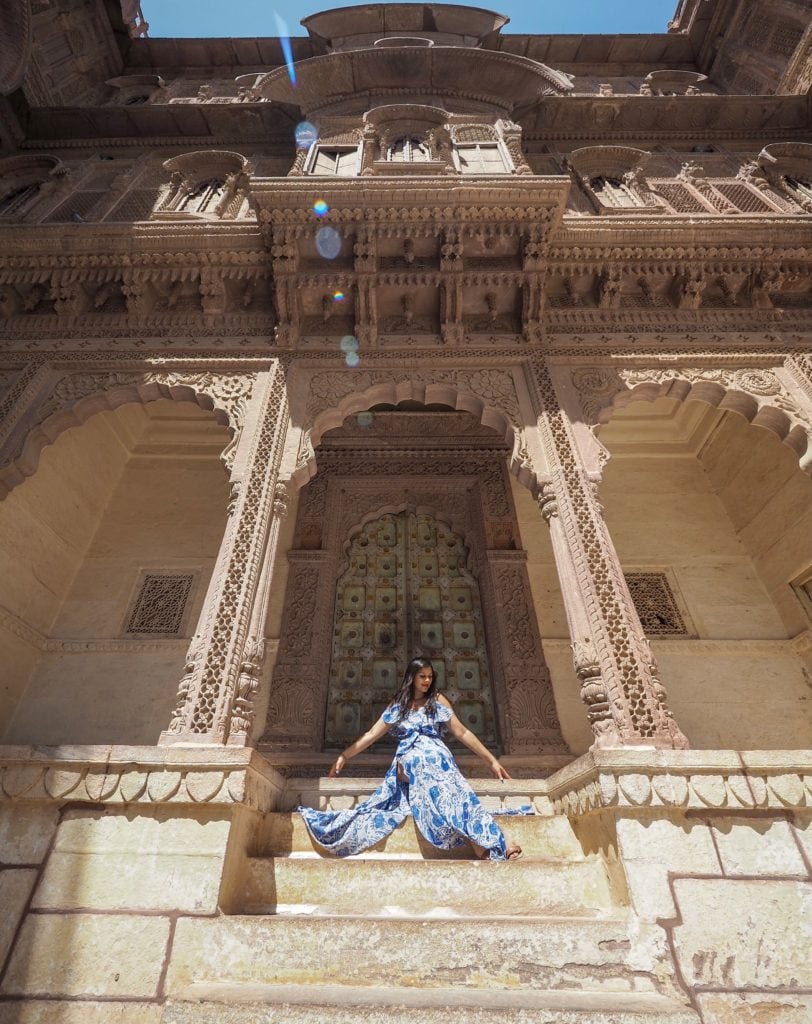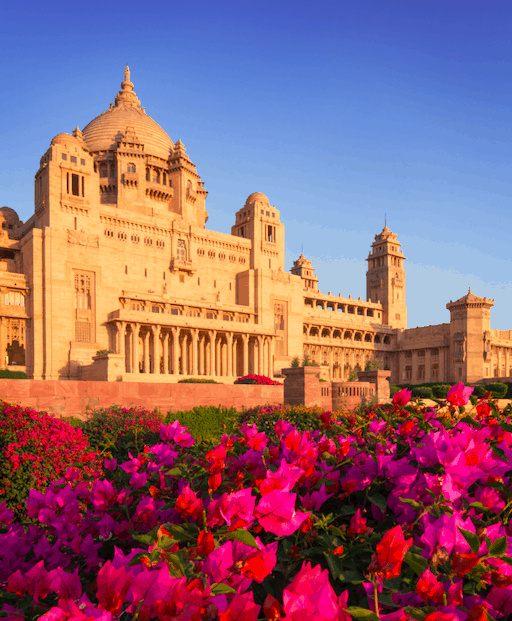 8 Umaid Bhawan Palace, Jodhpur
Umaid Bhawan Palace is the residence of the King of Jodhpur but also doubles up as one the best hotels in the world. If you're not lucky enough to get to stay there,  head to the museum on site. It's totally worth a visit just to take in its awesome facade which was where the film The Viceroy's House was shot and also the spectacular wedding venue of Priyanka Chopra and Nick Jonas. Here's a link to my you tube video all about staying there!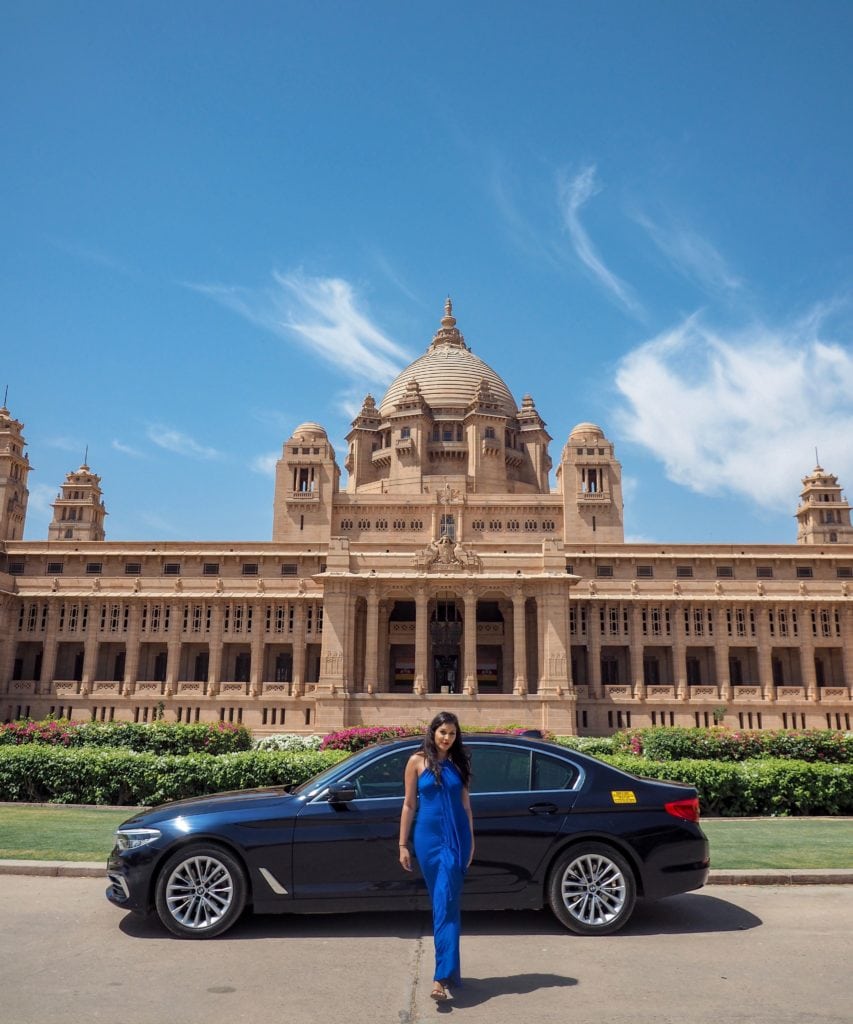 Me posing outside the incredible architecture with my Avis India chauffeur driven rental car.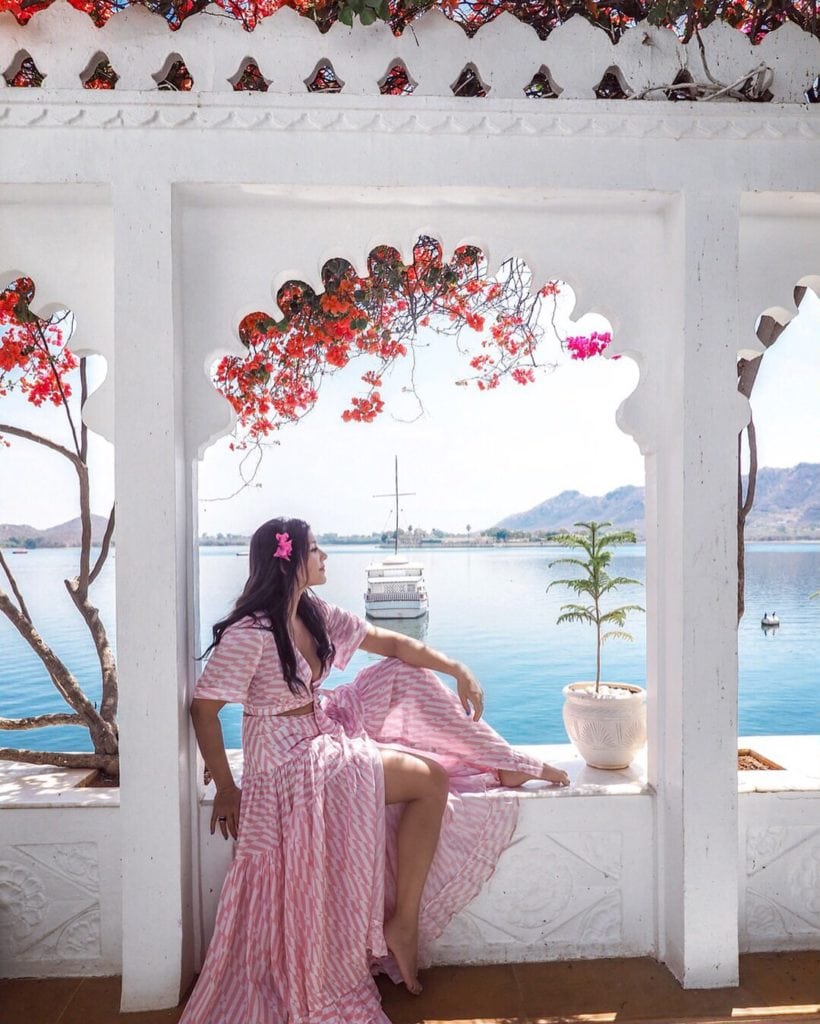 9 Taj Lake Palace, Udaipur
The film location for James Bonds 1983 film Octopussy, if you're not staying at the Lake Palace itself fear not, Udaipur is filled with beautiful marble buildings and the views over the lake from City Palace Museum are stunning too.
Hide in the many arches and alcoves that frame the lake and try and capture the peace and tranquility of this beautiful city. See my full blog about the Taj Lake Palace here and my youtube video here.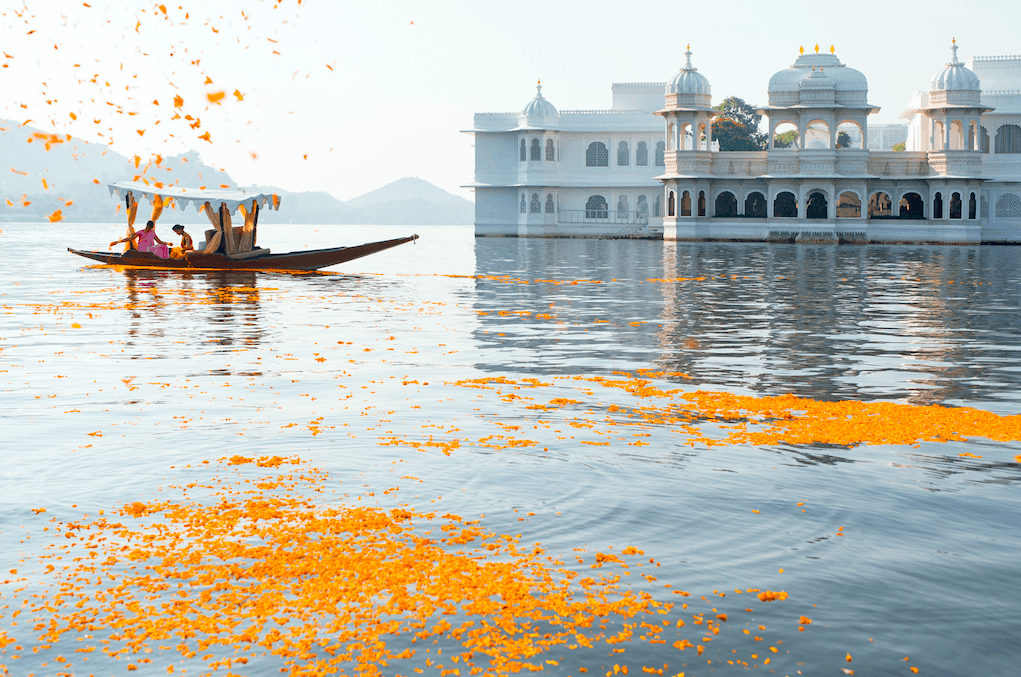 10 Monkey temple, between Jaipur and Agra
This was Charlie's favourite site on our Rajasthan tour. I loved the disused, discarded ghostly architecture of the city and Charlie loved the monkeys! Watch them bathe and play in the uninhabited ancient streets. The monkeys colonised the city when the monks moved out, they are free, happy and have enough food and their new home is a fabulous playground!!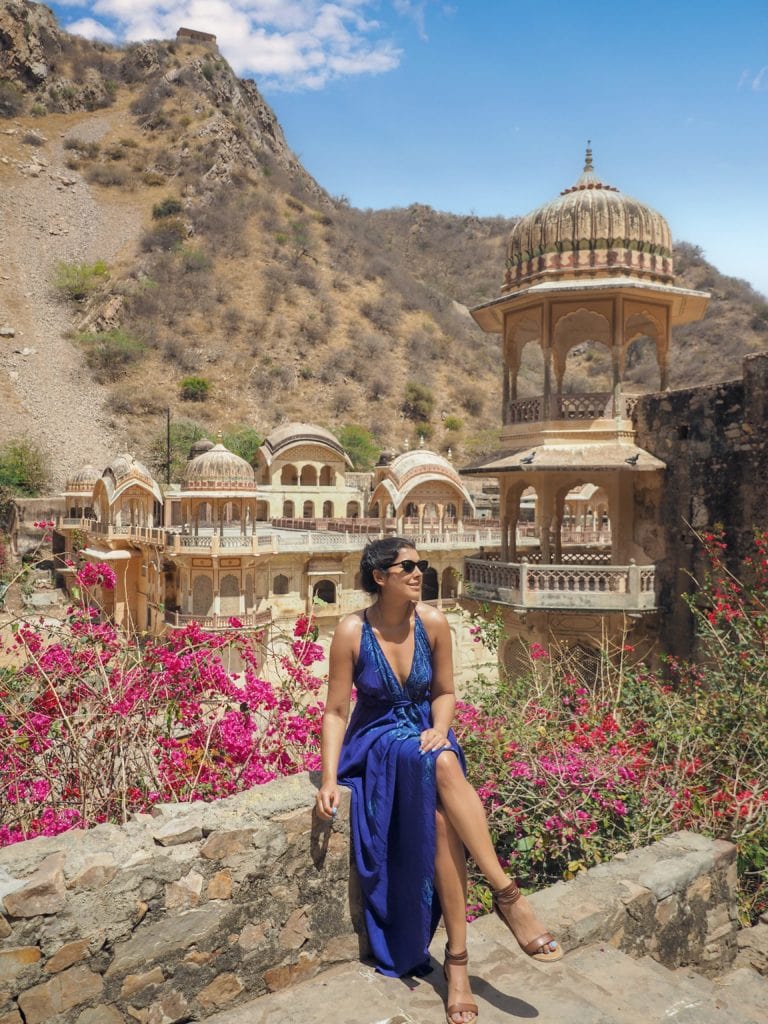 For more on Bonnie's India Road trip click here for the ultimate luxury itinerary and here for the Taj Lake Palace.
That's all from India for now, next stop The Maldives.
Bon voyage xx
Don't forget to check out out my You Tube video at the Lake Palace.