Santorini Sleeping
Santorini Sleeping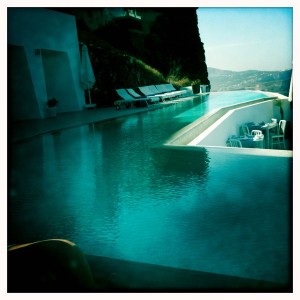 The infinity pool at The Grace (I loved it so much, I made it the banner for my blog!)
The main areas to stay in Santorini are – Thira (the capital)
– Oia and Imerovigli, small villages made up of buildings carved into the sides of cliffs
– Megalochori, a tiny rural village surrounded by vineyards is also a lovely (less hilly) option.
Oia and Imerovigli are the 'picture postcard' Santorini, with incredible views of the Caldera (sunken volcano), but be warned the hillsides are ridiculously steep and not suitable for anyone who has walking difficulties or is unfit! I go running two or three times a week and I was struggling at times!
In my opinion Thira was a little too busy and commercial for a relaxing holiday, so I wouldn't opt for that, unless you're with a group of friends and want to be in the thick of it. In truth though the island is tiny, you can see all of the main sites in two or three days, so the area you stay in doesn't make a huge amount of difference.
With an award winning chef and the most spectacular views on the island, it's hardly surprising that The Grace is part of the Conde Nast Traveller Gold List for 2012 and was voted Greece's best boutique hotel in the World Travel Awards 2009 and 2010. The service is impeccable and the whitewashed minimal-modern architecture is stunning. If you can afford it it's definitely worth getting one of the rooms with its own plunge pool, its perfect for romantic special occasions. The Grace is an incredible hotel, I can't recommend it enough.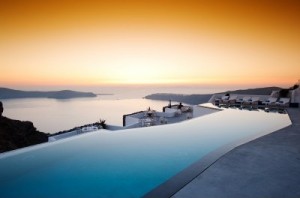 The infinity pool at The Grace at sunset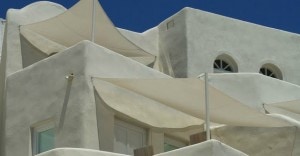 Mystique in Oia
With breathtaking sea views of the caldera, the Mystique in Oia is all about laid back luxury and style.  Incorporating driftwood and natural raw materials into the furnishings and decor, gives the 22 rooms and villas a traditional homely and rustic feel. This hotel oozes charisma and the chic poolside is divinely tranquil.
Bye Bye Santorini.